Every experienced kayaker should have an array of dry bags at his or her disposal.
Even though many of the best sea kayaks have compartments that they claim to be waterproof, the only surefire way to keep your gear dry when you're on the water is by storing it safely inside a dry bag.
But there are many different sizes of dry bags out there, which can make it difficult for beginners to know what size dry bag to use for kayaking. And there are also various different shapes and styles of dry bags to choose from as well.
Fortunately for you, you've come to the right place to learn more about selecting the right dry bag size for your kayaking needs. And we'll also provide some additional buying tips to help you further narrow down your search.
So, let's get started!
What Size Dry Bag To Use For Kayaking?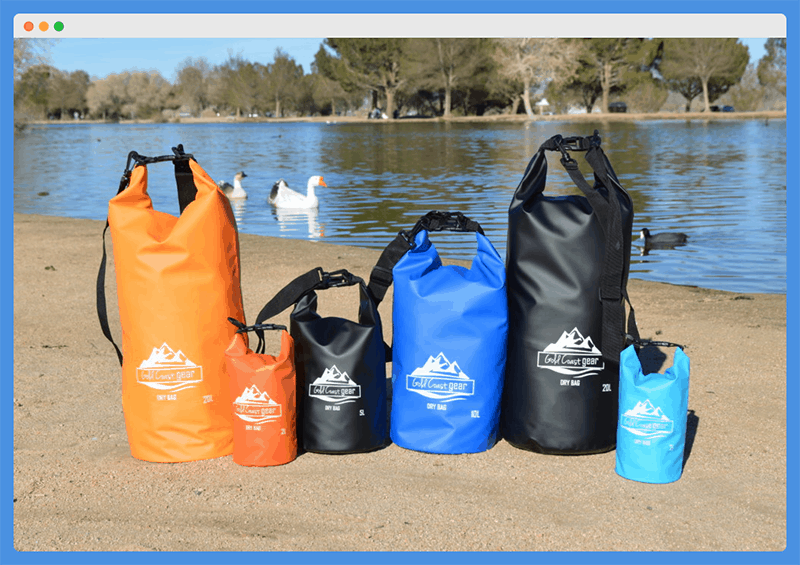 To determine the right size dry bag to use for kayaking, you'll need to consider how long you'll be out on the water and how much gear you'd like to pack away.
You'll also need to consider whether you plan to strap your dry bag onto the deck of your kayak or place it inside one of your kayak's bulkhead compartments.
Generally speaking, however, you should opt for a dry bag with a capacity between 5 and 10 liters if you're just going out for a short, 1-2 hour recreational paddle on flat, calm water.
For full days on the water, we recommend choosing a dry bag with a capacity between 10 and 30 liters.
As you begin to extend your time on the water and plan multi-day kayaking adventures, you'll probably need to add another large dry bag to your arsenal.
For multi-day paddle trips, a dry bag with a capacity up to 60 liters can come in handy for storing sleeping gear and other large camping items.
Additionally, there may be plenty of times when you'd like to pack multiple dry bags on your kayak with separate gear in each.
And, from our experience, it can be easier to have more dry bags with smaller capacities than to have fewer dry bags with large capacities.
This will allow you to separate your gear and stay organized using whatever organization method you prefer. And, in many cases, smaller dry bags will be easier to put in and take out of your kayak's sealed storage compartments.
Dry Bag Buying Guide
While we hope those general recommendations for kayak dry bag size give you a solid place to start, there can be a bit more to consider.
So, let's go into a little bit more detail about how to select the perfect dry bag (or dry bags) for your preferred style of kayaking.
Size
One useful way to decide what size dry bag to use for kayaking is to measure the dimensions of the largest item you want to fit inside of your dry bag. For example, your sleeping bag or tent is probably going to be one of your largest items to pack away for a multi-day kayak camping trip.
By measuring that item, you can ensure that your dry bag is large enough to fit your essential gear. From there, you'll be able to pack smaller items around your larger gear in order to adequately fill out the remaining space inside.
Another way to determine the right size dry bag for your kayak is to measure the interior dimensions of your kayak's bulkhead compartments.
These dimensions will give you a good idea of the largest possible dry bag size that will fit inside without getting stuck.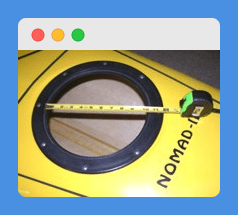 Keep in mind, however, that most bulkhead compartments have smaller openings at the top compared to the actual size of the compartment itself.
So, you may be better off simply measuring the size of the opening (photo example above) and then purchasing multiple smaller dry bags that will be able to fit together inside the compartment once they're through the opening.
But if you plan on strapping your dry bag to the deck of your kayak, you can measure the dimensions of your kayak's deck to determine what size dry bag will fit there.
Also, make sure to pull up any bungee straps that you'll use to secure the dry bag and measure how much vertical height they allow for before finalizing your dry bag size selection.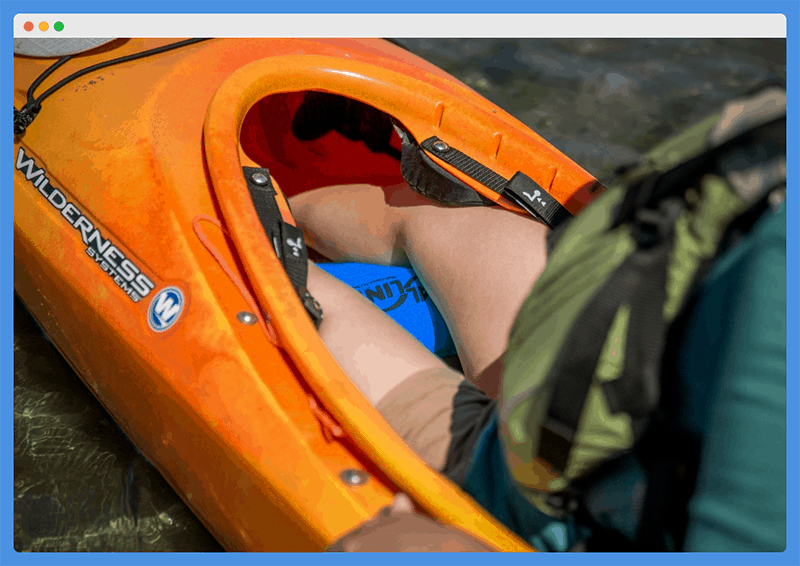 Finally, some kayakers will actually place their dry bag underneath their knees in the cockpit of their kayak (see photo above).
This provides extra lift for your knees and can promote better blood flow for long days on the water.
If you like this strategy for carrying your dry bag on your kayak, you'll need to measure the width of your kayak's cockpit before buying the right dry bag to match that size.
Most dry bags will squish down slightly, but you don't want to compress them too much and risk damaging whatever you've packed inside.
Style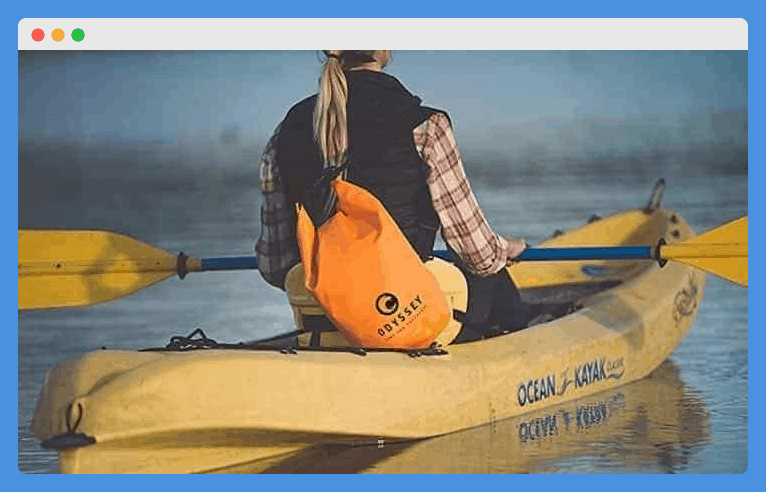 In addition to the many sizes of dry bags to choose from, there are also various styles on the market these days. Some of these styles may fit your kayaking style better than others, so you'll need to consider their advantages and disadvantages before making a selection.
Sling-Style Dry Bags
As shown above, sling-style dry bags are great for a casual day on the water.
This style of dry bag is usually on the smaller end in terms of size, but it gives you a convenient way to secure the dry bag over your shoulder if you don't have room to strap it onto your kayak.
The cool part about sling-style dry bags is that their sling strap is usually removable.
This gives you the option to set it up for left or right-handed carry, and you'll also be able to remove the strap entirely if you want to simply shove this type of dry bag into your kayak's storage compartments and there's no reason to carry that extra ounce of 'strap weight'.
Backpack-Style Dry Bags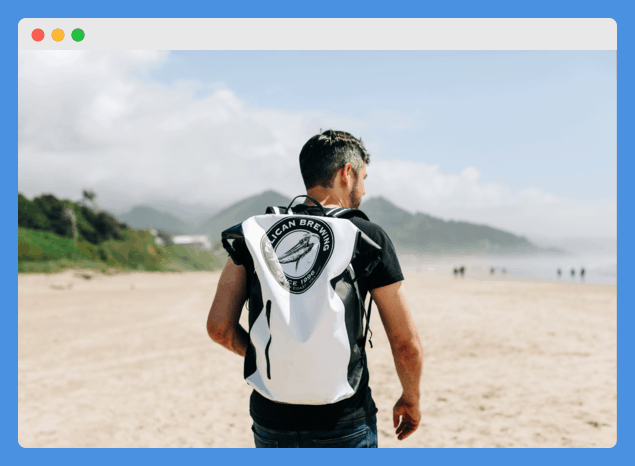 Backpack-style dry bags are great for multi-day kayaking trips or trips that may require you to portage your kayak over land for short distances.
While some of the original designs weren't that comfortable, many of today's backpack-style dry bags can be carried comfortably up to a mile or more.
Unlike a sling bag, these dry bags have two straps that go over both of your shoulders.
And, depending on how well they're made, some of them even feature a hip belt (much like backpacking backpacks) to provide more lift and support when carrying heavy loads over longer distances.
Duffel-Style Dry Bags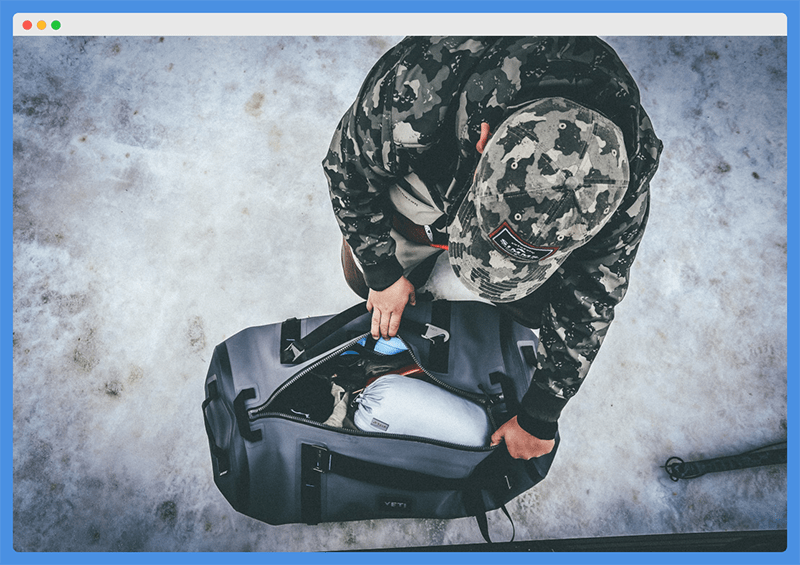 Duffel-style dry bags typically boast the largest capacities of any of these dry bag styles. They also seal using a zippered closure, which can provide quick access to all of the dry bag's contents without having to remove everything to get that one item that's stored at the bottom.
Because of their bulkier dimensions, duffel-style dry bags are more often strapped to the deck of sit on top kayaks because they rarely fit into a kayak's bulkhead compartments.
They are also more popular for canoeing because canoers don't have to worry about fitting them inside a sealed storage compartment.
Tapered Bulkhead-Style Dry Bags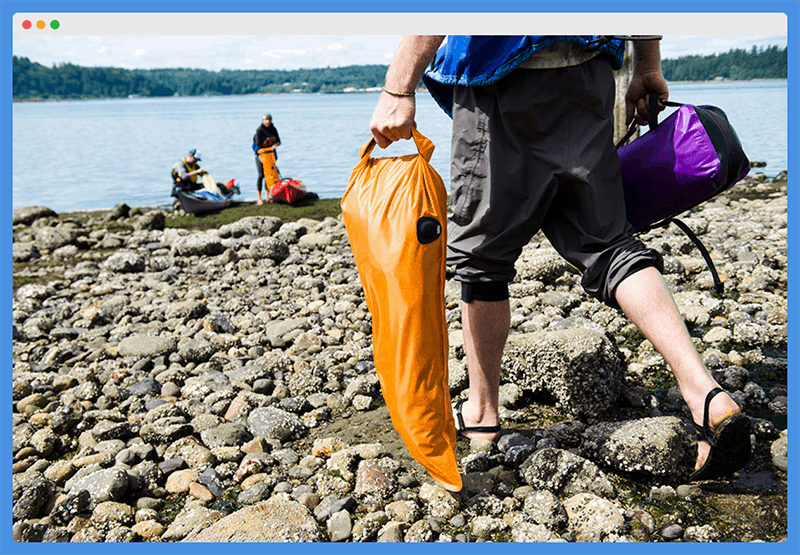 If you're interested in long-distance kayaking trips, getting a few tapered bulkhead-style dry bags really is the way to go.
As you can see from the image above, these dry bags are specifically designed to help you maximize every last inch of storage space in your kayak's bulkhead compartments.
These dry bags seal in much the same way as a sling or backpack-style dry bag, but their tapered shape helps you avoid negative space inside your compartments.
Their only downside is that you'll need to exercise a lot of forethought when packing them to make sure that the one item you need isn't shoved all the way down at the smallest tapered end.
Closure Type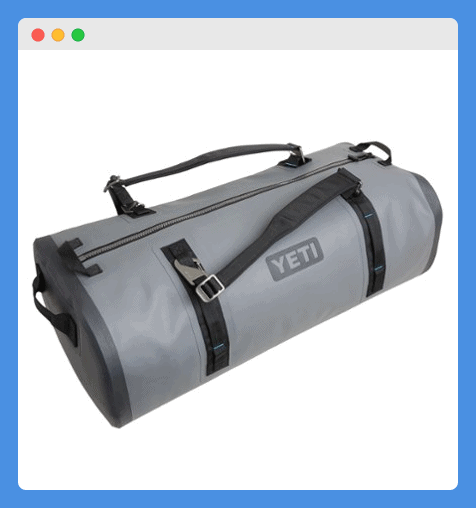 Most dry bags for kayaking feature a roll-top closure type because it's highly effective at sealing your bag's contents against water ingress. Some kayak duffel dry bags, however, feature a zippered closure that provides easier access to your dry bag's contents.
From our experience, the roll-top closure type has proven to be more reliable in terms of keeping water out of our dry bags. But, it still can't correct for human error if you aren't aware of the proper protocol for sealing a dry bag.
Generally speaking, a dry bag must be folded at least three times before it is buckled and can be considered sealed.
And you'll constantly need to inspect the seams of your dry bag to make sure that a slight tear isn't allowing water to leak inside.
While the zippered closure type has vastly improved in effectiveness in recent years, we recommend consulting several user reviews of dry bags with this closure type before finalizing your purchase.
The zippered closure does have the benefit of making it easier to open and close your dry bag, but, unless you have thoroughly tested the waterproof seal of the zipper, we wouldn't recommend entrusting any gear that absolutely can't get wet to a dry bag with a zippered closure.
Color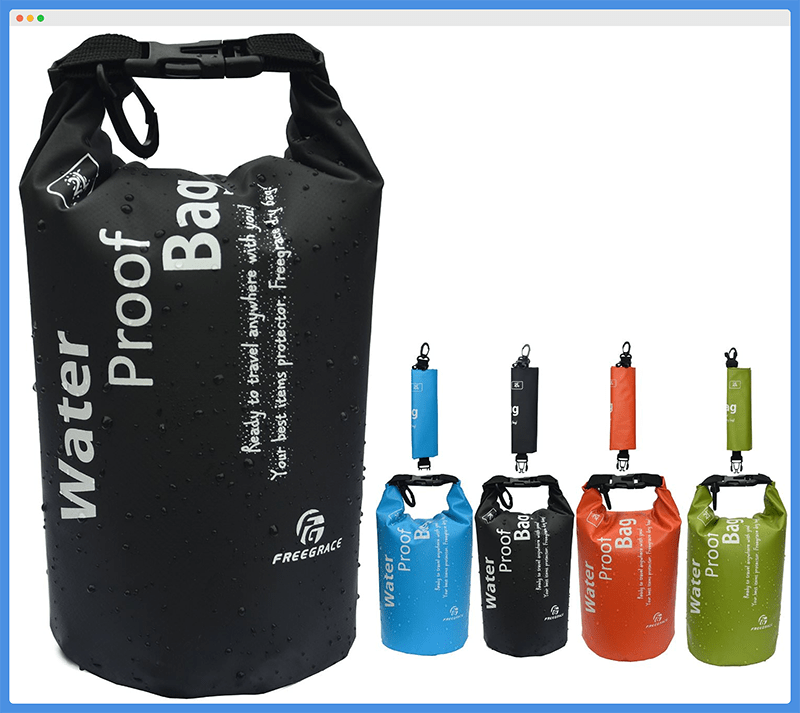 Choosing the right color dry bag for your kayaking needs can largely be a matter of preference. But there are also a few practical matters to consider before you go about choosing a bright pink or neon orange dry bag.
For starters, you should consider whether you'll be storing your dry bags inside a bulkhead compartment or strapping it to your kayak's deck. If you're shooting for the former approach, your color choice will be of less consequence.
But, if you plan to strap your dry bag to the deck of your kayak, choosing black can be a recipe for damaging your dry bag's contents.
A black dry bag is going to absorb and retain more heat than a dry bag of any other color, so if you don't want your bag's contents to heat up too much, stay away from choosing black.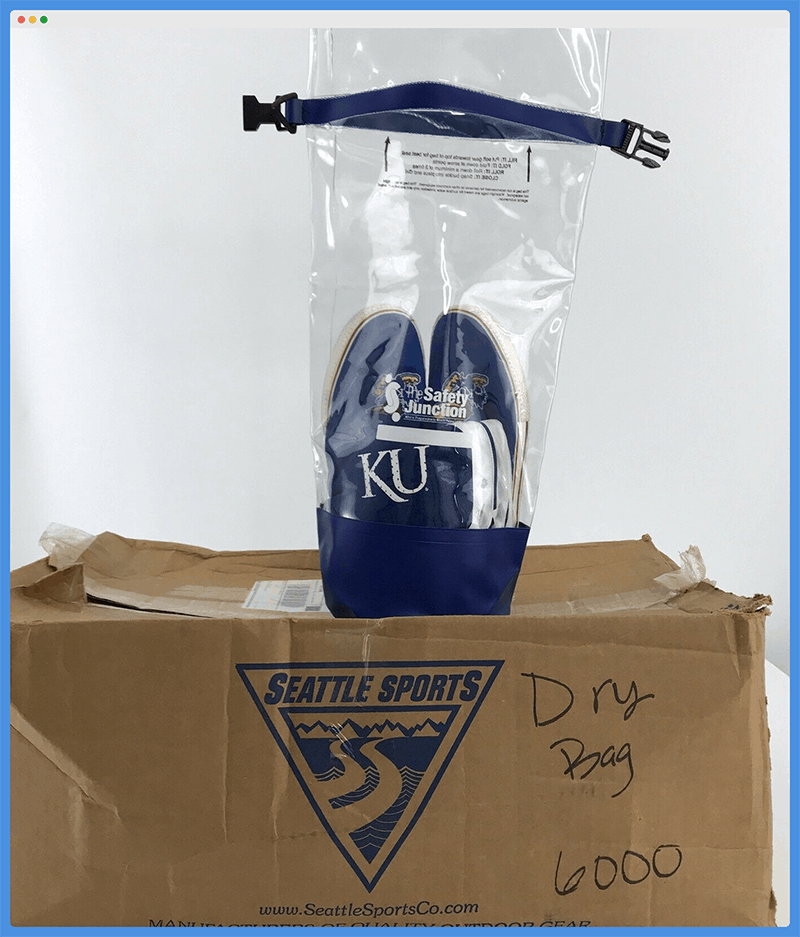 Additionally, some dry bags come in a clear, see-through color variety (see photo example above) or with a see-through panel.
While this will allow the sun's rays to penetrate through and possibly fade some of your bag's contents over time, it can be quite useful for giving you the ability to see and locate specific items inside without having to remove everything and sort through it.
Finally, a bright-colored dry bag can wind up coming in handy on the water in an emergency situation.
If it's strapped to the deck of your kayak, that bright pink or neon orange dry bag can help to improve your visibility and increase your chances of rescue in a kayak emergency.
Final Thoughts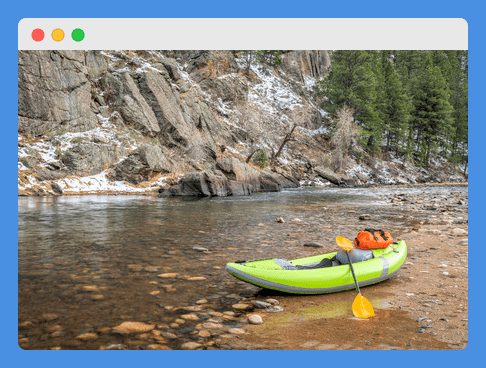 The good news about deciding what size dry bag to use for kayaking is that you don't have to choose just one! In fact, most kayakers wind up accumulating a hefty selection of dry bags of different shapes and sizes as they gain more experience.
As you've hopefully learned, different dry bags can be better for different types of kayaking adventures.
That means you'll often be better off buying a few bags of different sizes than purchasing one of those dry bag multi-packs that contain four or five dry bags of just one size.
If your budget is really tight, consider calling or emailing a local kayak guide company in your area.
Many of these companies acquire new dry bag inventory every year and they may be willing to part with used dry bags at lower prices than you'd find anywhere else online.
As always, we hope that you've gained some important insights into everything that you should consider when choosing the right size dry bag for your kayaking needs.
We wish you all the best on your upcoming paddling adventures!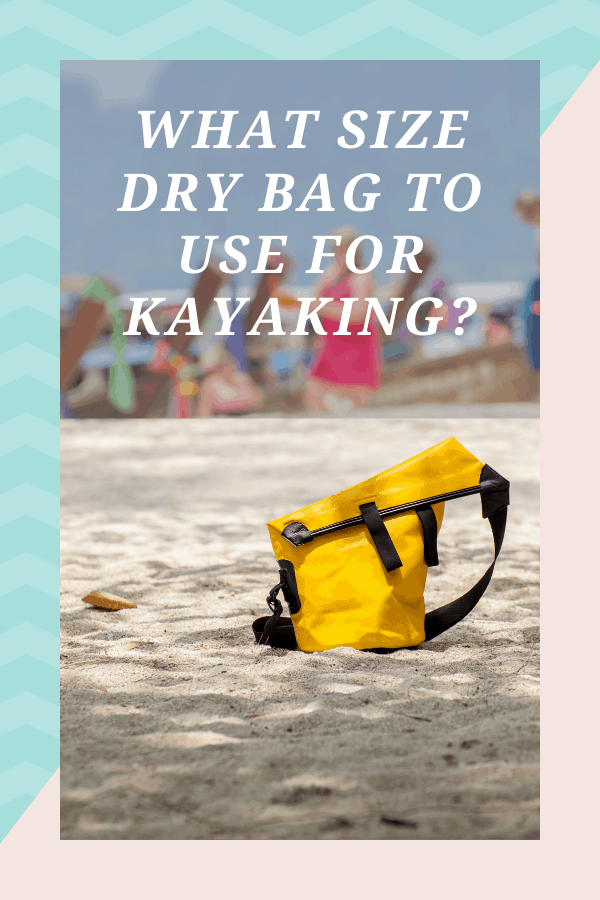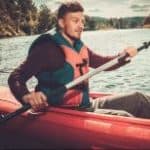 Author: Peter Salisbury
Pete is the Owner of KayakHelp.com. Born and raised in Cleveland, Ohio, he grew up kayaking, fishing, sailing, and partaking in outdoor adventures around the Great Lakes. When he's not out on the water, you can find him skiing in the mountains, reading his favorite books, and spending time with his family.