GPS navigation has become so common that you may wonder why you should even bother with a compass. The uncomfortable truth is that while global positioning systems are a godsend for sea kayakers, they can and will fail.
Dead batteries, malfunctions, interference from solar flares, and weak signals can leave you without this high-tech navigation aid.
It's not at all hard to imagine. Your GPS dies unexpectedly on a long paddle, just as a fog bank starts to smother your view. Blanketed in gray mist, you now have no idea of your heading. If you've left your compass at home, that could be the start of a really dangerous downward spiral.
Accurate and reliable, compasses are trusted by experienced kayakers for long crossings and poor conditions even when a GPS is available.
As Conor Mihell explains, "While GPS units are handy for gauging your speed, the distance from your destination, and adjusting to the vagaries of wind and current, a deck-mounted compass is your best ally in navigating low-vis conditions because of its simple, hands-free operation."
We agree, and to help you get your bearings on compasses, we offer the following guide and reviews.
Best Kayak Compass
Brunton - Dash Mount Compass (70P)
Seattle Sports Sea Rover Deck Compass for Kayaks and Paddle Boards
Brunton - Dash Mount Compass (70P)
Seattle Sports Sea Rover Deck Compass for Kayaks and Paddle Boards
Kayak Compass School: Buying Guide and Things to Consider
Durability
If your compass can't take a few accidental paddle whacks, it's not going to do you much good. Look for models that feature tough housings and domes. They shouldn't leak after a few bumps, detach from their mounts when nudged, or break when dropped.
The fluid should remain clear over time, and the dial should spin easily as you change course.
Another test to consider if you're into cold weather kayaking: throw that compass in the freezer for a few hours and see if the liquid inside the dome turns to ice. If it does, you need to look for another option.
For harsh conditions–especially cold–you need a compass that can take the worst Mother Nature can dish out!
Easy to read
A compass you can't read at a glance is useless.
Reading angle – Many compasses are designed to be read at a particular angle–for instance, straight-on or from above. You'll need to know where you plan to mount it, and you should choose a compass that'll work for you at that reading angle. We've selected models that offer maximum versatility.
A large, clearly marked dial – This is essential for easy navigation in tough situations. If the markings are tiny and easy to mistake, you might want to give that product a pass.
Securing your compass
There are many mounting options for marine compasses, but only a few that work for kayaks. Whatever your choice, you want to secure your compass so that the case is in line with the keel.
Deck/surface/bulkhead mount – This style of compass mounts to your kayak with screws, either directly or via a mounting bracket. The advantage of this system is durability: it's rugged. But unless your compass uses a detachable mounting bracket, it's fixed in place, for better or worse. Some expedition kayaks come with a built-in recess to accommodate a Brunton compass.
Tie downs – Tie downs allow your compass to be connected to the bungee cables or rigging mounted on the bow of your 'yak. Easy to attach and remove, the weakness of this style of compass mount is that it's easier to break.
Dash mounts, marine bracket mounts, flush mounts, and binnacle mounts won't work well for kayaks. They're designed for larger boats and pre-formed consoles. Some of these simply won't work at all on kayak; others place the compass where it's likely to get broken or forcibly detached from its mount.
Removability
If you paddle more than one 'yak, a removable compass is something to consider. Moreover, when transporting your boat to and from the water, you can subject permanent fixtures to some hard knocks. Removability can save you a lot of money and trouble!
The downside? Removable mounts aren't as tough as more permanent alternatives.
Declination adjustment? Not so fast!
There's a lot of inaccurate information about compasses on the internet, and you'll probably read that it's important to adjust your kayak compass for declination. The reason behind this is grounded in a bit of science and a lot of misunderstanding.
The science – Since the Earth's magnetic field and true north vary depending on your latitude, using magnetic north to navigate can cause you to take the wrong course.
The misunderstanding – For land navigation, the previous statement is entirely true–and if you're hiking or orienteering, it's a critical fact to be aware of. But nautical charts are marked with two compass roses. One indicates true north; the other shows magnetic north.
Essentially, this means that when using nautical charts, you don't need to adjust your compass for the difference between true and magnetic north. Instead, you read the chart using the magnetic north rose, and it'll be the same reading you get from your compass.
Kayak Compass Reviews
Size: 7" x 4" x 2"
Weight: 12 oz
Seattle Sport's SeaRover is an easy-to-attach deck compass that uses two quick-release buckles to connect to your bow rigging. Its clear case rests in a form-fitting plastic base to which these buckles connect.
It's very easy to install and remove, which is something to consider if those features are important to you.
The SeaRover offers a direct-reading black dial with contrasting white markings. Again, this can confuse some users, as the marking facing you is your heading–the opposite of a hiking or orienteering compass.
Nonetheless, many users report flawless performance on expeditions. But some have had problems with durability, fluid leakage, and fluid discoloration. These are issues that ideally shouldn't happen with such essential gear.
PROS
Easy to read
Easy to mount and remove
CONS
Fluid leakage
Fluid discoloration
Mounting system: tie down
Size: 3.46" x 2.16" x 2.84"
Weight: 4.05 oz
Silva is a respected name in compasses, and I've used their hiking and orienteering models myself. The 58 is a tie down-mounted compass that attaches to your bow rigging via four plastic clips. If removability is a deciding factor for you, this model should be seriously considered, as installation and detachment can be done in a snap.
Silva's 58 uses a black dial with clear white markings and a yellow bearing marker for easy reading. You should be able to keep an eye on your heading with just a glance, and that's exactly what to look for in a kayak compass.
Like most nautical models, it's direct-reading, meaning that it'll point the heading toward you. For example, when you're heading north, N will be aligned with the bearing marker at the bottom of the compass.
The top dome of this compass is shielded in plastic, and it's evident that this model was designed for hard knocks.
Users report flawless performance, which is exactly what you'd expect from a Silva. My only concern is the mounting system, which may not be as strong as it could be.
PROS
Tough
Dependable
Easy to read
Readable at almost any angle
Easy to mount
CONS
Mounting system could be more durable
Check Price on Amazon
Mounting system:
hand-held or deck mount
Size: 1 ⅜" x 2 9/16"
Weight: N/A
Ritchie is a huge name in compasses. Its X-11Y is a tiny, round model that can be attached to an optional deck mount which is affixed to your kayak with screws. Small and simple, this no-frills compass offers a direct reading dial, meaning that the bearing you see is the bearing you're on.
It features a rotating white dial with black markings, and here, it's size may not serve all kayakers well. While inexpensive and tough, the X-11Y doesn't offer the best readability, and I find the dial a bit cluttered for at-a-glance legibility. But for its size, it does as well as can be expected.
As a nice feature, however, the X-11Y accepts tiny, chemical illumination sticks that come foil-wrapped with the product. These allow night navigation–a thoughtful touch and something to keep in mind.
Users report that this compass has served them well and can stand up to far more abuse than you'd expect.
PROS
Tough
Dependable
Easy to mount
Night illumination options
CONS
Tiny dial may not be easy to read
Mounting system: deck/surface mount with optional tie down
Size: 2 ¾" x 4 ¼"
Weight: 13.4 oz
Ritchie's XP-99 offers two mounting options: either a direct deck mount or an optional tie down. That's a great option for kayakers who are looking for removability and super-easy mounting.
The XP-99 offers a swiveling black dial with clear white markings. This immediately legible dial is direct-reading, meaning that the heading you see is the heading you're on.
It also offers an optional 12v lighting kit for night navigation, a nice touch if you run batteries in your 'yak. Most touring paddlers don't, however; and this option is probably not as useful as it sounds.
While not fabulously reviewed, customers don't complain about quality or performance, and you can expect this legible, dependable compass to help you navigate your way out of tough spots.
PROS
Tough
Dependable
Easy to read
Readable at almost any angle
Easy to mount
CONS
Night illumination requires a 12v battery system
Mounting system:

deck/surface mount or tie-down
Size: 3.46" x 3.46" x 2.24 "
Weight: 4.8 oz
Suunto is another trusted name in compasses, and its Orca can be mounted either directly or via two large plastic clips attached to an elastic cord. Again, for kayakers looking for mounting options and removability, this is a factor worth considering.
It features a white dial marked clearly in black. It swivels for an accurate reading up to 25 degrees from level. It's also luminescent–a very nice feature–allowing it to be read in low-light and at night. Customers report that the performance of this compass is excellent, too.
That's good news, but there's bad here, too. Some users complain that both attachment options are weak. The tie downs come loose easily and are evidently prone to breakage.
And the mounting bracket can't hold the compass securely if it's bumped hard. These are serious issues for such an important piece of gear, and watching your compass tumble overboard is a great way to guarantee tough times ahead.
PROS
Easy to read
Easy to mount
Luminous markings
Dependable
CONS
Mounting system: deck/surface/bulkhead mount
Size: 4" x 3" x 3"
Weight: 8.2 oz
Brunton's compass is the standard for expedition kayaks, and many boats come with a deck recess designed to accommodate this model. In and of itself, that says a lot about this product, and if you're looking for a reliable, robust, easy-to-read addition to your navigation tools, this is a great place to start.
If your kayak has such a recess, installation is simple and involves four screws. If that's not the case for you, you'll need to cut a hole in your kayak and mount this compass with a bit more DIY know-how. Keep in mind that power tools will be necessary.
Brunton's compass offers a black dial with clear, easily legible white markings. Designed to swivel in a round housing, it's readable at pretty much any angle. It's also robust, durable, and dependable–a strong combination to be sure!
Customers report no issues with these compasses, and you can expect reliable service from Brunton.
PROS
Tough
Dependable
Easy to read
Legible at almost any angle
Easy to mount to most expedition kayaks
CONS
Mounting can be tough if your kayak doesn't come with a deck recess
You can expect most of these compasses to perform their functions, though there are some rough spots for certain models. Whether that's a small dial, spotty quality control, or weak mounting systems, you'll want to consider your choice carefully given the importance of this piece of navigation equipment.
Our pick is the Brunton compass. Respected enough to be a design feature on many expedition kayaks, the Brunton is an excellent choice. When mounted in a deck recess, this tough, dependable product offers the easy-to-read legibility sea kayaking demands.
Moreover, it's sure to stand up to the worst weather and the hardest knocks. But if your kayak doesn't come equipped with a recess to fit it, prepare for some DIY time with your 'yak.
Those who'd prefer either a removable compass or something a bit easier to install might turn to the Ritchie XP-99 or the Silva 58. These are solid choices from well-known companies, and you can feel confident with either strapped to your bow.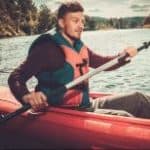 Author: Peter Salisbury
Pete is the Owner of KayakHelp.com. Born and raised in Cleveland, Ohio, he grew up kayaking, fishing, sailing, and partaking in outdoor adventures around the Great Lakes. When he's not out on the water, you can find him skiing in the mountains, reading his favorite books, and spending time with his family.