Kayaking is a great sport for both guys and gals, but for those of you who have a bigger stature, it's difficult to imagine yourself out on the water. You're probably wondering how stable that kayak will be!
That fear might be justified with smaller kayaks, but fortunately, there are heavy duty kayaks that are more suitable for you.There's a lot to consider when picking out a kayak ordinarily, but there are just a few more things to think about when you're buying a kayak meant for bigger individuals.
To help you out, we've found exactly what you need to narrow down your options.
Best Kayaks For Tall And Large People
What To Consider When Choosing A Kayak For Larger and Taller People
Width – Although this is quite obvious, do make sure you get a kayak that's a little bit wider since wider kayaks with big open cockpit areas have more stability on the water. More stability means there's a lesser chance of it capsizing. Of course, capsizing is a possibility still, so always have a safety strap in the cockpit and have someone with you in case you need help.
Weight Capacity – Be sure that the kayak is suited to support your weight. Every model you consider should be solid and have enough buoyancy to support you. A higher weight capacity will help if you plan on bringing anything out on the water with you too, like if you'd like to go fishing and need a place to store your gear safely.
Style – You can usually choose from Sit-Ins or Sit-On-Top kayaks, as well as touring, inflatable, and sea styles. It can be a little intimidating picking just one, but for bigger guys and gals, go for the sit-in kayak. These types have an efficient design allowing for greater storage and ease of use
. Not only do they have storage though, but they also help paddlers stay dryer than they might have otherwise. If you're fishing with equipment that you would prefer not to get soaked, these are exactly what you're looking for.
Material – There are a few materials that kayaks are made out of, including plastic, fiberglass, Kevlar, carbon, and inflatable plastic. You really don't need to get too fancy though. Plastic is just fine, being not only more durable but the most affordable too.
More Tips – Now you know a little bit more about which kayak to pick and have hopefully been able to narrow down your list. I've just got a few more tips to make your experience just a bit better before you go out on the water.
Helpful Tips for Larger First Time Kayakers
If you're just starting out, like any kayaker, try calm and still waters first. Wider kayaks will work especially well in flat waters since they won't tip very easily, so you'll have an easier and more relaxing time with your friends without worrying too much about capsizing or adjusting to your kayak at first.
Getting In/Out – When you're a little bigger, the hardest part of kayaking is actually getting in and out of your kayak! Well to be fair, a lot of new and veteran kayakers have trouble with this, so there's no need to worry if it takes you some time to get used to.
Either way, make sure that you have someone that you know out there with you. Another person can offer an arm for you to pull on so you can get up, simplifying the process. It's also not a bad idea to practice getting in and out of your kayak just at home on the floor until you become more used to the process.
It's obviously not the same as when you're on the water, but it'll get you used to the shape of your kayak. Becoming familiar with your own limitations is a great way to have a lot more fun when you do get started!
Capsizing – Unfortunately, it's likely you'll tip over at least once no matter what you do. When that does happen, like I said, it's best to be out there with at least one other person to help you out.
With the larger kayaks that are made just for you, this won't be as much of a problem as if you had a narrower and smaller kayak, but is still very likely.
To help you when you do fall in, it's also a great idea to attach the safety strap to the cockpit's cowling. This will allow you to pull yourself up using the strap. With a friend to balance the weight of the kayak, it'll be a lot easier to re-enter.
Safety – As always, pay attention to safety when you go out on the water. This includes wearing a plus sized life jacket if you fall in, and having a friend with you to make your kayaking both fun and safe.
Best Kayak Reviews For Larger Guys and Gals
There are tons of kayaks out there, of which many accommodate bigger guys and gals, but we've managed to narrow down the list to only 5 of the very best. Pick out any one of these kayaks to have a fun time out on the water!
Best Tandem Kayak For Large People
Check Price On Amazon
The Sea Eagle can hold up to three people all at once with a weight capacity of 650 pounds! Since its inflatable, hull itself is only 32 pounds, making this kayak simple to transport.
The pump fully inflates the kayak in only 8 minutes to the full size (12'6" by 34 inches wide). If you buy Sea Eagle kayak, you get a few accessories like 2 paddles, 2 deluxe inflatable seats, a foot pump for easy inflation, a carry bag and repair kit.
The self-bailing drain valve will reduce the amount of water in the hull, along with 5 deluxe one-way valves. It is quite durable as well. The sun and saltwater resistant hull is meant to last while supporting both you and your companions on the water. Another great feature are the 2 skegs that help with tracking.
PROS
Durable
Quality foot pump for quick inflation
Stable
CONS
Handles like a canoe due to high center of gravity
Paddles seem to be a little short.
Check Price On Amazon
Pick from a few great colors for Ocean Kayak's 12-foot kayak. You can carry only yourself, you and someone else, or two people and a child as well since this kayak is meant to support 375-425 pounds total.
If you're a kayaking family, this is perfect even if you happen to be a little bit bigger! It helps that there are 2 comfort plus seats, with 3 molded-in seat wells to make you feel even more comfortable after long hours out on the water.
Not only do you have comfortable seating, but you've also got gear straps to keep all of your items in place, patented overlapping foot wells so you can fit your feet without a problem, molded-in handles to help you to carry it and if you happen to tip over, and finally a skid plate for increased durability.
No matter what your leg length may be, you'll be able to fit comfortably for the long haul. The actual design is perfect if you've got multiple hulls as well, making this an easy storage option.
PROS
The glide is very nice and manageable considering the length
Stability
Durable
CONS
Heavy
Difficult to transport alone
Not much storage space with 2 paddlers
This kayak by Sun Dolphin comes in a variety of colors. It has a large open cockpit and adjustable padded seating with back support for optimal comfort.
Has lots of storage space inside. Includes shock cord deck rigging to keep everything in place no matter how rough you paddle. Convenient water bottle holder. With the adjustable foot braces inside, you shouldn't have to worry about your legs fitting either.
Of course, any kayak you get has to be durable and easy to maneuver too. Sun Dolphin ensures this with the UV-stabilized high-density polyethylene and the weight limit of 395 pounds. Since it's only 47 pounds, carry it to the water with ease to get started on some fun!
PROS
Stable
Easy to enter/exit
Large cockpit
Removable rear dry hatch
CONS
Material seems thin
Feels top heavy
Best Overall
With striking colors like sunset or yellow, Ocean Kayak makes a 1 person sit-on-top kayak that's meant to support people from 275-325 pounds.
It only weighs 43 pounds too, so you'll be able to transport it fairly easily to the water without much of a struggle. You'll love the durable padded comfort with a seat back to provide cushioning and support, along with 4-way adjustability that will keep any body type completely supported the entire time.
For storage inside, rely on the stern tank well that will keep your items relatively dry, along with the removable bungees and bow deck bungees.
There are even a few extra features you may want when you're out kayaking, like bow and stern carry handles and molded in side handles to help you get back up when you do happen to tip over. Comes with a molded-in cup holder, you can have a nice relaxing time when you're out fishing too.
PROS
Extremely good stability
Larger people find that the seat is comfortable
Spacious storage ensures that you can take anything you might need with you
A lot of leg room, suitable for tall people
CONS
Does not track as smoothly as a thinner kayak might
It is shorter than some other comparable options
Conclusion
It was hard to pick the best option, but the Ocean Kayak Frenzy had to be the clear winner of this roundup of 5. It can support lots of weight while still providing you with the comfort and room you need to use it safely and enjoyably.
On top of that, there's great stability and storage that you won't find elsewhere, making it perfect for bigger individuals or just people who are beginners, or who tend to tip a lot. Any one of these kayaks can be a great option, however, so pick out the one that'll work best for you.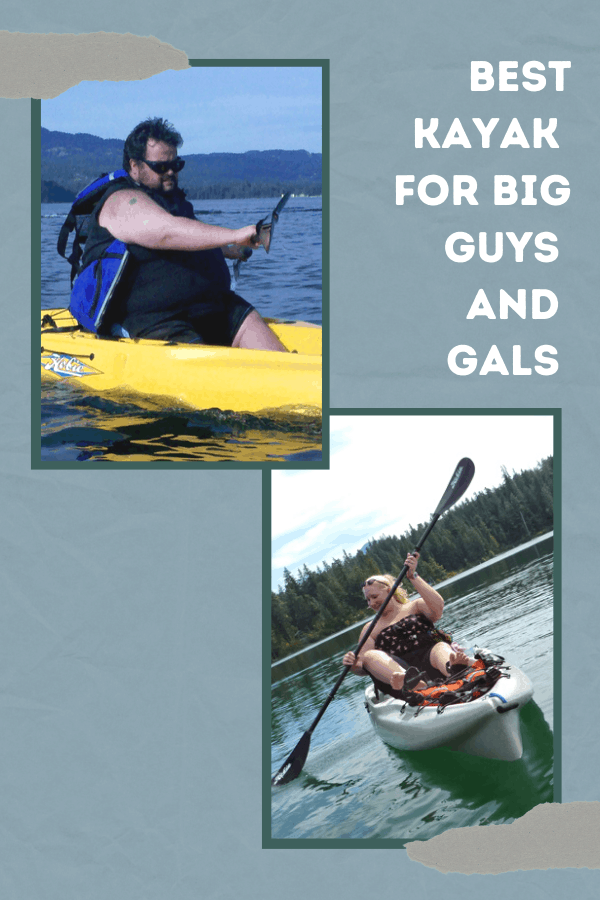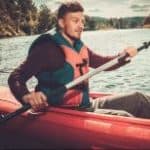 Author: Peter Salisbury
Pete is the Owner of KayakHelp.com. Born and raised in Cleveland, Ohio, he grew up kayaking, fishing, sailing, and partaking in outdoor adventures around the Great Lakes. When he's not out on the water, you can find him skiing in the mountains, reading his favorite books, and spending time with his family.