Racing is at the heart of many skiing disciplines. Whether it's a weekend kid's race or Olympic athletes competing at the top of their game, you can see ski races all over the world during winter.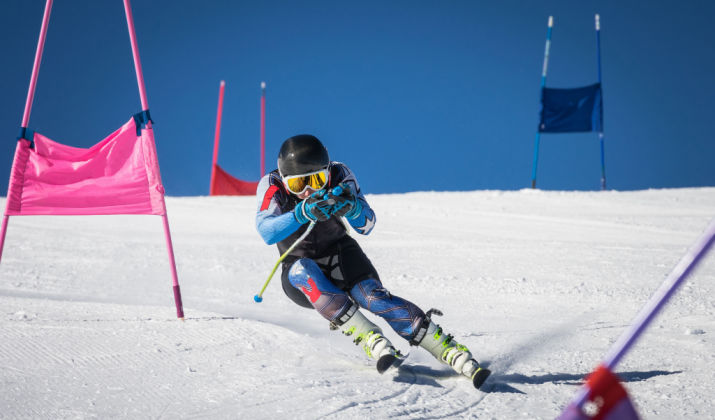 Image Source: Shutterstock
In this article, we'll go through the different types of ski races. You'll learn about the formats and rules, so you can understand what's going on or blag your way through a conversation in the après bar.
What Are The Different Types Of Ski Races?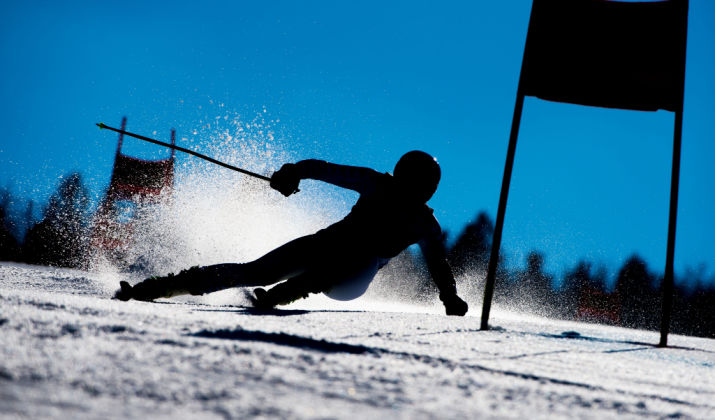 Image Source: Shutterstock
Alpine ski racing consists of six different disciplines: Slalom, Giant Slalom, Super G Downhill, Parallel and Combined. There are also races based on freestyle skiing, such as Ski cross and Moguls.
Other different types of ski races include Nordic skiing and Speed skiing. Which are completely different, highlighting how varied skiing can be.
Alpine ski races are based on speed, but there is an element of technique that racers need to stick to. You can expect to see alpine ski race events, moguls, and ski cross races at national and international levels and during the Winter Olympic Games.
Each alpine ski race discipline takes place on a course featuring blue and red gates. These gates are made up of two poles drilled into the snow with a banner stretched between them. During a race, the skier must turn around the gates in the correct order.
The various alpine ski race disciplines have their own profiles to differentiate them from each other. But the profiles also vary depending on the course length, steepness, number of gates, and how they are spaced.
Ski cross, moguls, Nordic skiing, and speed skiing races all take place on very different courses and have individual formats. All of them are extreme in their own way.
Let's break down each of the different types of ski races.
1. Downhill Ski Racing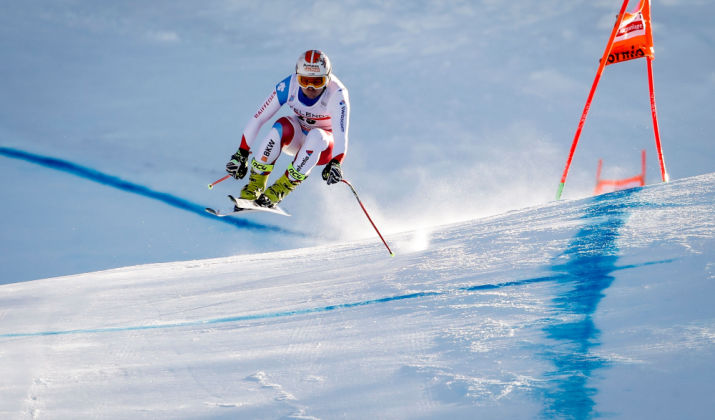 Image Source: Shutterstock
Downhill ski racing takes part on a closed ski slope chosen for its length and gradient. The gates are set at a minimum of 8 meters (26 feet) apart.
Racers get a timed practice run before their official run and go down the course one at a time, one minute apart. The skier who completes the course fastest without missing any gates wins.
The courses for the men's international downhill championship races are 2.4 to 5 km (1.5 to 3 miles) long. The vertical drop can be up to 1,000 meters (3,281 feet) and are very steep.
Women's equivalent races are held on courses 1.6 to 2.5 km (1 to 1.5 miles) long. They have a vertical drop of no more than 700 meters (2,297 feet).
Winning downhill ski racers average 64 to 80 km/hr (40 to 50 mph). To achieve the highest speeds possible on the straighter parts of the course, the skier will hold the "tuck" position. This makes them more aerodynamic to reduce drag and increase speed.
To improve their aerodynamics further, downhill ski racers wear skin tight suits.
As the speeds are so high during these races, the skiers are required to wear helmets. Race officials can also remove skiers from the competition if they deem them unprepared for the event.
2. Super G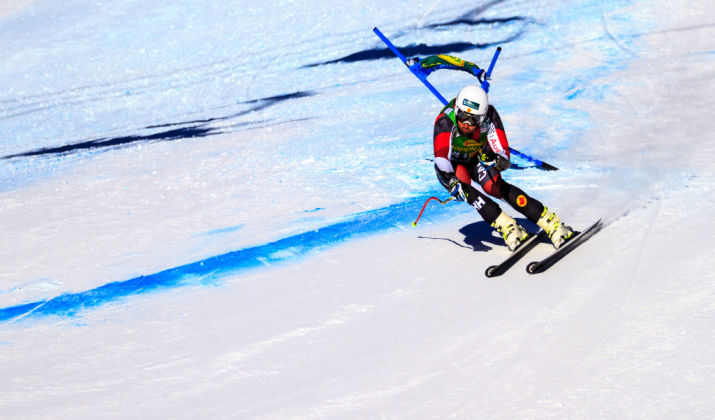 Image Source: Shutterstock
Super G is an abbreviation for Super Giant Slalom. Super G racers follow a course as fast as possible through a set of fixed gates.
The courses are usually on the same slopes as downhill courses, but they have a lower starting point, and there are strict rules for the length of your skis. Men have to use skis with a minimum length of 205 cm and 200 cm for women.
Just like the downhill, the runs are timed, and the events have several rounds where skiers are eliminated based on their times until the medal round. Skiers who miss any of the gates during a race are disqualified from the competition.
Super G has been in the Winter Olympic Games since 1988. It became a world cup event in 1983 and was included in the World Championships in 1987.
Women's Super G courses have 400 to 600 meters of vertical drop, while the men's range from 400 to 650 meters. Depending on the slope, there are 28 to 45 gates in a course.
Super G is considered to be a more technical event, as there is less vertical drop and the gates are closer to each other.
3. Giant Slalom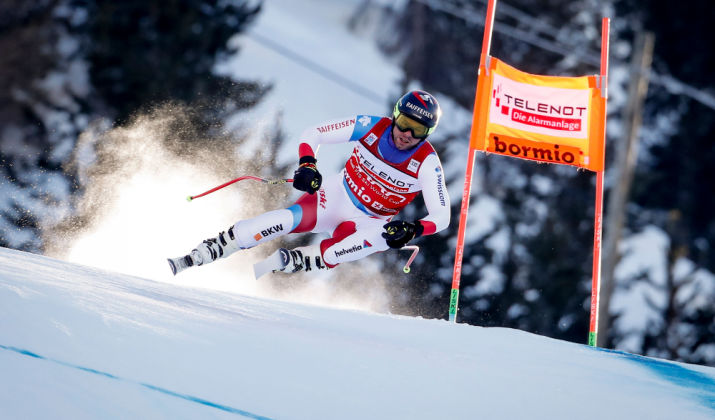 Image Source: Shutterstock
Giant slalom sees racers racing around fixed gates, but the gates are closer together than on Super G courses. The Giant Slalom courses for men have a vertical drop between 250 and 450 meters with 56 to 70 gates. While the women's courses drop 250 to 400 meters and have 46 to 58 gates.
For safety, men's Giant Slalom Skis must be at least 185 cm long and 180cm for women.
The main difference between Giant Slalom and Super-G is that Super-G is a speed event. In contrast, Giant Slalom is a technical event that sees competitors judged on how well they perform turns.
Giant Slalom racers get two runs where they aim to score points. The skier with the most points after two runs wins the event.
Giant slalom has been in the Winter Olympics since 1952 and the World Championships since 1950.
4. Slalom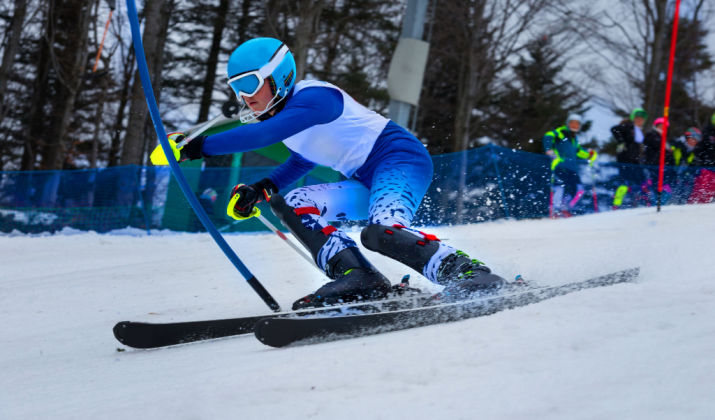 Image Source: Shutterstock
The slalom event is the most technical of the alpine skiing disciplines. Skiers race down a tight course with gates placed close together. It was introduced in the early 1920s by British skier Arnold Lunn. However, a "testing run" was devised by Austrian skier Matthias Zdarsky in 1905.
The first slalom World Championship was held in 1931, but it was included in the Winter Olympics in 1936 at the Garmisch-Partenkirchen Games.
Slalom courses are designed to test the racers' timing, skill, and judgment. The gates are set in a way that the skier has to adapt their line while keeping their rhythm in and out of the gates. If they miss a gate, they are disqualified.
The gates are positioned a minimum of 75 cm (30 in) wide and 4 m (13 ft) apart. Modern slalom gates are spring-loaded, so they whip back into place when the skier hits them while they take the shortest route.
Slalom skiers have shin and forearm guards and special chin guards on their helmets to protect them when they hit the gates with force.
Men's Olympic and World Championship slalom courses have a vertical drop of 180 to 220 meters (590 to 722 ft) with 55 to 75 gates. In comparison, the women's courses drop 130 to 180 meters (426 to 590 ft) with 45 to 60 gates.
Skiers race in two rounds on two courses on the same day. The two times are combined, and the skier with the lowest combined time wins.
A new slalom discipline has been introduced to competitions in recent years, the Parallel. This event sees slalom skiers race head to head on two identical courses running parallel to each other.
Parallel slalom courses have a vertical drop between 80 and 100 m and feature 20 to 30 gates. A maximum of 32 racers are pitched against each other in 2 rounds. They race to eliminate each other so they can advance to the next round.
The rules and format of the Parallel Slalom are regularly adapted according to the skiers' demands. This is one of the reasons why this event is so exciting to watch.
Surprisingly, Parallel slalom was a snowboarding event before a skiing event. The FIS realized that the Parallel snowboard slalom attracted crowds, so they decided to adapt the format for skiers.
You can often see Parallel slalom races in high-profile ski resorts. Sometimes they are held on floodlit slopes in the evenings, adding to the atmosphere.
5. Alpine Combined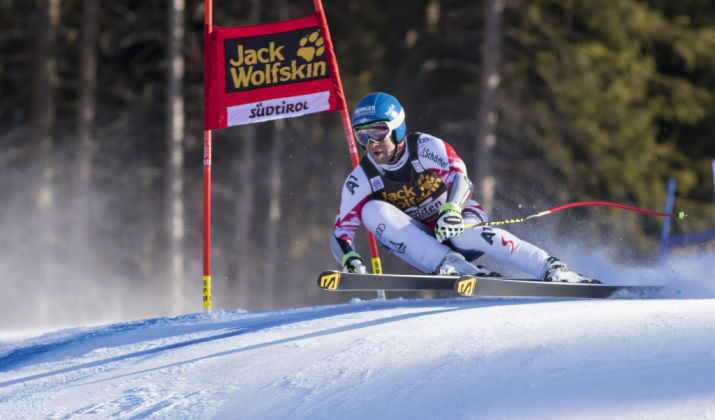 Image Source: Shutterstock
The Alpine Combined event is a mix of two ski race disciplines. The competitions consist of a Super G run or a Downhill run, and a Slalom run. Officials add the times of both runs together to determine the finishing order.
The Alpine Combined event tests the skier's speed and technique, but only a few of these events are held over the winter season.
This is because ski racers usually focus on speed or technique events to be at the top of their game. You can excel in the Alpine Combined event if you're a versatile ski racer, which is a fantastic demonstration of your skills.
6. Mogul Skiing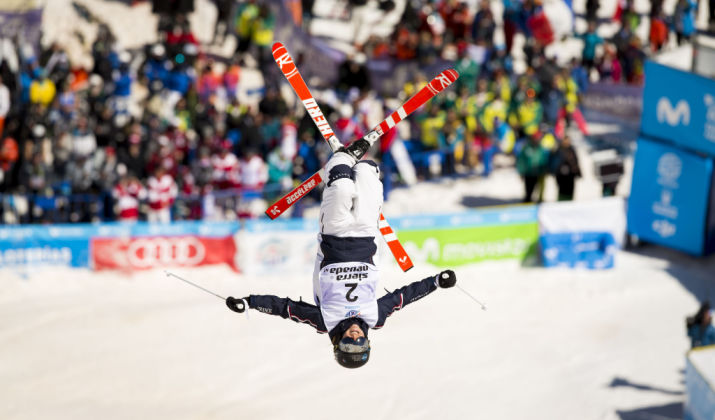 Image Source: Shutterstock
Mogul skiing is a whole different style of ski racing. Rather than charging down a course on a smooth slope with gates, mogul ski racers have to navigate a course consisting of large and punishing bumps.
Mogul courses are steep, with an incline ranging from 22° to 32°. They measure from 200 to 270 meters (660 to 890 feet) and are designed to test the skier's speed, technique, and freestyle ability. The freestyle element is judged by 2 upright jumps, where the skier will usually spin, backflip, or perform other impressive tricks to score points.
Some mogul ski racers take part in freestyle combined events. These competitions see the skiers compete in moguls, aerials, and acro. The skier with the highest total score over the 3 events wins.
7. Ski cross
Image from NPR.org
Ski cross is another racing discipline that fits into the freestyle category. This incredibly exciting format sees multiple skiers racing together on the same challenging course.
The courses either use natural terrain or are purpose-built. But all feature high-banked turns and big jumps, similar to a motocross or BMX race track. This style of course, makes ski cross races a spectacle as skiers race on these courses shoulder-to-shoulder at up to 97 kph (60 mph).
Ski cross racers use the same equipment as alpine downhill ski racers but don't wear skin tight lycra suits. Ski cross events consist of several rounds, starting with a time-trial elimination round, where the skiers go down the course on their own and are timed. The 32 fastest skiers go through to the next round.
After the elimination round, ski cross events use a heats format. Each race consists of 4 skiers racing each other at high speed. The first two to cross the line move on to the next round.
The heats format continues throughout the event eliminating 2 racers at a time until the last 4 remain for the final. The final race determines the medal positions and runners-up.
Ski cross racers can be disqualified if officials determine they have intentionally come into contact with another competitor. This is not unheard of, as the format gets racers riled up and very competitive.
You can see ski cross races in the Winter Olympic Games for both men and women. There are also ski cross events in the FIS Freestyle Skiing World Cup, but it was taken out of the Winter X Games in 2013.
Ski cross is derived from Boardercross, which is precisely the same format but on snowboards. The main difference is that skiers tend to go faster and higher on the jumps due to the nature of their equipment and riding position.
8. Nordic Skiing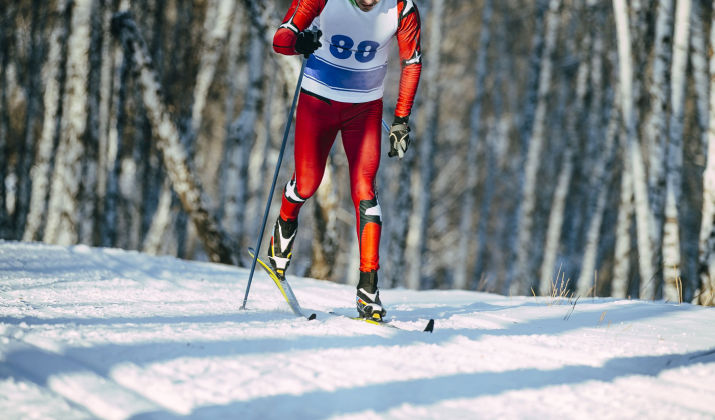 Image Source: Shutterstock
Nordic skiing is also known as cross-country skiing. The techniques involved originated in the less mountainous but hilly terrain of Scandinavian countries such as Norway.
When it comes to Nordic ski racing, there are several sub-categories, differentiated by the type of course, start, skiing style, and distance.
Nearly all Nordic ski races have a staggered start, where racers set off 30-seconds apart. Therefore, skiers race against the clock rather than each other.
Some Nordic ski races have pursuit formats, taking over two races. These events see the skiers race against each other, and their time is not a priority.
There are two different styles of Nordic ski racing. The original style is now known as "Classic," where skiers put their skis in narrow grooves cut into the snow all around the course.
The Classic style requires the skier to use a striding technique while pushing on their poles to glide forwards. They only leave the grooves when they need to overtake the skier in front of them.
The other style of Nordic skiing is known as "Skate." This technique is used outside of the grooves, and the skier pushes themselves forwards with the inside edge of their skis and extra-long poles.
Skate Nordic skiers use shorter skis and boots that rise higher up the ankle. This combination gives them more support and control.
You can see cross-country and relay races in modern Nordic skiing events. But they also incorporate ski jumping, as it is part of the Nordic Combined discipline.
Nordic Combined events consist of a 10km cross-country ski race and a ski jump contest. The winner is the skier who gets the most points accumulated over both events based on their performance.
9. Speed Skiing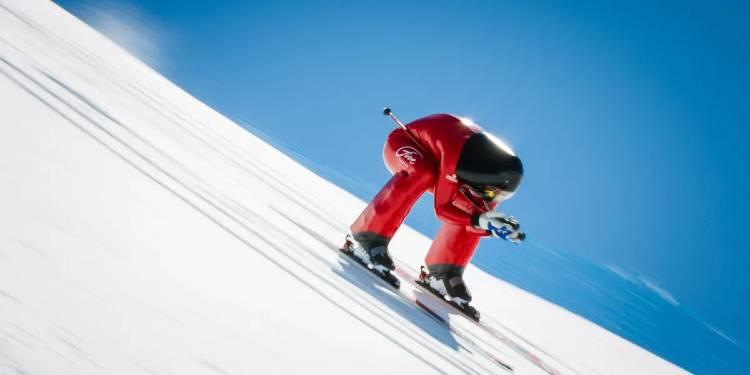 Image from powder.com
Speed skiing is a unique type of ski race reserved for those with nerves of steel. The courses are incredibly steep and perfectly straight, so the skier can go as fast as they can.
To help the skier reach their top speed, they wear special equipment. They wear skin tight suits and aerodynamic helmets to reduce drag and cut through the air more efficiently. They also use special skis and poles with recesses in them to fit around the skier's body.
Speed skiing is incredibly dangerous and is known as the "fastest non-motorized sport on earth." It was invented in the 1930s as a marketing stunt for the Swiss ski resort Saint Moritz.
In the early days, speed skiers would experiment with cones running from their helmets and down their backs, designed to make them as streamlined as possible.
Speed skiers remain in the "tuck" position for the entirety of their run, which is the most aerodynamic stance. You will see downhill skiers using the same technique on straighter parts of the course.
Another technique speed skiers use to increase their speed is to fit their skis with ballast. Early speed skiers would load their skis with up to 32kg (71lbs) to help them accelerate much faster. This saw speeds of 136 kph (85mph) by 1933.
Even though speed skiing is a specialist event, ski manufacturers benefit from the notoriety of their skis being the fastest. Therefore, they invest in scientific methods to help speed skiers go as fast as possible.
A great example of this is performing wind-tunnel tests. The speed skier will spend time tweaking their stance and equipment using the data derived from wind-tunnel sessions.
Speed skiing became more prominent when skiers were unofficially clocked at 174 kph (108mph). These speeds were achieved by ski racers from the U.S training in South America.
This led to the preparation of specific speed skiing courses in Italy. Italy's most famous speed skiing course is in Cervinia, where speeds of 175 kph (109mph) were reached in 1964. However, American speed skiers reached 200kph (125mph) in the 1970 and early 1980s.
Speed skiing is both a professional and amateur winter sport. The fastest men and women skiers travel to speed skiing courses around the world to compete against each other; however, most of the courses are in Europe.
Speed skiing is one of the many disciplines governed by the Fédération Internationale de Ski (FIS), which is an advisory organization to the International Olympic Committee (IOC).
The FIS wants speed skiing to be included in the Winter Olympic Games, but the IOC wants to limit the skiers' speeds to 125mph. Even though there have been several speed skiing deaths over the years, the sport's top competitors are against this limit.
The IOC allowed speed skiing into the Winter Olympics in 1992 in Albertville, France, as a demonstration event. But unfortunately, it hasn't been on the Olympic program since.
In the early days, speed skiing was almost exclusive to male skiers. However, it attracted more women in the early 1960s, and the women's record in 1963 was 143 kph (89mph), which was 30kph (19mph) slower than the men's record at the time.
The 1970s and 1980s saw more women become speed skiers, and they reached 125mph in the '80s, while men exceeded 240 kph (150mph). But women soon caught up.
Speed skis measure 2.4 meters long, have a maximum width of 10cm, and weigh no more than 15kg.
The special suits speed skiers wear are made from fire-resistant foam. This is so the skier is protected from friction burns when they fall. They also have small wings called fairings attached to the suit behind their calves to reduce drag.
Another way speed skiers reduce drag is with aerodynamic helmets. These tear-drop-shaped helmets run down their back, channeling air and complementing the skier's tuck position.
Speed skiing isn't a sport that many people do. The specialized equipment is very expensive, and the danger aspect puts many people off trying it.
Most speed skiers are ex-downhill racers, who want to ski fast, but their age restricts their movement and reflexes for competitive alpine racing.
Final Thoughts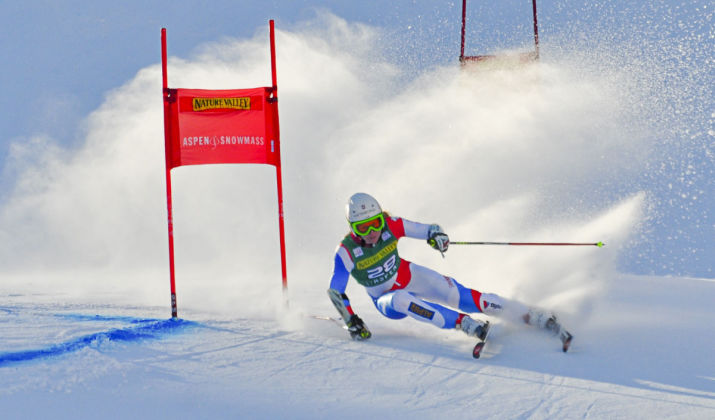 Image Source: Shutterstock
As you can see, there are quite a few different types of ski races. Some are more traditional than others, while some disciplines are very specialist.
The variety of the different types of ski races is quite surprising. You can get to see events that are purely based on speed, but there are ski races that incorporate technique and style, too.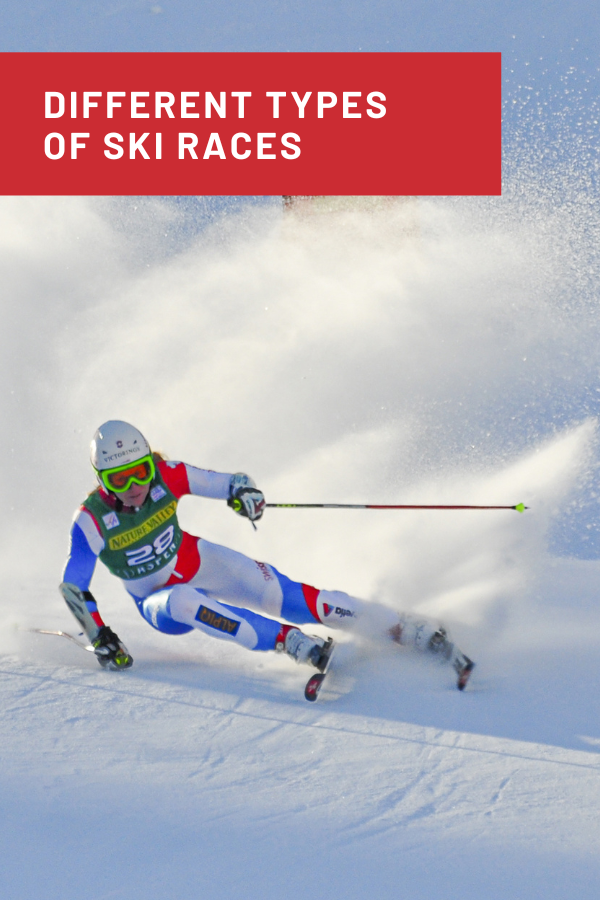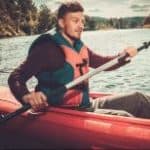 Author: Peter Salisbury
Pete is the Owner of KayakHelp.com. Born and raised in Cleveland, Ohio, he grew up kayaking, fishing, sailing, and partaking in outdoor adventures around the Great Lakes. When he's not out on the water, you can find him skiing in the mountains, reading his favorite books, and spending time with his family.