There are lots of good reasons to add outriggers to your 'yak, but they're all driven by a central concern: stability.
If you're planning on adding a sail, or want to turn your rec boat into a fishing platform, outriggers are a great solution. They're also a good investment if you find that as a tall, heavy angler, you need more balance than your 'yak can deliver.
But there are pros and cons to these additions, and plenty you need to know before you hit Amazon with your credit card in hand. To help you get a grip on the details, we're offering the following buying guide and reviews.
Thinking of Rigging Outriggers? Here's what you need to know.
Stability
This is the only reason you're looking at outriggers, though there are a variety of different stability problems that they can solve.
Sails – A sail can add a ton of versatility to your 'yak. Once you master it, stretching some 'canvas' over your head can lead to longer, more exciting adventures than a paddle alone. But before you start dreaming of a spinnaker, consider that without a keel, your kayak can't handle much sail.
Keels – are the long, weighted blades you'll see under a sailboat's hull. Their purpose is to provide a counterbalance to the force that the wind creates on the sail. Your 'yak doesn't come with a keel, and as a result, anything more than a light push will send it over. To fix that, outriggers are a great option. They provide the stability you'll need to make the most of more than a light breeze.
Angling – Maybe you've bought a recreational kayak and now realize you'd like to start fishing on some of your outings. Many species of fish are best caught by casting directly to them. If you see your prey before you cast, you can coax them directly into a strike. And if you want to try fly fishing, it's much easier to cast standing than sitting. But if you try getting on your feet in most rec 'yaks, you're in for a nasty surprise. One easy fix is a pair of outriggers. They'll have you standing in your rec boat in no time!
Tall, heavy fisherman – If this is you, you already know the problem. Even kayaks designed for sight fishing can have trouble providing stability for tall, heavy anglers. Outriggers are an excellent option to get you standing tall so you can focus on catching fish.
Outriggers Will Slow You Down
This is the major drawback of outriggers, and there's just not much you can do about it.
Hydrodynamics are complex, and you probably don't want a lesson in physics. As a simplified explanation, the longer the hull of your kayak, the faster it can be pushed through the water. Outriggers are essentially extra hulls attached to your 'yak, and you're either creating a catamaran or a trimaran when you add them on.
But that means that the shorter they are, the slower you'll be. In almost every case, you'll be slower than you were in your kayak alone. Physics just isn't kind to outriggers. The only exception to this is sailing when you can add more sail with outriggers than you can with a 'yak by itself. In this very specific circumstance, you might be faster.
Also Read: Best Kayak Trolling Motors
Inflatable or Solid PVC?
The choice is up to you, but each offers advantages and disadvantages.
Inflatable outriggers feature a bladder within a tough outer membrane. Designed to be inflated by mouth when you're ready to hit the water, they're easy to store when you deflate them. The downside? As tough as the exterior membrane is, it can be punctured. That's something to think about if you're a fisherman or you launch and land on beaches where debris could be an issue.
PVC outriggers use solid floats to create buoyancy. Their advantage is robustness. You don't have to worry about their durability out on the water, and this is the kind of material that professional watermen use on their nets and traps. But they're not quite as easy to store as inflatable designs.
Installation and Mounting Systems
This is another issue to consider. If you're not handy, mounting outriggers could be a bit more than you bargained for.
Placement – To keep your outriggers from interfering with paddle strokes or your fishing line, you need to place them nearer to the stern of your 'yak. You'll want to find an open space of the right size, and carefully measure just how much clearance you'll end up with.
Mounting – You'll need a drill, and you'll need to be comfortable putting holes in your kayak. If you have zero experience with basic DIY projects, this may be a bit daunting. Just be sure to follow the manufacturer's instructions, and remember, pilot-drilling a hole is the best way to ensure accuracy with a larger bit.
This video shows an example of how to install the Hobie AMA kit.
Hobie Sidekick Ama Kit part number 72062101
Brocraft Kayak Outriggers System / Stabilizers System
Scotty Kayak Stabilizer System, Gray, Large
Hobie Sidekick Ama Kit part number 72062101
Brocraft Kayak Outriggers System / Stabilizers System
Scotty Kayak Stabilizer System, Gray, Large
Kayak Outrigger Reviews
Check Price on Amazon

Mounting system: crossbar
Outrigger type: inflatable
Hobie's Sidekick kit provides everything you need for installation. Like all of its competitors, this means breaking out the drill, measuring carefully, and following Hobie's instructions to the tee. After you mount an aluminum crossbar behind your cockpit, you'll fit two detachable outriggers onto the ends of the mounts.
These outriggers are adjustable to three settings: high, medium, and low. And the bladders are easy to fill with a few hard breaths. Their valves also allow quick deflation.
While designed for Hobie kayaks, this outrigger kit should be adaptable to other 'yaks. Whether your particular model can accept this kit or not will be a matter of trial and error, so you'll be taking a chance if you order from Amazon. But given their generous return policy, this may be worth the trouble.
Customers report excellent quality and an immediate improvement in stability. Anglers may want to give this system a pass, though, as the outriggers can be punctured if you try hard enough. But for kayakers who want added stability and a rock solid mounting system, this is a great place to start your search.
PROS
Easy to transport and store
Easy to inflate and deflate
CONS
Outriggers can be punctured
Requires power tools to install
Check Price on Amazon

Mounting system: articulating arms attached to rod holders
Outrigger type: PVC
Like its competitor from Scotty, Brocraft's outrigger system attaches to your 'yak with rod holders. Its two, 32-inch aluminum mounting arms end in outrigger floats, and the arms themselves are adjustable at the rod holders.
Unless you can reach those attachment points, it's not going to be easy to adjust the position of the arms while on the water. This is a weakness of all rod-holder driven mounts.
Rather than inflatables, Brocraft's outriggers rely on molded PVC floats. That's a nice feature for fishermen, as there's no need to worry about inflating/deflating, leakage, or piercing them with a hook.
Some customers were critical of the mounting hardware, and others found that the included screws weren't long enough for their kayaks. If this is the case for you, be sure to use stainless steel screws, washers, and nuts.
But stability is no worry. Users find that these Brocraft outriggers provide the firm footing to allow them to stand in their kayaks, and if this is a concern for you, these might be a great option. For anglers who might puncture a bladder outrigger, this system is worth a close look.
CONS
Hard to transport and store
Not easy to adjust on the water
Requires power tools to install
Check Price on Amazon
Mounting system: articulating arms attached to rod holders
Outrigger type: inflatable
Scotty's outrigger kit offers two inflatable pontoons, two 28-inch anodized aluminum mounting arms, and a set of baitcasting rod holders.
Those last items may sound strange, but the idea is that the mounting bars attach to the kayak via two Scotty rod-holding mounts. You'll need to pick a spot, drill the holes to attach the mounts, and secure them in place.
One drawback is that customers report that the kit does not come with the screws, washers, and nuts needed for installation.
The outer material of these outriggers is rugged PVC, so they should stand up to whatever you can throw at them.
Some customers complain that these outriggers are hard to adjust on the fly, given the design of the rod holders to which they're mounted. Others also warn that inflating the bladder can be tough because of the design of the valve, which requires a tiny pin to be depressed as air is blown in.
Those weaknesses notwithstanding, users rave about the stability of this system in wind and waves. If you're not concerned about punctures, and if you're comfortable finding the right hardware, this outrigger system is a solid option to consider.
PROS
Easy to transport and store
CONS
Difficult to inflate
Not easy to adjust on the water
Outriggers can be punctured
Requires power tools to install
Doesn't come with the necessary hardware
Check Price on Amazon
Mounting system: articulating arms attached to rod holders
Outrigger type: PVC
The Inspired by Nature outrigger system uses Scotty 241L deck mounts and Scotty Rodmaster rod holders to link its system to your kayak. Like its competitors, this means you'll need to measure carefully and break out your drill. Fortunately, though, this system includes the stainless steel hardware you'll need.
PVC comes in many varieties, both hard and soft, and Inspired by Nature takes advantage of this versatility. Its 30-inch arms are made from strong, stiff PVC and extend into yellow PVC floats. That's not a typo–both components are made from polyvinyl chloride. And like the Borcraft system, there's no concern about punctures or leaks with these, but you will need to think about transport and storage.
For anyone needing to stand in their 'yak, or for people who are worried about tipping over, these outriggers are a good choice. This is doubly true for anglers, who won't need to worry about an errant hook or two.
CONS
Hard to transport and store
Not easy to adjust on the water
Requires power tools to install
Kayak outriggers are a relatively new development, and manufacturers haven't yet caught up. As a result, the breadth of options we'd like to see just aren't there.
That said, these four systems are the best of what's available, and any of them can make an outstanding addition to your 'yak depending on exactly what you need and want.
Our favorite is the Hobie Sidekick kit. It offers a wide array of features that make it an excellent choice for anyone looking for added stability. Its crossbar mounting system is a bit more robust than the rod-holder options its competitors offer.
It's painless to adjust, simple to inflate, and a snap to deflate when you're done. Those qualities make it easy to transport and store. Most importantly, this kit provides the security you need for kayak sailing, fishing, and dealing with wind and waves.
For most kayakers, this is a great option. Anglers, on the other hand, might want to consider either the Brocraft or Inspired by Nature models, as their PVC outriggers can shrug off the hooks that will inevitably snag them. But whatever your choice, you can feel confident in the overall quality of any of these systems.
More From KayakHelp: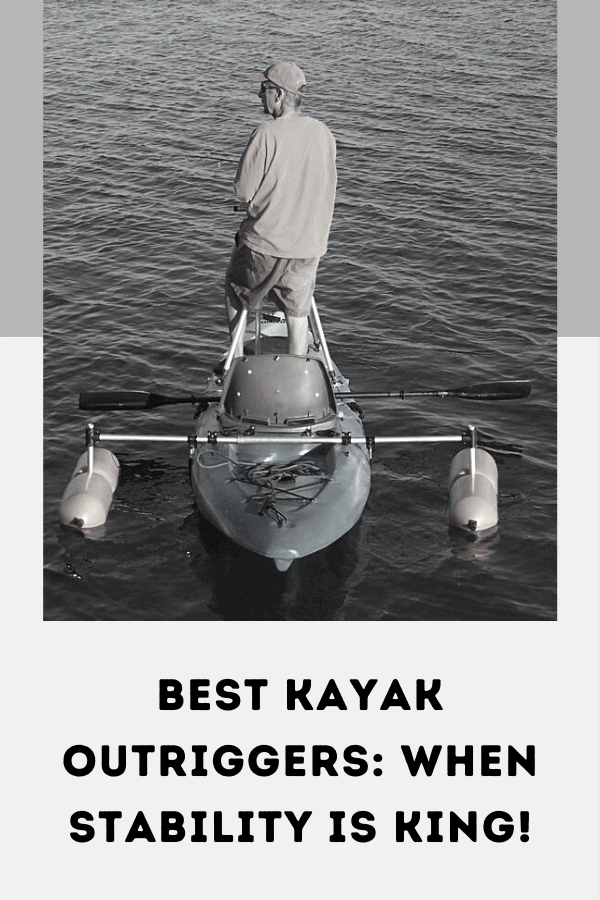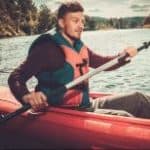 Author: Peter Salisbury
Pete is the Owner of KayakHelp.com. Born and raised in Cleveland, Ohio, he grew up kayaking, fishing, sailing, and partaking in outdoor adventures around the Great Lakes. When he's not out on the water, you can find him skiing in the mountains, reading his favorite books, and spending time with his family.