While it might not be the most exciting part of kayaking, storing your 'yak properly is hugely important. Improper storage can cause your precious kayak to warp, get disgustingly mildewy, or just get damaged while it's kicking around in your garage.
The problem is that kayaks are generally bulky, hard-to-store items. Some kayaks, such as those used in sea kayaking or kayak touring, can be downright huge. This is where your kayak wall mount comes into play.
Designed to attach to a wall, either internally or externally, kayak mounts normally consist of nylon strapping, padded metal hooks, or a combination of the two.
With a good kayak wall mount, you can store your kayak in a way that will prevent it from being damaged. Additionally, you'll be able to free up room in your storage area by utilizing the wall space.
As is the case when buying anything that needs to be screwed into a wall and is used to hang something precious above the ground, choosing the right kayak wall mount takes some forethought and consideration.
Thankfully, we're here with a guide that explains what factors to consider when buying a kayak wall mount, and we'll review some of the best mounts on the market.
Best Kayak Wall Mounts
[toc]
Why Use A Kayak Wall Mount?
Buying a wall mount might seem a little unnecessary if you've already got enough space to store your 'yak, but using a wall mount has advantages beyond just being a space saver.
Improperly storing a kayak, especially one with a plastic hull, can make it warp over time and cause the kayak's lines to bend out of true. Once your kayak's hull has warped, it can be very difficult to re-straighten it. Storing your kayak on a hard, flat surface also has its disadvantages.
The sections of your kayak that are in contact with the hard surface are vulnerable to becoming scratched or dented. Storing your kayak off of the floor also minimizes the chances of mold or mildew growing in damp conditions.
Mildew is of particular concern for wooden and composite kayaks, as it can be quite difficult to remove and may cause the layers of laminate to separate. Using a wall mount allows you to support the weight of your kayak evenly.
This reduces the risk of warping and eliminates the scratching and denting associated with leaving it on a hard surface. By suspending your kayak from a wall, you also increase the airflow around it, preventing the growth of mold and mildew.
What To Consider When Buying A Kayak Wall Mount
A kayak wall mount is an effective and simple way to properly store your kayak while freeing up space in your storage areas. As you'll be drilling your mount into a wall, a little planning can save you a lot of headaches later.
Before you head out to buy your wall mount, here are some factors to consider.
Inside or Outside
For those of us who don't have the internal space to store a kayak in a garage or shed, mounting a wall rack on an external wall can seem like the ideal solution.
While it's certainly not impossible to consistently store a kayak outside, there are a few more considerations to take into account. Keeping your kayak outside means taking steps to prevent degradation caused by exposure to the elements.
Rain, snow, and particularly frost can significantly damage your kayak if you don't take the proper precautions. The good news is that, with a little preparation, you can mount your kayak outside and not have to worry about it crumbling during a hard winter.
The first thing you'll need is a tarp or other waterproof covering to keep the rain and snow off. Remember to affix the trap so that it isn't touching the kayak.
Contact between the tarp and your 'yak can cause mold and fungus to grow. In order to prevent your kayak from being damaged by frost, you'll need to lag it, just like you would an external water pipe.
Fortunately, you can use the same materials, and any Home Depot will be able to sell you the necessary insulation foam. Just remember to dry your kayak as thoroughly as possible before packing it with insulation and storing it.
Measure First
You've heard the phrase "measure twice, cut once," right? Well, it certainly applies to mounting a kayak wall rack. Before rushing out to buy your shiny new mount, take a moment to measure the space in which you plan to attach it.
Be sure to take into account the length of your kayak. Storing a medium-sized, recreational kayak might not be much of a problem, but a heavy 15-foot touring kayak will require a specific, heavy-duty mount and plenty of wall space.
It's always a good idea to have an estimate of the weight of your kayak when purchasing a wall mount. You'll need to make sure your mount can support the weight of your kayak, and that the wall can, too.
We recommend always attaching a kayak wall mount to a solid brick or stone wall. The last thing you want is for your kayak mount to rip a chunk out of your drywall.
It's also important to remember that most kayak mounting kits will not come with the specific fittings you need to attach your wall mount. The screws and fittings needed to attach a wall mount to a brick wall are considerably different to those needed for a stone or cinder block wall, and you'll need to source the correct fittings yourself.
Best Kayak Wall Mounts
Check Price on Amazon
The Seattle Sports Kayak Wall Cradle is our choice for best kayak wall mount because of its light weight, ease of installation, and ability to hold a large, heavy kayak.
Made of lightweight but durable powder-coated steel, the Seattle Sports Kayak Wall Cradle can suspend up to 200 pounds of weight, if mounted on the correct surface.
This makes it ideal for owners of the heavier sea, touring, and tandem kayaks. Its simple design and the inclusion of the required mounting lag bolts make the Seattle Sports Kayak Wall Cradle remarkably easy to install.
With dimensions of H24 by W14 inches, it can accommodate a wide range of kayaks. If you're considering mounting your kayak outdoors, the powder coating on the steel hooks makes them resistant to the elements.
Check Price on Amazon
A close contender for the prize of best kayak wall mount, the Suspenz EZ Kayak Rack takes a well-deserved second place in our reviews because of its easy-to-install, single-bolt design and included safety strap.
Made of adonized steel, the rust-resistant Suspenz EZ Kayak Rack comes with thick padding to keep your hull in perfect condition. The addition of a safety hook means your kayak is going to stay exactly where you hang it, so you can store your precious gear beneath it without worrying about any unfortunate accidents.
The Suspenz EZ Kayak Rack is also designed to store stand-up paddle boards. Its one downside is that is can only support up to 100 pounds of weight, losing out to the Seattle Sports Kayak Wall Cradle for first place on that alone.
Check Price on Amazon
Designed with bigger kayaks or canoes in mind, the Extreme Max Kayak Wall Cradle Set is constructed of solid steel, allowing it to hold up to 200 pounds in weight.
Other than its heavy-duty holding capacity, the Extreme Max Kayak Wall Cradle Set doesn't have a slew of features–just a coating of foam on its hook to prevent damage to your kayak's finish.
So if you are looking for a simple and easy-to-use wall mounting system that can support your heavy tandem, sea, or touring kayak, then it is very much worth considering the Extreme Max Kayak Wall Cradle Set.
A departure from the standard twin hook design, the Malone Auto Racks SlingTwo Double Kayak Storage System uses one-inch wide nylon quick-release straps to suspend up to two kayaks from a wall or ceiling.
Being able to store two kayaks or any combination of kayaks, canoes, stand-up paddle boards (SUP), or surfboards is extremely handy.
The only downside to the Malone Auto Racks SlingTwo Double Kayak Storage System is that it has a maximum weight capacity for just 136 pounds, which means your kayaks will have to be fairly lightweight if you want to hook two of them up.
Check Price on Amazon
Similar to the Suspenz EZ Kayak Rack, the Sea to Summit AquaRacks Kayak features durable, stainless steel hooks. AquaRacks is coated with a heavy-duty, closed-cell foam that is further covered with a tough nylon sleeve to help protect your kayak's finish.
The hooks themselves are specially designed to prevent damage and depressions to the hull and finish of your precious 'yak. With a support capacity of 175 pounds, they can hold all but the heaviest of kayaks.
The Surf To Summit Kayak Storage Wall Hanger is designed to conveniently hold all your paddling gear in one spot. Twin padded steel hooks hold your kayak or canoe in place, while your paddle fits into the rack beneath.
There's even a hanging rail below that you can use to hold your gear or even a bike. The main downside to the Surf To Summit Kayak Storage Wall Hanger is that it doesn't come with a suggested weight limit, so how much it can hold is a guessing game. It's also a little tricky for one person to install.
Perfect for the space-conscious paddler, the Suspenz Folding Rack extends only 15 inches from the wall and uses a pivoting system to fold away when not in use.
Able to store your kayak, canoe, or SUP with the weight distributed evenly, the Suspenz Folding Rack is ideal for a crowded storage space.
It holds your kayak securely when not in use, and then folds away neatly to give you as much space as possible. The one downside to the Suspenz Folding Rack is that its holding brackets can only handle 75 pounds of weight, making it unsuitable for storing heavier kayaks.
Check Price on Amazon
The Seattle Sports Kayak Wall Cradle is our choice for best kayak wall mount. While it might not have an overabundance of bells and whistles, it's easy to install and can securely hold up to 200 pounds of kayaks when attached to the right kind of wall.
Durable, rust-resistant, and fitted with a foam coating that won't chip or abrade your kayak, the Seattle Sports Kayak Wall Cradle provides an excellent way of storing your kayak indoors or outdoors.
It saves you space and keeps your kayak in top condition for when you want to be out on the water, not hammering out the dents in your hull.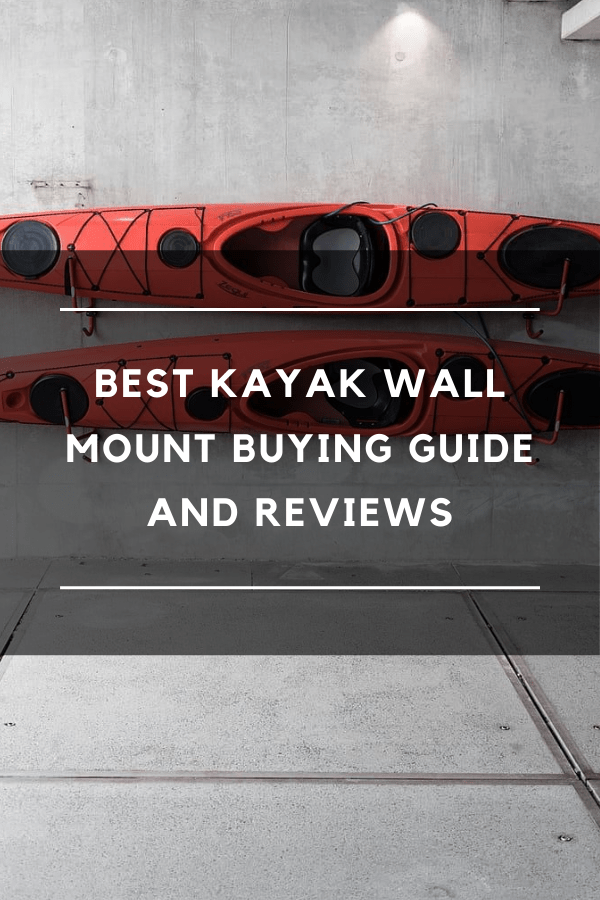 Author: John McCloy
John is a professional copywriter, fencer, and paddlesports fanatic based in the UK. When he's not out on the water, he can usually be found convincing new people to try kayaking, pretending to be Zorro or climbing what passes for mountains in England.