If your kayaking adventure takes you out on cold water, then a good drysuit is exactly what you need to keep you warm and safe. Sudden immersion in cold water can have serious side effects and no one likes being cold and wet, particularly if the temperature is edging down below zero.
Your drysuit solves this issue by surrounding you with a mobile waterproof layer, under which you wear thermal clothing. Unlike a wetsuit, it doesn't need to trap a layer of water around you to keep you warm, so it will function in temperatures below 45 degrees Fahrenheit.
Unfortunately, buying a drysuit for kayaking isn't as simple as finding one that fits. There are a number of different factors that can affect what model of drysuit you need, including material, entry type, and the environment you will be using it in.
To help you find the drysuit that's right for you, we've put together a buying guide to highlight the different elements of a drysuit, and reviews of some of the best drysuits on the market.
Best Kayak Drysuits
Buying Guide For Kayak Drysuits
Material
Most drysuits are made of nylon, which is durable and tear-resistant. On some models, the nylon is treated with a chemical hydrophilic treatment, which causes water to bead up and run off the suit.
The gaskets which seal the suit are traditionally made of neoprene to prevent abrasions of the skin.
Sections of the suit which are prone to wear, such as the knees and seat, are often reinforced with abrasion resistant materials, Cordura being the most common.
Breathability
Some models of drysuit feature a proprietary breathable linings, such as Gore-tex or eVent. These semi-permeable linings allows sweat vapour to pass through the drysuit about letting water in, keeping you dry and preventing the buildup of perspiration.
This is particularly important to kayakers as physical exertion in a non-breathable drysuit can lead to significant buildup of moisture, affecting the ability of your thermal clothing to keep you warm.
Where possible it is best to opt for a drysuit with a breathable lining.
Fit
Drysuits come in two fits, loose or tight. They type of fit you will need depends on the temperature of the water you plan on kayaking on. For particularly cold waters, or activities like whitewater kayaking which have a high risk of immersion, opt for a loose fitting drysuit.
A looser fit allows for thicker and more thermally protective clothing. If the weather and water temperature is milder, and the risk of immersion is low, opt for a tighter wetsuit to reduce its bulk.
Getting into a drysuit is notoriously difficult, so for tips on how to put one on, check out this video:
Entry Type
Most drysuit designs have entry points at the back or at the front. There are no particular benefits to either of these entry types, except that men may find the front entry suits more particular when answering the call of nature, as they often feature a front mounted "relief zip."
Recent years have seen the rise of popularity of two-part drysuits, pioneered by Kokatat's SwitchZip technology, which join at the waist.
These are both easier to get in and out of and can offer further benefits to kayakers as they can be used as just a jacket or trousers, ideal if you have a spray skirt and don't feel the need to wear a full drysuit.
Features
While all drysuits will come with a variety of different features, there are some that are more useful to kayakers than others.
Waterproof Pockets
Allows you to store vital personal items such as phones and keys, while also storing important gear, such as GPS units and flares.
Nylon Loops
Drysuits designed for cold-water fishing often come with a series of nylon gear loops. These allow an angler to keep all their tackle within easy reach.
Reflective Material
Reflection is an important safety feature of any drysuit, particularly as larger crafts often fail to notice kayakers. The ability to be quickly located is particularly important if you ever need to be rescued. Look for drysuits in bright colours and with reflective striping.
Shoes and Gloves
While some models of drysuit do come with booties, it is best to bear in mind that you will need to purchase your own kayaking gloves and shoes.
Warranty
Drysuits are expensive items, often coming in second only to your kayak in terms of cost. With this in mind, it's best to purchase a drysuit that offers at least a one-year guarantee.
As a rule, this guarantee won't cover simple wear and tear, but it will protect you from the manufacturing failures that occasionally occur in parts such as the waterproof lining, seals, or waterproof zips.
Best Kayak Drysuit Reviews
Check Price on Amazon
Fit:
Loose
Material: Nylon/Cordura
Breathable Lining: None
Entry Type: Two-part/Captive Zip
The Ocean Rodeo Ignite is an attempt to cross a drysuit with a traditional foul weather gear. The Captive Zip system, coupled with a range of adjustable seals, allows the suit to be used in a number of different "modes."
In "dry-mode," the suit can be fully sealed at wrist, waist, neck, and ankles to function as a full drysuit. It can then quickly be converted to "standby mode" by opening the dry zip and doffing the neck seal.
This can all be done without removing your PFD. The addition of a wader belt helps to prevent water getting into the suit if you find yourself accidentally immersed in "standby mode."
While this does add a layer of utility to the Ignite, there are certain drawbacks. The Ignite has no spray skirt attachment system, which reduces the utility of it being able to separate into pants and dry top. It also has no breathable lining, making it prone to retaining perspiration.
PROS
CONS
Summary: The Ignite is a great choice for those in need of both foul weather gear and, occasionally, a kayak drysuit. Its ability to perform both those roles, which it does well, makes it ideal for that specific circumstance.
But its lack of a spray skirt attachment and a breathable lining cut down on its utility as a full-time kayaking drysuit.
Fit: Loose
Material: Nylon/Cordura
Breathable Lining: eXhaust
Entry Type: Rear
The Level Six Emperor drysuit is their flagship product and is packed with handy features that make it ideal for kayakers.
The outer layer is made of ripstop nylon and reinforced by abrasion resistant Cordura panels on the elbows, forearms, shoulders, knees, and seat.
The rear-entry zip is positioned so that it facilitates easy access while not disrupting your paddling stroke. An overlapping double-tunnel and DCS (Dual Cinch System) works with your spray skirt to provide a dry seal at the waist, helping to keep the water out of your boat.
The inside of the suit is lined with an eXhaust breathable lining which, while it doesn't quite have the performance of a Gore-tex lining, is still an effective way of aspirating sweat and keeping you dry.
The same eXhaust lining is used in the suit's booties. Both suit and lining are covered by a one-year warranty.
The Emperor has a number of other handy feature that increase it utility. There is a waterproof chest pocket with emergency whistle that can be accessed while wearing a personal flotation device (PFD).
The lower pockets are lined with fleece to keep your hands warm on particularly cold days, and the suit has an articulated spine to keep you comfortable and mobile on long journeys. When nature calls, the Emperor also has a front-mounted relief zip.
PROS
CONS
Summary: The Level Six Emperor's superior construction and range of features make it an excellent drysuit. It is abrasion resistant, breathable, and Cordura reinforced.
The fleece lined pockets, DCS, waterproof chest pocket, and articulated spine are all excellent additions that add to the suit's benefits. While it doesn't have the utility of the Idol's SwitchZip system, and so isn't our overall winner, the Emperor is still a fantastic choice for your kayaking drysuit.
Fit: Loose
Material:  Nylon/Cordura
Breathable Lining:  Gore-tex
Entry Type: Two-Part/SwitchZip
The Kokatat Idol drysuit is specifically designed with kayakers in mind and has a range of excellent features which make it the ideal choice for paddle sports enthusiasts.
Using Kokatat's SwitchZip technology, the Idol joins at the waist and this two-part system has a number of advantages. Firstly, it is significantly easier to get in and out of compared to traditional front and back entry suits, and the waist seam eliminates the need for cumbersome "relief zips."
Secondly, the ability to detach the upper and lower halves of the Idol effectively allows it to function as a drysuit, paddling pants, and a drytop all in one. The seals for both parts of the suit are latex instead of the more comfortable neoprene.
The Idol comes lined with a Gore-tex Proshell breathable lining, helping to aspirate sweat away form the skin, keeping you dry even when you are paddling hard.
The Gore-tex prevents the build up of body moisture within the suit, which can soak through thermal clothing and restrict its ability to keep you warm. There are nylon gear loops on the outer shell and large, quick draining mesh pockets.
On the outside, the Idol's seat, elbows, and knees are reinforced with abrasion resistant 330 denier Cordura fabric, to prevent damage when entering and exiting your kayak.
A dual adjustable over skirt with "hook and loop" compatible neoprene allows the top of the drysuit to be attached to a spray skirt. The entire ensemble is covered by Kokatat's limited lifetime guarantee, which covers the suit against manufacturing faults for "the reasonable lifetime of the product."
PROS
CONS
Summary: The Kokatat Idol has everything a kayaker needs in a drysuit and it comes with the added bonus of working as paddle pants and a drytop too.
The hard wearing, Cordura reinforced, outer is able to withstand all the knocks and abrasions normally associated with kayaking while the breathable Gore-tex inner keeps your dry, no matter how hard you are paddling.
The lack of waterproof pockets and neoprene seals are small downsides that do little to affect how fantastic this drysuit is.
Fit: Loose
Material: Nylon/Cordura
Breathable Lining: None
Entry Type: Front
The Stohlquist Amp is a stripped-back drysuit designed with whitewater kayaking in mind. The outer shell is reinforced with Cordura at the seat and knees to prevent abrasion, while a slightly more relaxed fit allows for the wearing of thicker thermal clothing.
The neck seals are softer Duraseal latex while the wrist gaskets have a neoprene coating that offers greater UV resistance, increased durability, and tear resistance.
The Amp has a waterproof cross-chest entry and relief zippers, with waterproof pockets on each sleeve. A patented Gripp-Loc skirt tunnel attaches to your spray skirt to ensure no water enters your cockpit.
Unfortunately, the Amp does not have a breathable lining, so it's important to take steps to reduce the chance of moisture buildup on the inside of the suit, such as wearing high wicking clothing.
The Amp is designed to be gender specific, meaning that there is a different suit design for men and women. While this might sound unnecessary, the specific placement of pockets, entry and relief zips, and overall fit do make gender specific suits more comfortable than unisex ones.
PROS
CONS
Summary: While it lacks the bells and whistle of the Emperor or Idol, the Amp is a solidly functional drysuit aimed at whitewater kayakers.
The looser fit, comfortable neck and wrist seals, and multi-part Gripp-loc skirt tunnel allows the paddler to keep mobile and use their body to steer, vital for whitewater runs. If you are looking for a simple but effective drysuit, then the Amp is a fine choice.
Fit: Loose
Material: Nylon
Breathable Lining: None
Entry Type: Front
The main benefit of the Crewsaver Cirrus drysuit is the fact that it comes bundled with a drybag and thermal fleece, giving you all you need to get started kayaking on cold water.
It has reinforced knees and abrasion resistant seat for durability, coupled with Glideskin neoprene neck and cuff seals for comfort. The stratum fleece it comes with is high wicking to keep you dry, and has hook and loop attachments to keep it in place when you are taking the drysuit on and offer.
Other than these features, the Cirrus is very basic. There is no breathable lining, although the fleece is high wicking. There are no waterproof packers, gear loops, or reflective patches.
PROS
CONS
Summary: The Cirrus bundle is great if you are looking to purchase all the elements you need for drysuit kayaking in one place.
The suit itself is perfectly functional and does have a number of features aimed at increasing your comfort. However, if you are looking for anything more than a basic drysuit, or you already have a drybag and fleece, you may want to look elsewhere.
Fit: Loose
Material: Polyurethane
Breathable Lining: N/A
Entry Type: Over-the-shoulder
Designed for the surface sports market, the Typhoon Hypercurve puts an emphasis on ease of use and comfort. One of the traditional issues with drysuits is the difficulty of getting them on and off.
To overcome this issue, the Typhoon is fitted with a over-the-shoulder zip attached to a 3D panel on the back of the suit. The larger entry space provided by the over-the-shoulder style zip allows for easier access, while the 3D panel lets the wearer close the zip without assistance, something that would be next to impossible with a traditional straight zip.
The suit itself is constructed of hard-wearing polyurethane and reinforced at the seat and knees. The seals at the neck and wrists are GlideSkin neoprene, to prevent any catching on skin, and you can choose between the options of latex booties or ankle seals for your feet.
The Typhoon features internal bracers and pre-articulated joints to add to its flexibility and to keep the fit from slipping. A three-year warranty covers all the working parts of this suit, so you won't have to worry too much about the zips failing.
PROS
CONS
Summary: The Typhoon's over-the-shoulder entry and 3D zip panel do solve some of the issues with putting on and removing your drysuit, while its internal braces and pre-articulated limbs do add to its comfort.
If you're looking for a suit that's easy to enter and exit, and you prefer to kayak alone, then the Typhoon is an ideal choice. It does, however, have few features beyond this and the lack of a breathable lining and waterproof pockets does limit its utility to kayakers.
While all the drysuits in this review will certainly keep you dry, the Kokatat Idol will do so much more than that. The SwitchZip system gives the suit far more utility for kayakers than a standard drysuit, allowing it to be used as three items of gear rolled into one.
It also comes loaded with features such as a Gore-tex breathable lining, Cordura reinforced seat, elbows, and knees, and a spray skirt connection system.
Furthermore, this is all covered by Kokatat's limited lifetime guarantee. Its tripartite system makes it useful across a huge range of conditions and activities, giving you a significantly better return on your investment than a standard drysuit.
The Idol is not only an excellent choice for a kayaking drysuit, it's also an excellent choice for paddling pants and dry vest, without any extra cost, which is why it is our choice for the best kayaking drysuit.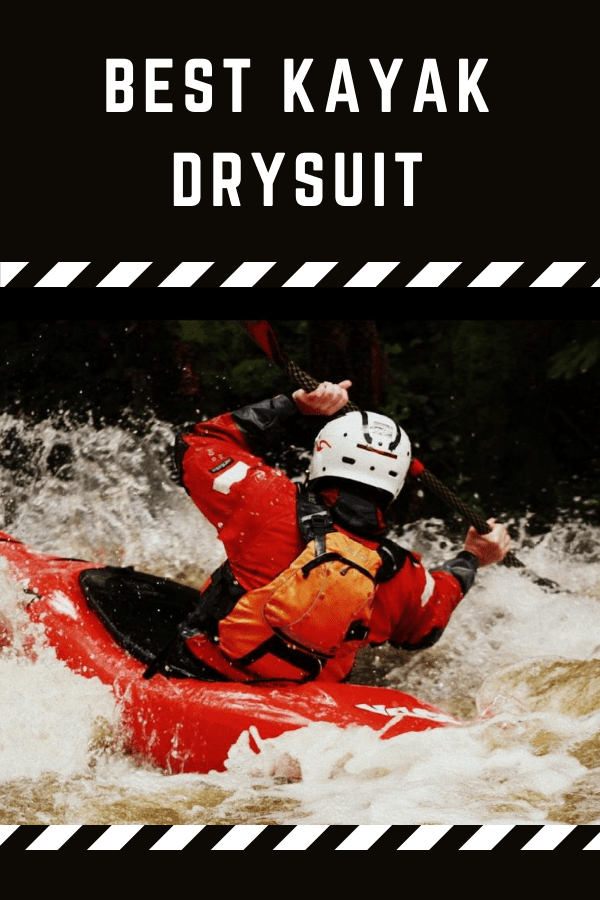 Author: John McCloy
John is a professional copywriter, fencer, and paddlesports fanatic based in the UK. When he's not out on the water, he can usually be found convincing new people to try kayaking, pretending to be Zorro or climbing what passes for mountains in England.