One of the best parts of the wonderful hobby of kayaking is the fact that you get to experience nature. The waves, wind, and on occasion, the splash of rain are all part of what makes kayaking such an amazing experience.
Sometimes, however, the climate, or the amount of time you're spending on the water, means protecting yourself from the elements.
Being consistently wet in cold conditions can lead to, in the worse case scenario, hypothermia. In hot and sunny conditions, protecting yourself from the sun is the best way to avoid painful sunburn or even sunstroke.
A wetsuit is an ideal garment to protect yourself from the elements while kayaking. It guards you against the sun and cold alike, while still keeping you comfortable. Buying a wetsuit for the first time can be a little confusing.
To help you through the process, we've put together a buying guide that clarifies what features you should look for. We've also got reviews of some of the best wetsuit options on the market.
Best Wetsuits for Kayaking
Kayak Wetsuit Buying Guide
What makes the majority of the wetsuits on the market different from each other is the materials of their construction, their thickness, and their cut. To help you make the right selection for your needs, we'll briefly cover how these three factors can affect your choice.
Materials
Generally, wetsuits are made from neoprene, a form of foamed synthetic rubber also referred to as polychloroprene. Neoprene is used for the construction of wetsuits because it's flexible, expansive, and water-resistant.
Because it's a form of rubber, it also has thermal insulating properties. This is important, because wetsuits work by trapping a layer of water between your body and the inside of the suit, and then using it to maintain your core temperature.
While nearly all wetsuits are made from neoprene, some add additional fabrics–like lycra or nylon–to ensure increased durability or flexibility. Others are even lined with a fleece-like material that aids in keeping you warm and stops the neoprene from sticking to you when taking it on or off.
Thickness
The insulation a wetsuit provides is directly proportional to its thickness. The thicker your suit is, the warmer it will be. Generally, wetsuit density ranges from two millimeters up to six millimeters. Different components of a wetsuit may have different thicknesses to allow some parts to be more flexible.
When a wetsuit lists a single thickness, that number often refers to the area around the chest and abdomen, which is where the greatest density is.
When the suit thickness is given as two numbers, for example, 3/4 millimeters, the first number refers to the thickness around the torso (three millimeters, in this case) and the second numbers refers to the suit's thickness around the legs (four millimeters).
The level of thickness you'll want for your wetsuit is determined by the conditions you'll be kayaking in. The colder the conditions, the thicker the suit you'll need to remain safe and comfortable. Wetsuit Warehouse has an excellent guide which explains the suit thickness that is required for different temperatures. You can find it here.
Cut
Wetsuits come in different cuts or designs, each with a different use in mind.
Full Wetsuits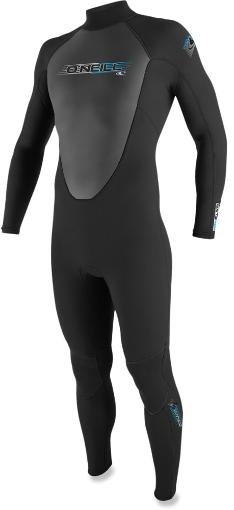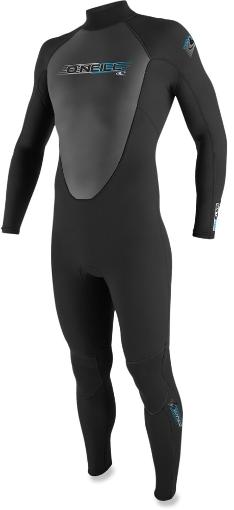 A full wetsuit covers the entire body except for the head, hands, and feet; although certain designs may also include attached hoods, gloves, or booties. Full body wetsuits are best used in colder conditions as they provide the greatest amount of coverage and insulation.
Spring Suits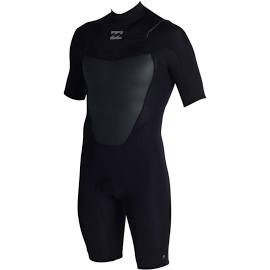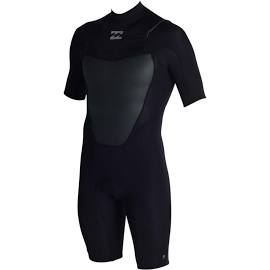 A cut-down version of the full wetsuit, a so-called "spring suit" covers the arms down to the elbow and the legs down to the knee. The benefit of the spring suit is that is can be used in conditions where the general temperature is too hot for a full wetsuit but the water temperature is low enough to need to keep your core body insulated.
Short John Wetsuits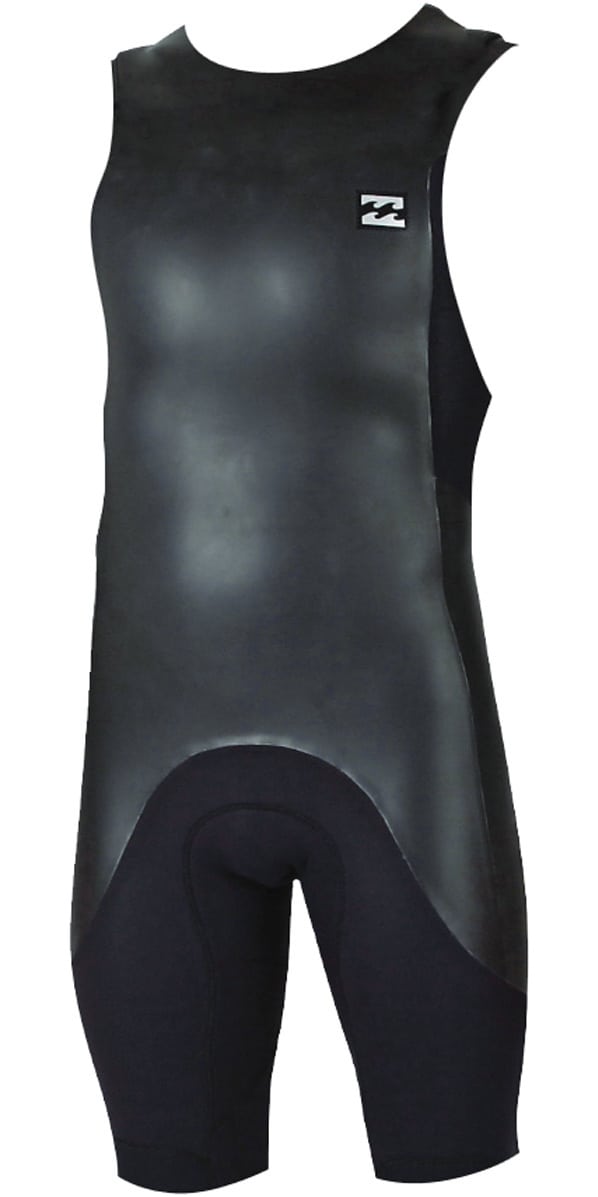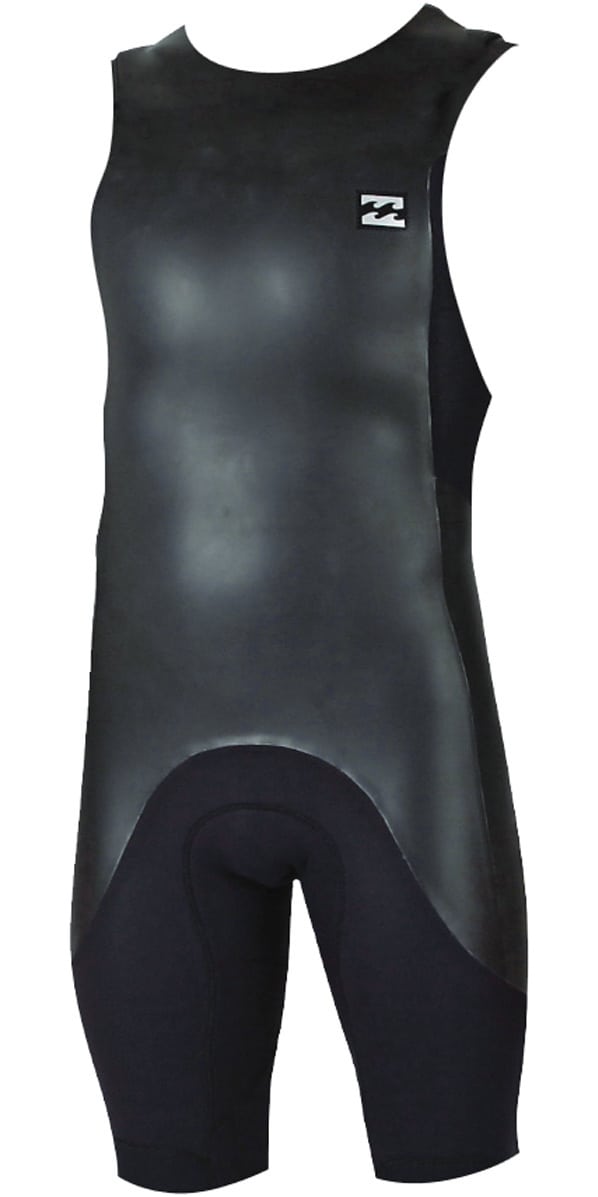 Short john wetsuits are spring suits with the arms removed. They offer a good balance of warmth and mobility, particularly in warmer waters, and are popular with surfers and surf kayakers.
Long John Wetsuits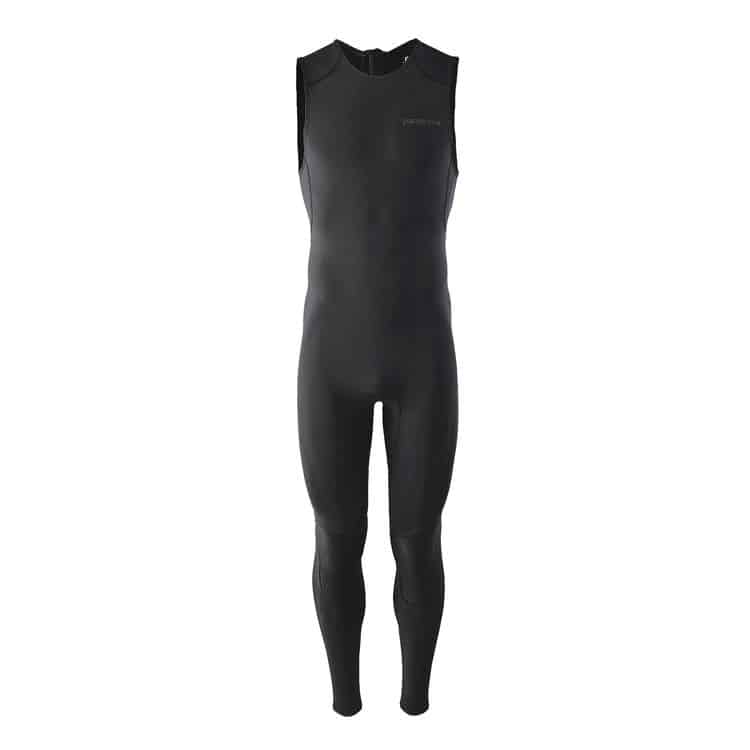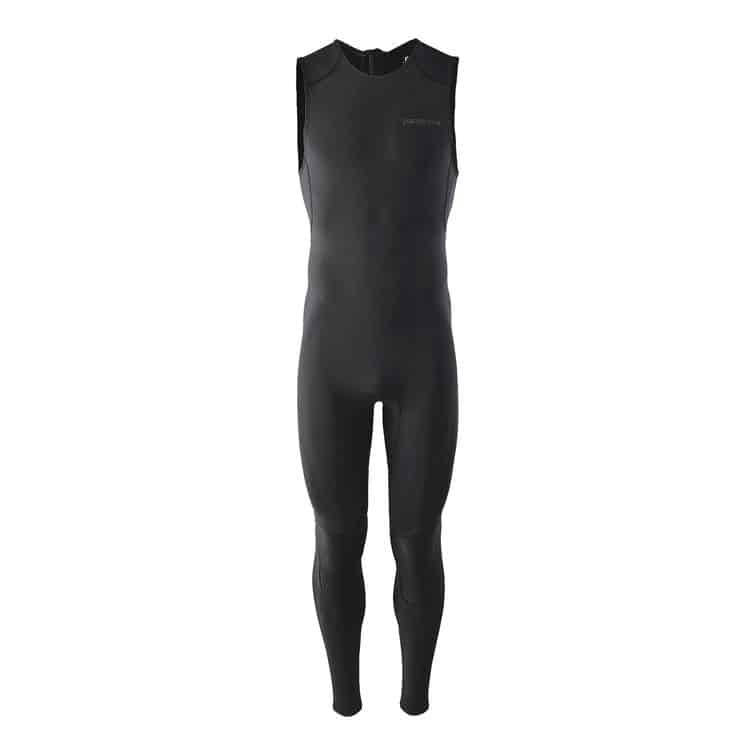 A long john wetsuit protects the same area as a short john, but also fully covers the legs. This allows you to keep your lower body warm, while still having mobility in your upper arms and shoulders for strenuous paddling.
How Should a Wetsuit Fit?
In order to provide the best amount of insulation without restricting movement, a wetsuit needs to be properly fitted. A wetsuit should be snug, almost like a second skin, but it should not pinch or drag.
If any part of a wetsuit is uncomfortable when you're standing still, then your wetsuit doesn't fit. Anything that's even mildly uncomfortable when you stand still will quickly become unbearable when you're paddling. If you're unsure of what size wetsuit you need, this sizing chart from Wetsuit Centre explains which areas you need to measure.
Zips
The position of a zip on a wetsuit can dictate how easy it is to get on and off. Many wetsuits have a back zip, which normally requires someone else to help you zip it up, and can make getting out of the suit a little difficult.
Front-zip suits are easier to get into and out of, but if you're adding extra gear, garments, or equipment such as scuba tanks, there's a possibility that they will get caught on the zip and open your wetsuit.
Any suit that features a fleece inner lining will be easier to get into and out of than one that doesn't. This is because the fleece lining prevents your skin from sticking to the neoprene. If your suit doesn't have a fleece lining and you're struggling to get into it, try putting plastic bags over your hands and feet to get much the same effect.
Where should I buy a wetsuit?
As stated above – we encourage you to go into a store first and try on a wetsuit to ensure it fits. Once you find a wetsuit that suits you (pun intended) then you can find a similar one online probably for a much better deal!
Amazon – If you plan on buying a brand name then Amazon always has great deals and a full list of wetsuits to choose from. Not to mention thousands of positive and negative reviews to sift through.
Need Essentials – If brand is not important to you – Need Essentials has great wetsuits for the price (when they are in stock). We highly recommend these suits if you are on a budget!
REI – No need for a description here! REI is a great place to buy gear but it can be a little pricey.
Kokatat NeoZip Long John Neoprene Kayak Wetsuit-Black-XL
Henderson Thermoprene 3mm Men's Jumpsuit (Back Zip) - Black/Blue - X-Large
O'Neill Men's Reactor-2 3/2mm Back Zip Full Wetsuit, Black/Black, LS
Mens Sharkskin Chillproof 1PC Full Wetsuit, X-Large
O'Neill Men's Reactor-2 2mm Back Zip Short Sleeve Spring Wetsuit, Black/Black, 2XL
Lavacore Men's Full Suit, Medium/Large
Kokatat NeoZip Long John Neoprene Kayak Wetsuit-Black-XL
Henderson Thermoprene 3mm Men's Jumpsuit (Back Zip) - Black/Blue - X-Large
O'Neill Men's Reactor-2 3/2mm Back Zip Full Wetsuit, Black/Black, LS
Mens Sharkskin Chillproof 1PC Full Wetsuit, X-Large
O'Neill Men's Reactor-2 2mm Back Zip Short Sleeve Spring Wetsuit, Black/Black, 2XL
Lavacore Men's Full Suit, Medium/Large
Best Wetsuit For Kayaking: Reviews
Material: Neoprene/nylon
Thickness: 3mm
Cut: Full
If comfort is the main thing you're looking for in a wetsuit, then the Henderson 3mm Thermoprene Wetsuit is exactly what you need. Henderson's proprietary blend of nylon and neoprene is approximately 75 percent stretchier than a normal wetsuit.
Not only does this make the suit more comfortable, but it also makes it possible to wear other garments either over or under your wetsuit without feeling uncomfortably squeezed.
The contoured fit of the suit keeps water exchange to a minimum, ensuring you stay as warm as possible with maximum heat retention.
The outer layer of the suit is designed to resist friction, so you don't have to worry about your suit easily deteriorating from other gear such as thigh pads. Lycra-trimmed cuffs, a spine pad, and an adjustable collar help to keep you comfortable while paddling.
All the seams on the Henderson 3mm Thermoprene Wetsuit are GBS-glued and blind-stitched to prevent water seepage and extend the suit's life. The only downside to the Henderson suit is that it has a back zip, making it a little difficult to get into.
PROS
75 percent stretchier than a normal wetsuit
Contoured fit
Lycra-trimmed cuffs, a spine pad and an adjustable collar
Seams are GBS-glued and blind stitched
Material: Ultra Stretch Neoprene
Thickness: 4/3mm
Cut: Full
The O'Neill Epic 4/3mm Back Zip Full Wetsuit is designed with paddlesports in mind. Constructed from incredibly comfortable Ultra Stretch Neoprene and contoured with flexibility in mind, this suit is ideal for kayakers looking to spend a long day paddling on cold water.
The O'Neill Epic has excellent insulation, with four-millimeter neoprene covering your core body. The wind-resistant FluidFlex Firewall panels also provide you with an extra layer of insulation and protection against the cold.
To make the suit as durable as possible, the O'Neill Epic has triple-glued and blind-stitched seams with reinforced Krypto knee pads. A double-seal neck closure and lumbar seamless design for the suit keep you comfortable even through a long day of kayaking.
The four millimeter-thick suit is great for colder climates and chilly waters, but the thickness, coupled with the full suit design, might be a little too much insulation if you find yourself somewhere warmer.
PROS
Ultra stretch neoprene
Double seal neck closure
Lumbar seamless design
Triple glued and blind stitched seams
Reinforced Krypto knee pads
CONS
A little thick for warmer areas
Material: Neoprene
Thickness: 5mm
Cut: Full
The Sharkskin Chillproof 1PC Full Wetsuit is designed specifically to keep you toasty warm in cold water conditions. The suit itself is designed in three layers. The first layer is a soft microfleece that wicks moisture and sweat away from the skin and aids in getting the suit on and off.
The second layer is a 100 percent windproof technical layer that remains breathable while keeping your core temperature from dropping from wind chill. The third layer is a is an abrasion-resistant nylon/lycra blend with a four-way stretch for comfort.
The outer material is neutrally buoyant, antimicrobial, and machine washable. This wetsuit is also designed to protect against UV rays, prevent itchiness, and resist odor. Additionally, the durable, water-repellent finish is specially made to shed water.
The combination of these three layers makes the Sharkskin Chillproof 1PC Full Wetsuit breathable while you're paddling. It's also excellent at retaining your body heat–meaning you don't have to worry about getting uncomfortably sweaty or overly cold when you're out on the water.
The only downside to the Sharkskin Chillproof is that it's specifically designed for colder waters, making it unsuitable for warmer paddling locations.
PROS
Three layered design
Abrasion-resistant nylon/lycra blend
Breathable
Windproof
Internal fleece
CONS
Only suitable for cold water and weather
Material: Neoprene
Thickness: 2mm
Cut: Spring Suit
The O'Neill Reactor 2mm Spring Wetsuit is designed specifically for paddling in warmer weather and warmer waters.
The spring suit design allows you to keep your core body insulated while allowing your arms and legs to breathe. The two-millimeter thickness won't make you feel overly restricted, but is sufficient for keeping you warm in deeper waters–making it ideal for lake kayaking.
Designed to be used by paddlesports enthusiasts, the O'Neill Reactor 2mm Spring Wetsuit has sleeves that are made from a FluidFlex material and extra stretchy neoprene to give you all the flexibility you need while you're paddling.
To keep you as comfortable as possible around known areas of irritation, the O'Neill Reactor has a single superseal neck to reduce friction. The Flatloc construction also prevents anything from getting caught on obstacles.
As it's specifically designed to be used in warmer waters, the O'Neill Reactor isn't really suitable for very cold water or weather. It's also a little too thin for sea kayaking, where the sheer depth of water keeps the temperature low regardless of the heat of the day.
PROS
FluidFlex sleeves
Light and flexible
Designed for warmer waters
Flatloc construction to reduce irritation
CONS
Not suitable for cold water or sea kayaking
Lavacore Full Suit
Material: Neoprene
Thickness: 3mm
Cut: Full
The Lavacore full suit bridges the gap between kayaking wetsuit and diving skin, making it an ideal choice for kayak divers.
The outer layer of the Lavacore full suit has a durable, waterproof coating that helps it dry out quickly and causes excess moisture to bead up and run off.
A windproof middle layer will keep you safe from windchill. This is particularly important if you're moving from full submersion to kayaking during a kayak diving endeavor. Despite being windproof, this middle layer is also breathable, meaning you won't get clammy and sweaty inside the suit.
The layer closest to the skin is an antibacterial inner fleece lining that reduces odor and eliminates bacteria. Coupled with the front zip, this makes the Lavacore full suit remarkably easy to get into. The entire suit has a four-way stretch that keeps it comfortable, even during periods of intense activity.
The seams of the suit are overlapped during the flatlock sewing process in a way that ensures maximum water integrity and prevents unnecessary water exchange. A full gusset is incorporated into the crotch and underarms, allowing for exceptional arm movement and stretch, which is vital if you don't want to feel restricted while you're paddling.
If you find yourself kayaking under the blazing sun and left your sunscreen at home, then don't worry: the entire suit has a sun protection of SPF 30+.
PROS
Triple layered design
Four-way stretch
Font zip
Windproof
Great for kaya divers
CONS
No underarm gusset for added flexibility
Material: Neoprene/nylon
Thickness: 3mm
Cut: Long John
TheKokatat NeoZip Long John Neoprene Kayak Wetsuit is our pick for best kayaking wetsuit because it combines excellent maneuverability with great coverage and thermal insulation.
Made from three-millimeter thick neoprene with a front mounted, nylon reinforced zip, the Kokatat NeoZip covers the core and body without impeding the movement of the arms. This allows a kayaker to have unrestricted movement in good weather. If the weather worsens, additional waterproof garments can be added to the upper body.
Seamless armholes and un-hemmed, super-stretch neoprene ankles keep you as comfortable as possible. Non-skid knee reinforcements mean you can enter and exit your kayak without worrying about damaging your suit.
The three-millimeter thickness is enough to keep you warm, even in cold water, without overheating you. But if you plan to go paddling in truly cold conditions, you may want to consider a thicker wetsuit or a drysuit.
PROS
Nylon reinforced zip
Seamless armholes
Un-hemmed super stretch neoprene ankles
Paddling specific joint articulation
Non-skid knee reinforcements
Comfortable and flexible
CONS
Not suitable for very cold conditions
The Kokatat NeoZip Long John Neoprene Kayak Wetsuit is our choice for best kayaking wetsuit because it's a great trade-off between flexibility and insulation.
Because of its long John design, you can combine it with other clothing to either keep yourself warmer on colder water or enjoy the sun and keep yourself cool on a sunny day.
The suit itself is rugged, yet the seamless armholes, un-hemmed super-stretch neoprene ankles, and paddling-specific joint articulation are designed to ensure maximum comfort. Added features like the nylon-reinforced zip and non-skid knee reinforcements will keep your suit in one piece, even in challenging conditions.
Anything else?
In addition to a wetsuit for kayaking there are other items that will keep you warm out there. Here are a just a few that you might find helpful while kayaking:
Finding the right wetsuit for you is challenging but it is one of the key pieces of gear that will make your kayaking experience that much better.
If you have any questions or comments on how to choose a wetsuit please leave a message below or contact us directly!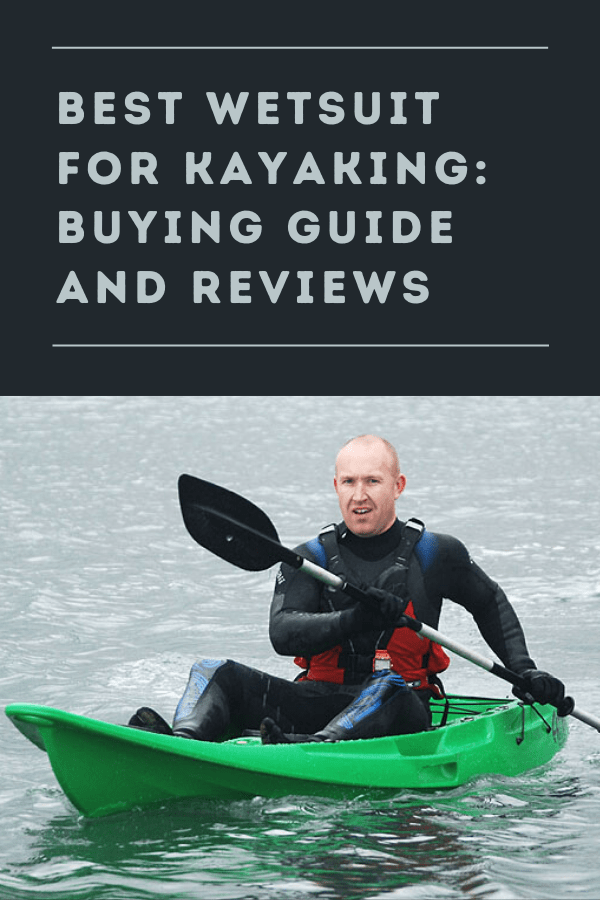 Author: John McCloy
John is a professional copywriter, fencer, and paddlesports fanatic based in the UK. When he's not out on the water, he can usually be found convincing new people to try kayaking, pretending to be Zorro or climbing what passes for mountains in England.