A good kayaking knife should be part of every kayaker's go-to kit.
Now, in response to that bold statement, many of you might be asking why a person in a kayak might need something sharp. Surely, more can go wrong with a sharp knife in a kayak than can go right…right?
Well, the major benefit of the knife as a tool is how many things you can do with it besides just cutting shock cord. A knife is a truly multipurpose implement, allowing you to carry out a range of tasks, from making a rudimentary shelter and cleaning a freshly caught fish, to fabricating emergency clothing or bandages.
And you can also use it to cut shock cord!
Picking your first kayaking knife can be a little challenging. Knives are like cars: there are a lot of them available, they all have a thousand fancy features, and knowing which one Bear Grylls likes most doesn't really help you pick.
To make things simpler, we've put together a buying guide to help you know what to look for before making your purchase. We've also included reviews of some of the best kayaking knives on the market.
Best Kayaking Knife
Kayaking Knife: Buying Guide
Before going out to buy a kayaking knife, it's best to spend some time thinking about what exactly you'll need your knife for. Different kayakers will have different needs, and it's unlikely that you'll find a single knife that suits all of those requirements.
Take a moment to sit down and make a list of your most important needs. Sea and touring kayakers might want to be equipped with a survival knife to use during longer camping trips.
A kayak angler might use their knife to gut and scale fish. Whitewater kayakers can sometimes need to a make a swift exit from their kayak. In those cases, a short, serrated knife would be ideal for cutting out of a cockpit in an emergency.
Once you've figured out what you'll most likely be using your knife for, here are some other features to consider that will help you narrow down your choices.
Folding or Fixed Blade
Both folding and fixed-blade knives have certain advantages, and depending on what tasks you see yourself doing with your kayak knife, one design may suit you more than another.
Fixed Blade Knives
A fixed-blade knife is defined by the metal of the blade that extends into the hilt to form what is called the "tang." The Bowie knife is an excellent example of a fixed-blade knife.
Because of their full-tang construction, fixed-blade knives are sturdier and often longer than their folding counterparts. If you intend to do a lot of cutting and chopping or plan to incorporate survival or hunting tasks into your kayaking trips, then you'll probably want to go for a fixed-blade knife.
Folding Knives
The benefit of a folding knife is that it's more portable, easier to store, and arguably safer to transport than a fixed-blade knife. A folding knife uses a metal pin as a pivot to fold the knife into the grip for storage.
The downside of a folding knife is that the strength of the knife is dictated by the strength of the pin, making folding knives generally unsuitable for strenuous survival tasks.
If you're looking for a knife you can store in a pocket and access quickly, then a folding knife can be a good option.
Blade Material
One of the most important things to consider when buying a knife is what kind of metal the blade is constructed from. Generally, knife blades are made from two types of steel: high carbon steel or stainless steel. Carbon steel is the softer of the two types, and while it's easier to sharpen, the blade will also wear down more quickly.
Stainless steel blades are generally harder and are therefore tougher to sharpen. But they won't wear as quickly, and they have the benefit of being naturally resistant to rusting.
It should be noted that most high carbon steel blades designed for outdoor use are adonized or powder coated to prevent them from rusting. Just make sure the particular model you're considering includes one of these coatings.
Maintenance
A good knife will last you a long time if properly maintained, so it's a good idea to invest in some maintenance supplies to go with your new knife.
A fixed-blade knife can be sharpened with a whetstone, while a serrated blade will need a specific type of sharpener to let you get between the ridges.
It's always best to keep your knife oiled. This prevents corrosion and ensures that the knife will remain in good working condition. Most mineral oils will work, although you can also buy specially-formulated knife oil.
If you have a folding knife, remember to oil the joint and pin, removing any grit or lint that might get stuck in the mechanism.
Kayaking Knife Reviews

Ka-bar has a rich history of manufacturing great quality knives which have been used by the U.S.Marines, Navy, and Army.
The Ka-Bar Mule folder knife, which features a serrated edge blade, is our choice for best kayaking knife because of its combination of excellent, rugged design and high-quality blade and pivot.
Made from durable stainless steel, the Ka-Bar Mule has a blade length of 4 inches, giving it an open length of 9-⅜ inches and a closed length 5-⅜ inches.
The rubberized handle makes the knife easy to grip, even in the wettest of conditions. At just 0.55 pounds in weight, adding the Ka-Bar Mule to your inventory isn't going to take up much space.
The serrated blade is long enough to be used in a range of survival and hunting tasks, while still being well-suited for cutting through rope and cord. This makes it ideal for both everyday use and for use in marine emergencies.
Overall, the Ka-Bar Mule's excellent quality, convenient size, and useful serrated blade are why we chose to make it our pick for best kayaking knife.
PROS
Corrosion resistant stainless steel blade
Serrated
Folds down to just 5-3/8″
Rubberized grip
Easy to carry and use
CONS
Serrated blades need additional tools to sharpen
The Mossy Oak Fixed Blade Knife is ideal for kayakers looking for a simple but effective fixed-blade knife that they can use in a variety of activities.
Made from stainless steel, this Bowie style knife features a full-tang handle covered in stacked leather. It also features wide grip ridges for safe and comfortable handling.
The Mossy Oak has a blade length of 4 inches, and despite an overall length of 7.75 inches, it has a total weight of just 1.06 pounds. The knife also comes with a nylon sheath for a safer carry.
If you're heading out on a long kayaking journey and need a medium-sized, fixed blade, full-tang knife for serious camping and survival use, then the Mossy Oak Fixed Blade is an excellent choice.
PROS
Durable stainless steel
Full tang blade
Wide grip ridges
Leather handle
Comes with a nylon sheath
CONS
No serrations
Maybe a little large for recreational and whitewater kayakers
Kayak diving has become increasingly popular in recent years, and one of the most important parts of a diver's equipment is his safety knife.
The Salvimar Predathor Dive Knife is constructed of durable, corrosion-resistant 420 gauge stainless steel. It comes with an acid green, rubberized grip to make it easier to use during diving or while wearing kayaking gloves. It's also easier to spot if you happen to drop it.
The sheath of the Predathor comes with the standard belt clip, but can also be mounted on the wrist, making it supremely easy to access. The blade has two different finishes, with one side being a straight blade and the other being serrated. These features support a wide range of possible uses.
If you're looking for a sturdy, convenient dive knife that's as useful underwater as it is in your kayak, then the Salvimar Predathor Dive Knife is a great choice.
PROS
Ergonomic rubberized grip
Stainless steel blade
Both serrated and non-serrated edges
Easy to see
Can be wrist mounted
CONS
Does not come with a wrist strap
The AO digital camo steel Fat Knife's unusual design makes it ideal for kayakers looking for a knife that is supremely portable, yet still easy to access.
Made from 1045 gauge surgical steel, the Fat Knife has a folding blade that is just 1-½ inches wide, with the entire knife being just 1-¾ inches wide. This means that the knife is almost 50 percent smaller when folded away.
Despite the blade's diminutive size, its thick width and serrated edge make it ideal for cutting through. Moreover, the steel clip on its back means that it can easily be attached to a PFD.
This makes the Fat Knife a great choice for whitewater kayakers looking for a small, easily transported knife that can still be used to cut themselves free in the event of an emergency.
PROS
Small and easy to carry
Serrated
Can be attached to a PFD
CONS
Not large enough for survival tasks
Only comes in camo colors
Not stainless steel
If you're a kayak angler looking for a folding knife that can be used for a range of tasks–including gutting and cleaning fish–then look no further than the Elk Ridge Gut Hook Pocket Knife.
With a 3.5 inch, 3-millimeter thick stainless steel blade, the Elk Ridge Pocket Knife is just 5 inches when closed. This makes it easy to store and small enough to be attached to a pocket or PDF for easy access. It also comes with a firestarter that fits neatly into the grip.
The standout feature of the Elk Ridge Gut Hook Pocket Knife for kayak anglers is the gutting hook on the back of the blade. Still, featuring 3 millimeters of thickness and a deep finger choil to give you precision control, this knife is well-suited for a range of survival and kayaking tasks. Just don't expect to be cutting through any branches with it.
The icing on the cake is that this knife comes with free engraving. This makes it an excellent choice for gifting and provides sensible protection against accidental theft.
PROS
Blade hook for cutting fish
Stainless steel blade
Steel attachment hook
Attached firestarter
The best kayak knife in the world is of no real use if you can't get to it in time. The benefit of the CRKT Minimalist Tanto Neck Knife is that it's always within easy reach.
Made from stainless steel with a bead blasted finish for extra durability, the CRKT Minimalist Tanto Neck Knife has three deep finger choils to make it easy to grip and use.
The unusual blade design, which is modeled after the Japanese tanto dagger, gives this knife the thickness to take on a range of tasks without unnecessarily adding to its size or weight.
Designed to be hung around the neck, the CRKT Minimalist Tanto Neck Knife comes with a glass reinforced nylon sheath that also has a clip mount for multiple carrying options.
The CRKT Minimalist Tanto Neck Knife is ideal if you want a lightweight hardy knife that is small enough to keep within arms reach at all times but hardy enough to take on a multitude of tasks.
CRKT is so confident in their blades' durability that they also offer a lifetime warranty. This ensures that you'll be able to have your knife replaced if it breaks due to a material or manufacturing defect.
PROS
Light and easy to carry
Can be worn around the neck
Sheath has multiple carrying options
Lifetime warranty
Stainless steel
CONS
Short blade length
Not serrated
Check Price On Amazon
The Ka-Bar Mule Folder Serrated Edge isn't our choice for best kayaking knife because it has a range of fancy features. What stands out about this knife is its simplicity and its quality.
If you're on the market for a folding knife that has the durability to be used for survival, and the portability to not significantly add to the weight and bulk of your gear, then the Ka-Bar Mule Folder Serrated Edge is the knife for you.
And, as recommendations go, you can't get much better than the U.S. Marine Corps!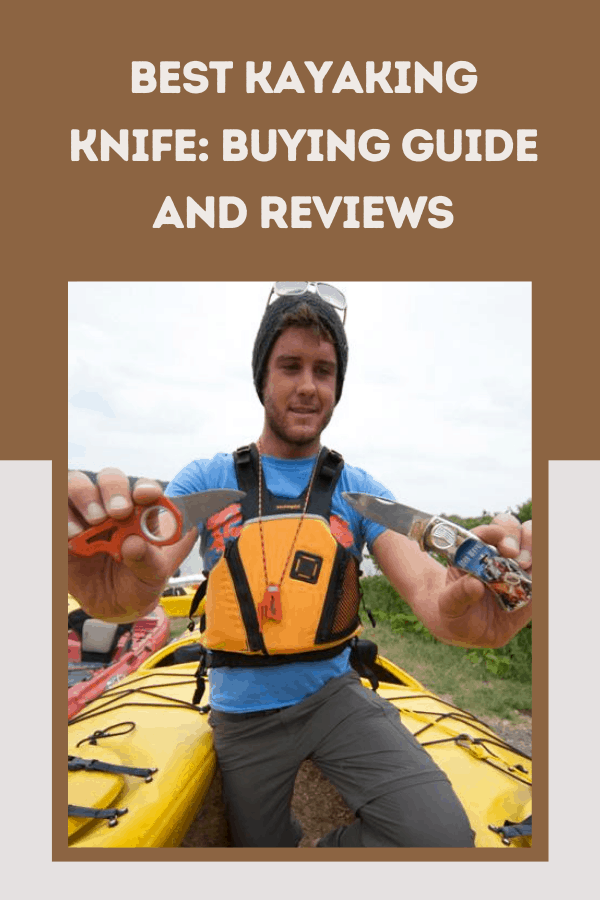 Author: John McCloy
John is a professional copywriter, fencer, and paddlesports fanatic based in the UK. When he's not out on the water, he can usually be found convincing new people to try kayaking, pretending to be Zorro or climbing what passes for mountains in England.