The kayak is a timeless craft that remained basically unchanged for thousands of years prior to visionary Tim Niemier's creation of the first sit-on-Top kayak, which was introduced to the marketplace in 1978.
As more and more sit-on-top kayak enthusiasts began to realize the potential for undertaking more extensive and adventurous journeys, they quickly discovered that their range of travel was essentially limited only by the degree of strength and endurance they possessed.
The need for additional support in this regard eventually inspired the development of pedal-powered systems, which allowed kayakers to use the muscles in their legs and arms to propel themselves across the water and extend the distance of their voyage.
Avid kayak anglers immediately recognized the advantages of this type of "hands-free" system, since it meant that they'd now be able to easily troll and cast without ever again having to worry about dealing with a paddle at the same time.
Without a doubt, the introduction of pedal power has made one of the biggest contributions to the world of recreational kayak fishing since the inception of the original sit-on-top kayak over 40 years ago.
Today, there are a number of high-quality pedal-powered kayaks available. To help you sort through your options, we've put together a buying guide which includes reviews of some of the most popular choices on the market.
Things To Consider
Pedal Or Paddle
The advent of the pedal-powered fishing kayak has revolutionized the sport in ways that were rarely imagined before. Those who enjoy fishing in the ocean or on large, deep lakes will appreciate the fact that pedal kayaks provide access to places that can otherwise only be reached by larger, motorized crafts.
Yet, there are multitudes of seasoned kayak anglers who still prefer conventional sit-on-top kayaks that are propelled only by the use of a paddle.
Here are a few advantages and disadvantages of each style:
Pedal – Kayaks with pedal drives feature numerous features that many anglers will appreciate.
Ideal for long-distance travel – Pedal-powered kayaks can help you travel to greater distances without the same amount of physical expenditure that it would take if using only a paddle.
Better stability – They also handle far better in windy conditions, because you can virtually stop and hold yourself in the same position in situations where a paddle-powered yak might otherwise be overwhelmed.
Hands-free – Perhaps the greatest benefit of pedal-powered kayaks for anglers is that they allow your hands to remain free to cast, retrieve, and troll a bait or lure. This advantage is also invaluable while fighting a freshly-hooked fish back to the boat.
Nonetheless, there are also some disadvantages to these kayaks. Without a doubt, a pedal-powered kayak can cost significantly more than a conventional fishing kayak with similar features; and sometimes up to twice as much. Because of their pedal drive, they can weigh a lot more, too. This factors into how much passenger and gear weight can be onboard before the boat's rated load capacity is reached.
Paddle – Paddles have many of their own advantages.
Affordability – Conventional sit-on-top kayaks that use only a handheld paddle to move across the water are far less expensive than pedal-powered kayaks, and they're a lot lighter and easier to transport when fully-equipped.
Best for shallow-water fishing – You can fish in extremely shallow areas where a pedal-powered 'yak might get hung up on the bottom.
More storage space – They also offer significantly more onboard storage space. This is important, as pedal drives not only add a lot of extra weight, but they also take up valuable room that could be used to carry additional gear and supplies.
The main downside to paddle-only kayaks is that they require a lot more physical endurance, and are not nearly as fast on the water as pedal-powered kayaks.
They're generally better suited for fishing inshore than offshore, and are far more susceptible to being influenced by strong currents. They can also be blown asunder by heavy winds that could be more easily handled by a pedal-powered kayak.
In the final analysis, it's vitally important to make sure that the features of the fishing kayak you ultimately select match your requirements and expectations for its eventual use.
Options
Once kayakers decide to upgrade to a pedal-powered fishing kayak, a vast majority of them will choose to purchase one of the top brands on the market that are already designed and built for that specific purpose.
Nonetheless, there are still some with a do-it-yourself mindset that may want to try and modify a kayak they already own to accommodate a pedal paddling mechanism. For these folks, there's always the alternative of buying and installing an independent pedal-drive system such as the H2Pro-Ped, with which they can convert their favorite kayak for hands-free operation.
Considerations
Once again, when purchasing any kayak, it's of prime importance to consider the activities you intend to use it for. This is particularly vital when selecting a fishing kayak that is pedal-powered.
Here are a few things to consider:
What is your level of experience? – If you're just getting started, you might want to choose a model that's built more for stability than speed.
What type of kayaking will you be doing? – Will it be in a lake, a bay, or the open ocean? Do you plan on using it primarily for general family fishing just off the beach, or for longer angling expeditions of several miles or more? Do you plan on using it exclusively for fishing, or for things like photography and sightseeing as well?
Single or Tandem– Do you prefer to fish solo in your own boat, or would you rather have someone else on board with you to share the angling experience? Either way, there's a pedal-powered kayak that will fit your needs.
Capacity – How much onboard storage space will you require? Whether you're embarking upon a long journey or just going fishing for the day, you may need a little extra room. Always base your calculations on the total combined weight of your passenger(s) as well as your gear.
Care and Maintenance
One of the advantages of owning a sit-on-top kayak is that it's rather easy to clean and maintain. The process is usually comprised of simply hosing it off and wiping it down after each use.
The addition of a pedal drive, however, requires the same kind of maintenance and care that you would give one of your fishing reels, or any other type of mechanical unit that might be aboard your kayak. Following a few simple steps can go a long way in ensuring that your 'yak lasts as long as possible.
Remove Foreign Material
Any debris that collects in your kayak should be cleared away before you store it. This includes grass, weeds, old fishing line, and most importantly, bits of sand and grit–which can cause irreparable damage if they make their way into the internal portions of the drive.
Clean the Pedal Drive
Your pedal drive should be removed and carefully hosed off with fresh water without blasting it with a powerful stream. Then, it should be thoroughly dried with a Shop-Vac or other vacuum cleaning device that is designed to remove moisture. Afterwards, apply a small amount of high-quality non-petroleum lubricant, or use a silicon-based spray to keep things moving properly.
The two most common pedal drive systems on the market today are the Hobie Mirage Drive and the Native Watercraft Propel System. This guide contains more detailed maintenance instruction for each of these models.
Pedal Fishing Kayak Reviews
It's been over a decade since Hobie revolutionized the world of pedal-powered kayak fishing with their Mirage Drive, which used push pedals and flexible fins rather than a propeller to drive a kayak through the water.
They later improved the design by adding the ability to rotate the fins 180 degrees: a valuable feature that allows you to travel backward, as well.
This model is one of Hobie's largest and heaviest kayaks. It's equipped with exceptionally large gear wells, both horizontal and vertical rod holders, and plenty of room for tackle storage.
It has high rails and a wide beam, which allows an angler to stand up on the deck and cast. It also makes it a perfect candidate for battling fish offshore or on large, deep water lakes.
Pros:
The Mirage Drive is a well-designed fishing machine that'll appeal to serious kayak anglers.
It's fast, powerful, and capable of transporting you to more distant and less accessible fishing spots than other kayaks.
There's a lot of storage space and an 'H-Rail' mounting bar to attach fish finders and other electronics.
This boat is also stable enough for an angler to lean over the rail during the process of fighting or landing a big fish without the fear of tipping over.
Cons:
It's one of the most expensive pedal powered fishing kayaks on the market. If you don't have a lot of money to work with, it can be a real budget buster.
The 'H-Rail' onboard gear mounts will only accommodate accessories made by Hobie– all others will require an additional mounting bar.
While the Mirage Drive fins are great for pushing you through the water, they're also susceptible to breakage should you happen to plow into an undetected obstruction that's submerged below the waterline.
The fins are costly to replace.
Because of its ranking as one of the heaviest fishing kayaks available, you might want to have another kayaker with you to assist in loading in on to and off of your vehicle.
Old Town Canoes & Kayaks is a company based in Maine that has been building these types of boats for over a century. The Old Town Predator PDL, however, is their first model that offers hands-free pedal power to move it through the water.
Unlike Hobie's Mirage Drive, the PDL bicycle-style system is propeller-driven and offers a few advantages over the Mirage Drive system.
It doesn't protrude as far down in the water, which allows you to fish the skinny water more easily without hanging up on bottom structure. You can also go backward by simply reversing the pedal direction, and the drive can be adjusted to conform to shallower venues.
The Old Town Predator PDL is also fitted with mounting plates that you can use to attach a wide variety of electronics. There are also six spots where you can mount virtually anything from pole holders to a GoPro video camera.
This fishing kayak has been rated as one of the most comfortable for taking on longer angling trips. It comes with a comfy captain's chair that's covered with durable fabric for longer life and is also fully adjustable to match your height, weight, and positional preferences.
Pros:
The PDL is sleek and efficient, making it well-suited for most angling applications.
The thin design allows it to move more freely through floating obstructions, such as weeds, kelp, and hydrilla.
It offers an impressive range and weight capacity of 500 pounds–more than most other pedal drive kayaks, including ones with higher price tags.
Cons:
Low rails might make for a wet ride when you're traversing through choppy water.
The price is on the high-end of the scale.
The drive isn't sealed; so if you happen to flip your kayak while in saltwater, you'll have to take it apart to remove any additional water that may have seeped in.
Old Town Canoes & Kayaks is not keen on its customers servicing or maintaining their own pedal drive. They provide no user repair manuals, preferring instead that units be returned to the factory for authorized service.
Native Slayer Propel 13
The Native Watercraft company was the first to introduce a pedal-powered fishing kayak that was capable of going in reverse as well as in a forward motion.
In fact, their Propel Drive system is so effective that it's been emulated by several other manufacturers who also employ a bicycle-style pedal drive and propeller to manually power the kayaks they build.
The Propel 13 features a unique tunnel hull design, which improves its stability and allows it to move through the water more effortlessly.
It also features an elevated frame seat that helps to keep the angler positioned just above the deck and allows you to stand and cast in confidence.
This high-capacity kayak will hold a lot of gear. It's already outfitted with everything–from rod holders to gear tracks–so you can mount all of your favorite electronic toys. It's an excellent turnkey choice for those who want to start fishing in their new kayak almost immediately after purchasing it.
Pros:
It's stable.
It features comfortable, adjustable seating, a large cockpit, and the ability to accommodate anglers who like to stand up while casting and retrieving.
The Propel Drive System is easily removable, allowing you to fish extremely shallow water and then slide right up on the beach without being encumbered by the propulsion hardware.
It's designed to sustain high speed for an extended period of time to increase its range capability.
Cons:
It has an oversized rudder, which may assist in maneuverability, but might get hung up in weeds or stuck in the mud of an extremely shallow bottom.
This kayak isn't intended for beginners, but is better suited for highly experienced kayak anglers who are already well-versed in the sport.
For a pedal-powered kayak, the Perception Pescador Pilot 12.0 is exceptionally light; yet it is still designed for stability, and can be fished from a standing position if you like. The Pilot Drive mechanism is virtually silent, but still delivers powerful propulsion.
The captain's chair is so comfortable that it seems more appropriate for an admiral, and features a mesh backing that helps enhance airflow and wick out evaporation on hot days.
There's also a transducer scupper already installed to accommodate all of your sonar devices.
The oversized, bungee-laced storage wells situated both fore and aft can hold a lot more gear than many other pedal-powered kayaks, and four large rod holders are conveniently positioned behind the seat.
The hull of the Pescador Pilot is designed to be used in a wide variety of venues, including lakes, rivers, bays, lagoons and even the open ocean on calmer days.
Pros:
It's lightweight.
It's one of the most economically-priced pedal-powered kayaks available.
The Pilot Drive is held in place with a sturdy, metal security pin that makes it easy to adjust up or down to accommodate shallow depths.
This 'yak can also be paddled in the conventional manner.
Cons:
The extended rudder has a tendency to hang up on weeds and other floating debris.
The rudder system itself can take time to adjust to, as it's manually controlled by a small lever on the boat's rail.
Traversing can be difficult in radically winding rivers or other situations that require deft maneuvering at a moment's notice.
Though it's usually stable, it may still be a bit light for most offshore ocean fishing.
Our Pick – Hobie Mirage Drive!
When it came to basic features like storage space, rod holders and mounting racks, almost all of our candidates were fairly closely matched.
Nonetheless, the majority of pedal-powered kayaks that we assessed rely upon a bicycle style pedal and propeller system to provide hands-free power to the craft.
The only major advancement in this technology over the years has been Hobie's patented Mirage Drive system, which uses larger retractable fins to propel their kayaks with a push pedal system.
The Hobie Mirage Drive gives a palpable advantage to anglers who want to travel longer distances in order to find the fish–a feature that is particularly valuable to those who enjoy fishing offshore for larger oceanic species.
When teamed up with a wider, heavier kayak like the Hobie Pro Angler 14, you have a world class fishing machine that can handle just about any type of venue where you might want to fish.
That's why we selected the Hobie Mirage Drive as our top choice in the field of tournament-grade, pedal-powered fishing kayaks.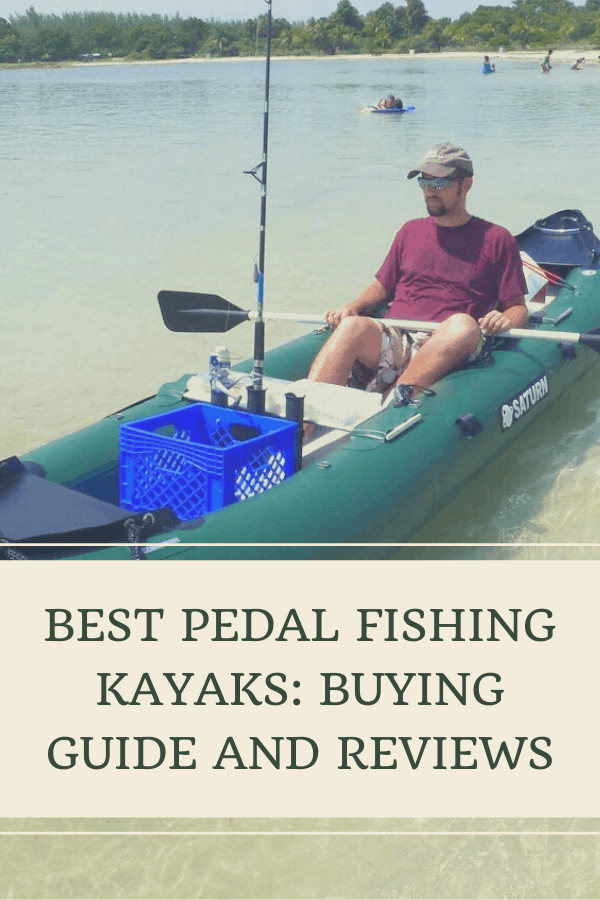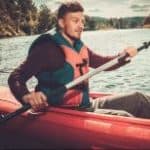 Author: Peter Salisbury
Pete is the Owner of KayakHelp.com. Born and raised in Cleveland, Ohio, he grew up kayaking, fishing, sailing, and partaking in outdoor adventures around the Great Lakes. When he's not out on the water, you can find him skiing in the mountains, reading his favorite books, and spending time with his family.