Spending time in your kayak is a thrilling outing for any paddler that requires a bit of advanced gear planning before launching onto your favorite body of water.
Whether you prefer whitewater, the serenity of a tree-lined bay, sailboat viewing in the marina, or a placid lake, ensuring you've packed all your safety gear, snacks, sunscreen, camera, etc. is something that all kayakers take seriously.
Things can happen quickly on the water and being prepared is vital.
But have you overlooked the importance of the quality of your sunglasses?
Water sports are notoriously rough on gear, especially fragile sunglasses, and often we simply throw a pair of cheap ones that cost us five dollars into our dry bag because we're reluctant to spend a chunk of money on a pair that is only going to get scratched, bent or sink to the mucky bottom, never to be seen again.
However, a pair of high-quality polarized sunglasses should be just as important on your list as your other gear.
What Does Polarized Mean?
Harmful UVA (long wave ultraviolet A) and UVB (short wave ultraviolet B) rays from the sun cause damage not only to our skin, but also our eyes.
Oftentimes this damage initially goes unnoticed because our minds are typically more focused on applying sunscreen to protect our skin, but eye damage is cumulative, and over time the irreparable damage occurring to our eyes can result in serious issues such as cataracts and macular degeneration.
Short-term damage can consist of dry eyes, watery eyes, blurring vision and sunburned eyes, things that are uncomfortable at the time but don't concern us too much. These are symptoms to really pay attention to.
When light waves hit a surface, such as the water while you're kayaking, it creates a horizontal glare because the surface it's reflecting off of is horizontal.
This intense glare is not only harmful to your eyes but can also be a dangerous distraction. If you're wearing non-polarized sunglasses, they do nothing to cut this glare of light waves.
In fact, they could potentially make it worse due to the darkening effect of the light waves through the non-polarized lenses, therefore reducing your field of vision and more than likely causing you to look away at a moment when your attention is needed.
Polarized sunglasses cut that glare and allows you to keep your focus right where it's needed. In fact, polarized sunglasses are so popular amongst people who work or play on the water not only because they cut glare and protect the eyes, but because they also allow you to see below the surface of the water, which means you can see that submerged rock before you hit it.
That's always a good thing, isn't it?
How Are Polarized Sunglasses Made?
During the manufacturing process, the lenses of polarized sunglasses are coated with a special chemical.
When laminated in a vertical pattern, the chemical reorganizes the light waves and blocks any horizontal light, therefore cutting out the glare and reducing eye strain.
It's all pretty scientific sounding, isn't it? But the most important thing to remember, is that polarized sunglasses do the job they're meant to, and that, in turn, makes your kayaking adventure all the more enjoyable.
You wouldn't skimp on your safety gear for a day (or a multi-day) on the water, so let's look at some of the best polarized sunglasses to protect your eyes while you're kayaking.
Ray-Ban RB3016 Clubmaster Square Sunglasses, Mock Tortoise On Gold/G-15 Green, 49 mm
SeaSpecs Black Jet Specs Extreme Sea Specs Sunglasses
TOMS Dalston Wayfarer Sunglasses, Matte Black, 54 mm
Typhoon Men's Cayucos Polarized Wrap Sunglasses, Matte Black Camo Frost/Aquaview Horizon Grey, 78 mm
Ray-Ban RB3016 Clubmaster Square Sunglasses, Mock Tortoise On Gold/G-15 Green, 49 mm
SeaSpecs Black Jet Specs Extreme Sea Specs Sunglasses
TOMS Dalston Wayfarer Sunglasses, Matte Black, 54 mm
Typhoon Men's Cayucos Polarized Wrap Sunglasses, Matte Black Camo Frost/Aquaview Horizon Grey, 78 mm
Best Polarized Sunglasses For Kayaking
Whether you're looking for high end, top of the market sunglasses or quality budget glasses that you won't feel bad about being rough on, we've put together a comprehensive list of a wide range of glasses available to consumers of every level. This list will also be helpful for every level of kayaker.
Check Price On Amazon
"Inspired by the immortal style of the 1950's" is what's proclaimed proudly on the Ray-Ban website.
Ray-Ban has always been known for its fashionable, iconic style of shades. Yet customer reviews also tout them as durable sunglasses, withstanding some pretty rough treatment and some pretty extreme outdoor adventures.
The Clubmaster Collection is no exception. This stylish model of Ray-Ban is not only able to be customized to your personal preferences, but it also comes in a wide variety of colors and shapes.
The nitty gritty features include gradient lenses, which means they're tinted from the top down, so the top of the lens is the darkest and therefore, you look super cool.
It also means that your eyes are protected from overhead light rays but that you have a tad more visibility below you.
This could come in handy for kayaking, where you most often need to be watching things at the level of your boat and hands and the surface of the water.
Check Price On Amazon
Oakley is nearly synonymous with sunglasses. They've been making sunglasses since 1975 with founder Jim Jannard started the company in his garage with only $300.
Their sunglasses were designed for outdoor sports and therefore they use Prizm lenses, which provides "unprecedented control of light transmissions". That basically means you have enhanced visibility.
Perks include free returns, free shipping, and a free microfiber bag with every purchase.
You can also become an Oakley MVP which offers incentives such as 50% off a new pair if you break your old pair.
Oakley also offers prescription sunglasses, so be sure to browse that section if you're looking for a new pair of RX sunnies.
Check Price On Amazon
"Extreme Floating Polarized Sunglasses"
Spending time on the SeaSpecs website will make you feel like a kid in a candy store, on Christmas Eve, with a puppy.
They not only have a wide variety of designs, but they're broken down into categories for outdoor activities, such as cycling, fishing and lifestyle. Click on the category that interests you the most and be amazed by the options that pop up on your screen.
Customer reviews claim these are the best for kayaking due to features such as the one-handed adjustable strap, and SeaSpecs states these glasses will "hold up against the force of water kayakers encounter".
Their Classic design was created by a surfer who apparently had his other fellow water-lovers in mind because these sunglasses offer basically whatever you could possibly want in a pair of glasses.
They even float. How many times would this floating feature have come in handy as you watched your sunglasses disappear down into the drink?
SeaSpecs proudly announces on their homepage that Sir Richard Branson and Barack Obama took "The SeaSpecs Challenge" while kitesurfing together.
They even have sunglasses for kids, because protecting those young eyes is important and often overlooked. Replacement lenses are available on their website as well.
Right now on their website they're running a buy two, get one free deal.
Check Price On Amazon
Shady Rays is proud of their multitude of five-star reviews, as they should be. Their homepage loudly proclaims more than 50,000 of them. That's impressive and warrants a closer look at their product.
Their sunglasses come with a lifetime warranty for broken or lost glasses. All you pay is shipping & handling. That's something to pay attention to as a kayaker. Can you even count how many pairs of sunglasses you've lost on any given kayak outing?
Made with high-quality materials, such as metal hinges, Shady Rays boasts shatter-resistant lenses and says they're saltwater-proof. What kayaker wouldn't want that?
Each order includes a microfiber cleaning pouch and a Shady Rays vinyl brand decal. They also say that each order provides 10 meals to fight hunger through a non-profit organization called Feeding America.
Check Price On Amazon
This revamped design of the Lowdown from Smith Optics retains the classic look of the original Lowdown while offering more advanced features.
For starters, they use what they're calling ChromaPop, an innovation lens technology that combines colors to allow a more natural view of your landscape, while still protecting your eyes from the sun's harmful rays.
These sunglasses boast a hydroleophobic lens coating. So, what does that mean? I had to Google it, too. What it means is that the lenses are coated with a water and oil-proof substance that makes any water on your lenses bead up.
Basically, it's Rain-X for your sunglasses. This substance also ensures that any smudges from your fingers will be easily wiped clean.
Other features include an anti-reflective coating, comfortable nose pads, eco-friendly material, auto-lock hinges and 4 base lens curvature, which basically means adapting the lenses to the natural curve of the human eye to maximize wide-angle side vision (what we tend to refer to as peripheral vision).
The Lowdown 2 is available in a multitude of colors. Also sold at REI. Smith Optics offers free shipping, lifetime warranty and 30 day returns.
Check Price On Amazon
We all knew that Toms made shoes, right? But did you know they make sunglasses as well?
Their Traveler design collection was inspired by Italian racing and is made to withstand some mileage. Toms uses a construction called SOLAFLEX, which is a "unique rubberized material designed to survive all (or at least most) of your adventures".
That's a must when it comes to being a paddler. Our adventures tend to be quite rough on a pair of sunglasses.
The Traveler collection has high-impact resistant lenses, are lightweight, and offer 100% UVA/UVB protection.
Check Price On Amazon
This young, hip company specializes in affordable and trendy polarized sunglasses for whatever outdoor adventure you can think of, and these glasses are meant to be worn daily and worked hard.
They're lightweight, offer UV protection, and are made in a unisex style for both men and women. These are glasses you can toss around because you can afford to replace them.
And they have so many cool designs and colors on their website that you'll probably want to add more than one pair to your cart before checking out (we did).
The company also offers a 15-day money back guarantee and even better, a trade in program where you can swap out at six months for a shiny new pair. That right there makes these glasses an obvious choice!
They also state on their website that a portion of proceeds goes towards charity, though they don't say which charity.
Check Price On Amazon
KastKing makes sunglasses specifically for outdoor watersports, such as kayaking and fishing.
They are designed with innovative "unbreakable" frame, impact resistant lens and anti-slip nose pads.
They also claim to block 100% of harmful UV rays and to "meet or exceed" all U.S. ANSI (American National Safety Institute) standards.
The company offers a one year warranty on their product, fast shipping on all orders and a free hard case.
Eddie Bauer is kind of the Godfather of outdoor adventure, and it's refreshing to see that they carry polarized sunglasses that you can actually afford.
Their designs come with all the standard bells and whistles such as lightweight yet durable material, impact-resistant polycarbonate lenses, and UV protection.
The Ketchum model also has rubber nose pads and bow tip inserts that are meant to prevent your glasses from slipping while you're active.
Other models are currently on sale on their website as well, so be sure to browse for the perfect pair.
Check Price On Amazon
Lip calls their sunglasses 'watershades', not sunglasses, because they're designed to be worn while you're sporting it up on the water, whatever your preferred choice of activity.
Their website is full of vibrant photos of people enjoying a wide range of water sports and having a blast doing it.
Their "ultimate watershade" is the Typhoon, a pair of Swiss army knife sunglasses that feature an adjustable band, a safety leash, vented lenses (to reduce fogging), shock-absorbing rubber, and even a silicone retainer necklace to ensure that you definitely don't lose that expensive pair of sunglasses.
It seems that this pair of watershades could conquer the world if we allow it.
They'll cost you a pretty penny (hence the silicone retainer necklace) but they come with a three-year warranty and that's a long time when it comes to the life of a pair of sunglasses.
Choosing Your Perfect Polarized Sunglasses
Choosing your perfect pair of sunglasses can require a lot of hours browsing websites, doing research, asking fellow water-loving friends their opinions and experience with sunglasses, or browsing the aisles at your local outdoor gear store.
There's really an overwhelming amount of options out there when it comes to sunglasses and it will probably take you a few test-runs with a few different pairs to find the one that is just right for you and your kayaking style.
Whatever your preferred method of choosing sunglasses, this list is just the tip of the iceberg, but we hope it helps you even just a little bit.
Choosing companies that offer warranties or a money back guarantee is a great way to go while you're in the throes of deciding which sunglasses are the best for you.
We most definitely suggest always using a head strap on whichever pair of sunglasses you chose. This will give you that little bit of extra insurance for ensuring that you don't lose your new pair, or your old lucky pair of sunglasses to the elements.
Now that you know a little more about the importance of protecting your eyes against the sun's harmful rays, we look forward to seeing you out there on the water sporting your new perfect pair of polarized sunglasses.
Happy paddling.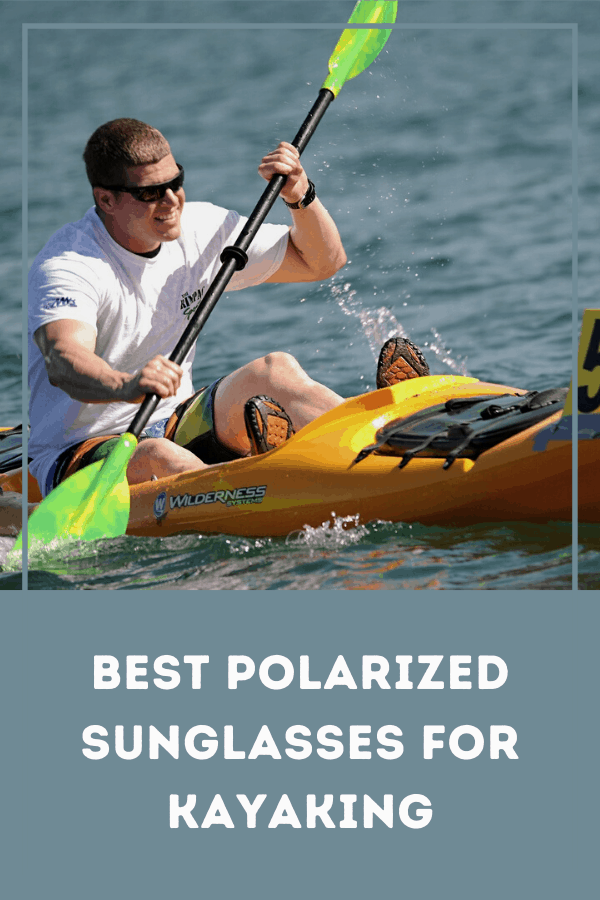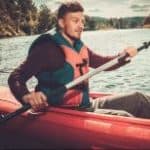 Author: Peter Salisbury
Pete is the Owner of KayakHelp.com. Born and raised in Cleveland, Ohio, he grew up kayaking, fishing, sailing, and partaking in outdoor adventures around the Great Lakes. When he's not out on the water, you can find him skiing in the mountains, reading his favorite books, and spending time with his family.