Protecting your feet when you're kayaking is way too underrated, and that's true even if you're enjoying some of the best weather conditions for kayaking.
As a kayak guide, I know far too many folks that ask to kayak barefoot and then don't realize how much less comfortable it is to get out of their kayak once they reach our beach destination.
That's not to mention the added risk that comes with leaving your feet and toes unprotected when you're stepping onto uneven beaches or rocky shorelines.
Whether you're a beginner or an experienced kayaker, it's essential to protect your feet with a pair of the best water shoes for kayaking for men & women.
The good news is that there are tons of water shoes and waterproof sandals out there for you to choose from. But if you don't exactly know what to look for or how to prioritize different shoe features, the search can become overwhelming quickly.
Thankfully, we've put together a sweet list of the best water shoes for both men and women to help you narrow down your options.
We've also included a useful buyer's guide that's designed to help you wade through the many features and specifications that you'll see when you're shopping for new water shoes.
So let's get started!
Buyer's Guide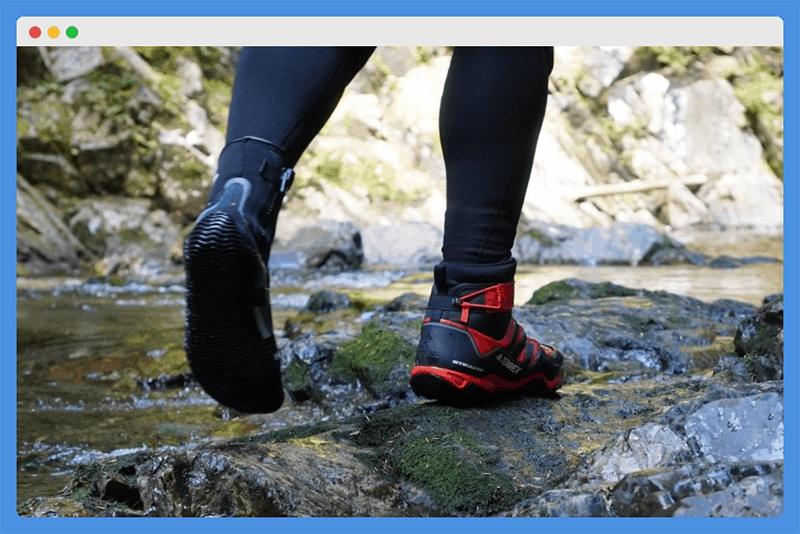 When you're choosing water shoes, there are several important factors that you should consider. So let's discuss how to prioritize the right features and specifications when you're looking for a pair that will best serve your intended use.
Weight
Some of these water shoes are much bulkier than others. Because you won't necessarily be walking a lot of miles in them if you're using them for kayaking, this extra weight might not matter as much as if you were choosing a pair of hiking shoes.
That said, most types of kayaking should be relaxing and it's probably one of the last times you want to have something super bulky on your feet.
That's why most of the water shoes on our list are relatively lightweight and offer a minimalist fit.
Ultimately, you get to choose how much weight you want on your feet while you're paddling.
But keep in mind that bulkier water shoes often provide more protection if you're planning on using them to enter or exit your kayak on particularly rocky beaches.
Fit
Just like regular shoes, you'll find water shoes with low, mid, and high-ankle designs. So you'll need to consider what will feel most comfortable for you when walking around and paddling for several hours at a time.
While you might not want to wear a high-ankle style water shoe if you're just hanging out on the beach, these types of water shoes often provide the most insulation and protection if you're paddling in colder waters or dealing with rocky, uneven shorelines.
But if you're looking for water shoes for casual or recreational kayaking, a low-ankle design is probably best for you. Mid-ankle designs, however, can be best for kayaking trips that require portaging or frequent entering and exiting your kayaks.
Sea kayakers and those that envision long-distance kayaking expeditions in their future should consider the benefits of a high-ankle water shoe.
These offer the most ankle support and also tend to offer wetsuit-style technology to keep your feet warmer.
Fastening System
You'll find water shoes with traditional laces, bungee-style lacing systems, and vertical zippers that secure them on your feet. So this is another feature that you'll need to consider before finalizing your selection.
Traditional laces are great because they allow you to customize the tightness of your shoes more than bungee laces or zippers. That being said, they do require extra time to lace up (or unlace) your shoes when taking them on and off.
If you prefer traditional laces, you can also look for a pair of water shoes with a "crushable" or removable heel. This will allow you to slip your water shoes on and off without necessarily having to adjust the laces every time.
Water shoes with a bungee-lacing system are great for those that like to make constant adjustments to the tightness of their shoes. They are much easier to tighten or loosen quickly than water shoes with traditional laces.
Most water shoes that are designed with some sort of extra insulation utilize zippers because they are a better match with neoprene material.
So if you're looking for a pair of water shoes for cold-weather paddling, you'll most likely choose a design with a zip-up security system.
Activity Level
Another factor you need to consider is how actively you'll be using your water shoes, on average.
There's a big difference between wearing them for a few hours for a casual paddle and wearing them all day on a long-distance paddling trip in one of the best touring kayaks.
As you might imagine, casual kayakers can get away with water shoes that offer a more stylish design, which typically come with less insulation and minimal ankle support.
These are great because they provide plenty of foot protection without requiring you to wear something super bulky.
But if you plan on wearing your water shoes for longer trips, you'll want to look into something with more padding, insulation, and ankle support.
When your ankles are sitting against the plastic of your kayak all day long, you'll be surprised by how uncomfortable they can become if you don't opt for a pair of water shoes with extra padding on the outside of the ankles.
Water Shoe Reviews
Check Price on Amazon
The Astral Loyak AC is a men's water shoe with a barefoot, minimalist design. These shoes weigh less than half-a-pound per shoe and are made out of recycled polyester and other sustainably sourced materials, which make them the rare vegan water shoes on our list.
Astral manufactures these kayaking water shoes with a Flex-grip outsole that's made with G.15 rubber. That outsole makes them extra grippy and also helps them conform to the ground for a more comfortable feel.
In terms of traction, the grippy outsole is aided by divided lugs and razor siping, which helps to improve grip on slick and slippery surfaces. They also feature a level footbed and a wider toe box that keep your feet in a more balanced, natural alignment.
This helps to improve your balance and control when you're wearing them and it also allows you to move as naturally as possible without feeling over-burdened by clunky water shoes. They also come with two sets of water-resistant laces just in case you tear or lose the first set!
The Astral Loyak AC water shoes also feature holes in the front and the back of the midsole to allow water to quickly drain out of the foot box. The upper portion of these shoes is made with breathable mesh and hydrophobic canvas so that they dry quickly.
Check Price on Amazon
The Women's Astral Brewess 2.0 is made to give you plenty of stability and traction on smooth, wet, and even rocky surfaces. Like the Loyak AC, it's made with recycled polyester and these water shoes are vegan-friendly.
The materials used in the construction of these shoes are as sustainably sourced as possible, as Astral works to put nature first. But in terms of weight, each shoe weighs less than half-a-pound each so that they won't be bulky when you're walking in water.
The wide toe box in these water shoes helps you spread your toes out for better stability and the level footbed helps you balance while still remaining agile when you need to make quick movements.
On the outsole, Astral has used high-performance G.15 rubber that's extra sticky and is super resistant to cuts and abrasions when you're walking on unfriendly surfaces.
These shoes also feature divided lugs with razor siping for improved traction and a wider surface area.
The upper section of the Brewess 2.0 is made of hydrophobic, quick-drying canvas material and the laces are also water-resistant.
It features holes in the front and back for water to drain and it also includes a built-in, Polygiene-treated sock liner to help eliminate odors that are typical of some other water shoes.
Check Price on Amazon
The NRS Vibe Men's water shoe is made of mostly synthetic material and the footbed is manufactured with
EVA foam
. The upper portion of these shoes is made of water-resistant, 1000-denier Cordura nylon that will dry quickly once you're out of the water.
These shoes have holes on both sides for sufficient water drainage without having to completely remove the shoes.
Their outsole is siped and made with sticky rubber for a solid grip on smooth surfaces.
The Vibes weigh about .685 pounds per shoe and also feature a stylish design that won't look weird for casual paddling. They also don't require an extensive process to put on and take off with their lace-up design.
The Women's Crush water shoes get their name from their "crushable" heel, which allows you to slip them on without having to completely lace them up every time. They also come with two pairs of contrasting laces so you always have a backup on hand.
The upper section of these shoes is made with a 1000-denier Cordura nylon that's finished with a durable water-repellant coating.
Drain ports in the sidewalls help you keep water from pooling in your shoes without having to take them off every time you go for a swim.
The insole is made with removable EVA foam that you can take out so that these shoes dry even more quickly.
The outsole is made with super-sticky rubber with a siped finish for excellent traction on a variety of smooth, rocky, and slippery surfaces.
In addition to being a great pair of water shoes, the NRS Crush shoes come with a free NRS strap that you can use to strap down your kayak or loop through the laces on your shoes to hang them out to dry when you get home.
Check Price on Amazon
The men's NRS Paddle Wetshoe is a great option for colder days out on the water. These water shoes feature a high-ankle design and they simply zip up once they're on so that you don't have to worry about any laces.
These water shoes are made with Terraprene neoprene and they include a soft, fleece-like inner lining that repels water and keeps your feet more comfortable.
They also feature a high-traction outsole that proves grip on all surfaces and protects your feet from rocks and other beach-related hazards.
These shoes actually include a five-millimeter thick neoprene insole and a three-millimeter thick outsole. The neoprene in these water shoes includes a heat-reflecting titanium adhesive that keeps your feet warm and toasty in colder water.
The NRS water shoes are available in whole sizes only, and it's recommended that you order a size larger if you fall between sizes.
They also offer extra padding around the outsides of the ankles to protect those sensitive pressure points that often get uncomfortable when they remain in contact with your kayak for multiple hours.
Check Price on Amazon
The women's version of the NRS Paddle Wetshoe features many of the same elements as the men's version, but these are built on a naturally-shaped, women's specific cast that provides a more comfortable fit for the ladies.
The foot box features a five-millimeter thick insole with a three-millimeter thick, rubberized outsole for extra protection and insulation for your feet and toes. The upper section of these water shoes wraps up and around your ankles and is also three-millimeters thick.
These water shoes are made with a Terraprene neoprene material that includes a heat-reflecting titanium layer for extra warmth and comfort on colder days.
They also include a soft, fleece-like inner lining that feels soft and silky every time you slide your feet in.
The NRS Paddle wet shoe also includes a stretchy rubber support band for improved lateral ankle support.
They also feature additional padding around the outside of the ankles to protect those ankle bones from impact against rocks, sticks, and other debris in the water.
Check Price on Amazon
The men's Merrell All Out Blaze Aero Sport water shoes are the perfect choice for kayaking trips that require short or long portages over land. These shoes are the closest thing on our list to a combination shoe for both water sports and hiking.
They are made with a polyurethane-coated leather upper section that includes mesh panels for improved breathability and better water drainage.
The sole is 100% synthetic material and the bellows tongue helps to keep debris out when you're walking in mucky or disturbed waters.
This shoe also includes a Vibram TC5+ outsole that gives you excellent grip and traction on wet, rocky, or sandy surfaces. Merrell's Omni-Fit lacing system helps you secure a super-secure fit every time you put these water shoes on.
These water shoes also feature a breathable mesh lining that helps them dry quickly after they get wet and they offer a mold TPU heel counter that gives you more stability when you're carrying a heavy kayak over uneven surfaces.
Check Price on Amazon
The women's Merrell All Out Blaze Sieve is the ladies' version of the shoe above and these are also a great choice for any kayaking trips that require you to know
how to portage a kayak
. But they're also great for multi-day kayaking trips where you'll be going in and out of the water frequently.
These shoes are made with a combination of leather and synthetic materials and they boast a one-inch heel that gives you excellent support and padding when you're walking on uneven and rocky surfaces.
The upper section of these shoes is made with waterproof NuBuck leather and stretchy Lycra neoprene. The Vibram TC5+ outsole also features three-millimeter lugs for additional grip and improved traction.
These Sieve water shoes also offer a bungee-style lacing system that makes them easy to tighten or loosen on-the-go.
They are finished with an antimicrobial treatment that helps you reduce the kinds of odors that can become unbearable with other water shoes.
Check Price on Amazon
The Adidas Terrex Summer.rdy men's water shoes are a stylish enough choice to wear right from town into your kayak. So they're an excellent choice for a casual kayak on a warm summer morning and then hopping on a friend's boat for the afternoon.
They are made with a Traxion outsole for reliable traction and grip in all directions and Adidas ClimaCool upper section for excellent breathability. This upper section also dries quickly once it gets wet so that you're not walking around with wet feet all day.
These water shoes are manufactured with a combination of knit textile and synthetic materials and they include a lace closure that allows you to customize a secure fit.
They also include perforated drainage holes in the midsole and outsole to allow water to escape instead of accumulating in the shoe.
Check Price on Amazon
The Adidas Terrex ClimaCool Sleek is the women's version of the Summer.rdy water shoe for men. This is another great selection for casual kayaking on warm days, but they can also be used for beach days, river floats, or hangouts on a friend's boat.
These water shoes feature the Adidas Traxion outsole, which utilizes a rubberized material and provides a great balance between traction and stability.
The midsole boasts a breathable neoprene mesh lining that's perforated to allow water to drain seamlessly.
The upper section of these shoes starts with a stretchable heel insert that allows you to slip these water shoes on without having to lace them up every time.
It also features a sleek silhouette for a more ladies-specific fit and look than the men's Terrex Summer.rdy shoe.
Our Pick – NRS Paddle Wetshoe (Men's and Women's)
Check Price On Amazon
The men's and women's NRS Paddle Wet shoes are our top picks for the best water shoes for kayaking because they can be used year-round and they are the only shoes on our list that provide extra insulation for your feet.
From our experience, your hands and feet are the first things to get cold when you're kayaking on cooler or windier days.
While you can also look into some of the best kayaking gloves, these water shoes will help you make keeping your feet warm an afterthought so that you can enjoy paddling in a wider variety of weather conditions.
In addition to their insulating properties, these shoes provide more padding around your ankles and lower legs than the other water shoes on our list.
This means more protection when your ankles are sitting against the inside of your kayak or when you accidentally bang one of those sensitive ankle bones against a rock.
Lastly, we've chosen the NRS Paddle Wetshoes as our top pick because they are one of the few water shoes that provide extra lateral support for your ankles when you're walking on rocky or uneven surfaces.
That makes these an excellent choice for multi-day kayaking expeditions because you might not always be able to find a gently-sloped sand beach to pull up on every night.
And when you have to make landfall on a rockier shoreline, you'll definitely want the kind of support and protection that only these NRS Paddle Wetshoes can provide!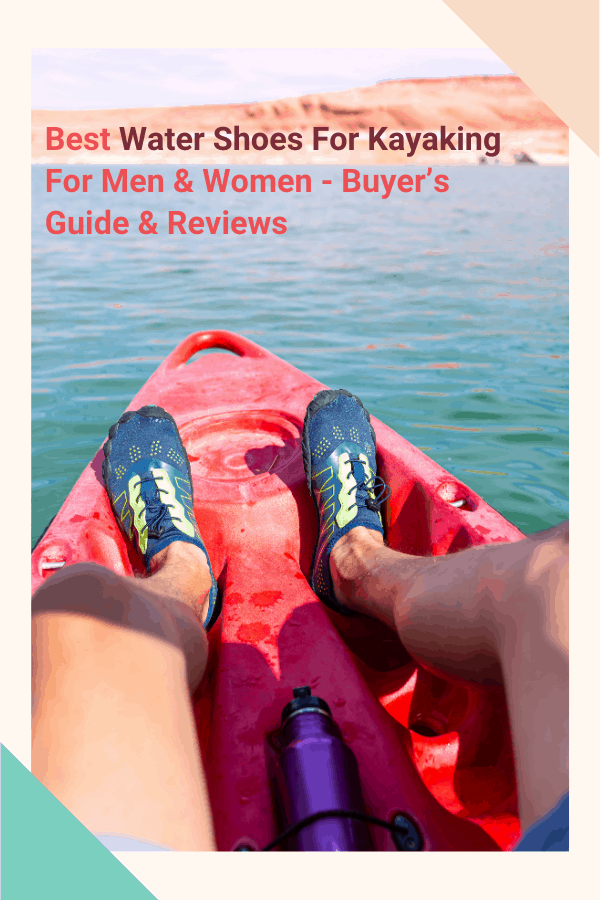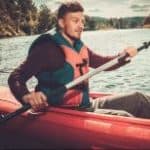 Author: Peter Salisbury
Pete is the Owner of KayakHelp.com. Born and raised in Cleveland, Ohio, he grew up kayaking, fishing, sailing, and partaking in outdoor adventures around the Great Lakes. When he's not out on the water, you can find him skiing in the mountains, reading his favorite books, and spending time with his family.