Let's face it; having your family around is the most liberating feeling, especially when you have some time off from work. Creating an urban oasis at home with family lets you enjoy bonding time and fresh air around a bonfire.
Upgrading your patio with a cozy smokeless fire pit from a renowned brand like Breeo or Solo Stove gives your family an ideal year-round occasion for unwinding.
Besides adding beauty to your outdoor space, a fire pit offers warmth, and you can use it to grill different foil packet recipes, roast marshmallows, etc.
The beauty of it is that your fire pit will be useful in all seasons – summer, winter, and fall. Whether it's a family gathering or setting up camp with friends in the backcountry, a Breeo or Solo Stove fire pit is just what you need.
These are the two most popular fire pit brands with distinct features and styling. I can attest to their immersive outdoor/indoor experiences. They are smokeless and deliver ample heat and pleasant fire pit experiences.
In this post, I will review in detail the features and performance of the Breeo and Solo Stove fire pits to help you understand which is better.
Read on for more.
What is a Breeo Fire Pit?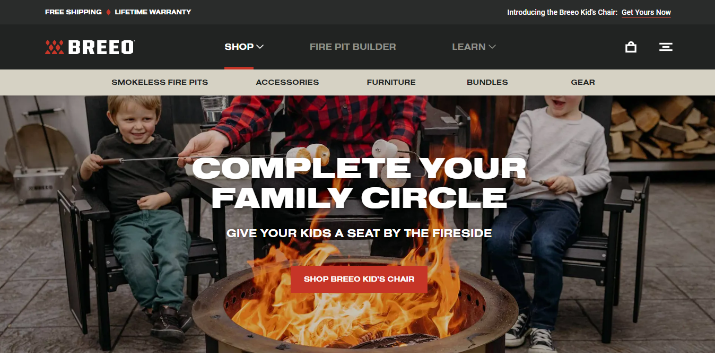 A Breeo fire pit is a brand of smokeless fire pits made in the U.S. It was established in 2011, with a series of product lines in different models.
Breeo fire pits are made with Corten steel or Stainless steel. They are fully customizable, with upgraded features to make your outdoor experience more inviting.
The fire pit has a lid to protect it from the rain. Once you're done with the pit, you just need to close the lid. It also has an internal linking feature with efficient airflow technology and innovative design.
Its features are pretty convenient, enabling it to offer sustainability to users.
What is a Solo Stove?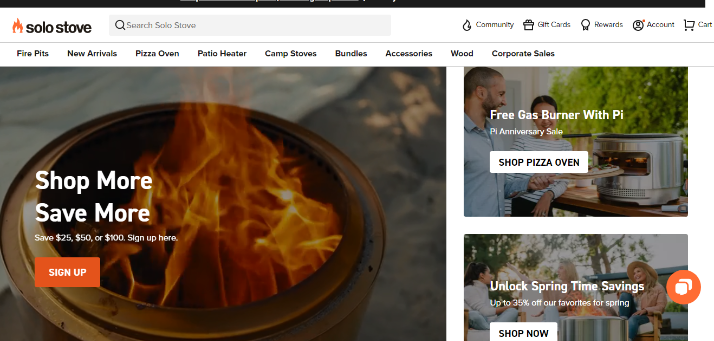 A Solo Stove is a wood-burning fire pit with a patented design that produces low smoke. Its vent holes are strategically placed to ensure little smoke emission.
With a Solo Stove, you have a smokeless fire pit that looks not only beautiful in your backyard but also offers clean burning with a blazing fire. Made from heavy-duty stainless steel, it can withstand adverse temperatures.
Solo Stoves are pretty portable, meaning you can easily move them from the backyard to your campsite or garage, whichever you prefer. They are manufactured in different sizes and have stands that let you place them on combustible surfaces like decking, grass, concrete, etc.
Over the years, the Solo Stove brand has expanded its product line, including manufacturing stoves, apparel, fire pits, and grills.
How Does It Work?
The Breeo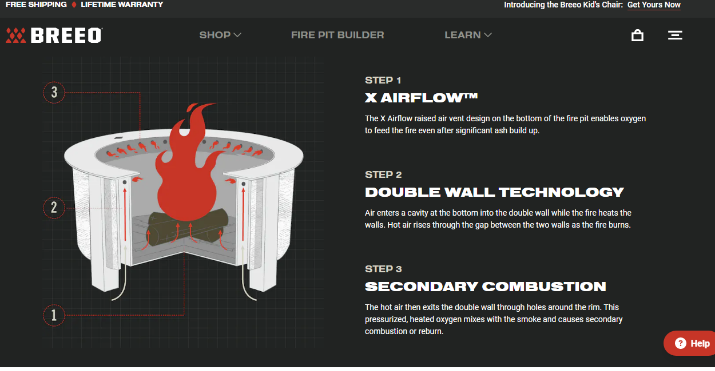 Breeo stoves are designed to be smokeless. They have raised air vents at the bottom, allowing more airflow to the base of your fire. When fed more oxygen, the fire burns hotter, leaving low carbon emissions from the burn chamber.
The fire pits come with a double wall design, letting in more oxygen to the double wall when heated by fire. Hot air rises through these double walls to exit through the holes lining the rim. Once the hot air gets out of the holes, it mixes with smoke, causing secondary combustion.
Secondary combustion means the carbon-containing materials are re-burned to minimize the number of particulates floating in the air. This then creates a smokeless experience.
The Solo Stove
Besides its sleek stainless steel, the other noticeable features the Solo Stove has are the burning chamber interior and a pattern of holes along its bottom. While these facets carry significant functions, they also make the stove beautiful.
A solo stove has a signature 3600 Airflow Design featuring a double wall structure for excellent airflow. Air is sucked in from the bottom vent holes to fuel the fire from the base and cause a secondary burn that is smokeless and beautiful to watch.
The stove's firing ring keeps the fire even and centered. This ensures a vortex of flame that keeps the heat above the fire pit.
Design Convenience
Breo
The beauty of getting a Breeo fire pit is that you can use charcoal, wood pellets, or wood itself. Such flexibility and convenience make it easy for you to cook.
A Breeo fire pit is easy to place on your deck because of its legs. It also contains sparks and pops when using wood with lots of sap. The pit has spark shields that aid in containing these elements.
The model is designed with a modern feel that makes it look stylish and functional with its silver finish.
Solo Stove
Solo Stoves use wood only, ensuring a long-lasting smokeless fire, especially when using hardwood lump charcoal. It also comes built with spark shields that help contain the pops and sparks from woods with sap.
Apart from the sleek, compact, and stylish silver design, Solo Stoves also provide heat deflectors to help redirect heat around and out of the fire.
A Solo Stove exudes elegance and catches your attention the moment you spot it. Its design is convenient, with features that will get you hooked.
Verdict
Both pits have the design convenience you need for your patio.
Ease of Use
Breeo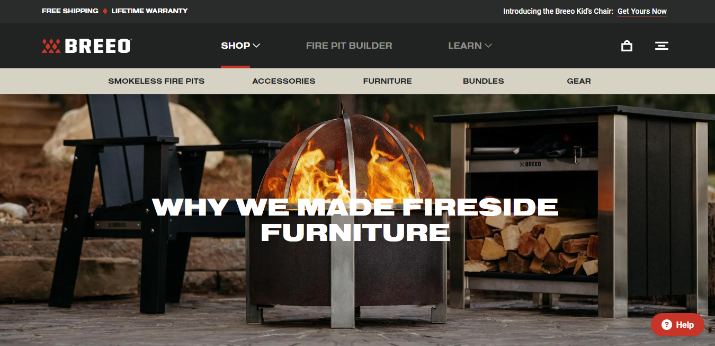 The Breeo is a large fire pit with a sturdy build. It takes time to light up and needs more fuel to initiate the secondary burn and make it smokeless.
Once it's lit and burning, the Breeo pit is easy to sustain. Interestingly, the pit pushes more heat out of the sides, making it an excellent choice for winter use.
Breeo pits are user-friendly, flexible, and easy to maintain. Their stainless steel design makes cleaning, storing, and maintaining very easy.
Solo Stove
The Solo Stove offers a quality and efficient burn. Lighting a fire in this pit is incredibly easy, and your wood can burn for hours without you moving a muscle.
Maintaining a Solo Stove is a breeze too. The stainless steel build is much more accessible, allowing you to clean it well after every use and maintain the quality of your fire pit.
Verdict
While both pits are flexible and easy to maintain, the Solo Stove is the winner when it comes to ease of use. It's easy to light, and the fire burns for hours without intervention.
Airflow Technology
Breeo
Breeo fire pits are built using innovative airflow technology. This allows them sufficient air at the pit's base to enable efficient burning. It also helps to create little to no smoke while generating large amounts of heat.
The X-frame design of the Breeo necessitates efficient combustion through the four square-shaped tubes.
Solo Stove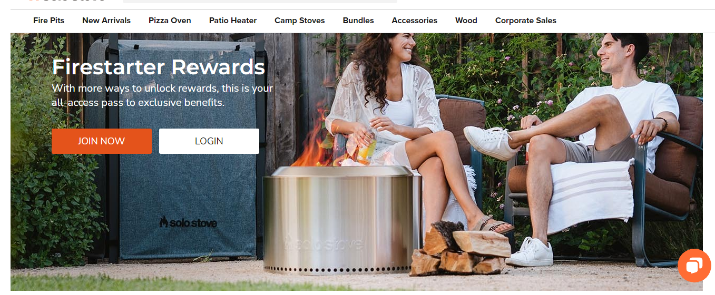 Solo Stove has a 3600 airflow design. The bottom holes pull additional air to the fire, creating a secondary burn, and burn off smoke to make the flames smokeless.
Verdict
Both fire pits have excellent airflow designs that promote efficient airflow while producing less or no smoke. But the Breeo surpasses the Solo Stove by offering extra structural stability that enables air to flow freely and run longer in the pit.
Portability
Portability is what differentiates the Breeo fire pit from Solo Stove.
Breeo
Breeo fire pits are heavy and sturdy. They can weigh up to 78 pounds and have built-in feet attached, which adds to the weight, making them unsuitable for carrying to a campsite.
All the accessories of the Breeo fire pits cannot be nested. However, it's portable enough to put on the patio, deck, or in the backyard at any time.
Solo Stove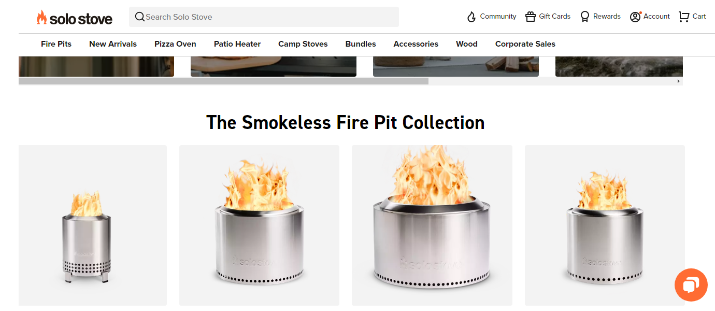 Solo Stoves weigh less than half the weight of Breeo stoves. They are pretty portable, allowing you to carry them to your campsite. Most weigh between 6 and 10 kg, which is portable enough for any outdoor adventure.
Solo Stoves are not built with feet. But you can purchase a stand to lift it off the ground to avoid damaging heat-sensitive surfaces. The feet can be nested in the stove once you are done using it. This goes for the shield, too – it's easy to nest in the stove.
Exclusively designed for camping, hiking, road trips, etc, Solo Stoves are super light and compact. You can go for the bigger models too.
Verdict
On portability, Solo Stove takes home the winning badge. You can pack and bring it with you anywhere.
Durability
Breeo
Breeo stoves have a thick construction, making them robust, durable, and able to withstand heavy use. They are made from both 404 stainless steel and Industrial COR-TEN steel, which is a high-grade material typically used in highway and bridge construction.
These robust materials can last many years without a dent or any other damage.
Solo Stove
Solo Stoves are lighter but durable too. They are constructed with 304 stainless steel, which can withstand harsh temperatures. They are corrosion-resistant and will give you and your family many years of service.
Verdict
With durability as the primary factor, Breeo Stoves can serve you longer.
Versatility
Breeo
A Breeo fire pit lets you do much more than stare at a mesmerizing flame. It can double up as an outdoor grill as well.
It has a sear plate that can get hot enough to grill your steaks, burgers, and chops. Moreover, the sear plate warps inwards when the cooking temperatures are right.
This way, all the grease and juices from the grilled food will drip into the pit and not onto the ground. If you want to dive into deeper grilling over the fire, you can get the add-on grill gate attachment.
With the Breeo, you can attach a campfire grill to the fire pit whenever you want the campfire adventure experience. The best part about the grill is that it allows you to adjust the height to minimum or maximum whenever you want to increase or reduce the fire temperature.
With Breeo, you can opt to purchase cooking accessories and turn them into a cooking grill. Some models have seven gauge stainless steel sear plate rings at the top.
This allows you to prepare your hot dogs, chicken, steak, tofu, and burgers without breaking a sweat. Don't forget to roast your marshmallows too!
Solo Stove
Solo stoves are not designed as cookers, so you can only use them for roasting. It's easy to make small fare sizzling hot dogs and s'mores with them. While they aren't convenient for grilling, you can still achieve your goal by purchasing their dedicated Solo Stove grill products.
Verdict
Breeo wins in versatility. Its cooking capabilities are excellent, especially when you have your friends or family over.
Pricing and Value
Breeo
When it comes to pricing, Breeo is a bit on the higher side. The brand manufactures its products in the U.S. and offers free shipping on all items.
Its pits are available in various sizes and prices depending on size and material. For instance, a Breeo 33-inch diameter LUXEVE® smokeless model retails at $1,899 currently, more than two times the price of the largest Solo Stove fire pit.
Even if you get free shipping, Breeo products remain expensive. The shop page has more pricing details for you to explore.
Solo Stove
On the flip side, Solo Stoves are cost-effective, considering they're all built from 304 stainless steel materials. Their fire pits come in different sizes and prices based on the mode of use. For example, A Solo Yukon Fire Pit, one of the brand's largest pits, costs $509.99 currently when bundled with the stand.
To find out more about the prices of their products, check out their Fire Pits, New Arrivals, Pizza Oven, Patio Heater, and Camp Stoves.
It's evident that Solo Stove is much more affordable. In fact, their Fire Pits page has products priced under $200 and some are even under $100.
Verdict
On pricing, Solo Stove wins for offering budget-friendly product prices.
Shipping & Return Policy
Breeo
As pointed out earlier, Breeo offers free shipping to its customers within the U.S. The brand ships to Hawaii, Canada, and Alaska. It takes two to eight business days to ship products to Canada and the continental United States and one to three weeks to get to Hawaii and Alaska destinations.
Customers can return goods within 30 days and get a refund. The product returned should be intact and in the original packaging to qualify for a refund. Any alterations or damages to the fire pit will render it ineligible for a refund.
A refund will be made three to seven business days after the transaction is approved. It also offers a lifetime warranty.
Solo Stove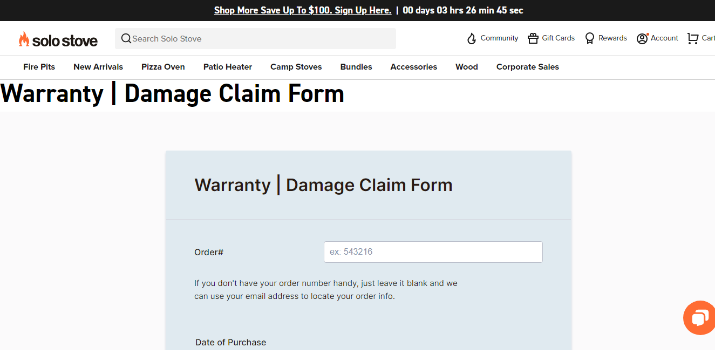 Solo Stove offers free shipping for orders above $99 from Canada or the continental United States. Their shipping takes one to three weeks to arrive at the delivery point. The best thing is that Solo Stove ships its products internationally.
The return policy lasts 30 days but only works for customers in the lower 48 United States. The product should be in its original status when returned and the company will provide a return shipping label at no cost.
Any goods returned after the thirty days have elapsed are exchanged for store credit, but you'll need to shoulder the shipping fee. All its products come with a lifetime warranty.
Verdict
Solo Stove offers worldwide shipping and quick delivery times. This gives it an edge over Breeo.
Customer Service & Support
Breeo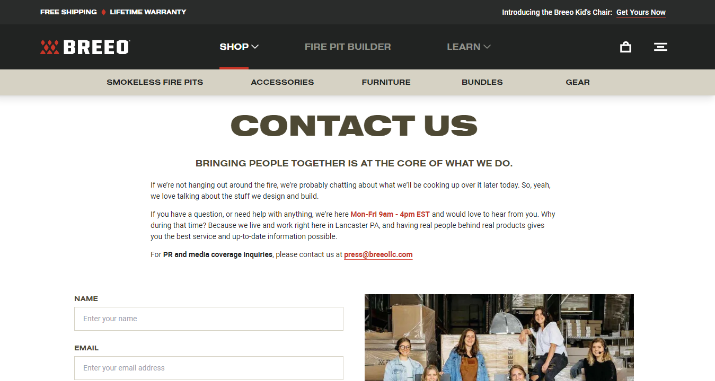 Breeo offers several avenues for contacting its customer support team. There's an option to call and talk to its customer service team.
If that is not possible, you can chat directly with the agents whenever you have an issue, question, or inquiry. It also allows you to schedule a video call with customer support. Its live chat is available 24/7. Another point of contact is via email.
Customers can also get all their answers by subscribing to their email or the company's social media platforms.
Solo Stove
Solo Stove has a community with blogs and videos for customers to read, watch, and get solutions to their questions or pain points. They have a Contact Us page where customers contact the company to make inquiries or communicate with the support team.
You can email them your queries or engage customer support through Live Chat. Its knowledge base is vast, with an FAQ section, blogs, and articles to learn from.
Verdict
Both brands have an intuitive customer support system with several methods of reaching out.
Breeo vs Solo Stove: Similarities and Differences
Similarities
Breeo and Solo Stove are both excellent quality fire pits.
They can both grill and roast food.
They are easy to install in the backyard.
Both fire pits are made from sturdy, durable construction materials.
They are good for both small and large gatherings of friends and family.
Both the Breeo and Solo Stoves have stands.
They both have a 30-day return policy and a lifetime warranty.
Differences
You can cook and grill on a Breeo stove without purchasing a grill separately. A Solo Stove will require an extra grill to do this.
Breeo is a quality, heavy-duty fire pit, compared to a Solo Stove, which is lightweight.
A Solo Stove is much more portable than a Breeo.
A Breeo stove is designed with adjustable feet. But a Solo Stove will require you to purchase the stand separately.
Solo Stoves have nested spare parts that make them easy to carry around. Breeo doesn't have the nested option.
Solo Stoves are smaller and occupy smaller spaces while delivering the great ambiance of a fire pit. Breeo offers the same quality of experience but occupies more backyard space.
Solo Stove has a broad range of fire pits, with smaller options for travel and tabletop use. Breeo is limited in its options
Breeo vs Solo Stove: Pros & Cons
Breeo Pros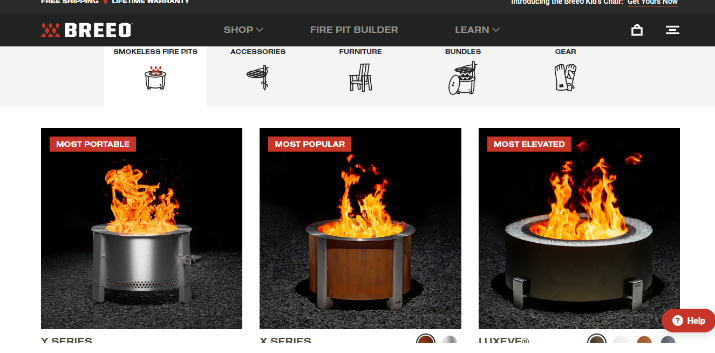 It offers smokeless fire pits built with double-walled technology.
It is designed in two different finishes; corten or steel.
It is sturdy and durable.
Breeo fire pits are aesthetically appealing.
It is a quality brand made in the USA.
It is easy to install and set up. It comes already assembled and ready to use.
You can easily prepare food for guests.
It is safe on the patio, deck, or backyard.
It is built with X Airflow technology for a smokeless experience and hotter flames.
Breeo has free shipping, a 30-day refund policy, and a lifetime warranty.
Cons
Breeo pits are large in size and heavy to carry around.
Not easy to clean.
It is quite pricey.
The fire pit has a steep learning curve.
The sear plate needs two people to operate.
Solo Stove Pros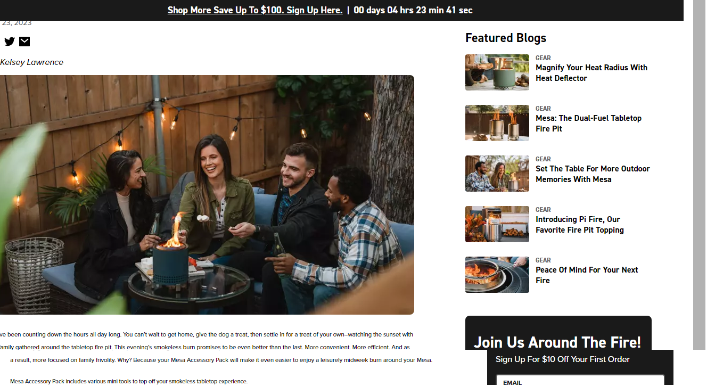 All its models are durable and lightweight, which is excellent when planning outdoor excursions.
It is ideal for all surfaces.
It is easy to assemble.
It comes with a carrying case.
It is built with patented technology.
It offers multiple product options and sizes.
It offers free shipping on orders above $99, has a lifetime warranty, and has a 30-day return policy.
It is reasonably priced.
The company makes it easy to find its retail stores using the store locator function.
Cons
It is not built with a stand.
It cannot cook until you purchase the grill products separately.
The outer unit can be very hot.
You have to purchase a removable ashtray to empty your ash.
It is only available in 304 stainless steel, unlike Breeo, which manufactures corten and stainless steel products.
Take Away
While Breeo and Solo Stove are prominent brands for fire pits, Solo Stove stands as the better option considering the various benefits it offers customers. First, the company manufactures its products from high-grade 304 stainless steel.
Its fire pits are built to last, with patented technology that ensures smokeless outcomes. It emits clean flames that light up any backyard while distributing heat to everyone around it.
What makes it stand out from Breeo is the ability to distribute its wide selection of products to vast customers worldwide.
Its additional benefits include a lifetime product warranty, a 30-day return policy, and excellent customer support, among others. Whichever continent you are in, Solo Stove will definitely deliver your order on time.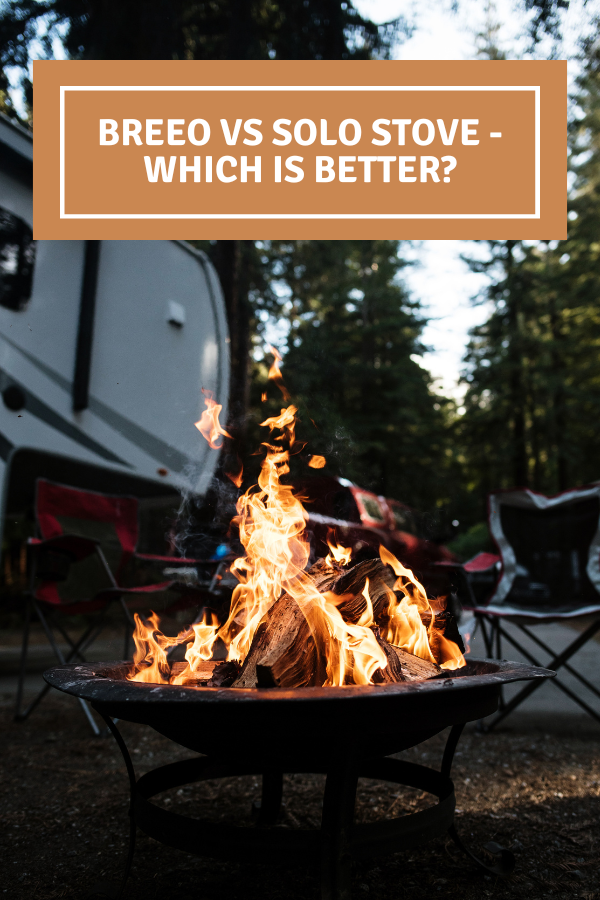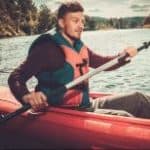 Author: Peter Salisbury
Pete is the Owner of KayakHelp.com. Born and raised in Cleveland, Ohio, he grew up kayaking, fishing, sailing, and partaking in outdoor adventures around the Great Lakes. When he's not out on the water, you can find him skiing in the mountains, reading his favorite books, and spending time with his family.