From my experience, you are bound to get wet when you are learning how to kayak with your dog. If you know how to modify a kayak for a dog, however, you can significantly minimize your risk of going for an unexpected swim.
The reality is that kayaking experiences are often better when they are shared. Whether that is with a partner in one of the best tandem kayaks or with your favorite furry companion, kayaking is more fun with company.
There are many kayaks that provide plenty of room for you and your dog to sit comfortably. That being said, some modifications may be needed for safety, security, and stability.
In this guide, we are going to provide some tips for how to modify a kayak for a dog and we will also suggest a few of the best kayaks you can choose if you want to paddle with your pup!
Thumbnail
Title
Pelican Sentinel 100X Angler Fishing KayakSit-on-Top KayakLightweight one Person Kayak9.6 ft
BOTE Deus Aero Inflatable Kayak for Adults & Kids Includes Travel Bag 1 Person Single Rider Blow Up Kayaking for Recreational Fishing Hunting Leisure Multiple Colors
Evaxo Kokanee 10'6" Tandem Kayak
Thumbnail
Title
Pelican Sentinel 100X Angler Fishing KayakSit-on-Top KayakLightweight one Person Kayak9.6 ft
Thumbnail
Title
BOTE Deus Aero Inflatable Kayak for Adults & Kids Includes Travel Bag 1 Person Single Rider Blow Up Kayaking for Recreational Fishing Hunting Leisure Multiple Colors
Thumbnail
Title
Evaxo Kokanee 10'6" Tandem Kayak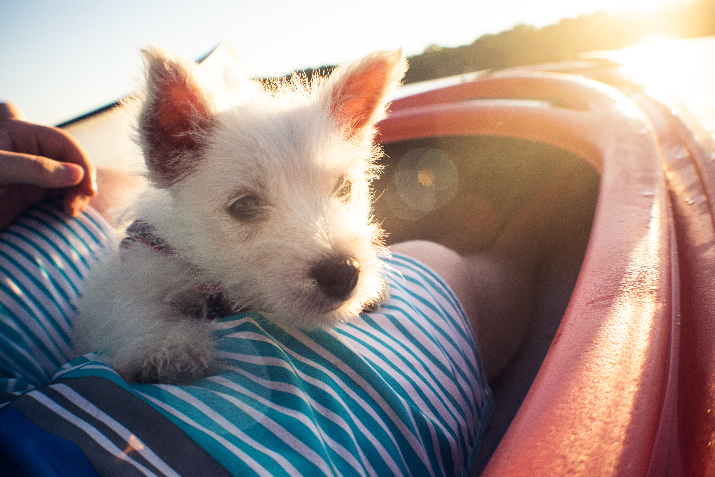 PC Alain Pichot via Unsplash
Can You Bring A Dog Kayaking?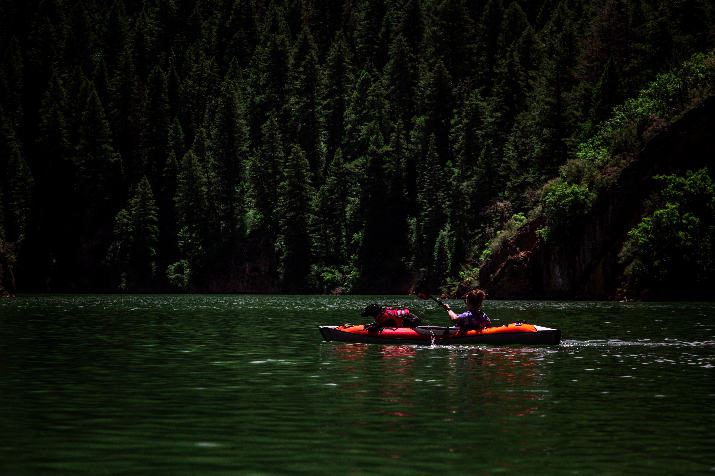 PC Patrick Hendry via Unsplash
Yes. Your comfort level, however, is going to depend on the type of kayak you have. It will also be impacted by the ways in which you modify your kayak to make it more comfortable for you and your dog.
Fortunately for you, we are diving into the details of those modifications to provide some inspiration for how you can make changes to your own kayak.
How To Modify A Kayak For A Dog?
In this section, we will provide a few modification suggestions for different types of kayaks. Some may make more sense for you than others, depending on the size of your dog, your paddling preferences, and a few other factors.
We hope that you find some inspiration for how to modify a kayak for a dog in this section. We also encourage you to do a little additional research into the one or two solutions that you think are best for your kayak.
This will give you the most information possible to make sure you don't damage or compromise your kayak while making modifications.
Add Outriggers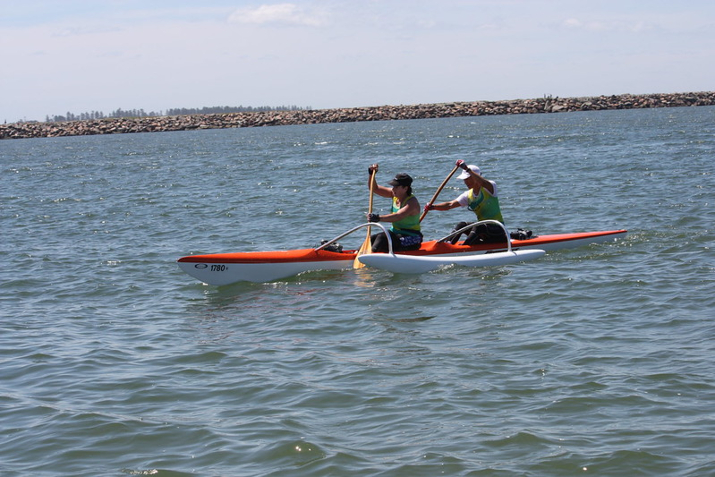 PC Newcastle Outrigger Canoe Club via Flickr
Stability is one thing that can quickly be compromised when you are kayaking with a dog. Whether your dog is just shifting around nervously or standing up to jump out of your kayak, it is harder to keep your kayak stable when you are paddling with your dog.
That is why adding outriggers are an easy modification that improves the stability of your rig. These outriggers are essentially inflatable airbags that are positioned on arms that extend away from the gunwales of your kayak.
Those extensions make it nearly impossible for your kayak to capsize. They can be added on just one side of your kayak or they can be extended away from both gunwales for maximum stability.
The nice part about this solution is that there are several universal outrigger models available online. These should be versatile enough to be used on many different types of kayaks and they can be installed without drilling or punching new rivets into your kayak's deck.
Remove The Front Seat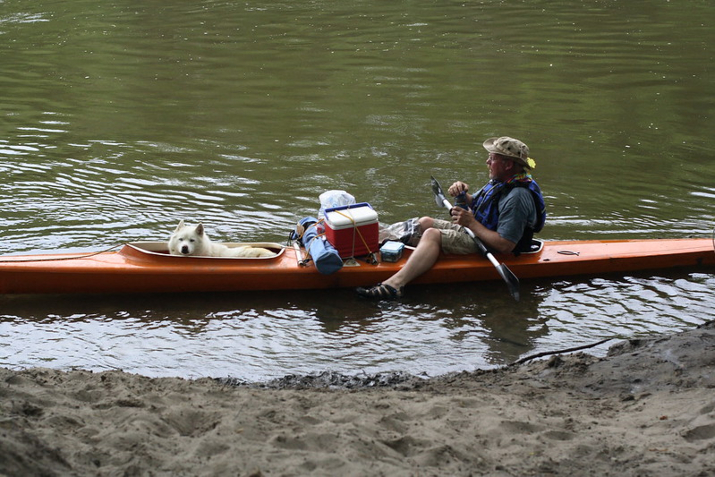 PC Sarah Cady via Flickr
If you have a tandem kayak, it is super easy to modify your kayak to give your dog more space. Many tandem kayaks have front seats that can be completely removed to create a more open seating area at the bow.
If your kayak doesn't have a seat that can be removed, it is likely that it can still be folded down. By folding the seat down and then tightening the straps so that it remains down, you can also create more space for your dog at the bow of your kayak.
Add A Tow-Behind Option
PC jpamusher via Flickr
If you really want to take your pup kayaking but you don't have room inside your kayak, you can consider modifying your setup to include a tube or even another small kayak that you tow behind yours.
This will require you to have a quality kayak tow strap and a dog that is trained well enough to avoid popping the tube you put them in. If you are worried about the tube option, one of the best kids kayaks might also be a good substitute.
Of course, pulling a tube or kayak behind your kayak is going to slow you down considerably. It will also make it harder for you to maneuver on the water and will require a lot more energy than simply loading your dog directly into your kayak.
So, we really see this as a last resort and it is really only an option for recreational paddlers that mainly want to go out and float for a bit. If you want to cover any sort of distance, you will want to use one of the other options.
Clear The Stern Storage Area – Sit on Top Kayaks
PC S&C Photos via Flickr
If you have a small or medium-sized pup, you may be able to train your dog to sit in the stern storage compartment or hatch of your kayak. If you have one of the best sit on top kayaks, you will most likely have a larger, open storage compartment at the stern of your kayak.
This will make it easier to fit a medium-sized dog back here and it will not require much effort to clear the area. You can either remove or just unbuckle the bungee rigging or netting that covers the stern storage compartment.
The way in which this bungee secures to your kayak will vary based on the model, but most can either be untied or simply unlatched to hang down into the storage area. Then, your pup will be able to climb in and get comfortable.
For sit-on-top kayaks, there will most likely be scupper holes in the bottom of your stern storage compartment. If you want to give your pup a drier ride, consider using scupper plugs to seal these holes so that less water enters the compartment while you are underway.
Clear The Stern Storage Area – Sit In Kayaks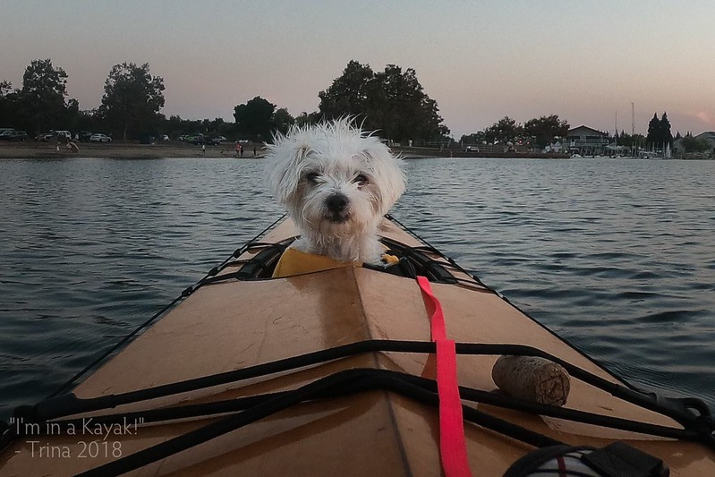 PC Lisa Ouellette via Flickr
If you have a sit-in kayak, you can also use the stern storage area for kayaking with your pup. The design of most bulkhead compartments in sit inside kayaks, however, means that this solution only really works for small dogs.
Although the stern compartments in some sit inside kayaks offer plenty of storage space, their openings can be quite narrow. If you have a small dog, however, you can simply remove the hatch cover to this compartment and place your pup inside for your paddle trips.
Because this compartment is completely sealed, you will not have to worry about water entering and making your pup uncomfortable. You can even add a towel or cushion in that compartment to give your pup an even more comfortable paddling experience.
Build A Deck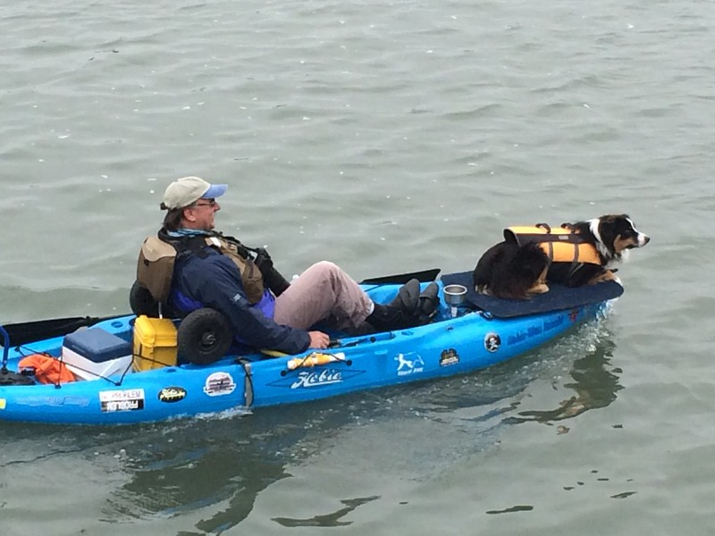 PC Sandwich via Flickr
If your pup struggles to get comfortable in the cockpit of your kayak, you can consider building a deck so that they can sit up and elevated. This is a great choice for smaller kayaks or even tandem paddlers that don't have much extra room inside the cockpit.
There are two basic methods for building a deck on your kayak. You can either secure it directly to the top of your kayak (either at the bow or stern) or you can build a deck between the gunwale of your kayak and the edge of an outrigger.
For both of these methods, the most common material that people seem to use is called Trex. It is a composite decking material that is designed for outdoor decks and it is highly water-resistant.
It is sold in similar lengths and sizes as other types of lumber and it can be cut and drilled into in a similar fashion. In many ways, building a kayak deck from this material is just like working with wooden two-by-fours.
Also, it is important that you are careful in your choice of the hardware you use to attach your deck to your kayak. You will need hardware that is made from metal with excellent resistance to rust and corrosion, especially if you frequently paddle in saltwater environments.
That being said, let's discuss the pros, cons, and tips for building a deck in each of these locations on your kayak.
Building A Deck Directly On Your Kayak
Building a deck directly on the bow or stern of your kayak will often require you to drill into the deck to secure the deck down. That said, some kayaks have mounting points on the bow and stern that will keep you from having to drill.
So, our recommendation would be to pursue this path only if your kayak does have built-in mounting points that will allow you to secure your deck without drilling. This will make it easier to retain the water-resistant properties of your kayak when you make modifications.
If you do decide to drill into your kayak to secure your deck, choose your locations carefully. You will need to consider the stability of your deck when weight is placed on it in all directions, so you may need to use multiple bolts to achieve a secure design.
Also, make sure to use bolts with flat sealing washers, lock washers, and self-locking nuts to secure your deck down. These sealing washers will be key to keeping water from leaking through the holes you drill into your kayak.
Building A Between A Kayak And An Outrigger
If stability is your major issue when kayaking with a dog and you don't have a lot of extra room inside the cockpit of your kayak, you can build a deck over the area between the gunwale of your kayak and the inside edge of your outrigger(s).
This is a great solution for larger dogs because you will be able to build a larger deck (and keep it more stable) than you would if you were just building a deck on the bow or stern of your kayak.
You will use the same decking material and weather-resistant hardware as you would use to drill a deck into the bow or stern of your kayak. It will just be positioned off to the side of your kayak with this method.
On the gunwale of your kayak, you can either use mounting points to secure your deck down or you can drill into the body of your kayak. On the outrigger side, you may have to get a little more creative.
Depending on the design of your outrigger, you will probably need to start by securing a rod or single plank of decking material to your outrigger arms. This rod or decking piece will run parallel to your kayak and it will create a means for you to run decking material from that rod back towards the gunwale of your kayak (perpendicular to your kayak).
If you have a much larger dog, you may need to run two of these planks parallel to your kayak. The idea is similar to the beams that support the majority of the weight of your deck and that allow you to lay decking on top of them to secure down.
What Are The Best Kayaks For Dogs?
The fact of the matter is that you can make your life easier when paddling with dogs if you choose the right kayak. So here are a few kayaks that are great for paddling with your furry companion.
For a full list, check out our complete article on the best kayaks for dogs.
Check Price On Amazon
This is a small, sit-on-top fishing kayak with a stern storage area that is perfect for a small or medium-sized dog. That stern area actually includes a removable ExoPod, which can be used for dry storage when you aren't paddling with your pup.
There is also a small bow storage area that is covered with mesh netting to secure smaller items. You can remove that netting if you have a small dog that likes to post up at the very front of your kayak.
This Pelican kayak also has the benefit of being equipped for kayak fishing and weighing only 44 pounds. So you won't have to figure out how to carry a super heavy kayak while your dog is pulling you to get down to the water.
Check Price On Amazon
While you might be surprised to see an inflatable kayak on this list, this particular model is designed in a similar fashion to most whitewater rafts. It features a thick, military-grade PVC material that inflates to higher pressures than most cheaper inflatable kayaks.
That construction makes it much less likely for your dog's nails to tear or puncture the material when jumping off or climbing back onto your kayak. Speaking of climbing back on, the stern section features a swim-up platform.
So, if your dog is the type that likes to spend just as much time in the water as in your kayak, this is a great choice for you. Plus, it deflates and fits into the back of a sedan or small SUV, so you don't need one of the best kayak roof racks to transport it.
Check Price On Amazon
If you have a really large pup, the best way to go is to get yourself a tandem kayak. The Evaxo Kokanee 106 offers a great balance of cockpit room and ease of maneuverability.
At 10'6" long, this kayak isn't so long that it will be hard for a single paddler to maneuver when seated in the stern position. It also includes a ton of space up front for your dog and two small six-inch sealed storage hatches for securing items that you want to be protected from the elements.
If you and your human partner like to paddle together and you have a smaller dog, this tandem kayak can also be a great choice because it has an optional third central seat and the open storage area in the stern is also large enough for a small dog to sit back there comfortably.
Final Thoughts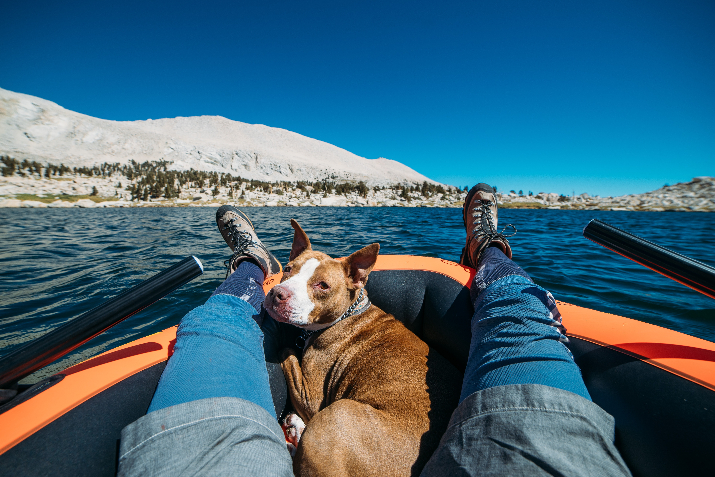 PC Robson Hatsukami Morgan via Unsplash
When it is just you and your pup, there is no reason you have to leave him or her at home when you want to go kayaking. Kayaking with your dog is a lot of fun and you never know what other dog owners you will meet along the way.
For whatever reason, people seem to love well-behaved dogs sitting in kayaks or on top of one of the best stand-up paddleboards. To be honest, they do look super cute and it is quite impressive to folks with dogs that they wouldn't dream of bringing on the water.
We hope that these suggestions for modifying a kayak for your dog have been inspiring and insightful. As always, we wish you the best of luck modifying your kayak and paddling with your pup in the coming months!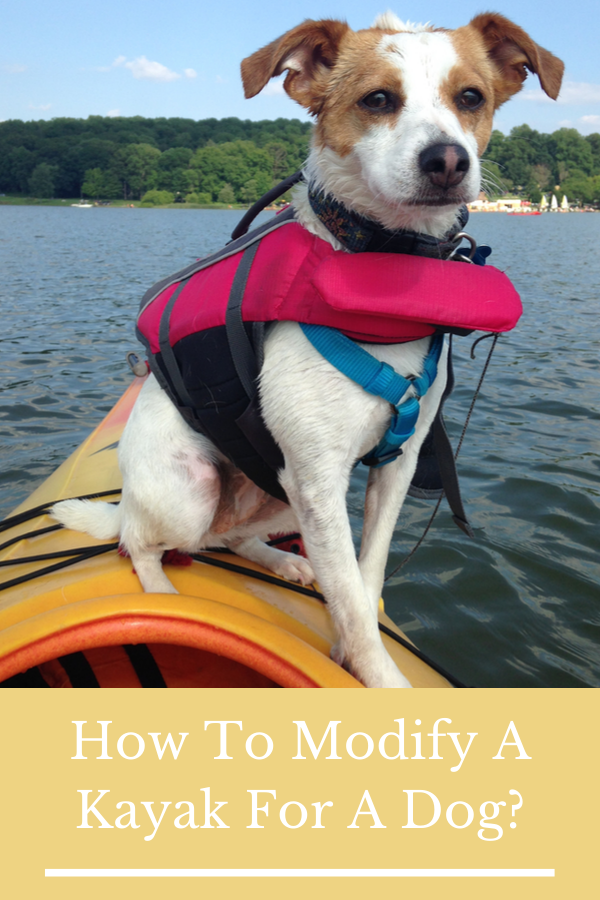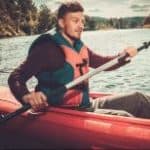 Author: Peter Salisbury
Pete is the Owner of KayakHelp.com. Born and raised in Cleveland, Ohio, he grew up kayaking, fishing, sailing, and partaking in outdoor adventures around the Great Lakes. When he's not out on the water, you can find him skiing in the mountains, reading his favorite books, and spending time with his family.