Unless you live right next to the water, you're going to need to transport your kayak to your paddling destination. One of the most efficient ways to do that is by carrying it on the roof of your car.
However, anyone who doesn't spend all their free time lifting ridiculously heavy weights at the gym can attest that loading a hardshell kayak on a car's roof is no easy task.
Ideally, you need two sets of hands to lift the kayak from the bow and stern and safely position it atop the vehicle.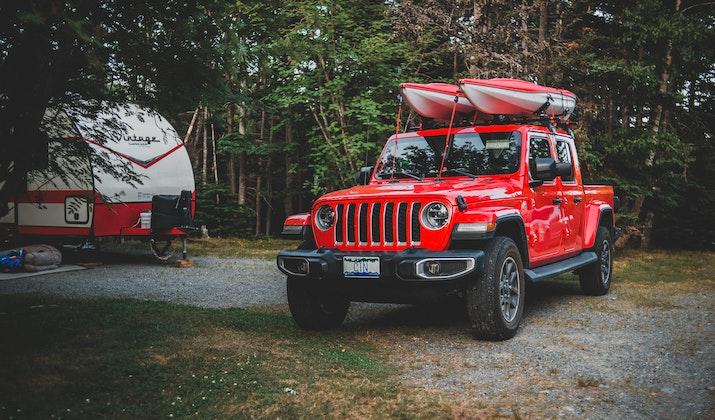 Photo by Erik Mclean
But what happens if you live alone or plan to go paddling on your own? You can't always trust that you'll be able to find someone to help you with loading and unloading, and doing it alone can be strenuous for your back and body.
Luckily, some outdoor equipment brands have devised lift-assist kayak racks that provide support to enable you to conveniently load and unload your kayak all by yourself.
This guide is going to explore some of the best kayak lifters on the market and the most important factors you need to keep in mind when shopping for a load-assist kayak rack.
Also Read: Best 2 Kayak Roof Racks
What to Consider Before Buying a Lift-Assist Kayak?
All lift-assist kayak racks are not created equal. Some may be better suited to your preferences while others may offer characteristics and features that will serve you better.
To ensure you end up with the right kayak loader for your specific needs and situation, here are some critical details you should pay attention to:
Your Kayak Type and Size
Make sure that the lift-assist rack you want to buy is capable of holding your kayak's weight during loading and transport. You don't want to find yourself in a scenario where you have to repair your roof and kayak and other damages because the rack collapsed due to your kayak's weight.
The width and length of your kayak also matter. If you own a wide recreational or fishing kayak, a J-cradle list-assist rack may be better for you. But if you're using a longer boat like a tandem kayak, saddle racks may be more optimal.
Compatibility With Your Vehicle and Roof Type
Although some kayak racks are designed to fit almost any kind of vehicle and crossbar system, some loaders can only be fitted on specific car models and types of crossbars.
So before you complete any purchase, confirm that your vehicle and crossbars are compatible with the lift-assist rack you're planning to buy. Most kayak rack manufacturers provide a list of the vehicles and roof systems that their products are compatible with.
Remember, this is not an area where you want to make compromises because the wrong fittings can cause your kayak to slip off your roof, leading to road accidents.
Also Read: Essential List of Kayak Safety Equipment
Photo by Surja Sen Das Raj
Kayak Rack Quality
The best kayak lifters are made with aluminum or steel or a combination of both. Aluminum is the lighter option and it offers greater resistance to corrosion. However, it tends to cost more.
Steel, on the other hand, is an affordable and extremely tough material but it's heavier and liable to rust if the coatings come off.
Price and Budget
The amount you can afford to spend will play a role in determining the lift-assist kayak rack to purchase. Options can range from a few hundred dollars to a thousand depending on the brand, quality, and features.
That said, it's usually better to invest in a high-quality rack that will last a long time and offer better security and protection for your vehicle and kayak than one that will need to be replaced in a few months or years.
Lift-Assist Kayak Rack Reviews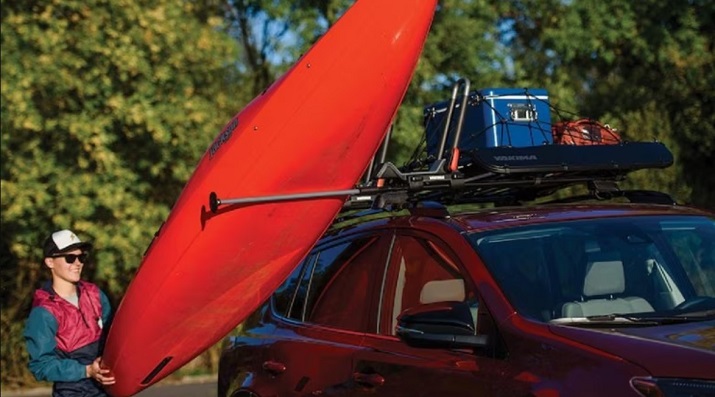 The Yamima BoatLoader Evo is a loading system that makes it easy for you to singlehandedly load your kayak and canoes on top of your car's roof whenever you're embarking on a float trip.
This 28-inch kayak lifting tool resembling an arm needs to be installed on the end of your crossbars. When in use, it telescopes out, allowing you to slide your boat up or down your crossbars.
As a result, you won't have to scratch or ding up your vehicle while trying to load your kayak or risk a hernia when handling a big boat. Once your kayak is firmly situated on the roof of your car, the telescoping arm retreats and hides neatly inside your crossbars.
The Yakima BoatLoader Evo takes less than 10 minutes to install and doesn't require any tools so it's super easy to use. It's also made with materials that are highly resistant to corrosion so you will be able to use it for years without needing a replacement.
Keep in mind that this lift-assist kayak rack is designed to fit on Yakima crossbars. If you're using a different type of crossbars, check to see that they are similar to the Yakima model and will therefore be compatible with the BoatLoader Evo.
Product Specifications
Weight: 3.80 lbs
Length: 36.50 inches
Width: 3.30 inches
Height: 3.00 inches
Check Price on Amazon
Few kayak lifters on the market can offer the versatility and flexibility of the Malone Telox XL.
It's constructed with coated steel and corrosion-resistant aluminum to give you a simple, safe, and long-lasting means of vertically raising your kayak to the roof of your car.
You have to attach the Malone Telos XL to V-style and J-style carriers to be able to use it. Interestingly, this kayak lifter is detachable which means that you can remove it after loading a kayak and then reattach it on the other side of your vehicle to load a second kayak.
After you're done loading your kayak(s), you can remove the Telos XL and keep it in the trunk of your car until you arrive at your kayaking destination and need to unload your boat(s).
With adjustable height extensions, the Malone Telos XL offers both your kayak and car maximum protection against contact. All you have to do is position this load assistant on the floor and secure it to your roof bars.
Then lift your kayak to waist height and place it on the Telos XL's ratchet arm cradles and begin moving the ratchet until it gets to the roof of your car. This way, your vehicle's paint job remains unblemished and your kayak doesn't suffer any scrapes or scratches.
The Malone Telos XL can securely hold and lift kayaks of up to 75 lbs in weight and it comes with all the tools and parts you need to assemble and install it. It also includes an instruction manual to guide you through the entire process step by step.
Product Specifications
Weight: 19 lbs
Length (Retracted): 58.75 inches
Length (Extended): 98.25 inches
Width: 6 inches
Load Capacity: 75 lbs
Check Price on Amazon
Built with aluminum and stainless steel, this kayak carrier is tough enough to handle all kinds of weather and water conditions and deliver performance that will last a long time.
The Tooenjoy Universal rack makes planning outdoor adventures a breeze by eliminating the strain and heavy lifting it takes to load and unload your kayak.
It comes with a bracket arm that can be extended and lowered to enable you to load your kayak at waist height, then raised to position the kayak on your vehicle's roof.
There's a lot to love about this lift-assist kayak roof rack. For starters, it has an impressive 100-lb weight making it conducive for transporting heavy kayaks.
Tooenjoy's Universal rack only occupies a portion of your roof space, leaving you with plenty of room to install another rack for transporting your kayaking gear or an additional boat.
You won't have to worry too much about vehicle and crossbar compatibility with this kayak carrier because it works well with a wide range of extended crossbar systems.
The only requirement is that your crossbar needs to be at least 47 inches with a center distance of about 29.76 inches between the two bars to ensure the rack fits well.
What's more, the Tooenjoy Universal rack gives you two connection options via T-Slot bolts and U-Bolts. It also offers kayak straps, a rubber strip, and a detailed instruction manual to enable you to properly strap your kayak to your roof before you hit the road.
Product Specifications
Weight: 40 lbs
Length: 32.9 inches
Width: 31.6 inches
Height: 20.7 inches
Load Capacity: 100 lbs
Check Price on Amazon
The Yakima SweetRoll is a complete kayak rack system featuring two front and two rear saddles with integrated rollers that enable you to load your kayak onto your car's roof without assistance.
If you own a heavier kayak, this kayak rack is one of the best options for you because it can hold up a kayak weighing up to 80 lbs. This doesn't mean that you can try to fit two lighter kayaks on the Yakima SweetRoll as it's designed to hold only one boat at a time.
One of the main selling points of the Yakima SweetRoll is its versatility. The kayak rack is compatible with most types of crossbars with a minimum spread of 24 inches including the Yakima square, round, aerodynamic, and factory crossbars.
When loading your boat, the Yakima SweetRoll's springloaded base automatically adjusts to align with your boat and ensure it remains in a secure position. The integrated rollers allow you to slide your kayak upwards until it's resting snugly on your roof.
The accompanying molded pads provide a cushion for your kayak, protecting it from scrapes, dings, and scratches regardless of the hull type or shape.
You don't have to worry about setting up the Yakima SweetRoll as it comes fully assembled out of the box. All you have to do is install it on your vehicle's roof, which should take you no longer than 10 minutes.
This load-assist kayak rack also includes heavy-duty straps and tie-downs for securing your kayak's bow and stern to ensure it doesn't move or fall off during transit.
Product Specifications
Weight: 7.71 lbs
Length: 12 inches
Width: 11 inches
Height: 11 inches
Load Capacity: 80 lbs
Check Price on Amazon
This hi-tech kayak rack boasts of waterproof glass-filled nylon construction and UV protection which makes it highly durable and ideal for all kinds of kayakers. It features high-quality cradles capable of rotating 180 degrees.
This means you'll be able to load your kayak from the sides or back of your car depending on your preference or what's most convenient based on the roof height of your vehicle.
Thanks to this gadget, you don't need to go looking for assistance or climb up a ladder and test your strength limits to load your kayak onto your vehicle's roof.
What makes the Rhino-Rack Nautic 570 unique is that it offers a universal fit, which means that it can be attached to all kinds of crossbars be it square, round, or elliptical.
The Rhino-Rack Nautic 570 comes with four Santoprene rubber pads that hug and protect your kayak without putting pressure on the hull. These pads can handle any hull shape including fishing kayaks, fiberglass kayaks, touring kayaks, and sit on top kayaks.
However, it might take some experimentation to figure out the best position that will keep your kayak securely mounted during transport.
This versatile kayak rack also comes with 18-foot tie-down straps and buckle protectors to provide extra protection and prevent your boat from slipping and causing an accident while in transit.
Product Specifications
Length: 10 inches
Width: 7 inches
Height: 6 inches
Load Capacity: 75 lbs
Check Price on Amazon
This lift-assist kayak rack is an excellent choice for those who want a complete integrated rack system that works well with all or most round, square, factory, and aerodynamic bars.
The Malone SeaWing Stinger Combo is constructed with corrosion-proof polycarbon construction and padded with synthetic rubber to keep it from scratching your kayak and vehicle.
It comes with a sliding frame that extends backward by up to 22 inches to provide loading support for your kayak and save you the stress of lifting it to your roof on your own.
With its self-aligning V-block, this kayak rack captures and holds your kayak in place so all you have to do is push it forward until it's in the right position on top of your car.
Malone provides two lengths of universal mounting bolts to suit different kinds of vehicles and crossbars. But if you desire a longer length you can always purchase additional mounting bolts to achieve the best fit.
The only issue with this kayak loader is that it is not very accommodating to large kayaks. So only consider buying it if you own a kayak with a slimmer profile—no more than 32 inches wide.
Since the Malone SeaWing Stinger Combo doesn't require any tools to install it, you can easily mount it on your roof in minutes. It comes with bow and stern straps for tie-down support and increased transport safety.
Product Specifications
Weight: 14.5 lbs
Length: 24 inches
Width: 10.5 inches
Height: 4 inches
Load Capacity: 75 lbs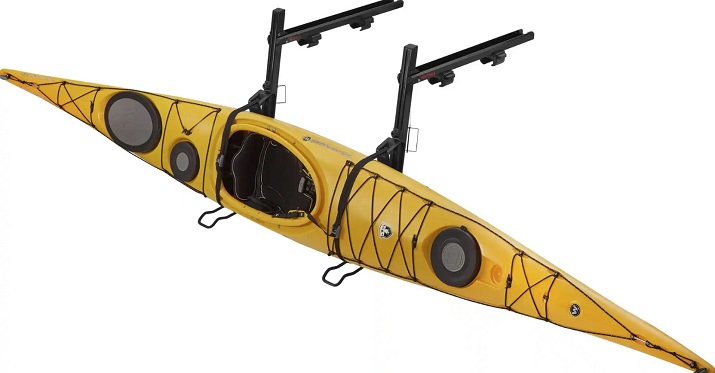 The Yakima Showdown is one of the few lift-assist kayak mounts out there that's designed to carry both kayaks and stand up paddleboards. Despite its lightweight frame, it has a kayak weight limit of 80 lbs so it can fit one large kayak or up to two boards.
This makes it a perfect option for outdoor enthusiasts who like to partake in different water activities. It features felt-covered cradles that adjust to fit the shape of your kayak's hull for maximum protection and security.
When loading your kayak, the Yakima ShowDown handles nearly half of the boat's weight, reducing the amount of effort you have to expend on raising the boat to your car's roof.
This kayak lifter tilts down to 26 inches from your roof height so you only have to lift your kayak to waist level. Once loading is complete, it can be folded down flat to reduce noise and drag while you're driving.
You need to have a crossbar spread of 24 inches to properly install the Yakima ShowDown on your roof and avoid potential accidents. The kayak rack comes with heavy-duty straps and tie-downs for the bow and stern and it's incredibly easy to install even for people who aren't handy.
Product Specifications
Weight: 23 lbs
Length: 42 inches
Width: 9 inches
Height: 9 inches
Load Capacity: 70 lbs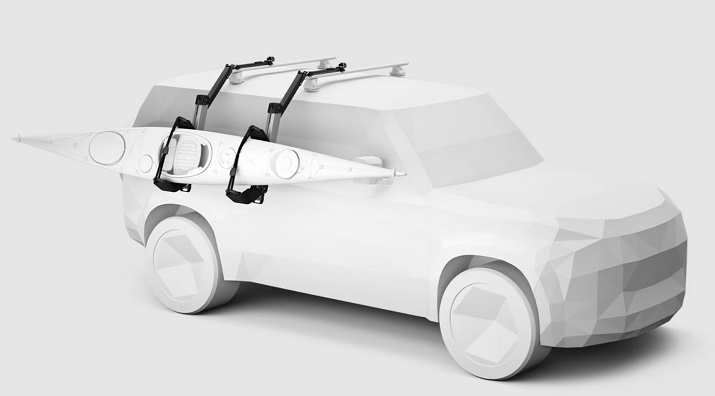 Thule is one of the most esteemed manufacturers of kayak racks in the market today. The Hullavator Pro is a testament to the brand's product excellence and innovative spirit.
This kayak loader has gas-assist struts that allow it to comfortably take up to 40 lbs of your kayak's weight from your hands, enabling you to load and unload efficiently without needing extra hands.
Its aluminum and double-coated steel construction works hard to resist corrosion, so you can get a lot more use out of the rack before it's due for replacement. Size is not an issue for the Thule Hullavator Pro because it has expandable cradles that conform to fit both slim and wide kayaks.
Additionally, it provides padded support at 8 touchpoints to ensure your kayak rests comfortably on top of your vehicle's roof without risk of damage.
Unlike some of the other lift-assist racks on this list that offer a universal fit, the Thule Hullavator Pro is designed to work with all Thule roof rack systems except for the WingBar Edge.
So if you're using a factory crossbar or bars from some other brand, you may not be able to fit this rack on your roof. That said, this kayak loader is lockable which means you can secure your kayak to the rack and then secure the rack to your vehicle for increased security.
Product Specifications
Weight: 39.7 lbs
Length: 36 inches
Width: 6 inches
Height: 16 inches
Load Capacity: 75 lbs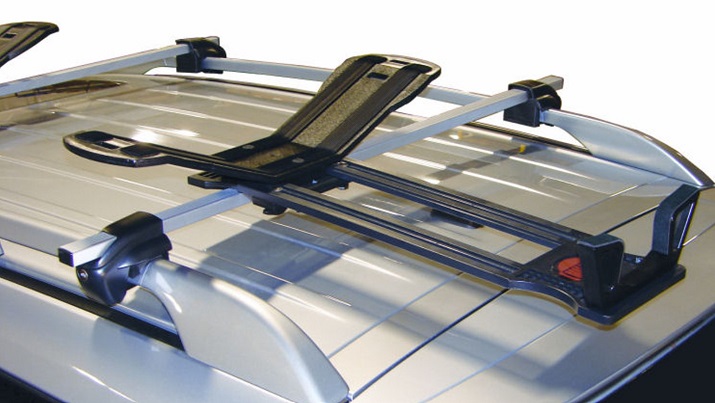 Lighten the effort required to load your kayaks and minimize damage to your vehicle and boat with this affordable kayak lifter. The Malone Stinger MPG350 is an excellent option for people who already have an existing rack system that they want to optimize with a lift-assist mechanism.
Bear in mind that the Malone Stinger is designed to go with the brand's SeaWing carrier. So if you're using a different rack model or brand, be sure to check that it's similar to the SeaWing before opting for the Malone Stinger MBG350 to make loading and unloading your kayaks as convenient as possible.
This kayak rack is built to last a long time regardless of whether it's used in freshwater or saltwater environments thanks to UV-resistant and corrosion-free polycarbon. The rack's frame is also padded with ribbed synthetic rubber to prevent your vehicle and kayak from getting scratched.
The Malone Stinger MBG350's V-bock frame can be extended to hold, align, and protect your kayak while loading it and then retracted during transport. Its length makes it suitable for most types of cars.
It takes very little time and no tools to install this load-assist kayak rack on your vehicle's roof. What's more, all the hardware you need to set up your Malone Stinger MBG 350 is included in the package so you won't need to spend money on extras.
Product Specifications
Weight: 19 lbs
Load Capacity: 70 lbs
Length: 25 inches
Height: 4 inches
Width: 8 inches
Final Words
In our opinion, the best lift-assist kayak rack is the Tooenjoy Universal because it offers one of the highest load capacities on the market so it can fit large kayaks easily.
Its extendable arm can also be lowered to waist level, grossly reducing the height at which you need to lift your kayak before it takes over.
This kayak carrier also takes up minimal space on your car roof, making it possible for you to install an extra rack to handle the rest of your baggage and gear. You can install the Tooenjoy Universal on pretty much any crossbar or rack system using your preferred connection method.
The rack is extremely easy to install and use and it delivers long-lasting performance thanks to its aluminum and stainless steel construction.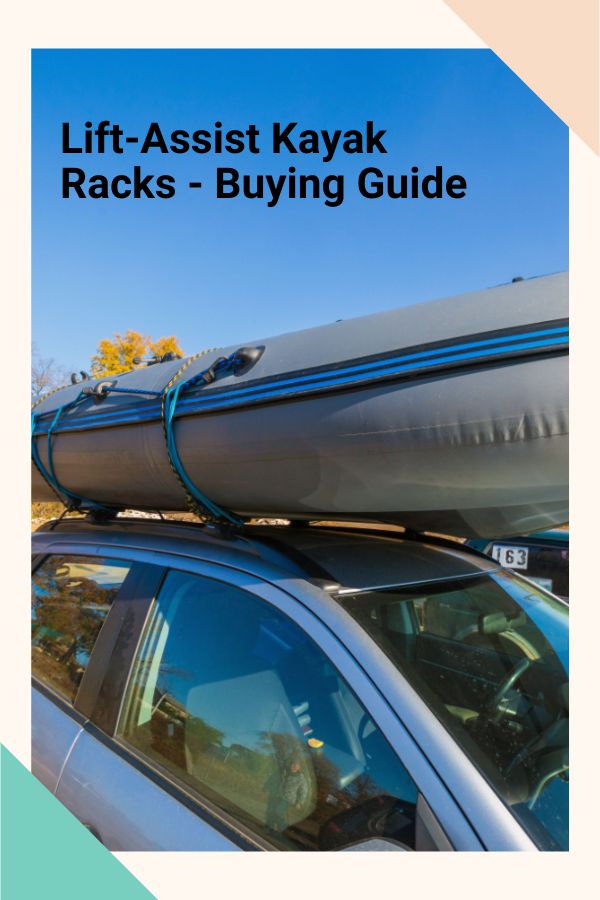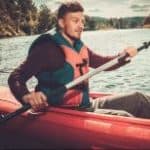 Author: Peter Salisbury
Pete is the Owner of KayakHelp.com. Born and raised in Cleveland, Ohio, he grew up kayaking, fishing, sailing, and partaking in outdoor adventures around the Great Lakes. When he's not out on the water, you can find him skiing in the mountains, reading his favorite books, and spending time with his family.