The Pelican Sport brand is well known in the kayak industry because they offer a wide range of kayaks at very reasonable prices. Their line up includes kayaks meant for long-distance paddles, fishing kayak, recreation, and tandem use.
In this article, we'll do a comprehensive review of Pelican products and outline a quick buying guide to help you choose the right Pelican Kayak for your style of paddling.
We'll also suggest the best Pelican Kayak for each of the intended uses we mentioned above.
About Pelican Kayaks/Company
Pelican International is a Canadian company that's proud to regularly be voted one of the most well-managed companies in the country. They've been creating kayaks for over 50 years.
One thing that this company gets a great reputation for is keeping the prices of their kayaks at relatively affordable rates when compared to some of their competitors. The company is known for its intensive quality control standards.
Pelican is also known for bringing innovation to the kayak market. They are the only company in the kayak industry that uses their patented ram x premium material in the construction of their kayaks.
The company claims that the material is extremely impact resistant and even retains the ability to regain its shape after taking heavy hits. It's also coated with a UV-protected exterior finish that reduces the sun's impact and increases the lifetime of their products.
Pelican Kayak Review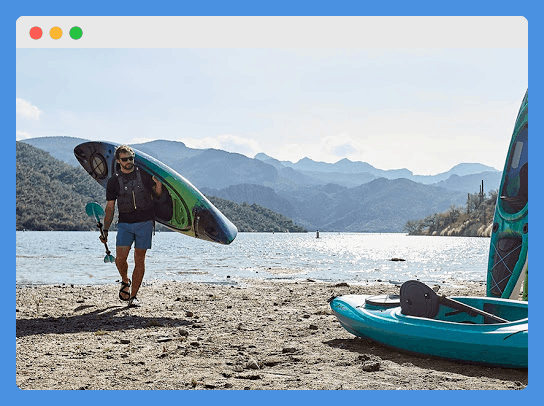 Given all the good things said about the company and its products, we decided to test the waters by picking a few of their more popular models. This is what came out finally.
We didn't find Pelican kayaks heavy.  The secret to keeping the weight of their kayaks down is rightly the use of Twin Sheet Thermoforming (TST) technology as they claim.
Not many manufacturers claim to use this technology which is why there was a marked difference in their weight, and built. They appeared  stronger, and stiffer than kayaks of other brands. The 10-foot Pelican Kayak felt lighter than similar models from Sun Dolphin, Lifetime, Perception, and Emotion Kayaks.
Now, one might naturally start to wonder whether a lighter kayak is always going to be a better kayak. Well, that's the not the case always, but most of the times. Most Pelican models passed this test. They felt stronger with a better impact resistance.
By removing the melting of plastic from their method of shaping and molding kayaks, the material used in Pelican Kayaks is less likely to become brittle and lose its integrity over the lifetime of a kayak. The result is an incredibly strong kayak.
We noted that the kayaks popped back into proper form even after a few violent impacts. Using high heat and pressure to fuse the hull and deck of their kayaks seem to help them greatly to create impact-resistant kayaks.
Finally, there's always the question of how a kayak will actually perform on the water. We wanted to check if there's any substance to the claim they made in this video. We took a couple of trips and indeed, the Pelican didn't disappoint. We found them stable enough to be able to paddle nicely and smoothly. They looked perfect for beginners.
Also Read: Pelican vs Lifetime Kayaks
Quick Buying Guide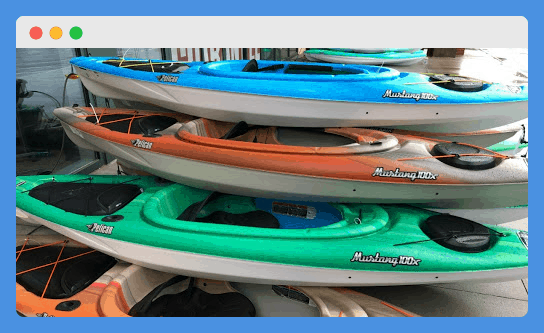 In this quick buying guide, we'll cover the basics of the all-important sit on top versus sit inside question, discuss the pros and cons of Pelican kayaks, and offer some insights on who should consider this brand.
Sit Inside Versus Sit On Top
Although you'll find kayaks designed for whitewater, recreational touring, ocean kayaking, and other uses, almost all kayak designs can be broken down into two categories: sit on top or sit inside.
Sit Inside
Sit inside kayaks or sit-in kayaks come with the advantage of a drier journey. They boast higher gunwales (sides) that allow less water to splash into the cockpit or onto your lap as you're paddling.
Aside from the comfort factor, sit inside kayaks also typically offer a larger dry storage capacity. Because more of the kayak's interior is sealed to provide extra buoyancy, you'll have room to store more dry gear in this type of kayak.
This extra storage space is one reason why folks that like to take long-distance kayak trips almost exclusively choose sit inside kayaks. Another reason is that this type of kayak is compatible with a kayak spray skirt, which allows you to be more prepared for inclement weather.
Especially for beginners, sit inside kayaks can be a bit more difficult to handle. Many of them are designed for speed and straight-line tracking, which means they are more narrow than other types of kayaks.
This decreased width can often lead to less stability, which makes it difficult for inexperienced kayakers to feel comfortable enough to get their mind off capsizing so they can focus on perfecting their paddle strokes.
Sit On Top
Sit on top kayaks are more commonly used for beginners. They are also good recreational kayaks. Many kayak rental companies in your area most likely utilize sit on top kayaks because it's easier for folks to climb back in if they do happen to capsize.
Many inexperienced kayakers will also feel more stable in a sit on top kayak as they get used to the technique of kayaking. In general, this style of kayak is also easier to climb into and out of at the start and finish of your paddle excursion.
The main disadvantage of a sit on top kayak is the lack of dry storage space. While sit on top kayaks often offer storage areas with bungee rigging, you'll need to purchase an extra dry bag if you want to bring anything along that absolutely can't get wet.
How Do Pelican Kayaks Compare?
As a prospective kayak buyer, we know that the number of choices at your disposal can feel a little overwhelming. So we wanted to use this section to discuss how Pelican Kayaks compare to the competition.
Pros
One of the apparent advantages of buying a Pelican Kayak is the knowledge that the brand has a long-standing reputation to uphold. This makes us believe that they have a strong interest in providing quality craftsmanship.
Pelican Kayaks are quite affordable too, along with impressive designs. As we noted in our trials too, none of their models broke down.
Additionally, their lightweight design process can make them an attractive option for anyone who wants a light kayak without having to dip into the world of inflatable or foldable models, which come with added setup and breakdown requirements.
Cons
It's clear that Pelican focuses on offering a wide variety of kayaks for users with different experience levels. While this can also be viewed as a pro, it signals to us that they don't pour all of their efforts into making one of their kayaks the best possible model for any given use.
In other words, there are other kayak manufacturers out there that dedicate all of their energy to make the best sea kayak or fishing kayak possible. Because of the variety they offer, you might be able to find a better kayak for your specific use from a brand that only makes kayaks for that purpose.
Who Should Buy?
The short answer to this question is, ANYONE! Because Pelican offers a good range of kayaks designed for different purposes, almost anyone can find a model that suits exactly how they like to paddle.
To get into a little more detail, Pelican is especially a good option for folks looking to purchase their first kayak.
That being said, they don't make the absolute best kayaks on the market for every intended purpose. Seasoned and experienced kayakers who have a better idea of the exact features and specifications they're looking for can find other brands better suited to their needs.
Pelican Kayak Ratings
Ease of Use – 5 out of 5 stars
When you're looking through the various Pelican Kayak models, it's clear that stability is a core principle that's considered in the design of every Pelican Kayak. Especially for novice kayakers, stability goes a long way towards making the kayak easy to use.
Additionally, we love that Pelican's proprietary design technology allows them to consistently make the lightest kayaks on the market. For many new kayak users, just getting their kayak to the water can cause significant headaches.
But with a lightweight kayak from Pelican, you won't have to strain yourself just getting down to the water's edge. Once you're on the water, you'll enjoy the ability to practice your skills in a nimble kayak that actually responds to your paddle strokes.
Features – 5 out of 5 stars
The features of a Pelican Kayak vary greatly from model to model. The features that are important to you will, of course, depend on whether you're looking for a kayak that's built for tandem use, recreational outings, kayak fishing, or expedition-style trips.
However, Pelican intentionally offers kayaks that fit each of these intended uses and the kayaks that they design for each are outfit with the features you'd need to be comfortable and make the most out of your time on the water.
There's no one-size-fits-all list of kayak features out there. This is why it's important that kayaks designed for specific purposes have all the features for their intended use, and Pelican has nailed it in this regard.
Customer Service – 4 out of 5 stars
The Limited Lifetime Warranty on Pelican products covers Pelican RAMx kayak, the ones made with RAM-X, RAM-X PREMIUM, or Poly XR materials. New kayak owners must register their warranty within 30 days of the date of purchase for it to be valid.
Kayak parts and components are covered against defects in materials or craftsmanship for up to one year, so long as warranty registration requirements are met. It's important to note that this warranty is only valid "if the product is used for its intended purposes and for which it was designed."
Other Pelican products, such as pedal boats, canoes, fishing boats, fishing gear, and certain paddleboards, are covered by the terms of their four-year, two-year, and one-year limited warranties, respectively.
In looking through these warranties, it became clear that you should be careful to understand exactly what is and what is not covered before purchasing a Pelican Kayak. For this reason, we awarded them four out of five stars for customer service.
Value For Money – 4.5 out of 5 stars
In terms of value, Pelican Kayaks consistently deliver on buyers' expectations for the product. When compared with similar kayak brands, Pelican offers some of the most affordable kayaks on the market.
While they aren't commonly known within the industry to be comparable to high-end brands like Oru or Dagger, Pelican products are reliable and, in many cases, more budget-friendly than kayaks from top-of-the-line brands.
The bottom line is that paying less for a kayak often means accepting slightly lower quality. That being said, Pelican Kayaks certainly aren't overpriced when you consider the design quality, features, and performance of their kayaks.
When you're relatively new to kayaking, we think it's not necessarily a bad thing to make a small sacrifice in quality in order to get a kayak that performs well and fits within your budget. That's why we award Pelican a solid 4.5 out of 5 stars on their value for the money you'll spend.
The Best Pelican Kayaks
There are actually quite a large number of Pelican Kayaks to choose from. So we're going to use this section to highlight the best Pelican Kayaks for recreational, tandem, fishing, and expedition use. In fact, Pelican kayaks make it to almost all top blogs that talk about recreational kayak reviews.
Best For Recreation: Sprint XR
This 10-foot, the single-person kayak is of the sit inside variety and weighs a total of just 41 pounds. The cockpit dimensions measure 23 inches across and 50 inches long.
With a height of 14 inches, the high gunwales of this kayak keep excess water from splashing into the cockpit and causing an uncomfortable ride. It also offers two watertight storage compartments for your valuable belongings.
In addition, the bow deck of the Sprint XR kayak is outfitted with bungee rigging so that you can secure additional items that you aren't worried about getting a little wet. With a maximum weight capacity of 300 pounds and a deep V chine hull, this is a great recreational kayak for a stable, nimble performance.
The River Gorge 130XP is a 13-foot tandem kayak of the sit on top variety. However, Pelican's unique design for this kayak features a deep, open cockpit with higher gunwales to keep you drier throughout your paddle.
Each paddler has easy access to a water resistant storage compartment located right into the front of their comfortable, ErgoFit seat. The adjustable backrests on these seats make it easy for paddlers of varying heights to find a comfortable position.
The River Gorge tandem kayak is rated for a maximum weight capacity of 500 pounds. It also includes accessory eyelets for attaching extra gear, tie-downs to keep your paddle secure when you're lounging, and holders for your preferred hydration container.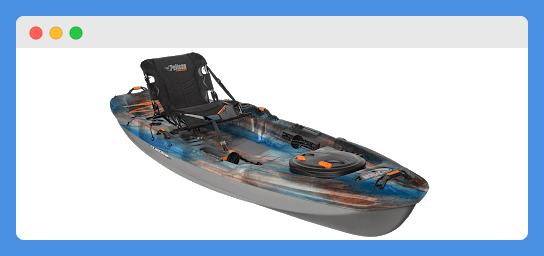 The Catch 120 measures 11 feet, eight inches long and 34 inches wide. That extra width makes it more stable and helps you stay comfortable as you shift your weight to reel in your latest award-winning catch.
The large, open cockpit in this kayak is actually designed so that you can stand up comfortably. The kayak remains stable enough to allow you to enjoy the advantages of fishing from a standing position.
Behind the elevated seat on this kayak, there's a large storage area for keeping your best kayak cooler secure. Whether you're using that cooler for food, beverages, or to keep your latest catch on ice, you'll want to know it's secure and that you can have easy access to it when needed.
Also Read: Best 2-Person Kayaks Reviews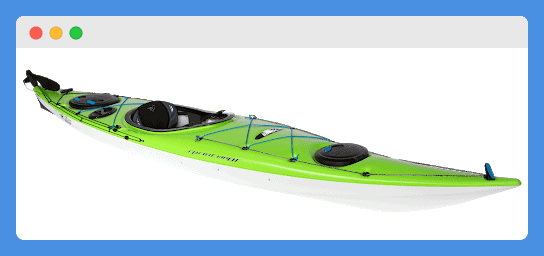 If you're looking for a kayak that can cover long distances, the Sprint 140DT is an excellent, expedition-style kayak. This sit-inside kayak is 14 feet long and the cockpit measures 18 inches across and 34.5 inches across.
For a kayak of this size, it's remarkable that the 140DT only weighs 55 pounds. The lightweight design of all Pelican Kayaks extends to this model and makes it much easier to portage from lake to lake or river to river on a long paddle trip.
This kayak has ample storage capacity located both the bow and stern bulkheads. It's also equipped with a drop-down rudder in the stern, which is crucial for helping you navigate effectively in windy conditions or when paddling against strong ocean currents.
Some other Pelican models to try include Pelican Brume 100xp kayak, and Pelican Premium kayak 10 ft.
Final Thoughts On Pelican Kayaks

The Pelican Kayak brand is rightly trusted by first-timers and experienced paddlers alike. As you can tell from the kayaks we highlighted above, Pelican offers a kayak designed for nearly any type of use.
Because they rank among the strongest, most impact-resistant, and most stable kayaks available, the fine folks at Pelican Kayaks cannot be ignored. On top of that, their kayaks are among the most affordable options to get you out on the water in style.
You can visit their site or buy it from any of the Pelican kayak dealers. Comparing the prices on online marketplaces is a good idea too.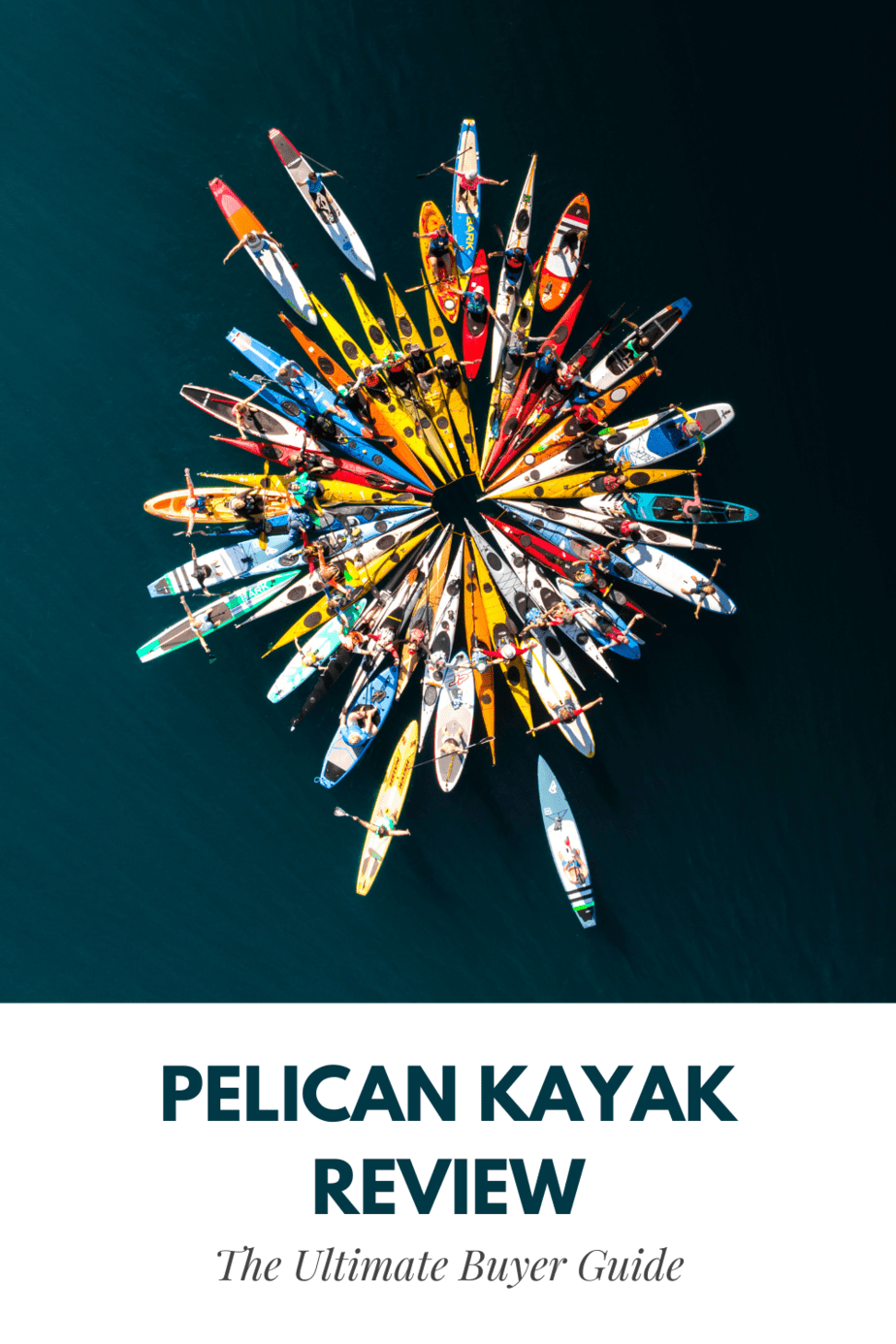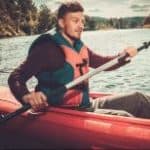 Author: Peter Salisbury
Pete is the Owner of KayakHelp.com. Born and raised in Cleveland, Ohio, he grew up kayaking, fishing, sailing, and partaking in outdoor adventures around the Great Lakes. When he's not out on the water, you can find him skiing in the mountains, reading his favorite books, and spending time with his family.