Whether you prefer hunting eddies for trout, working cover for largemouth, or spotting redfish in the shallows, the thrill of kayak fishing will hook you for a lifetime. And as any experienced angler will tell you, no day on the water is safe without a personal floatation device (PFD).
Required by law, a PFD isn't just a legal nicety. It can save your life when the inevitable happens. Kayaks are ideal angling platforms, but even the best designs can be pushed too far while fighting a fish, removing a snagged lure, or retrieving something from a hatch. Make no mistake:your yak is going to roll at some point. When you end up in the water, you'll be glad to have a PFD.
For instance, in 2017, the US Coast Guard reported 658 deaths, the vast majority of which were due to drowning. And where data was available about PFD use, unsurprisingly, 84.5% of the people who lost their lives weren't wearing this life-saving gear. Don't buy the usual excuses; be sure to wear a PFD every time you go out on the water.
Once merely buoyancy aids, the latest generation of fishing-specific vests are designed with anglers in mind, offering ample storage, comfortable designs, and hard-wearing fabrics. For most people, one of these specialty PFDs we list below is the best bet, and to make your choice a little easier, we offer reviews of popular kayak fishing vests.
Best Kayak Fishing PFD
Stohlquist Piseas Personal Floatation Device
Astral Ronny
Stohlquist Fisherman Personal Floatation Device – Editors Choice
Stohlquist Fisherman Adult Men's Life Jacket - Excellent Cockpit Management, Dual Front-Mounted Pockets, Easy Mounts for Equipment - High Back for Kayak Seating | Small/Medium, Khaki
Stohlquist Fisherman Lifejacket (PFD)-OliveGreen-L/XL
ONYX Kayak Fishing Life Jacket, Universal, Tan
Stohlquist Fisherman Adult Men's Life Jacket - Excellent Cockpit Management, Dual Front-Mounted Pockets, Easy Mounts for Equipment - High Back for Kayak Seating | Small/Medium, Khaki
Stohlquist Fisherman Lifejacket (PFD)-OliveGreen-L/XL
ONYX Kayak Fishing Life Jacket, Universal, Tan
What To Consider When Choosing a PFD for Kayak Fishing
Fit
Size and fit are everything. A PFD can't protect you if it slips over your head, and you won't be inclined to wear it if it's too bulky or too tight. Take your time to get this right! Here are some helpful tips:
Be sure to measure your chest at its widest point and compare this to the manufacturer's sizes. Don't assume — measure!
While fitting the vest, be sure to wear your fishing clothes to ensure a proper fit. This can get complicated if you fish in more than one season, but most PFDs can be adjusted enough to make this work.
To test fit, begin by loosening or unfastening the PFD's straps. Put the vest on, refasten the straps, and adjust them to provide a snug but comfortable fit.
Have a friend try to pull the PFD over your head. If it slips off, it's too big. It needs to be snug enough that it can grip your body in the water, keeping you afloat.
With the vest in place, try moving your arms like you would while paddling and casting. If you feel a lot of friction, that may not be the PFD for you.
If you can, take a seat in a kayak and lean into the back rest. If the PFD feels uncomfortable, you want to give it a pass.
Design
Not all PFDs are made equal, and these are the most important features to look for:
Bright colors – opt for vibrant, high-contrast colors and, where possible, reflective markings. If you get into trouble, you want to be easy to spot, especially in dim light, fog, and other poor conditions.
Comfort – this is important. Generally, look for a PFD that has plenty of mesh and a design that's intended for hours in your kayak's cockpit. You'll be in your yak for a while, and you want to have a good time rather than feel like you're cooking yourself while torturing your back. If you feel hot in the store, just imagine how you'll feel out on the water!
Durability – you'll depend on your PFD to save your life, and it needs to be tough enough to stand up to harsh UV, constant soaking, and all the hooks, cuts, and abrasions you can throw at it! All other things being equal, look for 400 denier nylon or heavier.
Storage – essential for fishermen. From extra line to lures, hemostats to spare spools, look for a PFD that has a the space you need for the gear you use. And be aware that some vests are better suited for flies, while others are more multi-purpose.
Coast Guard approved – make sure the vest is US Coast Guard approved (all the PFDs we've reviewed are). Note that all these vests are approved as Type III, meaning that they're designed for constant wear in activities like kayaking, but that they will not turn unconscious users face-up in the water. Heavier, bulkier PFDs are designed to do this, but they're not designed for activity like paddling and fishing.
Upkeep
The better you take care of your PFD, the better it can take care of you.
Don't use your vest as a cushion; this will compress the foam and make the PFD less buoyant.
When not in use, keep it out of the sun to avoid UV damage. Don't just toss your vest in the bottom of your yak, leaving it there for next time.
Rinse it in clean water, use gentle soap if necessary to remove any blood or fish residue, and leave it out to dry naturally.
Be sure to check your PFD at the beginning of each season. Look for holes, tears, and fading that can indicate weakened fabric. Also give it a sniff — if you can smell mildew, the foam may be compromised. If you find signs of damage or mildew, make no mistake, you'll need a replacement.
Check your vest for buoyancy a few times a season, making sure that it'll actually keep you bobbing on the surface. If you find yourself sinking, it's time for a new PFD!
Kayak Fishing PFD Reviews
Check Price On Amazon
The Onyx Kayak Fishing Vest sports plenty of storage for lures, pliers, and line, including two large pockets — one of which folds forward, proving a space to work with your lures. Its outer shell is woven from 400 denier nylon oxford, so it can stand up to abrasion and abuse and promises a long service life.
But unlike some of the PFDs we review, its back panel is essentially full-length, and that may bother some people over the course of the day as it's crushed against the backrest. It's also going to leave some people feeling warmer than they'd like. More than a few customers have complained about the zipper quality as well.
Available in a tan/gray combination with relatively small orange details, the Onyx Kayak Fishing Vest is available in a single size, accepting kayakers with chests ranging from 40" – 60". It features six adjustable straps to provide a proper fit.
PROS
CONS
Check Price On Amazon
The Stohlquist Piseas PFD is in most respects similar to the Stohlquist Fisherman. It, too, features a high back design with a large mesh panel, eight straps to customize fit, open sides to provide ventilation, plenty of mounting locations for pliers, hemostats, and other gear, and two large pockets. That should give any angler plenty of storage.In this case, however, these pockets are configured specifically for fly fishing, and depending on precisely what you want to carry in your vest, one Stohlquist design or the other may be better for your needs. For instance, the Piseas' right pocket folds down to reveal a fly compartment, a handy addition for anglers dedicated to this approach. However, if you're not a fly fisherman, you'll probably want to give this vest a pass.And unlike the Stohlquist Fisherman, the Piseas' outer shell is constructed from less expensive — and less durable — 240 denier ripstop nylon. Available in red and green in sizes ranging from S/M (33"- 39") to XXL (46" – 52"), most users will have no trouble finding the right vest to fit their shape.
PROS
CONS
​

Astral Ronny
The Astral Ronny is a well-designed compromise between a dedicated fishing PFD and a more paddle-specific design. In form and function, the Ronny is essentially a standard kayaking PFD with added pockets — which isn't necessarily a bad thing if you'll be spending as much time with your paddle as your rod and reel.Rather than the high back design common to fishing PFDs, it features an ultra-thin back panel and a full-length mesh vent to keep you cool; customers are divided on how effective this system is. Three front pockets offer substantial storage space, but anglers won't find any attachment points for pliers or hemostats.Unfortunately, like some of the other PFDs we've reviewed, its outer shell is constructed from 200 denier High Tenacity nylon, and as a result, this vest may not offer the toughness or durability anglers who are hard on their gear would like. Some customers have also complained about the button quality on the front snap pocket.Available in green, red, blue, and Realtree® Max 5 Camo, the Astral Ronny comes in sizes ranging from S/M (31"- 37") to L/XL (45" – 51") with six adjustable straps to ensure a proper fit.
PROS
CONS
The Stohlquist Fisherman features a high back design that rides above the seat on your kayak, and with eight straps to customize fit, open sides to improve ventilation, plenty of mounting locations for gear, and two large molded EVA pockets, it offers a nice combination of comfort and storage.
The Fisherman's outer shell is constructed from 500 denier Cordura® nylon, so it's tough and hard wearing, important considerations given how hard the life of a PFD can be. It also resists mildew and fading, important considerations for a life vest.
Available in orange and green in sizes ranging from S/M (33"- 39") to XXL (46" – 52"), most users will find a vest that fits them well, with the option of a high-visibility color — which is always a smart choice.
PROS
CONS
​
The NRS Chinook Fishing PFD offers a wealth of storage: an incredible seven front pockets and 3 D-rings (including one high on the back) mean that you'll always have the equipment you need, ready to hand. And like the Stohlquist, its high back and mesh panel are designed for all-day comfort.
Unfortunately, this vest wears an outer shell of 200 denier urethane-coated ripstop nylon rather than a heavier-weight material. As a result, this PFD may not be quite as tough or as durable as some anglers would like.
The NRS Chinook comes in sizes ranging from S/M (33" – 40") to XXL (42" – 50"), and its eight adjustment straps promise as close to a custom fit as you're likely to find. It comes in gray, orange, and green, and unsurprisingly, we recommend the high contrast color.
PROS
CONS
None of these PFDs would be a bad choice, and depending on your needs, any of them could serve you well. That said, our top pick is the Stohlquist Fisherman. Well designed to suit the needs of kayakers looking to hook a big one, it promises all-day comfort and the storage every angler needs.
You can count on this PFD to fit well, too, as it's available in a wide range of sizes. It also offers plenty of adjustment straps, allowing a wide range of users to find a near-custom fit. And since it's constructed from heavy-duty nylon, it'll resist the elements and provide more than one season of safety.
Especially in orange, the Fisherman offers a winning combination of safety and angling-specific features. If you're looking for a PFD that can deliver on every front, the Stohlquist Fisherman is the choice for you.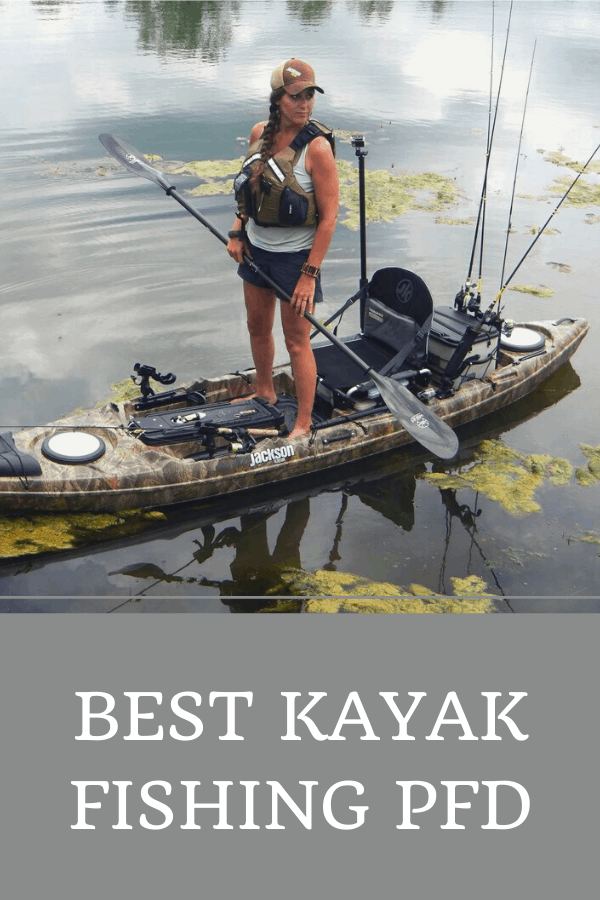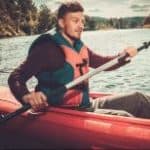 Author: Peter Salisbury
Pete is the Owner of KayakHelp.com. Born and raised in Cleveland, Ohio, he grew up kayaking, fishing, sailing, and partaking in outdoor adventures around the Great Lakes. When he's not out on the water, you can find him skiing in the mountains, reading his favorite books, and spending time with his family.