Paddling a canoe is inherently different from paddling a kayak but, as you can see from the photo above, there are some definite similarities. One thing that many new canoe paddlers struggle with is a lack of stability.
The hulls of most canoes are designed much differently than the best recreational kayaks, for example. If you are used to how your kayak feels when you sit inside, you may be surprised at the different feel of even the most stable canoes.
There are many locations (such as the Boundary Waters Canoe Wilderness Area in Minnesota) where canoes are preferred over kayaks. So, for those of you that are new to canoeing, it pays to know which models on the market today are the most beginner-friendly.
We've included eight of the most stable canoes on our list today and we've reviewed the key features and specifications of each. Plus, we'll talk a bit about canoe terminology and how to choose the best canoe for your specific needs.
So, let's canoe it!]
Also Read: Tandem Kayak vs Canoe
Thumbnail
Title
Sea Eagle TC16 Inflatable 16' High Pressure Drop Stitch Travel Canoe-Wood Web Seats, Pump, Bag and Optional Paddles for Lakes, Rivers & Bays-Easy to Transport, Pack & Stow (TC16 3 Person EP Package)
Old Modern Handicrafts Wooden Canoe with Matte Finish
Wooden Boat USA Red Canoe with Ribs Curved Bow, 10-Feet
Thumbnail
Title
Sea Eagle TC16 Inflatable 16' High Pressure Drop Stitch Travel Canoe-Wood Web Seats, Pump, Bag and Optional Paddles for Lakes, Rivers & Bays-Easy to Transport, Pack & Stow (TC16 3 Person EP Package)
Thumbnail
Title
Old Modern Handicrafts Wooden Canoe with Matte Finish
Most Stable Canoes
Sea Eagle TC16 Inflatable Travel Canoe
Old Modern Handicrafts Wooden Canoe
Wooden Boat USA Red Canoe
Lifetime Kodiak Canoe
Wenonah Spirit II
Old Town Guide 160
Swift Algonquin 16
Old Town NEXT
Jargon Buster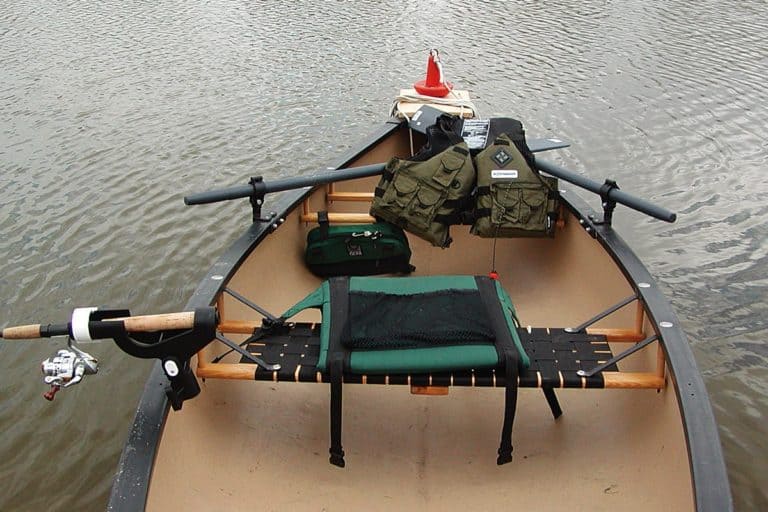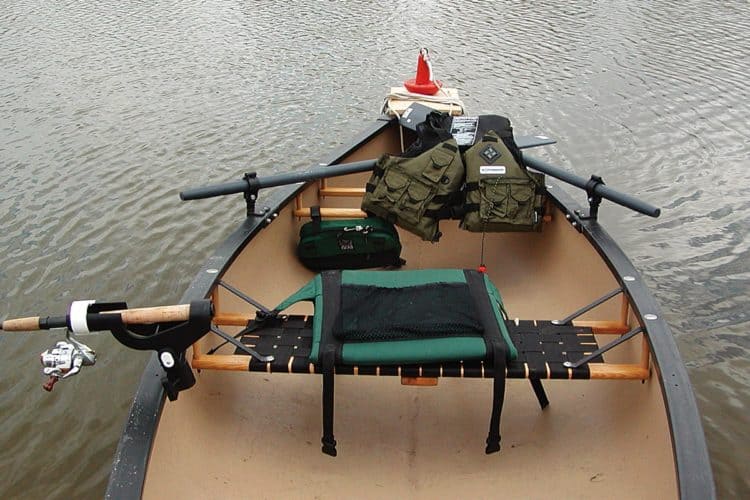 Canoe design is obviously a little different than kayak design. Because we mostly cover info on the best and worst kayak brands, we thought we should take the time to mention a few key canoe terms that you'll run into throughout this guide.
Gunwales
Just like on a kayak, the term gunwales refers to the sides of a canoe. In many canoes, there is a significant difference between the height of the gunwales and the height of the bow and stern sections.
Yoke
A canoe's yoke is positioned right along its centerline and it connects to the inner walls. It is so named because of its similar appearance to the yoke on most oxen carts that are used to connect oxen for pulling wagons.
On canoes, the yoke is also meant for the purposes of easier carrying. When you lift your canoe up and flip it over onto your shoulders, the rounded portion of the yoke sits around the back of your neck for easier, more comfortable carrying.
Thwart
At first glance, a canoe's thwart looks very similar to its yoke, but these struts are placed between the gunwales of the canoe to provide more side-to-side support. They are usually placed evenly at lengths measuring about one-third and two-thirds of the length from the bow to the stern.
Buying Guide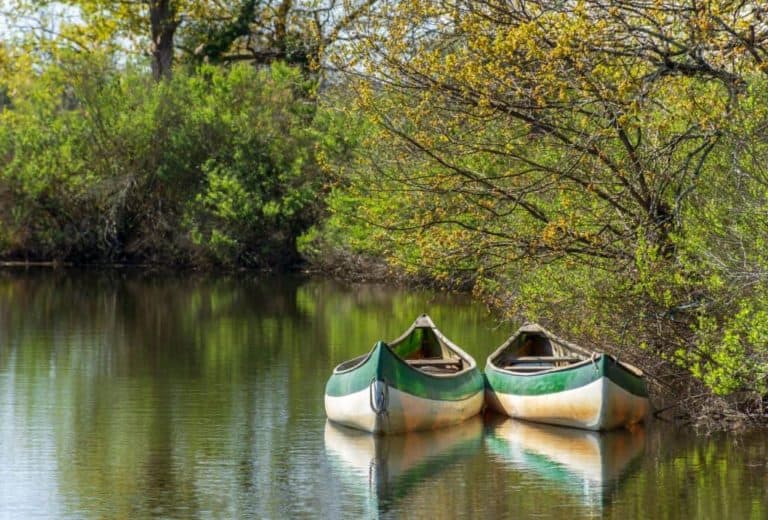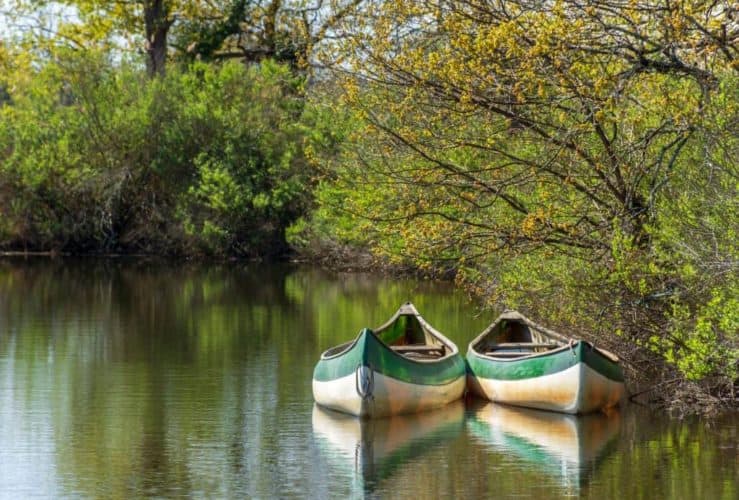 Let's use this buying guide to discuss some of the most important factors to use when selecting a canoe. You may choose to prioritize these factors in a different order, but they are all important when choosing a new canoe built for stability.
Canoe Types
There are a handful of different canoe types you will find out there, but the three most common are sporting, tripping, and recreational canoes. Each, as you might imagine, is built for a specific purpose.
Tripping Canoes
This type of canoe is designed for longer canoe expeditions. They are the workhorses of canoes with plenty of room for carrying all of your tripping gear and ample ability to handle moving and flat water.
Sporting Canoes
Sporting canoes are designed for hunting and fishing. These canoes are reliable and stable and also boast plenty of space for all of your fishing and hunting gear.
Recreational Canoes
This type of canoe is made for paddling on calm, flat water. They are among the most durable and stable canoes on the market and they are also made for family canoe adventures.
Intended Use
Now that you know a little bit more about the most common types of canoes, you will need to evaluate how you will most frequently be using your canoe. For those that are interested in paddling on large, slow-moving rivers for short durations, recreational canoes are best.
Of course, if you like to hunt or fish from a waterfront platform, you will want the features and stability offered by a sporting canoe. Finally, for those seeking something for extended canoe expeditions, a tripping canoe is the obvious choice.
Solo Versus Tandem
Many of the most stable canoes are built for two paddlers, but some only boast enough space for one. This simply requires you to be wary of whether or not you will have a paddle partner for your canoe trips.
Unlike some tandem kayaks, canoes are extremely difficult for a single paddler to maneuver. Navigating obstructions and just generally getting a tandem kayak moving will be tough for even the most experienced canoe paddlers.
The good news about tandem canoes is that they almost all have plenty of space for extra gear and a third paddler (or casual onlooker). With solo canoes, your space is a bit more limited, but most of them still have storage space for overnight gear or your furry paddle companion.
Solo canoes are also a bit lighter, easier to handle, and more agile than their tandem counterparts. This is largely due to their shorter length, but the choice of materials can also impact a canoe's performance.
Construction
The final component that we will mention in this canoe buying guide is the materials used in a canoe's construction. For the most part, the two main materials used in canoe construction are wood and some sort of polyethylene.
In wooden kayaks, a fiberglass resin is almost always applied to provide abrasion resistance, waterproofing, and tensile strength. If you are looking at an unfinished wooden canoe, just know that you will have to do some work to protect the wood before you set it in the water to paddle.
With polyethylene canoes, there is a little bit more variety in terms of design and manufacturing. High-density polyethylene is one material that is highly sought after and can be found on the best and most stable canoes on the market.
The only problem with polyethylene is that it tends to be quite heavy and it makes for canoes that often weigh more than 100 pounds. That is why some innovative manufacturers have begun implementing lighter materials like aluminum, kevlar, and carbon into the design of their canoe.
If you are looking for extremely lightweight canoe construction, be sure to keep an eye out for those materials. In some cases, using those lighter materials allows manufacturers to get the weight of their canoes under 40 pounds without compromising strength and durability.
Canoe Reviews
Check Price on Amazon
The Sea Eagle TC16 Inflatable Travel Canoe is the only model on our list that's specifically made with the traveler in mind. While some of the other canoes can be transported, none can be moved with the relative ease and convenience of the TC16.
Now, that is primarily because it is the only inflatable canoe on our 'most stable' list. It boasts exterior dimensions measuring 16 feet long by 38 inches wide and slightly smaller interior dimensions of 15'2" by 25".
This canoe can hold a maximum weight capacity of up to 915 pounds and the canoe itself weighs roughly 65 pounds when fully inflated (and before you load in any of your gear).
When deflated, the canoe folds up into a compact package that measures only 40" by 24" by 16". So that allows you to easily store it in the back of even a small sedan or SUV with a bit of extra space leftover.
The canoe is designed to be inflated to about 10 PSI and it requires anywhere from 7 to 10 minutes to inflate with its included hand pump. Of course, you can always purchase a high-pressure electric pump to save you time and energy when setting up this canoe.
The cool part about this canoe is that it's rated for both flatwater and whitewater. It can handle up to Class IV whitewater if you are looking for a canoe that you can take down a river or two.
It also boasts thick gunwales and a deep cockpit with plenty of room for storing other canoe gear. The gunwales are 20 inches high at the bow and stern, 15 inches high at the center, and three inches thick all the way around.
Check Price on Amazon
Old Modern Handicrafts makes one of the most beautiful and stable canoes that you will find on Amazon. This canoe is made with 100% western red cedar and it is entirely handmade in the United States.
Once constructed, the wood is coated in a fiberglass resin that adds tensile strength and improves the overall abrasion resistance of the canoe. We should also mention that this canoe comes with its own beautiful wooden canoe paddle.
This is a relatively small canoe that is made for a single paddler. In fact, it measures just under six feet long by 20.25 inches wide and the bow height is 15 inches while the gunwale height at the center of the kayak is just seven inches.
The one benefit of its smaller dimensions, however, is its lighter weight. In spite of its featured 100% wood construction, this canoe weighs just a little over 20 pounds.
Check Price on Amazon
If you are into wooden canoes, we have one more here for you. This 9.75-foot red wooden canoe is made by Wooden Boat USA, which makes all of its wooden canoes by hand.
The body of the canoe is made with Canadian western red cedar and then encapsulated in a fiberglass resin. That encapsulation protects the wood from abrasions and impact while also giving the entire canoe added tensile strength.
The width of the center of this canoe measures 26.25 inches across and the bow height stands at a full 20 inches. At the middle section of the canoe, the gunwales are 10 inches high and, somewhat surprisingly, this wooden canoe weighs just 20 pounds.
The Lifetime Kodiak Canoe is the first tandem canoe on our list of the most stable. It represents a deviation from the wooden canoes we've been discussing above, as this one is made from blow-molded, high-density polyethylene (HDPE) material.
This is the same material that is used in many of the best touring kayaks these days. One of its greatest benefits is that it is highly resistant to the degrading effects of ultraviolet radiation.
While it is advertised as a tandem canoe and comes with two paddles, there are actually three molded-in seats in this canoe. That makes it a great choice for couples or parents with a young child.
The design of the hull on this canoe lends itself to high initial stability that makes it easy to get into without the worry of tipping. This canoe, however, is made primarily for flatwater paddling and won't handle all too well in rough water.
It does include several centralized fishing rod holders that make it an excellent choice for those interested in canoe fishing. It also includes water bottle holders on the sides of all three seats, but only two of the seats boast quick-release seatbacks for lumbar support.
On the canoe's hull, located toward the stern, there is an innovative skeg wheel that improves the tracking ability on the water. This wheel also allows you to roll the stern along the land for easier transportation.
To cover the canoe's dimensions, it measures 13 feet long and 39 inches wide. It also boasts a maximum weight capacity of 600 pounds and the kayak itself weighs 96 pounds.
This is also one of the few canoes that are compatible with an electric trolling motor with a thrust of up to 40 pounds. There's also a transom motor mount bracket that comes with the canoe and requires a bit of assembly if you do decide to mount a trolling motor down the road.

The Wenonah Spirit II is the kind of kayak that's perfect for everything from Boundary Waters expeditions to casual days of canoe fishing.
According to Canoe & Kayak Magazine, "if you could have only one canoe to serve all your needs for the rest of your life, the Spirit II would be one of the very few candidates."
This canoe measures 17 feet long and boasts a maximum width of 36 inches. The bow height measures 22 inches while the stern is 19 inches high and the gunwales at the center of the canoe are 14 inches tall.
The interesting thing about Wenonah's canoe is that you have the option of choosing multiple different construction types. There are five different canoe constructions using different materials – all resulting in different weights.
The heaviest construction weighs 73 pounds and the lightest weighs just 42 pounds. They all, however, include two webbed canoe seats, dual thwarts, and a central canoe yoke for easy portaging.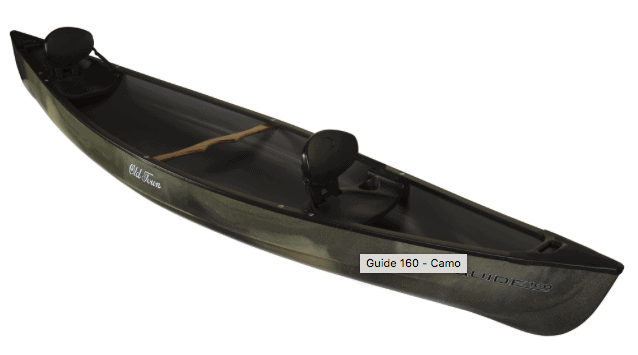 With a name like 'Guide' you know it has to be stable because guide canoes are typically used for beginners. This one from Old Town Canoes and Kayaks is no exception, and it's a no-nonsense design with few bells and whistles.
It measures 16 feet long and 39.5 inches wide. It boasts a whopping maximum weight capacity of 1,250 pounds and the canoe itself weighs 86 pounds before loading in any of your gear.
The seats in this canoe are slightly lowered down into the deck so that your weight sits a bit lower when you are in the water. This leads to added stability because it moves your center of gravity closer to the waterline when paddling.
As you can see, this is a tandem canoe and each seat boasts a comfortable, adjustable backrest. Along with a padded, contoured seat cushion, you will be hard-pressed to find a canoe with more comfortable seats than the Guide 160.
These seats make it super comfortable for extended canoe trips and the ash carrying yoke at the centerline makes it easier for a single person to portage between lakes, rivers, or other waterways.
The Guide 160 is also made from an extremely durable, three-layer polyethylene material with good UV-resistance. This canoe also offers a moderate rocker with a shallow arch hull and straight side with chines.
The bow height measures 19 inches and the center height maxes out at 13.5 inches. Overall, this canoe is primarily made for recreational paddling, but it may be able to handle an overnight expedition or two as well.

The Swift Algonquin 16 offers the kind of stability that inspires beginners to be more confident practicing their paddling skills and parents to allow their children to explore the wonders of canoeing a bit further from shore.
It features a symmetrical hull shape and a one-inch bow and stern rocker for better handling. As you can see, this is a tandem canoe with two built-in, webbed seats and a central yoke for portaging purposes.
The Algonquin 16 measures 16 feet long and offers a maximum width of 36 inches. The bow and stern heights stand at 21 inches and the center height measures 13 inches.
This canoe is designed to handle between 350 and 600 pounds, but its rated industry weight capacity is closer to 1,000 pounds.
That added weight capacity, combined with its stability, makes the Algonquin perfect for recreational paddling as well as hunting, fishing, photography, and a variety of additional on-water pursuits.
The cool thing about this Swift kayak is that you will have options when it comes to the finishing laminate and trim on your canoe. Your final choices, as you might imagine, will have an impact on the overall weight of your canoe.
You can choose from aluminum or carbon kevlar trim, for starters. Then, you will be able to choose an expedition kevlar, kevlar fusion, or carbon fusion laminate to finish the canoe.
The lightest option (carbon kevlar trim with carbon fusion laminate) weighs just 36 pounds. On the other end of the spectrum, the heaviest option (aluminum trim with expedition kevlar laminate) still weighs only 48 pounds.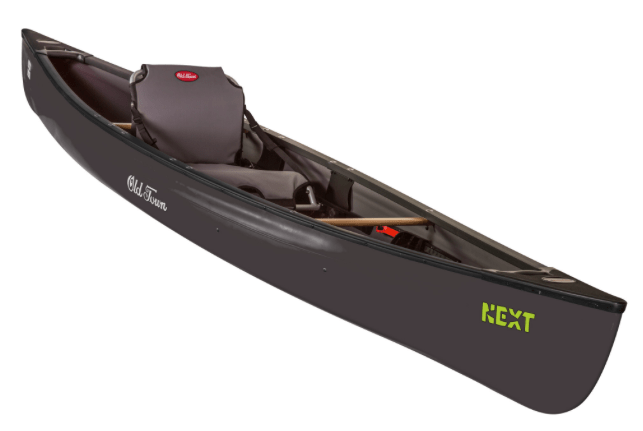 For those of you looking for an extremely stable solo canoe for fishing and hunting, we're sorry you had to wait until the very end of our list to find out about the Old Town NEXT canoe. Your patience, however, is going to be rewarded.
This canoe easily features one of the most comfortable seats in any canoe on the market. In fact, it is very similar to the aluminum-framed, padded mesh seats that you will find on many of the best river fishing kayaks.
This canoe can be powered by a traditional, single-bladed canoe paddle or a more kayak-style dual-blade paddle. It also boasts an entirely removable seating system and an adjustable foot brace system that allows you to achieve more leg drive when you really want to get your canoe going.
The NEXT measures 13 feet long, 29 inches wide, and boasts a center height of 11.5 inches. It also offers a maximum weight capacity of 450 pounds while the canoe weighs 59 pounds when empty.
It also includes a lower-profile design for more efficient paddling in windy conditions and a subtle rocker for straighter, smoothing tracking in wind and waves.
Check Price on Amazon
Our pick for the most stable canoe is the Sea Eagle TC16 because it features a wide, deep design. It's also the only large inflatable canoe on the market these days, which makes it an ideal choice for travelers.
It is also one of the only canoes on our list that can handle whitewater paddling. That is largely due to its design being similar to that of many whitewater rafts that are made for larger river running.
The canoe material is 1000-denier reinforced and boasts overlapped seams for superior strength and durability. While you might think an inflatable canoe would be likely to get scratches and punctures, this model is thicker and more durable than most.
Another reason why it received our top marks is its full-length, double-chine system on the hull that increases stability. When you pair that hull design with the friction-reducing dimples on the planing surface, this canoe can easily achieve paddlings speeds in excess of five miles per hour!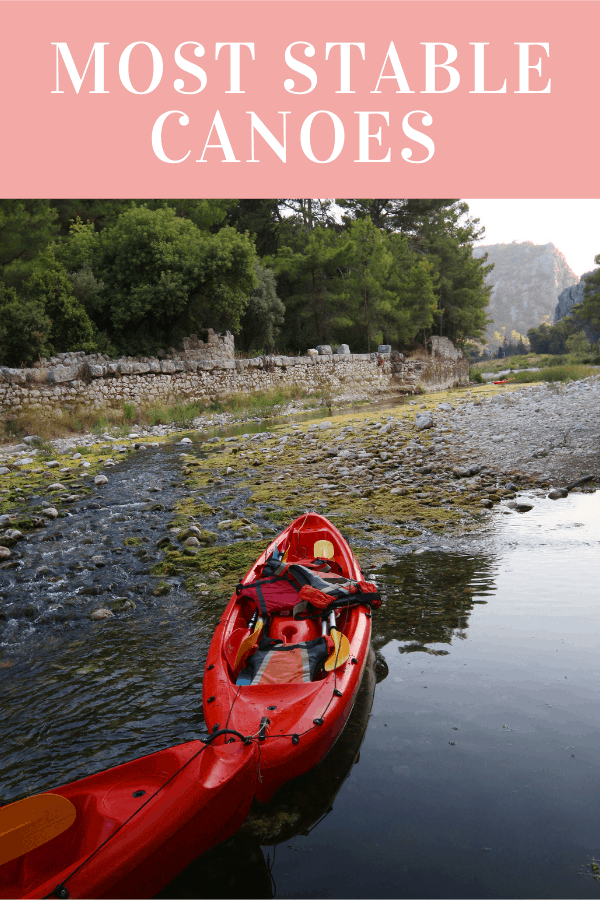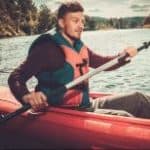 Author: Peter Salisbury
Pete is the Owner of KayakHelp.com. Born and raised in Cleveland, Ohio, he grew up kayaking, fishing, sailing, and partaking in outdoor adventures around the Great Lakes. When he's not out on the water, you can find him skiing in the mountains, reading his favorite books, and spending time with his family.