Recreational paddling is quite arguably the most popular form of kayaking out there.
Whether you're a beginner or an experienced paddler, it's always nice to enjoy a relaxing day on the water without necessarily worrying about covering mileage or reaching a particular destination.
When it comes to recreational paddling, there are few kayaks that are more stable and comfortable than the Malibu Two Ocean kayak.
That's why it's one of the most popular kayaks used by guiding companies that specialize in taking beginner and intermediate paddlers out on the water.
If you're looking for a new kayak for your family or you and your paddle partner, the Malibu Two should be on your shortlist of kayaks to consider. Luckily for you, you've arrived at the right place to learn all about this useful kayak today.
In this Malibu Two Ocean Kayak review, we'll cover the general specifications and features of this all-around kayak.
We'll also share some insights into how the Malibu Two compares to the competition, who it's best for, and we'll provide a few kayak alternatives for comparison's sake.
Without further adieu, let's start with a brief overview of the Malibu Two!
Malibu Two Ocean Kayak Overview
The Malibu Two is a tandem kayak that comes with an optional third seat at the center. This third seat is the perfect place for a small child or that well-trained furry companion that likes to join in on your paddling adventures.
This kayak is constructed with a single layer of polyethylene material and it's stable and versatile enough for all styles of casual family adventures.
In other words, it's the ideal kayak to enjoy an hour or two of on-water relaxation on the perfect summer day.
Or, if your family happens to have lakeside or beachfront property anywhere, this is a great kayak to keep on-site so you can easily hop out for a paddle when you arrive for a well-deserved family vacation.
Kayak Specifications
Length: 12'
Width: 34"
Weight: 57 pounds
Weight Capacity: 425 pounds
Seating Capacity: 2(+1)
Color Options: Ahi, Lemongrass Camo, Seaglass, and Sunrise
Malibu Two Ocean Kayak Features
The Malibu Two is actually quite a basic kayak design. It doesn't feature hatches or any of the extra bells and whistles that you'll find on the best ocean fishing kayaks or more expensive expedition-style touring kayaks.
That's one of the reasons why this particular kayak is extremely affordable, but it still boasts a few important features that we think it's relevant to review here.
Removable Seats

The padded seats that come with the Malibu Two clip into place and are adjustable depending on how you like to sit.
You can either loosen your seat to recline further or tighten it up to sit more straight up and down (which we recommend for more ergonomic paddling!).
These seats can also be removed when you finish paddling and they can be stored separately from the kayak once you get home.
This helps to reduce wear and tear on the seats themselves by allowing you to store them in a dry, protected space instead of leaving them outside to be chewed by annoying critters or battered by the elements.
Because the seats are removable, you'll also have the freedom to set this kayak up for one or two paddlers.
The optional third seat in the center of the kayak is the perfect place for a single paddler to set up a seat for more precise control when their partner isn't able to join them.
The removable seats on this kayak do mean that it takes a few more minutes to set things up when you arrive at the beach.
If you're new to setting up a kayak, we highly recommend checking out this video on the best way to set up the seat in your new ocean kayak!
Overlapping Footrests

The footrests in this kayak are molded into the polyethylene material of the kayak to provide various options for paddlers of different heights.
These footrests even overlap from front-to-back so that smaller paddlers sitting in the third central seat still have a place to rest their feet.
The footrests to the right and left of the bow seat (forward) can even be an option for much taller paddlers sitting in the stern seat.
This provides more opportunities for taller paddlers to keep their legs stretched out comfortably instead of having to sit with their knees crunched into their chests for the entire duration of the paddle.
From a purely practical standpoint, those extra footrests can be the perfect place for storing a water bottle if the stern paddler isn't using them. This helps to make up for the overall lack of bottle holders elsewhere on this kayak.
Molded Seatwells

While it's a bit tough to see them in the photo above, the seat wells below the clip-in padded seats are molded in to provide a low point for your low point (ha!).
This design helps to place your center of gravity closer to the surface of the water, which makes your kayak more stable on the whole.
Because of their molded shape, it's also possible to use this kayak without the clip-in seats installed.
This can be a preferred method of operation for smaller and younger paddlers who will frequently be climbing in and out of the kayak and won't necessarily need the kind of lumbar support that larger, more seasoned paddlers would prefer.
Gear Straps

Any decent kayak is going to give you at least a few options for securing extra gear on board, and the Malibu Two is no exception. It features a total of three gear straps at the bow, stern, and midship for attaching a dry bag or other kayaking safety equipment.
While we must admit that we don't like the functionality of gear straps quite as much as bungee rigging, the Malibu Two still provides a few options for safe, secure gear storage. The main problem with gear straps is their lack of flexibility when compared with bungee rigging.
So you'll need to know how to choose the right size dry bag for kayaking if you want to strap one on this kayak. Otherwise, you're going to be trying to create an extra six inches of the strap where there is none to be had.
Carry Handles
One thing that many new kayakers don't think about when selecting a kayak is how easy it will be to move around when you're not on the water.
To be quite honest, we get that the natural thing is to think about how nice it's going to be to relax on the water in your new kayak, but you do have to get there first!
That's why we love that the Malibu Two is designed with a total of four carrying handles to help with land-bound transportation.
For starters, the two toggle handles at the bow and stern are probably going to be the primary handles used for carrying the kayak over longer distances (so long as you have a partner to help share the load!).
But if you need to maneuver the kayak from the side, the two gunwale-mounted handles are more of the molded-in variety. They aren't, however, completely molded in so they can be removed or replaced if they happen to breakdown.
From experience, the handles on these Malibu Two kayaks are very easy to replace if they happen to break, and Malibu makes it very easy to find replacement toggle handles or replacement gunwale handles online if you need them.
Scupper Holes

Scupper holes, in our opinion, are a critical inclusion for any recreational kayak that's made with the beginner kayaker in mind. These holes, while they might appear counterintuitive at first, are essential to the overall safety of these kayaks.
What they do is allow water to easily drain out of the kayak if you happen to capsize accidentally, which makes the Malibu Two much easier to flip over and re-enter in deep water.
Without them, the cockpit would fill up with water and you'd have to carry a bilge pump every time you go out on the water.
While these scupper holes do allow a small amount of water into the kayak's cockpit when it's right side up, it's never enough to sink the kayak or compromise its performance.
And a slightly damp behind is a small price to pay for a kayak that's as beginner-friendly and forgiving as you can imagine.
Screw-in Drain Plug
One of the reasons why you'll be able to enjoy extra buoyancy with the Malibu Two is because you'll essentially be sitting on top of a large air pocket while you're on the water.
The hull and deck of this kayak are plastic welded together to hold air inside and create a stable floating platform.
But, even though that internal air pocket is sealed, there is a small possibility that water enters that pocket through the screw holes where the toggle handles, side handles, and gear straps are mounted.
While we wish Malibu had done a better job securing these locations, at least they thought ahead and added a screw-in drain plug at the bow of the kayak.
This allows you to tip the kayak up onto its nose to drain out any unwanted water before you start paddling a kayak that's heavier than it should be!
Optional Hatches

The standard Malibu Two model doesn't come with them, but you do have the option of upgrading to a kayak that includes two hatches in front of the bow and stern seats, respectively.
These hatches are sealed to provide safe storage for smaller gear items that you'd like to have quick access to while you're on the water.
While the company will often advertise these hatches as being watertight or waterproof, our experience tells us otherwise.
So, before you go ahead and put your phone, wallet, car keys, or other sensitive items in one of these hatches, you'd do well to place them inside a small dry bag or waterproof case.
How It Compares To The Competition
In our opinion, no good review is complete without mentioning how a specific kayak compares to its competition. In this section, we've selected several important kayak performance indicators to provide a structure for comparing the Malibu Two to its competitors.
Stability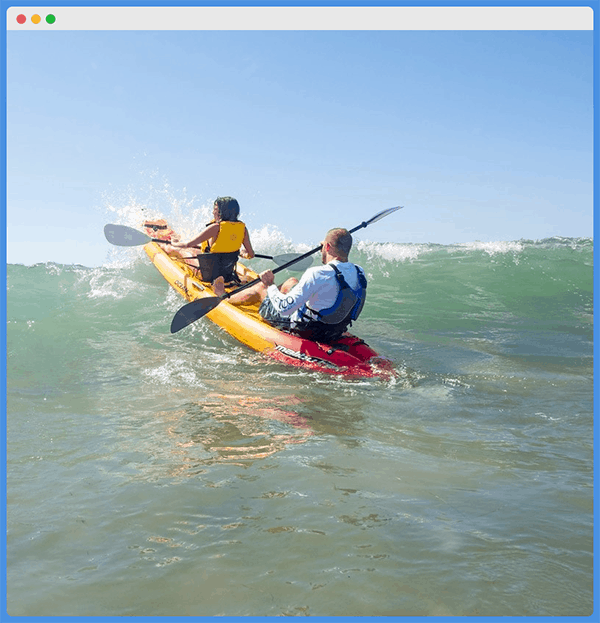 The Malibu Two's exceptional stability is one of the main reasons why so many kayak guiding companies choose this kayak model.
It's a great choice for teaching beginner paddlers how to master the basic techniques of kayaking without having to concentrate so hard on keeping their kayak upright.
The wider design of the Malibu Two is one of the primary reasons for its great stability. Compared to other sit-on-top kayaks at a similar price point, we'd have to say that the Malibu Two's overall stability ranks above average.
Durability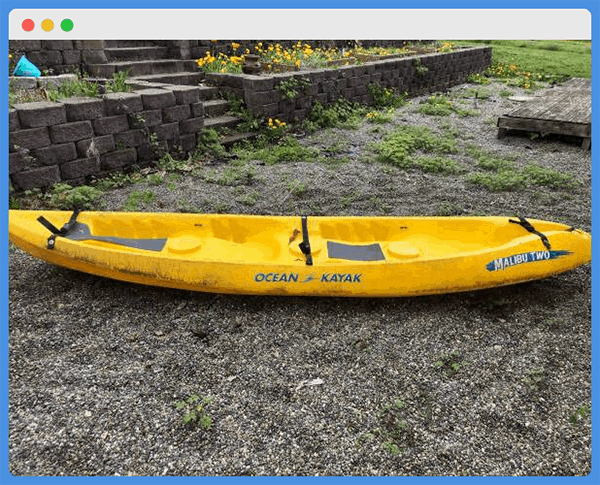 In our extensive experience guiding kayaking adventures in the Malibu Two (and also patching them up when their hull is compromised), our honest assessment of this tandem kayak is that Malibu isn't quite making them like they used to.
In fact, we've found that our older Malibu Two kayaks are holding up much better than the newer models that we've purchased in the last five to 10 years.
While it's important to note that our kayaks do see quite a bit of abuse every summer, we're finding that many of the newer Malibu Two kayaks tend to crack right around the scupper holes on the hull after a season or two of use.
Because of this observation, we'd have to rank the Malibu Two below average when it comes to overall durability.
Ease of Transportation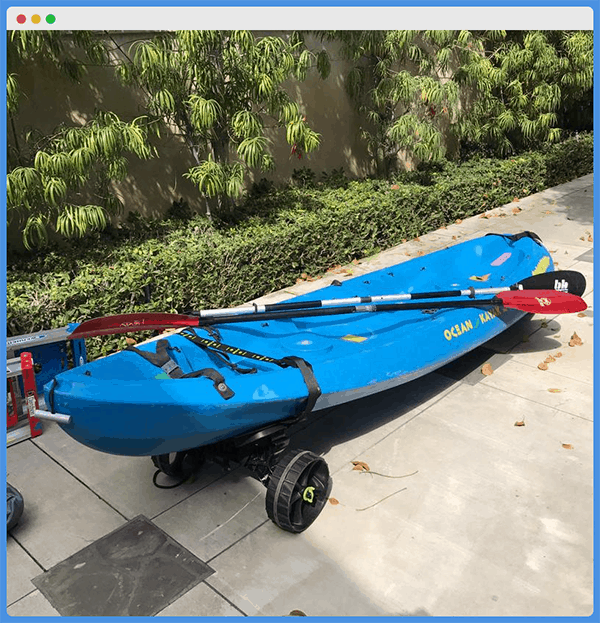 The Malibu Two's major benefit over some other tandem kayaks is it's relatively lightweight. Often, I've actually been able to carry two of these kayaks over a short distance side-by-side to set them up for arriving guests.
As you might imagine, that lighter weight makes it much easier to get the Malibu Two down to the water or lift it up to load it on top of your vehicle.
That being said, there are many newer inflatable tandem kayaks out there that simply can't be beat in terms of their lighter weights and compact ease of transportation.
For those reasons, we'd rank the Malibu Two slightly above average when it comes to ease of transportation.
Who Is It Best For?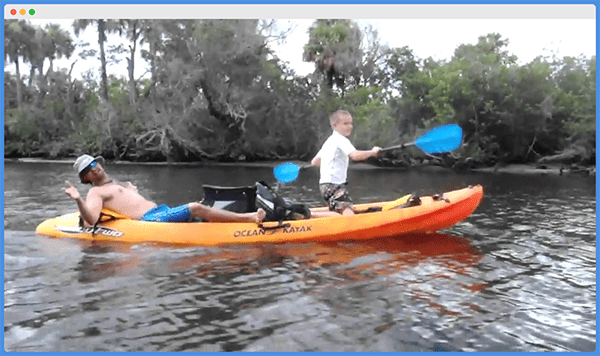 The Malibu Two Ocean Kayak is a great entry-level kayak for beginners that want to experience the joys of kayaking with a partner. But it's also adaptable to be maneuvered by a single paddler if your partner can't always join you.
This is also the perfect stable kayak for small families or couples that like to paddle with a furry companion. Because of its wide design and the molded third seat in the center, up to three warm bodies can fit in this kayak without it feeling cramped.
While it's ideally suited for recreational paddling on calm lakes, slow-moving rivers, or windless coastal waterways, the Malibu Two can also handle light surf if you want to get out past the breakers and explore a relatively protected stretch of coastal shoreline.
We just wouldn't recommend this kayak for open ocean paddling, as it's not the most efficient option on the market.
But it would also be a great choice for a kayak to keep at your lakeside or beachfront property so that you don't have to worry about transporting a kayak every time you head over there for a family vacation or weekend getaway.
Finally, this is also a very stable kayak for small, medium, and large paddlers. We have, however, seen plenty of larger paddlers struggle to keep this kayak stable, so we must also recommend that larger paddlers check out our reviews of the best kayaks for big guys and gals!
Ocean Kayak Alternatives
BKC TK219 12.2' Tandem Fishing Kayak W/Soft Padded Seats, Paddles,6 Rod Holders Included 2-3 Person Angler Kayak (Blue)
Lifetime Beacon Tandem Kayak, Red, 12'
INTEX 68309EP Excursion Pro K2 Inflatable Kayak Set: Includes Deluxe 86in Aluminum Oars and High-Output Pump – SuperTough PVC – Adjustable Bucket Seat – 2-Person – 400lb Weight Capacity
BKC TK219 12.2' Tandem Fishing Kayak W/Soft Padded Seats, Paddles,6 Rod Holders Included 2-3 Person Angler Kayak (Blue)
Lifetime Beacon Tandem Kayak, Red, 12'
INTEX 68309EP Excursion Pro K2 Inflatable Kayak Set: Includes Deluxe 86in Aluminum Oars and High-Output Pump – SuperTough PVC – Adjustable Bucket Seat – 2-Person – 400lb Weight Capacity
While the Malibu Two Ocean Kayak is a great starter kayak for families and couples, there are many other kayaks in a similar price range. Here are a few Ocean Kayak alternatives for you to consider if you're not sold on this model:
Check Price on Amazon
The TK219K kayak from Brooklyn Kayak Company measures 12'6" long, 34 inches wide, and supports a maximum weight capacity of up to 595 pounds. This extra capacity is great for anyone that's interested in kayak fishing beyond just your standard recreational paddling.
Speaking of fishing, this kayak is equipped with four flush-mounted fishing rod holders and an additional two articulating rod holders.
This allows you to keep multiple rod and reel combinations at the ready for when conditions change or you figure out fish are biting something different than what you first tried out.
The TK219K does weigh a bit more than the Malibu Two, at a total of 70 pounds. It still offers that all-important third center seat and removable seats to set it up for one, two, or three paddlers, but you might consider getting a kayak cart to help you get this model from your vehicle down to the water.
Check Price on Amazon
The Lifetime Beacon Tandem kayak is another model that's comparable to the Malibu Two in many aspects. This kayak measures 12' long, 32 inches wide, weighs a total of 90 pounds, and offers a maximum weight capacity of 500 pounds.
One of the differences between the Beacon kayak and the Malibu Two comes in the design of its bow and stern seats. Instead of being removable, the bottom pad of the seat is bolted to the deck of the kayak and the seatbacks flip up and down as needed.
This seat design actually serves to minimize the amount of time it takes to set up this kayak when you reach the shoreline.
But the downside is that you won't be able to remove the seats to protect them from damage when you're attempting to store your kayak outside in winter.
Check Price on Amazon
If you're looking for a kayak that can travel a bit better than the Malibu Two, then look no further than the Intex Excursion Pro.
This is an inflatable kayak that weighs just over 39 pounds when fully inflated and packs into a compact carrying bag that will even fit in the back of a small sedan when deflated.
The Excursion Pro does measure 12'7" long and 37" wide when fully inflated, and the depth of the cockpit measures 18 inches.
This deep cockpit can help you enjoy a warmer and drier paddling experience than some of the other sit-on-top kayaks out there.
In spite of its inflatable design, this kayak still boasts a maximum weight capacity of 400 pounds and the removable seats allow you to set it up for one or two paddlers.
It also comes as a full package to help you get ready to paddle, with two paddles, a high-output pump, two removable skegs, and a host of other useful kayaking accessories included.
Final Thoughts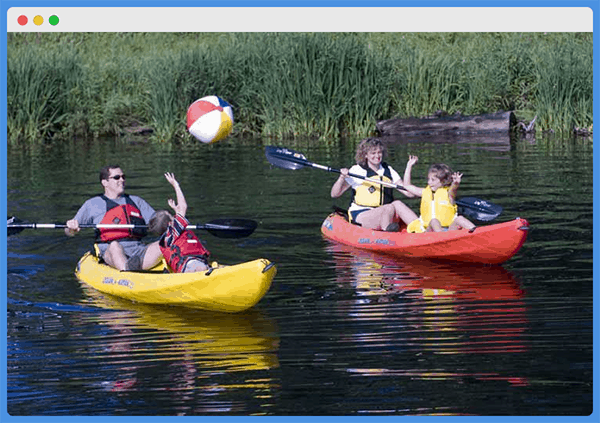 All in all, we must admit that it's going to be tough to find a more stable and versatile recreational kayak than the Malibu Two. But, if you are interested in other options, be sure to check out our full article on the best recreational kayaks.
The Malibu Two is a solid kayak at a reasonable price point for anyone that doesn't need all the bells and whistles of a performance kayak. But you'll still be able to enjoy full days on the water with the comfort of this kayak.
We hope you've enjoyed this comprehensive Malibu Two Ocean kayak review and we encourage you to reach out to share your own kayaking experience.
Also, feel free to drop a comment below with any questions you have about this kayak and we'll get back to you in a timely manner!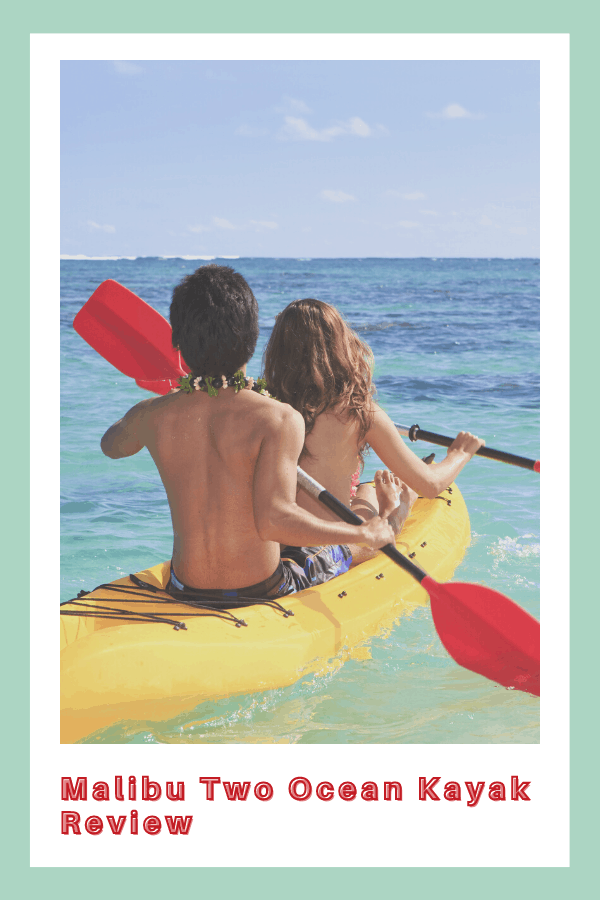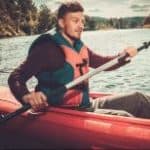 Author: Peter Salisbury
Pete is the Owner of KayakHelp.com. Born and raised in Cleveland, Ohio, he grew up kayaking, fishing, sailing, and partaking in outdoor adventures around the Great Lakes. When he's not out on the water, you can find him skiing in the mountains, reading his favorite books, and spending time with his family.