If you've ever had to carry a heavy canoe or kayak over a long distance, you probably realized why they're meant to be on the water and not necessarily carried over land.
But not all kayaks have to be heavy. Many experienced kayakers that love to plan multi-day expeditions require a watercraft that's lightweight and easy to portage if the trip requires it. Oru Kayaks have met that need with their lineup of foldable, 'origami-style kayaks.
Given all the buzz and popularity, we desperately wanted to try Oru out. We picked a couple of Oru models and were pleasantly surprised with their performance. The first impression was that they appeared lightweight and could be packed up easily into the size of a large backpack or suitcase if you need to transport them.
As we started our expedition, this is what came to the light.
Oru Kayak Ratings
Ease of Use – 3.8 out of 5 stars
First up, we wanted to check out how long it takes to set up one of these kayaks before you're actually ready to paddle. It took us nearly 5 to 30 minutes before we were ready to hit the waters.
There's always the possibility that those 30-minute setup times were on a user's very first attempt, so keep that in mind.
Disassembly didn't take more than 10 minutes. We were able to break the Oru down and were ready to transport.
Once on the water, this kayak is light, responsive, and capable of achieving good top-end speeds across flat water. We were surprised by the amount of ground they could cover in a short time.
We had heard some folks talking about how stable they are. We didn't find any issues when we tried standing up in the Kayak. What remained to be seen is their stability when the water is not so calm.
So basically, the exact model you purchase will dictate whether your Oru Kayak performs better on the open ocean or on small rapids. Their kayaks that are built for rapids are rated to handle up to Class III Whitewater.
As with buying any kayak, you'll need to know what kind of waters you'll primarily be paddling on before making a purchase.
This chart might prove useful for a side-by-side comparison of the different models of Oru Kayaks.
Overall, we'll have to give Oru Kayaks a 3.8 out of 5 stars on ease of use.
The main areas we knocked it for the learning curve that's required for assembly/disassembly and the fact that it does not include a rudder, which can make tracking a bit more difficult in challenging weather conditions.
Features – 3.5 out of 5 stars
The most talked-about feature of Oru Kayaks was its storage capacity.
Because of the unique folding design, we noted that it was easier to pack the gear and supplies in an Oru Kayak than in a traditional closed-deck kayak.
Aside from storage capacity, however, these Oru Kayaks are what you might call "minimalist." They come with an attached seat and carry handles at varying locations, depending upon the model you choose.
When compared to many other kayaks, these would certainly not be considered "feature-rich" options. For these reasons, we've given Oru Kayaks 3.5 out of 5 stars for the features.
Customer Service – 5 out of 5 stars
One thing that stood out when visiting the Oru Kayaks website was how many videos they offer. These videos teach you about the varying models of kayaks and walk you through the assembly and disassembly processes.
They also offer videos explaining some of the essential Oru accessories you should consider buying along with your kayak, as well as "how-to" videos about launching tips, paddle strokes, and important rescue techniques.
When evaluating Oru Kayak's customer service, we also went through their warranty and return policies.
Within 30 days of receiving your Oru Kayak, you'll be able to return it for a full refund (minus shipping costs) or exchange it for a different model.
This gives you a full month to test the assembly/disassembly process and decide whether the model you chose is right for your unique style of paddling. It also applies to gear and accessories purchased through Oru Kayak's website.
In terms of the warranty, many companies (whether they know it or not) make it difficult to figure out the warranty process.
Oru Kayak's warranty process reads with very clear directions on what it does and does NOT cover, as well as the steps you must take to activate your warranty.
For those that aren't able to pay for the full cost of an Oru Kayak up front, they also offer financing options. If you pre-qualify, you may even be offered financing with rates starting as low as 0% APR.
It's rare to find a product manufacturer that's so transparent about the warranty, return, and financing information. For all of these reasons, we're awarding Oru Kayaks 5 out of 5 stars for customer service.
Value For Money – 5 out of 5 stars
The intricacies of Oru Kayak designs mean that the cost-of-entry for these kayaks is a bit on the high side. There are, of course, going to be a number of kayaks at lower price points.
However, not all of those cheaper kayaks can perform as well as Oru Kayaks. Even fewer still are capable of collapsing down for compact storage or being carried easily across a portage distance.
Compared to traditional kayaks that offer similar performance and features, the cost of Oru Kayaks is very competitive. Their value really lies in your ability to go anywhere and paddle (almost) anything in them.
There are stories of wanderlust chronicling Oru Kayak paddle adventures across California, Hawaii, Texas, Florida, and Wyoming.
For the money, we found immense value in the portability of these kayaks, which is why we award them 5 out of 5 stars on value for the money.
Oru Kayak Models
Now that we have an idea of how good Oru kayaks are, let's explore five of their unique foldable kayak models.
The Inlet is Oru's smallest and lightest kayak model. It's also their easiest model to assemble, which makes it a great option if portability and ease of movement are your top priorities.
The Oru Inlet kayak weighs just 20 pounds and stretches to a length of nine feet, six inches. It's designed for calm waters and best for first-time or beginner paddlers.
The cockpit of the Inlet kayak measures 23 inches across and 68 inches long. This foldable kayak is meant for paddlers 6'2" or shorter and boasts a maximum weight capacity of 275 pounds.
Check Price On Amazon
Still made for a single paddler, Oru's next model is the Beach LT. For its size, this kayak weighs less than half of a traditional kayak and it's made for use on calm lakes, streams, and rivers.
The Oru Beach LT kayak weighs just 26 pounds and stretches to a length of 12 feet. It's designed for more experienced paddlers that want a comfortable ride and plenty of storage space for day trips, picnics, and casual paddles.
The cockpit of the Beach LT kayak measures 25 inches across and 48 inches long. This foldable kayak is meant for paddlers 6'6" or shorter and boasts a maximum weight capacity of 300 pounds.
Check Price On Amazon
Designed for intermediate and advanced paddlers, the Bay ST is a sporty and versatile kayak that can handle up to six-foot ocean waves.
Its stability allows for smooth paddling in varied environments, and it also has plenty of storage space for overnight camping trips.
The Oru Bay ST kayak weighs just 28 pounds and stretches to a length of 12 feet. This kayak is made to meet the demands of many different conditions, from smooth flatwater to Class III whitewater.
The cockpit of the Bay ST kayak measures 16 inches across and 30 inches long. This foldable kayak is meant for paddlers 6'3" or shorter and boasts a maximum weight capacity of 300 pounds.
Check Price On Amazon
With another four feet of length over the Bay ST, this Oru Kayak is made for the open ocean. It's best suited for intermediate and advanced paddlers that need a lightweight kayak that can handle the physical demands of longer kayak expeditions.
The Oru Coast XT kayak weighs just 36 pounds and stretches to a length of 16 feet.
It's designed to perform well in a variety of environments, but the real ability of this kayak is to haul enough gear for overnight trips while still maintaining excellent tracking and acceleration.
The cockpit of the Coast XT kayak measures 16 inches across and 30 inches long. This foldable kayak is meant for paddlers 6'6" or shorter and boasts a maximum weight capacity of 400 pounds.
Finally, a tandem kayak from Oru! The Haven is made for two paddlers to fit comfortably in its large, open cockpit while performing best on smooth, calm lakes, rivers, and streams.
The Oru Haven kayak weighs just 40 pounds and stretches to a length of 16 feet.
While it's a super stable kayak for all levels, the Haven is also capable of accommodating dogs, coolers, fishing accessories, and the kids (well, at least one!).
The cockpit of the Haven kayak measures 20 inches across and 60 inches long. This foldable kayak is meant for paddlers 6'6" or shorter and boasts a maximum weight capacity of 500 pounds.
Who Is It For?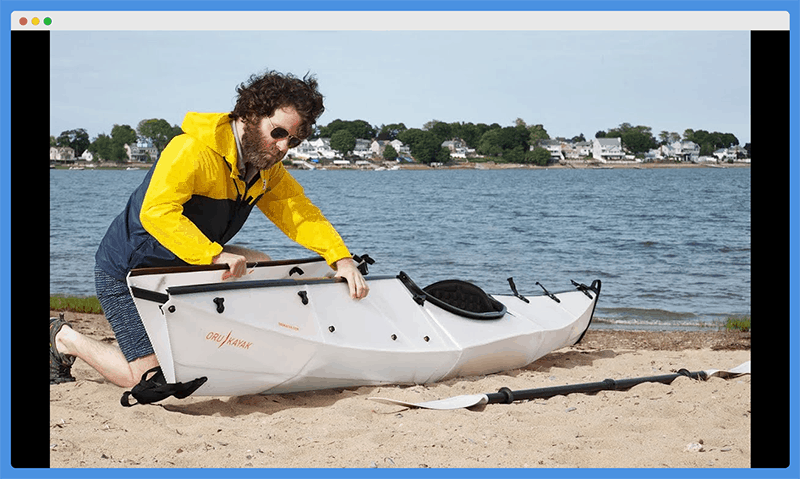 Not everyone needs to run out and get their hands on an 'origami-style' kayak after reading the first section of this article. There are, however, some applications where Oru Kayaks stand out above the competition.
The "Newbie"
Many folks will go years paying a rental company every time they want to get out on the water. In one of their Customer Spotlights, an Oru owner details how she got tired of renting every time she wanted to explore a new waterway.
Oru Kayaks are great for newbies because they're easy to set up and they don't require as much maintenance as a traditional kayak.
While they're on the more expensive side for beginners, you'll know that you're getting a quality product with Oru.
The "Portager"
When you're learning how to portage a kayak for the first time, you might find yourself thinking something like, "Why is this thing so heavy and what the heck am I doing carrying it on land?"
Some experienced kayakers love to plan trips in places that require frequent portages, such as the Boundary Water Wilderness Area. The lightweight design and portability of Oru Kayaks is perfect for a destination like this.
The "Apartment Dweller"
If you really want to buy a nice kayak but you have nowhere to put it when you're not out paddling, Oru Kayaks has solved the issue of limited storage space for the kayak-happy apartment dweller.
Unless you have the room, the time, and the skills to build a kayak storage shed, get a kayak that fits your lifestyle. Oru Kayaks pack up to the size of a large backpack or suitcase so that you don't have to rearrange your entire life to suit your kayaking passion.
The "Full-Time RVer"
There's not a whole lot of space in most RVs to store a full-sized kayak. While there are kayak trailers and RV tow racks to choose from, full-time RVers are the perfect candidates for an Oru Kayak.
These kayaks can be stored easily in an RV's underneath storage compartment and come up when you're set up at your next river or lakeside destination.
Having an Oru Kayak will make you consider why you ever camped anywhere that was NOT right next to the water.
The "International Traveler"
Oru Kayaks are great at riding in the belly of an airplane with absolutely no knowledge of whether they'll be taken on saltwater or freshwater next.
The Oru Pack that they are stored in can also act as your suitcase for those that like to travel light.
These kayaks are made to explore new waterways in different countries.
They also have the benefit of not requiring the additional rental of a large vehicle when you arrive in a new destination, as they'll be able to fit in the trunk (or, in the worst case, the backseat) of a cab or small sedan.
Jargon Buster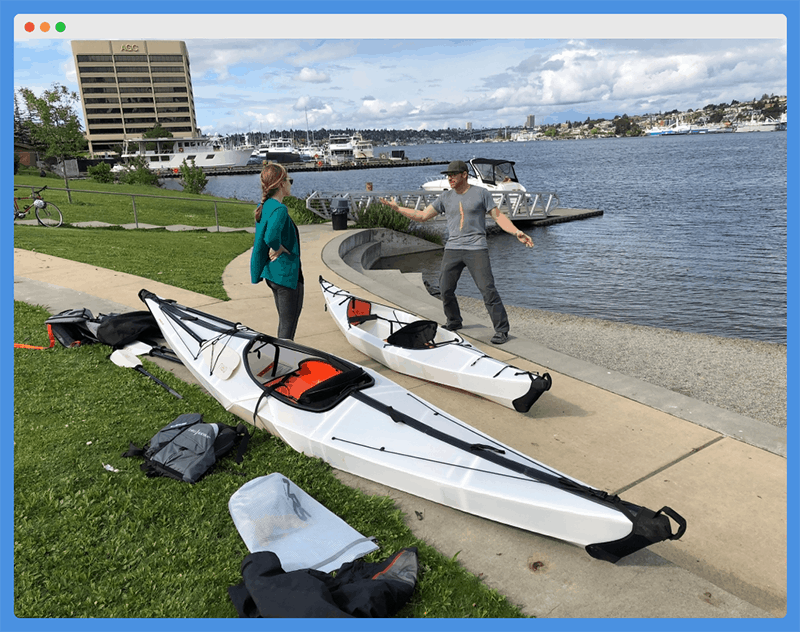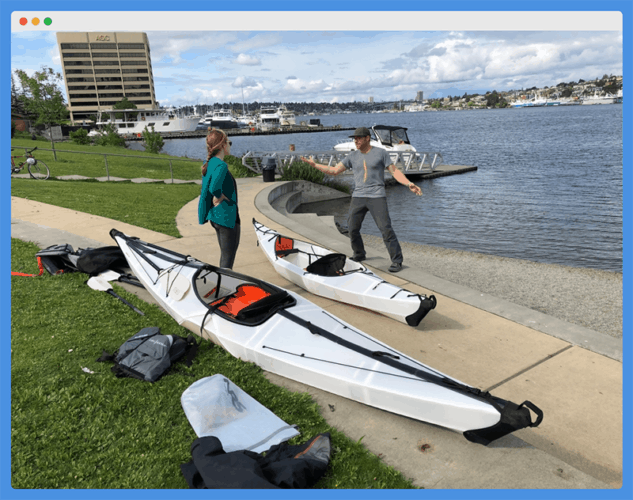 Because of their unique design and the technology that they use, foldable kayaks come with their own set of jargon. We'll take a minute to define some key terms here before we move on to the rest of the article.
Open Cockpit
An open cockpit is a feature that's common amongst sit on top kayaks. It makes entering and exiting the kayak a bit easier while also allowing you to more easily drop a foot over the edge to cool off on hot days.
In the Oru Kayak models we highlighted above, the Inlet, Beach LT, and Haven offer an open cockpit.
This is because these models are designed for calmer waters and it means that they are NOT compatible with a spray skirt.
Closed Cockpit
A closed cockpit kayak, otherwise known as a "closed-deck" boat, is typically designed for ocean kayaking or long-distance excursions.
This style of cockpit is designed for a drier ride but can be more difficult to re-enter after successfully executing a wet exit.
In the Oru Kayak models highlighted above, the Bay ST and Coast XT offer a closed cockpit design. This means they are compatible with a spray skirt and made for rougher waters or covering longer distances.
Oru Pack
The Oru Pack is an accessory that comes separate from the kayaks themselves and (as it should be noted) is only compatible with the Beach LT, Bay ST, and Coast XT models.
It is what will allow you to pack the kayak down and transport it in a compact, backpack-style package.
By design, the pack has extra room for the gear you'll need to make your paddle trip complete. This includes, but isn't limited to, PFDs, paddles, wetsuits/drysuits, paddle floats, and anything else you desire.
The pack comes with comfortable shoulder straps and a hip belt that takes the weight off your shoulders and allows you to weigh the pack down.
It also has exterior mesh pockets that are perfectly designed for a two-piece kayak paddle.
Pros And Cons Of A Foldable Kayak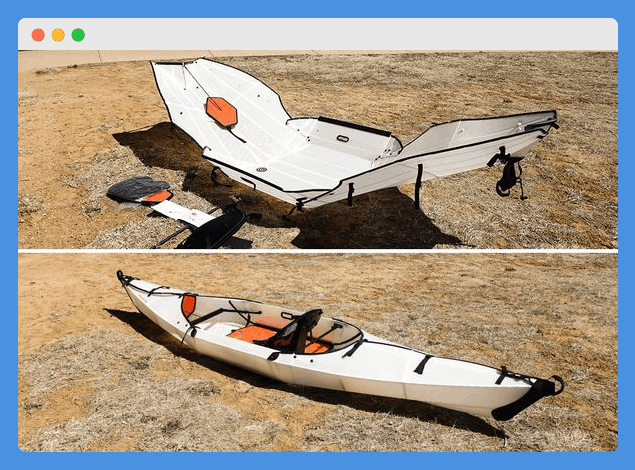 Many folks want to know how a foldable kayak compares to a traditional kayak. In this section, we'll explore that comparison and offer the most important pros and cons of foldable kayaks.
Pro #1: Compact Storage
Foldable kayaks don't require very much storage space when they're not in use. This is why we mentioned they're great for folks that live in small apartments or shared living spaces.
Con #1: Added Setup Time
While foldable kayaks don't require a Bachelor's in Chemical Engineering to set up adequately, they do require more setup time than traditional kayaks. It'll take a few extra moments to prep your kayak before you can get out on the water.
Pro #2: Easy Transportation
With no kayak model that weighs more than 40 pounds, you won't be breaking your back transporting these foldable kayaks.
Furthermore, because they collapse to a compact size, you won't need to worry about roof racks or towing a kayak trailer behind your vehicle.
Con #2: Susceptibility to Wind and Currents
Because of their light weight, many kayaks can be more affected by heavy winds and strong ocean currents. On one review trip, users reported three separate rollovers when taking these kayaks over small rapids.
Pro #3: Storage Capacity
Oru Kayaks offer what many "traditional" sit on top kayaks can't: ample dry storage space. Ranging from 90 to 180 liters of storage, these foldable kayaks give you plenty of space for gear as you endeavor to take longer and longer paddle expeditions.
Con #3: Price
We must admit that these foldable kayaks aren't the cheapest models on the market today. However, a consistent number of user reviews have shown that countless folks have found them to be more than worth the cost.
Pro #4: No Worry About Tears
When it comes to compact storage and ease of transport, you might find yourself comparing Oru Kayaks to various inflatable kayak models.
But foldable kayaks have the benefit of not being susceptible to punctures or tears, which makes them a more durable investment in the long haul.
Final Thoughts On The Oru Kayak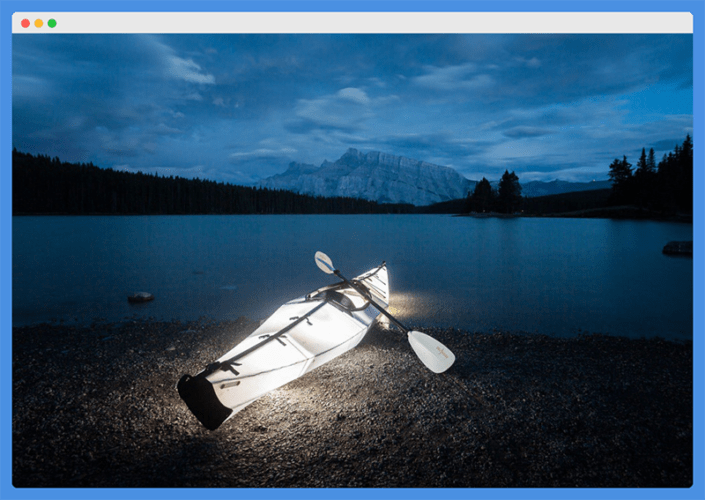 As the photo above illustrates, there's just something incredibly stylish about these Oru Kayaks. Imagine yourself placing a waterproof light inside the cockpit and heading out for a night paddle looking like that!
Even for those that might not want to spend quite what it would take to purchase an Oru Kayak outright, they offer financing options that make these kayaks much more accessible to a wider range of people.
From our perspective, there's an Oru Kayak model to fit just about every paddler out there, from inexperienced to expert.
The model options allow kayakers with interest in sea kayaking, long-distance touring, whitewater, and recreational paddling to find a kayak that fits their needs.
We think, above all others, there is really one type of person that Oru Kayaks are best for. This person may have trouble staying in one place for a long time and likes to travel light and fast.
This person may have a list of more than 50 countries or epic waterways upon which they'd like to paddle in their lifetime.
He or she needs a kayak that fits in small spaces and doesn't mind extended rides in the belly of an airplane.
This person wants to paddle on Lake Tahoe tomorrow and Lake Cuomo next week. The Oru Kayaks are designed for the international adventurer, and we think the relationship couldn't be more perfect!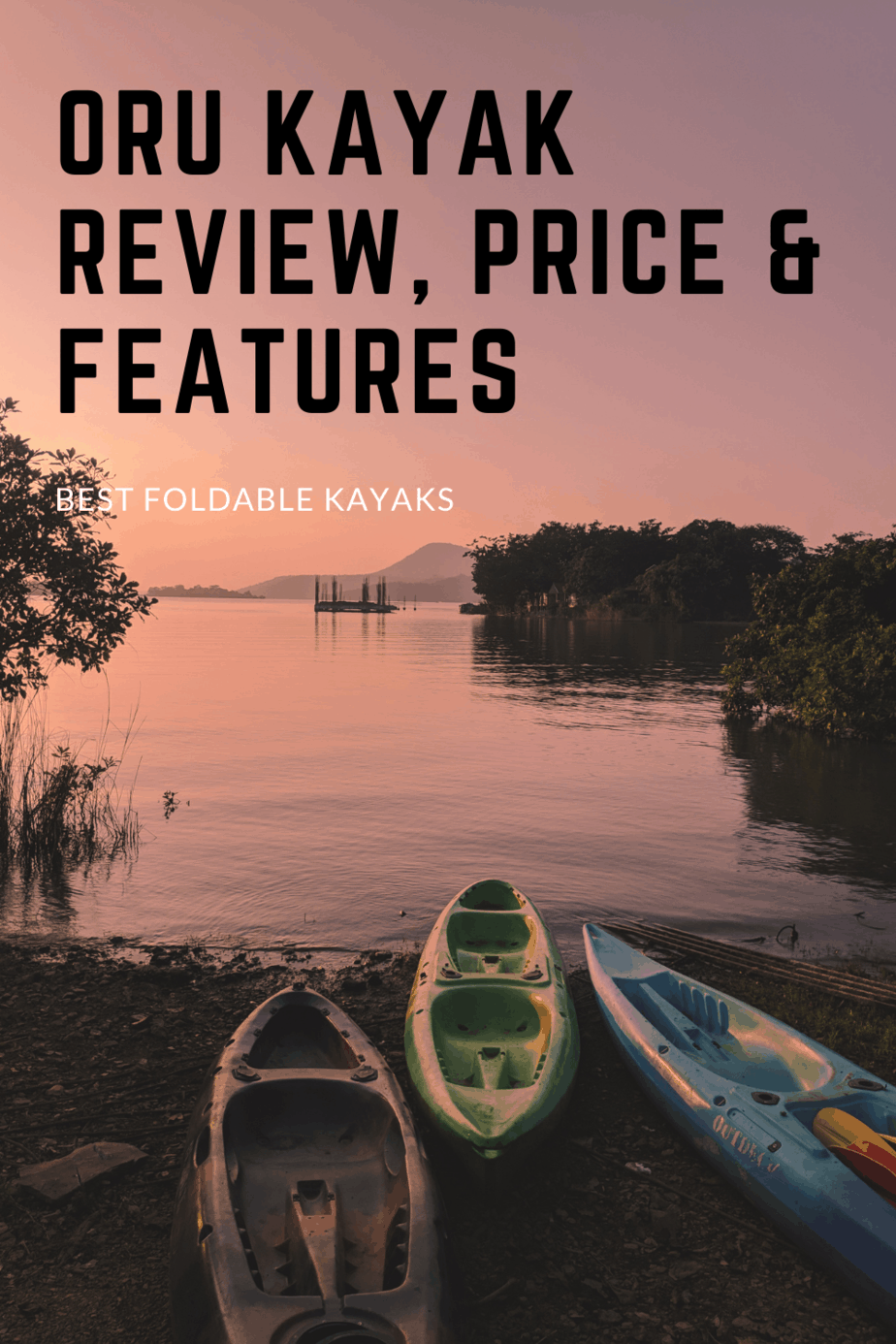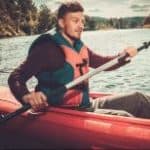 Author: Peter Salisbury
Pete is the Owner of KayakHelp.com. Born and raised in Cleveland, Ohio, he grew up kayaking, fishing, sailing, and partaking in outdoor adventures around the Great Lakes. When he's not out on the water, you can find him skiing in the mountains, reading his favorite books, and spending time with his family.