In its heyday, the Perception Dancer kayak was all the rage for whitewater kayaking and ocean surfing. It offered lots of rocker and a compact package that was specifically made for smaller, lighter paddlers.
Although this kayak traces its major run of popularity all the way back to the 1980s, there are still a few of them circulating on the used market today. So for those of you looking into how to buy a used kayak, it may be a good option.
In this Perception Dancer kayak review, we will cover the features and specifications of this once-popular whitewater and surf kayak. We'll also answer the all-important question: is it worth it to buy a used Perception Dancer kayak these days?
So let's get to it!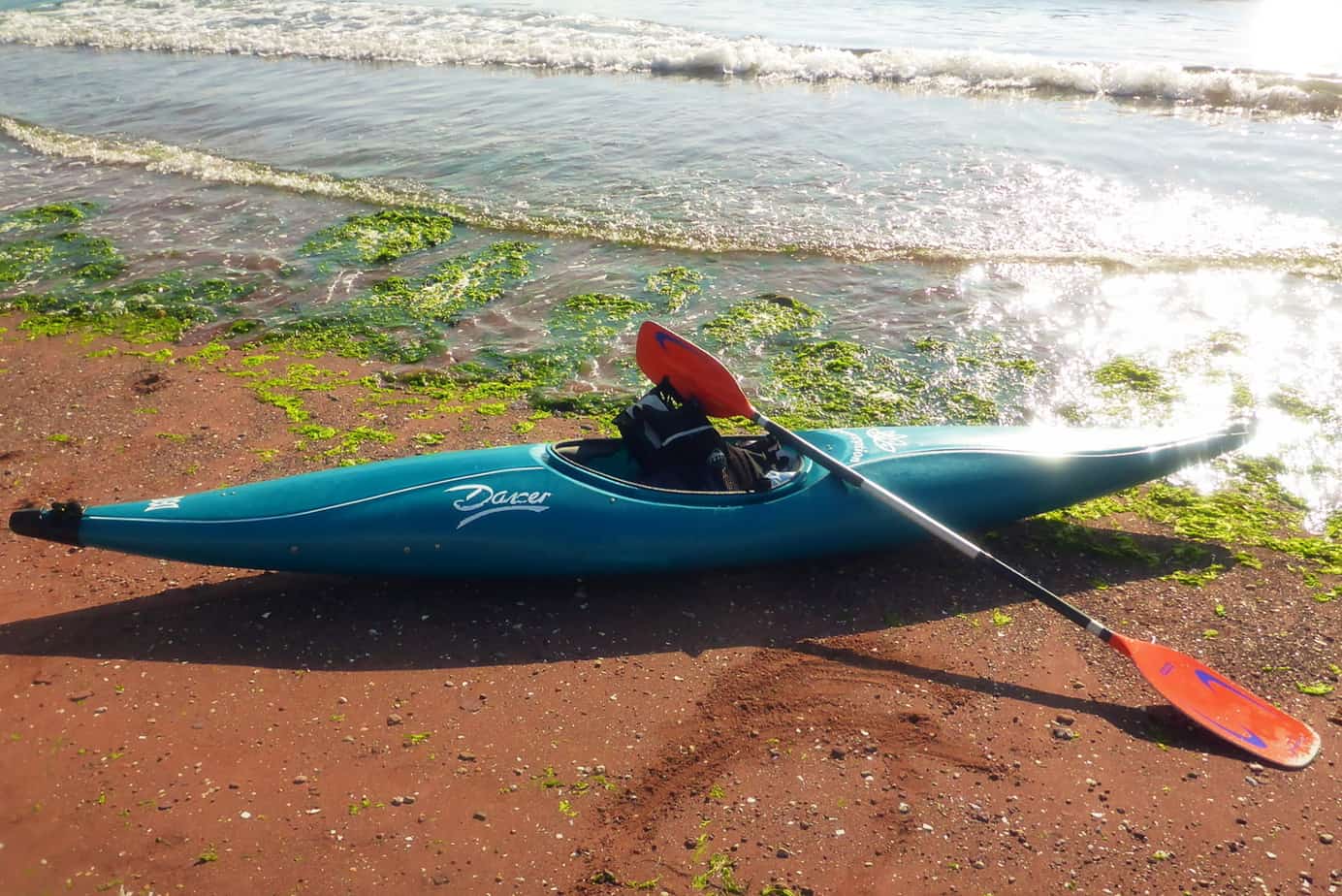 Perception Dancer Kayak Overview
As it was originally designed, the main purpose for the Perception Dancer kayak was whitewater paddling. It was a sit inside kayak with a long and incredibly slim design that was built for speed and easy rolling.
This was one of Perception's attempts to build an all-around kayak that would suffice for paddlers of all skill levels. It was also designed for both front surf, side surf, and quick turning.
By today's standards, this was a fairly lengthy kayak if you were planning to use it for whitewater paddling. At nearly 12 feet, it's also a bit long to be used for kayak surfing.
Perception Dancer Kayak Specifications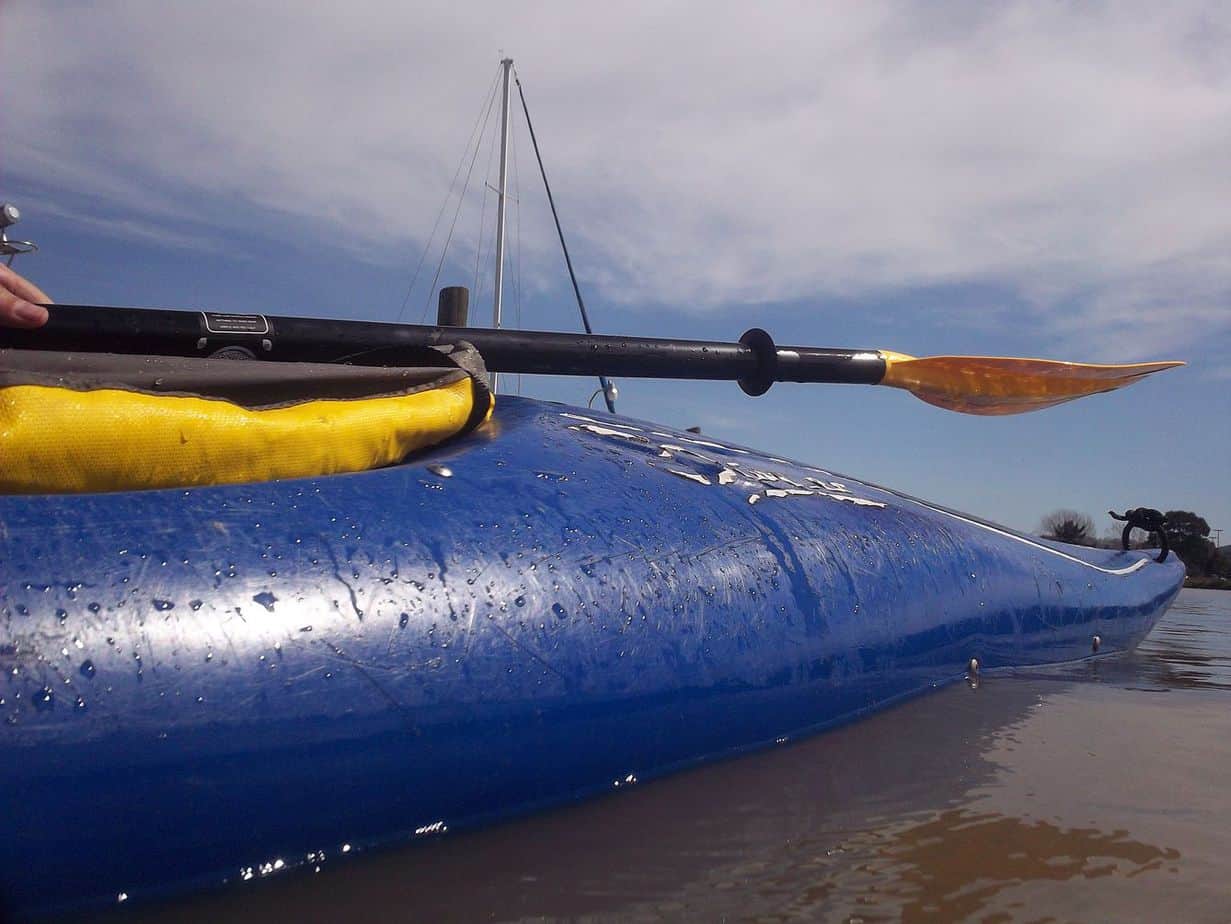 For the sake of more easily comparing the Perception Dancer to other kayaks, here's a quick list of this kayak's main specifications:
Length: 11'7" (3.5 meters)
Width: 24" (61 centimeters)
Volume: 66 gallons (250 liters)
Weight: 36 pounds (16.25 kilograms)
Weight Capacity: 200 pounds
For what it's worth, Perception also produced the Dancer XS and Dancer XT kayaks. These were the slightly smaller and larger versions of the kayaks, respectively.
Just in case you come across them on the used market in your area, here are the specifications for those two models as well:
Dancer XS
Length: 10'4" (3.15 meters)
Width: 23" (58.4 centimeters)
Volume: 50 gallons (190 liters)
Weight: 30 pounds (13.5 kilograms)
Weight Capacity: 150 pounds
Dancer XT
Length: 11'9" (3.58 meters)
Width: 24.625" (62.6 centimeters)
Volume: 74 gallons (280 liters)
Weight: 37 pounds (16.75 kilograms)
Weight Capacity: 250 pounds
Perception Dancer Kayak Features
This late model kayak was made specifically for whitewater versatility. It's rated for class V whitewater, but let's discuss some of the features that make it unique.
Extra Rocker
Rocker is a natural design element of all types of kayak. Some kayaks, however, boast more or less rocker depending on the precise type of paddling for which they are designed.
Rocker is the amount of curvature in the hull from the bow to the stern. Generally speaking, kayaks with less rocker are designed for long-distance paddling because they track well and move through the water more efficiently.
On the other hand, most kayaks that are designed for whitewater paddling have a healthy amount of rocker. This allows them to maneuver more easily in rough waters (which is the natural habitat of all whitewater kayaks!).
The curvature of the Perception Dancer reflects the fact that it is designed for paddling on whitewater rivers and in light ocean surf. Despite its extra length, the curved hull allows you to make quick corrections in rough waters.
Bulkhead Footbraces (Available as a Retrofit Kit)
The original base model of the Dancer didn't actually come with footbraces built into the bulkhead. That said, they were available as an upgrade as part of one of Perception's retrofit kits back in the day, so there is a chance that you will find a used model with them already installed.
For our money, footbraces are an essential inclusion in any kayak, regardless of whether you're looking at whitewater kayaks or one of the best kayaks for kids. They allow you to rest your feet comfortably while still maintaining a slight bend in your knees.
While we don't need to get too far into the details of why this is important here, you should know that proper paddling technique engages your core muscles just as much as it requires the muscles in your arms, back, and shoulders.
By having a brace to push against as you're pulling the blade of your kayak paddle along the outside of the gunwale, it is much easier to engage your core. This allows you to generate a much more powerful paddle stroke than you would if your legs were flat and relaxed.
Compatible With Spray Skirt
While the used Dancer you find may or may not come with one, these kayaks are all compatible with a spray skirt. If you can, we'd highly recommend finding one that comes with an older spray skirt model.
This is because it may be difficult to find a newer model that's compatible with one of these older kayaks. That said, spray skirt compatibility is a really important feature of any whitewater kayak.
It gives you the ability to keep water out of your kayak's cockpit to make rolling and other whitewater kayaking maneuvers much easier. It also helps you keep your legs and lower body much warmer and well-insulated if you are kayaking on colder rivers or during the winter months.
Is It Worth It?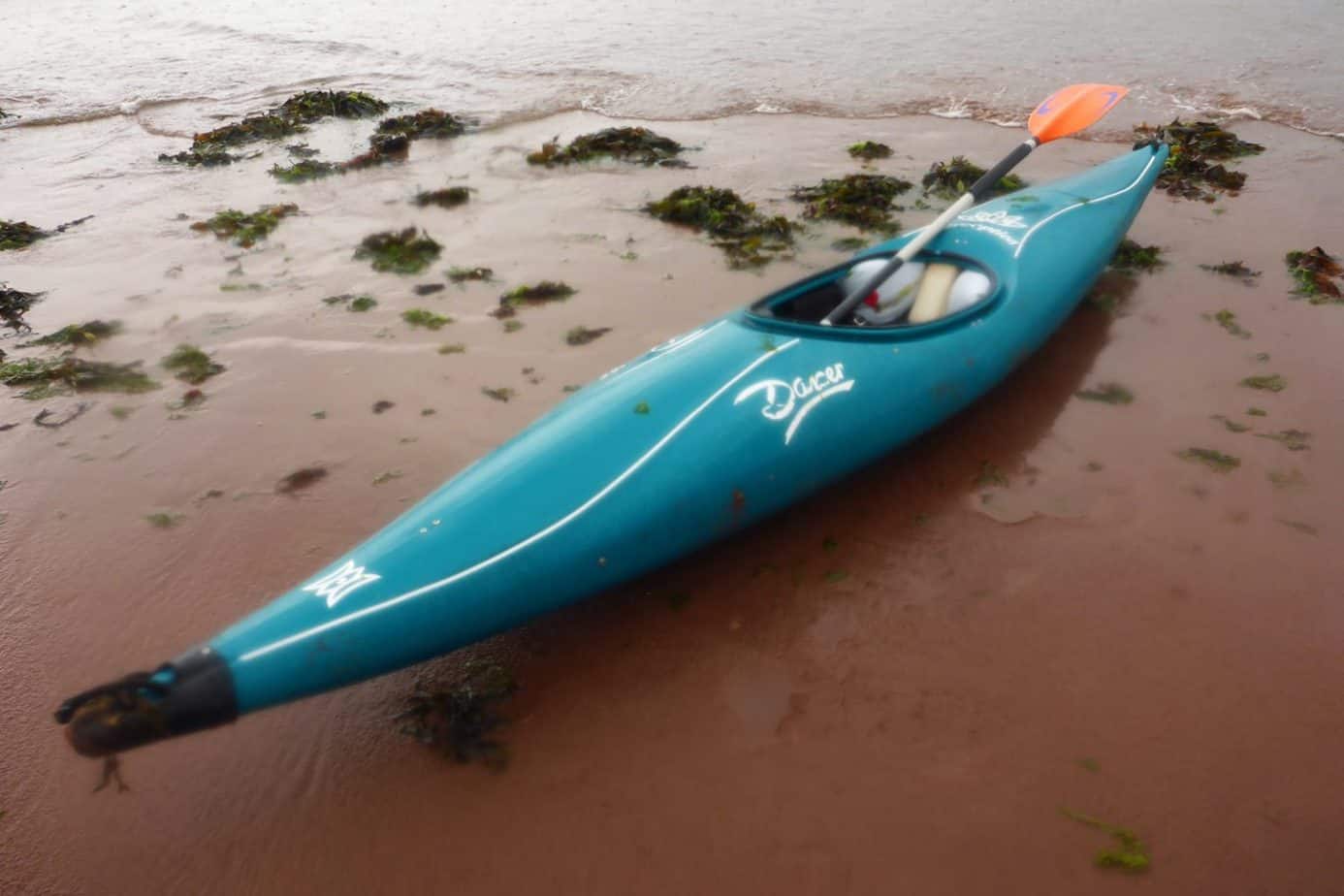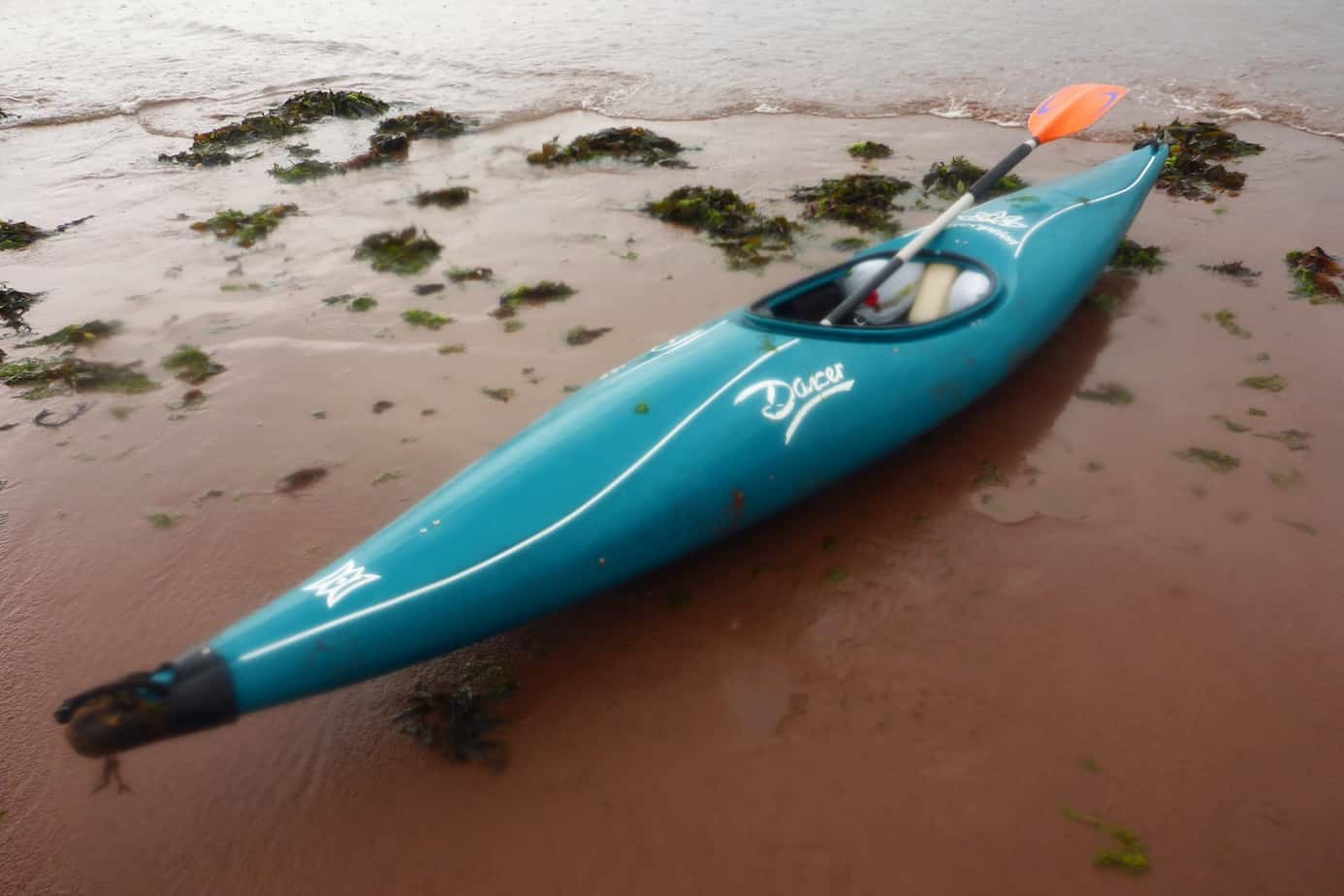 To be quite honest, it is tough for us to recommend the Perception Dancer. On a very basic level, the main problem that we see with finding these boats used is that even the newest models will be more than 30 years old.
While the Perception Dancer was a high-quality kayak back in its day, the plastic or polyethylene material used in kayak construction is naturally going to break down over time. Depending on how carefully it was stored, that process could occur at varying speeds.
Plus, the Dancer was predominantly a whitewater kayak in its heyday and, to be quite frank, most of the best whitewater kayaks out there these days are nowhere near 11'7" in length. Modern whitewater kayaks tend to be shorter because it allows you to maneuver them more quickly.
It's tough to imagine a nearly 12-foot kayak that can actually turn quickly when you need to avoid a rock or log. In addition, the relatively flat design of the hull (made that way for whitewater purposes) may translate to poor tracking if you use this kayak on calm lakes or slow-moving rivers.
Of course, you may find some people that suggest the less-than-average tracking ability of this kayak will make you a better paddler. There is some validity to that argument, but it's going to take a very determined paddler to put up with the squirly nature of the Dancer when used on flat water.
More likely, beginners will become frustrated with their inability to keep this kayak pointed in the direction you are trying to go. We don't want you to feel so frustrated with the handling of one of these kayaks that you abandoned the sport of kayaking altogether.
All of that being said, a well-maintained Perception Dancer could still be worth the relatively low price for anyone that's new to whitewater kayaking. We would just suggest paying no more than $100 for one of these used kayaks.
If you want some suggestions for alternatives, we'll cover them a bit later on in this guide.
Quick Tips For Buying A Used Kayak
Before we get into our quick suggestions of some modern whitewater alternatives to the Perception Dancer kayak, let's talk about a few quick tips for those of you set on buying a used kayak!
Ask To See It In Person
This might be a super obvious suggestion, but you may be surprised by how many people will buy a used kayak without actually seeing and inspecting it in person. While we all have to be respectful of health and safety protocols these days, we still recommend inspecting any used kayak in person before finalizing a purchase.
In addition, it is a good idea to avoid settling on a price before you've had a chance to see it in person as well. This will allow you to assess its condition, damage, and any other points that may be beneficial to you when it comes down to the final price negotiation.
Check The Seams
While the best way to do this is actually to put the kayak in the water and head out for a short paddle. You are going to have to find a very relaxed and trusting seller to allow you to do this before putting any money down on the kayak.
While there's a chance you could convince a seller to hold a small deposit on the vessel while allowing you to take it for a test run, the odds are you are going to have to do a visual check of the kayak on land when buying used.
What you are looking for here are cracks or holes at any location where it's obvious that two pieces of plastic or polyethylene were rotomolded or plastic welded together. Also, it's possible for cracks or holes to develop at any location, so it is best to perform a full visual inspection when you are buying a used kayak.
If you take a flashlight with you when you go to see the kayak, you can use it to more easily illuminate cracks that allow light to pass through them. This may require you to inspect the kayak in a dimly lit area like a garage, but if you can't make that happen, look for places where it seems like the plastic material has been stretched or dented.
Sit In It
Again, this might be quite obvious, but you should make sure that you are actually going to feel comfortable in the cockpit of any kayak you are thinking of purchasing. This tip is actually true for new and used kayaks.
Evaluate the comfort of the seat cushion, backrest, and footbraces, for starters. From there, you should carefully inspect whether the kayak is equipped with thigh braces to pad the tops of your legs from rubbing directly against the plastic (for sit inside kayaks only).
Look For Used Kayaks to Test At Local Guide Companies
One last resort you might explore is to call around to a few local kayak guiding companies in your area to see if any of them have a Perception Dancer in stock. Many of these companies have larger stocks of rental kayaks that are sometimes a decade or two old.
If you can find one, you can request a rental of that specific kayak for day use. That will give you an opportunity to paddle the kayak in your preferred paddling location before you fully commit to buying one.
A benefit of this strategy is that it can naturally transition to testing multiple different types of kayaks to help you find the model that feels most comfortable. There's no sweat off the back of the guide company because they will be earning a daily rental fee by allowing you to test the kayak (or kayaks) you are interested in.
Perception Dancer Kayak Alternatives
Check Price on Amazon
There's a reason why so many whitewater rafts are made of inflatable materials. They simply can handle bouncing off rocks and logs without sustaining damage better than most hard-sided kayaks.
So if you are just getting started as a whitewater paddler or if you are looking for something that can handle both flat water and river running, the McKenzie is a great choice. It is 10'2" long, 33 inches wide, and weighs approximately 37 pounds when fully inflated.
It can handle a maximum weight capacity of 300 pounds and features a total of four mesh drains that allow any water that accumulates inside the kayak to evacuate quickly. It also comes with a clip-in kayak seat and a storage backpack to keep everything in when you are not using it.
Therein lies one of the largest benefits of an inflatable kayak for whitewater paddling or recreational use. You can deflate it and store it easily in the back of a sedan, truck, or small storage area in your garage.
That means you don't have to have a lot of space to store it at home and it isn't a heavy load to transport with a kayak rack or kayak trailer. We'd just suggest getting one of these electric pumps to make inflating and deflating it easier before and after your paddling adventures.

One of the best things about the Perception Dancer was its lightweight design. For smaller paddlers, simply getting your kayak to and from the water's edge is difficult if your whitewater kayak is super heavy.
So, the Dancer was an awesome option for smaller paddlers because it was under 40 pounds. If you are looking for a lightweight whitewater kayak and you can't find a used Dancer in good condition, check out the RPM Action from Dagger Kayaks.
This kayak weighs just 40 pounds and holds a maximum weight capacity of 220 pounds. It has a similar volume as the Dancer at 60 gallons (228 liters) and offers a deck height of 13 inches.
The remaining dimensions of this kayak include an 8'11" length, 24-inch width, and cockpit dimensions measuring 34 inches long by 18 inches wide.
The RPM Action is great for river running, front surfing, and even performing slalom moves if you are a more advanced whitewater kayaker. It's equipped with a well-cushioned seat pad and adjustable bulkhead footbraces for added comfort and stability on the water.
Final Thoughts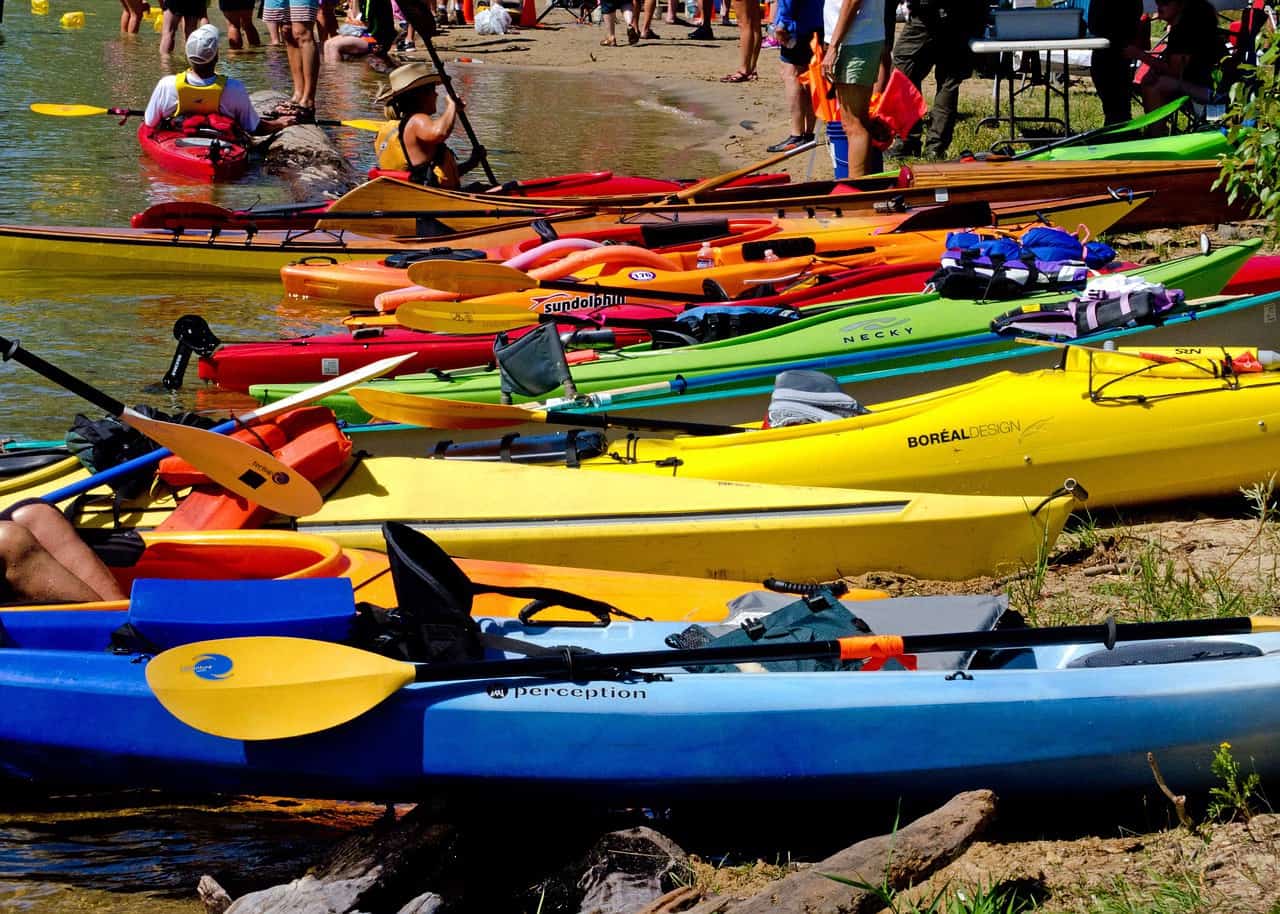 The truth of the matter is that used kayaks are a good idea for folks that are relatively new to kayaking. They allow you to spend less to get a working kayak that allows you to practice your skills and get more comfortable with all that goes into the sport.
That, of course, includes (but isn't necessarily limited to) packing kayaking safety equipment, transporting your kayak from home to your launching location, launching, landing, storing your kayak when you are not using it, and, last but not least, actually paddling!
A lot goes into just getting your kayak to the water's edge with all of the gear you need for a safe paddling endeavor. So it makes sense for beginners to spend a bit less when starting out.
This allows you to make sure that you will actually enjoy the act of paddling enough to justify everything else that goes into the sport. Unfortunately, the Perception Dancer is such an outdated model that it is going to be tough to find used models in good condition these days.
We hope, however, that you've found our suggestions for alternatives to be useful. We wish you the best of luck finding (and paddling) a used whitewater kayak that allows you to explore whether this is the right sport for you!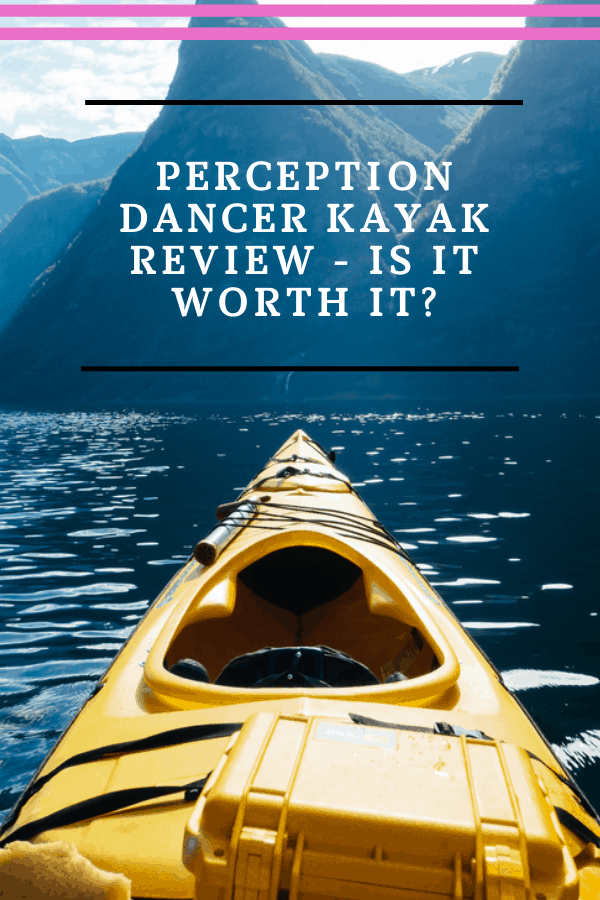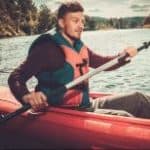 Author: Peter Salisbury
Pete is the Owner of KayakHelp.com. Born and raised in Cleveland, Ohio, he grew up kayaking, fishing, sailing, and partaking in outdoor adventures around the Great Lakes. When he's not out on the water, you can find him skiing in the mountains, reading his favorite books, and spending time with his family.