If you are interested in kayak touring or sea kayaking, you will need to consider some of the best 14-foot kayaks. This length is great for medium-sized paddlers and still boasts plenty of storage space for long expeditions.
Touring kayaks are best for paddlers with intermediate or advanced kayaking skills. For starters, they require more technical expertise when it comes to self-rescuing if you roll or capsize.
That said, there are reasons why more experienced paddlers love this type of kayak. They provide many important benefits over smaller recreational kayaks, such as higher top speeds and improved tracking ability.
In this guide, we are going to review some of the best 14-foot touring kayaks on the market. Plus, we will outline the most important characteristics to consider when choosing a 14-foot kayak!
Thumbnail
Title
BKC SK287 Angler Touring Kayak – 14.75-Foot Solo Distance Sit-in Travel Kayak for Open Water Paddling, Collapsible Paddle Included
BKC Brooklyn Kayak Company PK14 Kayak with Trolling Motor (GreenCamo)
Perception Carolina 14 | Sit Inside Touring Kayak | Large Front and Rear Storage | 14' | Dapper
Thumbnail
Title
BKC SK287 Angler Touring Kayak – 14.75-Foot Solo Distance Sit-in Travel Kayak for Open Water Paddling, Collapsible Paddle Included
Thumbnail
Title
BKC Brooklyn Kayak Company PK14 Kayak with Trolling Motor (GreenCamo)
Photo by Veronique Estie on Unsplash
Best 14-Foot Kayaks
Brooklyn Kayak Company SK287 Angler Touring Kayak
Perception Kayaks Carolina 14
Brooklyn Kayak Company PK14 with Trolling Motor
Eddyline Kayaks Equinox
Delta Kayaks Delta 14
Wilderness Systems Tsunami 145
Jargon Buster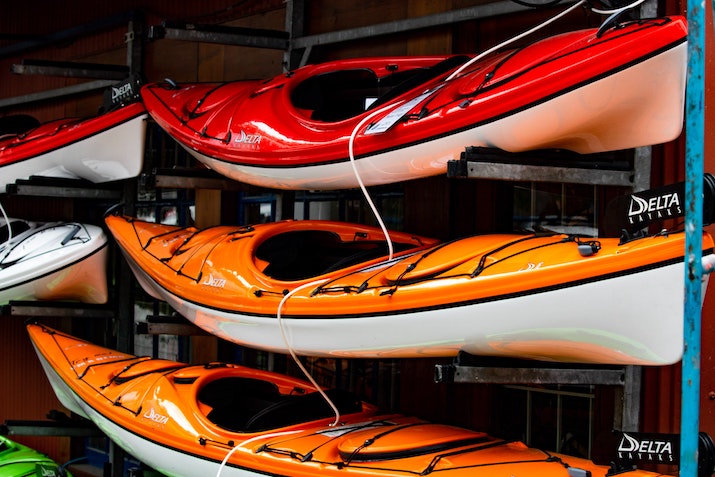 Photo by Bruno on Unsplash
Because of their specific function, touring kayaks are unique and different from other types. For that reason, we want to cover a few key terms that you will encounter throughout the rest of this guide.
Rudder
A kayak rudder is a fin that extends vertically down into the water at the stern of a kayak. It can pivot from side to side to help control the direction of your kayak and is usually operated by foot pedals inside the cockpit.
A rudder is connected to those foot pedals using some type of stainless steel cable or cord. Many can also be retracted to rest on top of the deck of the kayak when paddling in shallow waters.
Skeg
A kayak skeg is a retractable fin that extends down from a slot in the hull of the kayak. It is usually located near the stern of the kayak and also serves to help your kayak track straighter, but it does not pivot from side to side like a rudder.
The paddler can control whether the skeg is extended or retracted using a slider that is usually located on one of the gunwales next to the cockpit.
Beam
Beam is just a fancy term for the width of a kayak.
Buying Guide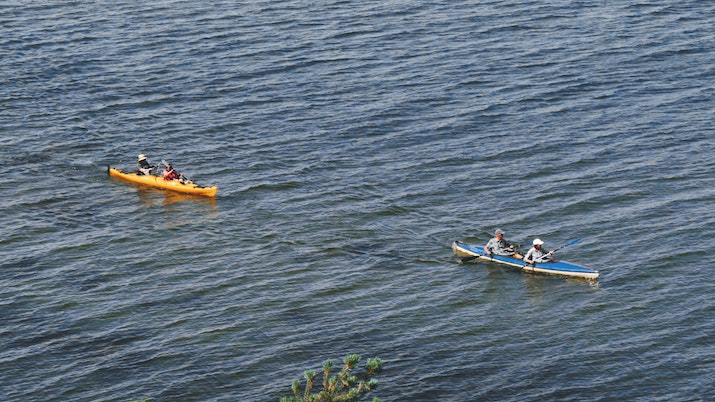 Photo by Lennart Uecker on Unsplash
If you are spending the kind of money that is required of the price tags on these 14-foot kayaks, you will want to be thorough in your buying process. So here are some concrete kayak buying tips to help you make the best selection possible.
Cockpit Size
Because you have already narrowed down our search to kayaks that are 14 feet long, you don't really need to worry about length in your buying process. You should, however, be conscientious of the size of the cockpit.
You will want a cockpit that has enough room for you to sit inside comfortably. On the other hand, a cockpit that is too large is going to add unnecessary width to your kayak as a whole.
While a wider kayak is more stable for beginners, it is counterproductive to the purpose of these longer touring kayaks. If you are seriously shopping for one of these kayaks, you should be looking for something that can cover some distance as efficiently as possible.
To that end, a skinnier kayak will have less drag as it glides through the water. That will not only make your paddle strokes more efficient, but it will also require less effort to get your kayak to your next destination.
Finding the correct cockpit size for your body, then, is a balance between enough space to be comfortable and too much space to drag your kayak down. To get a sense of the cockpit dimensions that will make sense for you, start by taking a few body measurements.
Measure across your body from hip to hip (use your iliac crest as starting and ending points for your measuring tape). At the same time, measure the total circumference of your belly at your midline (belly button).
Respectively, you can use these two measurements to compare to the width and length of the cockpits in the kayaks you are interested in. As a rule of thumb, try to allow for 3-6 inches of clearance between your body and the insides edges of your cockpit.
This will provide enough room to move around and it will also account for your extra girth when wearing one of the best kayak PFDs.
Rudder or Skeg? Both Or Neither?
The next decision you make is whether you want a kayak with a rudder, a skeg, both, or neither. As you would imagine, there are pros and cons to all of these options, so let's review them quickly.
Rudder Only
Best for especially windy or wavy locations. Minimizes the need for corrective paddle strokes because direction can be controlled by foot pedals.
Skeg Only
Good for shallower waters to improve directional tracking of your kayak. More easily extendable and retractable than a rudder, but doesn't offer nearly as much directional control.
Rudder and Skeg
Most control and versatility depending on weather, terrain, and other environmental factors.
Neither
Least amount of control. You will rely more heavily on correctional paddle strokes and the design of the kayak's hull for tracking and maneuverability.
Weight
These kayaks have a surprisingly wide range of weights that vary based on the materials they are built with. The heaviest options weigh northwards of 100 pounds and the lightest are barely over 40 pounds.
The model that makes the most sense for you depends on how you will transport your kayak. Obviously, a heavier kayak will also be more difficult to maneuver on the water, so that should also be considered.
The area in which a super-heavy kayak becomes really annoying, however, is when you are moving it around on land. That also includes loading and unloading it onto a kayak roof rack or kayak trailer.
If you have to raise and lower your kayak on and off the roof of your vehicle every time you want to paddle, a kayak that weighs over 100 pounds isn't going to be ideal for that. If you are okay with a heavier kayak like that, you will probably want to use a kayak trailer or have it permanently stored at a lakefront property.
For smaller paddlers and folks that don't want to wear themselves out before they even get on the water, a lighter kayak is king. Plus, it will allow you to load in more gear without feeling like you are paddling a waterlogged tree through the water.
Weight Capacity
Also, consider how much weight you will typically be loading into your kayak. If you plan on mostly using your kayak for day adventures, you probably don't have to worry as much about exceeding the capacity of any of these kayaks.
Once you begin to load in more gear for kayak fishing or overnight expeditions, however, you will have to be more cognizant of how extra weight will impact the overall performance of your kayak.
Every kayak manufacturer advertises a posted weight capacity for all the kayak models they produce. However, we recommend keeping the total combined weight of paddlers and gear below 70 to 80 percent of that posted capacity.
Kayaks won't immediately sink if they are overloaded, but their performance will suffer tremendously. In short, your kayak will become less stable, slower, and harder to maneuver if you load too much weight into it.
For practical purposes, add about 30-50 pounds to your body weight (or the combined weight of you and your paddle partner. This will give you a maximum threshold to compare to the kayak's weight capacities.
Just make sure you multiply those advertised capacities by 0.7 or 0.8 to get a better sense of the total weight you can load in while keeping that kayak fast and mobile.
14-Foot Kayak Reviews
Check Price On Amazon
The SK287 is the unique touring kayak offered by Brooklyn Kayak Company. It falls in the 14-foot kayak category, but actually measures 14'9" long and weighs just 44 pounds.
It can hold a maximum weight of 330 pounds and the cockpit measures 33.5 inches long by 17.75 inches wide. This touring kayak offers a retractable rudder at the stern that is operated by foot pedals in the cockpit.
It is also equipped to accommodate the kayak angler because it has two flush-mounted fishing rod holders located just behind the cockpit. These rod holders have flip-up covers to keep water from entering the openings when you don't have rods in them.
The foot pedals and seat inside the cockpit are fully adjustable and the seat is well padded for all-day comfort. There are also two waterproof storage hatches located at the bow and stern of this kayak.
In addition, there is bungee rigging on the bow and stern section of the kayak for securing additional gear. This is perfect for expeditions because it will accommodate one of the best kayak deck bags without any extra modifications.
The SK287 is also one of the few kayaks at this price point that comes with its own paddle. The aluminum paddle is adjustable to different paddle angles and also collapses into two pieces for easier storage and transport.
Check Price On Amazon
The Carolina 14 from Perception Kayaks is a great all-around 14-foot kayak for intermediate and advanced paddlers. It is only 24.5 inches wide at the cockpit, which reduces drag and makes it extremely efficient for long-distance paddling.
It also offers a deck height of 14.5 inches and a maximum weight capacity of 300 pounds. When empty, this kayak weighs 53 pounds, and the cockpit measures 39.5 inches long by 21.5 inches wide.
The seat in this kayak is the epitome of comfort for folks with bony behinds. It offers the kind of extra padding that will alleviate pressure and allow you to stay comfortable on longer paddles.
The seat angle is adjustable at the front so that it is easier to keep your knees slightly elevated. That makes for more comfortable paddling for most folks because it reduces the possibility of blood pooling around your knee joints when you are seated for hours at a time.
It also has knee and thigh pads on the undersides of the cockpit edges to protect the tops of your legs from rubbing uncomfortably against the hard plastic of the kayak. These pads also give you something cushy to press your knees and thighs against when executing a put across roll or another technical maneuver.
While the foot pedals inside this kayak don't control a rudder on the stern, they are adjustable for paddlers of varying heights. This kayak also lacks a skeg, so you will be manually controlling direction using your paddle strokes only.
That being said, the V-shaped hull on this kayak offers soft chines for a delicate balance between speed and stability. That hull shape allows it to naturally track straighter than a kayak with a shallower hull.
Finally, the Carolina 14 has dry storage in the bow and stern compartments. The bulkheads also provide added flotation to make this kayak extra safe when it is asked to accommodate heavier loads.
Check Price On Amazon
If you are looking for a tandem 14-foot kayak, the PK14 is a cool option. It is made primarily for fishing applications and it comes with a center-mounted trolling motor so that you don't always have to paddle to relocate.
The seats on this kayak are elevated and aluminum-framed for added support. This provides storage space underneath the seat for tackle boxes or other fishing gear.
The elevated seats also give you a better vantage point for fishing and the mesh netting stretched between the aluminum framing breathes well in hot conditions. With a 34-inch beam, it is also wide and stable enough to stand up inside for better casting.
If you plan to load a lot of gear into your kayak, this is one of the best choices on this list for that. It offers a maximum weight capacity of 670 pounds, which also makes it a better choice for larger paddlers.
Because it is a sit-on-top kayak, you also don't have to worry about the compact cockpit dimensions of some of the sit-inside kayaks on this list.
To aid in your fishing expeditions, this kayak is equipped with fishing rod holders, built-in storage hatches, and beverage holders to help you stay hydrated. It also features an open storage compartment at the stern that is perfect for a kayak cooler bag or your trolling motor battery.
The main drawback that I would point out about this kayak is that it weighs 103 pounds before you even load any of your gear into it. So you might want to look into how to build a PVC kayak cart to make it a bit easy to transport from your vehicle down to the water.

PC Eddyline Kayaks
The Equinox from Eddyline Kayaks provides a nice balance between a recreational sit-in kayak and a true touring kayak. For starters, it offers a slightly more open cockpit than a true touring kayak, which makes it more comfortable and easier to get in and out of.
With a 25-inch beam, this kayak is still narrow enough to perform well over long distances. In total, the cockpit measures 35 inches long by 18.5 inches wide and this kayak boasts a maximum weight capacity of 360 pounds.
At 45 pounds in unloaded weight, it also isn't a monster to try to turn or transport. Primarily, it is made for medium and large paddlers who are interested in exploring lakes, ponds, slow-moving rivers, and protected coastal bays.
In terms of storage, it boasts two bulkhead compartments that are accessed through one 17" oval hatch and one 8" round hatch, respectively. Ample bungee rigging on the deck gives you the ability to strap additional gear on top for longer trips.
On the hull, hard chines and light rocker provide excellent stability and above-average tracking in spite of the lack of a stern rudder or hull skeg. At the bow and stern, retractable carry handles secure in place while you are paddling instead of flapping around.
In the cockpit, this kayak boasts a sliding seating system. In conjunction with adjustable foot pedals, the sliding seat allows this kayak to accommodate paddlers of many different heights.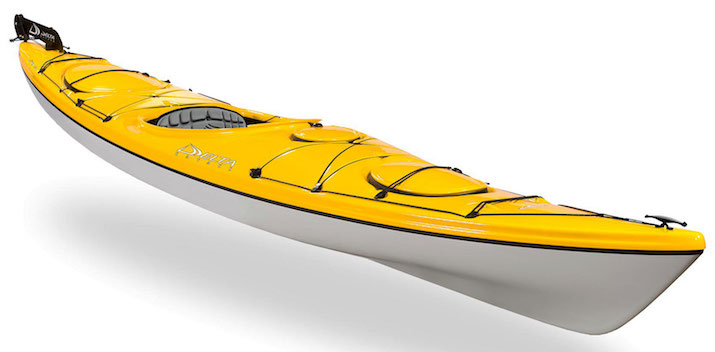 PC Delta Kayaks
Delta Kayaks is one of the most trusted names in touring kayaks. While they make a bunch of longer kayaks for distance touring, the Delta 14 is a reasonable length for smaller paddlers to handle.
This kayak combines a moderately shaped V-hull with a retractable stern rudder. This combination gives it excellent stability while also offering great speed and tracking ability.
The rudder is seamlessly controlled by the adjustable foot pedals in the cockpit for maximum directional control. Speaking of the cockpit, its dimensions measure 32 inches long by 17 inches across.
This kayak also offers a skinny, 23.5-inch beam, which contributes to its overall speed and efficiency. The kayak weighs 45 pounds before being loaded and offers a maximum weight capacity of 340 pounds.
There are a total of three storage hatches on this kayak, which provide a total of 54.8 gallons of storage. That storage space is divided between the bow (19 gallons), stern (34 gallons), and center (1.8 gallons) hatches respectively.
This storage design allows you to keep more items easily accessible for longer paddles, which is a convenient feature that will also reduce your need to strap an additional dry bag to the deck.
If you do need to do so, however, it offers plenty of deck bungee rigging to make it easy to do so.
PC Wilderness Systems
The Wilderness Systems Tsunami 145 is advertised as "the Swiss army knife of touring kayaks." It is a great option for larger paddlers and it is versatile enough to handle a wide breadth of different kayak applications.
The Tsunami is actually one of Wilderness Systems' longest-running kayak models, but it has recently been redesigned for added effectiveness. The waterline on the kayak was increased to make it even faster and more efficient.
They also increased the volume of the kayak that sits above the waterline and flared the sidewalls more to provide extra stability. In addition, they've added some features that make day-to-day living out of this kayak easier.
Mesh storage bags on the deck are designed for keeping smaller items close by for easy access. These bags can be completely removed, however, if you want to reduce drag or use that area for other purposes.
They also added an under-deck storage area inside the cockpit. For lovers of the beverage holders in most of the best sit on top kayaks, this solves the lack of beverage holders that plagues many sit inside kayaks.
To make sure we don't forget to mention them, the basic specs of the Tsunami 145 include a 25.5-inch beam and cockpit dimensions measuring 35.75 inches long by 20 inches across.
While it doesn't have a rudder or skeg, the narrow keel at the back of the hull provides excellent tracking ability. Oh, and it weighs just 56 pounds while offering a maximum weight capacity of 350 pounds.
Check Price On Amazon
The SK287 from Brooklyn Kayak Company is our top pick for the best 14-foot kayak because it is nimble and versatile. It can be used for long-distance kayak touring or expedition-style kayak fishing.
The biggest benefit that this kayak has over the competition on this list is the presence of a retractable rudder at the stern. This feature will drastically improve your tracking ability in adverse weather, even if it takes a little for inexperienced users to get used to operating it.
The SK287's increased adaptability to varying weather conditions was a major factor in this choice. If that's not enough to convince you though, it is also available at a more modest price point than many of the others.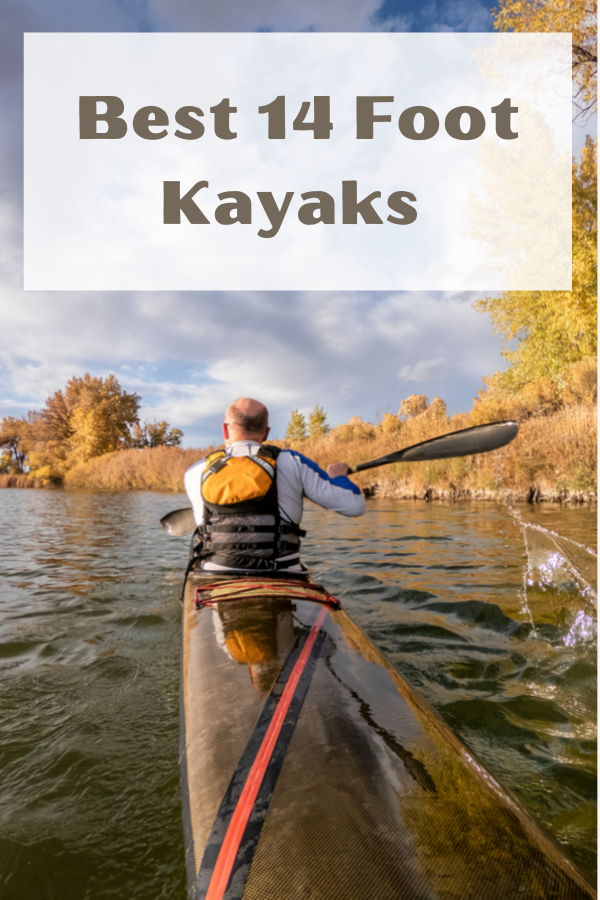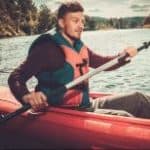 Author: Peter Salisbury
Pete is the Owner of KayakHelp.com. Born and raised in Cleveland, Ohio, he grew up kayaking, fishing, sailing, and partaking in outdoor adventures around the Great Lakes. When he's not out on the water, you can find him skiing in the mountains, reading his favorite books, and spending time with his family.