Ski movies have been an integral part of the mountain lifestyle for many years. Early filmmakers shot ski movies on low-quality cameras, but this didn't take anything away from the epic scenery, creative storylines, and death-defying stunts.
The 1980s and 1990s saw an explosion of ski movies. We also saw skiing and snowboarding shoehorned into mainstream feature films due to the sports' popularity.
Some of these films have cult status, while others are just entertaining. So in this post, we will go through some of the best 80s and 90s ski movies.
We have included movies that are pure ski films, while others will be based around winter sports or feature them. Either way, hopefully, you will get a good dose of nostalgia and get excited about this winter.
Also Read: Kayaking Movies & Documentaries
Best 80s & 90s Ski Movies
1. Apocalypse Snow (1983)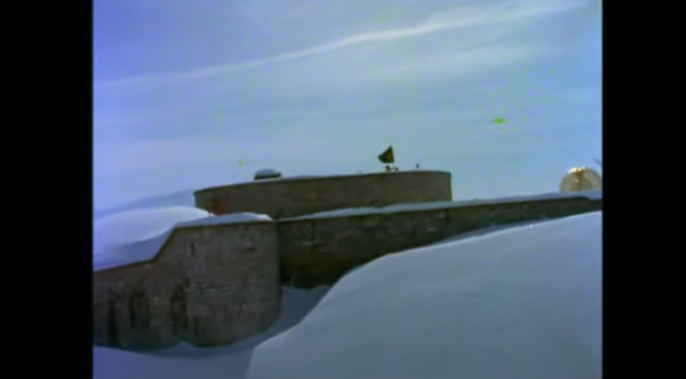 Image from YT
Apocalypse Snow is a French film based in Les Arcs. It has a unique storyline that could only come from the mind of a Frenchman who lives in the mountains.
The story involves a gang of zombie-like monoskiers that try to capture legendary snowboarder Regis Roland. Their goal is to steal the secrets of skiing (from a snowboarder).
With a retro synth soundtrack and brightly colored outfits, Apocalypse Snow is a definitive moment in snowboarding history in Europe. Regis Roland performs incredible stunts on very basic equipment provided by Winterstick Snowboards.
The idea of the film was to promote Winterstick as a brand while bringing attention to the newly opened resort of Les Arcs. Roland escapes from the Zombies, who also chase him on a hang glider and bizarrely, zorbs!
Clearly, the zombies didn't want to give up. Therefore, they chased Regis Roland down again in 1984 in Apocalypse Snow II.
Regis Roland was and still is a big name in European snowboarding. He was renowned for his straight-line speed and no-fear approach to snowboarding.
He started the snowboard brand Apocalypse, which changed its name to A-Boards in 1992 before it evolved into APO in 2002. Regis parted ways with the brand in 2014, but he continues to have a significant presence on the Euro snowboarding scene.
2. Hot Dog (1984)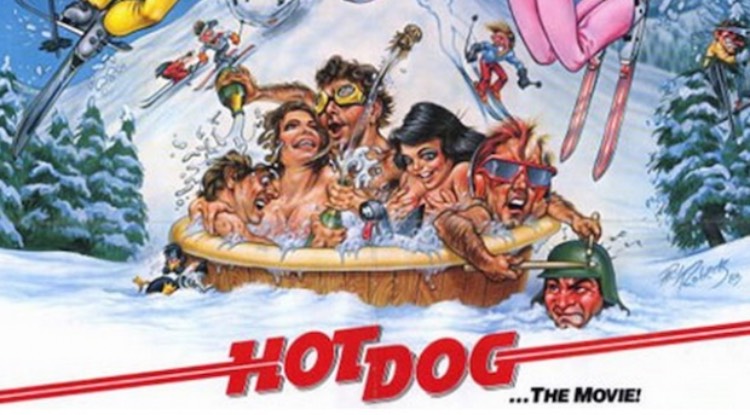 Image from Teton Gravity Research
Hot Dog is a comedy based in a California ski resort. The movie stars Patrick Houser, who plays Harkin Banks, a promising freestyle skier with a hunger to win competitions.
Banks travels from Idaho to enter a freestyle competition in Squaw Valley. His main rival is an Austrian called Rudi, whose ego and bad attitude make Banks more determined to win.
With help from a professional skier, Banks trains to win the competition to put Rudi in his place. But at the same time, he gets into a love triangle with a pair of local blonde beauties.
The skiing highlight of Hot Dog is the extended race scene at the end. A Chinese Downhill, where there are no rules, but the first skier down the mountain earns first place in the competition.
3. The Blizzard of Aahhh's (1988)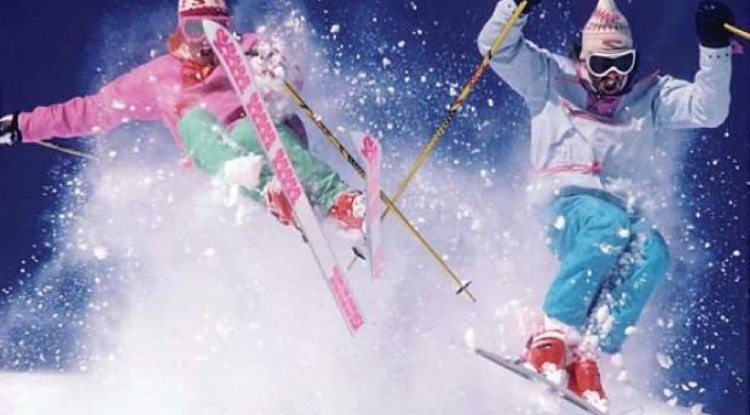 Image from CNN
The Blizzard of Aahhh's inspired a whole new generation of skiers back in the 1980s. The film was created by legendary director Greg Stump in a rockumentary style.
It featured some of the greatest extreme skiers of the day, including Glen Plake. Plake can be seen dropping massive cliffs while sporting his iconic mohawk hairstyle. He is a true 80s rockstar of skiing.
Even to this day, The Blizzard of Aahhh's captures some of the best skiing ever to be caught on film.
Greg Stump followed The Blizzard Of Aahhh's with many more ski movies. These included the parodies, License to Thrill, and Dr. Strange Glove.
His films always had a sense of humor while showcasing the world's greatest extreme skiers of the time.
4. License To Thrill (1989)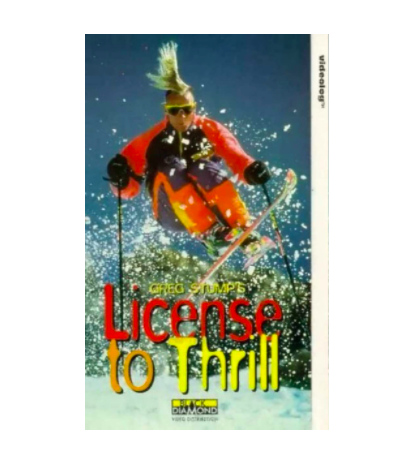 Image from IMDb
Another one of Greg Stump's excellent ski movies is License To Thrill. This one is the sequel to The Blizzard Of Aahhh's and features the same cast of extreme skiers.
License To Thrill takes freestyle skiing into the extreme arena. The locations for this film include the steepest terrain of Squaw Valley, Jackson Hole, and Blackcomb.
These areas have the gnarliest faces to showcase the skier's skills. The whole film is filmed with a thumping rock soundtrack, which makes it more exciting.
License To Thrill is one of those movies that makes you want to grab your skis and head up the nearest snowy mountain.
The stars of the film use the straight and long skis of the time to drop massive cliffs and steep faces. All while wearing fluorescent one-piece ski suits.
Even by today's standards, the standard of skiing in License To Thrill turns most skiers green with envy, as they aspire to be able to do the same.
5. Ski Patrol (1990)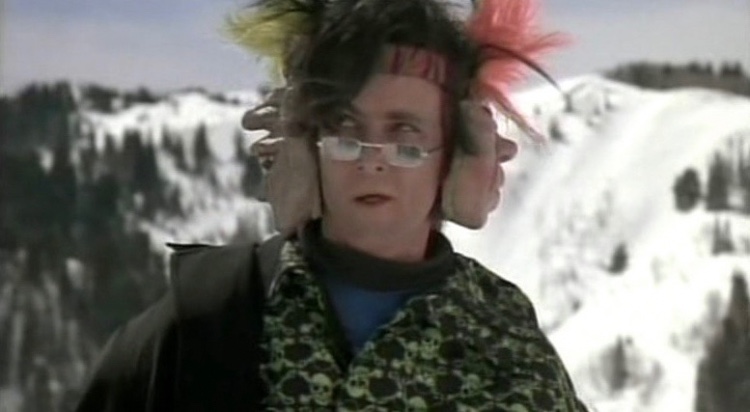 Image from IMDb
Ski Patrol was another comedy based in an American ski resort, Snowy Peaks. The plot is based around a group of local skiers that try to protect their resort from an evil property developer.
This is a very silly film in a familiar style to anyone who has watched a Police Academy film. There are definite similarities to some of the Police Academy characters too.
Most of the characters are part of the Snowy Peaks Ski Patrol. Jerry, the senior member of the patrol, is in love with a local ski instructor, Ellen. Then you have Iceman, who is a singer and master of impressions, and many other characters with their own individual quirks.
The film sees the gang fighting an evil property developer that wants to take over Snowy Peaks. While they try to do this, they get into all sorts of antics while keeping the mountain safe.
The film has a party atmosphere to it, in typical 80s style. Another indication of the era is how anti-snowboard the ski patrol is. They target one snowboarder in the resort who goes to skis, but they don't like that he fitted them with rockets.
6. Better Off Dead (1985)
Image from Screencrush
Better Off Dead is a black comedy from 1985, starring a very young John Cusack. Cusak plays a high school student that gets dumped by his girlfriend for a bully ski jock, sending him into a deep depression.
He decides that his only way out of his misery is suicide. But he fails to kill himself on several occasions. Therefore, he tries to impress his ex-girlfriend by skiing the steepest mountain in town but crashes, embarrassing himself.
But he meets a girl who teaches him to ski properly and builds his confidence. With his newfound skills, he challenges the bully to a ski race.
The film had a mixed reception when it was released. Some people hated it, while others loved its mix of anarchic humor and surreal comedy.
There are some bizarre animated parts of the film that can easily go over your head. But if you like dark humor, the 80s, and skiing, you will like Better Off Dead.
7. Copper Mountain (1983)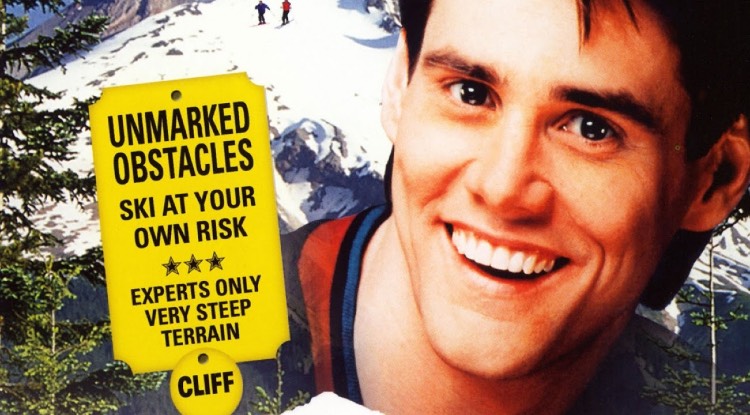 Image from Celebritizer
Copper Mountain is a typical 80s comedy set in a ski resort. The film stars a young Jim Carrey as a failing pickup artist while his friend (played by Alan Thicke) trains to perfect his skiing.
If you are not a fan of Jim Carrey, you will hate this film. He turns his zaniness up to 110% while he makes impressions and routines to pick up women.
Copper Mountain is actually a semi-promotional film for the Club Med Ski Resort in Colorado. Various country and R&B artists perform throughout the film as examples of what to expect when you stay in the resort.
Thicke's character's efforts pay off as he wins the local ski competition. While Carey's character realizes all he has to do is be himself to attract women.
8. Aspen Extreme (1993)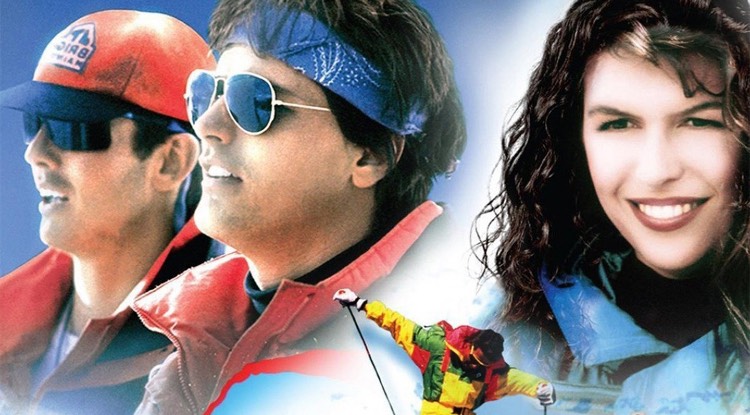 Image from Rotten Tomatoes
Not all ski films from the 80s and 90s are zany comedies. Aspen Extreme is a drama about two friends T.J. Burke and Dexter Rutecki. These guys leave their hometown of Brighton, Michigan, for the high-end ski resort of Aspen, Colorado.
Their goal was to leave their dead-end jobs to find a better life as ski instructors. However, they get caught up in a seedy world of drugs and women. These problems and issues at work threaten to ruin their friendship.
While they try to resolve their problems, they enter a Powder 8 ski competition. The competition brings them back together until Dexter is killed in a backcountry accident.
At the time, Aspen Extreme was referred to as Top Gun on ski slopes by the Seattle Times.
9. Ski School (1991)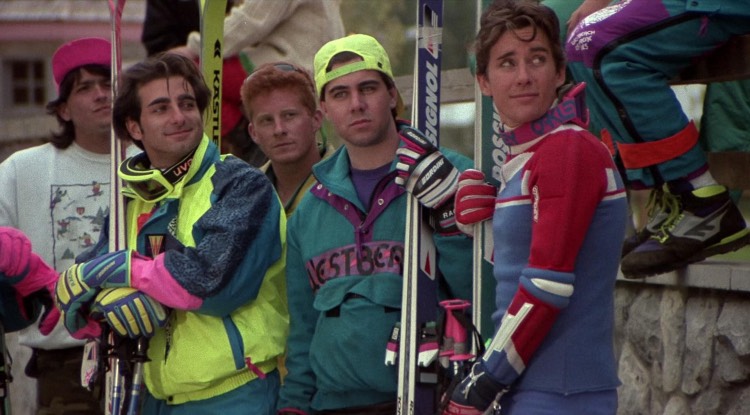 Image from IMDb
Even though Ski School was filmed in the 90s, it still has a very 80s vibe to it. It was a time when there was a blurred line between the two decades, and we had not quite evolved into the new era yet.
The film is set in a fictional ski school and has a party on the mountain vibe to it. Like many films of the time, Ski School sees two rival gangs of skiers trying to one-up each other.
The two rival groups of skiers are pretty stereotypical of 80s films. One group is rich and serious, while the other group is filled with party animals.
The party animals need to face the straight-laced guys to save their jobs so they can finish the season. To do this, they recruit a new hotshot skier to the team to help them win the end-of-season competition.
Throughout the film, the party animals play a series of hilarious pranks on the other team.
If you take into account when Ski School was filmed and don't mind some mild sexism, Ski School is a fun movie with a predictable format for the era.
10. Fire And Ice (1986)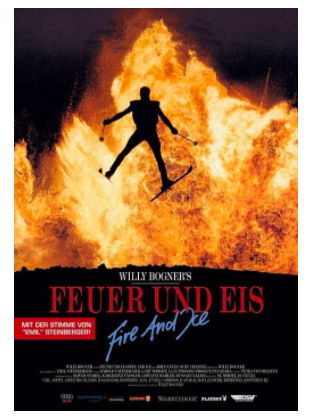 Image from IMDb
Fire And Ice was created by Willy Bogner; you may recognize Bogner's name, thanks to his distinctive luxury ski clothing.
This film is a defining moment in action sports filmmaking. The plot sees pro skiers John Eaves chasing Suzi Chaffee as she travels around various American and Swiss ski resorts.
Throughout the film, you are treated to visually exciting action accompanied by music by Grammy Award winner Harold Faltermaier, who wrote the music for Beverly Hills Cop.
Fire And Ice also features other action sports such as snowboarding and windsurfing. The film gets experimental for the time, too, with sandboarding, wind-snowboarding, and ice sailing.
11. Hot Tub Time Machine (2010)

Image from NPR
Not strictly an 80s ski movie, Hot Tub Time Machine is mainly based in a ski resort in the 80s. The film follows four friends who travel back to 1986 after a malfunction with a hot tub. They must find a way to return to 2010.
The ski resort they are in is where the friends used to party when they were younger. Three of them assume their younger bodies, while one remains unchanged, as he wasn't born yet.
There are references to a few of the films we have already mentioned in this list. Especially Better Off Dead, as John Cusack stars in both. The guys struggle to adapt to their surroundings due to cultural and technological differences.
Hot Tub Time Machine is a zany farce that is more bonkers than even the title suggests. The film is very funny thanks to its quick-wittedness and occasional lapse in taste.
The film was popular enough for a sequel, which sees some of the original cast sent into the future, but on an alternate timeline.
12. For Your Eyes Only (1981)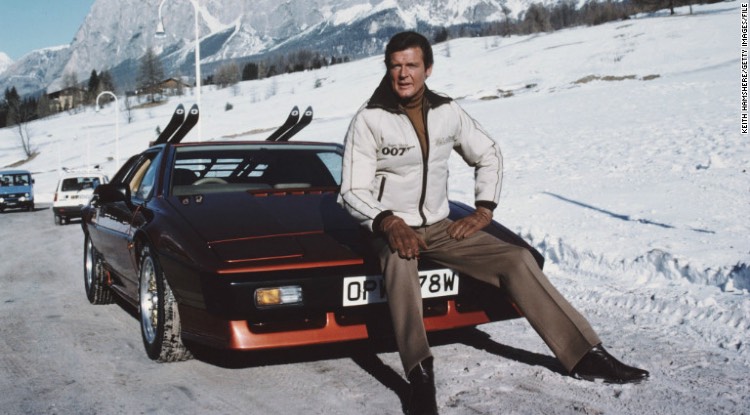 Image from CNN
Not really a ski movie, but For Your Eyes Only has an iconic ski chase. This chase is regarded as one of James Bond's best chase sequences and is filmed in Cortina, Italy.
At the start of the chase, Bond tries to evade assassination by joining a ski lift queue to the top of a ski jump. As he sets off down the ski jump run-in, he has to fight a henchman before trying to outrun two on motorbikes.
After dispatching one henchman, Bond skis down a bobsleigh run and escapes through a farm after jumping over a barn on his skis.
The chase is pretty impressive, especially when you consider the ski equipment available at the time. But, the fact that the motorbike rider managed to ride through the ice bobsleigh run is possibly more impressive.
13. Steep And Deep (1985)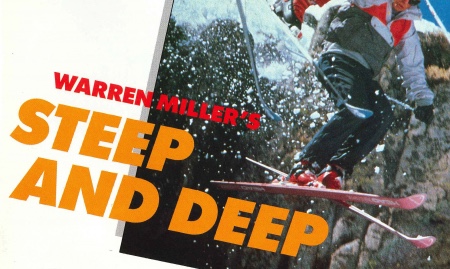 Image from Warrenmiller.com
Warren Miller was pivotal in snow sports cinematography. He created many ski films and is regarded as a pioneer in the genre.
One of his films, Steep And Deep, saw the dawn of extreme skiing and snowboarding as we know it. It features winter sports athletes such as Stein Eriksen, Phil Mahre, Billy Kid, Craig Peterson, shaping modern skiing and snowboarding into what it is today.
Steep And Deep follows the skiers and riders to several extreme ski destinations around the world. They travel coast to coast across America, go to the French Alps, Japan, and New Zealand.
The film is an excellent insight into the pioneers of extreme skiing and snowboarding. They will stop at nothing to push their limits while using very primitive ski and snowboard equipment.
Warren Miller was one of the first ski film directors to feature several countries and ski areas in one film.
14. Snowballing (1984)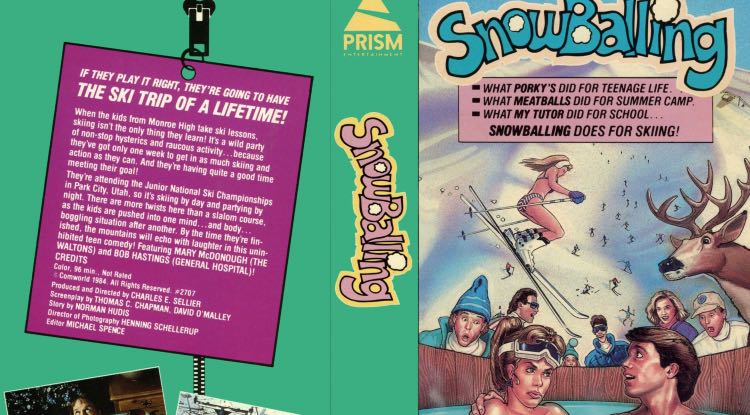 Image from IMDb
Snowballing takes us back to the familiar 80s comedy ski movie format. The plot sees a busload of kids from Monroe High School arrive at a ski resort for a vacation.
They are there to have fun on the slopes and to attend the National Championships For Ski Enthusiasts. The film's main characters are three guys on a mission to ski, find girls, and get as much action as possible in seven days.
However, as soon as they arrive, the local sheriff takes a dislike to them, and the greedy resort owner has raised the prices of everything, ripping everyone off.
The guys try to get the police involved, but they soon realize that the sheriff is covering up the illegal activity in the resort. So in true 80s ski move style, the only way the boys can attract the girls is to wow them in the ski competition.
Despite the poster art, Snowballing is a pretty tame film when you compare it to Ski School. It is definitely a PG film, with mild hijinks you would expect from young teens in the 80s.
15. A View To A Kill (1985)
Image from AWE365
A View To A Kill is another James Bond film featuring another iconic chase scene on snow. This time Bond had to find 003's frozen body in a mountainous area of Siberia, as the dead agent was carrying a microchip storing vital information.
Bond finds 003's body and retrieves the microchip. But he gets spotted by a Soviet soldier on patrol, who alerts the rest of his platoon.
An exciting ski chase ensues; Bond's ski gets damaged with gunfire as he tries to escape. But he manages to steal a Russian soldier's snowmobile in a creative way, using a grappling hook.
Bond manages to jump off the snowmobile before a helicopter blows it up with gunfire, smashing it into pieces. This is when we learn that Bond is not only an excellent skier, but he can also shred on a snowboard.
He grabs a snowmobile ski that landed in the snow next to him and rides it like a snowboard. You cannot help but smile during this scene, especially if you are a snowboarder.
Bond fights off two Soviet soldiers with a backside air out of a natural quarterpipe. He then drops enormous cliffs to the sounds of The Beach Boys, evading more Soviet soldiers.
The highlight of the scene is when Bond skims over a pond perfectly, while the chasing soldiers don't make it. You can see that this section was filmed in one take, as there are no other tracks in the snow.
Roger Moore's stunt double for the snowboard scene was Tom Sims. Sims was one of the founders of modern snowboarding and started his own snowboard brand in the early 80s.
Final Thoughts
The pure ski films mentioned above were seminal moments of extreme skiing as we see it today. Every snowsport enthusiast should watch them to see how their sports have evolved and how extreme these people were.
Modern ski films may have more tricks, spins, and advanced photography, but the results early filmmakers got carrying heavy camera equipment into the mountains is pretty incredible.
Then you need to think about the skiers and snowboarders themselves. These people didn't have anyone telling them how to drop cliffs, ski steep mountain faces, and it was even more challenging for snowboarders.
When it comes to the feature films of the 80s and 90s, you will either love them or hate them. They are a sign of the times, so you need to take them with a grain of salt.
Watching these films growing up was fun, but watching them back now reveals some cringy moments. But doesn't this add to the fun?
Hopefully, you will watch a couple of these films and they will stoke your enthusiasm for hitting the slopes this winter.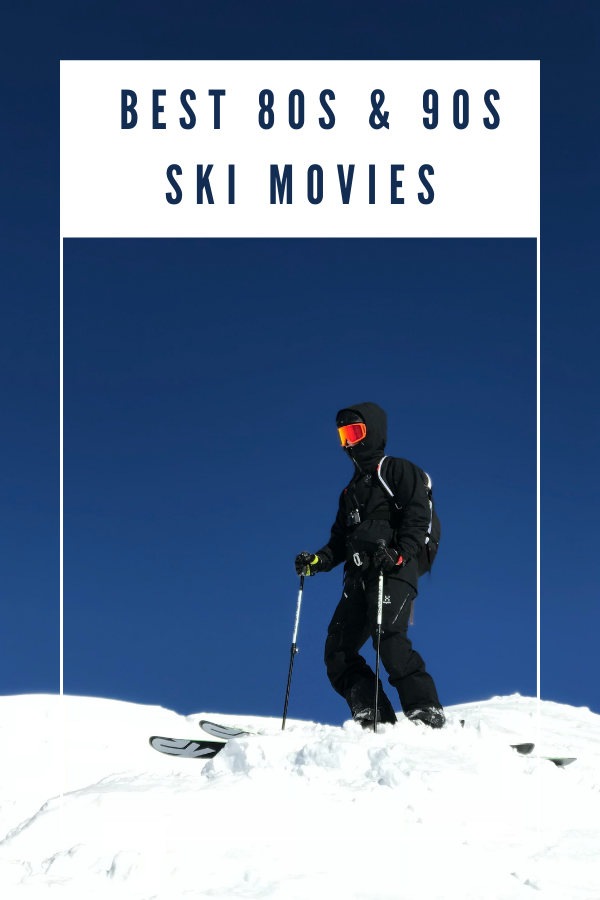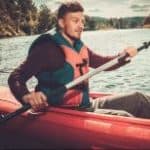 Author: Peter Salisbury
Pete is the Owner of KayakHelp.com. Born and raised in Cleveland, Ohio, he grew up kayaking, fishing, sailing, and partaking in outdoor adventures around the Great Lakes. When he's not out on the water, you can find him skiing in the mountains, reading his favorite books, and spending time with his family.