When you first take up bass fishing as a hobby, you might be able to make do with whatever kayak you have on hand.
But as your skills improve and you start to take the activity a little more seriously or start thinking about exploring different waterways, you will need to invest in a proper fishing kayak.
A purpose-built bass fishing kayak can offer you increased convenience, stability, maneuverability, and a host of features to help you go where you want and catch what you want the way you want it.
With all the options on the market, figuring out the right bass fishing kayak can be a daunting task.
Not to worry, we are going to analyze and highlight the best bass fishing kayaks available today so you can easily figure out which is right for you and your fishing escapades.
Thumbnail
Title
Driftsun Teton 120 Hard Kayak - 2 Person Tandem Sit-On-Top Kayak Package with 2 EVA Padded Seats, 2 Aluminum Paddles and Fishing Rod Holder Mounts (Green/Blue)
Lifetime Hydros Angler Kayak with Paddle, Sandstone, 101"
BKC UH-RA220 11.5 Foot Angler Sit On Top Fishing Kayak with Paddles and Upright Chair and Rudder System Included (Grey CAMO)
Sevylor Colorado 2-Person Inflatable Fishing Kayak with Paddle & Rod Holders, Adjustable Seats, & Carry Handle; Kayak Can Fit Trolling Motor
Hobie Mirage Passport 12 Pedal Drive Kayak with MirageDrive GT Kick-Up Drive (Sand)
Thumbnail
Title
Driftsun Teton 120 Hard Kayak - 2 Person Tandem Sit-On-Top Kayak Package with 2 EVA Padded Seats, 2 Aluminum Paddles and Fishing Rod Holder Mounts (Green/Blue)
Thumbnail
Title
Lifetime Hydros Angler Kayak with Paddle, Sandstone, 101"
Thumbnail
Title
BKC UH-RA220 11.5 Foot Angler Sit On Top Fishing Kayak with Paddles and Upright Chair and Rudder System Included (Grey CAMO)
Thumbnail
Title
Sevylor Colorado 2-Person Inflatable Fishing Kayak with Paddle & Rod Holders, Adjustable Seats, & Carry Handle; Kayak Can Fit Trolling Motor
Thumbnail
Title
Hobie Mirage Passport 12 Pedal Drive Kayak with MirageDrive GT Kick-Up Drive (Sand)
Best Bass Fishing Kayaks
Check Price on Amazon
The Driftsun Teton 120 is a hardshell kayak that's ideal for a variety of activities including bass fishing, touring, and recreation. It is made with rotomolded high-density polyethylene which offers excellent strength and UV resistance.
The 12' foot two kayak is designed as a tandem boat so you can bring along a family member or friend on your fishing trip to make it twice as fun.
However, the Driftsun Teton 120 allows you to mount your seat in the center on days when you're only up for solo paddling. This means that you won't need to buy two separate boats for solo and tandem kayaking.
This durable kayak comes with all the essential features you need to make your bass fishing expedition a success.
It's fitted with a rear tank well storage with bungee cords, built-in cup holders, two mounting points, two waterproof storage hatches with inserts, and four flush mount rod holders.
The kayak also comes with paddle rests, adjustable paddles with ergonomic grips, scupper plugs for self-bailing ports, and adjustable/removable padded seats with plenty of support for your back.
The Driftsun Teton 120 has an impressive weight capacity of up to 650 lbs, so you can fit yourself, a partner, and a small child and still have room for your kayak fishing gear.
If you don't have thousands of dollars to throw down but still want a quality kayak that will serve your needs as you explore freshwater and marine terrains for your next catch, consider getting the Lifetime Hydros Angler Kayak.
It's a sit on top lightweight kayak that only weighs 41 pounds with a height of 10.5 inches, so it's very convenient to log around without assistance.
Lifetime Hydros Angler Kayak is constructed with blow-molded high-density polyethylene. This makes it highly resistant to impact, UV damage, and a range of other environmental factors that cause kayaks to wear and tear quickly.
This kayak has a molded-in swim-up deck and multiple footrest positions that can be adjusted to suit the height, size, and preference of different paddlers.
It also provides a bunch of additions to elevate your fishing experience such as an adjustable rod holder, shock cord straps, and two flush rod holders.
Lifetime Hydros Angler Kayak comes with a paddle, so you won't need to spend extra buying one. You should have no trouble transporting this kayak to and from the water easily thanks to its center carry handle and front t-handle.
There's a lot to love about Brooklyn Kayak Company's RA220 Angler from its stylish design and its wide range of color choices to the plethora of accessories it offers.
Constructed of single-piece rotomolded high-density polyethylene material, this kayak is capable of withstanding everything the water throws at it without cracking, peeling, or fading.
Whether you're planning on taking your fishing skills to the lake, river, or open sea, the BKC RA220 Angler will keep you stable all through even if you encounter rough waters or fast-moving currents.
You can even stand up on the deck of the kayak to cast your rod and reel in your catch without worrying about losing your balance and taking a swim in the water.
The Brooklyn Kayak Company RA220 Angler is equipped with an aluminum frame seat with ergonomic support, a pedal-operated rudder, an adjustable paddle, and two paddle parks.
It also includes three watertight storage hatches, two flush mount rod holders, a bungee tie-down for securing your cargo, and one articulating rod holder for deploying multiple lines at once.
With a load capacity of up to 550 lbs and ample waterproof storage space, you can pack enough supplies and kayaking gear for a multi-day fishing adventure.
Sevylor Coleman Colorado is one of the best bass fishing kayaks you can get. The inflatable nature of the kayak makes it very convenient to use.
With this kayak, you no longer have to worry about how to transport your kayak or where to store it after each stint on the water.
Sevylor Coleman Colorado is made with 18-gauge PVC with 840D nylon cover and 1000D tarpaulin protection, all of which work to provide great protection against tears and scrapes.
On the off chance that your kayak gets punctured, Sevylor Coleman Colorado provides multiple air chambers to ensure that you can remain afloat and continue enjoying your adventure.
The kayak will serve you best in lakes and waterways where sharp rocks, fallen tree branches, and other obstacles do not abound. Although the Sevylor Coleman Colorado is designed as a tandem unit, it can function conveniently as a solo kayak.
It's also very easy to set up and it comes with paddle holders, latch points, detachable rudder, rod holders, and plenty of storage pockets for mounting or holding fishing equipment and outdoor gear.
All in all, Sevylor Coleman Colorado provides great value for its price and adequate performance for people who just want to do basic fishing.
Powered by the revolutionary MirageDrive pedal propulsion technology, the Hobie Mirage Passport 12 is equipped to take you wherever you want to cast your reel on your next kayak fishing trip.
It has everything you could desire in a fishing kayak including a Power-Pole Micro bracket for mounting a shallow water anchor, space for a transducer, and a scupper for installing fishfinders.
Hobie Mirage Passport 12 comes with a paddle and four carry handles conveniently positioned at the stern, bow, left, and on either side of the kayak to give you multiple options for moving the kayak.
It also features an innovative steering system with an easy-grip rudder, accessory tracks, two molded-in rod holders, one twist and seal hatch, gunnel and under-seat storage, and two deck bungees.
The Passport 12 promises you total comfort and freedom of movement thanks to its wide cockpit area and breathable mesh seat. The 12-foot kayak comes with EVA floor padding which provides unflinching support while stretching, standing, or casting lure.
This sleek kayak is built for long days on the water so you can wait however long it takes to get the fish to bite without putting unnecessary strain on your body. It has a weight limit of 400 lbs, which is enough to fit all of your equipment and personal belongings.
Pelican's Sentinel 100X Angler is one of the best bass fishing kayaks for anglers who want a relaxing and stable kayak fishing experience in slow-moving and calm waters.
The sit on top kayak's spacious cockpit makes climbing in and out of it a breeze even for beginners.
With the flat-bottom hull on the Pelican Sentinel 100X Angler, you are guaranteed maximum stability when casting and reeling regardless of your paddling or fishing style.
The Pelican Sentinel 100x Angler is packed with all the essential accessories you'll need for an unforgettable fishing experience. This includes two rod tie-downs, paddle holders, flush mount rod holders, and accessory eyelets for installing your favorite gear.
This lightweight kayak is also fitted with a smartphone holder and drain plug and it has enough storage to meet your needs. Standing at 9'6'' and weighing only 44 lbs, you'll find the Pelican Sentinel Angler easy to load, unload, and store on your own.
If you want a kayak that gives you great speed, maximum return on effort, and the ability to paddle long distances with minimal force, the Pelican Sentinel 100X Angler would be ideal for you.
With polyethylene construction, the OC Paddle Fishing Kayak is durable and flexible enough to tolerate all kinds of water conditions. So you can choose to go bass fishing in a lake one day and try casting lines in the ocean the next day.
Its cushioned seats come with adjustable back support to suit paddlers of various sizes and ensure you're completely comfortable for the duration of your trip. The kayak's deep and wide profile makes it incredibly stable on the water.
As long as you don't employ any outrageous or unsafe tactics, you won't have to worry about the kayak flipping over and causing problems for you.
OC Paddle Fishing Kayak is suitable for both novice and experienced fishermen. It comes with two rear molded rod holders, a two-piece aluminum paddle with a paddle holder, and two adjustable rail-mounted rod holders with a customizable sliding rail system.
Storage isn't an issue with this kayak because it comes with a roomy storage area in the rear and two sealed storage compartments for holding any gear you don't want to get water on.
Weighing only 58 pounds, OC Paddle Fishing Kayak is sufficiently lightweight so transporting it shouldn't be too much of a hassle. There are fixed stern and side carry handles to help you convey the kayak to the waterfront and back.
If you want to diversify your fishing experience from a solo activity to a joint affair involving someone else, the Aquaglide Blackfoot Angler 160 is one of the finest tandem bass fishing kayaks on the market.
It is designed for advanced anglers who like to chase fish in flat water like lakes and slow-moving rivers. Aquaglide Blackfoot Angler has an astounding 800 lb maximum weight capacity.
Forget about spending just an afternoon on the water. With this high-performance kayak, you can turn your fishing excursions into a multi-day kayak camping trip. It has plenty of room to hold as much gear as you can carry.
In addition to two adults, Aquaglide Blackfoot Angler 160 has extra room on board for a child, pet, or any leftover gear that couldn't fit into the storage compartments.
The kayak has lots of cool features such as a drop-stitch hard-bottom floor, storage bag, repair kit, fishing cooler, adjustable footrests, EVA traction pad, and Halkey-Roberts Valve adaptor.
It also provides scupper drains, deck cargo bungees, tie-down loops, stainless steel D-rings, molded plastic carry handles, and universal accessory mounts for installing cup holders, rod holders, cameras, and other fishing gear.
Another excellent bass fishing kayak that's worth investing in is the Lifetime Tamarack Angler 100. You won't experience a moment of discomfort in this kayak thanks to its padded seat and adjustable seat back.
The kayak is manufactured using blow-molded high-density polyethylene material, making it resistant to harsh UV rays, as well as tears and punctures that may arise as a result of impact with rocks and sharp objects.
Lifetime Tamarack Angler 100 gives you all the accessories you need for a hassle-free fishing adventure including two flush mounted rod holders and one adjustable rod holder.
It also provides shock cords in the front and rear, a paddle holder for securing your paddle, front and rear t-handles for easy carriage, and two storage hatches beneath the deck for holding added baggage.
The kayak's deep hull channels enable you to traverse long distances while expending minimum force and maintaining stellar performance and stability.
What's more, when you purchase a Lifetime Tamarack Angler 100, you will get a paddle alongside the package. This way, you won't have to spend extra cash buying the right-size paddle for the kayak.
For sophisticated anglers who are looking for a kayak that can provide unparalleled speed and performance, Point 65 Sweden Kingfisher is hands down one of the best bass fishing kayaks to throw money on.
The Kingfisher is incredibly fast but still provides extreme balance and stability to support stand-up fishing.
It has a unique design consisting of modular parts that can be split apart, making it easier to carry, store, and transport the kayak inside the truck or back seat of most cars.
One of Point 65 Sweden Kingfisher's most impressive features is its ImpulseDrive pedal system which comes with various gear ratios for propelling you forward. It can also be used to drive you backward—one of only a handful of options with this functionality.
The InpulseDrive pedal system is an optional add-on so you can choose not to purchase it and save a few bucks. However, doing so will mean having to paddle the kayak with your hands, which can get in the way of casting and reeling.
The kayak's double-sided, hand-controlled rudders make it very easy to steer and control even in tight conditions. Point 65 Sweden Kingfisher also comes with an adjustable game chair and a rear storage area with floor-mounted rails and bungees.
The Brooklyn Kayak Company is known for manufacturing some of the best kayaks around. Its PK11 Angler model is a testament to this fact.
The kayak is built to help you maximize your outdoor excursions so it cuts through currents and moves through water with ease. It's equipped with lots of features that the experienced fisherman will appreciate without sacrificing portability, agility, and stability.
With the Brooklyn Kayak Company PK11 Angler, you'll be getting adjustable foot straps, generous cargo compartments with dry bag inserts, and a hand-operated rudder for precision movement.
You can free your hands to focus squarely on luring and catching fish thanks to the kayak's high-efficiency pedal drive system. You can even upgrade the kayak with a trolling motor to enjoy greater performance.
Other enriching features available in the BKC PK11 Angler include an adjustable aluminum paddle, ergonomic frame seat, bungee cargo tie-down, two paddle parks, and three molded-in rod holders.
The kayak's rotomolded high-density polyethylene construction enables it to handle optimally in all kinds of waterways from lakes to the open seas.
Whether you're scouting new spots or visiting your favorite bass fishing spot, the remarkable tracking abilities and nimble profile of the Saturn Pro Angler 13 FK396 will enrich your adventure.
This inflatable fishing kayak is made of heavy-duty 1100 Dtex PVC with a high-pressure air deck that enables it to remain remarkably sturdy when inflated.
The kayak's manufacturers take great care to make the craft very resistant to tears, punctures, and abrasions by fortifying the floors, exterior tubes, and the area between the benches with a double layer of PVC.
Saturn Pro Angler 13 FK396 features two removable aluminum benches that you can use to mount fish finders, rod holders, dive flags, GPS units, anchor mounts, video cameras, or any other hardware you may desire.
It comes with cargo space in the front and bow, a removable fin for directional stability, and eight high-strength D-rings for installing optional kayak seats. The Saturn Pro Angler also offers many possibilities for customization so you can tweak it to suit your personal style.
If you want the rigidity of a hardshell kayak with the portability of an inflatable kayak, look no further than the Elkton Outdoors Steelhead.
When inflated right, the kayak's drop stitch floors allow you to stand and fish as you would on a plastic craft. Elkton Outdoors Steelhead is designed for all kinds of fishing activities be it in salt, brackish, or fresh waters of deeper or shallow depth.
The lightweight craft is fitted with high-back EVA seats that can be adjusted to fit different paddler heights and weights. It also includes a removable skeg, breakdown paddle, adjustable footrests, high-pressure hand pump, and side, bow, and stern carry handles.
Elkton Outdoors Steelhead has a spacious bungee storage area with extra cargo rook at the stern and bow. So if you're planning a multi-day fishing trip, you won't have trouble finding where to stash your belongings.
This kayak gives you five modular equipment mounts for installing accessories like downriggers, bait trays, rod holders, fish finders, and more.
Goplus Single 12 is a quality sit in kayak that's built to last. It has a simple, aesthetically-pleasing design that prioritizes performance and flexibility over bells and whistles.
The kayak's bottom is designed with a hard-wearing keel which furnishes you with increased stability and minimal water and air resistance. This means that the possibility of your kayak flipping over is extremely low unless you make an intentional effort to get it to capsize.
Every Goplus Single 12 package includes a detachable anti-rust paddle made with aluminum and high-density polypropylene material. Additionally, the kayak is rigged with a detachable rudder for executing turns and navigational changes.
The Goplus Single 12 has an adaptable foot pedal that can be modified to accommodate riders of varying heights.
The kayak is intended for fishing trips of all durations so you can count on its ergonomic seat to keep you feeling relaxed and comfortable no matter how long you spend on the water.
Last on our list of best bass fishing kayaks is the Spatium Foot Pedal Kayak. This sit on top model weighs 83 pounds with a maximum load limit of 330 lbs.
While it may not be light enough to be loaded and carried by one person, the Spatium Foot Pedal Kayak makes up for this by providing excellent tracking and performance on the water.
Among this kayak's feature highlights are paddles, rotary rods, a stern metal rudder system, and a belt-driven pedal system for propelling the craft forward and backward.
The Spatium Foot Pedal Kayak is not shy about wading through currents, tides, surf, and waves. So regardless of where you plan to go kayak fishing, you can rest assured that it's equal to the task.
Conclusion
The type of kayak you use while bass fishing can make or break the experience and determine whether you go home grumpy and disappointed or with a nice catch.
Not every kayak can offer you the capabilities you need to have a fruitful fishing expedition. However, the kayaks on this list are some of the best in the business and will no doubt live up to your needs and expectations.
Just pick one that suits your budget and intentions and start planning your next fishing trip.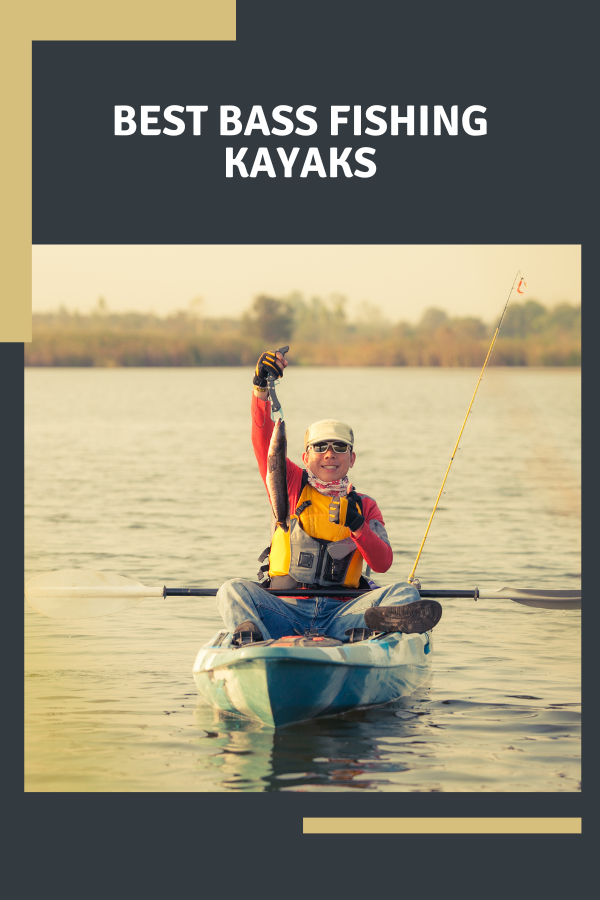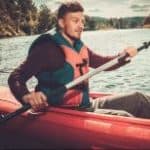 Author: Peter Salisbury
Pete is the Owner of KayakHelp.com. Born and raised in Cleveland, Ohio, he grew up kayaking, fishing, sailing, and partaking in outdoor adventures around the Great Lakes. When he's not out on the water, you can find him skiing in the mountains, reading his favorite books, and spending time with his family.