There are certain waterways and lake regions where paddling a canoe is preferable to paddling one of the best day touring kayaks. If you don't have a reliable paddle partner, however, you will need to find one of the best solo canoes.
Fortunately, there are plenty of options to choose from and some of the best canoe brands out there make solo models. Today, we are going to review 15 of the best options out there to help you narrow down your choices.
Keep in mind that paddling a canoe is much different than paddling a kayak. For one, it really isn't efficient to use a kayak paddle to propel a canoe (although some canoe models are specifically built for that!).
Secondly, self-rescue, when you are paddling a canoe, requires very different skills and accessories than what you would need for a sit-on-top kayak. So you may consider joining a canoeing 101 class or signing up for private lessons before making the transition from kayaking to canoeing.
That being said, we want to highlight the 15 best solo canoes we trust. Plus, we will cover some basic buying criteria that you can employ to choose the right solo canoe for your specific needs!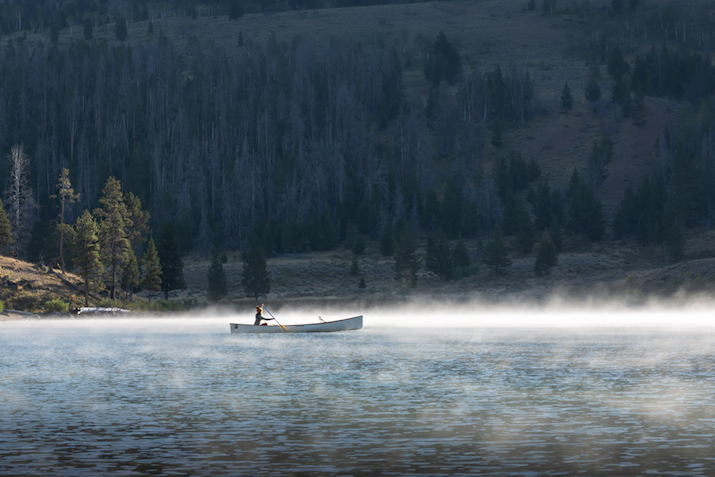 Photo by Evan Austen via Shutterstock
Best Solo Canoes
Old Town Discovery 119 Solo Canoe
Grumman G-129 Solo Canoe
Old Town NEXT Solo Canoe
Wenonah Down River Argosy Solo Canoe
Nova Craft Trapper Solo Canoe
Nova Craft Fox Solo Canoe
Nova Craft Supernova Solo Canoe
Merrimack Canoe Company Baboosic Solo Canoe
Hemlock Canoe Works Nessmuk Solo Canoe
Hemlock Canoe Work Falcon Series Kestrel Solo Canoe
Esquif Canoes Adirondack Solo Canoe
Esquif Canoes Echo Solo Canoe
Placid Boatworks SpitFire Solo Canoe
Placid Boatworks Shadow Solo Canoe
L.L. Bean Royal River Solo Canoe
Solo Canoe Buying Guide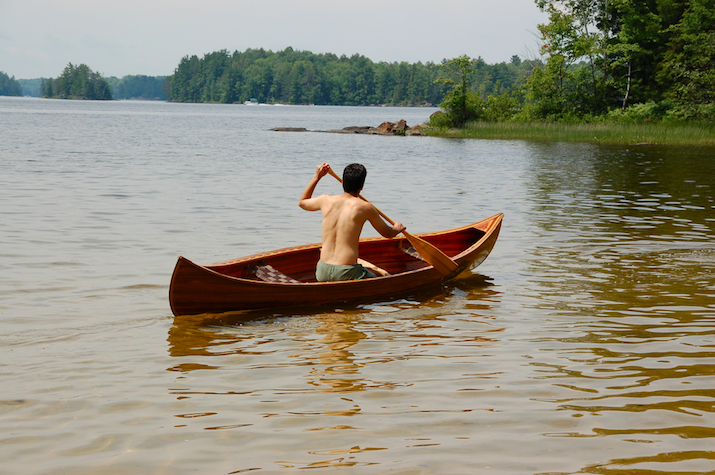 Photo by Joel Blit via Shutterstock
Canoe designs are obviously very different from kayak designs, which means you will need to look closely at different features during the buying process. Here are a few important criteria to consider when you are shopping for one of the best solo canoes:
Canoe Weight
Your two-person canoe can be heavier because you will have a second person to help you carry it. When you are interested in a solo canoe, you will need to be comfortable carrying all of that weight on your own.
Also, keep in mind that you will probably load anywhere from 25 to 50 pounds of paddling gear into your canoe for most trips. So you will need to add that to a canoe's dry weight to determine whether or not you will be confident transporting that much weight.
Your canoe's weight will come into play in a variety of situations. That includes loading and unloading it onto a trailer or the top of your vehicle, portaging it between waterways, or even just getting it from the parking lot to the edge of the water.
If you are completely uncomfortable with a canoe's weight, but you love all of the rest of its features, you aren't out of luck. You can also build your own PVC rolling cart to make transporting your kayak over short distances a whole lot easier.
Also Read: Tandem Kayak vs Canoe
Seat Position and Design
Many of these solo canoes boast more traditional nylon-webbed seats that are mounted about halfway between the top of the center gunwales and the bottom of the cockpit.
This seat position will require you to maintain an upright body position on your own and use a traditional canoe paddle.
Some designers, however, have taken a more versatile approach to create a canoe that can be propelled with either a single-bladed or double-bladed paddle. These designs usually boast some type of aluminum-framed seat that sits slightly higher inside the canoe.
This seat is similar to what you will find on the best river fishing kayaks and will be more comfortable because you are able to recline slightly into the seatback.
This design, however, is really best for experienced canoe paddlers because it can make the canoe slightly less stable (due to the higher center of gravity when seated at an elevated position).
Weight Capacity
If you are simply looking for a canoe for casual day paddles, most of these models will handle the weight of you and your gear without fail. For those of you that are interested in using a canoe for multi-day river expeditions, however, will need to pay closer attention to weight capacity.
Combine your body weight with the estimated weight of all the paddling/camping gear, food, and water you will load into your canoe for your trip.
That weight should not exceed roughly 80% of the canoe's advertised weight capacity if you want your canoe to perform up to its capabilities and keep you safe on your journey.
Solo Canoe Reviews
Check Price On Amazon
Length: 11'9"
Beam: 32.5"
Weight: 49 pounds
Weight Capacity: 500 pounds
The Discovery 119 Solo canoe is built by the fine folks at Old Town Canoes and Kayaks. It is one of the most affordable and durable solo canoes out there because it boasts a triple-layered polyethylene hull.
It is ideal for beginner and intermediate canoe enthusiasts and is best suited for casual day trips and short-distance explorations. The nylon webbed seat at the center of the canoe is breathable for hot days and also resistant to UV degradation.
The length and width of this canoe make it reasonably efficient when paddling straight, but also agile enough to handle narrower creeks and streams. It is also reasonably stable as you are getting used to paddling a canoe.
While this canoe model is best suited to be paddled with a traditional, single-bladed canoe paddle, the seat sits high enough to allow you to use a double-sided kayak paddle as well.

PC Canoeing.com
Length: 12'9"
Beam: 29.5"
Weight: 48 pounds
Weight Capacity: 585 pounds
The Grumman G-129 is a pack-style canoe that is slightly longer and skinnier than the previous two options. This narrower design makes it more efficient for long-distance expeditions and also provides more interior storage space for your camping equipment.
The seat is set down into the cockpit of the canoe, but it remains high enough to make paddling it with a double-sided kayak paddle a possibility. It is a traditional-style canoe seat without a back or the ability to be adjusted.
The G-129 also boasts a low-profile design that minimizes wind resistance to help you exert less effort to cover long distances. It also features a standard canoe keel and two ribs that provide plenty of lateral support.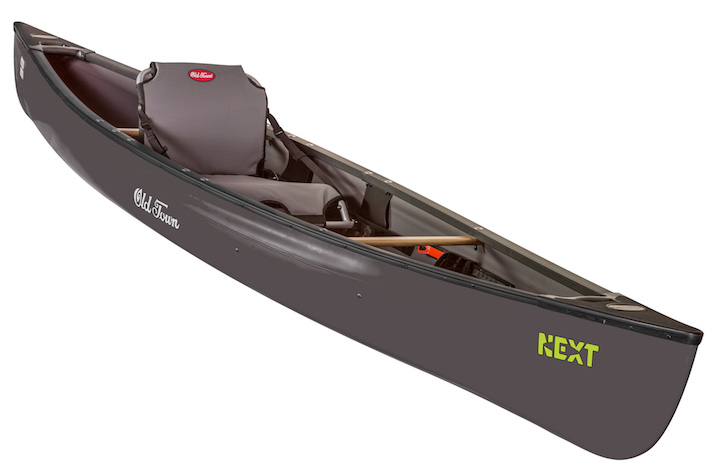 PC Old Town Canoe and Kayak
Length: 13'
Beam: 29"
Weight: 59 pounds
Weight Capacity: 450 pounds
The Old Town NEXT canoe is the closest thing to a canoe-kayak hybrid that you will see on our list. It boasts the same type of aluminum-framed mesh seat that you will find on many of the best sit-on-top fishing kayaks.
In fact, this canoe features a flat bottom and a low profile that allows you to paddle it with a single-bladed or double-bladed paddle. It also features an adjustable support-track foot brace system that helps you maintain a more ergonomic and efficient paddling position.
The NEXT canoe is made with a triple-layered hull that provides excellent durability. From bow to stern, you will enjoy the subtle amount of rocker in the hull for more efficient straight-line paddling.

PC Wenonah Canoe
Length: 14'6"
Beam: 30.25"
Weight: 46 pounds
The Wenonah Down River Argosy canoe is designed for river and stream paddling. It can handle wide, slow-moving rivers, but it also handles reasonably well on narrower creeks with small rapids.
The keel boasts an added rocker that helps you make quick maneuvers and it is stable enough for you to lean confidently in one direction to make tighter turns. Overall, however, this canoe is designed for intermediate and experienced paddlers.
The Argosy Down River Canoe is reasonably lightweight and offers the kind of volume you need to handle turbulent waters. There are also lighter versions of the Wenonah Argosy canoe that weigh 43 and 30 pounds, respectively.

PC Nova Craft Canoe
Length: 12'
Beam: 34"
Weight: 45 pounds
Weight Capacity: 490 pounds
The Trapper Canoe from Nova Craft boasts excellent primary and secondary stability, which makes it a very versatile option. It can handle the demands of canoe fishing and also maintain stability in rough waters.
When you do need to cover some ground, however, this canoe moves very efficiently over the water and you will also have plenty of storage space for overnight gear if you are looking for a canoe for multi-day river trips.
The original version of the Trapper is light enough for trips that require short portages, but there are lighter versions (as low as 30 pounds) available as well. This is also a great canoe for beginners because it is forgiving when you are working on perfecting skills like the forward sweep stroke.

PC Nova Craft Canoe
Length: 14'
Beam: 32"
Weight: 50 pounds
Weight Capacity: 550 pounds
Nova Craft's Fox solo canoe is best for flat water on lakes and slow-moving rivers. It features a symmetrical hull with a shallow arch bottom and a slight tumblehome that makes it easier to paddle without knocking your knuckles against the gunwales.
The minimal rocker from bow to stern also keeps it quite nimble when you need to make quick maneuvers. Experienced paddlers will love the secondary stability of the hull if you want to lean over and paddle "Canadian-style".
The Fox canoe's original version isn't quite as lightweight as some of the other models above, but you will have several different construction options to choose from. The lightest option (Aramid Lite) weighs just 34 pounds.

PC Nova Craft Canoe
Length: 14'10"
Beam: 32"
Weight: 47 pounds
Weight Capacity: 850 pounds
The Nova Craft Supernova is an expedition-grade solo canoe made for the serious and experienced paddler. It boasts a substantial weight capacity that also makes it a great selection for larger paddlers.
The canoe features a more moderate rocker that provides more responsiveness in gentle whitewater. It has the maneuverability and stability to handle that long-distance whitewater river trip that you have always dreamed about completing!
The Supernova also features a symmetrical hull and shallow arch bottom that makes it efficient for those stretches of slow-moving water between rapids. So while it is best for experienced and skilled paddlers, it can also be fun for the family on casual lake days.

PC Merrimack Canoe Company
Length: 14'
Beam: 29.75"
Weight: 40 pounds
Weight Capacity: 550 pounds
The Baboosic canoe from Merrimack Canoe Company is built for everything from backcountry canoe camping trips to freestyle canoe endeavors. It is built for speed over long distances but also remains exceedingly agile when you need to make quick maneuvers.
There are several construction options you can choose from that utilize either lightweight fiberglass or a combination of kevlar and carbon fiber. All options are reinforced with ribs made with cherry hardwood that also give the interior of this canoe a unique appearance.
The Baboosic canoe is completed with a gel-coat outer finish to provide UV protection and a glossy appearance. You can also choose a custom floor print or engraved deck plate to get a canoe that is truly going to be one-of-a-kind.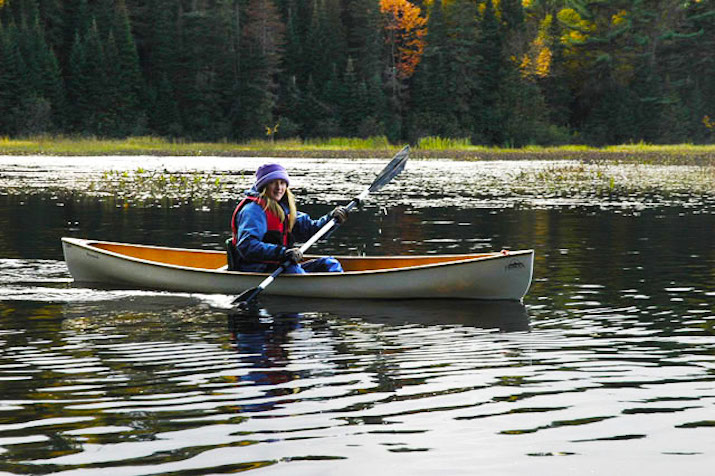 PC Hemlock Canoe Works
Length: 10'6"
Beam: 27"
Weight: 16 pounds
Weight Capacity: 225 pounds
The Hemlock Canoe Works Nessmuk canoe is the lightest option on our list, which makes it best for folks that are going to embark on trips that require long portages. It can also be a great option for smaller paddlers that don't want to lug a heavy canoe around.
The Nessmuk is also really easy to paddle and extremely seaworthy. It is modeled after a replica of the canoe that was built for George Washington Sears in preparation for his Adirondack cruise in the summer of 1880.
It is easily the most transportable canoe on our list and can be paddled from either a seated or a kneeling position. It should also be noted that, while the advertised capacity is 225 pounds, the more efficient capacity is between 125 and 175 pounds.

PC Hemlock Canoe Works
Length: 14'9"
Beam: 27.5"
Weight: 32 pounds
Weight Capacity: 300 pounds
The Falcon Series Kestrel canoe is still super lightweight but provides quite a bit of extra length, storage space, and carrying capacity. It is made for solo touring on backcountry lakes and is light enough to be carried between waterways in places like Voyageurs National Park.
This canoe is designed to be super-efficient for long-distance paddling, but it also provides plenty of stability and agility. Because of the narrow design, however, the Kestrel is best for intermediate and experienced paddlers.
If you are loving the design of the Kestrel, you should also take a look at the Peregrine canoe, which is the other half of the Falcon Series. It is slightly longer and boasts additional carrying capacity.

PC Esquif Canoes
Length: 12'
Beam: 31.5"
Weight: 42 pounds
Weight Capacity: 400 pounds
The Adirondack model from Esquif Canoes is made with T-formex material that makes it highly durable while maintaining its lightweight properties. The nylon-webbed seat is mounted at a convenient height that makes it possible to paddle with a single or double-bladed paddle.
This canoe is stable enough to handle flat water lakes and slow-moving rivers, as well as your weight shifts if you are interested in canoe fishing. The position of the yoke behind the seat gives you a great location for adding a fishing rod holder.
The Adirondack also offers plenty of storage space for an overnight adventure. Or, you can utilize that space to bring your dog out on the water with you!

PC Esquif Canoes
Length: 14'
Beam: 29.625" to 31.875"
Weight: 45 pounds
Weight Capacity: 850 pounds
The Echo model from Esquif is designed for long-distance canoe expeditions and it also has the kind of carrying capacity that will instill more confidence in larger paddlers. In spite of its longer design, it remains quite nimble and easy to maneuver in moving water.
It is equally at home on flat water lakes and rivers with up to class II whitewater. It also provides great tracking ability for multi-night adventures and excellent secondary stability for more technical paddling maneuvers.
The Esquif Echo canoe is also made with durable and lightweight T-formex material with a nylon-webbed seat and a shallow arch bottom.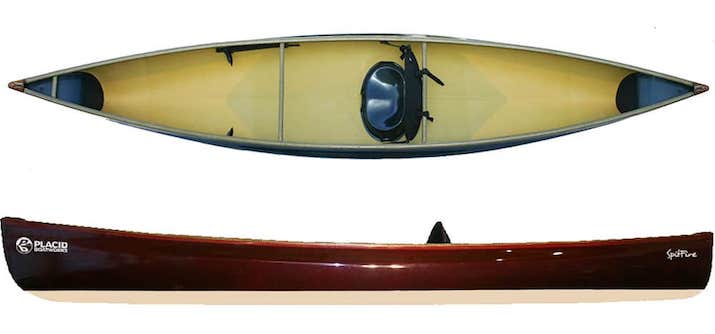 PC Placid Boatworks
The SpitFire canoe is another excellent lightweight option for smaller paddlers and trips that involve long portages. It boasts an incredibly comfortable seat with adjustable back and foot pedals for more ergonomic paddling.
It is designed to help smaller paddlers utilize a double-sided kayak paddle to keep up with more experienced, single-blade paddlers. That said, it also provides efficient tracking and excellent agility for folks making the transition from kayaking to canoeing.

PC Placid Boatworks
The Shadow solo canoe made by Placid Boatworks has the same useful crossover features as the SpitFire, but its extra length makes it a great option if you want something that can help you grow into long-distance or multi-day canoe trips.
This canoe is also a great fitness canoe for intermediate paddlers looking to increase their paddling stamina. It handles well in all types of water conditions and will help you train for your next canoe expedition.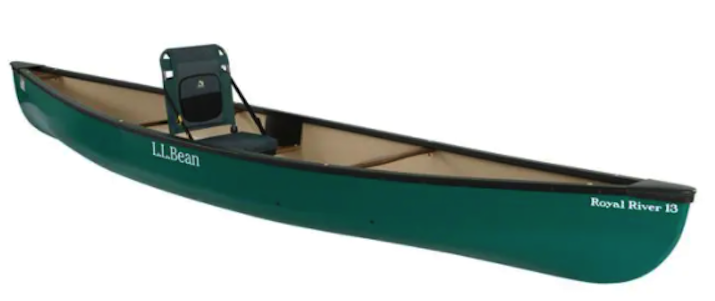 PC L.L. Bean
Length: 13'
Beam: 31"
Weight: 47 pounds
The L.L. Bean Royal River solo canoe offers a more comfortable seat than some models, but that adjustable seat can also be removed if you want to utilize the more traditional nylon-webbed seat underneath it.
This canoe is super versatile and can handle casual paddles, canoe fishing, and even multi-day camping expeditions. The material used in the construction of this canoe is called T-formex, which is a lightweight and durable ABS plastic laminate that is used on many of the best solo canoes.
The material is abrasion-resistant and helps to keep the canoe's overall weight to a minimum. There is plenty of room inside for all of your camping and paddling gear and the canoe is light enough to be carried over short portages.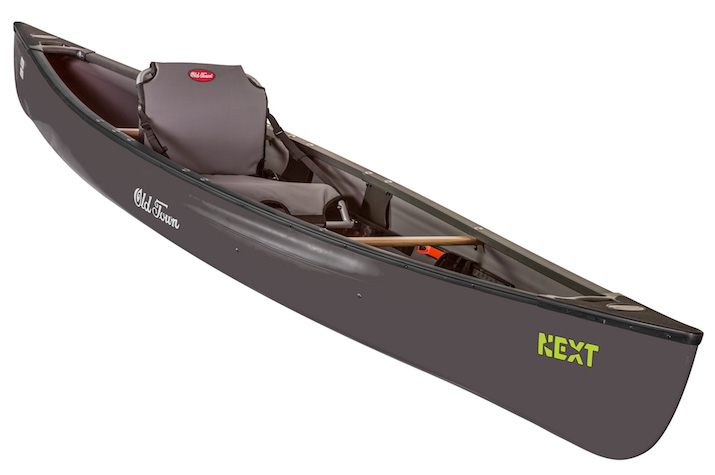 PC Old Town Canoe and Kayak
The Old Town NEXT Solo Canoe is our pick for the best solo canoe on the market today because of its versatility. As Old Town rightfully claims, this canoe "represents the future of paddling."
Because it can be paddled with a traditional canoe paddle or one of the best kayak paddles, it is a great option for kayakers making the transition to a canoe. The fact that the seat is removable further lends to the transition and makes it a better option for paddlers that need exercise.
The NEXT canoe is built to handle everything from casual day trips to weekend camping excursions. It is also a relatively affordable option when compared to some of the other models out there!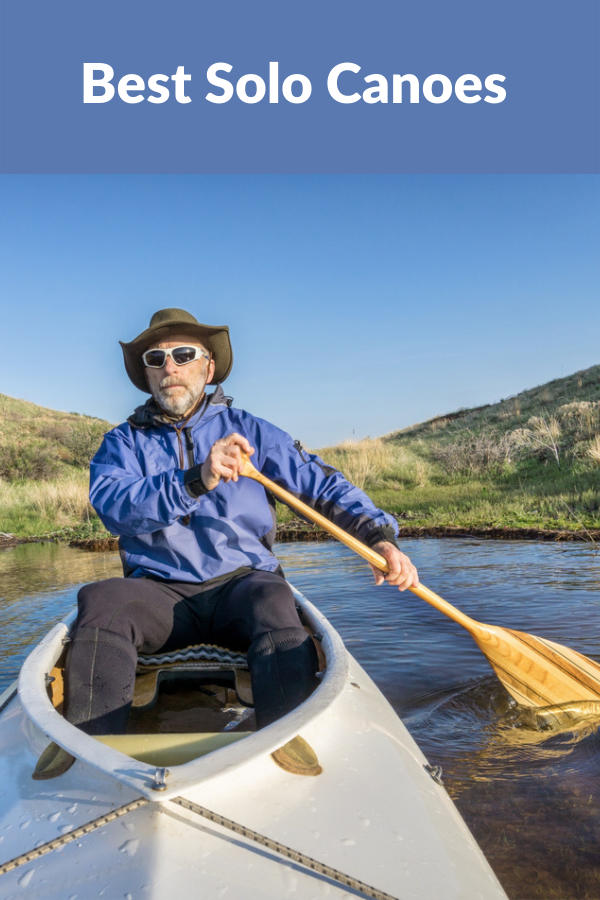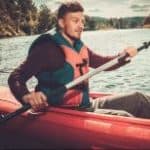 Author: Peter Salisbury
Pete is the Owner of KayakHelp.com. Born and raised in Cleveland, Ohio, he grew up kayaking, fishing, sailing, and partaking in outdoor adventures around the Great Lakes. When he's not out on the water, you can find him skiing in the mountains, reading his favorite books, and spending time with his family.