Looking for a quality touring kayak to kick-start or advance your kayaking journey?
The market is chock-full of options that fit the bill. However, some are lacking in the feature and performance department while others seem to cost an arm and a leg.
Fortunately, the Carolina 14 from Perception Kayaks provides a middle ground between these two extremes by offering a wide range of features at a reasonable price.
In this Perception Carolina 14 Review, I'm going to analyze the distinctive features and advantages, as well as the downsides of the mid-range boat. It will help you figure out whether it's the right kayak for your needs.
Perception Carolina 14 Specifications
Length: 14 ft / 427 cm
Width: 24.5 in / 62 cm
Weight: 53 lbs / 24 kg
Cockpit Dimensions: 39.5 / 100 cm x 24.5 / 62 cm (L x W)
Maximum Load Capacity: 300 lbs / 136 kg
First Impressions of the Perception Carolina 14
Perception's Carolina 14 is an absolute stunner. It has sleek lines and a glossy, brightly colored coat that instantly gives it a sophisticated feel while also ensuring that you can easily be seen when you're out on the water, which can help to avoid accidents.
The Carolina 14 is a sit-in recreational touring kayak that has been constructed as one piece, so unlike composite or thermoformed kayaks, the kayak's hull doesn't have any seams that can sprout a leak or come apart.
Also, I noticed that the Carolina 14 doesn't weigh as much as you might expect for a kayak of its type. However, it doesn't have an excellent rating when it comes to how much weight it can hold so you'll have to trim your packing list if you're planning a trip scheduled to last more than three or four days.
Interestingly, the Carolina 14 is rudder capable but it doesn't come with a rudder. This means that you'll have to spend extra to purchase a rudder to improve the kayak's control, especially for pinpoint maneuvers and paddling expeditions in open water.
While this wasn't a dealbreaker for me, you may not find it tolerable. In this case, you can skip further down the page and check out some wonderful alternatives to Perception Carolins 14 that have a rudder included in the package.

Pros
Leak proof design
Easy to transport and carry
Impressive buoyancy and steadiness on the water
Cons
Not suited for paddling in choppy open water
Doesn't come with a rudder installed
Storage space isn't very generous
Material and Design
The Perception Carolina 14 is constructed using high-density polyethylene material and the rotomolding technique which allows all of the kayak parts to be manufactured in one piece.
Admittedly, the Carolina 14 is not the most lightweight kayak out there. So if size is your paramount concern, you might want to opt for kayaks made with fiberglass and other lighter kayaks.
However, the Carolina 14 compensates for its additional chunk by being low maintenance and lasting longer than its fiberglass rivals.
Performance
Both newcomers and experienced paddlers will find this kayak suitable for their needs and appreciate its ability to handle both inland waterways and calm coastal waters.
You can get away with paddling the Carolina 14 in slow-moving rivers and open waters as long as there are no rough winds or tempestuous currents
Installing a rudder can also optimize how well the kayak handles in choppy and challenging waters. Either way, the Carolina 14 brings phenomenal tracking abilities to the water, allowing you to keep a straight line without much effort.
The hull design and length of the Carolina 14 can sometimes make maneuvers like flat turns a bit of a hassle. This is to be expected from a touring kayak but you can easily rectify it using slight hip movements.
In line with traditional sit in kayaks, the Carolina 14 sits lower in the water so paddlers will feel balanced even while in motion. You don't have to worry about accidentally flipping the boat over because the kayak's bulkhead provides extra buoyancy.
Another thing I loved about the Carolina is how fast it moves for a kayak of its size. You'll be able to cover longer distances in shorter time frames without exhausting yourself.
Stability
The Carolina 14 has great primary and secondary stability thanks to its stellar hull design featuring a V-shaped bow and stern. This combined with soft chines gives the kayak a shallower draft and improved paddling experience.
If you're a beginner, you feel at ease in this boat because of how stable it is. Intermediate and expert paddlers will be happy to know that the kayak edges well.
So regardless of whether you install a rudder or not, you'll be able to leverage this and the thigh braces to better control the kayak's movements with your hips.
Comfort
Getting in and out of the Carolina 14 is a breeze because of its roomy cockpit. It's designed to accommodate paddlers of all sizes including those who have longer legs or are a bit heavy on the weight side.
The ergonomic and cozy Zone DLX seat and thigh braces that are featured in the kayak eliminate back strain and keep you comfortable no matter how long your trip is.
The backrest can be adjusted to six different positions, providing you with adequate support for your frame.
I appreciated the firm hold of the footrest braces because it made the kayak feel like an extension of my body and gave me more control. You can even retro-fit the footrests to help you navigate after installing a rudder.
The seating system is paired with leg lifters which you can use to tilt your legs downwards or orientate them in a way that boosts your comfort and paddling efficiency.
Padded thigh braces have been integrated into the kayak for added comfort, lumbar support, and directional stability.

Portability
At 53 pounds, this touring kayak is lightweight enough to allow for easy transport and loading without asking for a hernia. Depending on your fitness level, you can carry the Carolina 14 by yourself by placing your hand inside the cockpit and lifting from there.
There are two carry handles positioned at the front and rear of the kayak for tandem carries in times when the trip from land to the water is too long to be managed on your own.
If you don't have one already, think about purchasing a kayak rack to securely transport the Carolina 14 because its considerable length makes it unlikely to fit in the backseat of your car or the back of your truck.
Durability
One huge advantage of the Carolina 14 is that it's practically indestructible because it's made of a highly resilient plastic material. You'd have to come up with creative ideas to cause significant damage to the kayak because you won't be able to accomplish that with regular use.
The chances of the kayak cracking from impact or springing a leak are slim to none. You can expect to find peels and scratches on the kayak over time especially if you tend to go paddling in waters with obstacles like rocks and fallen tree branches.
Or if you're in the habit of dragging the kayak to the water instead of carrying it. The Carolina 14 wear-proof and UV-resistant coating will prevent its colors from fading quickly so it will still maintain its lustrous appearance after many years.
Storage
One limitation of the Perception Carolina 14 is that it only has a 300-pound load capacity so you may not be able to pack as much gear as you'd like for your extended trips depending on your size.
Like most touring kayaks, you'll find watertight hatches for storing your load in the bow and stern, and bungee cords in the front and back for securing additional items.
You can use the bungee deck and rear rigging to store things that are too big to fit in the hatches or items you want within reach after you take off.
Pricing
Perception Carolina 14 a high-end touring kayak. A lightweight design, safety lines, extra bulkhead foam, and other notable features are a highlight.
It comes with a three-year warranty against manufacturing or material defects in the hull and deck, while accessories, parts, and outfitting are warranted for one year.
Check out the current price for Perception Carolina 14 below.
Additional Features & Accessories
Another interesting and handy feature that the Carolina 14 offers is a paddle park for securing your paddle when you're not using it on the water.
Also, the kayak gives you additional floatation in the bulkhead which improves stability and helps you stay afloat even if you get flushed with water.
The Carolina 24 is outfitted with reflective deck safety lines for increased visibility. This means that people will still be able to notice the kayak when you're paddling in low light or foggy conditions.
In case you capsize, the reflective lines will allow you to find your kayak and climb back into it easily before it drifts too far away.
Perception Carolina 14 Alternatives
Check Price on Amazon
Inflatable kayaks tend to get a bad rap because people assume they are not as stable and efficient as hardshell kayaks. The Aquaglide Deschutes 145 is proof that this couldn't be further from the truth.
When fully inflated, you can easily forget you're not paddling a standard Kayak because the Aquaglide Deschutes 145 offers extreme rigidity. Plus, it only weighs 27 pounds so it's much easier to transport on your own.
This tandem kayak delivers excellent tracking in flatwater thanks to its quick-release fin. You can also detach the fins whenever you go kayaking in narrow waterways so you can take full advantage of the boat's impressive maneuverability and responsiveness despite being 14 ft 5 in long.
That said, the Aquaglide Deschutes 145 also performs exceedingly well in Class I rivers and rapids. The kayak can handle rocky shores and withstand bumps and scrapes from downed trees, river bottoms, and channels with thorny vegetation without getting punctured.
Drain plugs are the front and back of the kayak, allowing you to quickly and easily empty any water that finds its way in. Also, the Aquaglide Deschutes 145 has a load capacity of 600 pounds, giving you and your paddling partner ample space to store your dry bags at the bow and stern.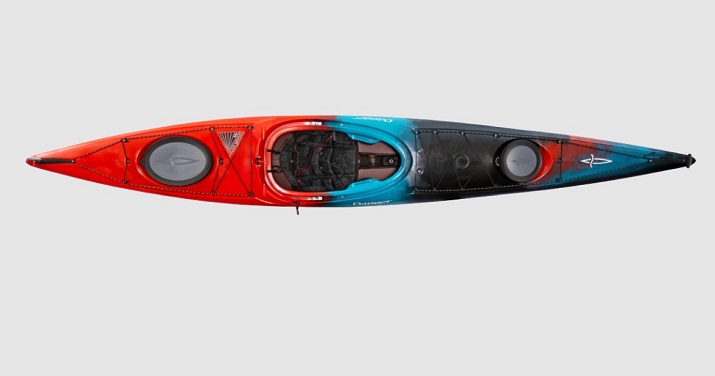 What makes the Dagger Stratos 14.5 one of the best alternatives to Perception Carolina 14 you can buy is the versatility it offers. Paddlers who are new to kayaking will love this touring kayak because it provides plenty of stability to keep them comfortable throughout their float trip.
For more experienced paddlers, the Stratos speed and ability to maneuver different bodies of water from calm rivers to roiling waves and the open sea. This kayak's width and length make it very accommodating to larger-sized paddlers.
The Dagger Stratos 14.5 weighs 57 lbs, making it lightweight enough to be loaded on a kayak roof rack single-handedly. It also had a maximum weight capacity of 315 lbs so it can easily fit you and whatever gear you plan to take with you.
You get two storage hatches situated at the stern and bow of the kayak where you can keep everything from your gear to your float trip snacks and food without risking them getting wet.
This sport kayak is suitable for short trips lasting only a few hours as well as multi-day kayak camping expeditions that require you to cover long distances.
No matter how long you spend on the water, the Dagger Stratos 14.5's CFS seating system with slide lock footrests and integrated leg lifters will ensure you stay comfortable throughout.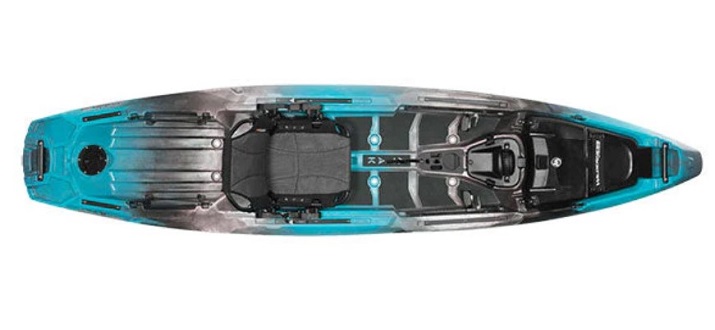 When it comes to building powerhouse fishing kayaks, few brands do it better than Wilderness Systems.
The award-winning design of the ATAK 120 is an embodiment of this kayak manufacturer's commitment to producing boats that provide unmatched stability, performance, and manageability on the water.
This kayak uses an open-concept design which means that you can customize it to suit your specific needs, fishing style, or even the species of fish you're angling for. You can easily add accessories to the boat and modify them as needed.
You can also stand up and move around the ATAK 120's deck without worrying about capsizing your kayak. The boat makes it convenient for you to install side-scan transducers and mount your favorite accessories such as fish finders, cameras, and lights.
The Wilderness Systems ATAK 120 features an improved rocker that enables it to cut through water more deftly. It has a suspension-style mesh seat that can be moved around and adjusted to low, high, and recline positions, so you can adequately support your back.
The ATAK 120 comes with a Helix MDTM motor drive that can be installed in place of the FlexPod OS electronic console, freeing up your hands for other activities.
Additionally, storage is something you will never have to worry about with this kayak as it provides a large front storage hatch and a rear tank well with bungee straps.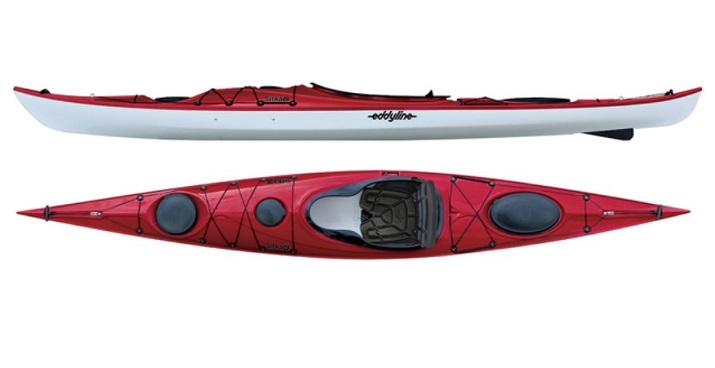 Although the Eddyline Sitka LT is one of the more expensive kayaks on this list, the versatility, efficiency, and superior tracking abilities it offers make the price point justifiable.
This fully outfitted 14.5-foot kayak is playful enough to help you navigate inshore waters, lakes, ponds, rivers, and flowing water between class I to II.
However, it's ideal for experienced paddlers who want a touring kayak to take with them on multi-day coastal excursions. The kayak's retractable skeg helps improve your experience when paddling in open water.
The Eddyline Sitka LT has a roomy cockpit that's designed to make taller and larger kayakers feel more comfortable and in control.
The kayak features an ergonomic infinity seat with padded hip and thigh rests, as well as backrests and footrests that can be adjusted to suit different paddler heights and leg lengths.
With the Eddyline Sitka LT's deck bungee lines and watertight storage compartments in the bow and stern, you'll have plenty of space to stow all the kayak camping gear you want to bring along.
For day trips and smaller items you want easy access to, the kayak's 6-inch forward day hatch will come in handy. Due to its composite ABS material construction, the Eddyline Sitka LT is a lightweight boat, weighing only 47 pounds with a 350-pound load capacity.
Check Price on Amazon
If you're looking for a high-performing tandem kayak that also allows for convenient solo paddling, the Aquaguide Navarro 145 is one of the best Perception Carolina 14 alternatives you can get.
The 14.3-foot-long recreational touring kayak offers a generous weight capacity of 500 lbs, so it can support two adults, a child or pet, and some gear.
There are zippered compartments for storing items you want to keep dry and standard D-rings and bungee straps for securing other belongings that you don't mind getting sprayed with water.
Although the Aquaglide Navarro 145 performs best in inland conditions, you can still count on it to be stable when paddling in rougher waters due to its extra-wide hull.
This convertible boat boasts a HardBottom drop-stitch floor and HexShell-covered exterior that deliver optimal rigidity and performance, and enable the kayak to be used in all kinds of weather conditions.
One nice feature of the Aquaglide Navarro 145 is that it can be transformed from an open deck platform to a sit-in kayak so you get the best of both worlds depending on your needs.
The kayak also features a paddle keeper, quick-release fins, and comfortable Velcro seats with adjustable footrests. What's more, at only 46 lbs, it's incredibly lightweight and easy to transport.
This 14-foot touring kayak from Old Town is the perfect paddling companion for lazy day paddles and multi-day trips to scenic kayaking destinations. The Castine 140 is a stable and competent boat for intermediate and expert paddlers, as well as paddlers who are new to the sport.
The spacious cockpit, padded thigh rests, and adjustable ACS2 seat with low profile backrest and customizable footrest bring an added layer of comfort to the paddling experience.
You'll have no trouble getting in and out of this boat easily and your body will enjoy greater support and freedom of movement during long trips.
The Castine 140 has a weight capacity of 375 pounds and provides deck bungee and quick seal hatches for convenient gear storage. It also includes a sliding tray under the cockpit for storing small items you want within reach and a cradle for safeguarding your phone.
At 53 lbs, the Castine 140 is not as light as its composite or inflatable counterparts on this list. However, its plastic hull makes up for this by allowing it to be dragged from land without risking damage, so you won't need an extra set of hands during portage.
The Castine 140 boasts a wide beam that delivers increased stability so you can take on different water conditions and not concern yourself with the thought of your kayak tipping over.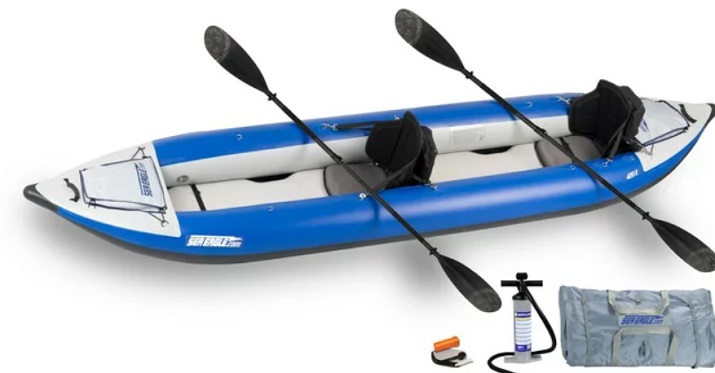 There's a lot to love about this beefy inflatable kayak from Sea Eagle. The 420X Explorer is designed to hold up to 3 adult paddlers with an 855-pound maximum load capacity so you can bring all the baggage you want on your trip.
This kayak is tough and flexible enough for all kinds of water adventures, be it touring, fishing, camping, exploring, and even paddling in class IV whitewater.
Whether you're chasing rapids or enjoying a recreational float in flatwater, the 420X Explorer will give you the stability, control, and confidence you need to slice through the water.
Sea Eagle's 420X Explorer removable skeg provides improved tracking in open water or windy terrain. The kayak has 16 super-fast and self-bailing floor drains that help it stay dry when paddling in rough conditions.
Durability is assured with this boat as it is made with reinforced Denier, so it can handle bumps, drops, and collisions and not get deflated.
The 420X Explorer gives you the option of improving efficiency and maneuverability by outfitting the kayak with an electric engine of up to 15 pounds.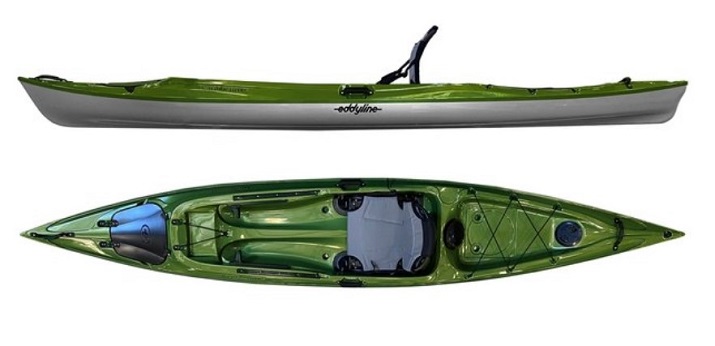 Looking for a Perception Carolina 14 alternative that gives a fantastic performance in calm flowing waters? The Eddyline Caribbean FS might just be the boat for you.
The kayak's award-winning hull design gives it impressive tracking, stability, and efficiency. Although this kayak's cockpit is designed to fit paddlers of all shapes and sizes, tall and big paddlers will appreciate the comfort and support the seating system offers.
The Eddyline Caribbean FS features the brand's upgraded kayak frame seat which sports a tall back and adjustable footbraces. The seat can also be removed and used as a camp chair, saving you the trouble and space of packing one for your trip.
One of the main selling points of the Eddyline Caribbean FS is its speed. The sit on top kayak will easily outpace most of its counterparts and even go toe-to-toe with a sit in kayak of the same size.
The Eddyline Caribbean weighs 50 pounds and can hold up to 350 pounds in weight. You can store your kayaking accessories and other belongings in the kayak's forward tank well hatch, rear tank well with stern hatch, and large front hatch.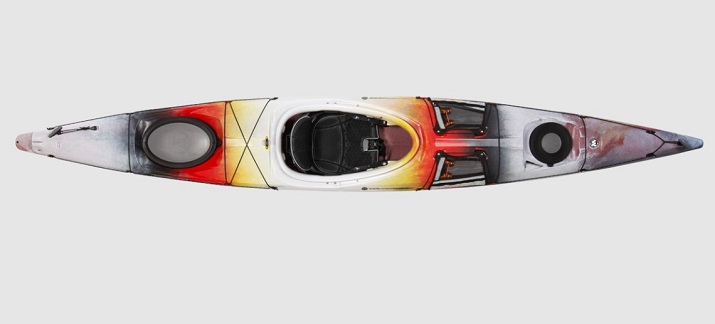 If versatility is your primary concern, consider investing in this 14.6 ft long kayak from Wilderness Systems. The Tsunami 145 is built to enrich your paddling experience regardless of what kind of adventure you embark on.
The hull's elongated waterline brings increased efficiency and cruising speed to this kayak, while a wider beam combined with flared side walls help buoy stability and maneuverability.
The Tsunami 145 is optimized for rudder installation, so you can buy and install one to help with steering when you go paddling in challenging waters.
You are going to enjoy maximum comfort in the cockpit thanks to the Tsunami 145's patented Phase 3 AirPro seating system with adjustable padded thigh braces and SlideLock XL foot braces.
The kayak handles well in various water conditions be it slow-moving, calm coastal, or the open ocean. For storage, the Tsunami 145 offers an under-deck storage area for stowing snacks and beverages and two removable mesh deck pockets for small items that you want to keep within reach.
There's also bungee deck rigging, a bow hatch, and a large rear hatch for storing bulkier items.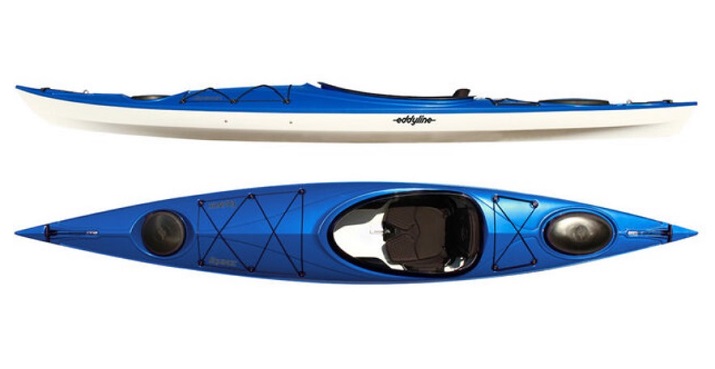 Experience the performance of an expedition-style kayak and the stability, fun, and comfort of a recreational kayak with the Eddyline Equinox.
Although the Equinox is a plastic kayak, it's constructed using ABS Carbonlite material which lowers its weight to 45 pounds, making it easy to load and carry.
A sleek V hull design enables this kayak to slice through water like butter, maintain a straight line, and handle maneuvers with ease and efficiency. Sealed bow and stern bulkheads help to maximize safety and buoyancy on the water.
Whether you're planning a full-day trip or a weekend expedition, the Eddyline Equinox is up to the task. The kayak's spacious cockpit, comfy seat with adjustable backrest, and padded thigh braces will give you greater control of you and your kayak's movements regardless of your size.
Your belongings will stay sealed and dry in the Eddyline Equinox's performance hatches situated at the bow and stern, while the deck and rear bungee will hold any extra gear that can't fit into the hatches.
If you plan to paddle in rougher conditions, you're going to have to rely more heavily on your skill and technique because the Eddyline Equinox doesn't come with a rudder or skeg.
However, you can count on the kayak to perform amazingly well as long as you're paddling in moderately choppy or tranquil waters.
Check Price on Amazon
For those who aren't ready or can't afford to plunk down thousands of dollars on a high-end kayak, the Driftsun Almanor 146 is a great budget option that delivers all of the fun of paddling without putting a gaping hole in your pocket.
A standout feature of this 14.6 ft inflatable kayak is its long waterline which allows it to move fast, glide smoothly, and paddle long distances on flat water and mild chops with ease.
The Driftsun Almanor 146 is incredibly rigid and buoyant when you inflate it to the recommended air pressure. Regardless of your size, your back will be adequately supported by the adjustable EVA padded seats installed in the Driftsun Almanor 146.
The kayak even includes a padded center seat so you can bring along your child or family pet on your trip.
The Driftsun Almanor 146 comes with all the accessories you need to set it up and get out on the water including dual-blade paddles, dual action pump, and a quick-release fin for improved directional stability.
Set-up time takes less than 10 minutes and, once inflated, the kayak can hold up loads of up to 600 pounds.
Conclusion
If you want a sturdy, dependable kayak that you can take with you on camping trips or day floats exploring lakes, ponds, slow-moving streams, and serene coastals, the Perception Carolina 14 is more than equal to the task.
It's a great boat for both newbies and experienced paddlers. It will last a long time, get you where you want to go faster and deliver exceptional performance along the way.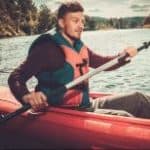 Author: Peter Salisbury
Pete is the Owner of KayakHelp.com. Born and raised in Cleveland, Ohio, he grew up kayaking, fishing, sailing, and partaking in outdoor adventures around the Great Lakes. When he's not out on the water, you can find him skiing in the mountains, reading his favorite books, and spending time with his family.