Hoodoo Sports is a brand that offers a nice selection of kayaks, including sit-on-top, pedal, and dual-drive kayaks. All their kayaks are affordable and well-priced, but are they any good?
That's what I decided to investigate. Today, I'll be sharing my experience with the Hoodoo brand of kayaks and give you my opinion on whether they're worth it.
Short version: Hoodoo's pedal kayaks offer great value for money, with great steering and pedaling options and a lot of storage. They're also very stable. The non-pedal kayaks are decent too, but if you're not looking for a pedal kayak, there are far better options.
Want to see my full review? Continue reading!
About Hoodoo Sports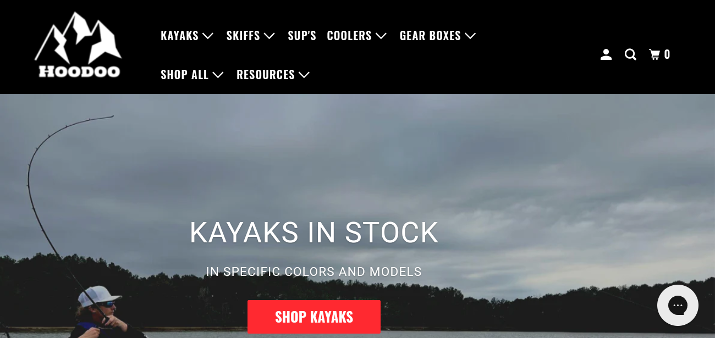 Hoodoo kayaks are sold by Hoodoo Sports, a company that specializes in kayaks, SUPs, and kayaking accessories. While its kayaks are what we'll focus on today, it also sells:
Gear boxes
Coolers
Kayak seats
Rudders
Fishing gear
Paddles
Life jackets, and more!
Hoodoo Sports is a relatively new brand, founded in 2019. It isn't as established as some larger brands you may be aware of, such as Perception and Old Town, which most likely came up in your search if you've been researching different kayaks.
Perception was founded in the mid-1970s, while Old Town Canoe was founded back in 1898. Both companies manufacture high-quality kayaks, although they can be expensive, which is why you may be considering a Hoodoo instead.
Hoodoo's stated goal is to "provide high quality, mid-range priced outdoor equipment to those who want to enjoy the outdoors, but don't want to break the bank to do it."
It states that it focuses on establishing long-term relationships with customers and providing the best service possible while making kayaking accessible to everyone, not just those who can afford expensive kayaks.
The company is based in Cypress, Texas, but it ships across the nation.
My Favorite Hoodoo Kayaks
Hoodoo sells several kayaks, including both pedal and paddle kayaks. I will focus on my favorite Hoodoo kayaks and what I like about them, starting with the Tempest 120P and Tempest 140P – some of the most popular Hoodoo kayaks on the market.
The Hoodoo Tempest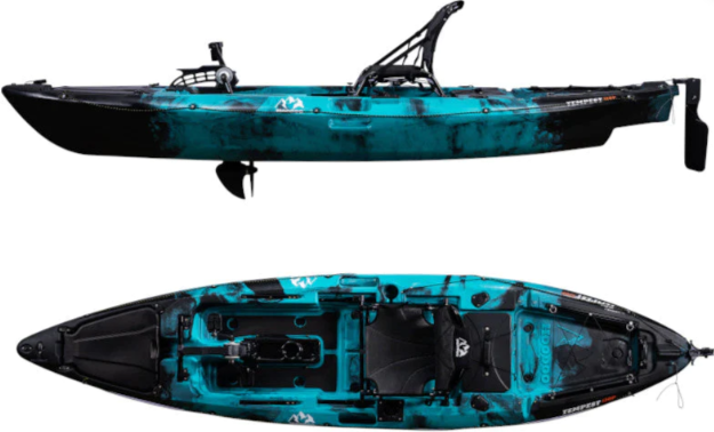 If you're looking for a pedal kayak, you can't really go wrong with the Hoodoo Tempest 120P (shown above). It's a pretty stable kayak – I didn't have any trouble standing in it – and it comes with the pedal drive but also a paddle, so you don't need to buy anything extra.
I was able to pack all of my gear on it without a problem – the weight capacity of 450 pounds is generous enough. It only weighs 85 pounds, though, and it's 12 feet long, so it's pretty easy to transport – the side handles helped with that, and there's a nice big handle in front built into the kayak.
It comes with a rudder system that you can control by hand, and the seat is relatively comfortable. If you're like me, you enjoy fishing in your kayak without tiring out your arms paddling, and the Tempest 120P is perfect for that.
I liked the front hatch storage space, which was larger than I expected and provided enough room for my fishing gear, while providing easy access to it.
I also had no difficulty standing up and casting a line due to the stability of the kayak. For fishing, I think it's a great kayak, but you can also use it for recreational purposes if you're not a fishing person.
The Tempest 140P (shown in the picture above) is similar to the 120P, the difference being that the 140P is a tandem kayak with a dual pedal drive. With two aluminum-frame seats and two pedal drive systems, you can go kayaking with your buddy and travel at faster speeds than you would have thought possible in a kayak.
It's only two feet longer than the 120P, but one thing I didn't like was that the weight capacity was only an extra 100 pounds, which isn't really enough for a whole extra person. Nevertheless, at 550 pounds of weight capacity in total, you shouldn't have to sacrifice too much on which gear you bring with you.
The Tempest 140 has a nice hatch in the front as well, with two small hatches in front of both seats. I noticed that moving the seat forward can block those hatches, though, but at least the seats are easily adjustable.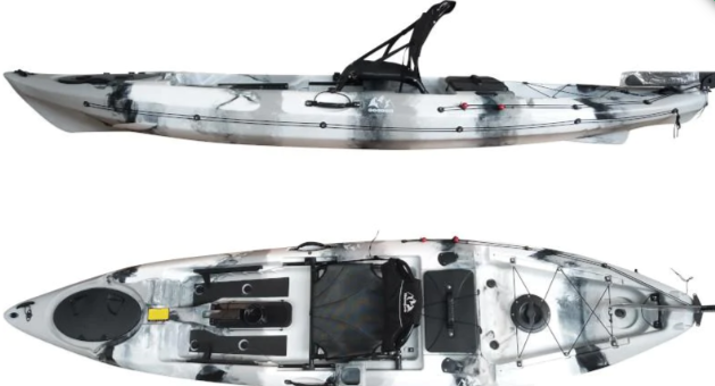 Note that the Tempest 120 Hybrid (as opposed to the Tempest 120P), displayed in the image above, and the Tempest 130T are not pedal kayaks by default, although the Tempest 120 does support an optional pedal system. Make sure the P is there at the end of the model name for the pedal version!
The Hoodoo Impulse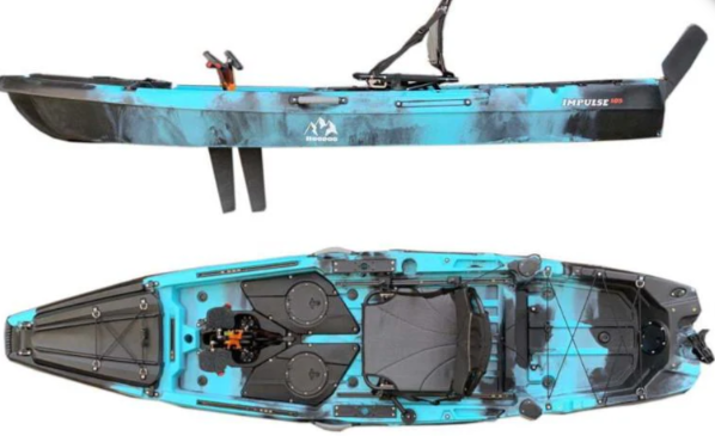 Another big item is the Hoodoo Impulse 105, 120, and 135. What makes the Impulse unique is its dual drive system.
The first is the single-direction I-Drive Fin Drive, which uses fins under the kayak to propel it forward. You'll push with your feet on the two pedals to accomplish that, operating the two fins under the boat and pushing the boat forward.
While it's only a single-direction drive, the kayak also supports another drive – the two-direction pedal/propeller drive. If you want to be able to reverse your kayak, get the prop drive.
The rudder control is easily accessible and allows you to control your direction with your hand easily.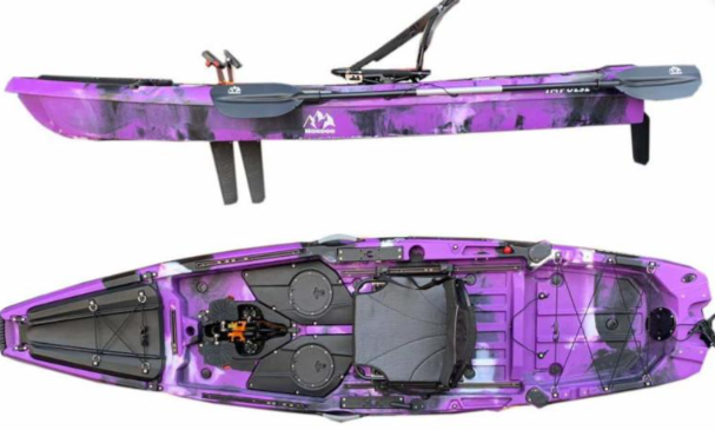 This is, by far, my favorite Hoodoo kayak, despite its somewhat funny square design at the front. Like the Tempest, storage is great, with an expansive front hatch that's easy to open and close.
I really liked the scupper plug in the front hatch as well. While it hasn't happened to me, I suppose it's a great way to empty out your storage hatch if water somehow manages to get in, ensuring you can keep your things dry as needed.
There are scupper holes on the kayak itself as well, and the kayak comes with scupper plugs. There is also a drain plug at the back.
The front hatch isn't waterproof without third-party modifications, which is definitely a downside.
What really caught my eye, though, are the two smaller hatches right in front of the seat. It's just so easy to bend down and get things from there – I love them.
They're not that big, but for storing tackle or other small stuff, they're very useful and efficient. I do recommend them for just tackle and bait, being that they're not waterproof and also do not have drain plugs like the main, big hatch out front, so you'll need to use a sponge or something to get the water out.
There's also a nice big tank well in the rear for storing additional items, which you can secure in place using bungee cords. The tank well on the Impulse is so much bigger than the tank well on the Tempest, which is a bit small in my opinion, so that's something to consider when choosing between the two.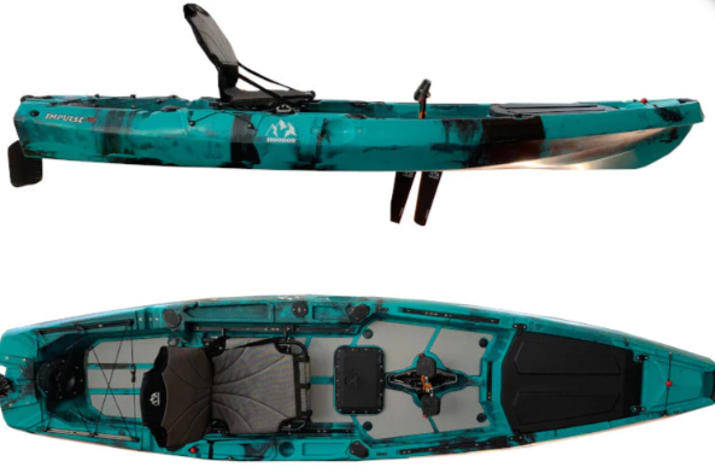 The Impulse 120 (shown right above), which is similar to the Impulse 105 but a little longer, has slightly different storage hatches.
The seat is nice and comfortable, and it has an adjustable system that lets you raise or lower it as well as move it back or forward. Loosen the screws to adjust the seat and then tighten them to secure the seat back in place.
Like other Hoodoo kayaks, it's very stable, and I was able to stand up easily without feeling like I'd fall over. I found it a bit more stable than the Tempest, in fact.
In case you were wondering, here are the main differences between the different Impulse models:
The Impulse 105 is 10.5 feet long and 31.5 inches wide, with a weight of 90 pounds and a weight capacity of around 400 pounds.
The Impulse 120 is 12 feet long and 35 inches wide, with a weight of 100 pounds and a weight capacity of 440 pounds.
The Impulse 135 (shown below) is 13.6 feet long and 34 inches wide, with a weight of 101 pounds and a weight capacity of around 400 pounds.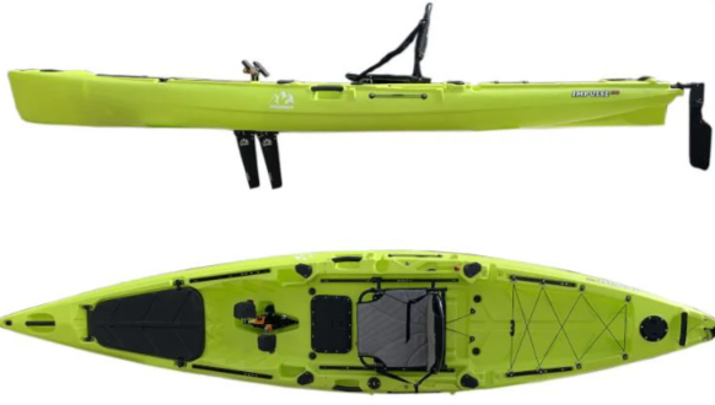 All of them are rotomolded polyethylene kayaks. Rotomolded polyethylene is one of the most popular kayak materials as it's affordable to manufacture and pretty durable.
Read more about the different types of common kayak materials here.
The Hoodoo Element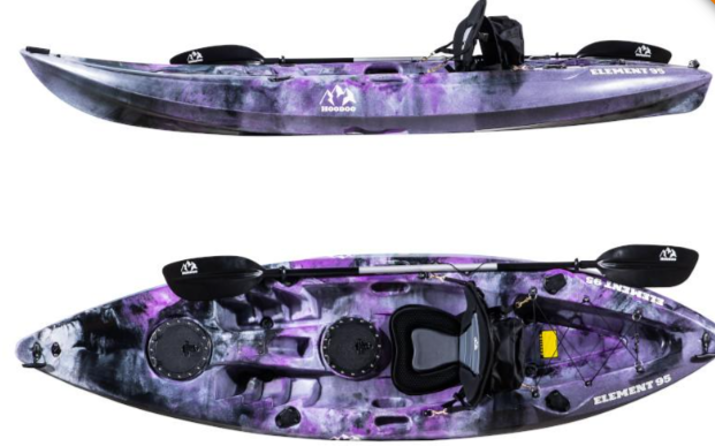 The Hoodoo Element is a non-pedal, sit-on-top kayak. It's pretty lightweight, has good control, and comes at an affordable price.
It's not my favorite, though. The big thing that attracted me to Hoodoo in the first place was that it sold pedal kayaks for a lot cheaper than what you typically find on the market.
If you're going to get a standard sit-on-top kayak that doesn't use a pedal system, Hoodoo wouldn't be my first choice. There are other great sit-on-top kayaks that are affordable and even cheaper than the Hoodoo Element, often with better quality.
Amazon is a good place to search, but we've got you covered. Check out our guide to the best sit-on-top kayak for beginners.
If you're interested in building your own kayak, we've got you covered as well. Here are some free and cheap kayak plans with PDFs for sitting on top kayaks.
In any case, the Hoodoo Element comes in two versions:
The Hoodoo Element 95 sporting kayak is 9.5 feet long and 2.5 feet wide. It weighs just 45 pounds and has a weight capacity of 300 pounds.
The Hoodoo Element 100s is 10 feet long and 33 inches wide. It has an increased weight capacity of 300 pounds and weighs 65 pounds.
The Hoodoo Stingray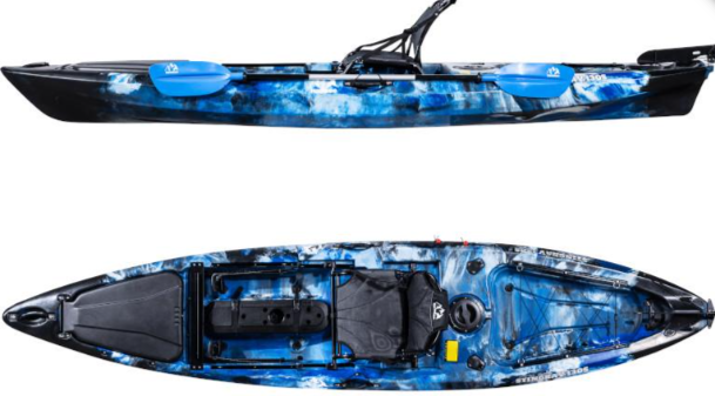 Finally, we have the Hoodoo Stingray 130S, a fishing kayak. It's 13 feet long and 34 inches wide.
It has a rudder system for better control, rod holders, and a dry storage area.
It's not bad for the price, but again, there are better fishing kayaks out there. I suggest going on Amazon or checking out our guides:
If you're new to kayak fishing and buying your first fishing kayak, you might also want to check out our guide on How to Kayak Fish as well as these essential kayak fishing tips.
What Else Can You Buy From Hoodoo Sports?
To wrap things up, let's talk a bit about the other things you can buy from Hoodoo Sports other than the kayaks we just mentioned.
SUPs and Skiffs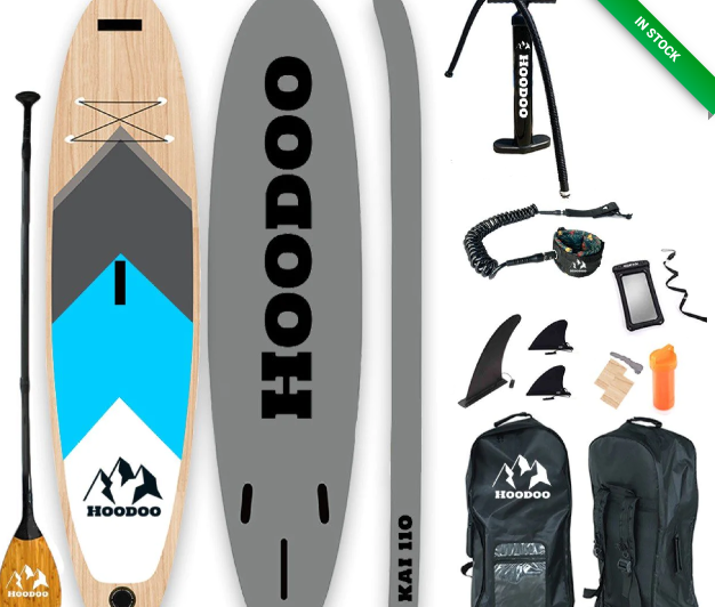 Hoodoo sells the Hoodoo Kai 110 – an affordable stand up paddleboard that's made for all types of water, including lakes, rivers, and ocean bays.
It also sells the Hero 130 Microskiff, which is a skiff – somewhat similar to a kayak, but with an outboard motor. It's a lot more expensive, though.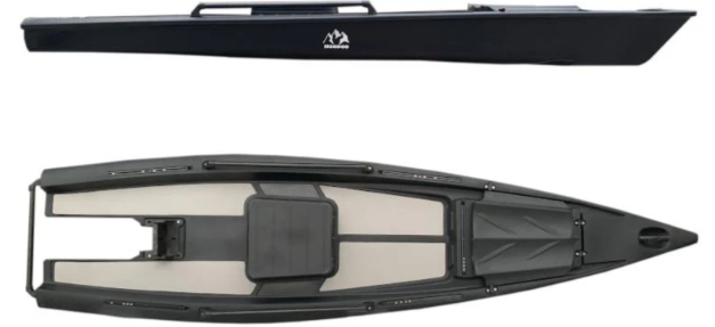 I actually kind of like the Microskiff. It's called that because it's very lightweight – like a kayak (it weighs just 100 pounds).
Accessories and Equipment
Here are some other things you can buy from Hoodoo:
Seats
Rudders
Tumblers
Personal flotation devices
Kayak carts
Paddles
Anchors
You can also buy additional pedal drives, prop drives, fin drives, and trolling motors that are compatible with various Hoodoo kayaks.
Hoodoo also sells a wide range of coolers and ice chests. They typically have 3.5 inches of insulation, and they come in different sizes, from 16 quarts all the way up to 90 quarts.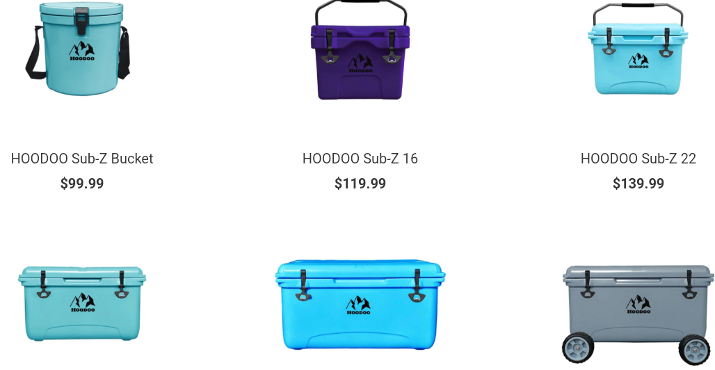 Buyer Information
Here are some details you'll need to know if you decide to buy a Hoodoo kayak, including shipping, warranty, and refund policies.
Shipping
Hoodoo offers two shipping options when you buy a kayak online. One is through Estes Freight, which is the cheapest.
Hoodoo will ship the kayak to the nearest Estes Freight terminal to you. You'll go pick it up from there yourself.
Pricing for freight pickup starts at just $149.99.
If you're interested in getting your kayak delivered straight to your door, that's possible as well, with prices starting at $199.99.
The price might be higher if you live in remote areas or certain states. For updated shipping options and prices, proceed to the checkout page of any product you're buying and enter your address information.
Refunds
I didn't really like Hoodoo's refund policy. It's too limited, in my opinion, as it lasts only thirty days.
The worst part about it, though, is that even if the kayak was damaged and you are eligible for a refund, Hoodoo won't cover return shipping, instead placing that responsibility on you – the customer who received a damaged product.
Hoodoo will offer to ship replacement parts to you, free of charge, to replace those damaged parts. If you don't want that option, though, you can get a full refund, provided you pay for return shipping and the product wasn't used yet.
Another option is getting a replacement for the same product, if it was defective and damaged.
Most likely, the limited return policy is due to the fact that Hoodoo doesn't actually manufacture the kayaks itself. Instead, it rebrands imported kayaks.
At least you don't have to pay for shipping upfront. Instead, Hoodoo will deduct the cost of return shipping from your refund.
Still, that's not a great policy. If you received a damaged kayak, why should you be responsible for return shipping?
Not everything can be repaired with replacement parts, and perhaps you don't want to go through the hassle of replacing parts yourself, especially if you're not that confident in your kayak repair skills.
Warranty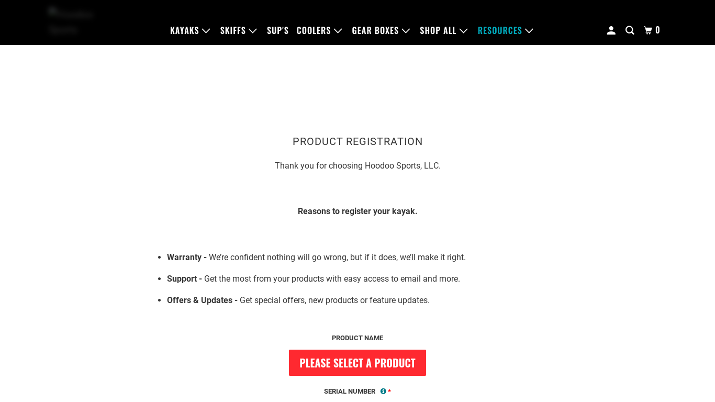 Hoodoo kayaks do come with a five-year limited warranty though, which is good. You must register your kayak within 60 days of receipt of shipment, which you can do here – don't forget to do that!
The warranty won't cover all types of damage. Normal wear and tear and damage due to excessive sunlight exposure are not covered; the warranty is also voided if you made unauthorized modifications and repairs or if you used it for commercial or rental purposes (such as if you own a rental company).
See all restrictions and warranty limitations here.
Pros and Cons
I think I covered most of the pros and cons already – especially the pros – but in case you're interested, here are some additional thoughts I have on the advantages and disadvantages of buying a Hoodoo kayak.
Pros
Value for Money
Pedal kayaks can be expensive, and finding used ones can be difficult at times. While most would prefer to go with a more established brand like Perception, what's ideal isn't always possible – you might have to save up a bit longer.
Overall, the Hoodoo brand offers decent value for money. I wouldn't say it's top of the line – not at all – but the price is definitely hard to beat.
Payment Plans Available

One really good thing about Hoodoo is that not only are its kayaks affordable, but it offers payment plans as well. It works with three payment plan providers – Katapult, Affirm, and Shop – so you have options.
You can break up your payment into installments, including monthly payments, possibly with no interest. Just select Katapult, Affirm, or Shop from the product page to apply instantly – no hard credit checks will be performed, so applying won't hurt your credit score.
The upfront payment is what stops many people from buying a kayak and renting one instead. If you can pay it off over the long term this might help you.
Discounts Are Available
Hoodoo Sports often holds promotions on its website. I've seen kayaks go for several hundred dollars off, which is great!
Also, if you are a member of the military or a first responder, you can enjoy a 10 percent discount, which is nice. You will have to verify your identity first.
Cons
Imported and Rebranded
It seems like Hoodoo's kayaks are rebranded imports from China. They're still good quality, and for the price, they're still a nice choice.
However, being made in China, you can't expect the same quality and durability as kayaks made in the US and sold by more established brands such as Perception.
Again, that doesn't mean they're bad. Manufacturing in China allows for cutting costs, but if you have the cash, you might want to consider shelling out a bit extra for a higher quality kayak.
If you're strictly on the Made in America bandwagon, Hoodoo is definitely not the right choice for you. Quite a few kayak companies import their kayaks from China, though – a good example is Brooklyn Kayak Company.
Can you get the same kayaks that Hoodoo sells from Alibaba at an even cheaper rate? It's actually possible that you can if you do enough research.
However, there are still several benefits of buying through Hoodoo. It's still relatively affordable compared to most pedal kayaks, and you'll get the advantage of faster shipping, a point of contact, easier returns, and most of all, a five-year warranty on kayaks, which isn't a small thing.
Steering Control on the Left
Hoodoo (or the manufacturer it works with, to be more precise) seems to like putting the rudder steering control on the left side. That's not necessarily bad, but most people are right-handed, and that can be a bit annoying.
I don't really know why they did that, but you can't change it. Also, on the tandem kayak (the Tempest 140P), the rudder control handle is by the back seat in the back cockpit.
If you are using the Tempest 140P alone, that means you will have to sit in the back instead of the front, another slightly annoying feature but not really a big deal.
Final Verdict: Is the Hoodoo Kayak Worth It?
I do recommend getting a Hoodoo kayak (either a Tempest 120P/140P or a Hoodoo Impulse) if you are looking for a pedal kayak but the prices of most pedal kayaks scare you off. The quality is pretty good for the money, and while it's no Perception, it will do its job pretty well.
On the other hand, the non-pedal kayaks from Hoodoo don't really do it for me. There are better quality sit-on-top and fishing kayaks you can get for that price.
If you're interested in a pedal kayak, you might also want to check out our top pedal kayak picks!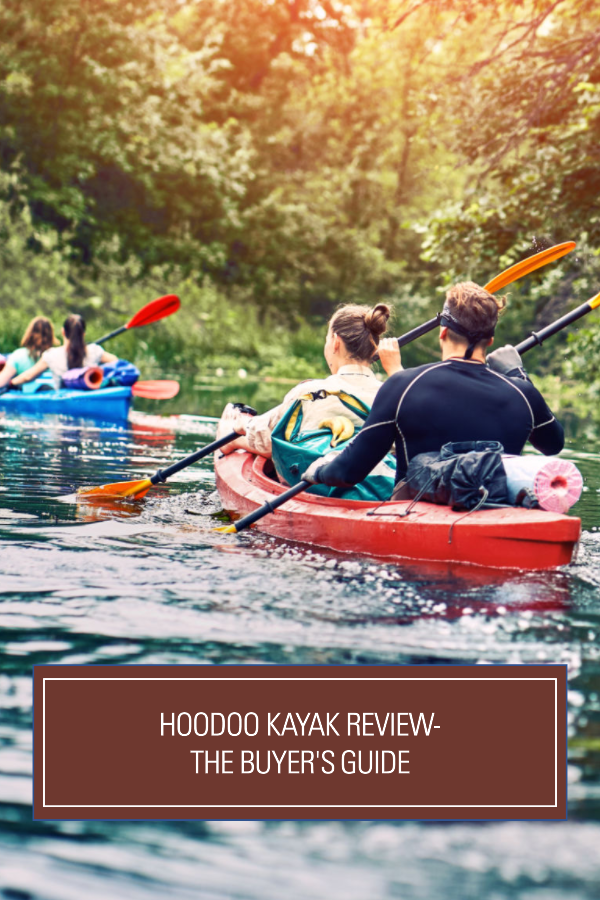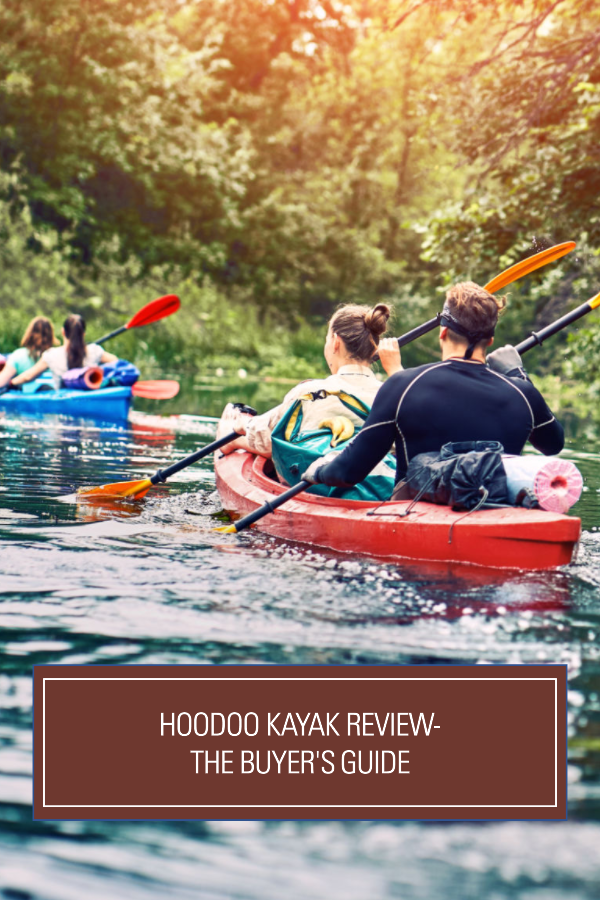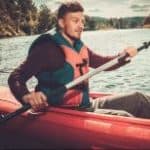 Author: Peter Salisbury
Pete is the Owner of KayakHelp.com. Born and raised in Cleveland, Ohio, he grew up kayaking, fishing, sailing, and partaking in outdoor adventures around the Great Lakes. When he's not out on the water, you can find him skiing in the mountains, reading his favorite books, and spending time with his family.