Pelican is one of the leading kayak brands out there when it comes to making durable and affordable kayaks for recreational paddling and kayak fishing. They have a significant collection of sit-on-top kayaks and sit-inside models.
Most of their kayaks are designed for beginner and intermediate paddlers, and one of their best options is the Pelican Trailblazer 100 NXT. Today, we have put together the ultimate buying guide for this kayak and a comprehensive Pelican Trailblazer 100 NXT kayak review.
You will start by checking out a quick overview of the kayak's design and major specifications, including a bit about what sets all Pelican kayaks apart from the competition. Then you will learn about each and every feature of the Trailblazer and how it will impact both your time on the water and when you're loading and transporting your kayak.
So let's get started!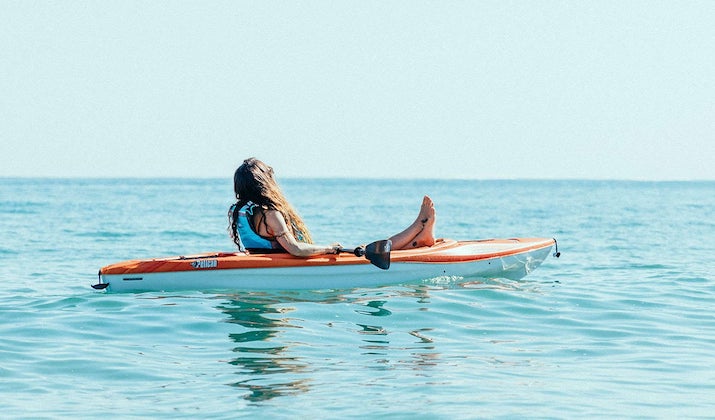 PC Pelican Kayaks
Pelican Trailblazer 100 NXT Kayak Overview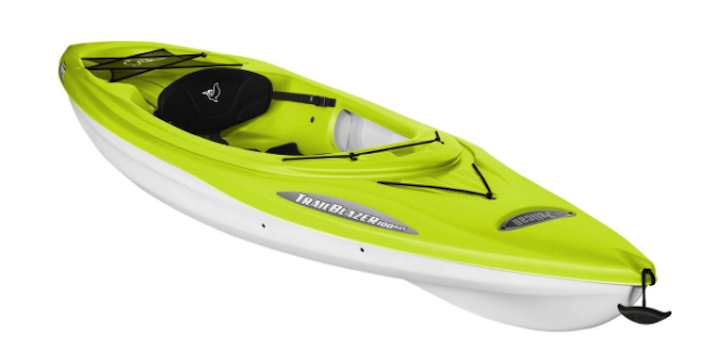 PC Pelican Kayaks
The Pelican Trailblazer 100 NXT is a great sit-inside kayak for beginner and intermediate paddlers looking for an affordable and lightweight kayak for recreational paddling. Here are the basic specifications for this model:
Length: 10 feet (304.8 centimeters)
Width: 28 inches (71.12 centimeters)
Height: 14 inches (35.56 centimeters)
Weight: 36 pounds (16.33 kilograms)
Weight Capacity: 275 pounds (124.74 kilograms)
It is available in various colors, but all Pelican Kayaks are known for their durability and, more importantly, their ability to regain their shape if dented. This is largely due to the RAM-X™ material that they utilize in the manufacturing process.
This material is highly impact-resistant, but it maintains a flexibility that you won't find in more rigid plastic kayaks. It can even get run over if you accidentally leave it in the driveway and you should be able to pop it back into shape and use it like it's as good as new.
Don't believe us? Check out this short video to learn more about RAM-X™, twin sheet thermoforming, and the various tests that Pelican conducts on all of its kayaks:
The Ultimate Pelican Trailblazer Buying Guide
Buying a kayak without actually trying it out is difficult, but the more you know about the model, the better. So let's dive into the features of the Pelican Trailblazer NXT 100 kayak.
Length and Width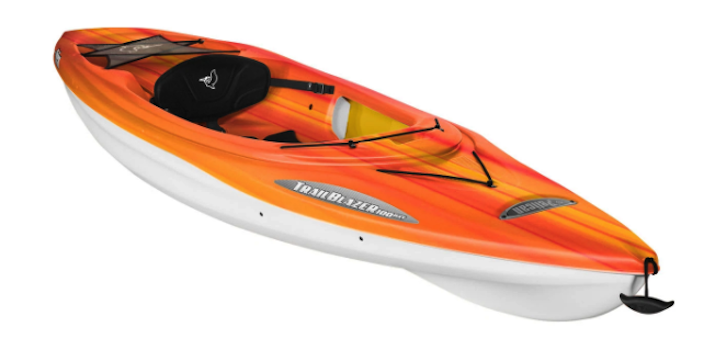 PC Pelican Kayak
A kayak's length and width can tell you a lot about the type of paddler it is made for. In this case, the 10-foot length and under 30-inch width of this kayak steer it towards being a great choice for small and medium-sized adults.
It may even suit larger kids and teenagers well, but the cockpit is most likely going to prove a little tight for larger paddlers. Still, this length and width combination provides a very stable platform for folks just learning how to kayak alone.
Height

PC Pelican Kayak
A kayak's height is measured from the bottom of the hull to the top of the deck. In many cases, it tells you how deep the cockpit will be and how close you'll sit to the water's surface once you're seated inside.
At a height of 14 inches, you can expect the gunwales to extend roughly 6-10 inches above the water's surface. A certain percentage of the kayak is going to be underwater and this percentage increases as you add more weight to the cockpit or storage areas.
Hull Design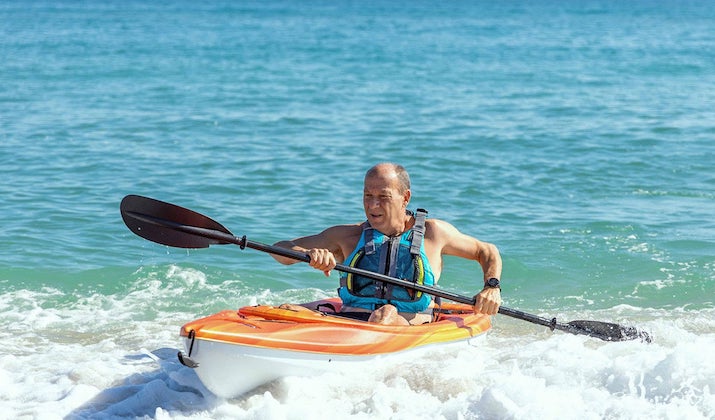 PC Pelican Kayak
The NXT 100 is built on a double-arched, multi-chine hull that provides excellent stability without sacrificing too much maneuverability. This would be classified as a pontoon-style hull, which is often utilized on the best fishing kayaks for big guys because of the advantages it provides in terms of stability and the ease of getting in and out of your kayak.
When you combine that hull design with the length and width of this kayak, however, it keeps it very easy to turn on a dime if needed.
That also makes it ideally suited for recreational paddling on ponds, lakes, slow-moving rivers, protected coastal waterways, and even light surf if you know how to handle a kayak in waves.
Pelican has also added floating blocks inside the hull on either side of the kayak to provide added flotation under heavy loads. This is what allows this capacity to hold up to 275 pounds safely.
Overall Weight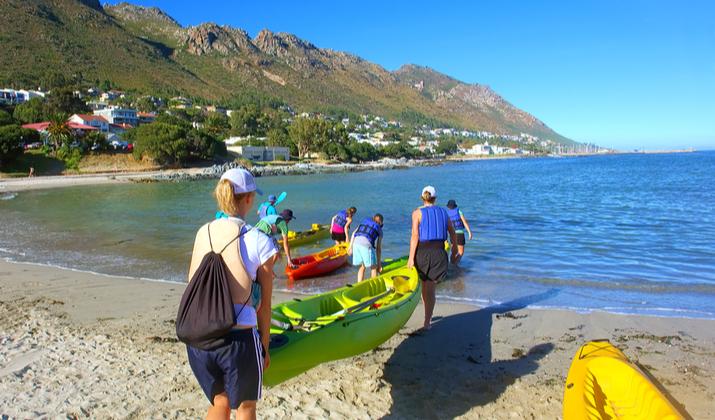 Photo by PhotoSky via Shutterstock
Coming in at 36 pounds, the Trailblazer 100 NXT certainly falls at the lower end of the spectrum in terms of overall weight. In fact, it starts to be within the realm of inflatable kayaks that are some of the lightest on the market.
A couple of advantages to having this lightweight Trailblazer kayak include:
Most people that are new to kayaking don't spend much time in their buying process worrying about what they have to do with a kayak when it's on land. Let us be the first to tell you that the bulk of the work of kayaking actually happens on land just to get yourself ready to hit the water.
So if you opt for a heavier kayak, you risk wearing yourself out or, in the worst case, injuring yourself before you can even use your kayak for its primary purpose.
That leads us to the conclusion that this is a great kayak choice to get you out on the water with minimal hassle and energy expenditure.
Seat Design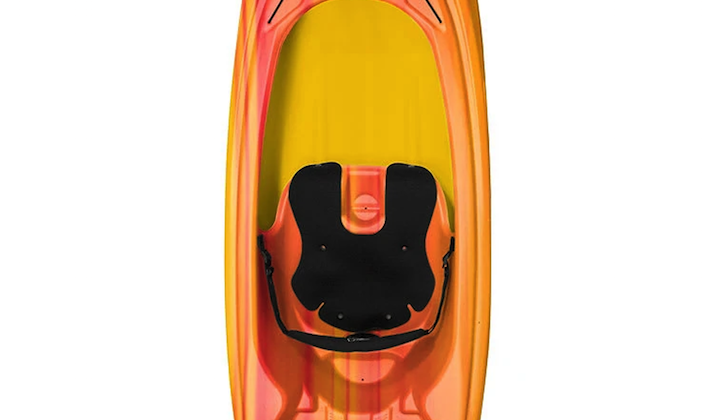 PC Pelican Kayak
The technical name for the seat on this Pelican kayak is the ERGOFORM™ padded backrest with an ERGOBASE™ seat pad. The low backrest may not provide as much lumbar support as other types of kayak seats, but it and the seat bottom offer plenty of padding for a few hours on the water.
Another advantage of this seat design is that there's nothing to install or flip into place when you're getting your kayak ready to hit the water. That also means there's nothing to remove or secure when transporting your kayak on a small car.
Storage Layout

PC Pelican Kayak
The NXT 100 is built with a large storage area at the stern, a small "table" in front of the cockpit, and bungee rigging to help you secure items to the deck at the bow.
Additionally, there is a small space immediately behind the kayak seat, a bottle holder in the center of the cockpit, and additional space for kayaking equipment inside the cockpit on either side of the seat.
Let's start with some more info on the stern storage area. It's an open storage compartment with mesh netting stretched over it to keep items secure, which makes it an excellent choice for storing things like a small kayak cooler bag or a dry bag with clothing or first aid gear.
Moving forward, the area behind the seat doesn't have any way to secure your items, but it could be a nice place to put a jacket or a bulkier item that you want quick access to if weather or conditions change.
Inside the cockpit, the bottle holder will fit most reusable water bottles (reduce plastic waste folks!) and you'll be able to slide things like a kayak bilge pump or rope to tow another kayak in the small areas to the sides and underneath the seat.
At the front of the cockpit, there's a small indented area that can hold most smartphones or kayaking snacks. There is also a bungee cord stretched across this table to help you hold any items you place here secure.
Finally, there's another V-shaped section of bungee rigging on the bow deck of the Trailblazer NXT 100. This can be used to store items that you don't mind getting wet from rain or splashing water, or it can be used to hold one of the best kayak deck bags in place.
Handle Type and Placement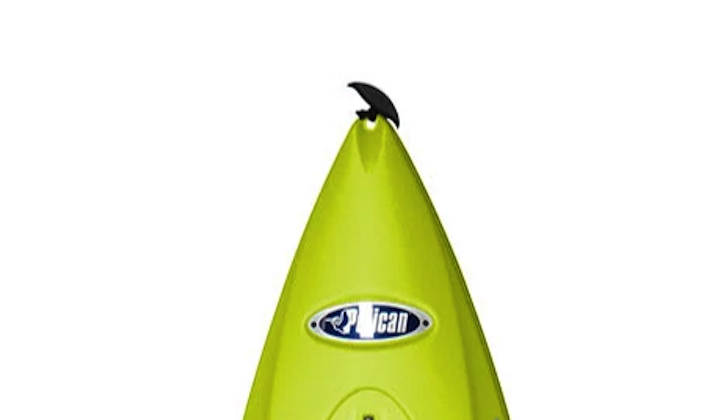 PC Pelican Kayak
There are only two toggle-style handles on the Trailblazer kayak and they are placed at the bow and stern. These handles make it easy to carry this lightweight kayak if you have a partner, and they provide some benefits over molded-in handles.
For one, toggle-style handles can rotate with your wrist to make it more comfortable to carry your kayak over uneven terrain. They are also much easier to replace than molded handles if a handle or the rope breaks.
That said, toggle-style handles are more likely to break or degrade over time, especially if you store your kayak outdoors. While the polyethylene material used to make the kayak itself is UV resistant, the rope connecting the handles tends to wear down if left exposed for several years.
If you do need to carry this kayak by yourself, the rounded edges of the cockpit still allow you to carry it comfortably from a central position. If, however, you find that feels too cumbersome, we would recommend investing in a kayak cart or trolley or making your own DIY cart from PVC!
How Does It Compare to Other Pelican Kayaks?
The Pelican Trailblazer 100 NXT kayak is a relatively no-nonsense, frill-free kayak for beginners. It doesn't have any unnecessary features that often just end up getting in the way for novices.
It also happens to be one of Pelican's lower-priced models, which also makes it an attractive option if you only plan to use it a few times every year. For what it's worth, it is priced lower than the three comparable models we're about to share.
That said, here are a few additional Pelican kayaks that are comparable to what the NXT 100 has to offer:
Check Price on Amazon
Specifications
Length: 9'6" (289.56 centimeters)
Width: 30 inches (76.2 centimeters)
Height: 11 inches (27.94 centimeters)
Weight: 41.8 pounds (18.96 kilograms)
Weight Capacity: 275 pounds (124.74 kilograms)
Compared to the Trailblazer, the Sentinel 100X is even shorter and wider, which makes it ideal for smaller, heavier paddlers who need a stable platform. It also differs in that it offers an open, sit-on-top cockpit that makes it much easier to get in and out.
This cockpit still has multiple footrest positions so that it stays versatile enough to accommodate paddlers of varying heights. The Sentinel also boasts a higher backrest for better back support if you want to spend longer days out on the water.
Bungee-style paddle parks on both gunwales are an added feature you'll find on the Sentinel, as well as an upgraded rear storage area. That storage area comes with Pelican's Exoshell™ removable storage compartment with 13 liters of storage space.
So you can remove the ExoShell™ if you want to use the rear area for open storage. Or, you can take the ExoShell™ into your house, load it up with a day's worth of supplies, and strap it onto your kayak when you reach your launch point.
Check Price on Amazon
Specifications
Length: 10 feet (304.8 centimeters)
Width: 28 inches (71.12 centimeters)
Height: 14 inches (35.56 centimeters)
Weight: 36 pounds (16.33 kilograms)
Weight Capacity: 275 pounds (124.74 kilograms)
The Maxim 100X boasts all the same specifications as the Trailblazer and, in many ways, these two kayaks are identical. They both feature a sit-inside design, a low ERGOFORM™ backrest with ERGOBASE™ pad, and an open rear storage area with mesh netting stretched across it.
However, instead of just having bungee rigging on the bow deck, the Maxim 100X actually has an enclosed storage hatch up there. Then there's bungee rigging in a V-shaped above the storage hatch.
That added feature allows you to organize your gear without having stuff in the way in the cockpit. Plus, it gives you a dedicated water-resistant storage space for supplies that you want to keep out of the elements.
The other key difference is that the Maxim 100X is built with a shallow, V-chine hull as compared to the multi-chine hull on the Trailblazer. This makes the Maxim slightly more efficient at cutting through the water with minimal resistance.
Check Price on Amazon
Specifications
Length: 10 feet (304.8 centimeters)
Width: 28 inches (71.12 centimeters)
Height: 14 inches (35.56 centimeters)
Weight: 41 pounds (18.6 kilograms)
Weight Capacity: 300 pounds (136.08 kilograms)
In terms of length, width, and height, the Sprint XR is also identical to the Trailblazer NXT 100, but it offers 25 pounds of extra cargo capacity. To get there, however, you must be willing to sacrifice the addition of five extra pounds of kayak weight.
In addition to those minor differences in weight and weight capacity, the Sprint XR is much better suited for efficiency over long distances than the Trailblazer. That's because it is built with a deep, V-chine hull.
That hull shape provides better tracking so you're not constantly correcting course and it also gives this kayak a little extra secondary stability, which makes it better for intermediate paddlers that might encounter wavy or choppy conditions.
This sit-inside kayak also includes a built-in keel extension to further improve tracking ability. Plus, it offers a slight upgrade over the Trailblazer by coming with a large enclosed storage hatch at the stern for water-resistant storage.
There's also additional storage behind the kayak seat, in a smaller circular hatch at the front of the cockpit, and underneath bungee rigging on the bow deck. There is even a small cup holder built into the forward cockpit "table" to keep your favorite cold beverage secure as you're enjoying a long day on the water.
Final Thoughts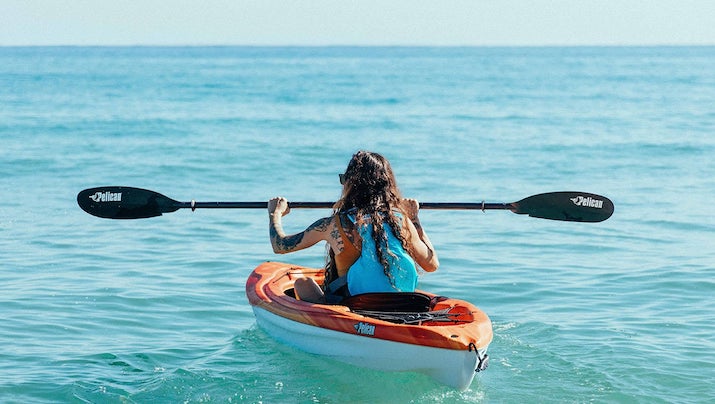 PC Pelican Kayak
At the end of the day, the Pelican Trailblazer 100 NXT is a super affordable kayak if you're looking for your first one. It's light enough for smaller paddlers to handle easily when you're on the water, which also makes it easy to load onto a kayak roof rack to transport.
It's also highly versatile so you could add it to your arsenal of family kayaks and not worry about who needs to paddle it on a given day. It will fit everyone from kids to adults, minus maybe the tallest folks in your family.
Overall, its durability, versatility, and incredibly reasonable price tag make the Trailblazer NXT 100 well worth the investment. And just in case you need more convincing, check out this comparison of Pelican and Lifetime kayaks!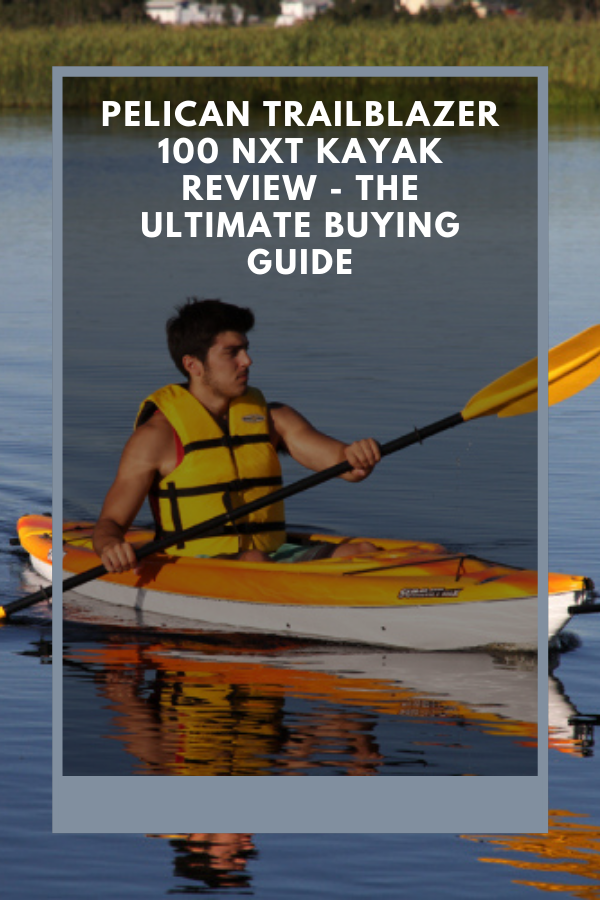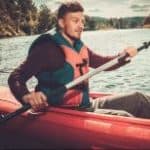 Author: Peter Salisbury
Pete is the Owner of KayakHelp.com. Born and raised in Cleveland, Ohio, he grew up kayaking, fishing, sailing, and partaking in outdoor adventures around the Great Lakes. When he's not out on the water, you can find him skiing in the mountains, reading his favorite books, and spending time with his family.