If you're new to the sport of kayaking and you live in Alabama, you might not have to travel as far as you think to find great kayaking spots.
Today, we're going to highlight the best creeks to kayak in Alabama and provide some useful insights for each spot.
Creek kayaking is a little different from kayaking on the open ocean or flat water lakes.
It does require a bit more knowledge of the creek's current flow rate, but there's no reason why beginners can't enjoy creek kayaking just like experienced kayakers.
In this guide, we'll also provide some basic creek kayaking tips for anyone that's just getting into this form of kayaking.
So let's not delay any further and let's start with a list of our selections for the best creeks to kayak in Alabama!
Reviews of Creeks to Kayak in Alabama
There is actually a surprising variety of creek paddling to be experienced throughout Alabama.
From north to south and east to west, there really aren't too many spots in the state where you'll be a long way from one of the 10 best creeks to kayak in Alabama!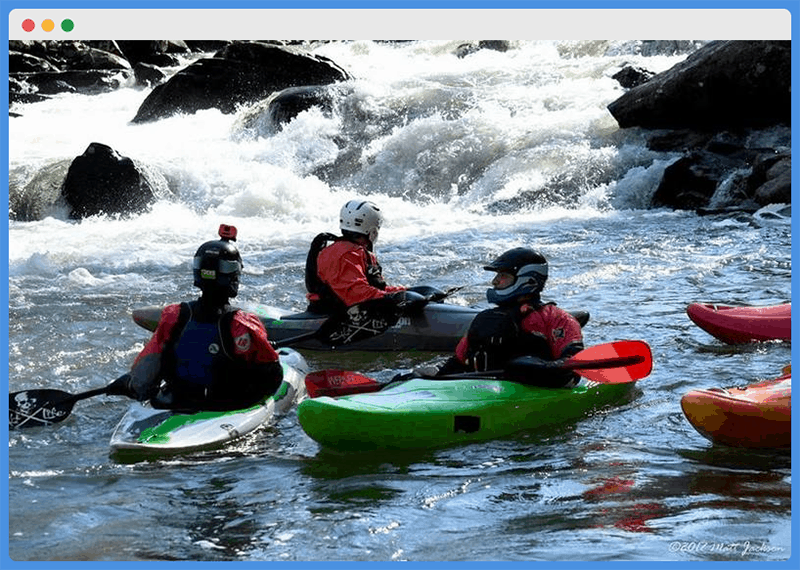 The run on Town Creek begins in High Falls Park and the take out is in Lake Guntersville State Park. It includes both Class II and III whitewater sections and, in total, the run is about 7.3 miles in length.
The average gradient on this section of creek is 44 feet per minute and the flow rate ranges from 250 to 2000 cubic feet per second.
That flow rate, of course, is variable depending on the time of year and recent weather patterns.
Town Creek is a great place to start for those that are new to Alabama creeking.
It's packed with plenty of class III action from start-to-finish and there is one section that most new kayakers choose to portage along this run.
That section includes a class V rapid called the Blockage and new kayakers should bear in mind that the approach isn't much different to many for the other class III rapids on this creek.
You'll want to portage river right, but it's a good idea to attempt this run with someone who already has experience with it.
The take-out for the end of this run is a little more than 1.5 miles into the lake paddle section, which is the final stretch of flatwater you'll need to cross.
You'll find the take-out just past another small creek called Duvall Branch.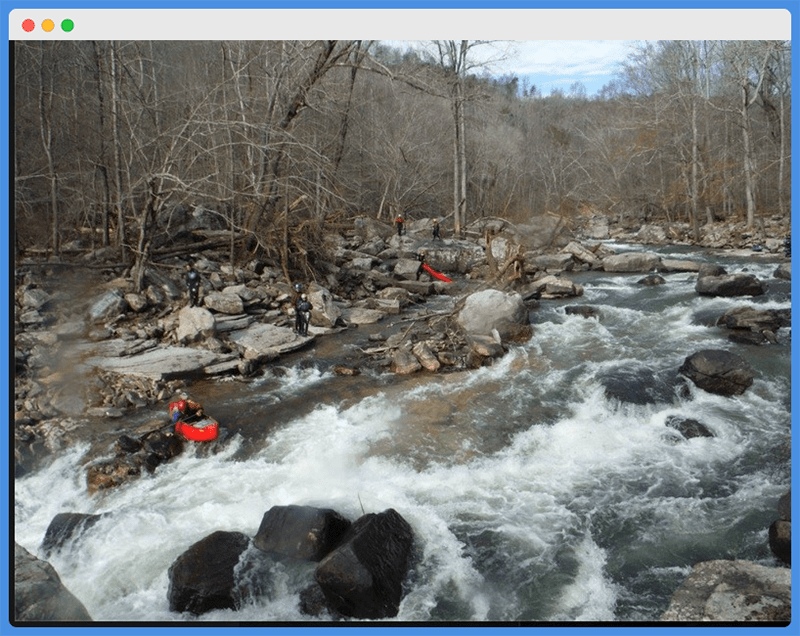 The run on South Sauty Creek begins at the put-in at the intersection of County Roads 43 and 56. It then proceeds almost 6.5 miles to the take-out point in Buck's Pocket State Park.
This section of the creek includes both Class III and Class IV rapids and boasts an average gradient of 60 feet per minute.
One of the best parts about this run is the short hike from the take-out to your car and the fact that there's a hot shower awaiting you at the take-out as well.
Right off the bat, a nice little drop gets you into the action immediately. It's usually run river right and it will get you tuned up and locked in before the Initiation Slot just three-tenths of a mile into this creek run.
Keep in mind that the flow rate on this creek ranges from 58 to 140 cubic feet per second, but the average flow is about 85 cfs.
Fortunately, there's a stick gauge at the take-out location (check it while you're parking your downstream vehicle) that will tell you whether the river is, in fact, runnable during the time of year you're visiting.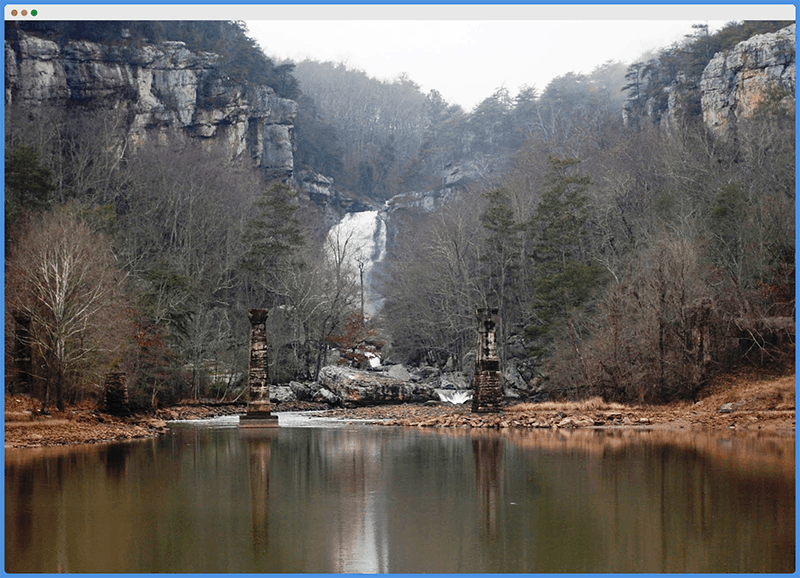 Yellow Creek offers a short, fun, and relatively easy paddle for beginner to intermediate creek kayakers. The main attraction of this paddle is Yellow Creek Falls, which is an unrunnable falls, but a breathtaking sight nonetheless.
Still, reaching the falls requires a short recreational paddle through the ruins of a huge stone railroad bridge.
After passing through the ruins, you'll have to navigate around huge boulders in a rock garden before pulling off on a small stretch of beach.
From there, it's a short hike up to the bottom of the falls where, during the summer months, it's possible to cool off with a quick swim.
The 100-foot falls are sure to spray their mist over a large area, so be advised of the mist zone if you visit here in the fall or winter.
The put-in for this short out-and-back paddle is at the public ramp off County Road 273.
From there, you'll need to paddle upstream about three-quarters of a mile to reach the beach where you can access the final quarter-mile hike up to the falls.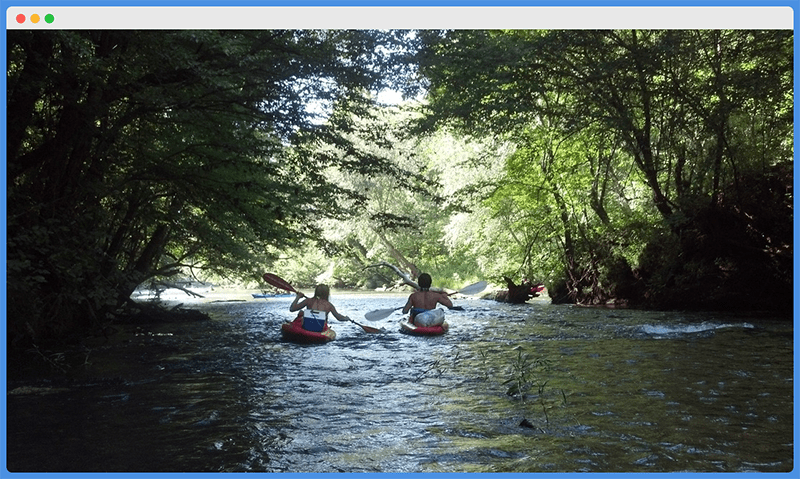 Terrapin Creek is a great option for paddlers that aren't necessarily looking for an exhilarating and challenging whitewater run.
This is a stretch of Class I water that stretches about 7.3 miles in total and offers a mild gradient of just 8.2 feet per mile.
The put-in for this run is on County Road 8 at the Frank Stewart Bridge and the take-out is located on State Route 9 near Old Coloma.
At a flow rate of 650 cubic feet per second, the river moves well, but it requires a minimum of 300 cfs to be runnable.
The cool part about this creek section is that you don't necessarily need to have your own paddle gear to enjoy it.
The nearby Terrapin Outdoor Center has a large selection of kayaks, canoes, PFDS, and other paddle gear that can be rented for the day if you choose.
The outdoor center will also run a shuttle for you if needed (for a fee) and can also point out important landmarks and hazards on this section of creek. If you're looking for a family float or a day of recreational paddling, this is definitely a great option.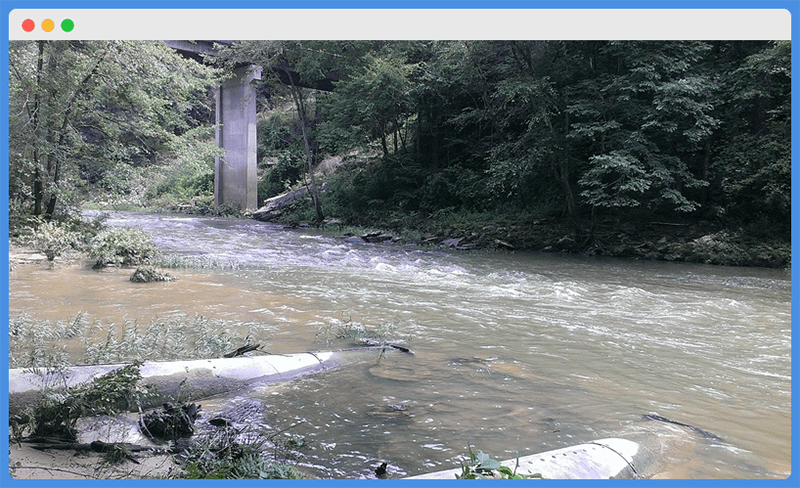 Blackwater Creek is a relatively short section of Class II whitewater that runs from the intersection of Route 257 and County Road 41 down to Walston Bridge.
It's about 4.2 miles in length and boasts a flow ranging from 300 to 1500 cubic feet per second.
The ideal level, however, is between 500 and 750 cfs and there will be a decent amount of play when the river is running at this level.
At certain times of the year, there will also be a great surfing wave along this stretch of whitewater.
Because of the swamp located upstream from Blackwater Creek, it tends to run more consistently than other sections of whitewater in this area and it also tends to hold its level longer than other streams after recent rainfall.
Be aware that this section of creek is runnable at higher flow rates, but it will be a swift paddle and you may encounter some big waves and holes at the larger rapids if you attempt to run it when it's at its highest.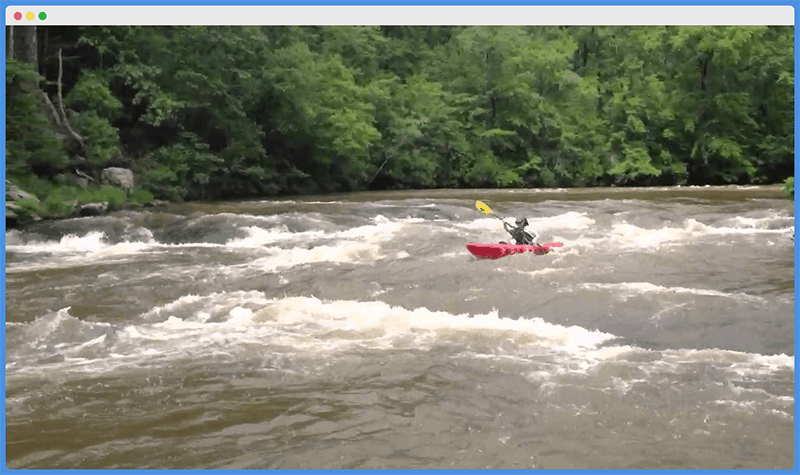 Located in East Central Alabama, Hatchet Creek is best when it's running between 700 and 800 cubic feet per second. The section from Highway 280 to Highway 231 is one of the most popular for creek kayaking.
Be advised, however, that this is a lengthy section that takes up to 10 hours to run even when the creek is flowing fast.
That's why many kayakers break it up into a two-day trip by camping overnight at Dunham's Halfway Campsite.
Anytime from mid-March to late May is usually the best time to run this creek because water levels tend to drop during the summer months.
Some kayakers will attempt the run during the winter, but a wetsuit is highly advised for that time of year.
One of the best features of a springtime run on Hatchet Creek is the abundance of the shoals lily (also known as the Cahaba lily) dotting the shoreline.
You'll also have the freedom to camp on any of the creek's many sandbars, but you should always be aware of the possibility of rising water levels if rain is in the forecast anywhere in the nearby area.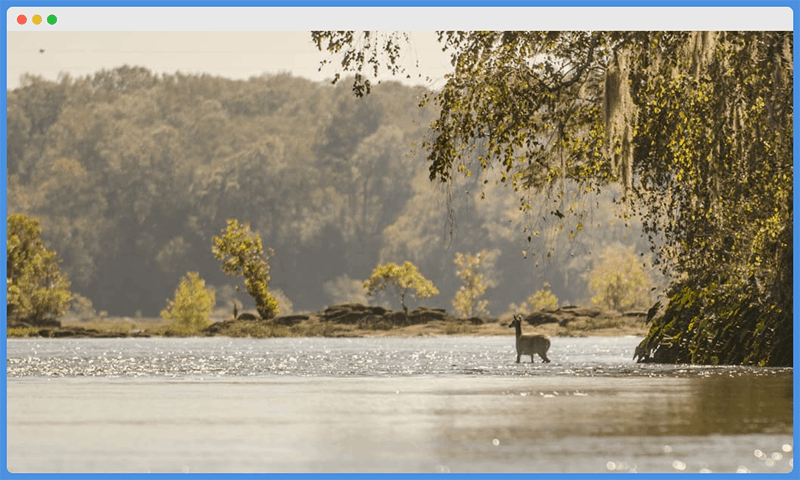 Weogufka Creek ranges from 20 to 75 feet in width and features mostly Class II whitewater.
The put-in is located on County Road 16 just past Mount Moriah Church and the take-out is another six miles into the Wildlife Management Area past the church.
In total, the run is about 9.6 miles in length and the banks are quite overgrown in most sections.
This makes stopping along the banks quite difficult, but there are a few rocky shoals to pull kayaks up onto when the water level is lower.
Most reports suggest that the ideal flow rate for this creek is between 500 and 900 cfs and there's a lot of wildlife in the area.
The first four miles are relatively mild and run through pasture land, but the terrain begins to change dramatically at mile five.
Miles six through eight are basically one continuous rapid and there is a double step-down with about four feet of drop just past mile eight.
The take-out can be a bit tricky at higher water levels because there's only one small space to hit along the shoreline before going over the ford drop.
This section of creek kayaking is actually a Y-shaped confluence located at the southwestern corner of the state near the tip of the Florida panhandle.
Multi-day kayaking trips are popular in this region because of the many sandbars on the region's creeks.
The trip on Burnt Corn Creek begins near the Tippens Eddy Bridge where County Road 77 moves across Burnt Corn Creek. The creek itself is small, shallow, and surprisingly very undeveloped.
The run is a total of about six miles in length and you should be advised the log jams are possible after heavy rainfalls.
If you encounter one, the best course of action is to pull your kayak out and portage around the jam until you can enter the creek again safely.
Burnt Corn Creek is also a great place for spotting migratory birds and other Alabama wildlife.
Please be advised that this creek is extremely shallow in spots, so you may want to choose a kayak that you don't mind getting a few scrapes for this trip.
Hurricane Creek features class II and III whitewater and it's a relatively short, 3.9-mile run.
There's really only one gnarly stretch of whitewater located at a location called M Bend, but the water level must be above two feet to run this rapid.
Overall, it features an average gradient of just eight feet per mile, and the primary gauge for judging the water level of this creek is located at the take-out bridge on County Road 88.
The put-in, just for your reference, is located at the bridge on Highway 216.
Keep in mind that experienced kayakers don't recommend leaving a vehicle at the put-in for this creek run. There's no parking lot at the location and the road is quite narrow here for leaving a car on the side.
Most of the creek features choppy, moving water that is also sometimes frequented by tubers.
But the M Bend is where all the action lies and some kayakers even use this location as a fun play and surf spot when the water level is high enough.
Bear Creek and Little Bear Creek are two of the few places where you can enjoy recreational water releases from the dam upstream.
The Bear Creek Dam releases water every weekend from Memorial Day through Labor Day, which is the primary reason why this area attracts recreational paddlers.
These recreational water releases increase the flow of the creeks from a meandering 11 cfs to a quite enjoyable 200 cfs.
The release usually begins on Friday evenings and also raises the water level on the creeks by 1-2 feet, depending on the location.
The Highway 5 Ramp is the best put-in for those that want to take advantage of these recreational water releases.
There is also camping available at the Twin Pines Campground, which is the only location where camping is permitted in this area.
This creek section will feature Class I to Class III rapids at high flow rates. There is also a mandatory portage of the Class IV rapid at Factory Falls and another optional portage located at Old Mill Falls.
Creek Kayaking Tips
Now that you have a solid list of Alabama kayaking destinations to explore, let's talk briefly about creeking (short for 'creek kayaking').
Here are some important creek kayaking tips you should be familiar with if you're new to this type of kayaking:
Take A Whitewater Training Course
A Swiftwater Rescue Certification Course is a great place to start if you're getting into whitewater kayaking. There's no substitute for lifesaving knowledge and you might just meet other aspiring creek kayakers in your course.
Check Dam Release Times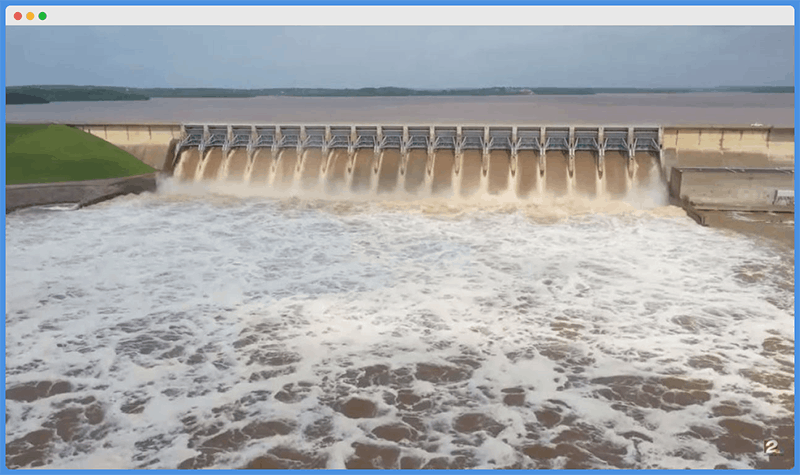 The reality is that the flow rate on many creeks throughout Alabama is controlled by a dam somewhere upstream.
So you should know which dams control the flow where you're about to paddle and make sure you know when they plan to release streams of water that will dramatically alter your paddling experience.
Study Flow Rates
Flow rates can be tricky because 2000 cfs on one creek can look completely different than 2000 cfs on a smaller or larger creek.
So you need to know what's normal, low, and high for the specific creek you're interested in before determining whether or not the conditions are safe for your creek kayaking trip.
Go With A Guide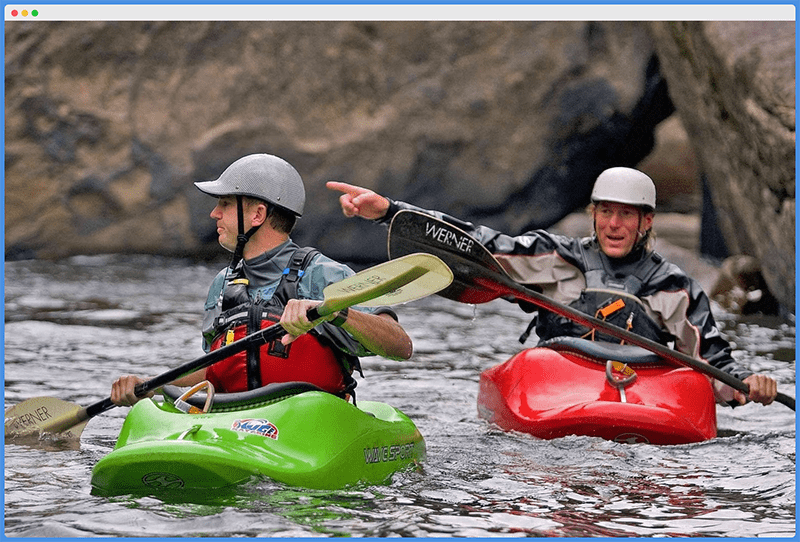 If you're brand new to creek kayaking, there's no better way to learn than to go on a guided adventure.
And if you can't find a guide-for-hire in your area, reach out through local Facebook or community groups to find experienced kayakers willing to share their expertise.
Final Thoughts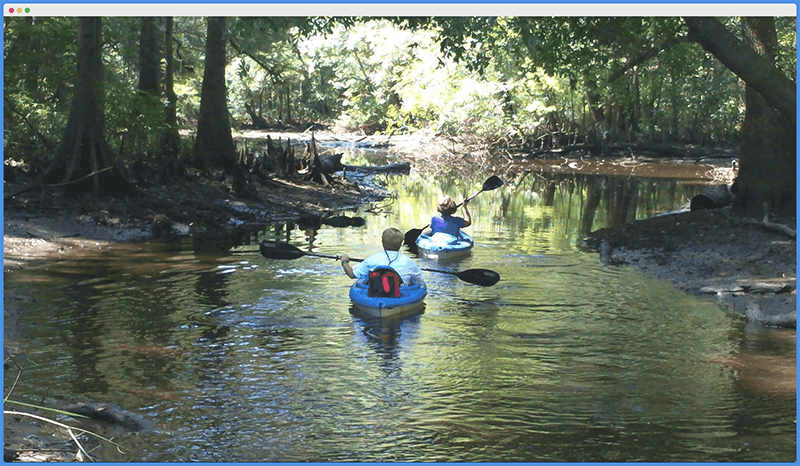 Creeking is a super-fun offshoot of traditional kayaking that requires whitewater skills like the lie back technique and the put across roll.
But don't be fooled, some of these Alabama creeks are great options for recreational kayaking as well.
Not all of them will require that you have one of the best whitewater kayaks and know the ins and outs of running Class III or IV rapids, but some definitely will if you're looking for that kind of paddling challenge.
Our hope is that we've included options for everyone in our list of Alabama creeks for kayaking.
And, as always, we wish you nothing but the safest and most enjoyable of kayaking adventures in the months and years to come!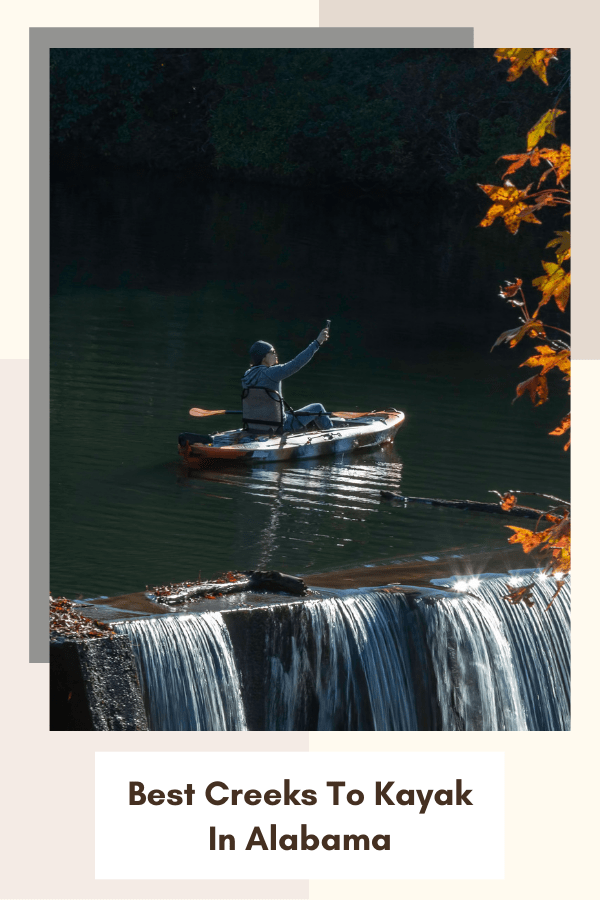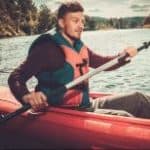 Author: Peter Salisbury
Pete is the Owner of KayakHelp.com. Born and raised in Cleveland, Ohio, he grew up kayaking, fishing, sailing, and partaking in outdoor adventures around the Great Lakes. When he's not out on the water, you can find him skiing in the mountains, reading his favorite books, and spending time with his family.