Running from Eugene to Portland, the Willamette River in Oregon is 187 miles long. It offers many awesome kayaking opportunities for both beginner and advanced kayakers.
As one of the major tributaries of the Columbia River, the Willamette River is the 13th largest river in the United States. Willamette Falls is the second-largest waterfall in the United States after Niagara Falls.
The river runs through Salem, Oregon's capital. However, many people go kayaking on the river in Eugene or Portland.
Regardless of whether you live in Oregon or in a nearby state, the Willamette River is a great place to learn how to kayak and practice your newfound kayaking skills.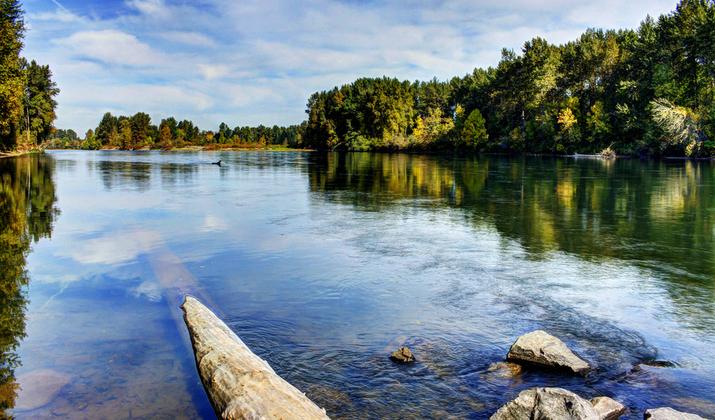 Heather Elise Endicott/Shutterstock.com
This guide contains all you need to know about kayaking on the Willamette River as a beginner. I'll discuss where to rent a kayak and get kayaking lessons, where to stay, and a lot more!
Let's get into it.
Why Kayak on the Willamette River?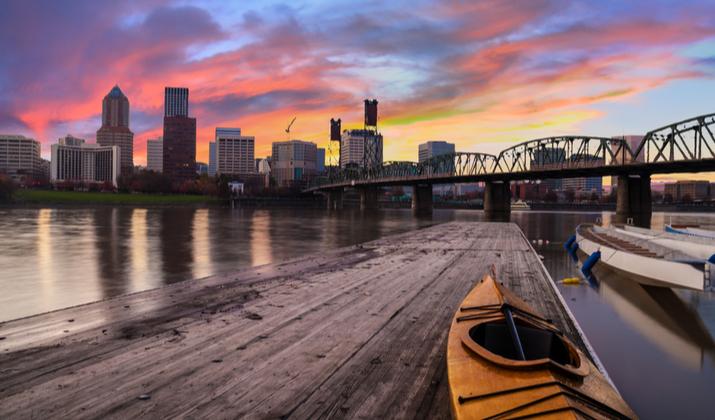 Josemaria Toscano/Shutterstock.com
Did you know that 70% of Oregon's residents live in the Willamette Valley? Most of the residents in the valley live just a 20-minute drive from the Willamette River.
That means that if you live in Oregon, chances are that the Willamette is one of the closest and most accessible places to kayak. In addition, there are so many kayak rental companies on the river, many of which offer lessons or group classes for beginners.
You can even take a guided tour of the river.
Many Oregonians never think that the river could be a great place for kayaking, but it is. There are many launch points along the river, and you can go from there to secluded, quiet spots.
If you want a peaceful kayaking experience, passing by endless greenery, farmlands, and plains, the Willamette River is a great place to go.
Anytime you need a break from the hustle and bustle of the city in Salem, Portland, or Eugene, you can head to the river and enjoy a mini getaway.
Rigucc/Shutterstock.com
If you love birds, the Willamette River is a great place as well. You can even spot bald eagles on or near the river; plenty of other birds stick around and hunt for fish or other prey. Of course, there are also waterfowl.
The Best Time of Year for Kayaking on the Willamette River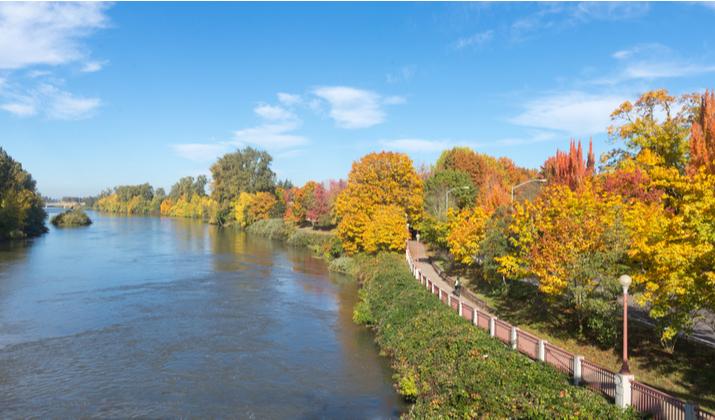 Jamie Hooper/Shutterstock.com
I recommend going in the autumn, as that's when you'll see the best scenery. The trees alongside the water will turn many colors, giving you a dazzling array of green, yellow, brown, orange, red, and more.
In addition, autumn is when you'll get a chance to see the most wildlife. Many birds will be migrating then, so you'll see a greater variety of fowl than during the summer, for example.
Besides, autumn is perfect because it's not too hot and not too cold. The heat of the summer will have passed, while the freezing cold weather will not have arrived.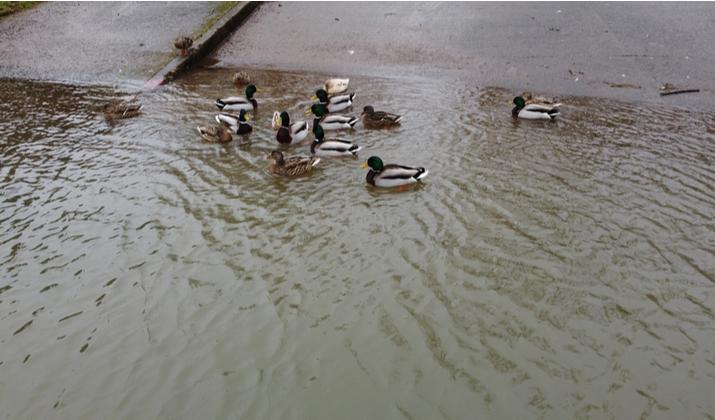 Happiness Not Perfection/Shutterstock.com
Of course, the later you go in the autumn, the colder it's going to get. If it's chilly outside, you're going to need a jacket or sweater to keep you warm.
I recommend using a waterproof jacket that fully covers your upper body, as that will help keep moisture away from your skin.
However, springtime is also an amazing time to go kayaking. The weather is nice and cool, and you may not even need a jacket.
The downside of going too early in the spring, other than the potential for cold weather, is that all the lush greenery alongside the river may not have bloomed yet. Of course, it will still be stunning, but you might miss out on the full experience.
Then there is the summer. The summer could be a good time to kayak on the river as well.
Fortunately, it doesn't get too hot in Portland during the summer, with the temperature averaging at around 80 degrees Fahrenheit. That means that most days will still be suitable for kayaking.
On the other hand, on some days, the weather can go up to 90 or even 100 degrees! Kayaking in such hot weather is not only uncomfortable, but it can cause you to get sunburned and dehydrated.
It's important to check the weather forecast a few days before your kayaking trip to ensure the weather will be pleasant.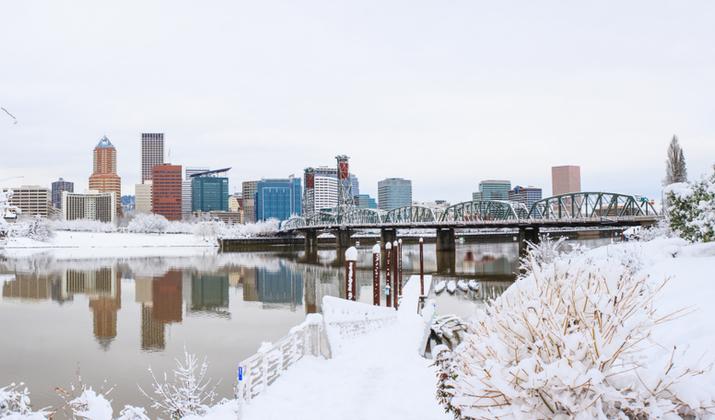 Josemaria Toscano/Shutterstock.com
Finally, there is winter. As long as the river is not frozen over, you can theoretically kayak in it.
However, as a beginner, I strongly recommend against kayaking on the Willamette River during the winter. The potential for things to go wrong is just too high.
Where to Find Kayaking Lessons, Tours, and Events on the Willamette River?
Never gone kayaking before? Don't worry.
There are many kayak rental companies and clubs that offer lessons, tours, and group trips on the Willamette River. Whether it's your first time kayaking or it's been a few decades, and you need a refresher, there's no shame in getting a few lessons to ensure your skills are up to par.
Here are the best places to get kayaking lessons on the Willamette River as a beginner.
Brandin/Shutterstock.com
The Willamette Kayak and Canoe Club, located in the mid-Willamette Valley, is a great place to join group kayaking events. The club holds beginner kayak outings regularly.
Those outings are trips that are easy – they avoid difficult waters or anything beginner kayakers might find challenging. You'll be able to take things slowly during such events while feeling secure in the knowledge that there are others around to help you in case anything goes wrong.
On the New Boater Info page, you can find more information about joining the club as a beginner. For example, you can join kayak roll sessions at local pools, which not only gives you a chance to learn essential safety skills but also meet other boaters.
Every July, the club holds a safety event. It's a two-day event in Eugene where you will learn all about water and river safety, helping you stay out of sticky situations while on the river.
You can browse upcoming events, including classes on the Willamette, on the Events page. You can get a Willamette Kayak and Canoe Club membership by signing up online.
As a member, you can subscribe to the mailing lists to be notified about upcoming events and group trips. You can even borrow equipment from other members if you don't have the necessary equipment for an excursion.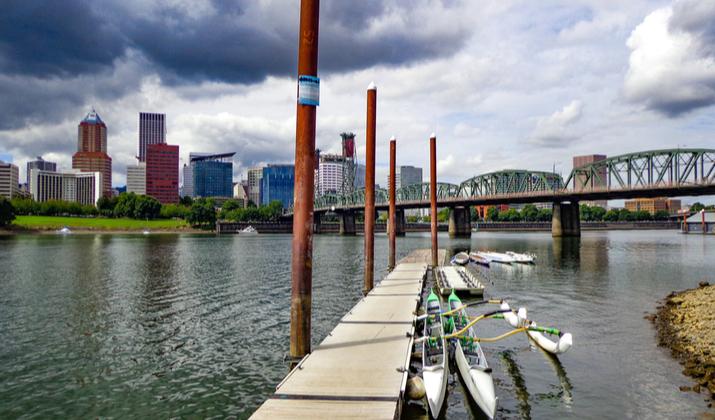 Nate Hovee/Shutterstock.com
eNRG Kayaking is an excellent place to get kayak lessons. There are different plans available for whitewater instruction.
A day of whitewater instruction starts at $175, while two days start at $325. Both private lessons and group classes are available, at differing price points.
The lessons are designed for complete beginners – you don't need any prior experience to join. You'll learn all about basic kayak strokes, how to select the right kayak, how to navigate rivers, the dangers of kayaking, and a lot more.
After completing the sessions, you'll feel confident in your abilities to properly kayak the Willamette River and other waterways.
Here's how the classes work.
First, you'll sign up for Whitewater 101, during which you'll start out on flat water. You'll learn some basic skills and all about using the right safety gear to ensure you are safe on the river.
You will have lunch with the group and then run the lower Clackamas River (a tributary of the Willamette River). The next day, you'll go for a longer run on the river, practicing skills you learned the day before.
After completing Whitewater 101, you can move on to Whitewater 102. You'll learn how to navigate more advanced waters and practice advanced skills.
Students also learn how to analyze rivers and determine risk.
While the classes will be in Oregon City, the exact location can vary based on river conditions. To attend Whitewater 102, you must have completed Whitewater 101 or have prior kayaking experience.
You must also bring your own gear to Whitewater 102 classes.
You can also sign up for a monthly plan of four consecutive Monday sessions. These sessions take place every Monday after work hours, for a total price of $120/month (or $30 a session).
They're designed for busy people who work during the day but still want to practice kayaking. You'll practice different strokes and other kayaking techniques, getting better each week.
eNRG also offers a Willamette Falls Tour. It's a guided tour that takes just an hour and a half – but you'll travel across two miles of the Willamette.
You'll get a chance to see the falls, which are the second largest in the United States. The guide will show you the way and tell you about the history of the areas you kayak through.
The tour is a great way to experience the river and the falls if you are a beginner who doesn't yet own a kayak. While you'll need to bring sunscreen and proper clothes, the tour includes a provided kayak and a safety jacket.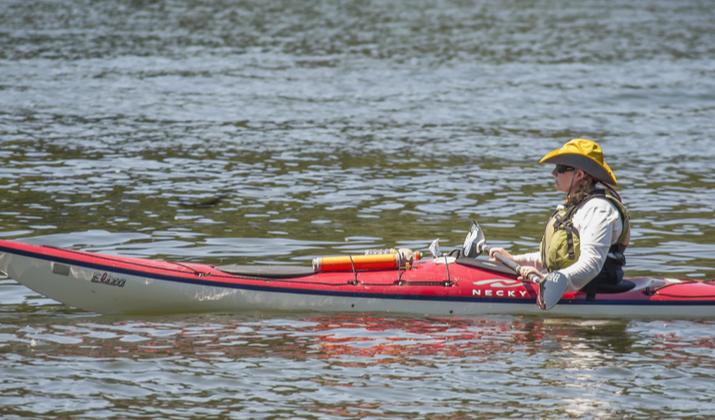 Dee Browning/Shutterstock.com
Portland Kayak Company offers kayak classes for both private individuals and small groups. For three hours of instruction, you'll pay just $150 – that's $50/hour.
For each additional person you add, you'll pay just an extra $85, making it an excellent option if you'd like to learn how to kayak with your partner or friend group.
You can take the lessons as a complete beginner with no prior experience. However, you don't need to be a beginner to sign up for the lessons – the instructors can adapt to your skill level and help you learn new skills and techniques that you didn't know before even if you already have some experience.
Kayak Portland Company is located a few feet away from the Willamette River. They also offer kayak rentals, so if you just want to get some practice but aren't yet ready to purchase a kayak, rent from them.
The Kayak Portland Company shop on Macadam Avenue is where the launch point is. You can also sign up for guided tours on the Willamette River.
You can also check out the calendar for upcoming events; you might find kayak classes focusing on specific areas of kayaking, such as certain types of strokes.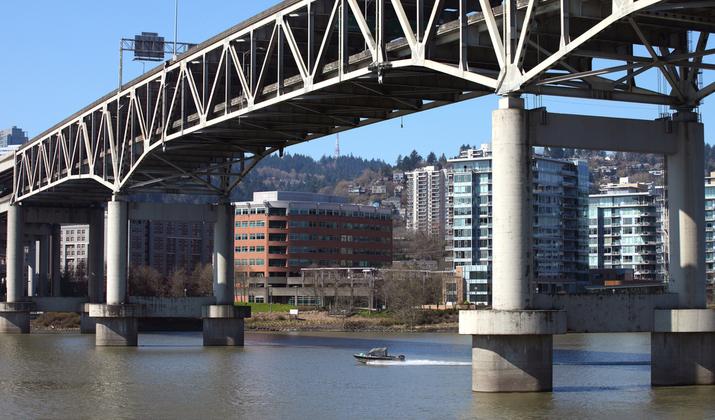 Rigucci/Shutterstock.com
You can also sign up for beginner paddling lessons from the Paddle People, or "Just Two Guys." They're just two kayak enthusiasts – two best friends who started their company to share their love of kayaking and canoeing with the world.
Their beginner paddling lessons start with half an hour of orientation on the beach, before even getting into the boat. You will then spend an hour and a half on the water, where you will learn how to get in and out of your boat, how to paddle, and all about safety.
You can call Jeff at 503-956-0561 for more information. It costs $100 for two people, and you can meet the Paddle People at Willamette Park – West Linn or other areas on the water.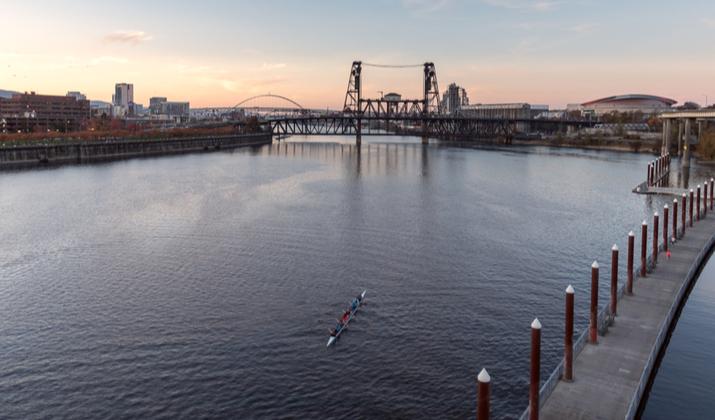 Tony Prato/Shutterstock.com
Salem Kayak Rentals is an excellent option if you live in Salem. It's located not far from the Willamette River, and it was founded by someone who grew up on the Willamette River.
In addition to kayak rentals, the company offers guided tours along the river. Many of the tours last just a few hours and are designed for beginners – even teenagers as young as 13 years old can join some of them.
Other tours are more advanced and last for multiple days. Either way, the tours are affordably priced – check them out here.
Alder Creek Kayak, Canoe, Raft & SUP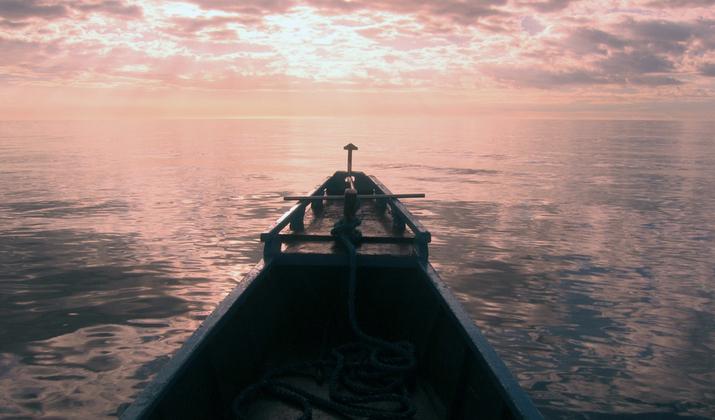 Wirestock Creators/Shutterstock.com
Alder Creek offers both whitewater and sea kayak immersion classes. While it has multiple rental locations, its two-day whitewater immersion courses usually take place on the Clackamas River, which is a tributary of the Willamette River.
They take place on the weekend (Saturday and Sunday). You will learn basic strokes, safety information, forward and reverse paddling, wet exits, whitewater anatomy and river hydrology, rolling, self-rescue, and a lot more.
Alder Creek offers three levels of kayak instruction: Introductory Classes, Foundational Classes, and Advanced Classes. For example, the Basic Skills Kayak Class starts from just $79 and will teach you the foundations of kayaking.
Not only that, but Alder Creek offers kayak classes for teens and kids, as well as guided tours. For example, there is a five-day kayak power camp for kids aged 10-14.
Where to Stay on the Willamette River?
If you're driving in from out of state, there are a number of great places to stay on the Willamette River. Portland is a good place to stay, not just because it provides easy access to the river but also because it's Oregon's most populous city.
That means that there are always things to do in Portland. However, if you want to get out of the city and see more nature, you can also stay somewhere else, like Independence, Oregon.
For example, Independence Hotel is one of the best getaways in Oregon for kayaking the Willamette River. Located in Independence, Oregon, it gives you a chance to get away from the hustle and bustle of the big cities.
It's located right on the Willamette River, and it aims to provide its guests with a wide range of kayaking opportunities. The staff can arrange kayak rentals for you – you can even have a company come and deliver a kayak to one spot on the river and pick it up upstream, so you don't have to go back yourself.
For more information about kayaking while at the hotel, check out their page called On The Water.
Tada Images/Shutterstock.com
In Portland, you can stay at La Quinta Inn & Suites by Wyndham.
Capital Inn and Suites is a more affordable option for Budget travelers. Lolo Pass Portland Hotel and Hostel is another cheap option.
Other Resources for Kayaking the Willamette River
I recommend checking out the Willamette River Water Trail website. There, you will find links with information about essential equipment to bring with you, shuttle options, safety information about the Willamette River, details about guides, maps, and more.
The Itinerary Inspiration page is great if you want help planning a kayak trip on the river. Both day and overnight trip plans are available.
The itineraries are classified based on skill level, so just look for beginner itineraries.
Also, check out the website of the Willamette Riverkeeper. Its goal is to restore the Willamette River and help people enjoy it.
It's no secret that the Willamette River is one of the most polluted waterways in the United States, which is one of the factors that cause many people to hesitate before kayaking on it. However, the Willamette Riverkeeper is trying to keep it clean so that everyone can enjoy it as a recreational river.
Check out their page on the Willamette Water Trail too.
Final Thoughts
Now that you've completed this guide, you have all the information you need to enjoy a kayak trip on the Willamette River as a beginner.
Start by finding a kayak company that offers lessons or guided tours near you from the list above. Schedule your private or group classes and prepare yourself for an adventure of your life and keep in mind these safety tips for beginner kayakers.
If you liked this guide, share it with your friends. You might also like our beginner's guide to kayaking in New York City.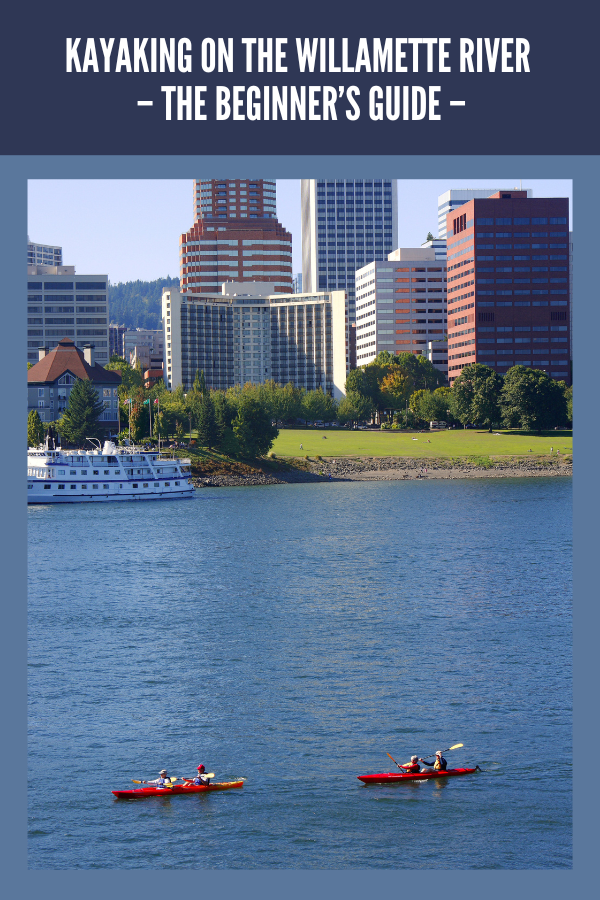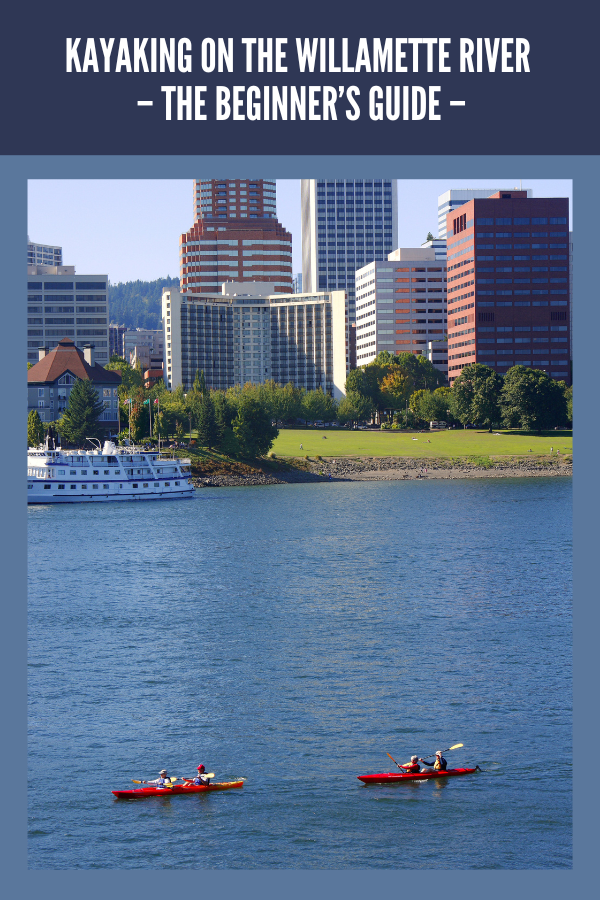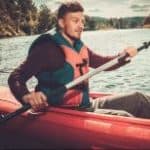 Author: Peter Salisbury
Pete is the Owner of KayakHelp.com. Born and raised in Cleveland, Ohio, he grew up kayaking, fishing, sailing, and partaking in outdoor adventures around the Great Lakes. When he's not out on the water, you can find him skiing in the mountains, reading his favorite books, and spending time with his family.