Night skiing is great fun and has some advantages over skiing during the day. It is available in most ski resorts, and it offers their visitors extra value for their ski or snowboard trip.
In this post, we will go into why night skiing is so good. But we will also talk about the best goggles for night skiing and give you some great recommendations.
Advantages Of Going Night Skiing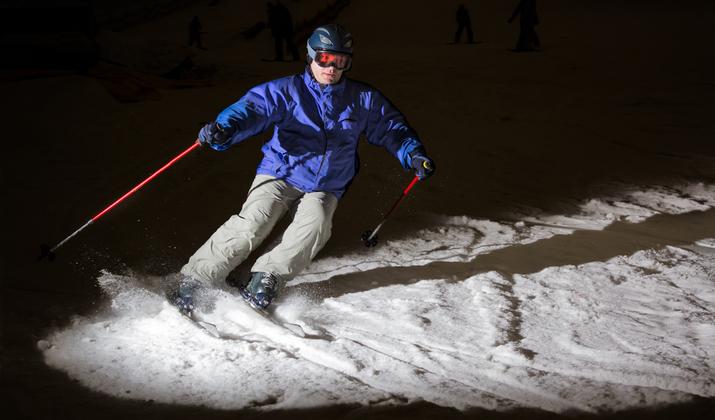 By Alex Egorov at Shutterstock
1. A Less Expensive Way To Get Some Mountain Time
Ski resorts don't open up the whole mountain for night skiing. They open a limited number of lifts that are easy to get to.
This means that the overhead for running the lifts and everything associated with skiing is reduced. Therefore, your night skiing lift ticket is much cheaper than the day rate.
Night skiing is also great for the resorts, as it attracts people to its bars and restaurants while squeezing a little more revenue from their lifts.
2. Less Crowded Slopes
Night skiing doesn't appeal to everyone, and people tend to have other commitments in the evenings. This means that there are fewer people on the slopes.
You can take advantage of quiet slopes and non-existent lift lines. The result is that you get lots of runs in without people getting in your way.
3. An Opportunity To Practice
Sometimes you can't squeeze everything into your day. Therefore, heading up the mountain after the sun has gone down allows you to practice some skills.
If you are a snowboarder wanting to practice your Euro-carves, or a skier looking for a clear run to get some speed up, night skiing sessions are perfect.
4. A Unique Experience
Skiing under the floodlights at night is super cool. It can be chilly, but looking down on the resort's lights is a great experience.
Skiing and snowboarding at night have a very different feel and should be experienced at least once.
Top Tips For Night Skiing
By yanik88 at Shutterstock
1. Wrap Up Warm
The thing about night skiing is that it can get incredibly cold. Even if the conditions are perfect when you go out, they can change pretty quickly.
The temperature will drop and will continue to fall throughout your night skiing session. Therefore, you need to be prepared.
Consider putting on thicker or extra layers than you would typically wear. We advise that you carry a face mask or an extra layer in a backpack.
2. Service Your Equipment
The snow can get pretty icy at night; therefore, you should ensure that your edges are nice and sharp. If the edges on your skis or snowboard are blunt, you won't have as much control, which is frustrating and dangerous.
3. Don't Ride Alone
The area open for night skiing is usually pretty small, so there is not a significant danger of getting stranded alone. However, the visibility can be compromised, making it hard for people to spot you if you have fallen. This is especially the case if you are skiing on a very quiet slope.
Therefore, you will be much safer if you are with another person. You don't want to be left on the mountain with an injury in sub-zero temperatures and a snowstorm.
4. Have the Right Eyewear
When you go night skiing or skin in low light conditions, you need to have the correct eyewear. The spotlights are great, but they are no match for daytime sun, so the lighting is drastically reduced.
If you wear your usual daytime eyewear for night skiing, you will find seeing properly a struggle.
A pair of sunglasses won't cut it either, even if they have light lenses. The extra cold pressurized air will cause your eyes to water.
A good pair of ski goggles will protect your eyes from the cold wind. But they will also protect them from snow and ice.
However, there are some considerations for which goggles you use for night skiing. So, the following section will discuss what makes a good pair of goggles for night skiing.
What To Look For In Goggles For Night Skiing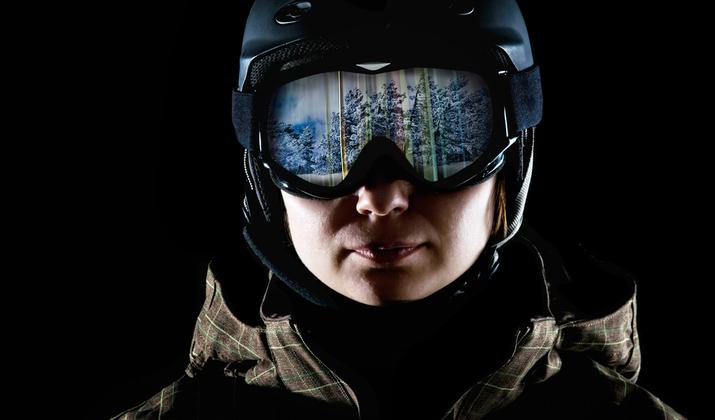 By Yarygin at Shutterstock
There are ski and snowboard goggles for all light conditions. Some have lenses that work great in all sorts of light, but they may not be suitable for night skiing.
Here are some things to look out for when you buy some goggles for night skiing:
Look At The VLT Rating
VLT stands for visible light transmission and is the percentage that indicates how much light the goggle lenses let through.
If you were to choose a goggle lens for a sunny day, you would select a dark-tinted lens. Some of these lenses are very dark and even appear black and opaque.
These dark lenses have a VLT of about 7.5% or less. This low level of light that can get through stops you from squinting in bright sunlight.
So with this in mind, a goggle lense for night skiing needs to have a high VLT. High VLT lenses are usually completely clear or yellow.
These types of goggle lense will allow up to 99% of visible light into your eyes. This means you can see everything in the greatest detail while you are skiing in low-light conditions.
Clear goggle lenses with no color let in the most light. However, ones with a slight yellow tint can improve contrast, which most people find beneficial for skiing.
Make Sure The Goggles Are Ventilated
All good modern ski and snowboard goggles have some form of ventilation. Ventilation allows cold air to flow into the goggles and exhaust warm air out of them.
The ventilation is to keep the air temperature inside the goggles as close to the outside temperature as possible. This prevents them from fogging up and obscuring your vision. 
Having clear vision is essential all the time while skiing or snowboarding. But it is especially important when night skiing due to the reduced lighting level.
You will find that not all goggles are 100% impervious to fogging up. Even very expensive ones can fog up from time to time. You need to treat your goggles in the right way to prevent them from fogging up while you ski.
Pay Attention To The Lens
The best ski and snowboard goggles have dual-pane lenses. These work in the same way as the double-glazed windows in your house.
The two sets of lenses help to regulate the temperature inside the goggles. This is another way ski and snowboard goggle manufacturers prevent their lenses from fogging up.
Check If You Can Swap The Lens
Some ski and snowboard goggles allow you to swap the lenses to suit the light conditions. The advantage of this is that you only have to buy and pack one pair of goggles.
All you need to do for night skiing is remove your daytime lens and replace it with a low-light one.
Some ski and snowboard goggles make this super easy by retaining the lens with strong magnets. You can change your lens in literally one second.
The disadvantage of goggles that allow you to swap lenses is that they are susceptible to moisture ingress in a fall. Once the foam inside your goggles gets wet, you will have a continuous battle with your lens fogging up.
If this happens, you need to let your goggles dry naturally to ensure they are perfectly dry. You may be able to use a hand drier in a mountain restaurant bathroom, but it will only be a temporary fix.
In an ideal world, you would have a spare pair of goggles in case one pair gets wet.
Thumbnail
Title
Oakley O-Frame MX Jet Black w/Clear
Smith Range Men's Adult Snow Winter Goggle - Black | Ignitor Mirror
OutdoorMaster Ski Goggles PRO - Frameless, Interchangeable Lens 100% UV400 Protection Snow Goggles for Men & Women (VLT 10% Grey Lens Free Protective Case)
Bolle Mojo Snow Goggles (Shiny Black, Lemon)
HONGDAK Ski Goggles - Snow Snowboard Snowmobile Men Women Youth Kids Anti Fog Winter Sports Snowboarding Goggles
Thumbnail
Title
Smith Range Men's Adult Snow Winter Goggle - Black | Ignitor Mirror
Thumbnail
Title
OutdoorMaster Ski Goggles PRO - Frameless, Interchangeable Lens 100% UV400 Protection Snow Goggles for Men & Women (VLT 10% Grey Lens Free Protective Case)
Recommendations For The Best Goggles For Night Skiing
Now you know what to look for, we will give you some great recommendations. We will go into some detail on each, so you can make an informed decision on which ones to buy for night skiing.
Check Price on Amazon
The Oakley O Frame goggles are a classic design and still look and work great. This style has been used by skiers, snowboarders, mountain bikers, and motocross riders for many years.
Extreme sports enthusiasts love the O Frame for their secure fit. They fit snugly around your face and are held in place with an excellent silicone-lined elastic strap.
To help seal out the elements and give you a comfortable fit, Oakley has used a triple-layer face foam. This design prevents water from getting in and sweat dripping into your eyes.
The foam's outer layer is made from fleece material, which does a great job of wicking away sweat and moisture. This is, of course, essential to prevent the lens from fogging up.
To help with keeping your vision clear, the Oakley O Frame goggles have a tried and tested lens. This lens is the F2 anti-fog lens that is also resistant to scratches and impacts.
The frame is malleable to allow quick and easy lens changes. The flexible frame also molds to your face for comfort.
The frame is also contoured to enhance the seal and comfort, creating an excellent seal around your face. This allows moisture to wick away while preventing snow and ice from getting in.
You will like the Oakley O Frame goggles for their durable construction and comfortable fit. You can also buy several different lenses for them, including ones with Iridium coating.
Even though they are durable, you still need to look after the lens. If you scratch the lens too hard, the anti-fog coating will be damaged.
Check Price on Amazon
The Smith Range snow goggles are not too expensive and great for night skiing. These goggles have a cylindrical lens shape, but there are many different lenses to choose from, including ones for low light conditions.
The lens that comes with these goggles provides excellent clarity while skiing and is very resistant to impacts. In addition to this, it uses Smith's Fog-X anti-fog inner lens technology
To create an excellent seal from the elements and to maximize comfort, the frame fits snugly around your face. It also features a Two-layer DriWix foam layer that wicks moisture away from your face for fog-free skiing.
Smith has designed the frame to integrate perfectly with their helmets, enhancing comfort and the goggle's ventilation. You get a secure fit, thanks to the wide silicone-backed straps that can go around your ski helmet.
Smith Optics is a reputable brand that has been around for a long time. Some people liken the quality of their products to Oakley, which gives you an idea of how good they are.
You can buy these goggles in a wide range of colors and styles with different lenses. Therefore, you will be able to find a pair that will suit your taste.
The only downside of these goggles is that you can't swap the lens. Therefore, you need to buy a pair with a high VLT for night skiing.
Check Price on Amazon
The OutdoorMaster Pro Ski Goggles are at an acceptable price point for most people, and they look great. These ski goggles are well-known to be excellent value for money.
You will find the OutdoorMaster PRO ski goggles excellent for night skiing. This is because you can choose one with a lens with a very high VLT rating of 80%, making them very clear.
The lens also has an anti-fog coating and provides you with 100% UV400 protection. But you can easily change the lens for one of many to suit all types of weather and light conditions.
OutdoorMaster has created these goggles with a frameless design. The advantage of this is that you get a wide field of view, improving your peripheral vision.
In addition to this, the goggles have an OTG design. OTG stands for over the glasses, so you can wear your prescription glasses under them while you ski.
One of the great things about these goggles is how they fit with your helmet. They have a universal design, so you can wear them with pretty much any helmet with them fouling each other or creating a forehead gap.
To make the goggles as secure as possible, they are fitted with a wide and long elastic strap. This grips around your helmet to prevent you from losing them in a fall.
On top of all this, the OutdoorMaster ski goggles are covered under warranty for a whole year. They also come with a protective case and a carrying pouch.
Check Price on Amazon
Bollé makes some fantastic ski and snowboard goggles and has been around for many years. The Mojo goggles are very budget-friendly, making them an excellent choice for the occasional night skier.
Even though these ski goggles are low-cost, they have better quality than other goggles at a similar price.
The Bollé Mojo ski goggles are very comfortable and have some great features for ones that cost so little. The dual-pane lens has an anti-fog coating and Flow-Tech Venting to ensure that your vision is as clear as it can be.
Due to the lens's high VLT, these goggles work exceptionally well in low-light conditions. However, the lense skill prevents harmful UVA/UVB rays up to 400 nanometers from getting through.
Bollé has used their experience in making the Mojo's frame compatible with most helmets with a universal fit. The goggles also have a large adjustable strap to keep them in place.
Unfortunately, you cannot swap the lens, but this isn't the end of the world. At this price, you can afford to buy a couple of options for sunny days and low-light conditions. This will also give you a spare pair when one gets wet.
Check Price on Amazon
Considering their price, these ski goggles from Hongdak look great and are pretty feature-rich.
The dual-pane lens provides 100% UV protection and a coating with enhanced anti-fogging properties. In addition to this, the lens is very resistant to scratches, which is very welcome when you consider the punishment ski goggles can go through.
There are many different lenses to choose from, and you can change them quickly to suit the light conditions and your preference. Another great feature of the lens is that it gives you a wide field of view, so you can spot other skiers approaching from the side.
Along with their exceptional clarity, the Hongdak ski goggles have excellent fog clearing capabilities. This comes from the two-way ventilation, which ensures that you have excellent airflow through the goggle frame.
On top of all this, these goggles are suitable for glasses wearers, thanks to their OTG design. They also fit well with most helmets due to the shape of the frame.
Check Price on Amazon
If your products can get approved by the US Ski Team, you are on to a winner. This is precisely what has happened with the Wildhorn Cristo ski goggles.
These excellent goggles have been designed by skiers and snowboarders in Utah. They have everything you need, wrapped up in a well-priced and stylish package.
The Criso ski goggles are versatile and have many high-end features. They have a semi-frameless design that is compatible with most helmet brands. But if you want the full Wildhorn experience, you can pair them with the Wildhorn Drift helmet.
With the wide range of lenses and styles available with the Wildhorn Cristo ski goggles, you will find something that will suit your needs and style.
The frame is made from super strong TPU and features a plush triple-layer foam for comfort. This foam wicks moisture very well and is durable, so you get a comfortable seal that will last a long time.
Thanks to their dual-pane lens and anti-fog, scratch-resistant coating, you will maintain clear vision while wearing the Wildhorn Cristo ski goggles. The lens also gives you 100% UV400 protection to prevent vision distortion while you ski. 
To enhance the anti-fogging properties of the lens, the goggle's excellent ventilation system maintains optimum airflow.
Wildhorn has ensured that they have given the Cristo ski goggles function and style without breaking the bank. They are suitable for all age groups and are shaped to fit over prescription glasses.
With over 22 colors and styles, you will be able to match a pair of Wildhorn Cristos with your outfit. They are cool enough for beginners and experienced skiers alike too.
The downside of the Wildhorn Cristo ski goggles is that you cannot change the lens. However, although they are not the cheapest on this list, they are not overly expensive. Therefore, you may be able to buy two pairs.
Final Thoughts
Now you know about the benefits of night skiing and how you can make the most of your nocturnal mountain time. With these tips on buying the best goggles for night skiing, you will be able to find the best ones for you.
All of the goggles listed in this post are great, but you may want to opt for the OutdoorMaster PRO ski goggles for their excellent value for money. 
They won't be as good as a pair of high-end Oakley goggles, but you can easily change the lenses to suit and if they get damaged.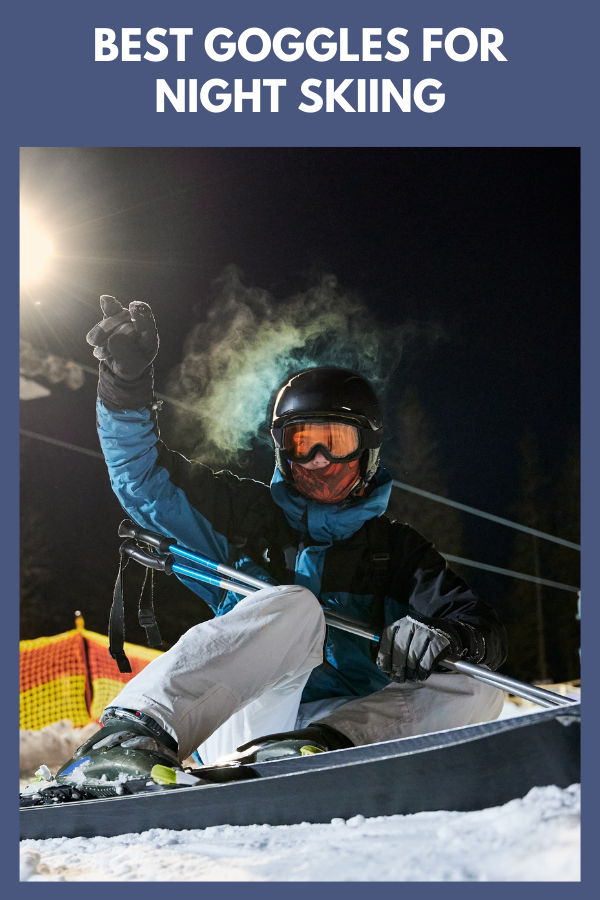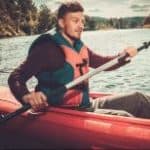 Author: Peter Salisbury
Pete is the Owner of KayakHelp.com. Born and raised in Cleveland, Ohio, he grew up kayaking, fishing, sailing, and partaking in outdoor adventures around the Great Lakes. When he's not out on the water, you can find him skiing in the mountains, reading his favorite books, and spending time with his family.