If you have done any amount of research on ski boots, you will know that there is a seemingly infinite choice. The different styles and features available make choosing ski boots overwhelming.
In this post, we will go into the different types of ski boots you can buy. We will also give you some top tips for buying ones that fit you perfectly.
When you have a few ski trips under your belt, you may want to start buying your own equipment rather than renting. Ski boots are the ideal piece of ski equipment to buy.
Your own ski boots will mold to your feet and will give you continuity. These are things you don't get from renting your ski boots each trip.
The ski boots you buy need a suitable level of stiffness to suit your skiing style and your ability. They also need to be as comfortable as possible while giving you the appropriate amount of control.
Even though ski boots are expensive, they last for years (depending on how much you wear them). They will give you an excellent foundation to build your skills upon. In addition to this, you don't have to keep going back to the rental shop to find ski boots that suit you.
Before buying ski boots, the first thing to do is understand the different types of ski boots you can buy. Here is our rundown: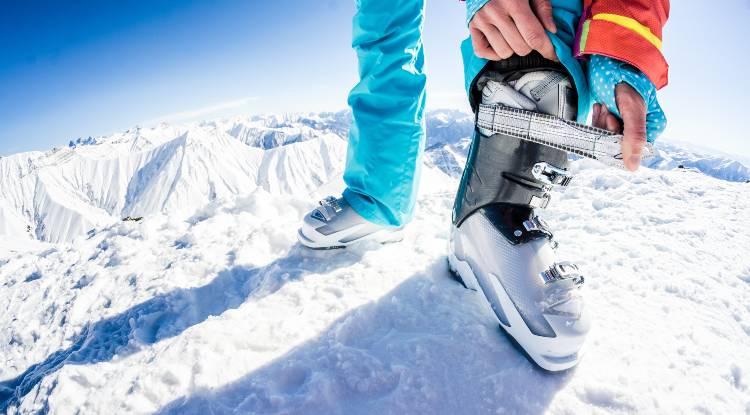 Image By Michal Durinik from Shutterstock
Alpine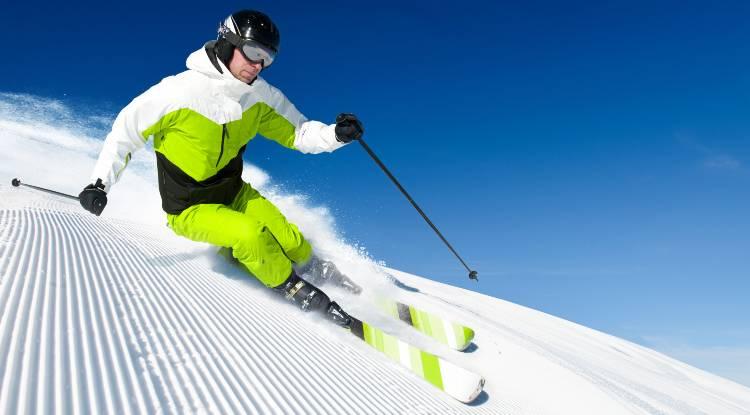 Image By IM_photo from Shutterstock
When you think of skiing, there is a good chance you picture alpine skiers. These skiers use the ski lifts to get to the top of the mountain and ski back down on marked slopes and in the backcountry.
Alpine ski boots are stiff, thanks to their plastic shell. Their stiffness gives you control of your skis by holding your ankle and foot in place.
When you buy a pair of alpine ski boots, you should buy the smallest size that feels comfortable. If you go for a size too big, you won't have the necessary control; also, your boots will pack out over time, making it worse.
When you ski with boots that are too small, you will experience excruciating pain and cold feet. This comes from too much pressure and a lack of circulation.
It is best to visit a skilled ski boot fitter when it comes to buying ski boots. They will be able to measure your feet and ask the right questions, enabling them to pick out several ski boot options for you.
A ski boot fitter will also tweak its lining to fine-tune its fit. However, if they manage to pick the right pair for you, they won't need to make many adjustments.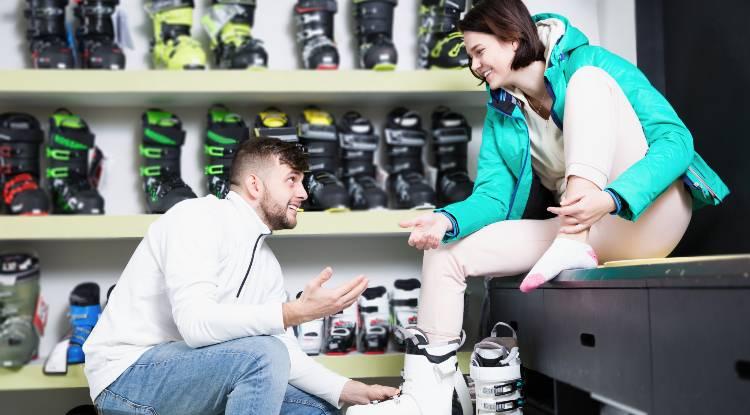 Image By BearFotos from Shutterstock
However, if your feet are very difficult to size ski boots for, you may need a custom fitting. You may also want a custom boot fitting if you want the perfect fit, but this service doesn't come cheap.
You must buy the right pair of ski boots. If you find that the most comfortable ones are too pricey, causing you to buy a cheaper pair, you will regret your decision.
As you become a better skier, you will want to choose stiffer ski boots to suit your ability. Stiffer ski boots will give you more control and precision when skiing faster and harder.
Therefore, if you are a beginner skier, you won't benefit from super-stiff ski boots. However, if you are heavier than average, you may need a little more stiffness.
Softer ski boots are more comfortable and more forgiving. These are qualities you need as a beginner skier.
The great thing about alpine ski boots is that they are compatible with all alpine ski bindings. All you need to do is adjust the bindings to fit.
Alpine ski boots fall into four separate subcategories:
Piste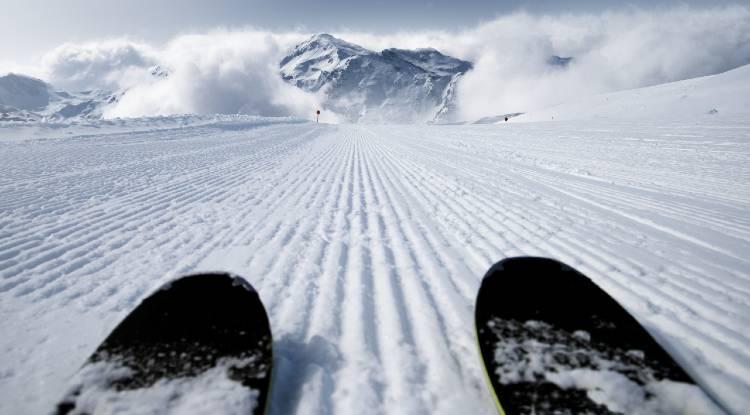 Image By lassedesignen from Shutterstock
Piste ski boots are for general resort skiing rather than for extreme use. These boots have handy features such as walk mode, so you can easily walk around the ski resort.
You need to make sure that if you buy ski boots with walk mode, they are high quality. These boots tend to be slightly heavier, but if the fasteners fail while you ski, your boot will go floppy, compromising your control. However, these boots are much more reliable than they used to be.
If you are a more advanced piste skier, you may want to go for a pair of performance piste skis. These take a lot of inspiration from race ski boots, as they are stiffer and share some of the technology.
Race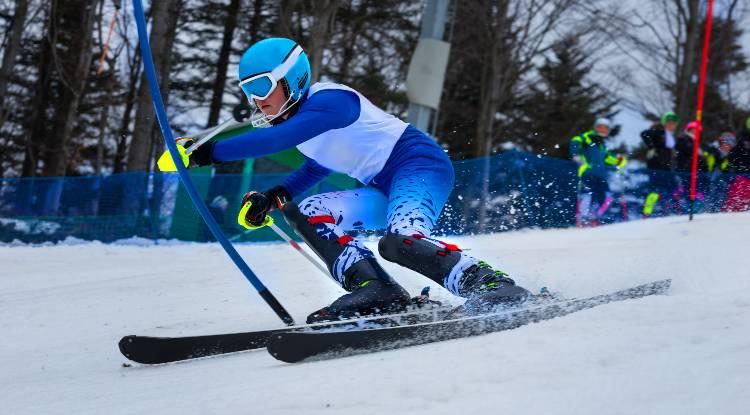 Image By masik0553 from Shutterstock
Race ski boots are purely built for performance. They are incredibly stiff and very tight.
Race ski boots are pretty uncomfortable to wear all day. If you watch a ski racer, they will often loosen their boots as soon as they finish their run due to the pain their feet are in.
Freeride
Image By yanik88 from Shutterstock
Freeride skiers need versatile ski boots that can keep them in control on varying terrain. Freeride ski boots have lots of lateral stiffness, but they also have a little bit of forwarding flex to help them absorb the impact of big cliff drops.
These boots are lightweight with a grippy sole. These help the skier hike up to the top of the line they want to ski.
Freestyle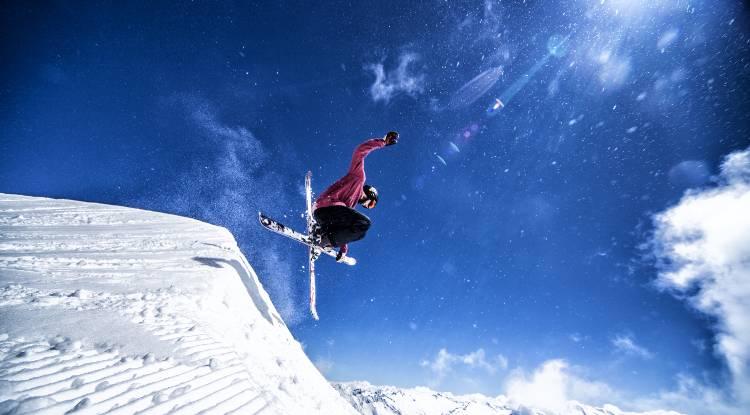 Image By MWiklik from Shutterstock
Freestyle ski boots are designed to take lots of punishment. These ski boots are tough, so they can cope with the high impact of landing jumps and riding rails in the snow park.
Freestyle ski boots are pretty flexible, so hard landings are a little more forgiving.
Touring Ski Boots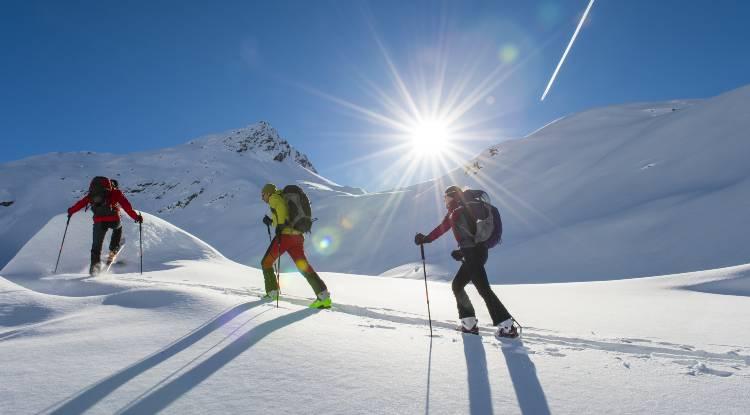 Image By dolomite-summits from Shutterstock
The next type of ski boots on our list is touring ski boots. These ski boots differ from alpine boots due to two different modes.
Touring ski boots can switch between touring and skiing modes via a mechanism or switch. When the boots are in touring mode, they have more movement forwards and backward.
The reason for this is that it makes it easier for the skier to hike uphill on their touring skis. The extra movement gives the skier a more extensive range of motion, allowing them to stride better while providing more efficiency.
It used to be that touring ski boots were great for the climb but were compromised when it came to skiing downhill. But touring ski boots have come a long way, and the compromise is less significant.
When you tour, you also need touring bindings. These hinge at the toe for hiking up the mountain but lock down for skiing.
If you go for touring ski boots and bindings, you need to make sure that they are compatible. This is because there are a couple of different types:
Tech/AT/Pin bindings/boots
These bindings are specifically designed for ski touring. The boots have a curved sole made from rubber and metal inserts in the toe and heel.
You will notice that some AT bindings are very light with no release mechanism, ranging to ones with certified DIN settings. The DIN-certified bindings are safer in the event of a fall and provide more control.
Frame Bindings
These bindings are compatible with pretty much all alpine ski boots. They act like a regular binding and allow you to ski touring.
The great thing about these bindings is that they give you the safety and control of regular alpine bindings. They even use the DIN system, so the ski can pop off during a fall.
The disadvantages of frame bindings are that they are heavier than AT bindings, weigh more, are not as efficient on uphill slogs, and can affect how your skis flex.
If you consider buying touring ski boots and bindings, you need to be honest with yourself. Touring is a fantastic way of hunting for powder, but most people spend the majority of their time on groomed slopes.
Many people will only spend a week or two in the mountains every year. The conditions must be good to go ski touring, so would a ski touring setup be the best choice for you?
You may be better off buying a decent pair of alpine ski boots and renting a touring setup if the conditions are suitable.
Cross-country Ski Boots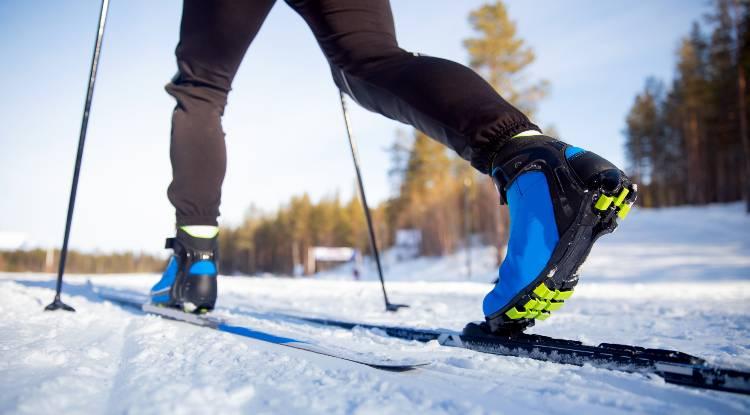 Image By Parilov from Shutterstock
Cross country skiing is a whole other discipline. The boots are much softer than those described above and made from leather or synthetic fabric.
These ski boots give your ankles and heels support but give your toes some freedom. They are closer to hiking boots than alpine ski boots in the way they support you and in their weight.
Cross country skiing involves lifting your heel to stride or skate forwards. Therefore, your ski boot needs to be super comfortable throughout the movement of your foot.
The lateral stiffness of cross country ski boots is a critical consideration. It needs to be stiff to ensure that your control and efficiency are not compromised.
If you are considering taking up cross country ski racing, you will need to choose lightweight boots. Unfortunately, these boots cost more but will give you a speed advantage.
There are two primary types of cross country ski boots, Classic/ Performance, and Touring.
Touring boots have higher cuffs to keep out the snow when it is deeper. In their construction, these are not unlike hiking boots and are stiff, so you can transfer your power to the ski's edges.
Classic/Performance ski boots have lower cuffs, so you get a wider range of movement. You will notice that they are much lighter than touring cross country ski boots too.
If you have a pair of cross country skis and bindings, you need to ensure that your new boots are compatible. Here are the variations you will come across:
NN
The NN binding system is the oldest type and won't work with modern cross-country ski boots. The NN-style boots have a wide toe piece with three holes that accommodate three spikes attaching the boot to the binding.
This binding system is pretty much obsolete now, so if you buy some used ones, you can be sure that they are super old.
NNN/NNN-BC
Cross country ski bindings with this interface are the most common. They feature a metal bar across the toe section that slots into the binding.
SNS-Profil
This style of cross-country ski binding is used by Salomon. It is very similar to the NNN type above; you can find non-Salomon boots that are compatible.
SNS-Pilot
The SNS-Pilot type is a more recent system from Salomon. The interface uses two metal bars across the toes. The advantage of this design is that it makes clipping into the bindings super easy, but it also makes skating less challenging.
If you have some SNS-Pilot cross country ski boots, you will be able to use Profil bindings. However, you cannot use Profil boots with SNS-Pilot bindings.
Telemark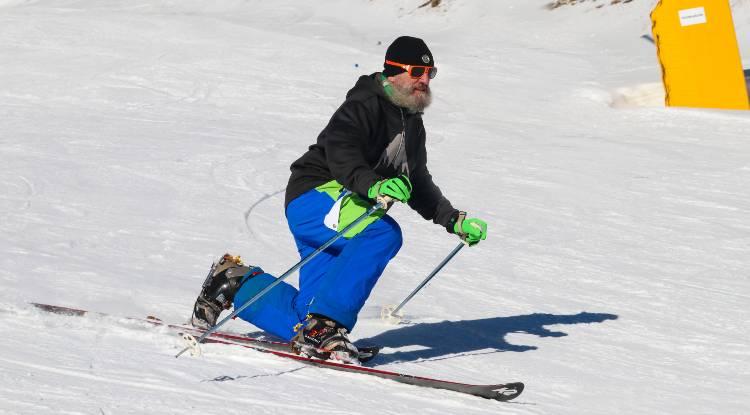 Image By Daniele Romano from Shutterstock
The next type of ski boot you should know about is telemark ski boots. In the old days, Telemark boots were just very bulky cross country ski boots with a few differences.
These days, telemark skiers use tall and stiff boots for riding around the resort. However, if they use their telemark equipment for ski touring, they will opt for a much lighter setup.
If you want to buy a telemark setup, you would be wise to visit a boot fitter. The nature of telemark skiing requires lots of dynamic movement, so you need to ensure that your heel is held securely while your toes are free to move.
To allow the boot's sole to flex, telemark ski boots have an area known as the "bellows." This is an area of plastic that is folded around the toes.
All ski boots should be snug around your calves but not so tight you feel a crushing sensation. Telemark ski boots will also pack out and get slightly larger in size after you have worn them a few times.
However, due to the nature of telemark skiing, most of their flex is at the front. Therefore, your boots will feel a bit looser than you would expect, but your toes should never be pressed against the front of the boot.
Ski Boot Flex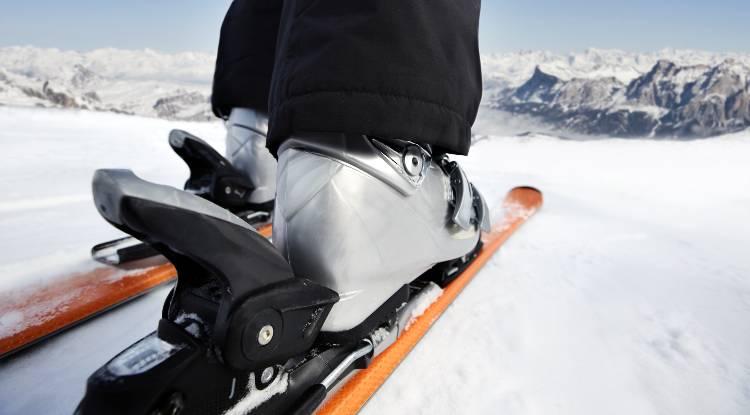 Image By Mikael Damkier
We have mentioned how stiff or flexible ski boots are, but it is time to go into more detail. The flex of a ski boot determines how much control you have and how forgiving they are.
A more flexible ski boot will be more comfortable for general resort skiing. It will also be more forgiving, making it more suitable for beginners and freestylers.
Stiffer ski boots allow you to transfer more energy into your skis. This is essential for aggressive skiing and edge hold.
Therefore, more advanced skiers tend to opt for stiffer boots, so they have the control they desire and need.
The thing about ski boot flex is that there is no industry standard. So the flex ratings vary between manufacturers.
However, ski boots with a flex rating between 60 and 80 will be very flexible, meaning they will be very forgiving. However, you won't get much power transfer for your efforts, especially when carving.
Ski boots with a rating between 80 and 100 have a medium flex. These are great for intermediate and advanced skiers.
You will also come across ski boots rated between 100 and 120 with regard to their stiffness. These should really only be worn by advanced and expert skiers.
However, most women and lighter skiers will find flexing stiff boots more challenging than a heavier person. So you need to consider your weight when deciding how stiff your ski boots should be.
Ski Boot Width
Image By DisobeyArt from Shutterstock
As everyone has different-sized feet, ski boot manufacturers produce boots in two or three widths. The term you need to be aware of is the boot's "last," which determines the boot's width.
If you have narrow feet, you need to look for a last that measures 98mm or less. Most manufacturers' medium last measures around 100mm, while wide usually starts at 102mm.
When you are measuring your foot to determine the last, you need to measure the widest part of your forefoot.
Some people have exceptionally wide feet. If you are one of these people, look for "high volume" ski boots.
You may come across "low volume" ski boots, which are designed for advanced skiers, as they are narrow, giving you an exceptionally snug fit. This can make it challenging for experienced skiers with wide feet to find suitable ski boots.
If you fall into this category, a good ski boot fitter will be able to point you in the right direction. This is because some ski boot brands offer stiff boots with higher volumes.
Ski Boot Fitting Tips
There are a few things that will help make trying on and choosing ski boots more successful:
Wear Ski Socks
Before you try on a pair of ski boots, make sure you wear a pair of ski socks. Don't go for super thick socks, as modern ski boots have liners designed to keep your feet warm.
If you wear socks that are too thick, you may find that the boots are too tight and uncomfortable. The thickness of the material can also insulate you from how the boots feel, which can cause you to make an incorrect purchasing decision.
Proper ski socks are made from natural or synthetic materials with certain qualities. The fabric wicks moisture away from your skin, keeping your feet dry. It also reduces friction between your feet and the boot, preventing blisters.
Play With The Buckles
You will notice that the buckles on most ski boots have five tightness settings. If you cannot find the perfect tightness, you may need to choose boots that feature buckles with micro-adjustments.
These buckles can fine-tune your fit by rotating the buckle 360 degrees. This allows you to adjust the tension in each buckle incrementally for the perfect fit.
Upgrade The Insoles
Like running shoes, ski boots have insoles that suit people with low or medium arches. This can prove an issue for people with high arches, as they don't get the necessary support.
A set of insoles with plenty of arch support will make a massive difference to your comfort. They will also help to delay how tired your feet get.
Your boot fitter can provide a pair of moldable insoles that form to the bottom of your foot for a great fit.
Remember Your Ski Boots Need To Break-In
Your ski boots should feel snugger than you want them to the first time you wear them. After a few weeks, their liners will compress a little, giving you more room.
If your new boots feel really comfortable and roomy straight away, they will probably feel too big once you have broken them in. But don't buy them if they are uncomfortably tight, as they will be painful.
You need to buy ski boots that will feel perfect in a few weeks, not in the shop.
Look For Ski Boots With Moldable Liners
Some ski boots have moldable liners that form to the shape of your feet over time. A ski boot fitter can heat up the liners to speed up the process, and as they cool down, they form around your feet.
One of the best things about ski boots with moldable liners is that they are much quicker to break in. Often they don't need breaking in at all, as they are perfect for your feet. This is why a boot fitting appointment is the best option.
Address The Imbalance
Many people don't have an even stance and don't realize it. Their knees can bow in or outward, but only to the degree that doesn't affect day-to-day life. However, this slight bowing can cause your skis to not sit flat on the snow.
Any misalignment can negatively affect your skiing, depending on how severe the imbalance is.
You can address this imbalance by taking your boots to a ski shop. The ski boot fitter can assess your stance and compensate by adjusting the canting of your ski boots.
If your ski boots don't have the necessary adjustments, the boot fitter will have an alternative solution.
Final Thoughts
Image By nadianb from Shutterstock
Now you have a good idea of the different types of ski boots you can buy. You also have some great tips for buying the right ones for you.
Follow these tips and your feet will be comfortable, and you will have sufficient control over your skis.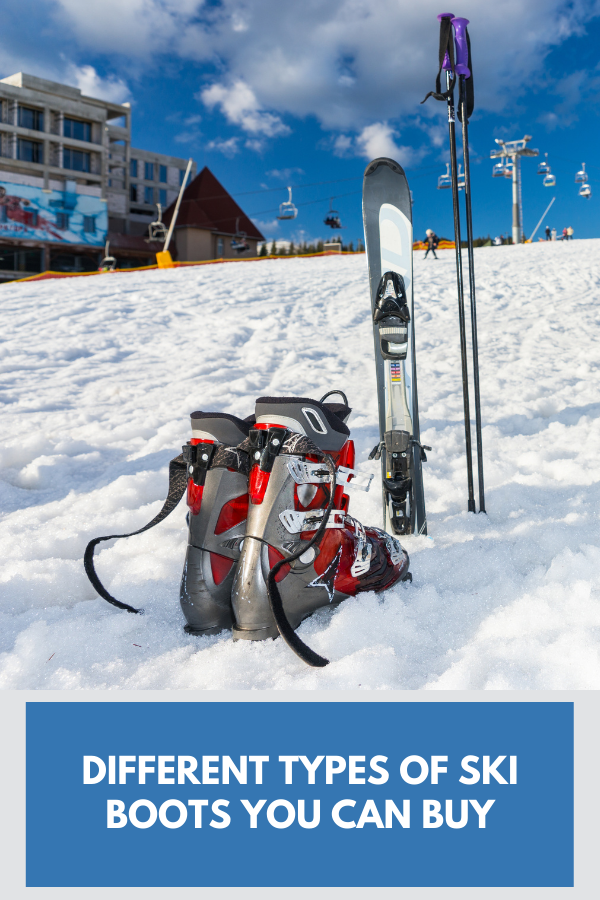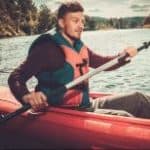 Author: Peter Salisbury
Pete is the Owner of KayakHelp.com. Born and raised in Cleveland, Ohio, he grew up kayaking, fishing, sailing, and partaking in outdoor adventures around the Great Lakes. When he's not out on the water, you can find him skiing in the mountains, reading his favorite books, and spending time with his family.