Colorado in the U.S has some of the highest resorts in the world; it also has some of the biggest. But what if you are a beginner?
As a beginner skier or snowboarder, you require specific things from a ski resort. You don't necessarily need the largest ski area or a wide variety of runs.
You need great beginner slopes with gentle gradients, good snow cover, and easy-to-use lifts. But a ski resort also needs to have plenty of other things to do when you are not skiing or snowboarding.
In this post, we will go into what to look for in ski resorts for a beginner and highlight the best ski resorts for beginners in Colorado. We will also give you some tips about your first trip to a ski resort.
Image by Lucky Business from Shutterstock
What To Look For In A Ski Resort As A Beginner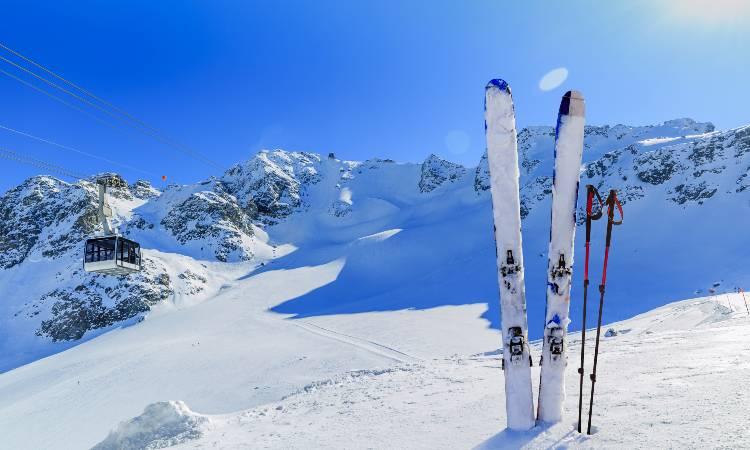 Image by gorillaimages from Shutterstock
Great Beginner Slopes
As we have just mentioned, the number of slopes isn't that important as long as you have plenty of scope to progress your skiing or snowboarding.
You need a ski resort with a couple of beginner areas and green runs. Green runs are the easiest slopes and make getting to grips with winter sports more manageable.
Once you have mastered your first turns, you will want to move on to blue runs. These are usually pretty easy but are more challenging than greens.
Beginner areas are usually serviced by a magic carpet ski lift. These are conveyor belts that take you to the top of the hill.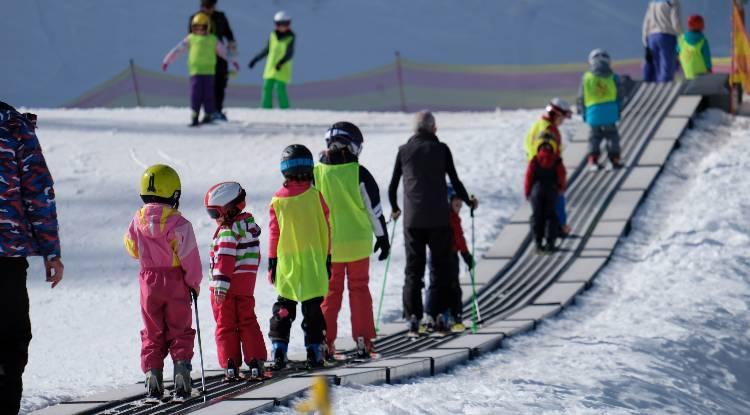 Image by Sandronize from Shutterstock
The great thing about magic carpets is that they are super easy to use, and you don't have to worry about getting on and off them without too much trouble.
Once you have got the basics, you will progress onto drag lifts and chairlifts. These service all kinds of slopes around a ski resort.
You Need Other Things To Do
Image by Pavel Iilyukin from Shutterstock
Learning how to ski or snowboard is tiring, so you may want a day or a couple of afternoons off. Therefore, you need to go to a ski resort that has other things to do.
Many ski resorts offer many other activities to enjoy, such as snow-tubing, dog sledding, paragliding, snowshoeing, and swimming. These allow you to experience different things in the mountains you may not have encountered before.
As a beginner skier or snowboarder, you should get the full experience. The après ski in some ski resorts is better than others, so if you want to finish your day on the mountain with a party, choose wisely.
Best Ski Resorts For Beginners In Colorado
Now you have an idea of what to look out for; we are going to give you some recommendations for your first time skiing or snowboarding in Colorado.
1. Beaver Creek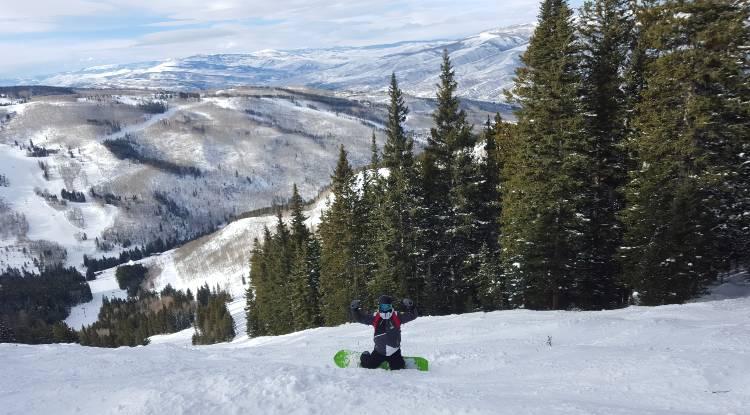 Image by Micheal Mosson from Shutterstock
If you want to spoil yourself, you can't go wrong with a visit to Beaver Creek. This ski resort is the definition of luxury and comes with a lot of pampering.
One of the great things about Beaver Creek is that you don't need to do lots of walking in your ski boots. You will soon appreciate the escalators that transport you to the slopes from the plaza and bus area.
You even get slopeside ski valets that store your gear and warm your boots. The "nothing is too much trouble" attitude will make you feel like royalty.
When it comes to the skiable terrain at Beaver Creek, you can expect lots of wide groomed slopes. Therefore, it is well suited to beginner skiers and snowboarders.
Beaver Creek is ideal for families or groups with a mix of abilities. But, don't expect a big party scene or lively nightlife, as everything is a little more refined than other ski resorts.
For days when you fancy a rest or a change, Beaver Creek has you covered. You can give cross country skiing a try, snowshoeing, dog sledding, and even hot air ballooning.
There is also a day spa to soothe aching legs and lots of shopping opportunities.
2. Keystone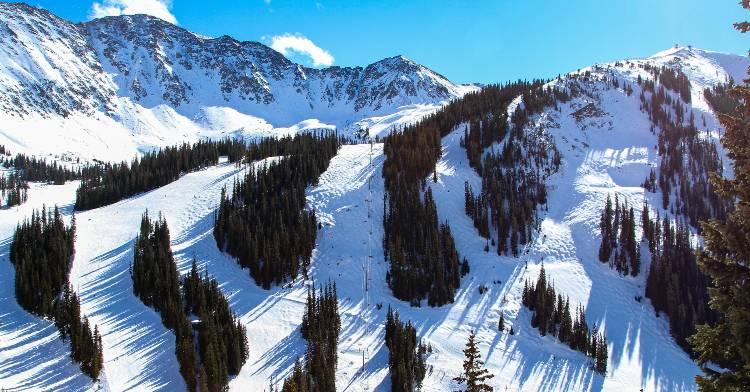 Image by Kreative Photography from Shutterstock
Keystone is excellent for beginner skiers and snowboarders, as it has modern ski lifts and a bustling village. It is very family-friendly, thanks to its selection of activities available.
The ski area around Keystone is massive; 12% of the runs are green, 39% are blue, and the rest is for more advanced skiers and snowboarders. This makes Keystone a great place to hone your skills and progress.
Visitors to Keystone love the smooth cruising runs, and the terrain isn't as challenging as the color grading suggests.
If you can't get enough mountain time, Keystone has one of the best night skiing areas in the country. Interestingly, the lights and lifts are wind-powered, so you can have eco-friendly family skiing when the sun goes down.
As Keystone is geared towards families, don't expect epic nightlife. But there are some great bars and restaurants to keep you entertained.
The resort also has a great selection of activities, such as tubing, sleigh rides, ice skating, and other special events to enjoy.
3. Loveland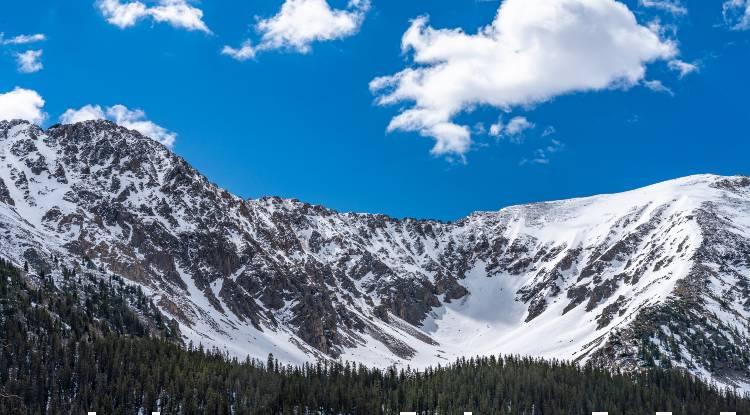 Image by Zachj6497 from Shutterstock
Loveland is an excellent alternative to the high-profile and glamorous ski resorts in Colorado. It is also easy to get to, as it sits on the I-70, but it allows you to miss the horrendous traffic.
If you are not too bothered about the fanciness of resorts like Vail or Breckenridge, Loveland is a good choice.
Loveland has a whole area designated for beginner skiers and snowboarders, making it an excellent place to learn. However, if you are in a group of mixed abilities, it can prove awkward. This is because the beginner area isn't connected to the main ski area.
There are two areas in Loveland, but you have to get between them via a regular shuttle service. You will find the beginner slopes in Loveland Valley, while Loveland Basin is more suited to intermediate and advanced skiers and snowboarders.
Loveland gets lots of snow, thanks to its high altitude. Unfortunately, it struggles to retain its snow due to its exposure to high winds. But, as a beginner, you will spend all your time on the lower slopes, so this shouldn't be too much of a problem, especially as they have artificial snow cannons.
You will be surprised at Loveland's amenities, considering it is more of a day tripper's ski resort. The beginner's area at Loveland Valley offers a day lodge with a cafeteria, bar, ski school, equipment rentals, and a small shop.
4. Snowmass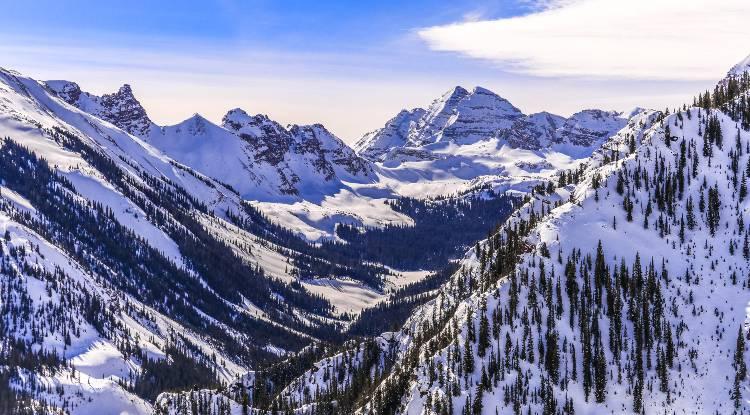 Image by LanaG from Shutterstock
Snowmass is widely regarded as one of Colorado's best ski resorts. It has a large ski area with ski-in-ski-out accommodations, making it super easy to get on and off the slopes.
As impressive as Snowmass is, you are not restricted to just one area. You can access Aspen Mountain, Buttermilk, and Aspen Highlands with just one lift ticket.
This may not bother you too much as a beginner, but if there are more advanced skiers in your group, they can explore while you are in your lessons. But, you may want to jump on the bus to experience Aspen's nightlife.
Lots of ski resorts claim that their terrain is suitable for all levels of skier and snowboarder. These claims are not entirely truthful, but Snowmass delivers the goods for everyone.
You can expect family-friendly slopes, mellow beginner runs, and wide-open cruisers for intermediate skiers and snowboarders.
Snowmass has some great amenities and facilities. The village is abundant with restaurants, bars, and shops.
But it also has the fantastic Treehouse Kids' Adventure Center. This facility is home to the child care center, kids' ski school, equipment rental, and cafeteria.
Even if Snowmass didn't have the kid's center, there are lots for kids to do on and off the mountain. For example, there are interactive kids' trails, a child's terrain park, snow-tubing, an ice rink, an alpine coaster, and more.
You don't have to be a kid to enjoy Snowmass, though. It is also adult-friendly, with lots of activities, bars, and restaurants to choose from.
5. Telluride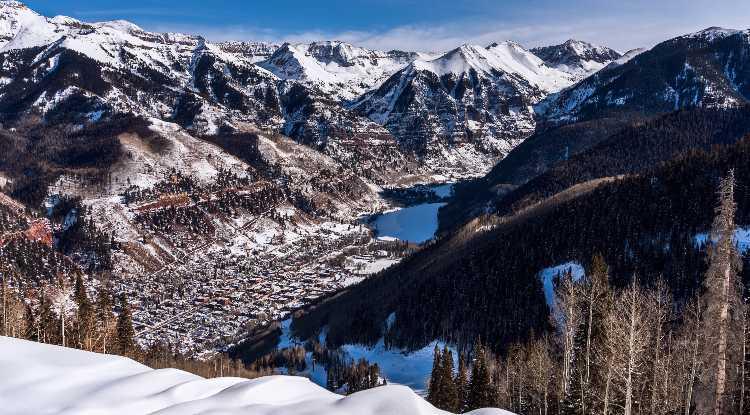 Image by John D Sirin from Shutterstock
Telluride is an absolute paradise for skiers and snowboarders. It has a fascinating mining history, and it used to be the best-kept secret in the state.
However, Telluride is now a high-profile ski resort thanks to its dramatic setting and variety of terrain. The town's historic charm blends well with its well-developed infrastructure.
People love that Telluride manages to be elegant without being pretentious. It is rated as one of the best ski resorts in North America.
Thanks to its expansive ski area, you can find great terrain to suit your skill level. It is an excellent place to progress, too, as the slopes have six grading levels.
To make life easier, you can choose to stay in one of the ski-in-ski-out accommodation options in the mountain village. Alternatively, you may want to experience staying in the historic town.
The downsides of Telluride are that it is pretty expensive and difficult to get to (compared to other Colorado ski resorts). However, this does mean that it doesn't get as busy.
Many beginner skiers and snowboarders have made their first turns on the gentle bunny slopes. At the same time, the fantastic long groomers are ideal for when you level up.
When it comes to alternative activities, Telluride has you covered. There are many day spas to relax in, but there are plenty for more active people too.
You may be interested in going for a sleigh ride, winter fly fishing, ice-climbing, glider rides, or snowmobiling. You can even live out your cowboy fantasies and try horse riding.
6. Copper Mountain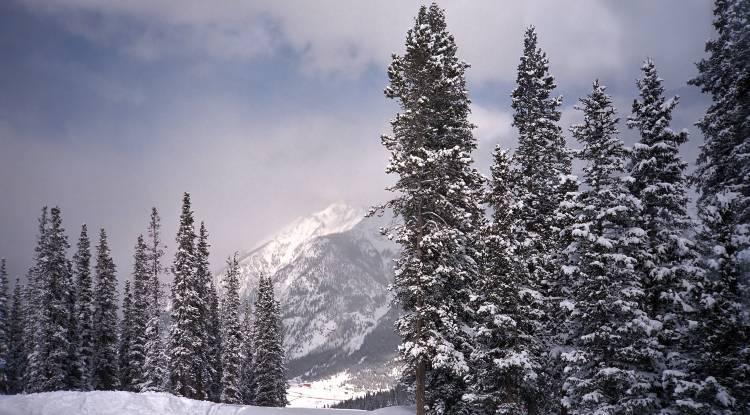 Image by Bob Stilwell from Shutterstock
Copper Mountain has transformed from an old copper mine into a fantastic purpose-built ski resort. People are attracted to Copper Mountain for its superb skiing and snowboarding and world-class amenities.
It offers pretty much everything you need from a ski trip—ski-in-ski-out accommodation, buzzing après, lots of shops, and non-skiing activities.
For beginner skiers and snowboarders, Copper Mountain is outstanding, thanks to its groomed runs with ideal gradients for progression. It is also ideal for families due to the well-thought-out kids' programs.
The après are accessible straight off the slopes when the lifts close. However, there isn't much in the way of nightlife, but at least you will be fresh for the mountain the following morning.
Many visitors to Copper Mountain love the quirkiness of the village. But if you are looking for a charming Colorado cowboy town, you may want to go elsewhere.
The village and accommodation aren't as refined as other resorts. But it is more affordable than high profile Breckenridge or Vail.
When it comes to skiing and snowboarding terrain, Copper Mountain is unique. Thanks to its natural topography. Copper Mountain is separated according to how challenging the slopes are.
Beginner skiers and snowboarders should head to the Western side of Copper Mountain, as it has the easiest slopes, perfect for learning on.
Copper Mountain's layout makes it convenient and safe for everyone. Beginners don't have to worry about people speeding from above them, and advanced skiers don't need to be concerned about slower people in front of them.
The disadvantage of this layout is that it can be frustrating for groups with different abilities to ski together.
7. Steamboat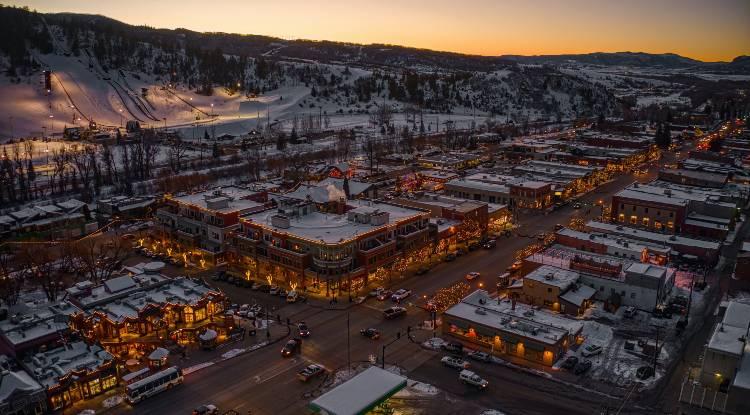 Image by Jacob Boomsma from Shutterstock
Steamboat, Colorado, is an allrounder of a ski resort. It has an incredible amount of terrain coated in what the resort calls "Champagne powder," thanks to how fluffy and dry the snow is.
The resort is located near Steamboat Springs, which is abbreviated by many to Steamboat. However, you may also hear it referred to as "Ski Town USA," as it has created many Winter Olympians.
Steamboat has a strong western heritage and is home to many cowboys and ranches. This becomes apparent when you see people skiing in cowboy hats and walking around in fancy boots.
The ski area around Steamboat is excellent for beginner skiers and snowboarders. It is also a very family-friendly ski resort, as kids under 12 years old ski for free if they are with a parent or grandparent.
Steamboat's ski area is divided across six mountains, offering a wide variety of slopes to experience. Fourteen percent of the slopes are designated for beginners and 42% to intermediates, making it one of the best ski resorts for beginners in Colorado.
A huge plus for people visiting Steamboat is the wide range of activities available. It is the perfect resort to try cross country skiing, as it has 120km of groomed cross country routes.
For a relaxing afternoon, you may want to head to the Strawberry Park Hot Springs. Alternatively, more adventurous people could go ice climbing, dog-sledding, fly fishing, or snowmobiling.
8. Winter Park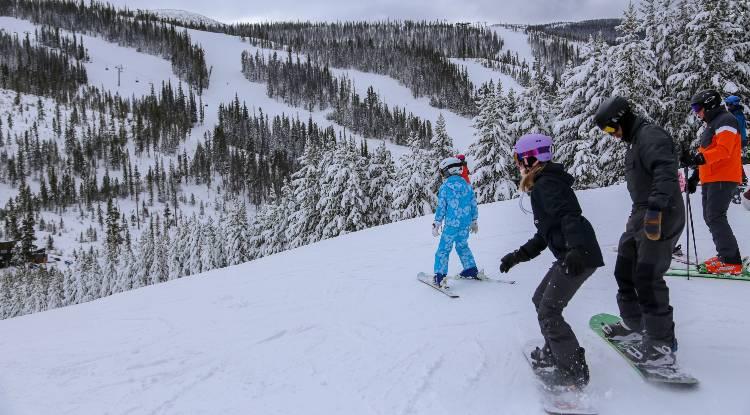 Image by Steve Boyce from Shutterstock
Winter Park is a pretty big ski resort made up of two interconnected mountains. Each mountain has its own base area, known as Winter Park and Mary Jane.
The ski resort has a long history that dates back to the winter of 1939-40. This was when Denver opened Winter Park so its residents could ski. Since then, Winter Park has developed into a vast ski resort offering top-notch facilities that appeal to day-trippers and vacationers alike.
Beginner and intermediate skiers and snowboarders should head for Winter Park. This area has the best terrain for mastering basic skills, but it also has a snow park to inspire you.
Only 8% of Winter Park is suitable for beginners, but this is enough to perfect your turns before moving on to the blue runs. However, it is especially good for people having lessons, as they can be coached around all the novice terrain.
Each winter, the two mountains get a covering of 327″ of snow. This is more than average for Colorado ski resorts, and it has a lovely consistency for learning on.
Winter Park also seeds the clouds with silver iodide generators. This is a controversial way to increase the precipitation out of each snowstorm!
The town is family-oriented with a sense of community. It has a lovely atmosphere that isn't pretentious or too flashy.
You can find some great and affordable places to eat and stay, especially if you stay in the town. However, the lift prices are pretty pricey, but there are often deals to be had.
Tips For Your First Ski Or Snowboard Trip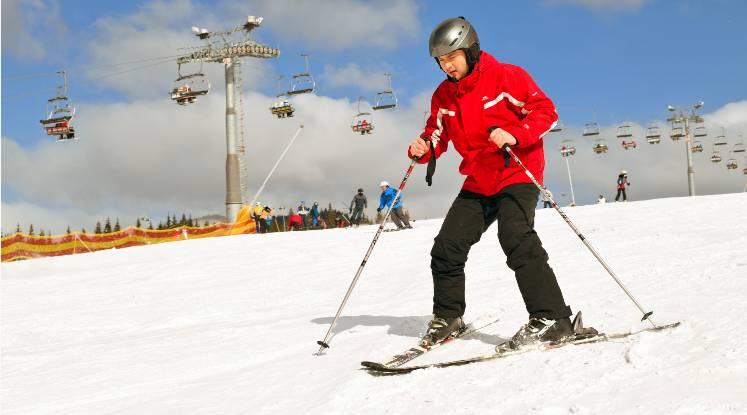 Image by Smereka from Shutterstock
Now you know what to look for in a ski resort and have some great suggestions you need to prepare for your trip. Here are some top tips so you can make the most out of your first time in a ski resort:
1. Do Some Exercise
Start exercising a few weeks in advance of your skiing or snowboarding trip. You will find it much easier and more enjoyable with a better fitness level.
Work on your core, legs, and upper body to build stronger muscles used in winter sports. You may want to do some Pilates or yoga to improve your core and flexibility, which will help you react to changes in the snow.
2. Book Lessons
You will benefit from a couple of lessons more than trying to teach yourself. A ski or snowboard instructor will take you through the correct techniques and spot the areas you need to work on the most.
Having a few lessons will shorten your path to becoming a good skier or snowboarder. It is also much safer than just standing at the top of a mountain and giving it a go.
3. Don't Rush It
Learning how to ski or snowboard takes time. The process is fun and rewarding, so you should enjoy it.
Don't push yourself to ride slopes that are too challenging for you. Build the basics first on the bunny slopes before moving on.
4. Don't Buy Your Equipment Yet
Ski and snowboard equipment is expensive, and you don't need your own just yet. Wait until you have some skills under your belt before you buy your own setup.
In the meantime, rent your equipment in the ski resort. You will be able to rent stuff suitable for a beginner and change it throughout the trip as you progress.
If you really want to buy some equipment, buy some boots. You will be able to take them anywhere and use them with rental equipment.
5. Fuel Your Body Properly
There are many bars and restaurants all over the mountain in a ski resort. However, you would be wise to carry some snacks in your pocket to keep your energy levels up.
Make sure you choose something that will still be intact after you have fallen on it. Cookie crumbs are not ideal mountain snacks.
Final Thoughts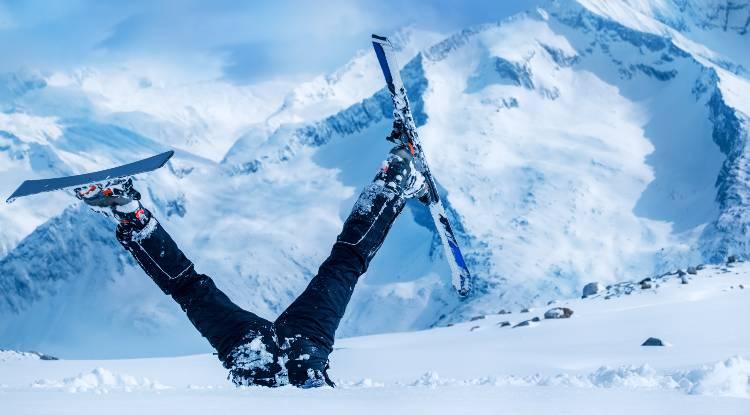 Image by 2XSamara.com from Shutterstock
Colorado is full of fantastic ski resorts steeped in history, with great character and charm. If you choose any of the ski resorts above, you will have an incredible time as a beginner.
These resorts are so big that there are many slopes to choose from, no matter your ability. This makes them great for groups with mixed abilities.
If you go in a large group, the others can explore while you have your lesson. Then you can talk about your day over a few après drinks when the lifts have closed.
If you are about to go on your first ski or snowboard trip, you are in for a fantastic time. This trip could be life-changing (in a positive way), as hopefully, you will find a passion that you can enjoy with friends and family for many years to come.
As the late great Warren Miller said, "A pair of skis are the ultimate transportation to freedom."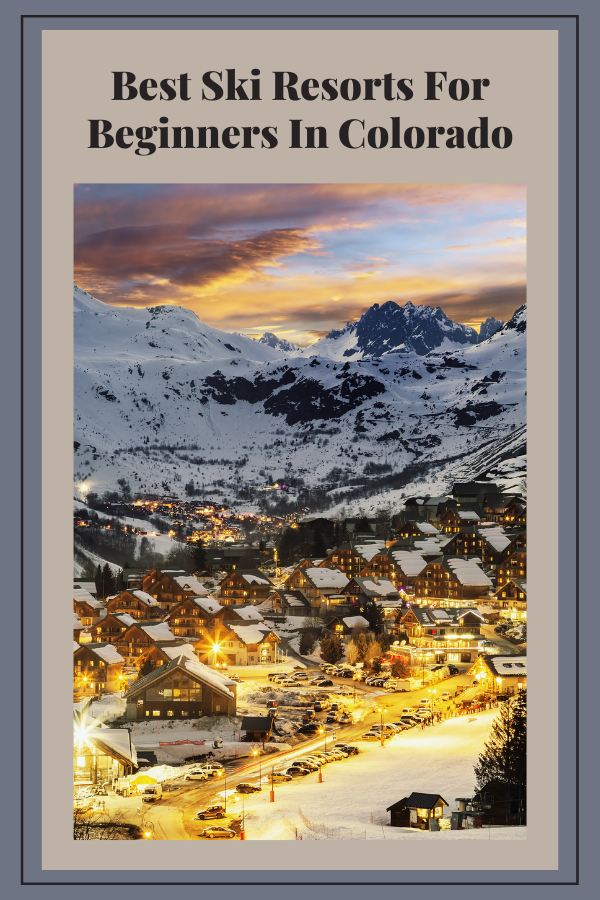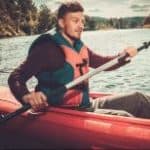 Author: Peter Salisbury
Pete is the Owner of KayakHelp.com. Born and raised in Cleveland, Ohio, he grew up kayaking, fishing, sailing, and partaking in outdoor adventures around the Great Lakes. When he's not out on the water, you can find him skiing in the mountains, reading his favorite books, and spending time with his family.