It's hard to argue against inflatable kayaks these days. With vast improvements in the ability of inflatables to hold higher air pressures, they've become a much more reliable and high-performing option for kayaking.
Inflatable kayaks also have the added benefit of being super lightweight and easy to transport. This is why many travelers make the choice to opt for an inflatable kayak because they fit better with an on-the-go lifestyle.
But there are now a lot of inflatable kayaks out there from various different brands. Some of those brands are very new and others have been working to perfect inflatable technology for years.
We've researched the market to bring you the 10 best inflatable kayaks under $500 in this article. We've also included a comprehensive Buying Guide to help you compare them and choose the best option for your paddle experience and lifestyle.
Jargon Buster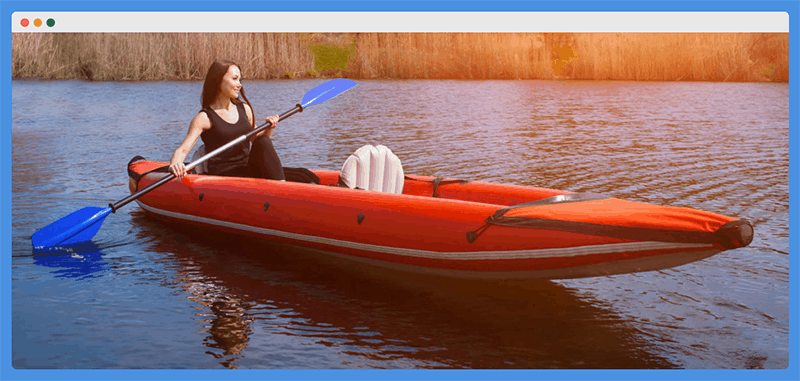 Kayaking terminology can sound a little interesting if you're new to it and inflatable kayaks have their own unique jargon. So let's take a moment to define some key terms that you'll run into later in this article.
Valves
These are the points at which air flows into and out of an inflatable kayak. Their particular design dictates how well a kayak holds air and how easy it is to inflate and deflate.
Gunwales
Gunwales are the sides of a kayak and their height can play a role in how well the cockpit stays dry while you're paddling. In some fishing-specific designs, the gunwales are where you'll find certain accessories mounted for easier angling.
Combing
This is the rim around the cockpit on most sit-inside kayaks. They're less common amongst inflatable kayaks, but some advanced designs do include them so that you can add a spray skirt if desired.
Drop-Stitch
As it applies to inflatable kayaks, drop-stitch is actually a material made of strips of woven polyester fabric. By weaving the fabric together and applying an airtight coating to the outer surfaces, it allows inflatable kayaks and paddleboards to be inflated to rock-hard rigidity.
Buying Guide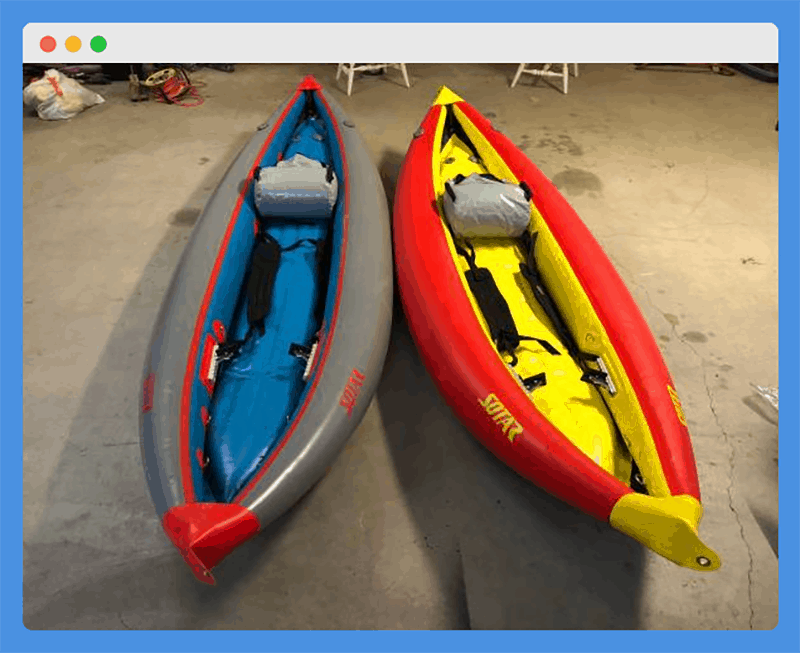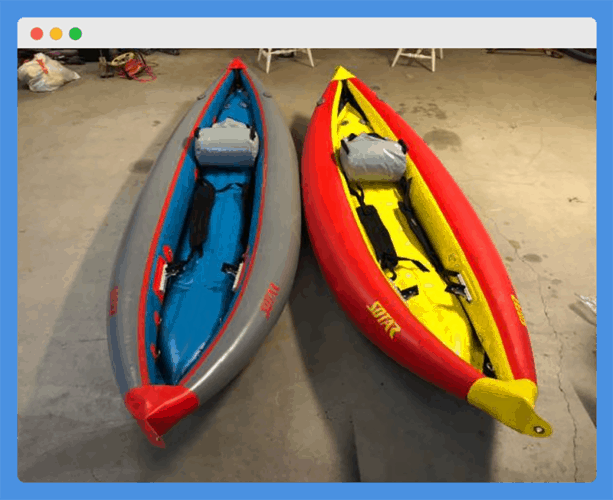 Before we hop into reviewing the individual kayaks we've chosen, it's important for you to understand how to pick the right kayak. In this section, we'll cover the most important criteria for choosing a suitable kayak.
Single or Tandem
Your first (and arguably most obvious) choice is whether you need an inflatable kayak for a single paddler or two paddlers. These kayaks are a great way to get your partner out on the water with you and can be a fun motivator for father-son or mother-daughter time on the water.
The good news about most tandem inflatable kayaks these days is that most of them come with removable seats. This feature allows you to remove the seat and set it up for a single paddler if your partner isn't feeling like paddling.
Because of this, we recommend erring on the side of getting a tandem if you're hoping to paddle mostly with a partner. Even if this doesn't quite pan out, then you'll still be able to use it as a single paddler.
If you go the other direction, it's impossible to expand the capacity of the smaller inflatable kayaks out there. However, smaller inflatables tend to be better suited for river kayaking or mild whitewater.
Intended Use
Kayaking expeditions can largely be broken down into four main categories: whitewater, touring, recreational, and fishing. Your intended use for your kayak should factor into the inflatable that you choose.
Unfortunately, there aren't many inflatable kayaks designed for touring purposes. The best touring kayaks out there are very long and skinny and they boast much more storage capacity than you'll find on a typical inflatable kayak.
That said, there are certainly inflatable designed for whitewater, fishing, and recreational kayaking. The model that's best for you will depend on which of these three categories you fall into.
If you mostly plan on using your kayak for fishing purposes, for example, you'll want an inflatable that has fishing features. Examples include fishing rod holders, a paddle park, and ample storage area in the kayak for a cooler or tackle box.
On the other hand, inflatables designed for whitewater use are the most durable of the bunch.
They feature the thickest materials possible and those materials are often reinforced for added durability when you're bumping against rocks or logs down the river.
Lastly, inflatables made for recreational kayaking are often the most basic designs but they're also the most affordable varieties. Furthermore, they tend to offer a more open cockpit design so that you can easily exit and re-enter the kayak to cool off on a hot day.
Floor Construction
The floor design of an inflatable kayak is very important to how well the entire vessel maintains its structure in the water. The two best types of inflatable kayak floor are I-beam floors and drop-stitch floors.
Drop-stitching has a slight advantage over I-beam construction because it's the same process used in most inflatable paddleboards.
This design allows the floor to hold higher air pressure for more rigidity, which allows your kayak to perform better.
Length
The right length for you depends a bit on your height and weight. But we'll discuss more about how your individual body type plays into your kayak selection in the next section.
What you should understand about kayak length is that longer kayaks tend to have greater tracking ability and more storage. Shorter kayaks are more agile and maneuverable, which are why they're great for river applications.
Generally speaking, shorter kayaks are also harder to keep straight and they move slower in flat water. On the other hand, longer kayaks are more efficient over long distances and able to achieve higher top speeds.
Your Height and Weight
The weight aspect of this equation is pretty simple. The kayak you choose should be rated for a larger capacity than the cumulative weight you intend to place inside of it while on the water.
Some kayaks do outperform their advertised weight capacity, but we don't recommend planning on it. As a rule-of-thumb, try to select a kayak with a weight capacity that exceeds your weight (or you and your paddle partner's combined weight) by at least 50 pounds.
This will give you a little cushion and allow you to load your kayak down with food, snacks, and other gear for longer paddles. It'll also give you the ability to add a small third paddler if your family happens to expand.
Factoring in your height is a matter of planning to have enough legroom in your kayak. Simply put, taller individuals should look for longer kayaks so that you can ensure your knees aren't crunched into your chest during your entire paddle.
If you plan to have multiple family members using your kayak, look for an option that comes with multiple footrest positions. This will make the kayak more versatile for paddlers of varying heights and also allow paddlers that grow while you have your kayak to continue using it.
Inflatable Kayak Reviews
Check Price on Amazon
The Sevylor Adventure Plus is tagged as an inflatable kayak but it actually boasts a sort of hybrid design. It's a combination kayak-canoe that comes with two canoe paddles rather than kayak paddles.
The canoe paddles are recommended for this vessel because of its high walls, which make using a kayak paddle more difficult. But those high walls keep you warmer and drier during your paddle adventures.
The Boston valves on this kayak make it easy to inflate and deflate in a matter of minutes. The full dimensions are 10.3 feet long and 34.6 inches across and this kayak weighs 26.46 pounds.
It has a maximum weight capacity of about 360 pounds and one of the seats can actually be removed if you want to set it up for a single paddler. The kit that comes with this kayak also includes a manometer, which allows you to better control the amount of air pressure inside.
Check Price on Amazon
If you're looking for an inflatable kayak that can handle whitewater conditions, the Solstice by Swimline Flare is made for just that. It's rated for Class III whitewater and built to handle rougher conditions.
The length of the kayak is nine feet, six inches and it measures 37 inches across. The drop-stitch floor provides extra structure and rigidity while still allowing you to maneuver the kayak with ease.
The fabric has a denier count of 100 and it's super-tough nylon. Although it's a smaller kayak, it's actually designed to provide comfort for paddlers of varying heights with multiple footrest positions.
The Flare kayak uses screw-type drain valves that allow you to empty the water out of the cockpit without completely overturning the whole boat.
The weight capacity of this kayak is 319 pounds and it comes with a pump, carry bag, and pressure gauge to help you dial in the optimal inflation pressure.
Check Price on Amazon
The Sea Eagle 330 Deluxe is another tandem inflatable kayak that's great for recreational use on lakes, bays, or mild rivers. It measures 11'2" long, 34" wide, and has a maximum weight capacity of 500 pounds.
Like many of the other tandem inflatables on our list, the seats can be adjusted for comfort and removed if you desire. This allows you to store extra gear if you're paddling by yourself.
The bow and stern areas of this kayak feature covered storage for the kinds of gear you might bring along on a longer paddle.
The bottom of the kayak also includes a self-bailing drain valve to make it easy to remove water from the cockpit without overturning the entire kayak.
The Sea Eagle 330 boasts an I-beam construction floor for added rigidity and dual skegs on the hull for better tracking and performance.
It also comes with a pressure gauge and repair kit so you can be sure you fill it to the recommended PSI rating and you'll have everything you need to perform small repairs if they occur.
Check Price on Amazon
The Solstice by Swimline Durango is the final tandem inflatable kayak on our list and it also boasts one of the highest weight capacities. It can hold a maximum of 440 pounds and inflate up to 15 PSI.
While you can see it set up for two paddlers in the photo above, the seats on this kayak are both adjustable and removable. So you can take one seat out and set this kayak up for a single paddler if you desire.
It utilizes high-pressure Boston valves for quick and easy inflation and deflation.
The material used in the construction of this kayak is 600-denier nylon with a triple-layer bottom for added durability and protection against punctures or tears.
The Durango kayak measures 11 feet long by 37.4 inches across and the kayak itself weighs a total of 29 pounds. It comes with a removable skeg for better tracking, a foot pump for easy inflation, and a carry bag for compact transport.
The AIRE Tributary Tomcat Solo is a sleek single-person inflatable with a fully-open cockpit design. This allows for plenty of extra leg room for taller paddlers or additional storage capacity for longer trips.
The inflatable seat in the middle of the kayak can be adjusted to your desired position. It can be moved forward or aft to achieve a balanced ride if you're loading the kayak down with other supplies.
It features a three-chamber design with Summit valves for inflation and deflation. The three chambers help to ensure your kayak maintains enough buoyancy to reach the shore if one chamber does become compromised unexpectedly.
The Tomcat Solo measures 10'3" long and 36" wide. The entire kayak weighs just 40 pounds and it includes a self-bailing floor design and a maximum weight capacity of 325 pounds.
The Airhead Roatan is designed primarily for flatwater use on lakes or bays but it is capable of handling mild whitewater. It's a 10'3" tandem inflatable with two large storage areas in the bow and stern.
Those storage areas are covered to protect your gear from water splashes or rainfall. They'll also help to keep your essentials in place if you do happen to turn this kayak over accidentally.
The two seats in this kayak are inflatable and can be customized to your desired firmness. One seat can be removed if you want to set this kayak up for a single paddler or a single paddler and your furry companion.
The Roatan features semi-rigid heavy gauge PVC construction and a tubular I-beam floor. This floor design helps to provide better comfort and stability, and this kayak boasts a maximum weight capacity of 400 pounds.
The Sevylor Rio is a great inflatable kayak made for fishing applications. It's a single-person kayak that includes a variety of features that the on-water angler will most certainly find useful.
For starters, it includes multiple mesh pockets in the cockpit for storing fishing tackle and other supplies. A large open storage area in the stern behind the seat gives you plenty of space to put a cooler or tackle box as well.
It features a Berkley Quick Set rod holder that can be moved and secured on either the right or left gunwale of the kayak. There are also two flush-mounted rod holders on both gunwales toward the stern of the kayak.
The Rio boasts a maximum weight capacity of 350 pounds and it measures nine feet, nine inches in length. It's also 36 inches across to complete a super stable design and additional D-rings along the gunwales give you more place to attach additional fishing gear.
The Outdoor Tuff Stinger 3 is a one-person kayak that's compact and built for a variety of applications. While it's comfortable for paddling on lakes and bays, you can also use it for multi-day trips on slow-moving rivers.
It has plenty of storage space in the bow and stern areas of the kayak. These storage spaces are covered to keep your gear dry and also provide extra security if you happen to capsize unexpectedly.
The construction of this kayak actually features three separate air chambers reinforced with triple-layer, puncture-resistant PVC material. The three-chamber design helps the kayak stay afloat if a chamber is unfortunately compromised.
The maximum weight capacity of the Stinger 3 is 275 pounds and its length measures just over nine feet. It also measures 30.25 inches wide, 13.5 inches deep, and it weighs just 25 pounds when fully inflated.
The RAVE Sports tandem inflatable is an excellent kayak for kids or recreational lake paddling. It comes with two three-piece collapsible paddles, a high output pump, and a compact carry bag.
The full length of this kayak is eleven feet and four inches. It comes with two removable and adjustable seat backs that actually allow you to set it up for one or two paddlers, depending on your preference.
The width of this kayak is 38 inches, which makes it extra stable in the water. It also weighs on 31 pounds when fully inflated so it's very easy to carry down to the water or over a short portage section between lakes.
The seats actually include a waterproof zip bag in each so that you have a place to store snacks or other items while paddling. It also boasts a maximum weight capacity of 200 pounds.
The Advanced Elements Lagoon 2 kayak is a two-person design with closed cockpits for both riders. This kayak is best suited for lakes, slow-moving rivers, and bays.
It has a maximum weight capacity of 350 pounds and a total length of 12 feet. To give it added structure and improve its tracking performance, this kayak has built-in rigid panels in the bow and stern.
The valves on this kayak are quick-inflating Twistloks and high-flow Spring valves. These valve types make it super quick and easy to inflate and it's best suited for paddlers 6'2" inches tall or shorter.
At a total of 37 pounds, it's also a really lightweight choice that's easy to transport. And one of its best features that you won't find on many other inflatable kayaks is a combing that can accommodate a spray skirt.
The Outdoor Tuff Stinger 3 is our pick because of its convenience and versatility. Because of its smaller dimensions, this kayak will be easier to maneuver on the water and more responsive to your paddle strokes.
But it's also super easy to deflate and store in the back of your car or underneath an RV. It also comes with a foot pump so that you don't have to tire your arms out when inflating it and you can save your upper body energy for actually paddling.
The kayak's storage bag includes backpack straps to make it even easier to carry. Finding this out, we even imagined being able to carry this kayak into a remote lake and be the absolute only one on the water.
But the three-chamber design is really what sealed the deal for us. Other single-chamber kayaks are risky because even the slightest tear causes the kayak to deflate and it will no longer support you in the water.
With three separate chambers, you could have a small tear and still have two useful, fully-inflated chambers to keep you afloat until you reach the shore. We really appreciate the safety aspect of this kayak design.
Finally, the Stinger 3 comes with two fins built into the hull of the kayak.
This is becoming more common in inflatable kayaks, but extra fins go a long way towards helping your kayak track straighter and lends greater efficiency to your paddle strokes.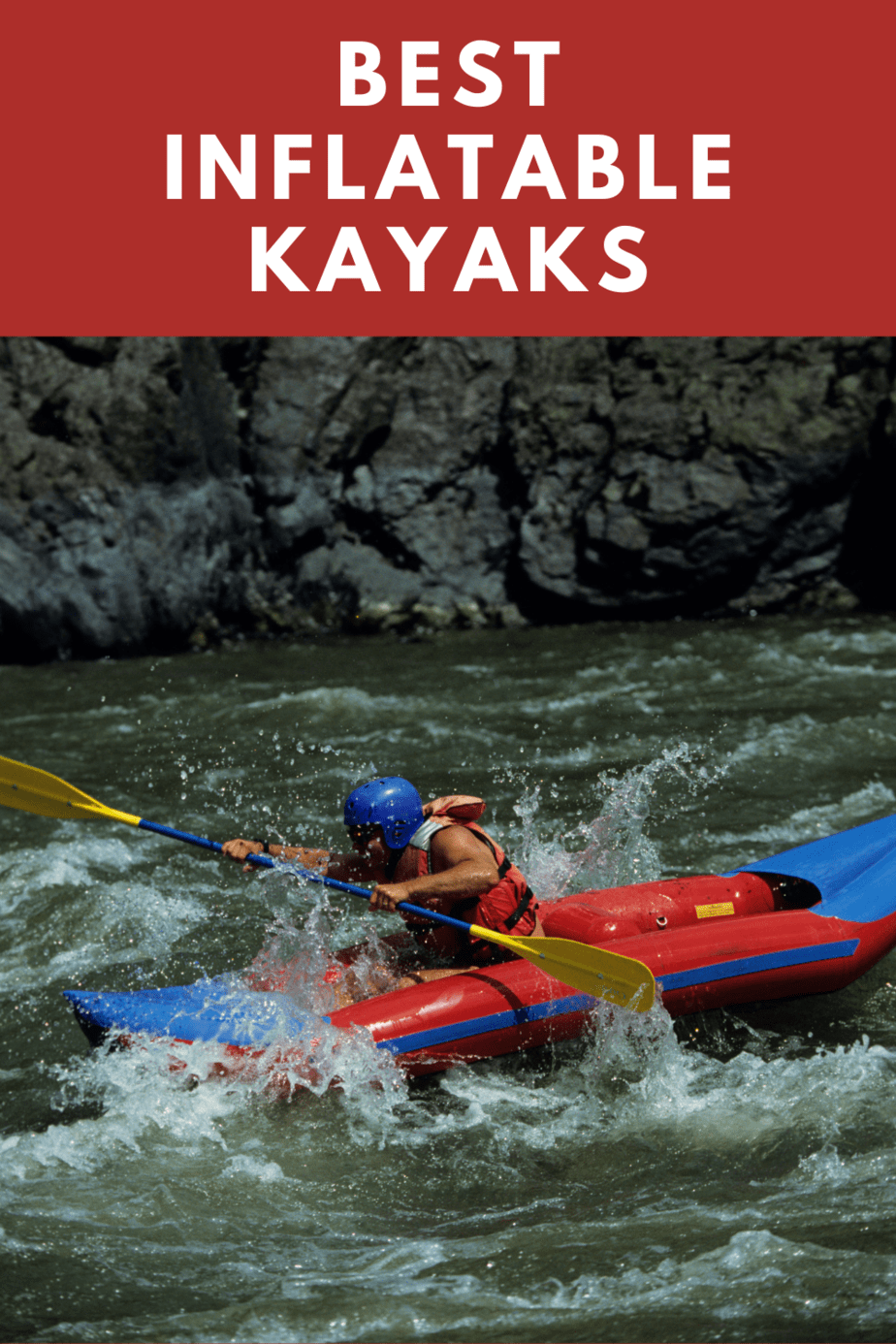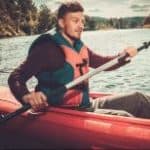 Author: Peter Salisbury
Pete is the Owner of KayakHelp.com. Born and raised in Cleveland, Ohio, he grew up kayaking, fishing, sailing, and partaking in outdoor adventures around the Great Lakes. When he's not out on the water, you can find him skiing in the mountains, reading his favorite books, and spending time with his family.