The feeling of being in a kayak on the ocean is unrivaled. It's special just knowing that there's a vast, sprawling sea rolling beneath your watercraft while you're rigging up the right bait for your next cast.
Saltwater kayak fishing comes with some additional considerations when compared with fishing from shore. For starters, you'll need a great tackle box to keep everything neatly organized on your kayak to avoid spending more time rigging up bait than you actually spend fishing.
No matter how organized you keep your kayak fishing supplies, however, they'll be rendered useless without a useful kayak fishing rod. For saltwater anglers, you'll need a rod and reel combination that's designed for the larger species that are often swimming under your kayak in the ocean.
In this article, we're going to review the 10 best rods and reels for saltwater kayak fishing and recommend our top pick for the best saltwater rod and reel combo.
We'll also define some key kayak fishing jargon and outline the most important factors to consider when choosing a rod and reel combo for saltwater kayak fishing.
Jargon Buster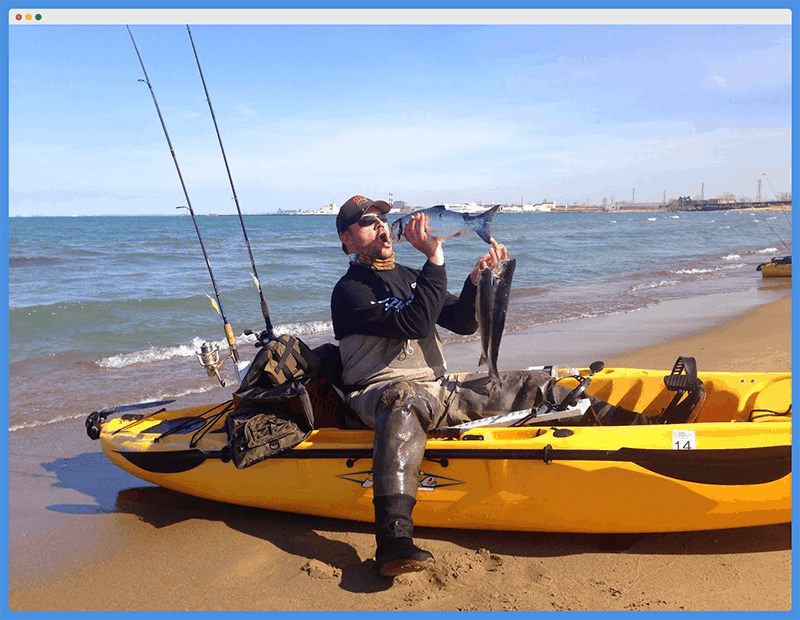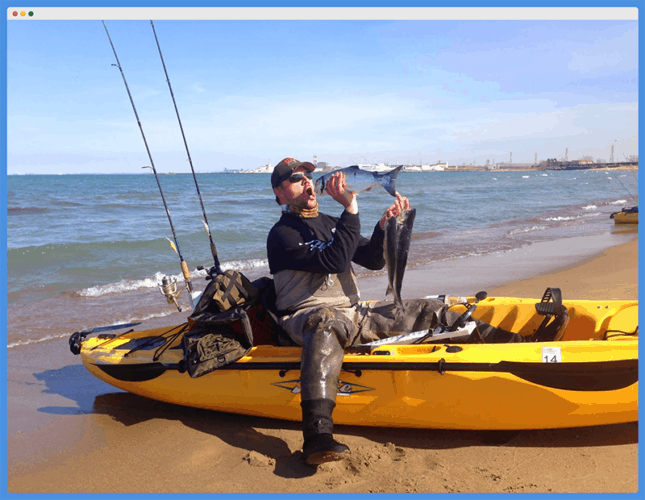 Saltwater kayak anglers sometimes speak a language that's all their own. But in this jargon buster section, we're going to focus on defining a couple of the technical terms that you'll come across as you continue reading the rod and reel reviews below!
Line Rating
Line rating is the normal breaking strength of fishing line that can be paired with a properly adjusted reel. For example, it is NOT recommended to run an 80-pound line with a reel that has a line rating of 20-30 pounds.
Braid
Braid is short for 'braided fishing line.' It is a very popular type of line that boasts high knot strength, lack of stretch, and decent power in relation to its diameter.
Braided fishing line and mono fishing line are the two main types chosen by anglers everywhere. Braid can be a great choice for saltwater kayak fishing because of its exceptional strength.
Certain anglers, however, do not prefer braid because it can be highly visible in clear water. For this reason, it is more often used in ocean applications where water clarity is a bit less clear.
Buying Guide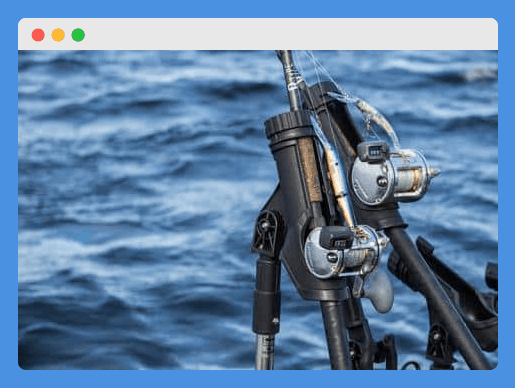 There are lots of different techniques for saltwater kayak fishing and your unique technique will dictate the type of rod and reel combination you need.
In this buying guide, we'll go into detail on the most important considerations to help you narrow down your choices.
Reel Design: Spinning Versus Baitcasting
One of the first major choices you'll need to make is between a spinning reel and a baitcasting reel. There are certain advantages and disadvantages to each, which we'll cover here.
Spinning Reels
Spinning reels are more often used by anglers fishing with lighter lines. A good rule-of-thumb is to use a spinning reel if you plan to run a line with an eight-pound test or lower.
Spinning reels can also be a great option for fishing on windier days. This is because they tend to have less backlash than baitcasting reels, which makes it easier to throw lightweight lures or plugs into the wind.
Baitcasting Reels
Baitcasting reels are more popular for saltwater kayak fishing because they're better for running heavier lines. If you plan to run a line with a ten-pound test or higher, you should almost always opt for a baitcasting reel.
Once you get used to their operation, baitcasting reels allow you to cast more accurately than their spinning counterparts. You'll need to get comfortable stopping the spool with your thumb, but you'll find much more control once you do.
In general, baitcasting reels also tend to have higher gear ratios than spinning reels. This makes them better suited to high-speed bait presentations, such as when you're fishing with spinnerbaits or crankbaits.
Finally, baitcasting reels are preferred by many saltwater anglers because they work well with all three common line types. Whether you like to run monofilament, fluorocarbon, or braided line, you'll be able to do so with a baitcasting reel.
Construction Materials
The materials used in the construction of both the rod and reel should be noted when comparing different rod and reel combinations. Just like choosing the best fishing kayak, the construction process directly impacts performance on the water.
Graphite, carbon fiber, fiberglass, aluminum, and stainless steel are all commonly utilized in the construction of rod and reel combos made for saltwater kayak fishing. Graphite and carbon fiber are higher end materials that are both super lightweight and very durable.
The downside of these materials is that they tend to result in more expensive rod and reel combinations. Fiberglass, on the other hand, is a very serviceable material and still offers great durability while making rods with this material more affordable.
Aluminum and stainless steel are two materials commonly used in reel construction. They are both very durable, although steel gets the edge here and aluminum, of course, is a bit lighter.
The really important factor to look for in the materials of a rod and reel combination is the fact that they are corrosion resistant. Don't choose a combo that isn't prepared to handle the saltwater environment you intend to fish in!
Rod Length
Depending on your kayak choice, you might need a longer or shorter rod length. It's a good rule-of-thumb to be able to extend the tip of your fishing rod past the bow of your kayak while you're seated in the cockpit.
The reason for this is that you'll want to retain the ability to move your rod from one side of your kayak to the other.
If the fish that you're fighting decides to swim under your kayak, an inability to clear the bow of your kayak with your line can result in negative consequences.
On the other hand, you don't want to choose a rod that is overly lengthy for saltwater applications.
When you're fishing from a seated position in your kayak, a longer, heavier rod can be much more difficult to operate than if you were standing in a larger boat or fishing from shore.
When assessing rod length, it's smart to avoid going much over 10 feet. But if you want to maintain maximum maneuverability in your kayak, a rod length between six and eight feet might suit you better.
Power and Action
The "power rating" of a fishing rod basically dictates what size of fish should be caught with it. Rods with a light or medium power rating are best suited for smaller saltwater species, such as Cigar Minnows and Ballyhoo.
Rods with heavy power can stand up to larger ocean species that typically involve a longer fight. Some examples of fish you might seek with a heavy power rod include Wahoo and Redfish.
Action refers to the degree to which a rod will flex when you put pressure on the tip. Rods with "fast" action will only bend in the top third (or less) of the rod while rods with "medium" action will bend the top half of the rod.
Rods with slow action will bend starting in the bottom third of the rod. In general, saltwater anglers look for rods with fast action because this translates to greater sensitivity, which is really important when you're fishing from a kayak.
Grips: Cork Versus EVA Foam
The material used in the grip on a fishing rod impacts both comfort and performance. EVA foam grips have become very popular in the industry, but cork grips still boast that stylish, traditional look.
In general, cork grips tend to become more slippery when they get wet and EVA foam grips can wear out more quickly over time. Just like choosing a GPS watch for kayak fishing, there are more pros and cons to cork and EVA foam grips, which you can read about here.
Best Rod And Reel For Saltwater Kayak Fishing
Check Price on Amazon
The Penn Spinfisher VI has a ten-foot rod length and a two-piece design that allows you to collapse it down for easier storage. It weighs less than two-and-a-half pounds and has heavy power to help you reel in large ocean fish.
The blank construction of this rod and reel combo uses graphite composite material, which is one of the reasons why it's so lightweight.
The reel body and spool boast an IPX5 waterproof rating to keep the components functioning properly even in heavy ocean spray.
You'll enjoy smooth retrieves with this rod and reel due to the techno-balanced rotor in the reel and the 5+1 stainless steel ball-bearing system. The full metal body and metal side plates on the reel also make it extremely durable when fishing larger fish.
The Spinfisher VI also uses CNC gear technology to make it stronger and longer-lasting. This technology helps to ensure that the drive, pinion, and oscillation gears in the reel are cut to exact tolerances.
Check Price on Amazon
The Penn Battle II rod and reel combination comes with a ten-foot rod that collapses down into two pieces for more compact storage when you're done fishing. The rod boasts heavy power for battling larger ocean fish.
The rod is constructed with graphite composite blanks to make it strong but also lightweight. Along the rod, you'll find aluminum oxide guides that make this setup more responsive to strikes and nibbles.
The reel features a full metal body construction with metal side plates to protect the components from ingress and corrosion. The rotor also features full metal construction for added durability.
The reel in the Penn Battle II boasts an HT-100 Versa Drag carbon fiber drag system that utilizes both sides of each drag washer for maximum drag. These drag washers are also carefully treated to ensure long-lasting performance.
Check Price on Amazon
The Daiwa D-Wave rod and reel combination boasts a ten-foot rod with a fiberglass blank construction. The design features a two-piece rod that collapses so it doesn't take up a bunch of space on your kayak until you're ready to use it.
The handle of the rod includes comfortable, no-slip EVA foam grips, and the rod includes aluminum oxide guides for improved sensitivity and responsiveness. The stainless steel hooded reel seats on this setup also serve to reduce corrosion from saltwater exposure.
The reel itself features an ABS aluminum spool with a gyro spin balanced rotor. It also includes a Twist Buster 2 Line Roller and a smooth ball bearing drive.
The Daiwa D-Wave is another great entry-level combination designed for heavy applications. It's great for fishing for Stripers, Redfish, Snook, and baby Tarpon.
The Daiwa BG4000 offers a seven-foot rod length with a pre-mounted spinning reel already attached to the handle. The reel boasts rugged aluminum construction for toughness when battling saltwater species.
This is a one-piece rod that's made with 100 percent graphite material and has traditional cork grips on the handle. The reel itself hosts a total of six stainless steel bearings for smooth casting and retrieves.
This rod and reel combination is designed for a line rating between 12 and 20 pounds with a braid of 40 pounds. It's capable of handling lures that weight between 0.5 and 2 ounces.
The Daiwa BG4000 is best for inshore saltwater kayak fishing where you'll be going for smaller ocean species, such as Ballyhoo, Bonefish, and Bonito.
This is a great entry-level rod and reel combination for saltwater kayak fishing. It boasts a total rod length of seven feet and offers medium power for catching healthy-sized ocean species.
The Catch More Fish rod and reel combinations feature a size 50 spinning reel with a chrome-plated spool that comes with premium fishing line pre-spooled. This allows you to get out on the water faster once the rod and reel arrive at your door.
The blank construction on the rod uses tubular glass and includes stainless steel guides with ceramic inserts. The split-grip on the rod's handle is made with comfortable, non-slip EVA foam.
The Shakespeare Catch More Fish rod and reel combination also comes with pre-tied bottom rigs, fish-finder surf rigs, jig heads, and a comprehensive rigging guide. It also includes Berkley PowerBait shaky worms, crankbait, spinner grubs, and other useful tackle.
Check Price on Amazon
This rod and reel setup combines the beauty of the eight-foot Sabiki fishing rod with the durable performance of the Baitcaster light saltwater reel. This combo is great for catching Ballyhoo, Cigar Minnows, Goggle Eyes, and Hardtails.
The beauty of the Sabiki fishing is that all hooks are stored within the rod when you're not fishing. This is a great feature because it significantly decreases the risk of inadvertently hooking yourself when you're getting your kayak prepared or broken down.
This combo is designed to help you catch your own bait, rather than always having to pay for it. It boasts a ten-pound line rating and holds a total of 120 yards of line capacity.
The EatMyTackle Sabiki Baitcaster's reel contains three stainless steel ball bearings and a one-way clutch. This last feature provides additional corrosion protection when you're constantly fishing in saltwater environments.
Another entry-level rod and reel combination for saltwater kayak fishing, the Ugly Stik Saltwater Spinning Combo includes a seven-foot rod length in a two-piece design for easy storage and transportation.
The rod features medium-heavy power and it weighs less than two-and-a-half pounds. The construction also includes stainless steel guides with ceramic inserts, a conventional reel seat, and a durable EVA foam grip on the handle.
Attached to that reel seat is a size 50 graphite spinning reel that comes pre-spooled with a line that's rated to 14 pounds. The graphite reel on this setup comes with a single ball bearing system.
The Ugly Stik Saltwater Spinning combo also comes with an assortment of big water tackle for your convenient use. This includes stringer, bobbers, jigs, weights, hooks, and more.
Check Price on Amazon
The Quantum PT Reliance rod and reel combination has a seven-foot rod length with a one-piece design for greater durability. This combo boasts fast action and medium power, which makes it great for fishing species like Walleye and Bass.
The rod features a durable graphite blank construction with heavy-duty guides and solid-footing stainless steel hooded reel seat. The cork grip on the handle is both durable and aesthetically-pleasing to the eyes.
The smooth 5+1 PT ball bearing system on the reel is adaptable for left or right-handed retrieves. The reel also features an Instant Anti-Reverse for a fast-acting, no-play hookset.
The Quantum PT Reliance boasts PTAC bearings that are anti-corrosive and provide super smooth performance. This rod and reel combination is also super lightweight for easier handling in a seated kayak position.
The KastKing Sharky III is a nine-foot rod with a spinning reel that boasts a 10+ shielded stainless steel ball-bearing system. This combination boasts medium power and fast action, which makes it great for fishing for large, hard-fighting fish.
The rod boasts sensitive and lightweight graphite blanks and comes in a two-piece design for compact storage. The nine-foot length and design of this rod make it ideal for catching catfish, steelhead, and salmon.
The Fuji guides along the rod have O-ring inserts that make this setup compatible with both mono and braided lines. The Fuji reel seats on the handle are strong and durable to keep your reel in place when fighting larger fish.
The KastKing Sharky III features EVA foam grips on the handles for more comfort on longer saltwater kayak fishing trips. This rod and reel combinations also comes with a smooth spinning reel with a triple-disc carbon drag system rated up to 39.5 pounds.
Check Price on Amazon
The Penn Squall Lever Drag Combo is a one-piece, six-foot, six-inch saltwater rod and reel combination. This combo boasts a bait caster reel with a Dura-Drag system with a maximum drag rating of 30 pounds.
The reel is constructed with a lightweight graphite frame and metal side plates to protect the components from saltwater corrosion. The forged and machined aluminum spool includes stainless steel main and pinion gears for smooth retrieves.
The entire setup weighs less than four pounds and the blank construction features a single tubular glass blank with a solid tip. The stainless steel guides along the rod include aluminum oxide inserts for better strength and responsiveness.
The Squall boasts a size 60 reel with a line rating of 30 to 80 pounds and a 35-inch retrieve rate. This is a great rod and reel combination for saltwater kayak fishing if you're going for big Wahoo!
Check Price on Amazon
The Penn Squall Lever Drag Combo is our top choice for the best rod and reel for saltwater kayak fishing. For starters, we love this combo because it boasts fast action and heavy power.
This makes it a great selection for saltwater kayak anglers that are after larger ocean species like Wahoo or Kings. It's also a relatively short rod, which can be easier to handle when fishing from a seated kayak position.
Among the rod and reel combinations we've reviewed in this article, this selection boasts one of the higher line ratings. This means you'll be able to trust it to hold up when you hook into a fish that's even a bit larger than what you intended.
With a weight of fewer than four pounds, this is also a relatively lightweight setup. Kayak fishing requires quite a bit of upper body strength, so it's important to choose a rod and reel combo that won't be so heavy that it wears you out.
Finally, the Penn Squall Lever Drag Combo boasts the type of corrosion resistance that you should look for in a rod and reel for saltwater kayak fishing. Despite its higher price tag, you'll be able to trust this setup for years to come!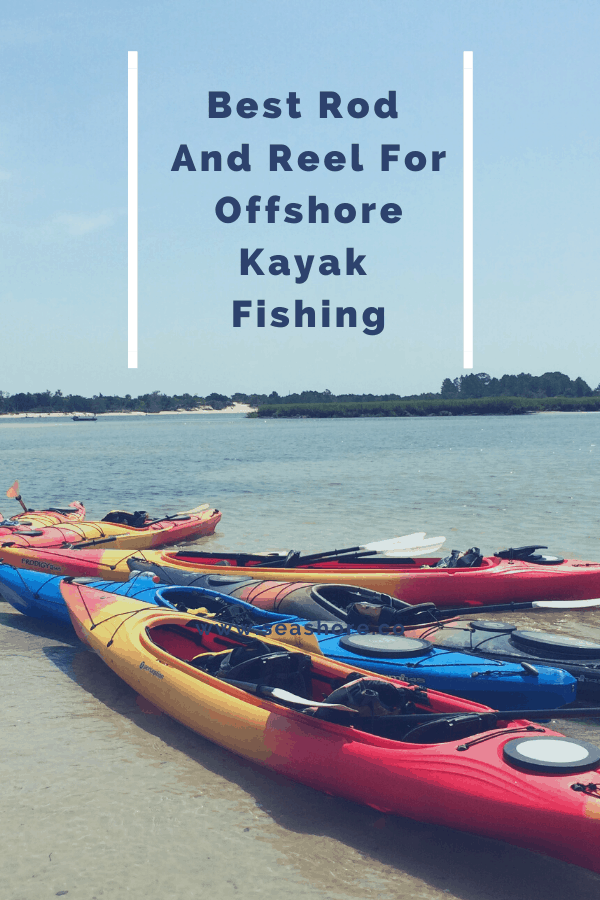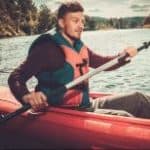 Author: Peter Salisbury
Pete is the Owner of KayakHelp.com. Born and raised in Cleveland, Ohio, he grew up kayaking, fishing, sailing, and partaking in outdoor adventures around the Great Lakes. When he's not out on the water, you can find him skiing in the mountains, reading his favorite books, and spending time with his family.