Canals are some of the most beginner-friendly places to kayak. They are controlled waterways that rarely deal with large waves, currents, tides, or even heavy winds.
Some canals can have more boat traffic than others, but, generally, this is going to be the only thing causing waves when you are kayaking on a canal. So that's why the best kayaks for canals come in many shapes and sizes.
We have intentionally included inflatable kayaks, sit on top kayaks, and sit inside kayaks in this review. So there is something for everyone and our buying guide will help you choose the best model for your paddling style and preferences.
We will also offer a few brief canal kayaking safety tips to make sure you stay happy and healthy with this style of paddling. So let's get right to it!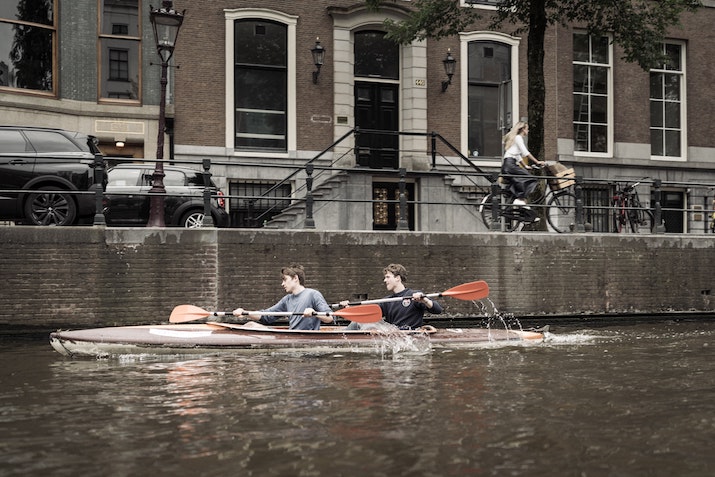 Photo by Ugur Arpaci on Unsplash
Best Kayaks For Canals
Intex Excursion Pro K1
Brooklyn Kayak Company FK184
Pelican Kayaks Maxim 100X
Perception Kayaks Pescador 12
Sea Eagle 370 Deluxe
Lifetime Kayaks Pro Angler 118
Vanhunks Boarding Black Bass
Perception Kayaks Access 11.5
Oru Kayak Bay ST
Jackson Kayak Bite Rec
Canal Kayaking Safety Tips
Photo by Sam Mouat on Unsplash
These tips will be relatively brief because we have already covered a more definitive list of kayaking safety tips for beginners elsewhere on our site. These tips, however, are additions that are specific to kayaking on a canal.
Beware of Wave Reverb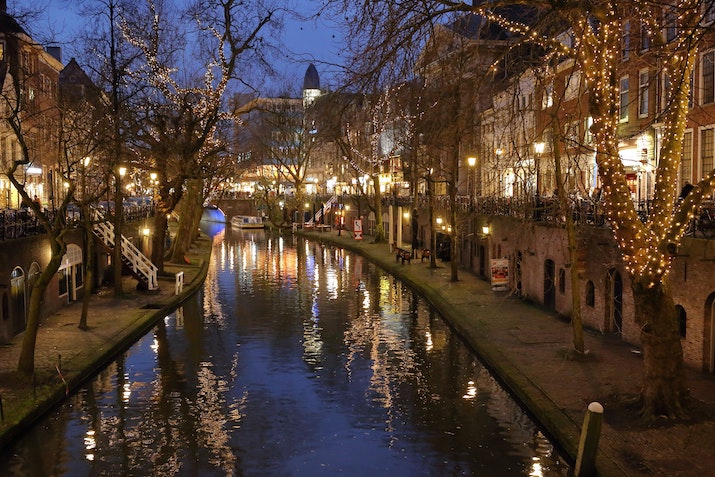 Photo by Martin Woortman on Unsplash
On the ocean or even on windy lake days, you may be used to dealing with waves. Waves in these settings, however, usually only come from one dominant direction.
Because most canals are relatively narrow waterways, you can experience a phenomenon called wave reverb. This is when waves bounce off the concrete or natural sides of the canal and reverberate back towards the center.
When these reverb waves then hit another set of waves (usually caused by boat traffic), they can jostle your kayak in unfamiliar ways. So just be aware that you can have waves coming at you from any and all angles if there is substantial boat traffic on the canal you paddle on.
Make Yourself Visible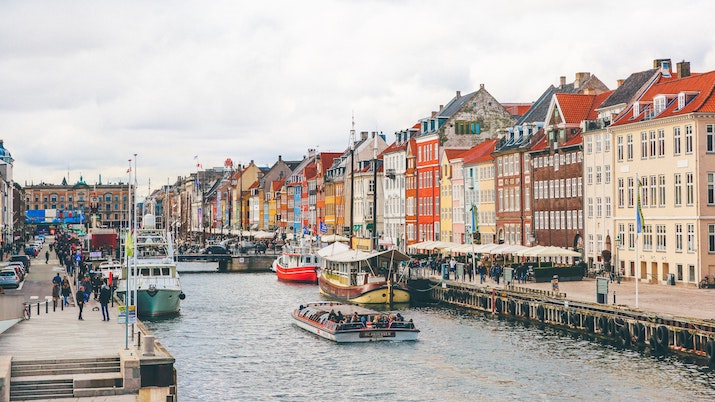 Photo by Nick Karvounis on Unsplash
The major threat to kayakers on canals is motorized watercraft. Because you sit so much lower in the water than them, even the most attentive boat captains can miss the presence of a kayaker in the water ahead of them.
As a kayaker, the best thing you can do is to make yourself as visible as possible when kayaking on a canal. That means choose a bright-colored kayak and wear a bright kayak PFD.
Other ways you can improve your visibility on the water include installing a kayak light (especially effective for paddling around sunrise and sunset), a kayak flag, and choosing a kayak paddle with bright-colored blades.
Know Emergency Take-Out Points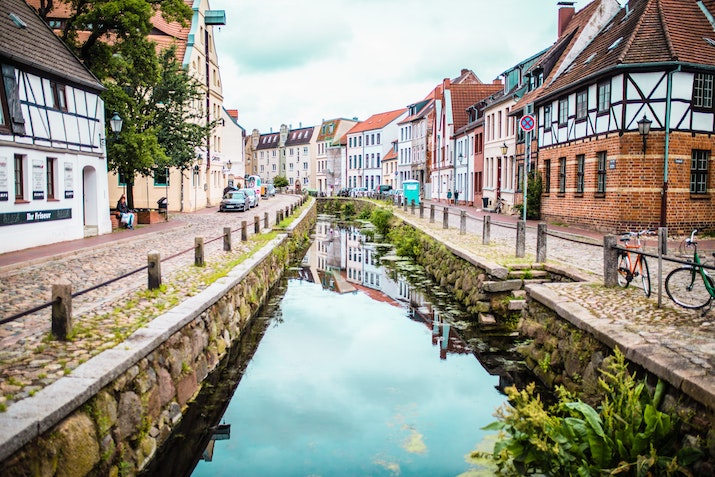 Photo by Jan Bolz on Unsplash
The last tip we want to impart is to be aware of emergency locations that you can use to get off the canal if you need to end your paddle early. Many canals have high walls or thick, forested banks that render large stretches inaccessible by land.
If you need to get off the water for any reason, you should always know the nearest point where you can get off the canal safely (just like knowing where your closest exit is when you take your seat on an airplane).
Buying Guide
Photo by Toni Reed on Unsplash
Now it is time to cover the most important specifications and features to consider when you are buying one of the best kayaks for canals. Please remember that you can prioritize these factors according to your personal preference.
Kayak Style
The three main styles of kayaks that we have included in this guide are sit-on-tops, sit-insides, inflatables, and folding kayaks. Let's begin by covering some of the pros and cons of each.
Sit-on-Top Kayaks
These kayaks are great for canals because they are highly stable and also make it easy to get back into the kayak if you happen to capsize. They also have scupper holes that allow water to drain out naturally (instead of needing a bilge pump and sponge).
If you plan to do any fishing on the canals in your area, most river fishing kayaks are also of the sit-on-top variety. These kayaks are also highly forgiving for beginners and can usually offer multiple footrest positions so that paddlers of varying sizes can use them, which is nice if you are looking for something for the whole family.
Sit-Inside Kayaks
You should only consider a sit-inside kayak for canal paddling if you have previous experience using this style of kayak. They require a bit more technical skill to climb back inside if you happen to capsize in the middle of the canal.
That being said, many sit-inside kayaks are narrower than their sit-on-top counterparts, which allows them to cover longer distances more efficiently. So this might be a good choice for an experienced paddler looking to explore longer canals.
In addition, sit-inside kayaks can be equipped with one of the best kayak spray skirts for paddling in adverse weather conditions. So if you live near a canal and you want the freedom to paddle rain or shine, this style will probably be your best bet.
Inflatable Kayaks
Inflatable kayaks are recommended for anyone that wants to simplify the process of transporting their kayak. These kayaks usually pack up into compact carry bags that can fit in the back of a truck, SUV, or sedan.
If you are looking into inflatable kayaks, we highly recommend looking for one that comes with its own dual-action pump. This will save you some money and also make the process of inflating and deflating the kayak much easier.
That said, there are two main downsides to inflatable kayaks. The first is that they can be difficult to dry out when you are finished paddling and this is especially true if your home canal is in a humid area.
If this is the case, you will probably need to hang your kayak up with a fan blowing air onto it to get it to dry out between paddles. If you fail to dry it out, you increase the odds of mold growing inside the kayak between uses.
The other downside of inflatable kayaks is the time that they take to set up and break down for each paddle. Some folks want something that they can pull off their vehicle and plop right into the water for their paddles.
Folding Kayaks
Folding kayaks are somewhat of a happy medium between inflatables and rigid kayaks. They generally don't require as much setup and breakdown time as inflatable kayaks and they also eliminate the need for a hand pump or a high-powered electric pump.
Like inflatable kayaks, they pack up into very compact packages when you aren't using them. That said, you will also need to consider how you will adequately dry this style of kayak between paddles.
Folding kayaks are really best for travelers because in either suitcase or backpack-style carry bags. So if you are planning to paddle on multiple canals all over Europe on your next overseas trip, check out a folding kayak.
Single or Tandem?
The next consideration is a simple one: will you mostly be paddling by yourself or with a partner?
The answer may appear black and white, at least at first, but we know that things are rarely as cut-and-dry as they seem. There may be times when you paddle solo and other times when you find a new partner (or finally convince your existing partner) to head out with you.
Fortunately, there are solutions out there for folks that can't quite answer this question definitively. Some of the inflatable kayaks for canal paddling are designed for two paddlers but can be altered to accommodate a single paddler.
So these are the best option for folks that are slightly in-between on this question. If you can answer it definitively, however, prioritize only the single or tandem kayaks that suit your needs.
Your Activity Interests
Most of these canal kayaks are primarily designed for recreational paddling. They will make it easy to get out on the water for a few hours of fun and relaxation and they may even have enough storage space to bring a few of your favorite beverages along.
That being said, we recognize that you may have other interests that are driving your search to find one of the best kayaks for canals. Some initial ideas include kayak fishing, riverfront property searching, and long-distance canal exploration.
This is far from a complete list, but we want to impart the idea that you should keep your activity interests in mind when picking a new kayak. If you think you might like to see what kinds of fish are swimming in your local canal, for example, you will want to choose a kayak with fishing rod holders, tackle box storage, and other fishing-specific features and accessories.
Your Budget
When you are considering how much you should spend on a new kayak, the best place to start is with an honest estimation of how many times per year (or per month, week, etc.) you reasonably think you will get on the water.
The number of times you paddle in a given year and the amount you should be willing to spend on a new kayak have a correlating relationship. In other words, more avid kayakers should be willing to spend more on their gear than casual, recreational kayakers.
That is largely because it is increasingly important for you to have gear that makes you feel comfortable and protected the more you are going to use it. Recreational kayakers, on the other hand, will have an easier time putting up with gear that isn't a perfect fit because they will probably only use it a handful of times every year.
The kayaks that we have chosen to review below range from less than $250 at the low end to more than $1,450 at the high end. Of course, these are still on the low end compared to the most expensive kayaks out there.
Still, we recommend keeping your budget closer to the low end of that range if you only need something for casual paddling. If you are going to get out on the water several times a week and use kayaking as a main form of exercise, on the other hand, zero in on the models toward the upper end of that range.
Thumbnail
Title
INTEX 68303EP Excursion Pro K1 Inflatable Kayak Set: Includes Deluxe 86in Aluminum Oars and High-Output Pump – SuperTough PVC – Adjustable Bucket Seat – 1-Person – 220lb Weight Capacity
BKC FK184 9' Solo Sit-On-Top Kayak w/Premium Memory Foam Seat -Paddle and Fishing Rod Holders Included
Pelican - Maxim 100X Recreational Kayak - Sit-in - Lightweight one Person Kayak - 10ft
Perception Pescador 12 | Sit on Top Fishing Kayak with Front Storage Well | Large Rear Storage and Dual Rod Holders | 12' | Dapper
Sea Eagle SE370 3 Person Inflatable Portable Sports Kayak w/Seats, Paddles, Foot Pump and Carrybag
Thumbnail
Title
INTEX 68303EP Excursion Pro K1 Inflatable Kayak Set: Includes Deluxe 86in Aluminum Oars and High-Output Pump – SuperTough PVC – Adjustable Bucket Seat – 1-Person – 220lb Weight Capacity
Thumbnail
Title
BKC FK184 9' Solo Sit-On-Top Kayak w/Premium Memory Foam Seat -Paddle and Fishing Rod Holders Included
Thumbnail
Title
Pelican - Maxim 100X Recreational Kayak - Sit-in - Lightweight one Person Kayak - 10ft
Thumbnail
Title
Perception Pescador 12 | Sit on Top Fishing Kayak with Front Storage Well | Large Rear Storage and Dual Rod Holders | 12' | Dapper
Thumbnail
Title
Sea Eagle SE370 3 Person Inflatable Portable Sports Kayak w/Seats, Paddles, Foot Pump and Carrybag
Reviews of Kayaks For Canals
Check Price On Amazon
Length: 10 feet
Width: 36 inches
Weight: 37.29 pounds
Weight Capacity: 220 pounds
This compact inflatable kayak is perfect for the casual paddler and it packs up small enough to fit in the back of your car. It is made of a tough laminate PVC material with a polyester core for plenty of abrasion resistance.
It comes with two removable skegs for deep and shallow water paddling. Both skegs help you track straighter and keep the kayak from zig-zagging back and forth with each paddle stroke, but you will have the freedom to install the best one for the depth of the canal you are paddling on.
The Excursion Pro K1 also comes with detachable fishing rod holders, a detachable and adjustable GoPro and phone mount, and another removable and adjustable mounting bracket for attaching any additional kayaking accessories you might want to bring along.
Check Price On Amazon
Length: 9 feet
Width: 32 inches
Weight: 44 pounds
Weight Capacity: 330 pounds
This is a compact rigid sit-on-top kayak built for canal fishing. It comes with a total of five fishing rod holders and two waterproof storage hatches to keep additional fishing gear or emergency kayak equipment.
It comes with its own adjustable kayak paddle and a premium memory foam kayak seat for all-day comfort. Additional storage areas can be secured using the included bungee rigging, so this kayak is ready for quick, casual paddles or all-day fishing adventures.
Check Price On Amazon
Length: 10 feet
Width: 28 inches
Weight: 36 pounds
Weight Capacity: 275 pounds
Pelican's line of kayaks is best if you do not want to worry about having a super sensitive kayak. The Maxim 100X is designed to regain its shape if accidentally dented by being dropped or running into a hard object while paddling.
This sit-inside kayak is also super light so that it is easy to transport to your local canal. Plus, you will be able to enjoy the cockpit table to store your water bottle and favorite snacks for your time on the water.
Check Price On Amazon
Length: 12 feet
Width: 32.5 inches
Weight: 64 pounds
Weight Capacity: 375 pounds
The Pescador 12 from Perception Kayaks is a great kayak for larger paddlers, especially those with an interest in kayak fishing. The seatback is fully adjustable for a customized fit and it also boasts quick-adjust footrests to accommodate paddlers of varying heights.
Because it is a longer kayak, it also has plenty of storage for longer trips. That includes a front storage compartment with hatched access and an open stern tankwell for securing a kayak cooler bag or other fishing gear.
Check Price On Amazon
Length: 12'6"
Width: 34 inches
Weight: 26 pounds
Weight Capacity: 650 pounds
If you like the idea of an inflatable kayak but you need something for two (or more) paddlers, then check out the Sea Eagle 370 Deluxe. This kayak can actually accommodate up to three people (two adults + child) or two paddlers and a furry companion.
The inflatable kayak seats can also be moved and placed in your preferred positions in the cockpit. That also allows you to remove one seat entirely and set the other seat up in the center to paddle it on your own.
Check Price On Amazon
Length: 11'8"
Width: 32 inches
Weight: 85 pounds
Weight Capacity: 375 pounds
The Lifetime Kayaks Paro Angler 118 is a sit-on-top kayak for serious kayak anglers. It is also a decent kayak for folks with bad lower backs because it boasts an elevated seat that keeps your hips up and opens them up more.
The seat is aluminum framed and has mesh netting stretched between it for a comfortable seat that also breathes super well on hot days. The Pro Angler is also ideal for customizing your accessory set up because it boasts six 12-inch sections of Universal YakAttack GearTrac.
This kayak also has exceptional initial stability that makes it great for stand-up kayak fishing. Plus, it comes with two Flambeau fishing tackle boxes and two flush-mounted fishing rod holders.
Length: 13 feet
Width: 32 inches
Weight: 73 pounds
Weight Capacity: 550 pounds
The Black Bass from Vanhunks Boarding is another great single kayak for kayak fishing or recreational paddling. Two fishing rod holders are mounted in the hull right behind the seat and a large sealed storage compartment in the front provides plenty of waterproof storage.
There is also a sealed center console for storing smaller gear items or snacks. This kayak is also equipped with a flip-down rudder to help you track straighter in windy or wavy conditions, which can make it a great option if your canal leads out to a larger body of water that is more impacted by wind, waves, or even tides.
Length: 11'6"
Width: 31 inches
Weight: 55 pounds
Weight Capacity: 300 pounds
The Access 11.5 is a sit-inside kayak from Perception Kayaks that can handle any type of adventure you can dream up. Integrated fishing rod holders and a center storage console allow the angler to keep all of their accessories easily organized.
Multiple molded-in footrest positions also allow paddlers of varying heights to find comfort sitting in this kayak. Plus, an easily replaceable skid plate on the hull allows you to drag this kayak over rougher sections of land with significantly less worry.

PC Oru Kayak
Length: 12'3"
Width: 25 inches
Weight: 26 pounds
Weight Capacity: 300 pounds
Oru is the leading name in the folding kayak industry and the Bay ST is their best model for canal paddling. It is best for kayaks up to 6'3" tall and it can be set up in 10-15 minutes.
The enclosed design provides up to 90 liters of storage inside, but there is also bungee rigging on the deck for securing additional gear. When you pack it up, the box it folds into measures just 33" x 14" x 29".
PC Jackson Kayak
Length: 11'6"
Width: 35 inches
Weight: 74 pounds
Weight Capacity: 400 pounds
The Bite Rec from Jackson Kayak is an all-around recreational kayak with a super comfortable seat and wide-open cockpit design. That open cockpit makes it ideal for stand-up kayak fishing or for getting an elevated vantage point for photography.
At the stern, four molded-in inserts prepare this kayak to accept Jackson's accessory mounting bracket. Once installed, that bracket allows you to easily upgrade this kayak to be powered by an electric trolling motor or pedal-drive system.
Check Price On Amazon
The Intex Excursion Pro is our top pick for the best kayak for canals because it is highly portable and, yet, will perform well on the water. Inflatable kayaks make the sport a lot more accessible for folks without a kayak roof rack on their vehicle.
Additionally, we always recommend an inflatable kayak for people that don't have a lot of storage space in their home or backyard. Because a lot of canals are located in urban environments, they can be the closest paddling location for folks living in apartments or smaller homes.
When you aren't actively paddling, the Excursion Pro packs up into its own carry bag that is even small enough to fit in the back of most sedans.
This also makes it an attractive option for travelers that don't have a ton of extra space in their rigs but still want some type of paddle craft to explore waterways at each of their destinations.
At the end of the day, it's also the most affordable kayak for canal paddling that we've included in our reviews!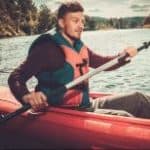 Author: Peter Salisbury
Pete is the Owner of KayakHelp.com. Born and raised in Cleveland, Ohio, he grew up kayaking, fishing, sailing, and partaking in outdoor adventures around the Great Lakes. When he's not out on the water, you can find him skiing in the mountains, reading his favorite books, and spending time with his family.