If you go on long kayaking trips regularly, you know the pain of aching joints, back pain, and muscle soreness that often comes the night after your trip.
That can last for a few days, but it's avoidable by getting a comfortable kayak. The most comfortable kayaks have padded seats that support your back and ensure you enjoy a smooth kayak ride with minimal pain afterward.
Here are the 18 most comfortable kayaks you can consider buying.
Thumbnail
Title
INTEX 68307EP Explorer K2 Inflatable Kayak Set: Includes Deluxe 86in Aluminum Oars and High-Output Pump – SuperStrong PVC – Adjustable Seats with Backrest – 2-Person – 400lb Weight Capacity
Pelican - Basscreek 100XP Fishing Kayak - Sit-On-Top Kayak - Lightweight one Person Kayak - 10 ft
INTEX 68305EP Challenger K1 Inflatable Kayak Set: Includes Deluxe 86in Aluminum Oar and High-Output Pump – Adjustable Seat with Backrest – Removable Skeg – 1-Person – 220lb Weight Capacity
Aquaglide Noyo 90 Inflatable Kayak - 1 Person Touring Kayak with Cover
perception JoyRide Sit Inside Kayak for Recreation - 12.0
Most Comfortable Kayaks
The Explorer K2 inflatable kayak is quite comfy, with an adjustable inflatable seat and a backrest. Sitting on hard kayak benches can sometimes be tough on your glutes and back, especially while paddling a lot, but this kayak solves that problem.
There are two seats for two people, both of which have backrests for added comfort.
The watercraft has three air chambers to ensure safety, and the vinyl material is heavy-duty and puncture-resistant. It comes with a pump, Boston skegs for easy deflation and inflation, and a carry bag to make transporting the kayak more convenient.
The weight capacity of 400 pounds should be more than enough for two people and some gear.
This kayak, designed for one person only, is a bit on the pricier side. However, if you're looking for a single-person sit-on-top kayak that is comfortable and lightweight, it's an excellent choice.
Despite being a sit-on-top kayak, it comes with a comfortable, padded seat with a backrest. The ERGOFIT G2 seat allows for maximum airflow to allow your body to breathe while seated, and you can adjust the backrest cushion for maximum comfort.
You can also adjust the footrests to make your feet more comfortable.
Despite weighing only 50 pounds, the kayak is highly durable, as it is made of high molecular density polyethylene. Because it's so lightweight, it is easy to maneuver and paddle.
The kayak is made with twin-sheet thermoforming to ensure stiffness and durability. The outside layer includes UV ray protection and anti-scratch protection.
The boat has excellent hydrodynamics, and it has a weight capacity of 325 pounds.
Also Read: Pelican vs Lifetime Kayak – Which Is Better?
This affordable inflatable kayak is made for one person, and it comes with an inflatable, comfortable seat. The cockpit also has inflatable floors that provide extra stability, and there are grab lines on both ends of the kayak to help you stabilize yourself.
Although it weighs just around 27 pounds, the kayak can support 220 pounds of weight. It has two air chambers and an overall length of about nine feet.
This touring kayak, made for one person, is designed to be portable and comfortable on the water. The cockpit features a cozy seat with a backrest, and there are dry areas for storing your gear and keeping them dry while on the water.
Despite weighing just 21 pounds, it has a weight capacity of 250 pounds, which should be enough for the average-sized person and some extra gear. The fact that it weighs so little makes it perfect for transporting; it also comes with a carry bag you can put the kayak into when deflated (and it comes with a pump).
The Aquaglide technology helps you glide smoothly over the waters.
This kayak might cost a pretty penny, but it's well worth it.
The two-way adjustable seat is comfortable and has thick, ventilated padding to provide a pleasant feeling and extra airflow while seated. The pads for your thighs help you feel like you are one with the kayak, giving you more control.
There are also adjustable footrests, so you can find that sweet spot regardless of how tall you are or how long your legs are.
That's not the end of it, though, as this kayak has some other features to help you stay comfortable on the water. The cupholder lets you secure your drink while chilling in your kayak on calm waters, whether you're sipping a cup of beer or just drinking water.
If you're an influencer or just like documenting your kayaking trips, whether for yourself or social media, this kayak is a fabulous choice, as it has a Selfie Slot holder for your phone that currently has a patent pending. There are also two accessory mounting points.
The storage hatch is perfect for storing jackets, clothing, bilge pumps, and other gear.
Together with the kayak, you can purchase Perception accessories for an added cost, including:
Paddles with fiberglass-reinforced blades
Perception mount for accessories
USCG-approved life jacket
When it comes to comfort, the type of seat your kayak has is not the only thing you should be looking at. A kayak that comes with a foot pedal system will make your job of paddling a lot easier, help you last longer without getting tired, and just make the kayaking trip more enjoyable.
This Pelican kayak comes with the HyDryve II pedal system, which makes it easy to maneuver around aquatic plants or navigate shallow waters. There is also a rudder, which you can control from your seat.
The seat itself is more like a beach chair – in fact, you can remove it from the kayak and use it as a beach chair by itself. It has a backrest and is strategically designed to help you stay comfortable.
The kayak has a large deck, giving you enough space for your pet dog. It is 11 feet long, weighs 65 pounds, and has a weight capacity of 300 pounds.
Also Read: Pelican Kayaks Review
This fishing kayak comes with two padded seats with strategically-designed padding on the backrests to keep your back comfortable. If kayaking gives you back issues, consider this kayak for your fishing trips; the seats are adjustable and have a gel interior for comfort.
It's an inflatable kayak featuring three air chambers. Unlike other inflatable kayaks, though, the air chambers can be separated and removed, allowing you to customize your vessel or repair air chambers as needed.
The 18-gauge 1000D PVC is tear-resistant, even from hooks, so you don't have to worry about accidentally ripping your kayak while fishing. The inflatable boat comes with six fishing rod holders – two full-motion, two vertical, and two angled rod holders.
This kayak comes with a flat bottom and a back seat to rest your back on those long paddling trips. There are also multiple footrest positions – you can place your feet wherever you want, depending on your height and leg length.
It's lime green, so make sure you are okay with that color before buying it. It has front and rear handles for easy carrying and only weighs 50 pounds.
This fishing kayak, made for solo kayakers, has an adjustable upright seat that is ergonomic and offers comfort, and it is designed to make casting and reeling easier. The cupholder will help you stay hydrated on long trips in the sun.
There are also multiple hatches for storing fishing gear and a rear cargo area with bungee tie-downs.
The rudder system can be controlled effortlessly and helps you control the direction of your boat. Use the anchor trolley to secure your boat in place when you want to take a rest from fishing.
There is a trolling motor with adjustable speeds to help you go for longer distances without tiring yourself, and there are rod holders to make fishing less energy intensive.
With a weight limit of 460 pounds, the kayak can hold plenty of fishing gear. The kayak itself weighs 78 pounds.
This kayak comes with a molded, built-in kayak seat backrest with extra cushioning for natural body positioning. There are multiple footrest options for ensured comfort.
With built-in rod holders and outstanding stability and mobility, this sit-on-top kayak is excellent for solo kayak adventurers.
There are front, rear, and side handles to make transporting the kayak easier, and there is a skid plate to protect your kayak while dragging it – you can replace this skid plate as needed.
This kayak is made of rotomolded plastic, which means it is a lot cheaper than many other comfortable kayaks. Furthermore, it will last a long time (it's UV and abrasion resistant), and its intermediate length makes it easier for beginner kayakers to navigate.
This tandem kayak comes with an adjustable seat that has added padding designed to provide cushioning in the right places and improve airflow to help you stay comfortable.
Not only that, but there is also an extra molded inner seat that provides a comfortable place for a child or pet to sit.
There are molded footrests to keep your feet comfortable and two bottle holders to hold water bottles to stay hydrated on those hot days. There are also four accessory eyelets.
With a maximum capacity of 500 pounds, this tandem kayak is perfect for two people. There are scupper holes that help ensure drainage when water gets into the boat, and there is also added flotation inside the twin-arched multi-chine hull, which helps keep the boat stable.
There are two four-inch dry hatches, one for each paddler, with a quick lock system for easy opening and closing.
The Wilderness Systems Pungo 125 kayak features a Phase 3 Air Pro seating system, with honeycomb-vented foam covered in mesh to provide more airflow and keep you cool. The ergonomic design provides support for your back and ensures you stay comfortable while kayaking.
The thigh pads help your thighs remain comfortable, while the footrest can be adjusted to fit your height.
The kayak also has a lot of other features designed to increase convenience. The dashboard on the kayak has the following cool stuff:
Two cupholders
A removable dry box
A Slidetrax for accessories
There is also a recessed area for the Wilderness Systems battery, which you can use to charge your electronics while kayaking. However, you will have to purchase the battery separately, as it does not come included with the kayak.
The rear hatch is sealed and provides a spot to store your accessories and keep them dry.
The kayak comes in several sizes, designed for kayakers of different sizes. Regardless of your height and weight, there is a kayak that will suit you.
The Driftsun Teton 120 tandem sit-on-top kayak fits two or three people. There are two large, comfortable seats for adults with sizable backrests, as well as an additional small center seating area, which can fit a child or a dog.
The rotomolded kayak is strong, tough, and UV resistant. With a 500-pound weight capacity, you can easily fit two adults, a child, and fishing gear.
This 10'3" kayak has adjustable seats and footrests, making it easy to achieve the perfect seating position to ensure comfort. The center storage hatch and bucket allow you to easily access the gear you store, and there are also bungee cords in the front and back of the kayak to help you secure your other loose items.
The paddle keeper helps you secure your paddle to the kayak, and the three built-in rod holders (one of which is adjustable and the other two flush-mounted) help you keep your fishing rod in place while fishing.
The kayak is great for fishers – it even comes with a ruler to help you measure the fish you catch. Not only that, but there is also a tackle box storage for your tackle.
We've covered a few inflatable and regular kayaks in this article, but this is the first folding kayak on this list. Folding kayaks are generally lightweight and durable; they're great for people who have limited space for transportation.
The backrest is padded and adjustable; you can sit upright, or you can learn the backrest back. There are also adjustable footrests to keep your feet comfortable.
The fairing and cockpit handles make transporting this kayak and getting it out of the water easy.
Besides, the kayak is very convenient, as you can fit it in the trunk of your car or put it in the Oru kayak case (which you have to buy separately). The kayak lasts for 20,000 fold cycles, which is pretty standard for high-quality foldable kayaks.
This fast and stable touring kayak is designed for speed, agility, and comfort, with a seating system that has excellent airflow and padding. The adjustable, large footrests accommodate even large kayakers, and there are also adjustable, padded thigh rests to help your legs remain comfortable.
There is a water bottle holder under the deck, allowing you to store your water bottle without it getting in the way. There are also two mesh pockets on the deck, where you can store smaller items.
For larger items, there are two storage hatches. One, which is oval, is in the rear of the kayak; the other, round and smaller, is in the bow.
Until now, we've focused on comfortable kayaks for adults. However, what about kids?
This Goplus youth kayak, which is six feet long, is perfect for children and young teenagers learning how to kayak. The sit-on-top kayak is ideal for calmer waters, such as rivers, lakes, and ponds.
The folding backrest helps keep your child comfortable and avoids back pain after kayaking. The molded-in footrest system has four levels, accommodating youths of different heights.
In fact, your child can continue using the kayak as they grow taller.
The Goplus kayak is designed to keep your child as safe as possible on the water, but it still requires parental supervision. The bright color helps you spot the kayak on the open water – you can always keep your child in sight.
Some safety features include added stability and a self-bailing scupper hole.
Made of non-toxic HDPE material, this kayak is durable and robust.
This youth kayak has a padded, slip-resistant seat and footrests that were carefully measured to fit younger kayakers of all sizes (the one-size fits all design makes this kayak suitable for children from the age of four until the age of 12). It might be a good idea to buy an adjustable paddle as well.
The hull is designed for maximum stability, and there is a cupholder for convenience.
The treasure tray in the middle provides a place for your child to store rocks, shells, and other treasures they find on their trip. Alternatively, they can store their snack there.
The kayak is made of durable HDPE #2 plastic, so it will last a long time. Since it's designed to fit children from 4-12, your child can use it as they grow older and taller.
Nevertheless, the material is recyclable, so when it comes time to upgrade or if your child ever outgrows their kayak, you can recycle the watercraft at your nearest recycling center (simply contact them for help).
The Most Comfortable Seats You Can Buy for Your Kayak
If you already have a kayak, but it's not comfortable enough for you, what are your options other than buying an entirely new kayak? I recommend looking at universal-fit kayak seats.
Here are the best and most comfortable kayak seats you can purchase for your kayak.
This kayak seat, by Brooklyn Kayak Company, has multiple padded cushions that support your torso, back, and legs. With front and rear adjustable straps, you can adjust the seat and ensure it fits your kayak correctly.
The seat is made of durable polyester and neoprene. It is water-resistant and resistant to sun damage, so you can use it on hot days and on choppy waters where it will get wet.
It's designed to fit most sit-on-top kayaks, and it can also fit kayakers of all sizes. You can install it easily using the hooks and straps.
This kayak seat is also designed to fit most sit-on-top and inflatable kayaks, as well as stand-up paddle boards. However, your kayak must have a D ring for it to support the seat.
It has a foam-padded backrest with extra padding and breathable material; you will enjoy maximum comfort with this kayak seat. The upgraded, strong hook and adjustable straps ensure the seat remains in place and fits you perfectly.
If you need a bit of extra cushioning, these HLOGREE kayak seats, which you can buy individually or in a pack of two, might be for you. It comes with EVA foam and a PE plate to provide that extra layer of cushioning for sensitive backs and people who need a more luxurious feel.
The ergonomic backrest, which is a foot and a half tall, is designed to fit your back perfectly. Not only is the seat itself made of waterproof material, but it also comes with a free, detachable waterproof bag that you can use to safely store your valuables, food, and other items.
With easy-to-use hooks and adjustable straps, it's easy to install this seat on your kayak.
For more comfortable kayak seats, check out this list.
Wrapping It Up
Before purchasing any kayak or kayak seat, double-check the reviews to see what people have to say about the comfort it offers.
Is the kayak genuinely comfortable? If it is, then people will make sure to mention that in their reviews.
If you liked this article, share it with a friend!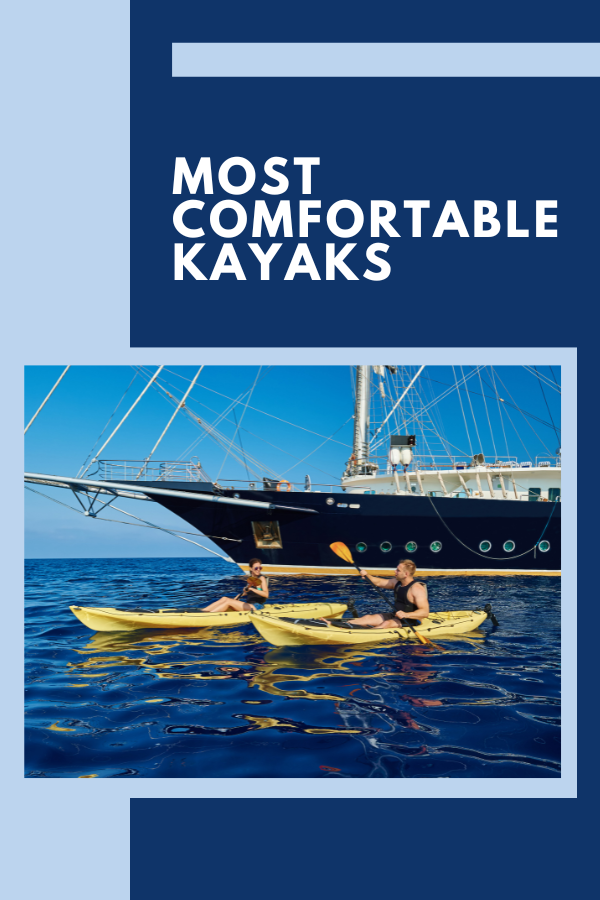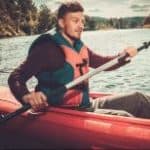 Author: Peter Salisbury
Pete is the Owner of KayakHelp.com. Born and raised in Cleveland, Ohio, he grew up kayaking, fishing, sailing, and partaking in outdoor adventures around the Great Lakes. When he's not out on the water, you can find him skiing in the mountains, reading his favorite books, and spending time with his family.