Do you often go kayaking during the summer? If yes, then you know how uncomfortable it can be paddling under the intense heat of the sun. Many times, you just want to quit paddling and head home due to the heat.
With a little research and the right canopy, you can extend your kayaking adventure until you get tired.
The Bimini top canopy, once installed, shields the cockpit from the rays of the sun. This way you can keep paddling or you could comfortably relax in your kayak.
The one issue you might face when purchasing a kayak Bimini top canopy is the numerous products on sale. It is advisable not to buy a product of which you have no knowledge, otherwise, you might end up being disappointed. Research is a good way to start, and we have that for you in this article.
Choosing the right kayak Bimini top canopy
Every Bimini top has a canvas segment attached to a set of poles. This arrangement keeps the rain drops and sun rays off you while the set of support poles hold the shade in place.
The materials used in making the canvas cover vary widely though popular options among manufacturers are polyester and acrylic which are waterproof, though the latter is much more durable.
A polyester-based canopy will keep you dry and shield you from the sun. One drawback of canopies made from polyester is the lack of aeration through the material. However, many producers have circumvented this problem by making canopies which have tiny perforations in their surface.
Another issue typical of a polyester-based canvas is the condensation which occurs at the air-material interface. This often leads to the formation of mildew which is a fungus.
While mildew might not be a causative organism of any particular disease, you could be allergic to the fungus. This could leave you with nasal discomfort, occasional coughs or worse still, skin reactions.
Also, with the growth of the fungus, the appearance of your canopy could become an eyesore unless you take proper measures to prevent such a situation.
Acrylic, the other popular material used in making canopies for kayaks, is known to be waterproof. You wouldn't need to worry about the growth of mildew on your acrylic canvas since the fungus doesn't grow on the material.
Acrylic lasts longer than polyester and better shields you from the rays from the sun. Unlike polyester, air can permeate the material so you can relax without worrying about heat. While acrylic has all these great benefits, it also has one inconspicuous letdown—it loses its water-repelling ability with time.
Every Bimini top has frames and fittings to hold it in place. The frames could be made from steel, aluminum or fiberglass. Both metals offer durability and are impervious water.
Fitting styles differ considerably. Some are much more convenient than their counterparts so you might want to take note of that.
A Bimini top has support poles which ensure it doesn't get blown off in the wind. The support poles could be made from aluminum or steel. While both are capable of supporting any canvas, the steel type is much stronger than its aluminum counterpart.
However, it is heavier than the aluminum, so consider its compatibility with your kayak. You will need to look at the configuration of the poles and see that it fits your kayak.
Size is another thing you want to consider in a Bimini top. You will need to measure the dimensions of your kayak and match it with the canopy you intend purchasing. A tape measure should come in handy for such a task.
Portable Bimini Top Cover Canopy for Inflatable Kayak Canoe Boat (2 Bow)
WindPaddle Gold Sun Shade - Medium size
SATURN Deluxe Travel Folding 2-Bow Sun Canopy Bimini Tops for Inflatable Boats.
Adventure Canopies Kayak Sun Shade - 10 Foot & Larger Kayaks (Yellow Blast, Barracuda: Sit-On/Sit-in w/seat Below top of Kayak)
Portable Bimini Top Cover Canopy for Inflatable Kayak Canoe Boat (2 Bow)
WindPaddle Gold Sun Shade - Medium size
SATURN Deluxe Travel Folding 2-Bow Sun Canopy Bimini Tops for Inflatable Boats.
Adventure Canopies Kayak Sun Shade - 10 Foot & Larger Kayaks (Yellow Blast, Barracuda: Sit-On/Sit-in w/seat Below top of Kayak)
Quick Installation Tips for a Kayak Canopy/Bimini Top
For you to begin using a Bimini top, you will need to have it installed on your kayak. While the numerous Bimini tops available require different techniques, we will consider the basic method used by many.
Here are the steps towards putting your Bimini top on your kayak:
Examine the assembly manual
Align the frame sections
Take note of the way the screw holes are arranged on the frame sections
Tighten the screws with caution to avoid any damage to your canvas
Attach the straps to the frame
Unfold the canvas and spread it out
Insert the frames into the canvas
Thread the straps into the slits in the canvas
Buckle the straps to secure the frame in the canvas
Best Kayak Bimini Top Canopy Reviews (Inflatable and Sit-In Kayaks)
As previously mentioned, finding the best Bimini top for your kayak among the many products on the market could be challenging.
To make your search a little easier, we have done a little research and will review five Bimini tops which are worth considering.
Check Price on Amazon
This Bimini top caters to inflatable kayaks. The canvas is made from 600D polyester; this is great since it protects you against the rain and the rays of the sun.
Also, this seemingly negligible attribute could account for the durability of the Bimini top. It has two set of support poles made of aluminum. You will find this useful since the poles are lightweight. Also, this makes this Bimini top portable.
PROS
CONS
Pedestal glued to your kayak can wear can come off
Check Price on Amazon
This Bimini has a small build. The frame is made from fiberglass. You will find this beneficial since it makes it lightweight. The canvas frame can be folded, making storage and transportation easy.
The frame has several release points which you will find beneficial for ease in detaching the canopy. The support poles are made of fiberglass aided with shock cords. This is great due to the flexibility of fiber glass.
PROS
Easy Setup
Adjustable
Draining cockpit
Stability
CONS
This Bimini top comes with mounting cleats. You will find this beneficial when connecting the Bimini top to your kayak. The canvas of the WindPaddle Sun Shade is made from polyester.
This is great because it keeps you dry and shielded from the sun. It has a transparent window on the sail which you will find makes for an enhanced view of areas you wouldn't usually see with a regular Bimini top.
The WindPaddle Sun Shade has flattened strips as its support poles. This means they are not rigid, yet they have sufficient tensile strength to support the canvas of the Bimini top. This sun shade weighs about 2.5 lbs. which makes it easy to store the shade in your kayak.
PROS
LIghtweight
Easy Installation
Low Profile
CONS
Not suitable in windy conditions
The canvas of this Bimini top is made from polyester coated with polyvinyl chloride (PVC) with an adhesive. This is great since the polyester makes the canvas secure and stable.
The PVC coating of the canvas ensures it is impervious to dirt, water and other substances such as mildew. Also, the coating enhances the durability and strength of the canvas. You should find this Bimini top adequate protection against the rays of the sun and raindrops.
This Sun Shade has two sets of supports poles which are both made of aluminum, so you won't have to worry about the support poles rusting.
The support holding the canvas can be folded which makes it easy to put it aside when it is not needed. This Bimini top comes with straps and wing bolts which should come in handy when setting the canopy up on your kayak.
PROS
Sturdy
Durable
Fold-able for easy transport/storage
Provides a lot of coverage
CONS
Drilled holes may not be properly aligned
Conclusion
In situations where the weather could be a challenge when you are kayaking, a Bimini top is what you need. All those considered above will protect you against unfavorable weather conditions.
However, the Portable Bimini Top is in a class of its own. Besides being easy to install, it is durable and can be transported with ease.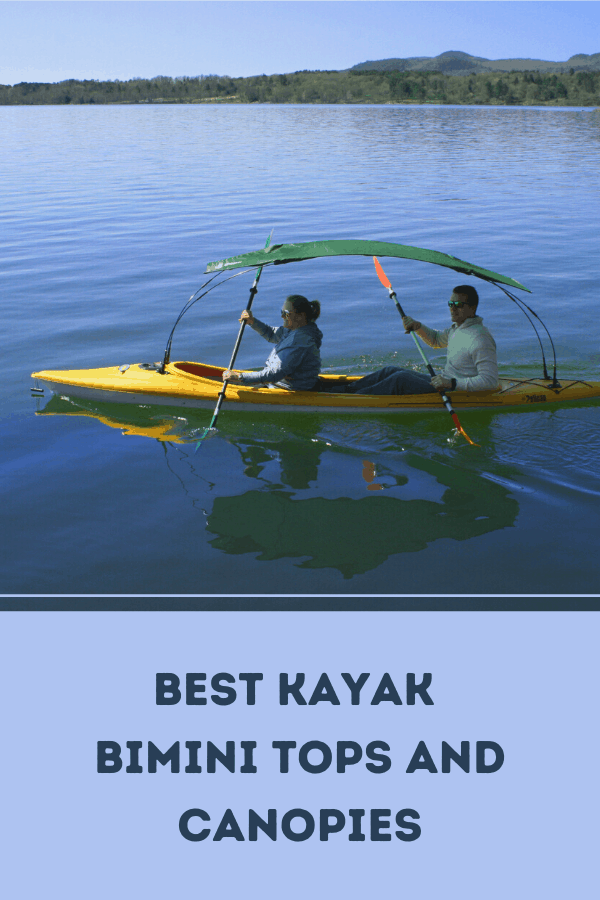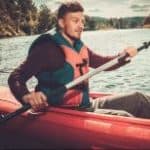 Author: Peter Salisbury
Pete is the Owner of KayakHelp.com. Born and raised in Cleveland, Ohio, he grew up kayaking, fishing, sailing, and partaking in outdoor adventures around the Great Lakes. When he's not out on the water, you can find him skiing in the mountains, reading his favorite books, and spending time with his family.