Leaving your kayak cockpit exposed isn't wise—you would be amazed at what could enter an uncovered cockpit in your absence.
You don't want to end up sitting on insects or a pile of rubbish deposited in the compartment. This calls for a cockpit cover. A cockpit cover has other benefits which we will discuss later in this article.
There are many cockpit covers available right now; the problem is finding the gem among the stones. In this article, we will take a look at five quality kayak cockpit covers currently for sale.
Best Kayak Cockpit Covers
Seals Cockpit Drape Cockpit Cover X, Black, XL
Seals Kayak Cockpit, Black, 7.0
Harmony Gear Kayak Cockpit Cover | Universal Fit for Single Seat Kayaks | Water Resistant for Outdoor Storage | 32/18, Black (8023404)
Seals Cockpit Drape Cockpit Cover X, Black, XL
Seals Kayak Cockpit, Black, 7.0
Harmony Gear Kayak Cockpit Cover | Universal Fit for Single Seat Kayaks | Water Resistant for Outdoor Storage | 32/18, Black (8023404)
Choosing The Best Kayak Cockpit Cover
Before you purchase a cockpit cover for your kayak, there are a few things you should keep in mind. The cockpit is the compartment you sit in and control the kayak.
Protecting it from dirt and animal habitation during storage is essential to keep your kayak in good condition while in storage or during transportation. Here's what to keep in mind:
Is it waterproof? – A good cockpit cover should be waterproof, but it doesn't need to be impervious to water unless your kayak will be stored outside.
Many cockpit covers on the market are not completely waterproof so make sure you get right one. Most kayak cockpit covers are either made of nylon or neoprene. Nylon is what you'll want if getting water into your kayak is a concern.
Can it keep dirt out? – You should also look for a cover which is capable of keeping out dirt. Neoprene is heavier than nylon and more durable, but it lacks the waterproof characteristic of nylon; however, it is tight and won't easily come off.
Does it have a clip or cord? – It's vital you purchase a cockpit cover with a clip or cord to hold it. Most covers have a built-in space for a cord which can be used to secure the cover over the kayak's cockpit.
Benefits of a Kayak Cockpit Cover
Many kayak enthusiasts remain unsold on the need to spend extra money on an accessory like a cockpit cover. Their perception is that you shouldn't store a kayak outside where it will be exposed to the elements.
However, not everyone has the luxury of space for a kayak in their house or apartment; many just suspend it in a position where it's less exposed.
This doesn't prevent dirt from accumulating in the cockpit, and neither does it stop animal and insect inhabitation of the compartment. This makes the cockpit cover a useful kayak accessory.
Many are burdened by the decision of where to store their kayak gear. This wouldn't be an issue for you if you had a cockpit cover. Simply place your kayak gear in the cockpit compartment and place the cover over the opening.
Impact of a Cockpit Cover on Gas Mileage
There has been a lot of discussion centered on the effectiveness of a cockpit cover on gas mileage. For many who are unaware, your kayak decreases gas mileage when you are transporting a kayak on the roof of your vehicle because it decreases wind resistance as it flows over the surface of the kayak.
However, there are many variables such as the speed of the wind and size of your kayak, and the speed at which you are traveling.
Quick Cockpit Cover Installation Steps
Using a cockpit cover on a kayak might appear challenging if done by one person, but it shouldn't be too difficult if you follow these steps:
Place one end of the cover over an edge of the kayak
Adjust the cover gradually to cover the entire opening of the cockpit
You will need to ensure the cover grips the rim of the kayak cockpit
Best Kayak Cockpit Cover
Check Price on Amazon
The Seals Cockpit Drape isn't your conventional type of kayak cockpit cover. It uses a wrap format to cover the opening of your kayak.
This is great since you don't have to expend too much energy trying to fit the cover over just the opening. It's made from a mixture of nylon and a cloth material.
You will find this combination highly beneficial considering the durability it offers. This cockpit cover comes with a rubber cord encased in nylon which makes the cord durable as well as easily adjustable.
PROS
CONS
Check Price on Amazon
Seals Cockpit Seal is made of a combination of nylon and fabric which will prevent water from entering the cockpit. This cockpit cover has double-stitched seams.
You will find this beneficial since it prevents the unraveling of the material, regardless of how much you stretch the cover. The Seals Cockpit Seal should keep out rubbish from accumulating in the kayak compartment.
This cover comes equipped with a rubber-based cord which is adjustable which will ensure the cover isn't just in place, but perfectly fits the cockpit opening. The Seals Cockpit Seal comes in different sizes making it available to every owner of a kayak.
PROS
CONS
Check Price on Amazon
This cockpit cover is made from nylon and a lightweight cloth fabric which reduces the weight of the cover. It also keeps the entry of water into the cockpit compartment of your kayak in check.
You will need to fit this cover over the rim of the cockpit opening which is easily possible due to the incorporated adjustable cord with visible ends for holding the cover in place.
This product has double-stitched seams to ensure that the cover lasts longer. It comes with a tether hook which you will find essential considering the role it plays in keeping the cover in position when transporting your kayak on your vehicle.
PROS
CONS
Check Price on Amazon
This cockpit cover is made of neoprene. The elastic capacity of neoprene means this cover could stretch with time which will reduce the ability of the cover to fit over the rim of your kayak cockpit.
This cockpit cover has a great appearance; when travelling, it glitters, perhaps due to the impact of the sun. It would be great for car travel since it doesn't come off due to the neoprene. It comes with a shock cord to keep the cover in place.
PROS
CONS
Check Price on Amazon
kayak gear has the appearance of a basic cover. It is made from a nylon-based material. This is instrumental in keeping small amounts of water from your kayak cockpit.
Its seams are double stitched which adds to the durability of the cockpit cover. Its lack of a tether hook makes it unsuitable for car transport and Harmony clearly highlights that fact.
It should serve as a decent barrier against critters into the cockpit of your kayak and prevents gradual deposits of rubbish. It comes with a shock cord which to keep the cover in place over the cockpit.
PROS
CONS
​Conclusion
Every single kayak cockpit cover highlighted above is worth considering if you are interested in purchasing one for your kayak.
However, after our research we believe the Seals Cockpit Drape stands out from the pack. The wide area it protects on your kayak and the ease of fitting it over the cockpit use makes it a decent choice for any kayak owner.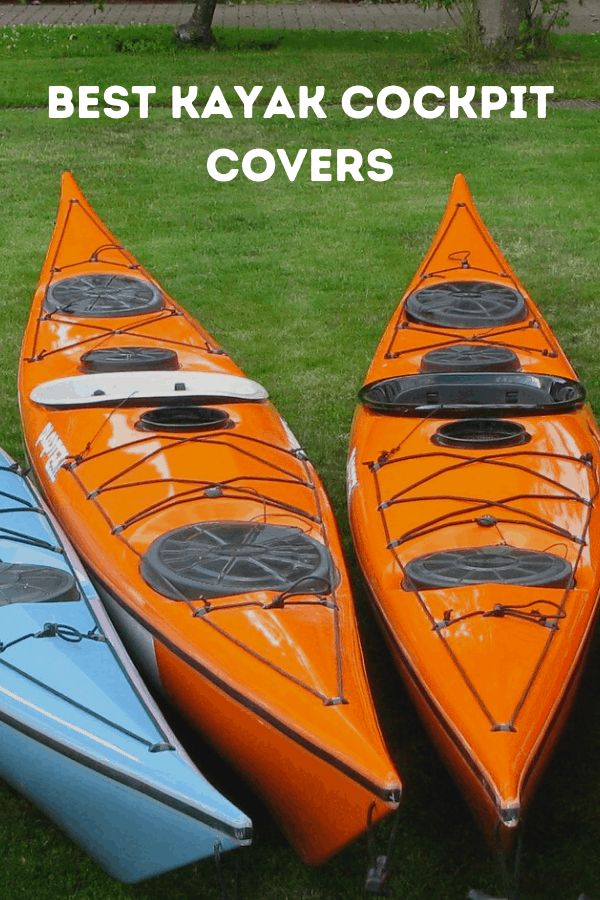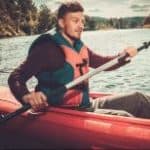 Author: Peter Salisbury
Pete is the Owner of KayakHelp.com. Born and raised in Cleveland, Ohio, he grew up kayaking, fishing, sailing, and partaking in outdoor adventures around the Great Lakes. When he's not out on the water, you can find him skiing in the mountains, reading his favorite books, and spending time with his family.