Inflatable kayaks seem to be all the rage these days and they are popping up left and right. Are inflatable kayaks any good and, if so, how can you differentiate the good from the not-so-good?
That's exactly what we're going to focus our time on today because, unfortunately, not all inflatable kayaks are created equal. Things like drop-stitching and sealed seams have a lot to do with how an inflatable kayak feels and performs on the water.
In this guide, we're going to highlight some of the main features of inflatable kayaks and expand on the types of paddling they are best suited for. We'll also talk a little bit about who might be best served by an inflatable kayak.
So let's get started!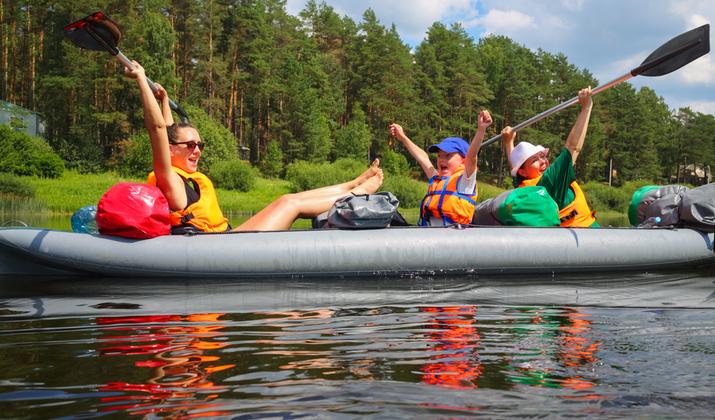 Photo by Pavel L Photo and Video via Shutterstock
Are Inflatable Kayaks Any Good?
Yes, inflatable kayaks are good and the good news is that they are only getting better with improvements in technology. However, there are many different factors to discuss on this front, so let's address some of the major concerns about inflatable kayaks.
Are Inflatable Kayaks Durable?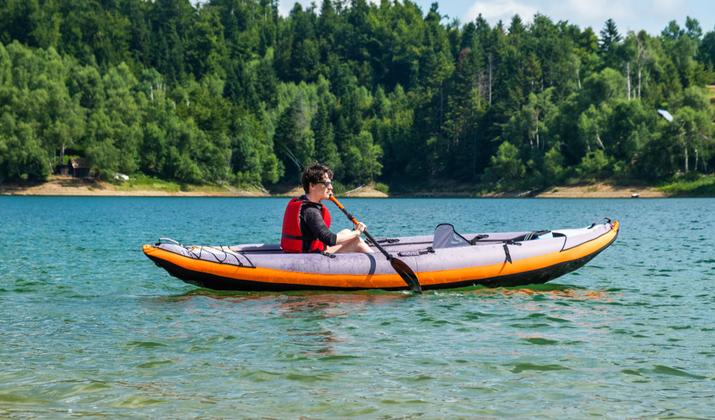 Photo by Ilija Ascic via Shutterstock
For many, the major concern about this style of kayak is durability: will an inflatable kayak hold up as well as a rotomolded design?
Well, the answer is that it really depends on how a specific model was constructed. Some cheaper inflatables can be susceptible to punctures and tears if they are not handled with care.
However, there are plenty of durable designs out there that basically emulate the construction used to create whitewater rafts. If those rafts can withstand being pulled up on rocky riverbanks and running into large boulders on class IV rapids, kayaks built with the same technology can be pretty durable too.
In fact, most folks might hesitate to kayak with their dog in an inflatable, but if you find a model with drop-stitch technology, the likelihood of your dog's claws causing damage to your kayak is quite minimal.
Are Inflatable Kayaks Safe?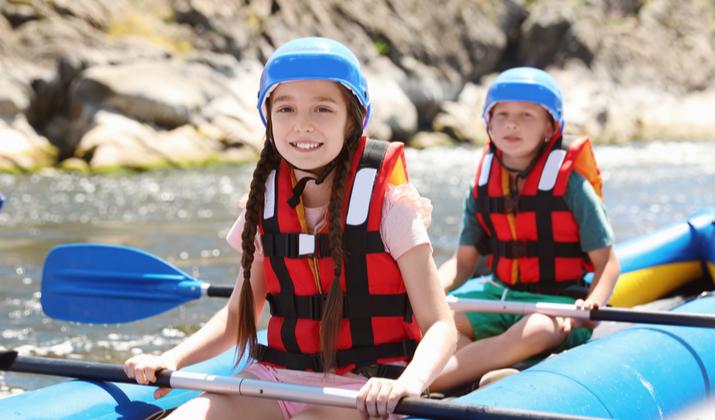 Photo by New Africa via Shutterstock
Another major concern about inflatable kayaks centers around safety? To put it simply: what happens if I'm out in deep water and my inflatable kayak somehow gets a hole in it and starts losing air?
The reality is that all forms of outdoor recreation come with some level of inherent risk. Inflatable kayak manufacturers, however, have taken certain steps to minimize that risk to acceptable levels that compare favorably with rotomolded kayaks.
The main safety feature that almost all quality inflatable kayaks share is multiple air chambers. Instead of creating a design with a single air chamber that could become compromised over a larger surface area, multiple chambers create less room for error.
If one chamber does get ripped or torn somehow, the rest of the chambers will retain enough air for you to make it back to shore to patch things up. Keep in mind that, if a single chamber is compromised, an inflatable design with seven or eight air chambers will obviously retain more buoyancy than a design with two or three chambers.
Do Inflatable Kayaks Handle Well?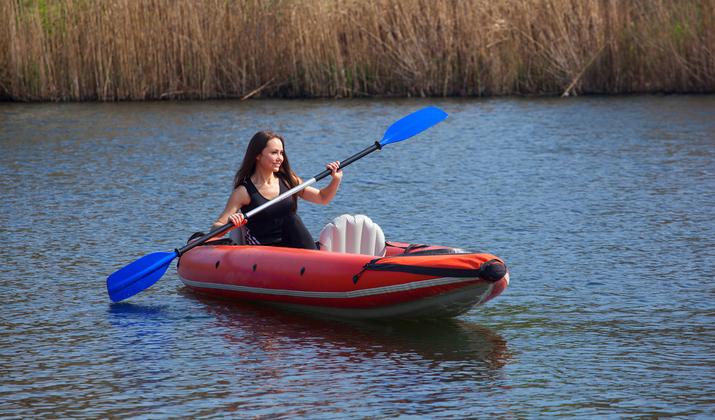 Photo by dimid_86 via Shutterstock
A third concern is maneuverability and tracking: will an inflatable kayak stay straight but also respond well to my paddlestrokes when I do want to turn? Admittedly, this is one area that many inflatable kayak manufacturers have spent a lot of sleepless nights fretting over.
Early inflatable kayaks did not track very well at all. They had a tendency to turn to the opposite side of each paddlestroke and, as a result, caused the paddler to spend a lot of extra energy just to keep their kayak straight.
This is why many designers began implementing fin boxes and removable fins on the bottom of inflatable kayaks. Some designs have small built-in fins, but the best out there have removable fins that are very reminiscent of what you would find on a surfboard or an inflatable paddleboard.
This design feature significantly improves both the tracking ability and maneuverability of inflatable kayaks. Still, the difficulty in creating different hull shapes on inflatable kayaks means that they don't offer as much variety as traditional kayaks for experienced paddlers looking for something that can either turn on a dime or offer excellent efficiency over long distances.
Can Inflatable Kayaks Handle Heavier Paddlers?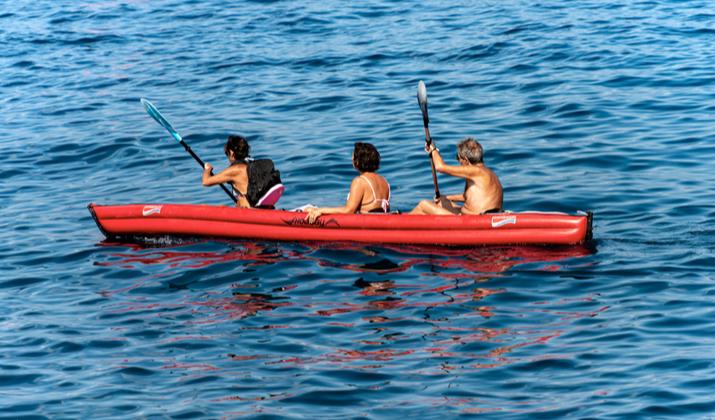 Photo by Alberto Masnovo via Shutterstock
A fourth concern that many people express regarding inflatable kayaks is whether they can handle heavier loads without collapsing. While not all inflatable kayaks are meant to handle a lot of weight, there are certainly plenty of designs out there that boast comparable weight capacities to similar-sized rotomolded kayaks.
There are plenty of inflatable kayaks that can handle two adult paddlers, a small child or furry companion, and all of the gear you would need for an extended day trip. There are even options for packing up your kayak and parading off for a multi-day kayaking excursion.
That being said, you should be aware that loading any kayak past roughly 80% of its advertised weight capacity is a dangerous endeavor. You won't sink immediately (in most cases), but your kayak's performance can be severely compromised.
In an inflatable kayak, you furthermore open yourself up to some funny looks and ridicule on the water. Overloaded inflatable kayaks start to "taco" or fold in around you and cause you to ride lower in the water and, in that case, you might as well be floating around in a river tube.
How Hard Are Inflatable Kayaks To Clean?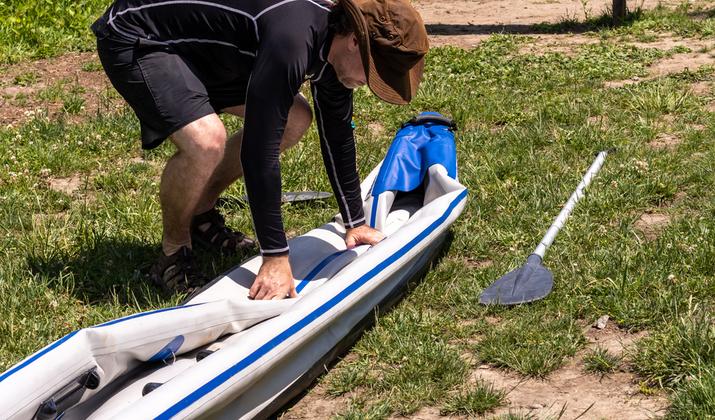 Photo by Heather Wharram via Shutterstock
This is perhaps the biggest complaint that you'll find out there from inflatable kayak owners. Because they are designed to be folded up when not in use, they are susceptible to mold growth if they are not cleaned and dried well after each use.
Inside the cockpit, it can be difficult to remove sand and other debris from the crevices between air chambers in the floor. The best way to do this is to vacuum it out while your kayak is still dry.
After that, you can spray it down and wipe any debris or residue away from the deck, gunwales, and hull. It will be easiest to do this when the kayak is completely inflated so that you don't miss any folded areas.
When you are finished cleaning, you will need to leave the kayak out in the sun for several hours to allow it to dry completely before packing it up. It also helps to hang your kayak inside your garage if it isn't completely dry after the sun goes down.
If you do hang your kayak, try hanging it from various attachment points every few hours. This will allow the kayak to open up at different angles to promote better airflow and more complete drying.
It will also prevent the kayak material from stretching too much in one location and becoming vulnerable to tears or punctures down the line. Only when you are sure that your kayak is completely dry should you pack it up and store it away.
How Do Inflatable Kayaks Do In Adverse Weather?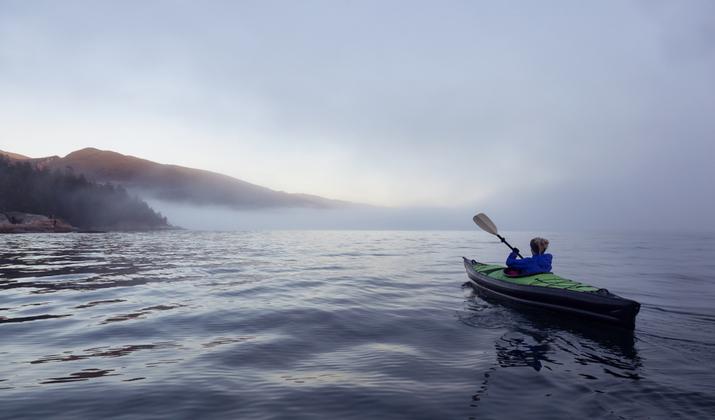 Photo by EB Adventure Photography via Shutterstock
The final concern that we will mention is over whether inflatable kayaks can handle when things don't go according to plan. When the weather shifts around and you're suddenly paddling into a strong headwind, will an inflatable make it nearly impossible to get back to your landing point?
Sadly, inflatable kayaks are typically more impacted by wind than most other styles of kayaks. This largely has to do with their lighter weights and the fact that they tend to sit up a little higher in the water than rotomolded kayaks.
A kayak with a higher profile will catch more wind and be more likely to blow off course, which is certainly a possibility with inflatable kayaks. This is why they require very strong paddlers if they are going to be taken out on windy days.
Additionally, one of the best parts about sit-inside kayaks is that you can add a spray skirt to keep your legs and the lower half of your body insulated and protected from the elements. It is extremely rare to find an inflatable kayak with a sit-inside cockpit design that can securely handle a spray skirt.
The Pros and Cons of Inflatable Kayaks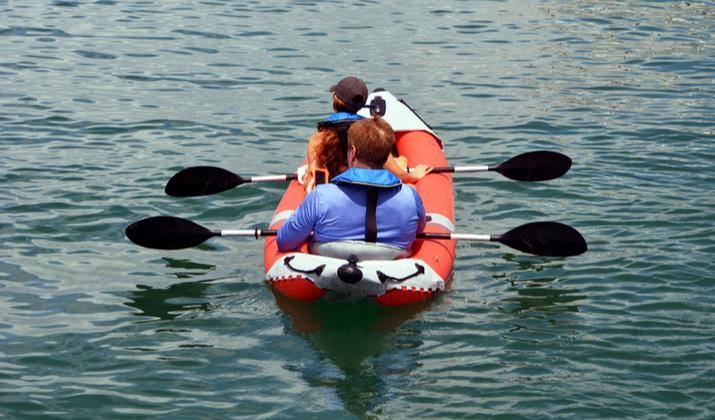 Photo by Richard Pross via Shutterstock
While we discussed some of these in greater depth above, here is a quick rundown of the major advantages and disadvantages of inflatable kayaks.
Pros of Inflatable Kayaks
They are often the most lightweight kayaks out there
They are easy to pack away and come with their own storage bags
You don't need to purchase an extra kayak roof rack to transport them
Many of them come with other kayaking accessories to help you get started
They can be more affordable than other kayaks made for beginners
Seats can be inflated to your desired pressure for comfort
They are wider than most rotomolded kayaks and provide more stability for beginners
Cons of Inflatable Kayaks
You have to spend extra time inflating and deflating them before and after each trip
They can't safely be transported on top of a vehicle when fully inflated
High-end top speed is not what they are made for
They can be susceptible to mold and mildew if not cleaned properly
High winds can easily blow you off course if you're not a strong paddler
Not all of them will naturally drain if water gets into the cockpit
They are not compatible with most kayak spray skirts
They can be awkward to carry on land and often require two people to do so
Paddles must also be assembled and broken down before and after outings
While it's unlikely, they can pop or tear if you're not careful
Is an Inflatable Kayak Right For You?
Photo by Denys Niezhientsev via Shutterstock
At the end of the day, you have to make a decision on whether this style of kayak is really going to serve your needs. However, here's a list of some of the types of paddlers and situations that inflatable kayaks are great for:
If you live in a small space and don't have a lot of storage room at home
If you live in an apartment above ground level that requires stairs or an elevator
If you have a small sedan or a vehicle without a kayak roof rack
If you're a smaller paddler that doesn't want to use a kayak cart to get their vessel to the water
If you travel in an RV or truck camper and need a vessel that doesn't take up valuable cargo space
If you want to experiment to see if you'll actually like kayaking
If you mostly paddle on calm, flat waters with minimal currents and wind action
Thumbnail
Title
Driftsun Almanor 110 Inflatable Kayak - Yellow Single-Person Recreational Touring Kayak Package Includes EVA Padded Seat with High Back Support, Paddle, Pump and Travel Bag
INTEX 68309EP Excursion Pro K2 Inflatable Kayak Set: Includes Deluxe 86in Aluminum Oars and High-Output Pump – SuperTough PVC – Adjustable Bucket Seat – 2-Person – 400lb Weight Capacity
Advanced Elements Lagoon 1 Person Inflatable Kayak,Orange/Gray
Thumbnail
Title
Driftsun Almanor 110 Inflatable Kayak - Yellow Single-Person Recreational Touring Kayak Package Includes EVA Padded Seat with High Back Support, Paddle, Pump and Travel Bag
Thumbnail
Title
INTEX 68309EP Excursion Pro K2 Inflatable Kayak Set: Includes Deluxe 86in Aluminum Oars and High-Output Pump – SuperTough PVC – Adjustable Bucket Seat – 2-Person – 400lb Weight Capacity
Three Great Inflatable Kayaks for Beginners
Check Price on Amazon
Length: 11'
Width: 34"
Weight: 23 pounds
Weight Capacity: 300 pounds
Folded Size: 24.5" x 21" x 10"
The Driftsun Almanor is one of the more versatile inflatable kayaks for beginners out there. It can handle mild paddling on calm flatwaters, but can grow along with you as you go out in less-than-ideal conditions.
It requires roughly nine minutes to inflate to its maximum capacity and the floor will hold a maximum pressure of one PSI while the side air chambers can handle slightly higher pressures up to two PSI.
The hull of this kayak is designed with rugged 600-denier polyester to hold up to the rigors of being dragged across beaches. It also features industry-leading 24-gauge air bladders to provide more puncture and abrasion resistance than most other inflatables on the market today.
The Almanor also offers a lot of support and cushion in the cockpit and the footrest will help you maintain good posture instead of allowing you to slump. Finally, covered storage areas at the bow and stern offer plenty of space for your kayaking gear.
Comes with: an adjustable EVA-foam padded seat with high back support, foot rest, quick-release fin, dual-blade four-piece kayak paddle, deluxe dual action pump, and travel bag.
Check Price on Amazon
Length: 12'7"
Width: 37"
Weight: 39 pounds
Weight Capacity: 400 pounds
Folded Size: 24.38" x 12.5" x 22.88"
The Intex Excursion Pro K2 kayak is arguably the best kayak for tandem beginners. It can also be converted to be used as a single paddler. So that makes it versatile for couples that can't necessarily agree on going paddling together all the time.
The K2 also features fishing rod holders and a mounting bracket that makes it a good choice if you are interested in getting into kayak fishing. Don't worry! The thick, three-ply construction of this kayak makes it tough enough to handle the occasional fish hook snag.
This kayak's larger weight capacity also gives it the ability to handle long-distance paddle trips on mild class I or class II rivers. If you're loading it up, make sure to take advantage of the covered storage areas at the bow and stern.
Finally, the inflatable seats in this kayak allow you to customize your seat for comfort. It even comes with a booster seat for paddlers that want to get a higher vantage point or shorter paddlers that need a little help to paddle more comfortably.
Comes with: removable skegs (x2) for deep and shallow water, floor-mounted footrests (x2), integrated fishing rod holders (x2), adjustable bucket seats (x2), collapsible paddles (x2), a removable and adjustable mounting bracket for fish finders and GPS units, a dual-action pump, carry bag, and repair patch.
Check Price on Amazon
Length: 8'4"
Width: 34"
Weight: 23 pounds
Weight Capacity: 250 pounds
Folded Size: 29" x 18" x 5"
The Advanced Elements Lagoon 1 kayak is one of the few sit-inside inflatable designs that you will find on the market these days. While it doesn't come with as many accessories as the others, it is designed specifically for sporty paddling on bays, estuaries, lakes, and rivers.
It features an inflatable coaming around the cockpit that is compatible with Advanced Elements' patented spray skirt. This will extend your paddling season by keeping your body (and any gear in the cockpit) protected from the elements.
On the hull of this kayak, they have equipped it with a landing plate to increase durability when you ride right up onto the shore to take a break. However, there is also a tracking fin at the stern to improve tracking and maneuverability.
The Lagoon 1 provides more rigidity than most due to built-in panels in the bow and stern that provide more definition. The kayak's inner tube cover adds extra stiffness and protection against abrasions. While the outer cover adds more durability while still maintaining a lightweight design.
Comes with: owner's manual, folding seat, carrying duffel bag, and repair kit.
Are Inflatable Kayaks Any Good? – Final Thoughts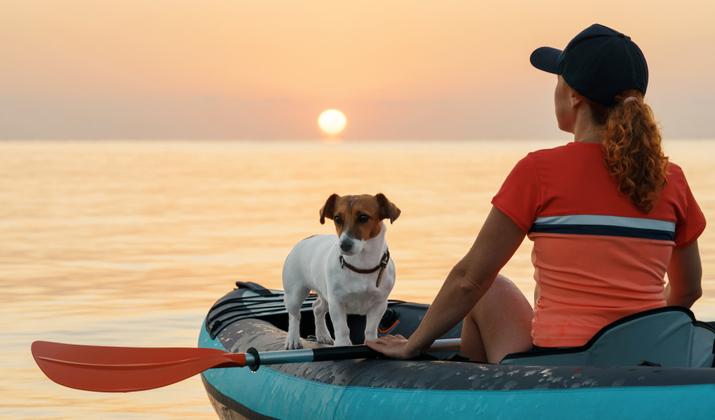 Photo by Larina Marina via Shutterstock
The reality is that inflatable kayaks are a great choice for casual paddlers and certain types of kayaking. They might not perform as well in certain conditions as others. However, they are a much more affordable option for beginners to experience the wonders of kayaking.
We hope you give inflatable kayaks a chance in your kayak buying process.  See if you can find a nearby guide company that offers inflatable kayak rentals. This way, you can give one a try before you buy your own!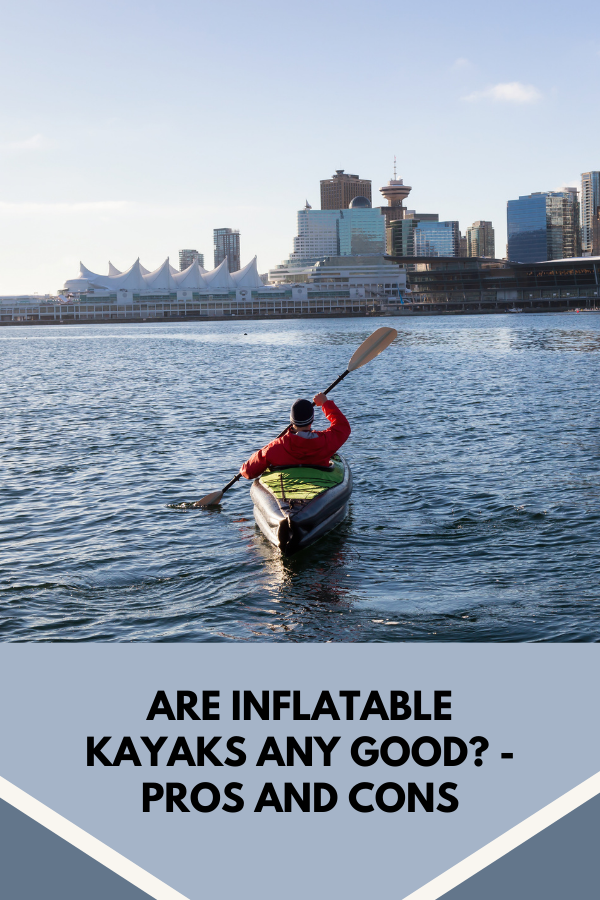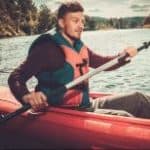 Author: Peter Salisbury
Pete is the Owner of KayakHelp.com. Born and raised in Cleveland, Ohio, he grew up kayaking, fishing, sailing, and partaking in outdoor adventures around the Great Lakes. When he's not out on the water, you can find him skiing in the mountains, reading his favorite books, and spending time with his family.