Fishing can be as simple as a rod, a reel, and a lure. But to get the most out of your time on the water, a bit of additional gear is welcome. From pliers to help you remove hooks, to electronics to keep you on the fish, fun doesn't need to be complicated. A few smart choices, carefully considered, can help you have a great time without breaking your budget.
To help you find a few things to add to your angling arsenal, we've searched high and low for the best fishing accessories. Take a look at the excellent products and see if one fits the bill for you.
Best Kayak Fishing Accessories
Check Price On Amazon
This anchor's name says it all, and it's a great choice for anglers who really want to stay put. At just 3.5 pounds, it's heavy enough to bite without crushing your 'yak's capacity.
It features four large, cupped flukes that fold against the shaft under a metal collar. A simple twist of the collar allows you to stow or release its flukes, and while easy to deploy, Best's anchor is only 12" x 3" when the flukes are folded-up.
It bites well in sand, mud, rock, and oyster beds, and users report excellent service from this top-notch product. Just be sure to use plenty of line to allow the anchor to lay against the bottom where the flukes can do their work.
Check out our guide for purchasing a kayak anchor!
Check Price On Amazon
A
quality paddle
is an essential piece of equipment for a serious angler, and if you've been using a low-end model, you might not realize how much of a difference a really good one can make.
Bending Branches' Angler Classic is a design fishermen can count on. Built long enough for wide fishing kayaks, it's adjustable to get just the right length you need for your arms, 'yak, and seat height.
It's available in two lengths, 230-245 centimeters and 240-255 centimeters, and weighs just 2.1 pounds. Most paddlers will find that this allows a good fit, while still accommodating fishing 'yaks.
And with infinite feathering adjustability, too, it's as versatile and customizable as they come.
The Angler Classic's straight fiberglass shaft is incredibly strong, allowing you to use your paddle as a push pole when needed, and its fiberglass-reinforced plastic blades are durable enough to see you through all your adventures. They also sport handy line-catching notches, extending your reach to recover snags.
Check Price On Amazon
Most kayaks weigh enough to make loading and unloading them a bit of a chore. But carrying them across a crowded parking lot, down a trail to the river, or across a sandy beach can be soul-draining. A simple, convenient solution to this problem is a
kayak cart
.
In contrast to many of its competitors, Bonnlo's kayak cart comes with easy-rolling, quiet wheels that can handle everything from asphalt to sand. It's strong, too, with a 150-pound weight limit, so there's no concern that even the heaviest kayaks will overload it.
It comes with two 5-foot bungees and a 12-foot ratcheting tie-down strap as well, so you'll have everything you need to get your 'yak to the water.
Its wheels come off by removing a single cotter pin, and the frame folds down to make it simple to store and transport. That's a thoughtful design feature that you'll appreciate when you're using–and not using–Bonnlo's cart.
Check Price On Amazon
Kayak crates are a great accessory, and if you've never used one, you don't know what you're missing. Not only can they help you store gear in the stern well, keeping everything in place and within easy reach, but they also make moving your gear from 'yak to trunk a cinch. Conventional milk crates are fantastic, but there are even better options.
BigAnt's kayak crates take the simple plastic crate to the next level. Snap-together sides ensure strength, while also allowing these crates to collapse down to a fraction of their full-size when you don't need them.
That makes them easy to store. And if you have more than one, and want to keep your gear in place, they stack beautifully, as the tops and bottoms are designed to nest.
Available in three sizes, BigAnt has a crate that's just right for you. The smallest size is 15.6" x 11.6" x 10.2". The medium measures 21.3" x 14.2" x 11.8". And the large is fully 28.7" x 16.5" x 13.8". Measure your stern well carefully to get the best fit.
Check Price On Amazon
While kayak fishing offers plenty of excitement, you really don't want the heart-stopping experience of watching your rod and reel sinking out of sight! Anything you'd like to come home with should be attached to a leash–don't learn this lesson the hard way.
CK's rod and paddle leash set is more than a great buy. It comes with two rod leashes and one paddle leash, saving you the trouble of buying each separately. Better yet, these are very high-quality products, made from long-wearing, durable, non-stretch fabric. They come with a simple snap carabiner to allow you to secure your gear to your kayak and remove it just as easily.
Users report that these are a strong and dependable way to make sure you keep your rods and paddles on deck.
Check Price On Amazon
A
dry bag
guarantees that your gear stays dry, even if you capsize or take a wave over the gunnels. You may think that your hull storage can get that job done, but as any experienced kayaker can tell you, hatches leak and seals fail.
To guarantee that delicate electronics or anything else that can't stand water isn't forced to, one of Earth Pak's dry bags is a solid choice.
Available in a wide assortment of sizes, ranging from 10L to 55L, the right bag for your needs should be easy to find. A rainbow of colors are offered, too, so take your pick!
Made from 500 denier PVC, Earth Pak's dry bags are tough, durable, and entirely waterproof. The smaller sizes come with a single shoulder strap, but for everything over 30L, expect two backpack style straps to help you carry the weight.
Customers report that these dry bags really work, and you can feel secure knowing that your valuables are safely stowed away.
If you'd like to keep your catch, you basically have two options: a stringer or a cooler. Everyone knows how coolers work, but if you're new to fishing, you may be unfamiliar with stringers.
They hold your catch by passing material through the gill slits of your fish, keeping them alive but in place. This turns the water around your kayak into a giant cooler for your live fish, saving precious space on deck for other gear.
ForEverlast's G2 Pro is an awesome update of the traditional design. Two metal spikes are connected by 15 feet of cord that's strong, tangle-free, and low friction.
That makes adding and culling fish really easy, and this stringer won't be a hassle to use even when full. But perhaps the best feature is its large buoy that keeps the stringer afloat. Just by clipping the float to your 'yak, you get a larger "cooler" than any you can buy.
Check Price On Amazon
The Humminbird Helix 5 GT PT is an incredible fishing machine that will help you find and stay on the fish. Portable, power-sipping dependability and high-end features make this fishfinder a winner, and it's popular on the water with those who can afford it.
But this premium tech packs a premium price, so if you're sticking to a tight budget, this is probably not the best option.
That said, if you're willing to swallow the bill, you'd be hard-pressed to find a nicer piece of high-tech help. Equipped to impress, it uses military-grade CHIRP sonar penetrating fully 1,500 feet of water. For fishermen who take to the salt, that's an important feature.
Offering a 5-inch screen with fantastic resolution, display visibility is awesome, delivering crisp, clear images even in full sun. The Helix 5 uses a transom mounted transducer, and can be powered either by a large 12v marine battery or a smaller power pack.
Check Price On Amazon
A drift sock is a small 'parachute' that a kayaker can deploy in the water on windy days. By creating drag, it reduces the speed you'll drift, allowing you to stay where you need to cast longer.
Often, users find that drift socks cut drift speed in half, giving them twice as much time fishing. And they offer two advantages over an anchor: they're light and easily stored, and they function in any depth of water.
Lindy makes drift socks for a variety of uses and watercraft, and they're a trusted name in the business. Made from tough, coated nylon to resist fraying, tearing, and punctures, you can count on the Lindy Fisherman's Series even in shallow water. Just clip the sock to your 'yak and toss it in the water.
The size sock you'll need for your 'yak depends on the conditions you face.
Check Price On Amazon
Every fisherman needs
a sharp, dependable knife
. Whether to cut line, rope, or bait, an easy-to-use, easy-to-deploy blade is essential on the water.
Ontario's RAT 2 is a legendary folding knife, renowned for its bomb-proof toughness and quality. At the heart of this knife is a 2.75-inch drop-point blade made from AUS-8 steel.
It's easy to sharpen and holds a wicked edge, and because of its composition, it can take the abuse of salt water. It will develop rust if it's not cared for–most good steels will–but by 'care,' we're talking about a quick rinse in fresh water, and some air drying once you get home!
Easy to deploy with either hand, the RAT 2's blade is secured by one of the best liner locks in the business. Ergonomics are excellent as well, and with deep but comfortable jimping to secure your thumb, you can be sure of your grip, even when your hands are slimy and bloody. And at just 2.8 ounces, this clippable knife won't be noticed until it's needed.
Recognized by many in the knife world as the best buy at this price point, you can be sure that you won't be disappointed.
Check Price On Amazon
Pliers are essential for the serious angler. They make removing hooks a snap, take the hassle out of lure repairs, and can cut a steel leader without damaging the blade on your knife. I've fished without them, but I missed them almost immediately!
Piscifun's aluminum pliers are a great option for fishing, and a decided improvement over the pair you can get at your local hardware store.
With an aluminum body, they keep rust at bay, but armed with titanium-coated stainless steel teeth and carbide cutters, they can get the job done. And because they come with an attached telescoping lanyard, you don't need to worry about dropping them into the water.
I've used standard pliers on the water before, and without a spring to force them open, they were a real pain to handle one-handed. Piscifun's pliers are backed by a strong spring, meaning they're easy to use when you've got a wriggling fish in your other hand. And the finger-grooved handle provides a sure grip, an essential feature that makes this tool just that much better.
Check Price On Amazon
Piscifun's tackle bag is a fantastic addition to any angler's arsenal. With enough space for small tackle boxes, sunscreen, your smartphone, wallet, bug spray, and anything else you might want to carry from home to water, this pack helps you keep your gear organized and in reach.
Made from 100 denier nylon, it's tough, durable, and long-wearing. It uses a single shoulder strap for carrying, and sports plenty of D-rings and attachment options.
Its primary compartment measures 12" x 8.7" x 4.3", and having used a similar pack, I can tell you that it can hold a surprising amount of gear. For instance, two Plano ProLatch 23650-52 Stowaway Boxes are no problem.
And because it's not as large as a full size tackle box or bag, it's easy to stow on deck, sling over the back of your seat, or drop at your feet for easy access.
Check out our guide and top picks for the best tackle bag
Check Price On Amazon
A landing net
is without a doubt the best way to ensure you actually get your catch on deck. Without one, you're forced to overstress your line by pulling the fish into position to grab it by the mouth, and for species that can bite…well, you get the idea!
Plusinno's landing net is available in four sizes, allowing you to choose the one that's best for you. Their smallest model is equipped with a 12-inch hoop and a fixed 27.5-inch handle.
But they offer three options with telescoping handles, featuring your choice of a 16-inch, 17-inch, or 20-inch net diameter. These extend your reach from 38 inches on the smallest size to 59 inches on the largest model.
Plusinno's handles and hoops are made from lightweight aluminum, and their specially designed nets won't harm fish or detach scales, which is ideal for anglers who prefer to catch and release. Customers report that these nets are super-strong, so no worries if you land a big one!
Not only are kayaks low in the water, making them hard to spot from powerboats, but some of the best times to catch fish are in low-light conditions. Dusk, dawn, and night are prime feeding times–making them prime fishing times, too!
It's important that you remain visible if you're fishing in water with traffic, and Railblaza's Visibility Kit is a great choice. Meeting all US Coast Guard 2NM requirements, you can depend on this kit to keep you safe.
It mounts to a Railblaza bracket attached to your deck, and features a three-part pole that allows you to adjust the height of its high-visibility flag and light. That's a nice touch, and this adjustability lets you choose three heights. You can also dispense the pole altogether, and just run the light if you wish.
That light is the heart of this system. Waterproof to three feet, it uses three AA batteries to power it for a full 25 hours at its maximum brightness, 160 hours at 50 percent, and 200 hours while flashing.
Check Price On Amazon
Scotty manufactures the industry's leading brand of rod holders, and no kayak fishing rig is complete without at least one. Mounted with four screws that attach the base to your 'yak, with the included side/deck mounting options, you can place this rod holder nearly anywhere you have space.
Scotty's removable universal cradle can accommodate virtually any rod and reel combination, and it's adjustable by a full 360 degrees. It offers a secure lock, too, so no need to worry about losing your gear in rough water.
The quality is excellent on this budget-friendly product, and you can expect problem-free use for years of angling adventure.
A PFD is an essential piece of gear, and no one should leave shore without one on. But anglers demand a little something extra from their PFDs, and the Stohlquist Fisherman delivers.
Featuring a high-back design that rides above the seat on your kayak, it puts comfort first to encourage you to wear it. With eight straps that adjust to nearly any body shape, you should be able to get a near-custom fit.
But what really shines on the Stohlquist are the mounting options and storage for gear. There's plenty of space for everything, from pliers to lures to extra line. With two large molded EVA pockets, this is a PFD that can carry almost everything you need for a day chasing fish.
It's tough, too. With an outer shell constructed from 500 denier Cordura® nylon, you can count on it to last.
Available in orange and green in sizes ranging from S/M (33"- 39") to XXL (46" – 52"), we recommend the brighter of the two colors for high-visibility.
A cooler full of ice and a few bottles of water or Gatorade can really save a hot afternoon from the heat. Staying hydrated matters, and a refreshing drink is always welcome when the sun's out and the fishing's on.
Yeti makes premium coolers, so don't be shocked by the price tag on the Hopper Flip 12. But you get what you pay for here, and this cooler is as good as they come.
Large enough for even the longest fishing trip, the Hopper won't leak–and it won't let your water get warm, either! And soft and pliable, it can be stuffed into spaces where a hard cooler just can't fit, keeping your beverages within arm's reach.
Measuring just 21.6" x 10" x 11", this cooler can hold 12 cans and the ice to keep them frosty. Quality is excellent, and details like the zipper are top-notch.
Check Price On Amazon
There are two problems with lipping fish by hand. First, it's an easy way to end up with a hook deep in your thumb or hand.
As the fish fights in your grip, that treble hook is moving around a lot, right next to your fingers! Second, some species offer you a mouth full of sharp teeth, and lipping them just isn't a good idea from the get-go.
Fish grips solve both problems, and Yak Gears are light, buoyant, and inexpensive. Made from high-strength plastic with stainless innards, these grippers won't tear the mouths of the fish, making them ideal for catch and release anglers.
They come with an attached lanyard and are easy to open and close with one hand. Users rave about these, so you can be sure you won't be disappointed.
Check Price On Amazon
Some species of fish have a minimum size limit to keep; others have what's called a
slot limit
, meaning that your catch must be shorter or longer than the prescribed length. In either case, careful measurement is key to a legal catch.
YakGear's Fish Stik is an ideal tool for kayak anglers. Most hard measuring devices are too long and too bulky for kayakers, but the Fish Stik collapses to a minimum length of 12 inches.
Fully expanded, it can measure fish as long as 36 inches, and you're not likely to need more length than that!
Made from durable plastic, it's lightweight, rugged, and easy-to-read. If you like, it can be attached to a Railblaza pivot kit so that you can swing it out to measure and stow it away when you return to fishing.
You can also store YakGear's Fish Grip "JR" inside the Fish Stik, giving you just that bit of extra space for other gear.
Conclusion
As you can see, none of these products are frivolous after-thoughts, and each has an essential place on your kayak. They fill specific needs, and if you've run into a problem on the water, you probably saw a solution on this list.
One (or more!) of these products may be just the thing you were looking for to finish rigging your 'yak for angling, and we're happy to help you have more fun the next time you go fishing.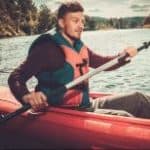 Author: Peter Salisbury
Pete is the Owner of KayakHelp.com. Born and raised in Cleveland, Ohio, he grew up kayaking, fishing, sailing, and partaking in outdoor adventures around the Great Lakes. When he's not out on the water, you can find him skiing in the mountains, reading his favorite books, and spending time with his family.