When you are miles away from the slopes or the mountains are closed, the next best thing is to grab a beer and watch a snowboarding movie.
The best snowboarding movies of all time inspire us to ride, take us to far-flung destinations, and amaze us. So we thought we would put together the definitive list of the 15 best snowboarding movies of all time.
Also Read: Kayaking Movies & Documentaries
Best Snowboarding Movies of all Time
1. The Art Of Flight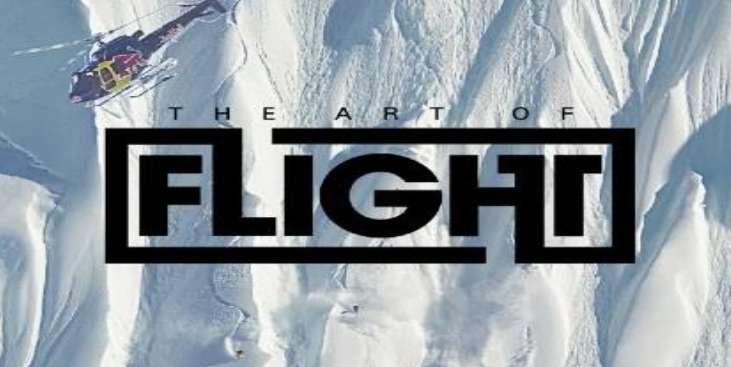 Image from Redbull T.V.
If you ask most snowboarders what their favorite snowboarding movie is, there is a good chance they will mention The Art Of Flight. The Art Of Flight is an iconic snowboarding movie from 2011 that redefined the genre.
You can expect epic riding in stunning locations from all over the world. The photography is incredible thanks to super slow motion heliboarding drops, cinematic style, and beautiful landscapes.
But the riders are the true stars of The Art Of Flight. This is one of Travis Rice's epics and features legends such as Mark Landvik and John Jackson.
Highlights of the film include Travis Rice dropping off the side of a helicopter onto an impossibly steep mountain in Alaska. There is also a section when the riders make it a mission to ride a face in South America. But the helicopter is low on fuel, and to get back to it in time, need to swim across a frozen river. Apparently, they had 20 seconds of fuel left when they got back to base.
You can watch The Art Of Flight on Red Bull TV for free.
2. Full Moon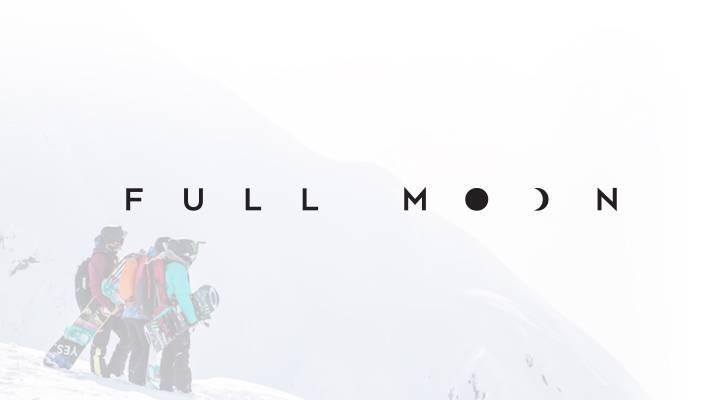 Image from Mahfia.tv
Full Moon is a gorgeous snowboarding movie that features some of the world's best female snowboarders. It isn't just a movie of epic riding; it also tells the story of each of its stars.
This movie depicts the rise of these superb female snowboarders and the challenges they have had to cope with. It was filmed over two years. The cast included Annie Boulanger, Hana Beaman, Robin Van Gyn, Jamie Anderson, Leanne Pelosi, Marie-­France Roy, and Helen Schettini.
You can expect insightful interviews, fantastic riding, and a cool soundtrack. One of the highlights is the section where the riders are in the backcountry. It is a goosebump-inducing section with hardcore shredding along to the sound of First Aid Kit's Silver Lining.
If you want some inspiration to push your snowboarding abilities and learn a bit about the industry, Full Moon is a great film.
Full Moon is available on Red Bull TV
3. Let It Ride
Image from IMDb
Let It Ride is a documentary about the godfather of snowboarding, Craig Kelly. Without Craig Kelly, snowboarding would not be what it is today, as he inspired so many riders over his career.
Unfortunately, Craig died in an avalanche in 2003, set off by another group while he was guiding. But the film spans 25 years and highlights how he became one of the biggest names in the snowboarding industry.
It starts with talking about his youth, when snowboarding was still in its infancy, and how he helped bring the sport into the public eye. The movie talks about his competition success and how he became a legend in the snowsports industry.
You can expect to see and hear from other snowboarding legends of the time, such as Tex Devenport, Dan Donnely, James Hetfield, and more. They discuss how he left the limelight to focus on backcountry guiding and the purer side of snowboarding.
You can watch Let It Ride for free on YouTube.
4. Roadless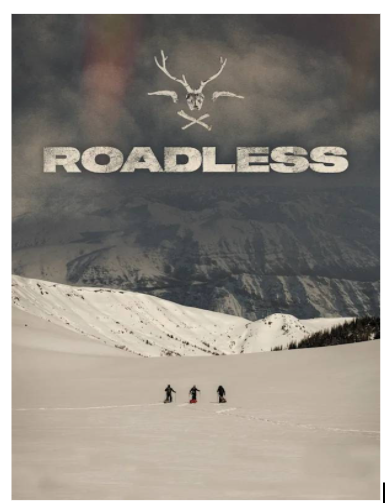 Image from Red Bull TV
Roadless is a snowboarding movie with a difference. It features three snowboarding icons exploring a pretty much untouched part of Wyoming.
Travis Rice, Jeremy Jones, and Bryan Iguchi head into the wilderness for 10 days under their own power.
Roadless is also a documentary that sees the progression of each rider. It also goes into how they became some of the most influential snowboarders in the world.
During the movie, the trio treks deep into Yellowstone to score first descents in the most remote part of the area. They do this using splitboards, carrying everything they need in sleds.
Roadless is packed full of world-class snowboarding through the epic landscape. The stars do most of the filming themselves with GoPros and drones and capture the atmosphere perfectly.
The trip gives Travis, Bryan, and Jeremy time to reflect on their past, snowboarding, and influences.
Roadless is available on Red Bull TV
5. Odd Man Out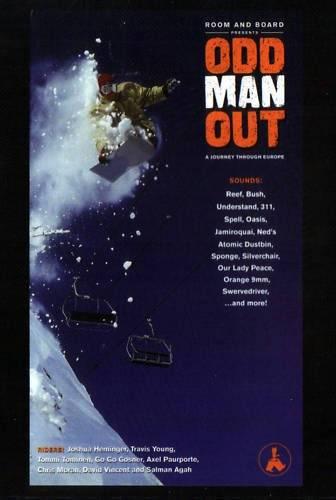 Image from snowboardingfilms.net
Odd Man Out was a fantastic snowboard film from 1995. It stars some of the best snowboarders of the time as they travel around Europe to the home resorts of other pro riders.
You can expect to see retro snowboarding skills from the likes of Davide Vincent, Axel Pauporté, Tommy Brunner, and more.
The trip takes the stars of Odd Man Out to various ski resorts in France, Italy, and Austria. They even hit the snowdome in the center of the U.K. and went surfing in Portugal.
One of the highlights of Odd Man Out is the soundtrack. Each song fits perfectly with each section of the film, creating the perfect ambiance.
Unfortunately, Odd Man Out was filmed in the days of VHS and just about made it onto DVD. It used to be on YouTube split into a couple of parts but is no longer available.
So if you want a piece of snowboard history, you will need to find a copy on eBay, but it will be worth the effort.
6. R.P.M.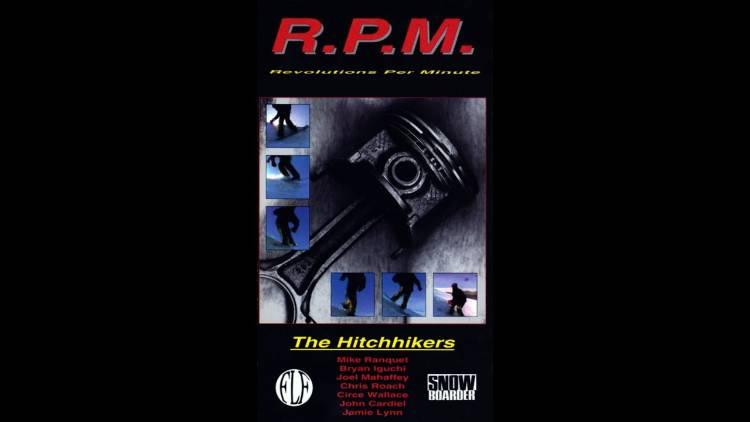 Image from YouTube
If you want to go further back in time, you might want to check out R.P.M. This snowboarding movie is another road trip movie that features snow and skate icons from the early 1990s.
You can expect to see young versions of Noah Salasnek, Chris Roach, and John Cardiel. These guys push the technical snowboarding style of the time in the emerging Californian snowboard park scene.
Bryan Iguchi and Dave Downing can be seen ripping up Bear Mountain's Outlaw Park. Bryan Iguchi does the first-ever backside 1080 ever caught on film in this scene.
Another highlight of R.P.M. is the section filmed in Northern California's Boreal. This jib-fest sees Chris Roach, Aaron Vincent, and Noah Salasnek, joined by Jamie Lynn, to create one of the coolest snowboard segments of the early 1990s.
But if you are a fan of powder segments, Jamie Lynn and Mike Ranquet hit some big powder-coated faces.
The soundtrack is a mix of cool, soulful, funky tracks mixed with harder and more rocky tunes. For example, you can hear music from the Dead Kennedys, Super Suckers, Monster Magnet, and Afghan Whigs.
You can watch R.P.M. on YouTube
7. The Fourth Phase
Image from IMDb
Coming back to a more recent snowboarding movie and Travis Rice, The Fourth Phase was released in 2016, and the run-up had snowboarders all over the world holding their breath in anticipation.
The Fourth Phase was the follow-up to The Art Of Flight, widely regarded as the best action sports movie ever made. This film was the first snowboarding movie to be filmed in 4K and is the product of Travis Rice and his team's years of experience and hard work.
In the film, Travis is joined by Eric Jackson, Bryan Iguchi, Mikkel Bang, and Mark Landvik. You know it is going to be a good one when you see that it is sponsored by Red Bull, as this means the budget is high.
The financial support is pretty apparent, as many big brands are involved. But the creativity is still there despite the big companies' fingers all over the film.
During The Fourth Phase, Travis and his friends take on the world's biggest mountains and deepest powder. They are definitely living the dream throughout the film.
Travis gets a bit deep and meaningful at times. He talks about the lifestyle of snowboarding and our relationship with the mountains.
The Fourth Phase occasionally appears on Red Bull TV. But if you cannot wait, you can buy or rent it on Amazon.
8. Perceptions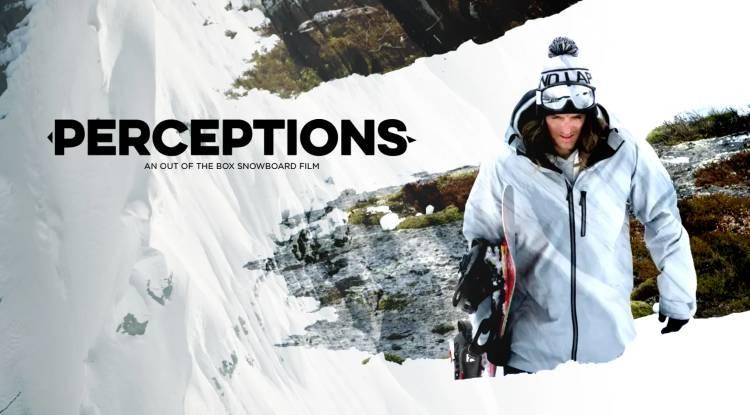 Image from Red Bull TV
Perceptions was released in 2015 and has a massive cast of snowboarders. The main protagonists in this one are Gigi Rüf, Elias Elhardt, Toni Kerkela, and Kazu Kokubo, so you know you are in for some incredible riding.
These highly talented snowboarders go on an epic adventure to find the biggest thrills the mountains can give them. They travel the world to hunt for the best snow in the U.S., Russia, Greenland, and Austria, demonstrating the diversity of these snowy locations.
Throughout the film, you can expect awesome landscapes and inspiring places to take your snowboard. One of the highlights of Perceptions is when the snowboarders ride down an iceberg.
You can watch Perceptions on Red Bull TV
9. Boom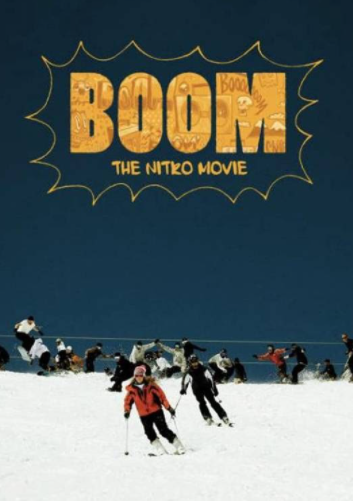 Image from IMDb
Boom is a film by Nitro Snowboards and Red Bull. It takes all the seriousness out of snowboarding and captures the fun and thrill of the sport.
Even with the big corporate names involved, the film keeps the expensive cinematic style to a minimum. Instead, Boom focuses on the excitement and euphoria of snowboarding.
The riders include Elias Elhardt, Marcus Kleveland, Eero Ettala, and Victor De Le Rue. These guys exploits span continents to shred big mountains and snow parks.
Boom is a fun snowboarding movie and is purposely unpolished because not all jumps are landed or are flawless. You can expect crash landings, bad falls, and lots of laughs, which is refreshing, as it also gives you some hope for your own riding.
This is a snowboarding film that doesn't take snowboarding too seriously and the fact that it is great fun.
You can watch Boom on Red Bull TV
10. Stronger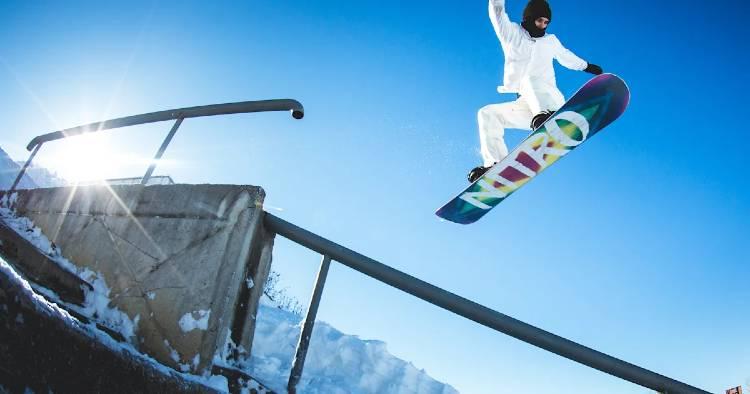 Image from Red Bull TV
Back to Travis Rice and friends with this one. Stronger is another epic production with high-quality cinematography.
Kazu Kokubo, Gigi Rüf, and Scott Stevens join Travis Rice in this masterpiece of winter action sports. These guys have worked together a lot in the past; therefore, they have got it dialed in when it comes to epic snowboarding footage.
Like most snowboarding movies, the riders travel the world to unique destinations. They manage to hit some of the best snowboarding spots the world has to offer.
For example, the riders score deep powder in Alaska and find hidden street spots in Finland. Stronger is a superb snowboarding movie that will have you gripped until the closing credits.
You can watch Stronger on Red Bull TV
11. As The Crow Flies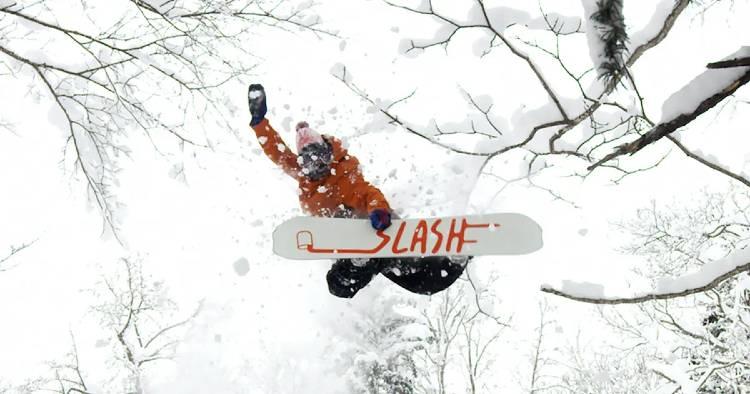 Image from Red Bull TV
Gigi Rüf, Elias Elhardt, Toni Kerkela, Kazu Kokubo, and friends ride some of the world's most remarkable mountains in the only way they know how. As the Crow Flies is a short snowboarding movie telling the story of a group of traveling adrenaline junkies.
You will love the scenery, deep powder snow, and epic terrain. But you will be just as impressed with the world-class riding.
This film showcases the creativity of these awesome snowboarders, as they spend lots of time urban snowboarding. Watch them avoid broken limbs as they shred rooftops, rails, and park benches.
As The Crow Flies is an excellent demonstration of how you can snowboard pretty much anywhere with some creativity and skill. The film's stars manage to capture the essence of snowboarding while creating a feel-good movie that makes you want to hit the mountain.
Watch the trailer for As The Crow Flies on Red Bull TV
12. Follow Your Nose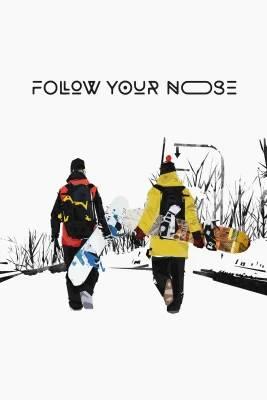 Image from Red Bull TV
Follow Your Nose is a short snowboarding movie with Gigi Rüf and Elias Elhardt. It is designed as a quick enthusiasm booster for going snowboarding, and it does the trick perfectly.
The two stars hit the backcountry for some epic freeriding while having as much fun as possible. They take on steep faces with picturesque backdrops and deep powder.
If you have done any snowboarding, you will appreciate how skilled Rüf and Elhardt are. They make big mountain riding look effortless while projecting their passion for snowboarding out of the screen right at you.
Follow Your Nose has a style that makes you excited as you share the rider's enthusiasm. If you are a free rider or aspire to be one, Follow Your Nose is a must-watch.
You can watch Follow Your Nose on Red Bull TV
13. The Crash Reel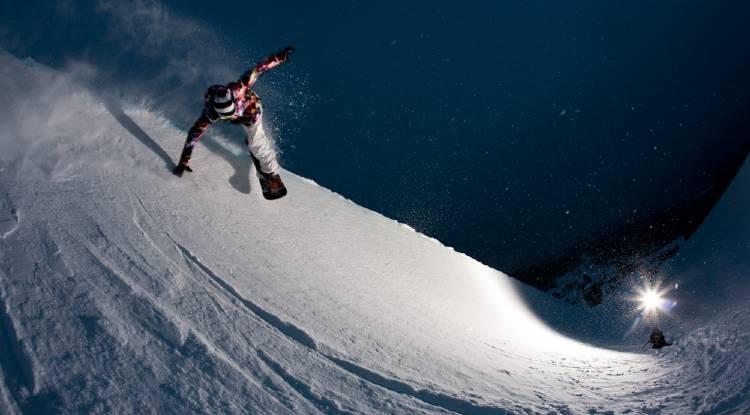 Image from Snowboardermag
The Crash Reel was released in 2013 and is an ultimate classic epic snowboard movie. The film documents Kevin Pearce's dedication to competitive snowboarding, as he committed to being the best snowboarder in the world.
His journey to the top sees Kevin being pitched against Shaun White and his battle with severe injury.
The Crash Reel is an intimate look at Pearce's battles on the mountain. It also goes into his journey from rock bottom after suffering brain damage from a massive crash.
This film is inspiring, especially when you see Kevin Pearce rise from the depths of despair. His determination to get back on top makes for an emotional snowboarding movie that is gripping and fascinating.
You can buy The Crash Reel on Amazon
14. One World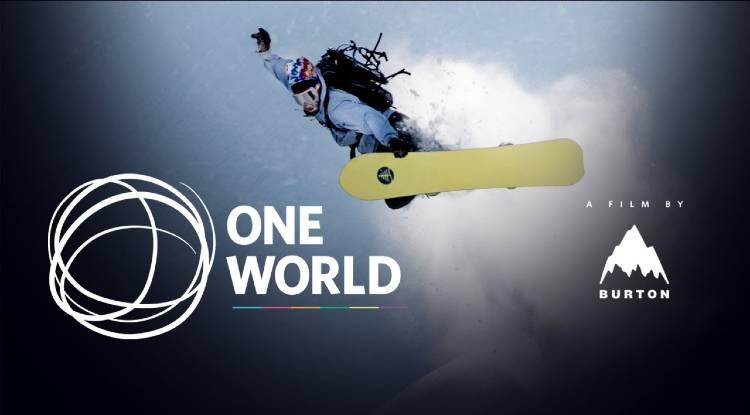 Image from YouTube
One World is an excellent snowboarding movie by Burton Snowboards. It stars Mark McMorris, Ben Ferguson, Maria Thomsen, Anna Gasser, Danny Davis, and many more.
These world-class riders travel the world, riding parks, streets, and snow-capped mountains. Their travels bring the riders together, which is a refreshing change after battling it out on the competition circuit against each other.
Burton developed One World to celebrate the global connection snowboarders have. It also goes into how riders respect the environment and how they want to discover more about the world and the sport.
The connection was made more apparent during the first lockdown after the discovery of the pandemic. The competitive snowboard season was cut short, cutting the Burton pro riders from each other.
One World sees the riders reunited and shredding as only the best riders can. The film also celebrates the life of Jake Burton Carpenter, the company's founder, who sadly died in 2019.
You can watch One World on YouTube
15. Turn Of Mind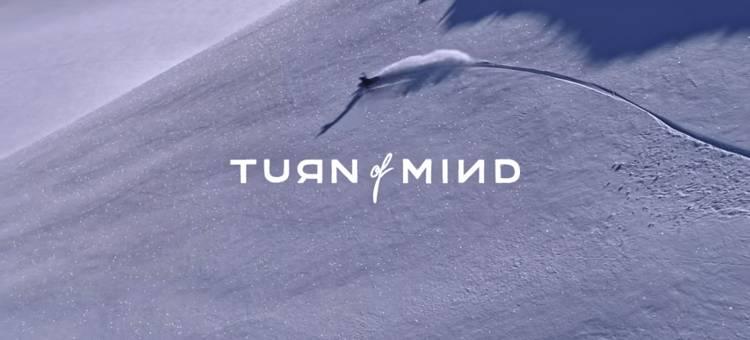 Image from Whitelines
Turn Of Mind is a fantastic snowboarding movie made by Patagonia. It features Nicholas Wolken, a Patagonia ambassador and owner of Korua Shapes snowboards.
The film looks at Wolken's connection with nature and why he does what he does. During this film, he heads into the Swiss Alps on his splitboard to pay his respects to the landscape and scenery that fuels his passion for snowboarding.
Nicholas Wolken has dedicated most of his career to the idea that a simple thing done well can impact far more significantly than could be imagined.
This is apparent throughout the film and with his snowboards. It also highlights how we should be looking after the planet before it's too late.
You can watch Turn Of Mind on YouTube
Final Thoughts
If you are stuck inside or are pining for the mountains, draw the curtains, get drinks and snacks, sit back, and watch one of these snowboarding films.
These films will inspire you to get on the mountain, but they will also scratch an itch if you can't get to the slopes right away.
You may also be interested in some retro 80s ski movies or want to check out some skiing documentaries on Netflix and YouTube.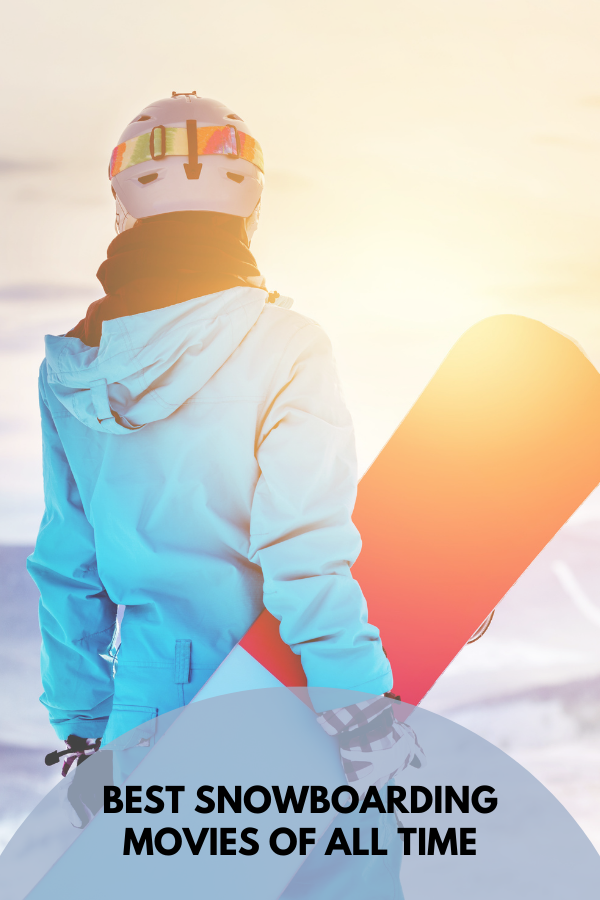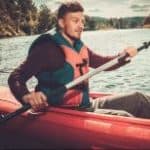 Author: Peter Salisbury
Pete is the Owner of KayakHelp.com. Born and raised in Cleveland, Ohio, he grew up kayaking, fishing, sailing, and partaking in outdoor adventures around the Great Lakes. When he's not out on the water, you can find him skiing in the mountains, reading his favorite books, and spending time with his family.