If you don't quite have enough room for one of the best kayak coolers or cooler bags on your kayak, you could always opt for a floating cooler as an alternative.
This style of cooler is great for a fun day on the lake with friends.
One of the coolest benefits of the best kayak floating cooler is that other paddlers can easily access the cooler when they pull up next to you.
This towable cooler option eliminates awkwardly having to twist to pull the weight of a hard cooler out of the stern tankwell of your kayak.
In this article, we're going to tell you a little bit more about how these floating coolers stack up to more traditional kayak cooler and the best kayak cooler bags. We'll also review six of the best kayak floating cooler options on the market.
So let's get to it!
Best Kayak Floating Cooler
CreekKooler Floating Insulated Cooler – 30 Quart
TRC Recreation Super Soft Floating Cooler
CreekKooler Floating Insulated Cooler – 15 Quart
Airhead Aqua Oasis Floating Cooler
Brantics Floating Inflatable Cooler
CoolerZ Floating Inflatable Cooler
Buying Guide
Before we really get into reviewing kayak floating coolers, you should know how to compare them.
In this Buying Guide, we will highlight the most important features to weigh (according to your preferences) before you buy a floating kayak cooler.
Capacity
It all starts with how much space you want in your floating kayak cooler. You need to be confident that the cooler you choose will be able to fit your preferred number of beverages and the ice to keep them all cold.
To that end, you should consider how you will normally be using your cooler. Will you be taking it on full-day adventures down rivers, exploring rugged coastlines, camping for multiple days at a time?
Or do you just need something to keep a healthy number of beverages cold for a few hours in the heat of an afternoon summer day?
Of course, there are other scenarios that fall between these two, but if you skew toward answering yes to the first question, you need a cooler with a larger capacity. If you are more in line with the second question, you can look for something a bit smaller.
Weight
Weight is also an important consideration because kayak floating coolers are designed to be towed behind your kayak.
If you're trying to make time and reach a set destination by the end of the day, towing a large cooler behind your kayak is going to impact your overall speed.
Fortunately, the heaviest floating coolers out there are also designed to be more ergonomic when towed behind your kayak. That said, you will find models out there that weigh nearly 20 pounds and others that weigh less than two pounds.
Remember that your goal for your cooler is probably to load it down with a bunch of food or drinks and then top them off with ice.
Once you do, your cooler may feel quite heavy behind your kayak, so it behooves you to start with one that doesn't have a super high base weight.
Size
The dimensions of your kayak cooler are most important when you're considering how to get yourself, your kayak, your cooler, and all of your other personal belongings from your house to your launching location.
If you are traveling in a smaller sedan or SUV, you might find it tough to find space for a large floating cooler that takes up almost your entire back seat.
On the other hand, if you're just going to throw your cooler in the back of your truck, the size of the cooler you choose will be less of a factor.
Most of the smallest floating coolers out there are of the inflatable variety. They can be deflated and collapsed to take up very minimal space in your vehicle until you get to the beach.
Then, you can simply inflate them and load your beverages in.
As an aside, it tends to be better to load inflatable floating kayak coolers as close to the water's edge as possible because they don't always make for the most efficient way to transport cold items on land.
Efficiency
Efficiency, in this context, refers to how well your paddle strokes actually propel your kayak (and the cooler we are assuming you will be towing) through the water.
Maximizing efficiency is most important for kayakers on multi-day expeditions or those that are aiming to launch at one location and land at another later in the day.
If you want to cover any ground with a floating kayak cooler, we suggest you opt for one with a more ergonomic shape that can cut through the water. This shape will bear some resemblance to the efficient shape of your kayak itself.
Unfortunately, circular floating kayak coolers are going to be terribly inefficient when paddling long distances. While they may suffice just fine for a 2-3 hour paddle, we don't recommend them for all-day adventures.
Durability
Durability is also a concern with some of the cheaper floating kayak coolers on the market these days.
While the inflatable versions have the benefit of being super light and requiring almost no storage space at home, they don't hold up well for river kayaking or in rough conditions.
If you want something for running rivers, you need something with a molded plastic construction. Even foam coolers are a more substitute because they are less likely to rip or tear if they encounter tree limbs or jagged rocks.
For those of you that want a cooler that is going to last for years to come, heavy-duty plastic construction is the way to go. In many ways, these coolers are made using similar technology to how your kayak itself is made.
While the most durable kayak coolers do come with a higher price tag than the softer foam or inflatable coolers, there's a good chance that you'll wind up buying four or five of those cheaper coolers while someone who made the bigger investment upfront is still making great use of their plastic kayak cooler.
Versatility
While most of you are probably here because you want a cooler that can keep cold things cold, some of the choices on our list can serve multiple purposes. If you choose a cooler with a watertight, locking lid, for example, it can also be used for dry storage.
Dry storage is a premium luxury for long-distance or multi-day kayaking expeditions. These are the kinds of trips that you need to have extra clothing layers and overnight sleeping gear, and you want to keep your clothes and gear dry at all costs.
Choosing a floating cooler with a locking lid will give you the versatility to adapt as your kayaking interests change. This week it might be a casual float to catch up with a few friends and next week it might be a two-day kayak camping trip on your favorite river.
The coolers that offer simple zippered lids just won't be able to support your needs on the latter type of trip. So just be honest with yourself about how you intend to use your cooler and how that might change over time.
Transportation
Transporting your cooler is also an important part of these floating coolers, and that refers to both on-land and on-water transportation. Let's start with the on-land portion because, to be quite honest, the on-water portion can't happen without it.
Transporting a full cooler on land is hard enough if you're working with a traditional hard-sided cooler.
If you choose an inflatable floating cooler that has basically no structure other than the air trapped inside of it, transporting your beverages down to the water is going to be a nightmare.
That's why I mentioned earlier that it's best to load inflatable floating coolers as close to the water's edge as possible. That's not necessarily the case with plastic and foam floating coolers, though.
In our opinion, the best floating kayak coolers have beefy handles that make it easy to carry them with a partner, even when they're fully loaded.
As an added bonus, look for a cooler with a tow strap that allows you to also drag it across a sandy beach if you have to move it by yourself.
For the on-water portion, it's pretty simple. If the cooler you choose doesn't come with some sort of rope or strap that allows you to attach it to the back of your kayak, it probably isn't worth your time or your money.
Price
The last thing to consider is how much you're willing to spend on a floating kayak cooler, and only you can decide that. You'll find models out there from less than $20 up to more than $150.
Like we said earlier, however, you can buy multiple cheaper coolers within the same service life of a more expensive, higher-quality model.
So if you're looking for something that's going to hold up, it sometimes pays to invest a little more upfront.
Thumbnail
Our Pick
Title
CreekKooler 30 Quart Camping Floating Water Companion Ice Chest Cooler with Locking Lid and Drink Holders for Kayaks and Canoe, Blue
TRC Recreation Water Resistant Floating Super Soft Goodlife Drink Kooler for Water Adventures and Activities, Blue
CreekKooler PuP Portable Floating Insulated 15 Quart Kayak Beverage Cooler, Red
Airhead Aqua Oasis Floating Beverage Cooler
Advanced Elements Advanced Frame Sport Kayak
Our Pick
Thumbnail
Title
CreekKooler 30 Quart Camping Floating Water Companion Ice Chest Cooler with Locking Lid and Drink Holders for Kayaks and Canoe, Blue
Thumbnail
Title
TRC Recreation Water Resistant Floating Super Soft Goodlife Drink Kooler for Water Adventures and Activities, Blue
Thumbnail
Title
CreekKooler PuP Portable Floating Insulated 15 Quart Kayak Beverage Cooler, Red
Thumbnail
Title
Advanced Elements Advanced Frame Sport Kayak
Floating Cooler Reviews
Check Price on Amazon
This version of the CreekKooler boasts a 30-quart capacity and the ability to tow your cooler as efficiently as possible.
As you can see, it features an aerodynamic design that is actually supposed to mimic the shape of your kayak as closely as possible.
There are four drink holders on top of this cooler that allow you to use it as a centerpiece when you are floating around with other kayakers. So it's the perfect island for a casual lunch on the water with friends.
It does weigh a total of 17 pounds, but it boasts a full two inches of insulation that is injected into the hull and the deck of the cooler (top and bottom). This allows the cooler to retain ice for up to 48 hours.
This cooler's 30-quart capacity translates to the ability to carry up to 30 12-ounce cans plus another 20 pounds of ice. Of course, there are plenty of other items you can store safely in this cooler besides just cans.
It can also be used for dry storage because it features a watertight, locking lid with an o-ring design. Plus, it features handles on both ends for easy carrying and a tow strap for attaching it to your cooler or dragging it across the beach.
Check Price on Amazon
The TRC Recreation cooler is nicknamed the S.S. Goodlife and it can hold up to 18 of your favorite beverages, plus the ice needed to keep them cool. Underneath the lid, there are also two drink holders so you can keep your beverages safe as you're relaxing.
One of the biggest advantages of this cooler is that it weighs only six pounds when empty. So it's much lighter than the 30-quart CreekKooler and it also gives you the ability to tow it safely behind your kayak.
As you can see, it's built like the front of the boat so that you won't feel like you're dragging a super inefficient cooler behind your kayak.
It also uses foam insulation that serves to both keep your beverages cold and provide flotation for the cooler and its contents.
The dimensions of this floating cooler measure 23 inches long, 17 inches wide, and 9.5 inches tall. Plus, it's finished with a glossy vinyl coating that protects the foam from UV radiation and makes the entire cooler super easy to clean.
Check Price on Amazon
The CreekKooler Pup is just the slightly smaller version of the 30-quart CreekKooler. It features all the same benefits and perks as the larger model in a smaller, more compact package.
This cooler boasts a total capacity of 15 quarts, which is enough space for up to 15 12-ounce cans plus another 10 pounds of ice. The thick layer of foam insulation between the hull and deck allows this cooler to retain ice for up to 24 hours.
Plus, it features a watertight, locking lid with an o-ring seal to eliminate the possibility of water ingress. This makes this cooler a feasible option for dry storage in addition to keeping beverages and other perishables cold.
Because of its slightly smaller size, this cooler only includes two drink holders on the upper deck. So it's better suited for couples that like to spend their free time away from the crowds on their favorite waterways.
It also features the same dual-wall, blow-molded construction that makes its big brother so durable.
You will still be able to tow this cooler easily behind your kayak using the included strap, and it also has two handles for easier carrying on land.
Check Price on Amazon
The Airhead Aqua Oasis is a great choice for larger groups and it's made by one of the most trusted brands in the boating inflatables industry.
If you spend any time around motorized boats, you have probably seen an Airhead inflatable being towed behind a boat with several kids trying to hang on.
While this cooler isn't the best floating option for towing behind your kayak, it can certainly accommodate your needs on short outings.
It's also a great choice for days when you and your friends just want to go lounge in your kayaks but you're not necessarily looking to go anywhere.
It features a total of six drink holders around the base of the cooler and they are all labeled with numbers. This helps you remember which drink was yours if you happen to set yours down for a while.
The cooler itself can hold up to 24 12-ounce cans and it can actually be removed from the base for easier loading and unloading.
It's a nylon cooler with a leakproof zipper and plenty of insulation to keep your beverages cool for a few hours.
There is a molded plastic rope connector welded to the side of the base so that you can attach it to your kayak for towing short distances.
Plus, there's a suntan lotion storage location so you don't have to keep reaching into your kayak deck bag when it's time to re-apply.
Check Price on Amazon
The Brantics floating cooler is the first fully inflatable model on our list, and the main benefit of an inflatable cooler is that it packs down to a super compact size when you're not using it.
With some of these other coolers, you'll need space to store them when they're not in use, but that's not really the case with this one.
That said, this is another cooler that's best suited to short-distance paddles or casual lounging on the water with no particular destination in mind. The base includes four beverage holders so you can invite a few friends to lounge with you.
The cooler fits up to 12 12-ounce cans and another 10 pounds of ice and the zippered lid keeps everything secure if someone gets a little too rowdy and flips it over. That said, it won't be watertight if it does get excessively splashed or submerged.
The cooler and the base are all one piece, which makes inflating it super easy. Plus, there are two handles on either side for easy carrying and a rope tie grommet (rope not included) for attaching it to your kayak or an anchor.
Check Price on Amazon
The CoolerZ is another inflatable floating cooler and it's the most budget-friendly option on our list. It features a one-piece design for easy inflation and the base includes a total of six cup holders so that your entire group has a spot for their beverage.
The entire dimensions of this cooler (plus the base) measure 27.5 inches in diameter and 18.5 inches tall. The cooler portion can hold up to 6 12-ounce cans and the ice you'll need to keep them cold.
Because of its smaller capacity, this is the kind of cooler that might be ideally suited for a single paddler. The good news is that it's affordable enough for everyone in your group to have their own!
Check Price on Amazon
The 30-quart version of the CreekKooler Floating Insulated Cooler is our pick for the best kayak floating cooler because it offers one of the largest capacities on the market and it allows you to efficiently tow it behind your kayak.
That towing ability is something that other floating coolers simply don't offer. Keep in mind, too, that the CreekKooler is efficient for towing but it can also be used for just hanging out off the back of a boat or for a fun day of floating your local 'lazy' river.
This cooler also gets our nod because of its durable construction. While some of the other inflatable coolers on our list are certainly lighter, this one offers dual-wall, blow-molded construction that makes it better prepared to handle impacts when you're river kayaking.
Finally, we love the fact that this cooler is more versatile than many of its competitors.
Sure, it's excellent at retaining ice and keeping your beverages cool, but it can also be used for dry storage if you need a little more space for an overnight kayaking camping trip.
All that being said, if you don't really feel like spending money on a cooler for your kayak and you're into DIY projects, check out our article on how to build your own cooler for your kayak!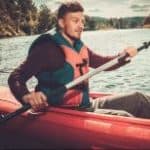 Author: Peter Salisbury
Pete is the Owner of KayakHelp.com. Born and raised in Cleveland, Ohio, he grew up kayaking, fishing, sailing, and partaking in outdoor adventures around the Great Lakes. When he's not out on the water, you can find him skiing in the mountains, reading his favorite books, and spending time with his family.