Unlike many active sports, kayaking can be a lifelong pursuit. There's no shelf life on the ability to enjoy a relaxing afternoon paddling around your favorite body of water.
That being said, some things are certainly different for older kayakers. For starters, the importance of making the on-land transportation process as easy as possible can grow for older adults.
Fortunately, the best kayak designers have created models for every demographic imaginable. If you don't want to lug a 70-pound kayak down to the water, you'll still have plenty of options.
In this article, we're going to review ten choices for the best lightweight kayaks for seniors. We'll also provide clear definitions of some important kayaking jargon and detail the most important factors to keep in mind when selecting a kayak that will suit your needs.
Jargon Buster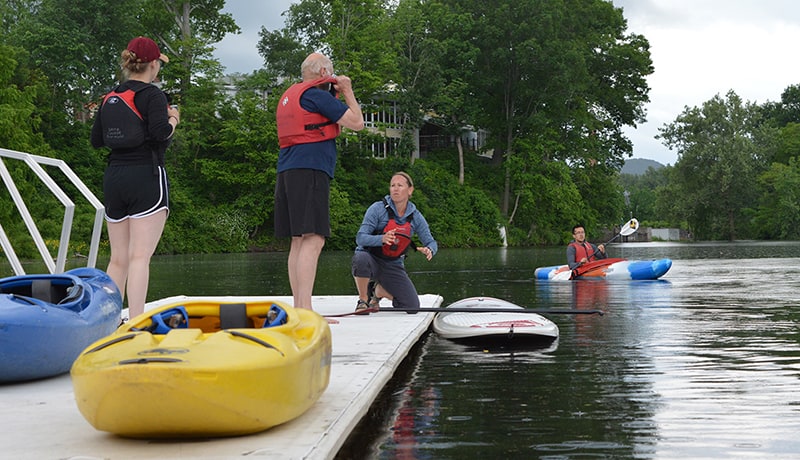 In any sport, there are terms and acronyms that specifically apply to that sport. In this section, we're going to define several key terms that will help you gain a better understanding throughout the rest of this article.
PVC
PVC stands for polyvinyl chloride. It is a common material used in the construction of inflatable kayaks because it's affordable, durable, and easy to work with.
Hull
The hull is the bottom of the kayak. It's the part of the kayak that sits underneath the water once you're sitting inside the cockpit. Hull design plays an important role in how a kayak performs in different conditions.
Keel
The keel is a ridge on the hull (bottom) of your kayak that runs from bow to stern. A more defined keel will make a kayak track straighter. On the other hand, a less defined keel will make it easier to perform quick maneuvers.
Scupper Holes
Scupper holes are openings in the hull or sidewalls of a kayak. They allow water to naturally drain out of the cockpit. They are a common feature on rigid sit on top kayaks. However, they aren't standard on inflatable kayaks and aren't included in rigid, sit-inside kayaks.
Related: Do You Need Scupper Plugs On A Kayak?
Buying Guide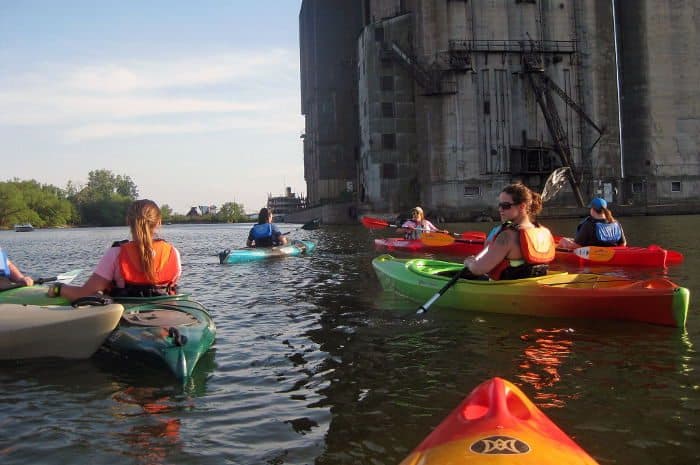 Deciding on the features and design elements that are important to you is essential when selecting a kayak. In this section, we'll provide info on important features and design elements to help make your decision better.
Rigid Versus Inflatable
The kayaks that we have listed here can be broken down into two categories: rigid and inflatable.
Let's look at their advantages and disadvantages.
Rigid
Rigid kayaks tend to perform better than inflatables. This is a generalization, because certain advancements in technology have made specific inflatable models comparable in terms of performance.
Still, rigid kayaks will be easier to maneuver and better at staying pointed in the direction you're trying to travel. If you're trying to cover longer distances or stay out for many hours at a time, a rigid kayak is usually a great choice.
Rigid kayaks come in sit on top and sit inside varieties. For older adults, sit on top kayaks are usually preferred. This is  because they are easier to enter and exit.
Most sit on tops also come with scupper holes that allow water to drain out of the cockpit. This makes it easier to flip them over if you do happen to capsize and also makes wet entry much more achievable.
Sit inside kayaks tend to have much smaller cockpit areas than their sit on top counterparts. However, sit insides can be a great option for sea kayaking. This is because they offer a drier ride than a sit on top.
The benefit of a rigid kayak over an inflatable is better performance. The disadvantages are heavier weight and the need for additional storage space on your vehicle and at home.
Inflatable
Inflatable kayaks are a great option because they are light and easy to transport. Aside from needing extra time to inflate and deflate before and after your paddle, inflatables are easier to get to and from the water.
If you have limited storage space at your house or you're a full-time RV traveler, an inflatable kayak is the way to go. Once deflated, inflatable kayaks can store underneath your RV or out of the way in your garage.
The benefits of an inflatable kayak include lightweight transportation and compact storage. The disadvantage is less efficient performance.
Stability
If you don't want to learn how to get back into a kayak once it's flipped over before you're ready, stability is a critical feature to pay attention to when comparing and contrasting kayak models.
For starters, look at the width of the kayaks you're interested in. As you might imagine, a wider kayak design lends itself to a greater degree of stability, but that's not the only factor.
A kayak's length and width work together to determine its overall stability. For example, a nine-foot kayak that's 34 inches wide is going to be more stable than a 14-foot kayak that's also 34 inches wide.
As kayaks get longer, they need to combat that extra length with extra width. Otherwise, you're going to feel like you have to keep paddling at all times to maintain stability. This can compromise your ability to have a relaxing day on the water.
Back Support
This is a key consideration for anyone that wants to spend more than an hour in their kayak. The two design elements that contribute to back support are the seat and footrests.
Footrests are often overlooked, but they are essential to your ability to maintain an upright, comfortable position in your kayak.
Look for a kayak that offers multiple footrest positions so that you can adapt it to your body type. You also retain the flexibility to change positions.
When sitting in your kayak, it's best to have your knees slightly bent and above your hips. Allowing your legs to sit flat on the floor of your kayak, otherwise known as the "L position", puts too much stress on your lower back. This can cause discomfort.
When it comes to the seat, a higher seat back will provide additional lumbar support.
The ability to adjust the seat's position is also important. You'll probably experiment with multiple positions before finding one that's most comfortable for you.
Weight
Most older adults aren't going to want to waste a bunch of energy just getting their kayak to the water. In practice, this should be true for most kayakers, regardless of age or physical ability.
Look for a kayak that's easy to transport and handle on land and on the water.
While you most likely won't notice the difference between a 40 and 50-pound kayak when you're on the water (all other design elements being equal), that added weight can be a nuisance on land.
Think about how far you'll have to carry your kayak from the car to the water at your intended launch points. Also, consider your primary method for transporting your kayak from home to those launch points.
If you're going to transport your kayak using a kayak roof rack, a 70-pound kayak is going to feel awfully heavy after you've just finished paddling for an hour.
Performance
While it's important to find a kayak that you're going to feel comfortable sitting in, you also probably want to go somewhere without having to work too hard. This is why certain performance elements should also be considered.
The design of the kayak's hull, for example, will dictate how easy or difficult it is to make quick turns. It will also determine how hard you have to work to keep your kayak pointed in the desired direction.
A deeper, V-shaped hull will be better for kayakers who want to cover longer distances. A deeper hull makes it easier to keep the kayak straight. It also allows you to achieve higher top speeds.
However, this type of hull can also make a kayak less stable. On the other hand, a shallower, rounder hull makes it easier to maneuver a kayak in tight spaces or in response to moving water.
The pontoon, or "tunnel", hull is known to be one of the most stable hull designs. While you won't be able to achieve top speeds with this type of hull, they tend to track decently and provide a stable ride.
Thumbnail
Title
Advanced Elements Advancedframe Ultralite Inflatable Kayak, Green, 10'5"
Sevylor QuickPak K1 1-Person Inflatable Kayak, Kayak Folds into Backpack with 5-Minute Setup, 21-Gauge PVC Construction; Hand Pump & Paddle Included
INTEX 68307EP Explorer K2 Inflatable Kayak Set: Includes Deluxe 86in Aluminum Oars and High-Output Pump – SuperStrong PVC – Adjustable Seats with Backrest – 2-Person – 400lb Weight Capacity , Yellow
BKC FK285 Angler 9'2" Solo Sit-On-Top Kayak w/Upright Back Support Aluminum Frame Seat -Paddle and Fishing Rod Holders Included
Thumbnail
Title
Advanced Elements Advancedframe Ultralite Inflatable Kayak, Green, 10'5"
Thumbnail
Title
Sevylor QuickPak K1 1-Person Inflatable Kayak, Kayak Folds into Backpack with 5-Minute Setup, 21-Gauge PVC Construction; Hand Pump & Paddle Included
Thumbnail
Title
INTEX 68307EP Explorer K2 Inflatable Kayak Set: Includes Deluxe 86in Aluminum Oars and High-Output Pump – SuperStrong PVC – Adjustable Seats with Backrest – 2-Person – 400lb Weight Capacity , Yellow
Thumbnail
Title
BKC FK285 Angler 9'2" Solo Sit-On-Top Kayak w/Upright Back Support Aluminum Frame Seat -Paddle and Fishing Rod Holders Included
Best Lightweight Kayaks For Seniors
Check Price on Amazon
The best feature of the Oru Beach Lt kayak is that it's foldable! It stores in a super-compact carry bag and you won't have to worry about inflating or deflating it on either end of your paddle trip.
It's perfect for casual kayakers, whether you like to paddle on lakes, slow-moving rivers, or calm saltwater bays. Following the instructions, you should be able to set it up in less than five minutes.
Oru Kayaks are constructed from durable polypropylene and they utilize rust-resistant hardware. When not in use, this kayak folds up to the size of a large suitcase and easily fits into the trunk of your vehicle.
The Oru Kayak Beach Lt is 12 feet long and 28 inches wide. It boasts a maximum weight capacity of 200 pounds and weighs a minimal 26 pounds when carrying it over dry land.
Check Price on Amazon
The Intex Explorer K2 is a two-person inflatable kayak that measures ten feet in length and three feet across. Made to comfortably fit two paddlers, this kayak has a maximum weight capacity of 400 pounds.
On the hull of this kayak, you'll find a removable skeg that increases the kayak's ability to track straight. This skeg will help you navigate in higher winds and if paddling against currents.
Because it's primarily made for use on smaller bodies of water, this kayak comes with a bright yellow bow and gunwales. This increases your visibility to other boaters on the water.
The Explorer K2 has adjustable, removable seats with comfortable backrests. Because the seats are removable, this kayak can also be set up to accommodate a single paddler.
The FK285 made by Brooklyn Kayak Company is a rigid, one-person kayak with an open cockpit design. It measures nine feet, five inches long and 33 inches across.
Because it's also designed with a number of features for kayak fishing, this vessel is extremely stable. Those additional features make this kayak a little heavier, as it weighs in at 44 pounds.
The seat on this kayak is slightly raised for added comfort and adjustable to each paddler's unique body type. The elevated seat allows the paddler's hips to sit slightly higher above their legs and helps to combat hip tightness.
The BKC FK285 comes with a total of three fishing rod holders if you're interested in kayak fishing. It also boasts two waterproof hatches that are great locations for storing valuable and other dry items.
The Perception Rambler 13.5 is an excellent choice for the kayaking couple. It's a 13.5 foot tandem kayak with two comfortable seats and an optional third seat in the middle that's great for grandkids or a furry companion.
It's an adaptable kayak that performs well on lakes, slow-moving rivers, calm ocean bays, and even in light surf. It also has a large storage area in the stern that's great for a cooler or other large gear.
Comparing it to the other kayaks on this list, it is a little on the heavier side. At 78 pounds, you'll most likely want to look into a universal kayak carrier to help you transport this kayak to and from the water's edge.
The Rambler 13.5 has a maximum weight capacity of 550 pounds and measures 34 inches across. It also features multiple footrest positions designed to accommodate paddlers of many different heights.
The Yellowfin 100 from Vibe Kayaks is a super maneuverable, one-person kayak that comes with its own lightweight paddle. It measures ten feet in length and 32 inches across.
The Yellowfin's open cockpit design makes it easy to get into and out of this kayak. It also allows the paddler to make micro-adjustments to your position once inside, which is essential for comfort.
Two waterproof storage hatches in the center and bow of this kayak give you a place to store your valuables. There's also a large, open storage area in the stern that is secure using bungee rigging.
The Yellowfin has a maximum weight capacity of 375 pounds and the kayak itself weighs 57 pounds. It's best suited to lakes, ponds, rivers, and streams, although it will perform fairly in open water and light surf as well.
The Pakayak Bluefin 14 is an intriguing option for older adults that are passionate about sea kayaking. Rare amongst sea kayaks, the Bluefin is actually composed of multiple parts that break down and store in a large carry bag when you're done paddling.
Made from high-density, UV-resistant polyethylene, this kayak utilizes aerospace product designs to create a leak-proof, rigid vessel. When you're done paddling, it breaks down into six separate pieces.
Assembly is actually easier than you might imagine. Once you're familiar with the instructions, this kayak takes about three minutes to assemble and there are no small parts that are easy to lose.
The Bluefin is 14 feet long and 24 inches across. The cockpit fits standard extra-large spray skirts and the kayak's double chined hull makes it easier to track, carve, and control.
The Advanced Elements AdvancedFrame Ultralite kayak is an inflatable, one-person kayak that weighs a minimal 17 pounds. For the kayaker that really wants to go ultralight, this inflatable is a great choice.
But the minimal weight isn't the only great feature of this kayak. It also features built-in aluminum ribs that provide greater definition to the bow and stern areas of the kayak.
The major benefit of this design element is improved tracking, which means your kayak will actually travel in the direction you want it to go. It also features three layers of material that contribute to its ability to withstand bumps and resist punctures.
The AdvancedFrame Ultralite kayak achieves the same level of performance as many rigid kayaks, which is rare amongst inflatables. It also deflates into compact dimensions to easily fit in the back of your vehicle without the need for a roof rack.
The Outdoor Tuff Stinger is another ultralight, ultra-portable single person kayak. This kayak's inflatable design keeps its total weight down to just 25 pounds and allows it to easily deflate into a compact storage backpack in minutes.
It comes with two fins on the hull that improve maneuverability and performance over distance. It also has two large, covered storage areas in the bow and stern for your gear.
The interior construction of this inflatable kayak boasts three distinct air chambers. It utilizes puncture-resistant, triple-layer PVC to create additional stiffness and resilience against elements.
The Stinger measures just over nine feet in length and 30.25 inches across. It also comes with an 87-inch rotatable paddle, high-pressure foot pump for quick inflation, and comfortable inflatable seat.
The Ocean Kayak Frenzy is a rigid, one-person kayak that's nine feet long and weighs 43 pounds. This kayak is easy to control on calm, flat water, but can also perform well in light surf or when battling ocean currents.
Although this kayak doesn't offer any watertight storage hatches, you will find two large, bungee-secured storage areas in the bow and stern. This makes getting a quality dry bag essential if you select this kayak.
Designed with an adjustable seat and multiple footrest positions, this kayak can accommodate paddlers of many heights and body types. It also features a central beverage holder to help you stay hydrated on the water.
The Frenzy has a maximum weight capacity of 325 pounds and is designed with a long center keel that helps you track straighter. It also comes with a total of four carry handles to help with easy transportation on land.
The Sevylor Quikpak K1 is an inflatable, one-person kayak made from 21-gauge PVC. You'll be able to inflate this kayak and set it up in five minutes or less once you're familiar with its operation.
When you're done with your paddle and you've deflated it, the K1 stores in an easy-to-carry backpack. That backpack actually turns into the kayak's seat when you're out on the water.
Multiple air chambers are utilized in the interior of this kayak's construction. This design allows the kayak to retain more air if one chamber is compromised, which is helpful for you to get back to shore to perform repairs.
The Quikpak K1 has multiple footrest positions, which is rare amongst inflatable kayaks. It measures eight feet, seven inches in length and offers a maximum weight capacity of 400 pounds.
Our top pick for the best kayak for older adults in the AdvancedFrame Ultralite kayak from Advanced Elements. Our selection comes down to two major criteria: weight and performance.
It's hard to argue against a kayak that weighs only 17 pounds. It's pretty much guaranteed that you won't find yourself frustrated just getting to the water with this kayak.
But the Ultralite is also one of the highest-performing inflatable kayaks on the market. It uses aluminum ribs to provide extra rigidity and mimic the performance of comparable hard-sided kayaks.
In short, you won't find the bow of your kayak swinging dramatically from left to right as you paddle the Ultralite. Unfortunately, this is common with many other inflatable kayak models.
We also love the Ultralite because it offers a super comfortable cockpit. If you want an inflatable kayak that offers a dry ride, the high sides on this kayak are just what you're looking for.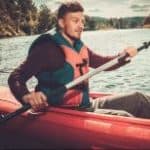 Author: Peter Salisbury
Pete is the Owner of KayakHelp.com. Born and raised in Cleveland, Ohio, he grew up kayaking, fishing, sailing, and partaking in outdoor adventures around the Great Lakes. When he's not out on the water, you can find him skiing in the mountains, reading his favorite books, and spending time with his family.