Transporting a 14-foot touring kayak isn't an easy task at the best of times, even if you happen to have a specific kayak rack, and there are a number of reasons why you might not. Perhaps you've just bought your first kayak and hadn't considered how you were going to transport it home, or perhaps there isn't a kayak rack on the market that fits your car or truck.
Well don't worry, Kayak Help is here to help! We'll show you a quick trick that, with a few easy to obtain supplies, will allow you to securely attach your kayak to the roof of your vehicle in no time at all.    
[toc]
Transporting a Kayak Without a Roof Rack
Things You'll Need
Pool Noodles

: Yes,

pool noodles

, or in fact any form of soft polyurethane tube with a hole in the middle. You can find pool noodles, or similar items, in a range of outdoor stores, supermarkets, and even hardware stores. Make sure the pool noodles you've selected are thick, heavy duty, and are large enough to extend over the width of your vehicle's roof.

Cam Buckle or Ratchet Straps:

Cam buckle or ratchet straps

are long sections of hard wearing nylon attached to adjustable buckles that allow them to be placed around objects and then ratcheted tight to hold the object in place. These straps can be found in hardware or automotive stores and you'll need between two and five sets of them.
Also Read: Best 2 Kayak Roof Racks
Step 1: Place and Secure the Pool Noodles on Top of Your Car
The first step to securing your kayak is make sure the pool noodles are the correct shape for your vehicle. They should sit across the roof without significantly protruding on either side. If there is a lot of noodle sticking out, you'll need to trim it to fit.  
The pool noodles provide a flexible and durable base to rest the kayak on and to protect the roof of your car from accidental abrasion. Place the pool noodles approximately every three feet, depending on the size of your vehicle's roof, making sure you have one in the center and one at both the front and back.
Once the noodles are in place, run one set of your ratchet straps through the hole in the center of the pool noodles and then through the inside of your car, via the open doors, before securing them in place.
How to Attach Pool Noodles to the Roof of Your Car –
Step 2: Lift Your Kayak and Place on Top of the Pool Noodles
Once the pool noodles are secure, you'll need to place you kayak on top of your vehicle. Kayaks, especially the longer touring and sea models, are heavy and unwieldy, so this part is best done with two people.
Flip your kayak over so the cockpit is facing down and with one person on each end, lift the kayak onto your vehicle's roof so that the center of the kayak is resting on the central pool noodle. The pool noodles will stop the kayak from damaging your vehicle while also keeping it in place.
Step 3: Tie down Kayak with Straps
Now that your kayak is in place, it's time to secure it to your vehicle. Open the front and rear doors of your vehicle and pass one set of the ratchet straps over the front of the kayak. Join the straps inside your vehicle and use the cam or ratchet strap to secure it in place. As you're passing the straps through your vehicle, remember to twist them to prevent them from making a high pitched howling sound when you are driving.
Repeat this step with the rear of the kayak. Remember not to tighten the straps too much or they may damage the hull of your kayak and the roof of your car. Make sure the buckles are in an easy to reach place so they can be adjusted on the fly. If you are driving in a colder climate, the straps may loosen and you might need to adjust the straps during your journey.  
Strapping Your Kayak on Top of Your Car
Top Tips on How to Tie a Kayak Down the Right Way
Don't over-tighten the straps. If the straps exert too much pressure on the kayak it may cause it to bow, especially if it's a

plastic hull

. Leaving your kayak bowed for long periods of time can permanently affect the hull and its performance on the water.

Heat and climate can affect your straps. If you are changing from a warm to a cold climate, or have left your ratchet straps out in the rain for an extended period of time, remember to check your straps for any loosening before driving.

Over time, the nylon ends of ratchet straps can fray, making them difficult to pass through the buckle. You can fix this by carefully exposing the frayed end of the strap to an open flame and, without getting it in contact with your skin, applying pressure to it. The melted nylon is relatively easy to push back into shape and will make the straps far more easy to buckle.
Step 4: Secure the Bow and Stern
With the straps secured around the kayak, it is prevented from moving from side-to-side, but now you'll have to prevent it from moving forwards or backwards. The last thing you want is your kayak slipping off the roof if you need to brake suddenly.
To completely secure your 'yak, thread another set of ratchet straps through the front toggles, or carry handles, of the kayak and then secure them to the tie-down spots underneath your vehicle, using either a carabiner or securing hook. You can do the same at the rear using the rear carry handles and the tow bar or towing hooks to secure the straps to.
Conclusion
Learning the best way to transport your kayak to the water is something every 'yaker has to master. Thankfully, with the aid of a few bits of extra gear and little heavy lifting, we've found a quick and easy way to transport your kayak without having to splash out on an expensive car rack.
Once you've followed our easy-to-use guide, and got your kayak up on your pool noodles, remember that the climate can affect how secure your straps are, so make sure you check your buckles regularly and then you can get on with getting out on the water!
More From KayakHelp: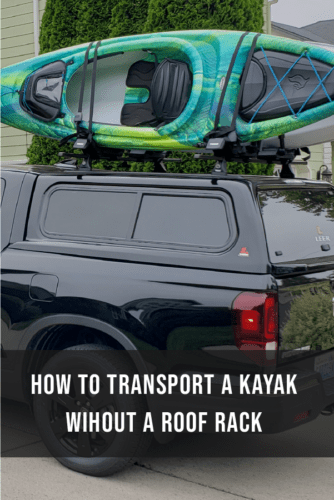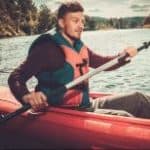 Author: Peter Salisbury
Pete is the Owner of KayakHelp.com. Born and raised in Cleveland, Ohio, he grew up kayaking, fishing, sailing, and partaking in outdoor adventures around the Great Lakes. When he's not out on the water, you can find him skiing in the mountains, reading his favorite books, and spending time with his family.