One of the best things about kayaking is that it can be as strenuous or relaxing as you want it to be. If you're after excitement, then whitewater kayaking is exactly the rush you are looking for.
If you want to slow down and enjoy the scenery, then kayak touring is a great way to take in the sights. Regardless of what kind of kayaking you're into, the best way to kayak is safely, which is why we always recommend you wear personal flotation device and helmet.
A good kayaking helmet can turn a dangerous blow to the head into nothing more than a bruised ego and we think they should be at the top of every paddler's gear list.
Thankfully, there is a huge range of helmets out there to suit every activity and head shape, the only trouble can be knowing which one is the right helmet for you.
To make things simpler we've put together a jargon buster to simplify the more technical terms, a buying guide to let you know exactly what you should be looking for in a kayaking helmet, and reviews of some of the best helmets on the market.
Best Kayak Helmets
Jargon Buster
Acrylonitrile Butadiene Styrene (ABS)
ABS is a thermoplastic, which means that at high temperatures it liquifies rather than igniting and burning. It is often used in kayaking helmets as it can be injection-molded and it's both flexible and durable.
Expanded Polypropylene (EPP)
This is a highly versatile closed-cell foam that provides a large range of properties, including outstanding energy absorption, multiple impact resistance, thermal insulation, buoyancy, water and chemical resistance, exceptionally high strength to weight ratio, and 100% recyclability.
Ethylene-vinyl Acetate (EVA)
Ethylene-vinyl acetate is an elasticized closed-cell foam with rubber-like softness and flexibility. EVA has glossy appearance and is resistant to UV radiation and cracking.
It is also waterproof. While the material does not contain any rubber, it is commonly referred to as
expanded rubber or foam rubber. It is known for its shock absorbing qualities and buoyancy.
Coolmax
This is a brand name high-wicking fabric used primarily in sports clothing for its light weight and ability to disperse moisture across a large surface, allowing body heat to evaporate it and keeping the wearer dry.
Buying Guide
Types of Kayaking Helmets
Half-Cut Helmets
A half-cut, or bowl, helmet sits above the ears to provide protection for the skull and efficient drainage. Half-cut helmets are most often used in kayak touring, sea kayaking, and light whitewater kayaking.
Full-Cut Helmets
A full-cut helmet provides the same protection as a half-cut but extends over the ears.
It has all the benefits of a half-cut helmet but covers more of the back and sides of the skull and provides the added benefit of extra insulation for the ears if you are kayaking in a cold climate.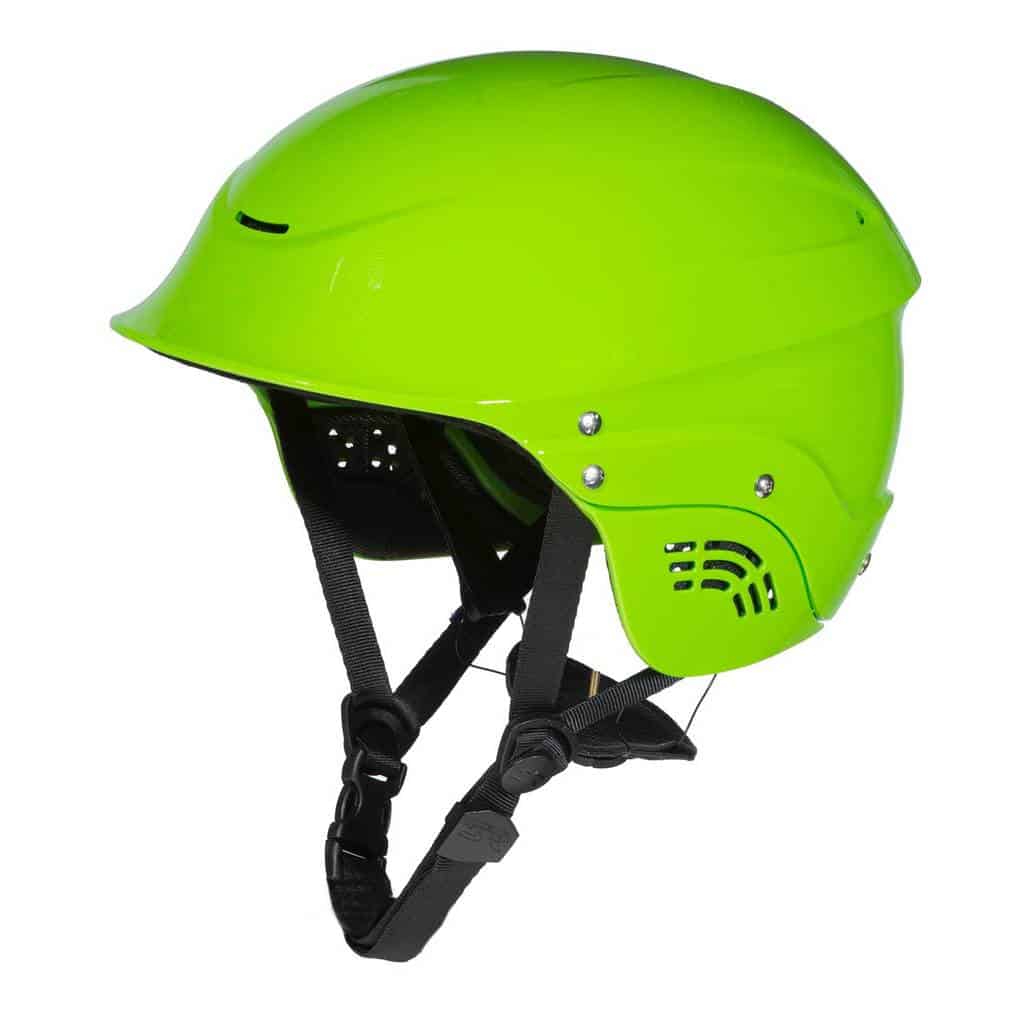 Full-Face Helmets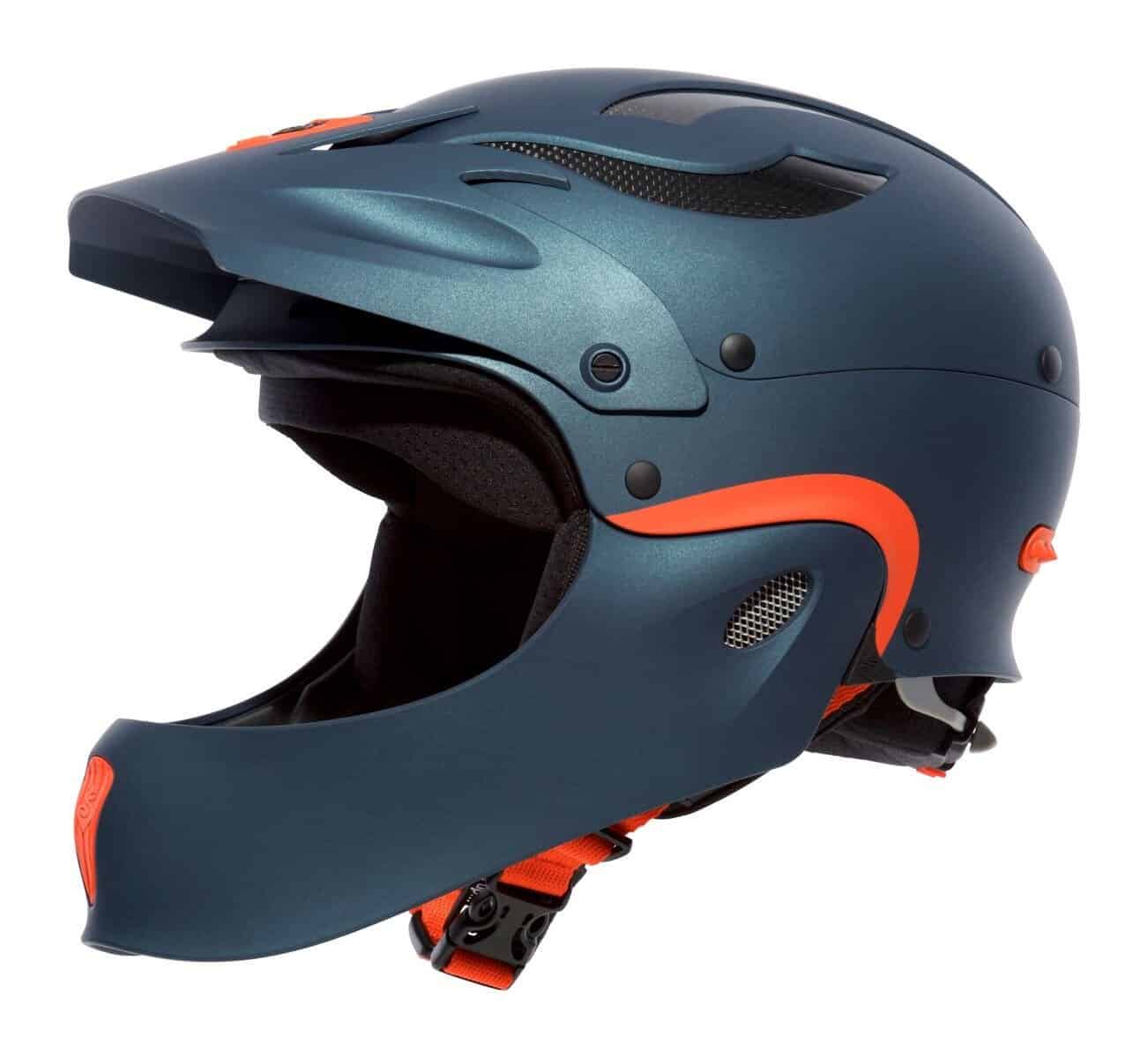 Full-face helmets cover the entire head and lower jaw, providing the greatest protection and coverage of any of the kayaking helmets. They are most often used where there is a high possibility of impact to the head, such as in Class III and above whitewater.
Full-face helmets usually trade off drainage and comfort for protection, so they are best used in situations where that extra protection is warranted.
Consider the Conditions
The type of kayaking helmet you need depends on the type of kayaking your most likely to be doing. If you're considering whitewater kayaking, then a full face helmet will provide greater protection.
If you planning on using a waveski or a play boat to do tricks, then you'll be kicking up a lot of spray so it would be best to have a helmet with plenty of vents to drain out the water.
If you're kayak touring as a group, then a helmet with a thick lining is useful to ward off the occasional blow to the head from an errant paddle.
Make Sure It's Properly Fitted
The utility of a kayaking helmet depends entirely on its fit. If your helmet is poorly fitted then it isn't going to provide the level of protection you are looking for. A well-fitted kayaking helmet should cover the entirety of the head right down to the base of skull.
The helmet should extend out over the ears and the brim or peak should ideally extend beyond the nose. The helmet should fit snugly without being overly tight and the lining should make contact with the head at all points.
Before considering which helmet to buy, it is imperative that you measure your head and compare it to the brim measurement of the helmet to ensure the best fit.
To measure your head, use a flexible tape measure and wrap it around the circumference of your forehead. Keep this measurement in hand when picking a helmet.
Consider the Construction Materials
Much like kayak hulls, kayaking helmets are traditionally made of either composite materials such as kevlar, or injection-molded thermoplastics.
Composite materials are stiffer, lighter, and are normally used in higher-end helmets. Thermoplastics provide much the same level of protection but are more flexible and heavier, and are therefore found on mid- to lower-end helmets.
Check the Retention System
One of the most important parts of a kayaking helmet is the retention system, which needs to be both comfortable and secure. When purchasing a helmet, make sure that the strap has sufficient padding in order to be, and continue to be, comfortable during your paddling.
Look for retention systems that have four or more points of contact, webbing supports, and two or more adjusters to make sure the fit is as close as possible.
Best Kayak Helmet Reviews
Check Price on Amazon
Material:
ABS plastic shell
Weight: 0.92 lbs.
Liner: Closed cell foam
Traditionally associated with surfing, Gath helmets are now used worldwide by marine rescue personnel, professional water sportsmen, and heavy water enthusiasts.
The Gedi emphasises comfort and protection with a high-impact ABS shell that is designed to flex on impact. This flexing absorbs force the same way that crumple zones in cars do, increasing the protection offered without increasing weight or bulk. The Gedi is also fitted with an extra layer of protection for the front of the head.
In addition to protection, the Gedi emphasises comfort, featuring a closed-cell foam liner and head band that can be repositioned to give a personalized and ultra-comfortable fit.
The chin strap is also wrapped with an extra layer of foam to prevent chafing. Removable ear protectors enable the paddler to change between half-cut and full-cut designs, and each ear piece has adjustable audio vents.
PROS
CONS
Summary: The Gedi is an excellent choice if you want maximum protection but don't feel comfortable in a full face helmet. The Gedi's high-impact ABS shell flexes away impacts while the closed-cell foam liner keeps your head safe and the helmet secure.
Check Price on Amazon
Material:
ABS plastic shell
Weight: 0.88 lbs.
Liner: EVA foam
The Tontron Comfy Practical is a fairly standard ABS helmet with a comfortable and secure EVA lining. Closure and adjustment is achieved through a dial system on the back of the helmet.
This system allows the paddler to adjust the fit of their helmet with one hand, meaning they don't have to stow their paddle away to do it. The Comfy Practical's most remarkable feature is the 11 vents that cover its shell, allowing for both ventilation and the shedding of excess water.
This large number of vents makes the Comfy Practical an ideal choice for kayaks, or any paddlesports enthusiasts, who are expecting to kick up a lot of spray, such as playboaters.
PROS
CONS
Summary: The Tontron Comfy Practical is an excellent choice for paddlesports enthusiasts looking for a helmet that will allow them to take part in a range of extreme watersports without getting waterlogged or overly sweaty.
The 11 vents situated across its shell shed excess water and keep your scalp ventilated, regardless of how hard you need to paddle. The one-handed adjuster is ideal for surf kayakers as it allows you to make adjustments to the helmet's fit on the fly, without having to find somewhere to stow your paddle.
Check Price On Amazon
Material:
ABS plastic shell
Weight: 1 lb. (Shipping Weight)
Liner: EPP foam
The NP Surf Helmet is designed to be easy to use, comfortable, light, and adaptable. Weighing only one pound, the Surf is light enough for you to bring it along on every trip.
With an adjustable chin and back of head closure system, the Surf is adaptable enough to fit any head shape, making it ideal for a beginners or club helmet.
A molded-EVA closed ear protector gives you a little extra protection and with its clip-lock system it's easy to attach or remove them.
PROS
CONS
Summary: The NP Surf is designed to be an all-purpose paddle sports helmet. As such, it has a high utility with its optional ear protectors and adjustable closure system, making it a comfortable fit for most heads and activities. If you are looking for a great beginner's helmet, then look no further than the NP Surf.
Material: Injection-molded thermoplastic with carbon fiber
Weight: 1.21 lbs.
Liner: EPP foam
The Sweet Protection Rocker has all the features a paddler might need in a helmet. It combines the elasticity of injection-molded thermoplastic with the rigidity and strength of carbon fiber to deliver outstanding impact resistance.
The shock absorbing EPP foam liner is ideal for use while kayaking where multiple low energy blows are likely to occur, either from river obstacles or other paddlers.
The Rocker has series of lateral vents which provide both ventilation for the scalp and help to drain away excess water. The moisture-wicking Coolmax liner helps to control moisture build up, even during the most serious exercise.
Because of its full-cut design, the Rocker provides great protection for both the back of the skull and the ears while a shatterproof visor protects the eyes and nose.
The Occigrip mechanism allows on-the-fly adjustments, letting the paddler give the Rocker a personalized fit, making it as comfortable as possible. The only downside to the system is that is has only two adjustable fittings, as opposed to the four usually seen on high-end helmets.
PROS
CONS
Summary: What makes the Sweet Protection Rocker our pick of kayaking helmets is its sheer utility.
By combining different construction materials and making sure it prioritizes breathability, comfort, ventilation, and adjustability, the Rocker makes itself the ideal helmet for most kayaking activities.
Material: Injection-molded thermoplastic with carbon fiber
Weight: 1.87 lbs.
Liner: EPP foam
The Rocker Full Face is an upgraded version of the standard Rocker, designed for use in more extreme whitewater environments where extra protection is needed.
It has all the advantages of the Rocker in its construction and fitting, but with more robust protection. If you like the idea of the the Rocker and its many great functions, but are normally facing whitewater of grade III or above, then the Rocker Fullface is ideal.
PROS
CONS
Summary: All the great construction materials and features of the Sweet Protection Rocker, but with more protection and coverage for whitewater enthusiasts.
Material: ABS plastic shell
Weight: 1.75 lbs.
Liner: EVA foam
Traditionally, kayaking helmets are divided into half-cut, full-cut and full-face. The Current Pro increases its utility by filling two of those categories of helmet types.
It does this by using removable ear pieces and a shatterproof brim. Using a snap-lock system, the ear pieces and visor can be easily added or removed on the fly.
The Current is made of lightweight ABS plastic with an EVA foam liner and a polyurethane sub-shell to effectively dissipate impacts.
The interconnected retention system works with adjustable O-brace harness to comfortably cup the head and actively react to hydraulic forces to keep the helmet secure.
PROS
CONS
Summary: The Current Pro is ideal if you want to move between more leisurely kayaking and moderate whitewater. It provides protection and utility by being able to switch roles quickly and efficiently using the Current's snap-lock systems.
WRSI Trident
Material: Carbon composite shell
Weight: 1.45 lbs.
Liner: EVA foam
One of the lightest of the helmets on our list, the WRSI Trident is composed of pure carbon fiber. The sleek styling of the Trident is designed to shed water, while its interconnected retention system reacts to hydraulic pressure to keep the helmet from rotating or being pulled off your head.
If you're looking for a helmet that prioritizes comfort, then the Trident is an ideal choice. It features nine adjustable foam pads, which are attached by a hook and eye system that allows the paddler to achieve a customized fit.
PROS
CONS
Summary: If you a looking for a ultra lightweight helmet with an emphasis on comfort, then the Trident is a fantastic choice. Its sleek shape and interconnected retention system helps it shed water giving it more utility for whitewater kayakers, while the built in peak shields the eyes and protects the nose.
Material: ABS thermoplastic shell with carbon fiber reinforcements
Weight: 0.88 lbs.
Liner: EPP foam
One of the primary features of the Sweet Protection Strutter is that it is constructed by long fiber thermoplastic. LFT technology utilizes a combination of super tough polyamide and long fiberglass injected together.
This results in an ideal combination of elasticity and rigidity, which improves impact resistance in a low volume helmet.
Complimenting the LFT is a carbon fiber reinforced polymer which has an incredible strength to weight ratio, rigidity, and impact performance.
If you're looking for a low-volume helmet that you can rely on to give you excellent protection, then the Strutter is an excellent choice.
PROS
CONS
Summary: The Strutter is ideal for a kayaker looking to keep their gear light and need a low-weight, low-volume solution to keeping their head safe. The high technology construction of the Strutter allows it to seamlessly blend protection and portability.
Material: ABS thermoplastic shell with carbon fiber reinforcements
Weight: 1.21 lbs.
Liner: EPP foam
Combining hard wearing ABS thermoplastic and rigid carbon fiber, the Sweet Protection Wanderer is a classic full-cut design usable for everyday kayaking.
Fitted with four vents, the Wanderer keeps you cool even as you are paddling hard. The molded Expanded Polypropylene (EPP) liner is extremely durable and has high-level shock absorbing properties to let you shrug off the knocks.
Much like the Rocker, the Wanderer is fitted with the Occigrip retention system which provides a firm and comfortable fit, and prevents the helmet from rotating on your head.
PROS
CONS
Summary: The Wanderer is a fantastic baseline helmet for everyday kayaking use. If you are looking for a helmet that can handle most kayaking conditions, except for moderate whitewater or higher, then the Wanderer makes and excellent choice.
The best kayaking helmets are built on three pillars: comfort, security, and utility. The Sweet Protection Rocker is our choice because it excels in all three of those pillars.
From a comfort point of view, its lateral vents provide both ventilation for the scalp and help to drain away excess water, while a moisture-wicking Coolmax liner helps to control moisture build-up.
Security is provided by a cushioning EPP foam lining coupled with a lightweight but solid impact resistant shell that combines the elasticity of injection-molded thermoplastic with the rigidity and strength of carbon fiber.
Finally, the Rocker is extremely versatile, with its half-cut design and shatterproof visor providing the stability and protection needed for whitewater running, while not compromising the comfort needed for everyday wear.
If you're looking for a helmet that meets comfort, stability, and utility, look no further than the Sweet Protection Rocker!

Author: John McCloy
John is a professional copywriter, fencer, and paddlesports fanatic based in the UK. When he's not out on the water, he can usually be found convincing new people to try kayaking, pretending to be Zorro or climbing what passes for mountains in England.