If you want to feel like you're the only person on the water, a night paddle is the answer! It's one of the few times that you can have some of the country's most popular recreational lakes all to yourself.
Kayakers almost always need to make sure that they are visible to other boaters. This is true whether you're heading out for a paddle during the day or at night.
If you're an avid kayak angler, you probably know that certain fish species are more active at night than they are during the day. But once you have a fish on, you'll need a little extra light to handle the next steps.
Whether you're a recreational kayaker or an experienced angler, a kayak light is an essential addition to your gear arsenal. For starters, it'll make it much easier to paddle more during low light conditions.
But when it comes to your safety, kayakers are legally required to have some form of light on their watercraft when paddling at night. These regulations differ from state-to-state, but you'll definitely need some form of kayak light for night paddles, regardless of where you live. 
Jargon Buster
Honestly, kayak lights are pretty simple. But there are several important terms you're going to run into in the rest of this article that we'd like to take a few moments to define here!
LED
LED stands for 'light-emitting diode'. Originally, these lights were very expensive when they first started being used in the 1960s. 
Over the years, however, technology has advanced and LED lights have become much more affordable. They are also one of the more efficient lighting sources out there, which is why kayak lights employ them almost exclusively.
Diffusion Lens
A diffusion lens scatters light while also making it softer. This type of lens is often used in kayak lights because it makes the LED light more visible and also helps to avoid blinding any approaching watercraft by softening the light.
Clamp Mounts
Clamp mounts are one method for securing a light to your kayak. They are usually designed to be placed over the gunwales of your kayak and then screw or otherwise tighten in place.
Port and Starboard
Port and starboard refer to the sides of a watercraft. While the sides of a kayak are called the 'gunwales', port and starboard are used to signal which side you're referring to.
They are used more on large aircraft carriers and naval ships to avoid confusion because not all crew members will be facing the bow (front) of the ship when directions are given.
Port and starboard always refer to the same side of the ship and don't change based on which direction you're facing and there's actually a short and interesting story of how port and starboard got their names!
You'll see these terms used with some kayak lights to help you decide where to mount them. When you're facing the bow of your kayak, the port side is to your left and the starboard side is to your right.
One way to remember this and keep it straight is to remember that "port" and "left" contain the same number of letters. By process of elimination, the starboard side is then the opposite!
Buying Guide
Fortunately, kayak lights aren't as feature-heavy as some other kayak accessories. Nevertheless, we'll use this section to dive into the most important considerations when you're choosing a kayak light.
Light Types
Kayak lights can largely be broken down into two types. There are handheld kayak lights and lights that are designed to be mounted to the deck of your kayak (i.e. deck mounted lights).
Handheld
Handheld kayak lights are much smaller than their deck-mounted counterparts, on average. Despite their name, most of them come with some form of cord or clip that allows you to attach it to your kayak or PFD.
The main advantage of a handheld kayak light is its weight and compact design. This type of light is easy to attach to your desired location and it won't get in your way as you paddle.
Deck Mounted
Deck mounted kayak lights attach to the deck of your kayak using a variety of mechanisms. Some come with clamp mounts and others utilize suction cup technology to secure in place.
The major advantage of a deck-mounted kayak light is that it can provide 360-degree visibility. This is an ability that most handheld kayak lights simply cannot match.
Mounting Systems
As we just mentioned, most kayak lights either mount to your vessel using suction cup technology or clamp mounts. But some are compatible with a GearTrac or mounting accessory.
Suction Mounting
Suction mounting kayak lights are lightweight and easy to use. Many suction-mounted kayak lights are also among the most affordable kayak light options available.
The downside of suction mounted kayak lights, however, is their tendency to lose their suction over time. Many suction mounted kayak lights also have trouble with porous, uneven, or dirty surfaces.
Clamp Mounts
Clamp mounted kayak lights offer the best grip strength of all types of mounting systems. They're most likely to remain in place, regardless of the conditions that you encounter on the water (or while dragging your kayak up onto the shore).
But on the other hand, clamp mounted kayak lights tend to be heavier and bulkier than their suction mounted brethren. This makes them less-than-ideal for long-distance paddling trips.
GearTrac
The GearTrac option provides far more versatility than suction mounted and clamp mounted varieties. This is the best option for anyone who wants the ultimate freedom to customize their kayak light setup.
The downside of a GearTrac, however, is that it requires a screw-in mounting plate to secure in place. Only the most experienced kayakers will feel comfortable drilling into their kayak to install a GearTrac because you must be sure to reseal those holes once the GearTrac is installed.
Is It Waterproof?
It should be pretty obvious that a light made for kayaking should be waterproof. But there are, of course, varying degrees of waterproofing and not all kayak lights are created equal on this front.
For starters, you'll be hard-pressed to find a kayak light that's not rated to withstand submersions of at least one meter in depth. However, there are many kayak lights out there that are capable of withstanding submersions down to some very extreme depths.
While you might not worry about retrieving a kayak light that gets lost in more than 100 feet of water, there are certainly some that can withstand such submersions. And if you live in a particularly rainy area, this degree of waterproofing can be essential to keeping your kayak light functional.
Before you browse through the kayak light options below, take some time to familiarize yourself with the IP Waterproof Rating System. This is a widely-used standard for rating the degree of 'Ingress Protection' for waterproof phone cases, dry bags, and other items that you might rely on to stay dry!
Best Kayak Lights Reviews
Check Price on Amazon
The YakAttack VISICarbon Pro 360 is both a flag and an LED light all-in-one. This is a great solution to attach to your kayak and improve your visibility, both during the day and at night.
This kayak light is equipped with SilentSlip foam on the handle. This allows it to fit seamlessly into most flush-mount and tubular fishing rod holders.
The flagpole on this light extends to 48" and collapses to just 14" when you don't need it. It is also compatible with YakAttack MightyMount and GearTrac technology, although those accessories aren't included in the package.
The light on the VISICarbon Pro 360 is an LED that uses AAA batteries. It will last up to 100 hours on a single set of batteries and the light itself has a life up to 10,000 hours.
Check Price on Amazon
The Kayalu Kayalite is equipped with a bright white LED light that has a titanium-infused diffusion lens. This light will last up to 100 hours on three AA alkaline batteries.
This kayak light is made entirely of marine-grade components. It is a buoyant light that can withstand the pressure of being submerged up to 1000 feet.
The Kayalite can attach to your kayak in multiple ways. You can use the light's steel clip and nylon-coated tensioning cable to attach it to an eyelet or pad eye on the deck of your kayak.
If your kayak doesn't have an eyelet handy where you want your light, the Kayalite can be paired with Kayalu's Stainless Steel Eyebolt Kit or Kayalite/Eyebolt combo pack. This will allow you to secure it to your kayak for your next nighttime outing.
Check Price on Amazon
The Portable LED Bow Light from Innovative Lighting can mount to the bow of your kayak to help you navigate and improve your visibility on the water. This light uses suction-cup technology to secure to the deck of your kayak.
This kayak light features molded, one-piece construction that reduces the number of parts that can wear or break down over time. It is also equipped with shock-proof neoprene accents that improve this light's overall durability.
The multi-colored LED bulb used in this light is rated to last up to 100,000 hours. The light itself runs on four AA batteries, which are not included in the package.
The Portable LED Bow Light is designed to use 90% less energy than similar incandescent lights. The neoprene accents on this light also make it waterproof!
Check Price on Amazon
The UST See-Me 1.0 is a handheld kayak light that is best to attach to your PFD or the handle of your kayak. At less than five inches long and one inch wide, it's one of the most compact kayak lights on our list.
This kayak light is equipped with a 20-lumen LED bulb that runs on two AAA batteries. The casing that protects the light's LED bulb is rated to be waterproof for submersions up to 1 meter.
The entire bulb and its casing weigh a total of just 1.8 ounces. This light easily secures to your desired location using a lanyard cord with hook-and-loop closure.
The UST See-Me 1.0 is outfitted with an "unbreakable" casing and the bulb itself will last up to 17 hours. The light easily turns on and off with a twist-on cap and the light is bright enough to remain visible at distances up to 3.4 miles on a clear night.
Check Price on Amazon
The Portable LED light from Shoreline Marine features great craftsmanship. This is a clamp-on style of kayak light that comes with all the hardware you need to attach the clamp mounts to your kayak.
Because it comes with dual clamp mounts, this kayak light can be attached either to the bow or stern of your kayak. It actually comes with two lights (red and white) so that you can mark both ends of your watercraft.
Both of the lights run on three AAA batteries that are not included. The LED bulbs draw a very low amperage so that they boast an exceptionally long battery life.
The Shoreline Marine Portable kayak light makes it easy to add a permanent light to your small watercraft. The craftsmanship will help this light have a long life and it can also be a great gift for a loved one!
Conclusion
So these are some of the best kayak lights for night paddling and fishing.
Go through each of them to find out which one suits you the best.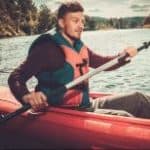 Author: Peter Salisbury
Pete is the Owner of KayakHelp.com. Born and raised in Cleveland, Ohio, he grew up kayaking, fishing, sailing, and partaking in outdoor adventures around the Great Lakes. When he's not out on the water, you can find him skiing in the mountains, reading his favorite books, and spending time with his family.