We've all heard those exaggerated fishing stories where the fish seems to get one or two inches larger every time the story is told. But if you have a fishing partner along, you won't have to be the only one telling that story.
Besides verifying your record-breaking catch, having a fishing buddy along has its benefits for your safety. You can never quite know when things might go sideways (or upside down!) on your fishing trip, and when that happens it's always good to have someone to help you through it.
There are many great tandem fishing kayaks out there that are stable enough for two grown adults to fish from. That's true even if you both want to fish from the standing position for added visibility.
In this article, we're going to highlight ten of the best tandem fishing kayaks and their features. We'll also provide a thorough buying guide to help you narrow down your choices and define some key terms related to fishing kayaks in our 'Jargon Buster' section.
Jargon Buster

Before we get into our tandem fishing kayak buying guide and the specific reviews of the best tandem fishing kayaks, let's take some time to define several of the key terms you'll run into later in this article.
Rod Holders
Rod holders give you a place to keep extra rod and reel combinations strung up with different baits. They are usually either flush-mounted to the deck of the kayak or articulating so you can change your fishing angle.
Gunwales
Gunwales are the fancy kayaking term for the sides of the kayak. This is where features like handles, paddle rests, and sometimes rod holders are located.
Pedal Drive
Pedal drive is a propulsion system that relies on fins that extend below the hull of your kayak. When sitting in the kayak, you'll have pedals in front of each seat that allow you to power the kayak forward with your legs, instead of your arms.
Buying Guide
Ultimately, the tandem fishing kayak that's best for you depends on a number of factors that are unique to YOU! In this section, we'll provide some things to think about as you narrow down your options!
Length And Width
These two measurements are mainly responsible for the stability of a fishing kayak. In general, a longer and wider kayak is going to provide you with a more stable platform from which to fish.
But length and width should be considered in 'tandem'! A shorter, wider kayak will often be more stable than a longer, skinnier kayak, so keep both of these measurements in mind when you're evaluating stability.
Elevated Seats
Many anglers know the advantages of an elevated vantage point. And while you might have the goal of eventually fishing from the standing position in your kayak, it might take some time to work up to that level of comfort.
So make sure you look for a fishing kayak with elevated seats. This will give you the elevated vantage point from which to view fish behavior even before you find the balance and comfort to fish from a standing position.
Rod Holders
For many anglers, more rod holders just means more adaptability. As you gain skills and learn more about what fish are biting at different times of the day, you'll probably start to bring more rod and reel combinations with you.
Having multiple fishing rod holders on board allows you to grab and fish, rather than having to change your setup every time you want to change your approach. This saves you a lot of time on the water and keeps you actually fishing, which is probably your goal anyway!
Versatility
A good fishing kayak can adapt to changing conditions. Whether it's the ability to customize your setup with new accessories or have plenty of storage space in the kayak hatches, you should look for features that allow you to remain versatile on the water.
One of these exceptional features is a pedal drive propulsion system, which allows you to power your kayak with your legs instead of your arms. This allows you to keep your hands free to stay fishing and also reduces arm fatigue on long days on the water.
Tandem Fishing Kayak Reviews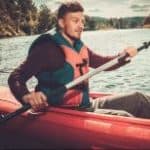 Author: Peter Salisbury
Pete is the Owner of KayakHelp.com. Born and raised in Cleveland, Ohio, he grew up kayaking, fishing, sailing, and partaking in outdoor adventures around the Great Lakes. When he's not out on the water, you can find him skiing in the mountains, reading his favorite books, and spending time with his family.