Even the most experienced kayakers don't necessarily enjoy loading their kayak onto their vehicle every time they want to go for a paddle. For many, that leaves us thinking that there must be a better way.
Fortunately, a few manufacturers have made easy load kayak roof racks to help solve this dilemma. These racks make it much easier to roll or lift a kayak up onto the top of your vehicle before securing it down and driving away.
As you can see from the photo above, some of these racks only require you to lift your kayak to about half the normal height in order to get it onto your roof. This not only puts less stress on your body but also reduces the possibility of damaging your kayak while loading and unloading it.
In this guide, we are going to provide in-depth reviews of several easy load kayak racks. We will also supply you with a thorough easy load kayak roof rack buyer's guide that covers everything you need to know about selecting one of these racks for your vehicle.
So let's get started!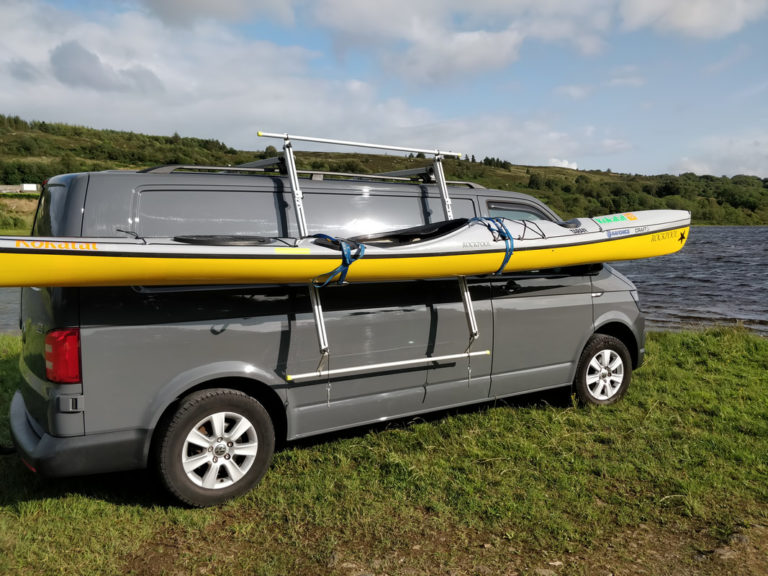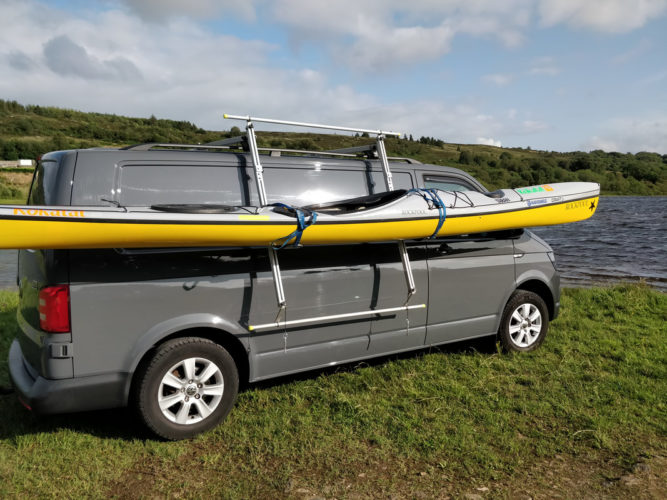 Thumbnail
Title
INNO INA453 Rooftop Cargo Rack Kayak Lifter
Malone Downloader Folding J-Style Universal Car Rack Kayak Carrier with Bow and Stern Lines
YAKIMA - Ladder Roller, Truck Rack Accessory, T-Slot Mounted Load Assist Roller
Seattle Sports Sherpak Suction Boat Roller Load Assist for Mounting Kayaks and Canoes to Car Tops, One Size, Silver, 1-Pack
Codinter Kayak Roller, Kayak Load Assist with Heavy-Duty Suction Cups Mount
Thumbnail
Title
Malone Downloader Folding J-Style Universal Car Rack Kayak Carrier with Bow and Stern Lines
Thumbnail
Title
YAKIMA - Ladder Roller, Truck Rack Accessory, T-Slot Mounted Load Assist Roller
Thumbnail
Title
Seattle Sports Sherpak Suction Boat Roller Load Assist for Mounting Kayaks and Canoes to Car Tops, One Size, Silver, 1-Pack
Best Easy Load Kayak Roof Racks
Thule Hullavator Pro
INNO INA453 Rooftop Cargo Kayak Lifter
Malone Telos XL Load Assist Module with Malone J-Loader
Yakima Ladder Roller
Best Marine Kayak Roof Rack Roller
Seattle Sports Sherpak Suction Boat Roller Load Assist
Malone Channel Loader
Roof Rack Buyer's Guide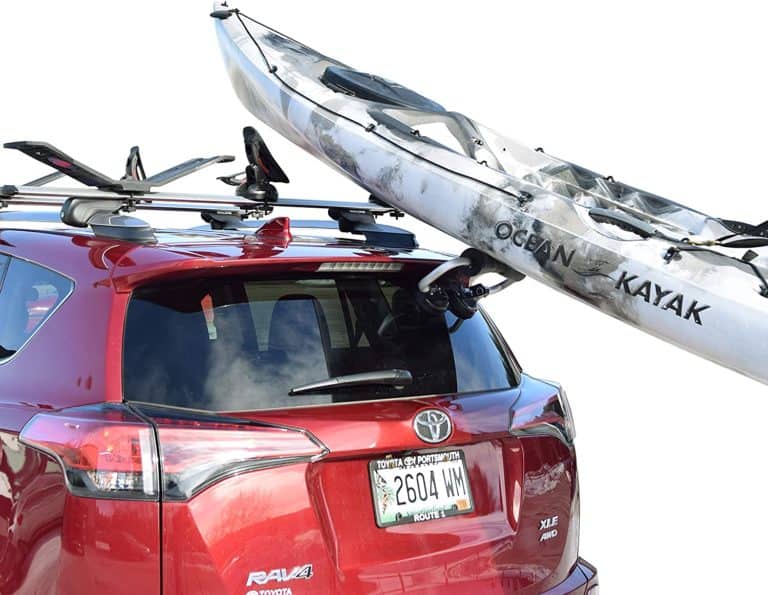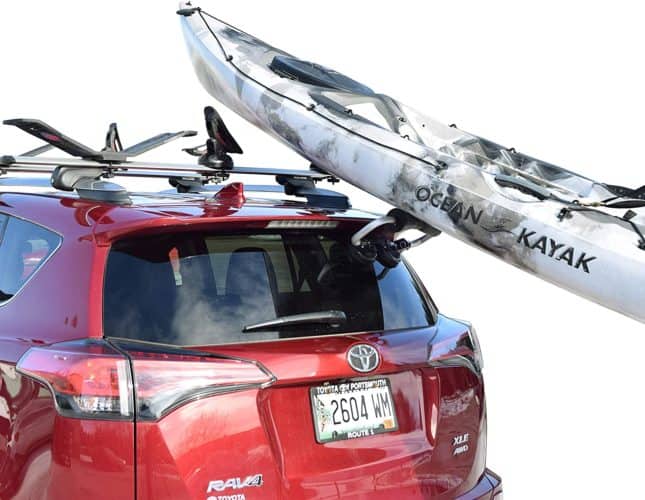 Before we get into our reviews of some of the best easy load kayak roof racks on the market today, let's discuss some of the most important features and specifications of these racks.
Keep in mind that you may prioritize these factors in a different order than we have presented them here. Ultimately, your personal preferences, kayak size, and loading technique will help you hone in on the best easy load kayak rack for your needs.
Your Crossbars
The first thing you should look at before you buy one of these racks is the type of crossbars you already have installed on your vehicle. If you don't have crossbars already installed, you are going to need them, or you'll need to know how to transport a kayak without a roof rack.
Kayaks can be loaded directly onto the crossbars of a vehicle without having to worry about installing a J-style or V-shaped kayak rack. We also highly recommend loading a kayak onto crossbars instead of directly onto the roof of your vehicle, as this will protect your vehicle and your kayak from damage.
There are several different shapes of crossbars out there these days, however. The most common types are round bars, square bars, and oval-shaped bars, but there are also several others that can come factory-installed on some vehicles.
So the logical place to start is to assess the shape of your crossbars. Knowing this will help you ensure that the easy load kayak roof rack you choose comes with brackets that allow it to be mounted to the specific shape of the crossbars on your vehicle.
Also Read: Best Kayak Carts, Wheels, & Trolleys
Your Kayak (Or Kayaks)
The weight of your kayak should also be considered when you are narrowing down your choices for an easy load kayak roof rack. Because some of these racks extend off the side of your vehicle and hang down to make loading easier, they don't always support a ton of weight.
To be clear, the highest weight capacity we've seen for one of these lift-assist racks is about 80 pounds. Some of the kayak rollers for easy loading can support more weight, so those of you with one of the best fishing kayaks that weigh over 100 pounds may need to look into that type of easy load rack.
That said, if your kayak is under about 75 pounds, there are plenty of options for you in the way of easy load kayak roof racks. Some of them can even reduce the weight you have to lift to load your kayak by as much as 50 percent!
Additionally, however, you should be aware that most of these easy load kayak roof racks are designed for a single kayak. Of course, you can decide to purchase a pair and install both on your crossbars, provided they are long enough.
Some of the rear window or hatchback-mounted kayak rollers can also be easily moved for loading multiple kayaks on J-style roof racks. Just keep in mind that they will need to be relocated between kayaks if used for transporting two kayaks.
Unfortunately, there aren't many easy load kayak roof racks we could find that are specifically designed for loading and securing two kayaks. If you do need to transport two kayaks most of the time, however, we recommend checking out our article on the 10 best 2-kayak roof racks.
Your Vehicle
Next, let's talk a little bit about your vehicle and how you normally load your kayak onto it. Of course, if you have one of the best kayak trailers, you probably don't even need an easy load roof rack.
For the rest of you, some of these racks are better for smaller sedans and SUVs while others are designed for larger trucks. For each review below, we've recommended the type of vehicle that the rack would be best for, so keep a close eye on this.
Some of the best models out there are actually for SUVs and they make it easier to load your kayak from the driver or passenger side of the vehicle without scratching or rubbing the kayak directly against the vehicle.
Some of the other options we've included are designed for folks that typically load their kayak from the rear of their vehicle. So, the best rack solution for you will, in many ways, depend on the height of your vehicle and the process you are already using to load and unload kayaks onto the roof.
Frequency of Use
You also need to consider how often you load and unload kayaks for paddle trips. For those of you that paddle several times a week, you will want an easy load rack that can be installed once and remain in place permanently.
Others that only kayak once a month or on special occasions may prefer a rack that can only be installed when you absolutely need to use it. Fortunately, there are options for paddlers that paddle multiple times a week and those that only paddle a few times a year.
Some of the racks below are designed to remain in your vehicle (or garage) until you need to load or unload your kayak. When your need arises, they can be temporarily attached to your crossbars to make loading and unloading easier.
Others are designed to be more permanently attached to your crossbars or to the rear window (or door) of your vehicle. Many of these models feature a low-profile design that will have a minimal impact on your vehicle's fuel economy if you are driving around with it even when you aren't transporting kayaks.
Budget
The last thing you should consider is how much you are willing to spend to make your life loading and unloading kayaks much easier. In some ways, this can be tied to the frequency with which you will be using your new rack.
The best easy load kayak roof racks out there can cost more than $600. On the other hand, the more budget-friendly options on our list have price tags less than $100.
Ultimately, the amount you are willing to spend is up to you. If you load and unload your kayak onto your vehicle multiple times a week, however, a higher-priced roof rack is going to pay for itself much more quickly than for someone that only uses it once a month at most.
Kayak Roof Rack Reviews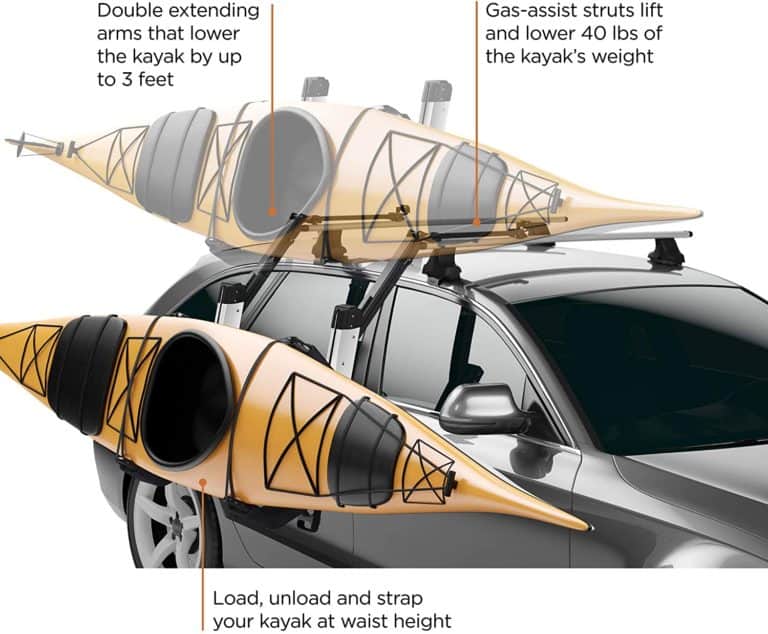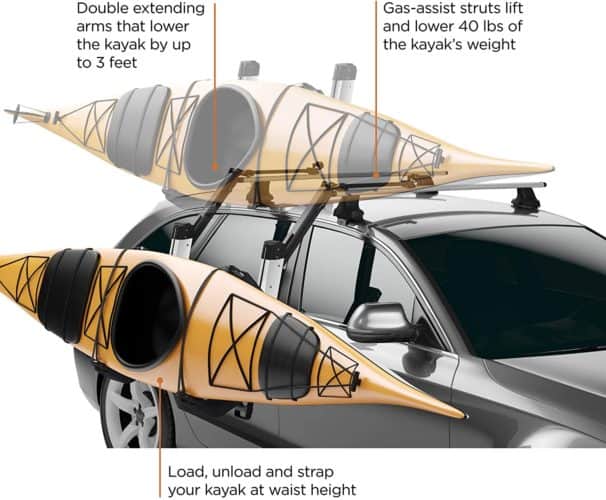 There really is no beating the Thule Hullavator Pro easy load kayak roof rack. It's number one on our list and number one in our hearts.
These racks attach directly to the existing crossbars on the roof of your car, truck, or SUV. Eight touchpoints provided padded support for your kayak's entire hull and the racks come down to waist height to reduce how far you need to lift your kayak by as much as three feet.
The cradles on the top portion of the rack are made of corrosion-resistant aluminum and double-coated steel. This allows the rack to be used in saltwater as well as freshwater environments and it provides a durable, longer-lasting rack than the competition.
The outer arms of the kayak cradles can also be adjusted to fit the specific width of your kayak. Gas lift-assist struts are responsible for raising and lowering the racks to support up to 40 pounds of your kayak's weight.
To be clear, these racks can be used with kayaks that weigh more than 40 pounds. They can actually handle kayaks that weigh up to 75 pounds.
From a functional perspective, however, the racks support the initial 40 pounds of kayak weight and you will need the strength to lift the remaining weight onto the roof of your vehicle, but that's still reducing the weight of a 75-pound kayak by more than half!
The Hullavator Pro is made for transporting a single kayak and it also comes with Thule's QuickDraw bow and stern tie-downs to provide more security for longer kayaks.
Check Price on Amazon
The Inno
INA453
Rooftop Cargo Kayak Lifter also requires a vehicle that already has factory-installed or aftermarket crossbars installed on the roof. It's compatible with square and round crossbars.
This kayak lifter is installed on the end of your crossbars running parallel with your vehicle. You should install it on whichever side you prefer to load and unload your kayaks from.
The essence of this easy load kayak rack is to prevent your kayak from rubbing, hitting, or scraping against the side of your vehicle during loading and unloading. It provides a swing-out arm that supports the weight of the bow or stern of your kayak and keeps it at a healthy distance away from your kayak.
To use it, you will still need to lift one end of your kayak all the way up to the height of your vehicle's roof. But you can then rest that end of your kayak on the lifter while you take a brief break and prepare to lift and slide your kayak up the rest of the way.
The bar that swings out from this rack secures to the other bar using a secure strap when it's not in use. Plus, it extends up to 28 inches away from your vehicle to give you plenty of room to keep your kayak from scratching your car or truck.
For a quick demo on how this easy load kayak roof rack works, check out the video below!
Check Price on Amazon
So, this photo may not really do this easy load kayak rack justice (because they kind of look like stilts or pogo sticks here). That said, they are designed to temporarily attach to the Malone J-Loader rack to provide an easier kayak loading experience.
When you have the J-loaders (or several other compatible Malone roof racks) installed on the crossbars of your vehicle, the load assist module attaches to them and then extends down to the ground at an angle.
Once they are attached, your kayak can be loaded onto the assist arms and then slid down until it is at a more manageable height for unloading. The same can be done in reverse when you need to load your kayak back up.
While the operation of this easy load kayak rack is a bit more clunky than the Hullavator Pro (due to the lack of gas lift-assist struts), it's also a much more budget-friendly choice.
It still supports kayak weights up to 70 pounds and it's made with corrosion-resistant aluminum and coated steel. The lift-assist arms are also a total of 60 inches in length, which makes this a more appropriate choice for smaller cars and SUVs.
To cover all of our bases, the Malone Telos XL system is also compatible with Malone's Downloader and SeaWing kayak racks.
For a quick reference on how this kayak rack actually looks when it's in action, check out this video!
Check Price on Amazon
This one is a super simple design that's made for trucks with a bed-mounted or camper shell-mounted rack system. The roller attaches to the rear crossbar to make it easier to roll your kayak up and onto your crossbars from the rear of your vehicle.
This is often the easiest approach for loading a kayak onto a truck because it allows you to lift the bow up onto the rear crossbar first. Then, you can take a quick break before lifting the stern of your kayak and sliding it forward.
But the coated material that most roof rack crossbars are made from doesn't always make it easy to slide a kayak across them. So Yakima came in with this easy load kayak roller to smooth the entire process out.
The only problem with this loader is the brackets used to secure it to your crossbars. It requires either Yakima's HD Bar or another T-slot crossbar to be secured properly, and T-slot crossbars are slightly harder to find than other crossbar types.
That said, the 24-inch footprint of this roller provides plenty of space to load most kayaks. It also includes guide brackets on either end of the roller to keep your kayak lined up with the roller during loading and unloading.
Check Price on Amazon
The last three easy load racks on our list all feature essentially the same style. They mount on the rear of smaller cars and SUVs to make it easier to roll (or slide) your kayak up onto your vehicle's crossbars from the rear.
The SELEWARE Innovative kayak and boat roller is made for hatchback SUVs and attaches to the rear door using two large suction cups. It supports weights up to 170 pounds and is made with 8-millimeter thick steel rods and four nylon-molded bushings that rotate freely to allow easy loading and unloading of your kayak(s).
The support rod across the top of the roller is just over 14 inches wide, which provides plenty of support for most kayaks. Plus, the angle of the entire roller can be adjusted to two different positions so that it works with most vehicle types.
Just keep in mind that this easy load rack (like most suction-cup racks) requires the rear window of your vehicle to be very clean before installing it. This will guarantee more effective suction and reduce the possibility of the roller dislodging while you are trying to load or unload your kayak.
Check Price on Amazon
The Seattle Sports Sherpak also features a free-spinning roller that's cushioned to support your kayak during loading and unloading. This one, however, secures to the rear window of your vehicle using suction cups.
That means it will work on a wider variety of vehicles that can't support the hatchback-style rack above. The Sherpak also allows you to adjust the angle of the roller to two different positions so that you can find the best one for your specific vehicle.
Unfortunately, this roller doesn't come with an advertised weight capacity, but previous users have reported loading kayaks up to 53 pounds without an issue. One problem that users have experienced with this rack, however, is that the suction cups can come loose over time.
In order to guarantee a strong suction connection, you should ensure that the rear window of your vehicle is clean and thoroughly dried before installing the Sherpak kayak roller.
Check Price on Amazon
The Malone Channel Loader is another suction-cup kayak roller for installation on the rear window of your vehicle. It can be installed in seconds, but it also requires a completely clean and dry window for a strong suction connection.
This roller can be adjusted to a total of three different positions, which makes it compatible with most hatchbacks, sedans, and SUVs. It can also be removed and stored in the trunk of your vehicle when you aren't using it.
The Malone Loader is made of corrosion-resistant materials and features a taller frame that allows it to work with vehicles that have a spoiler over the rear window. While it doesn't have an advertised weight capacity, users with kayaks over 60 pounds have reported the suction cups came unstuck when they attempted to load their kayak.
The Thule Hullavator Pro is our pick for the best easy load kayak roof rack because it's one of the few that can support more than 50 percent of your kayak's total weight. It also reduces the amount you need to lift your kayak by as much as three feet, which is more than most of its competitors.
To be clear, this roof rack is made to be installed on existing crossbars on the top of your vehicle. As you might expect, it's also primarily compatible with Thule crossbars only, although you may find some off-brand crossbars that it will work with.
To provide a quick reference, this rack is compatible with Thule's WingBar Evo, AeroBlade, SquareBar, ProBar, XSporter Pro, TracRac Truck, and TracRac Van roof crossbars.
Because the rack secures to the bars with relatively straightforward mounting brackets, however, we're confident that this rack will work with other square, round, and oval-shaped crossbars as well.
When it comes to the quality of its construction and how easy it is to use, none of the other racks out there can compete with the Thule Hullavator Pro!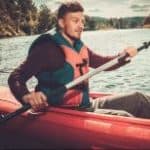 Author: Peter Salisbury
Pete is the Owner of KayakHelp.com. Born and raised in Cleveland, Ohio, he grew up kayaking, fishing, sailing, and partaking in outdoor adventures around the Great Lakes. When he's not out on the water, you can find him skiing in the mountains, reading his favorite books, and spending time with his family.