Getting out onto the water in your fishing kayak can be hard enough, so you should do everything in your power to make sure you find fish once you're there.
One of the best portable kayak fish finders will help you do just that.
Down imaging and mapping are great tools to have at your disposal when you are trying to locate fish. While some experienced anglers might claim that using a fish finder is cheating, there's nothing wrong with making the most of the tools at your disposal.
For those of you looking for a great gift for the kayak angler in your life, a fish finder is a great option. You will need to find one that fits their stable fishing kayak and can be mounted without too much effort but, fortunately, we have plenty of options for you today.
Keep in mind that these fish finders vary greatly in price, design, and durability. If you (or the person you're shopping for) are new to kayaking, there's nothing wrong with a lower-priced model to get started.
For experienced anglers, however, those cheaper models aren't really going to add to your kayak fishing arsenal. So it may be worth it for you to spend a little more for a unit that is actually going to prove useful once you're out.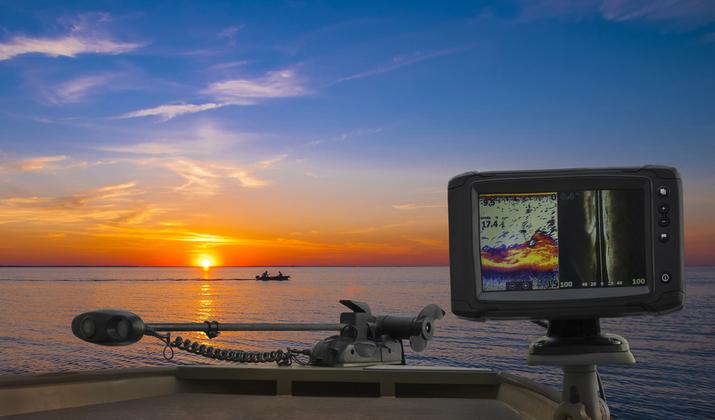 Photo by FedBul via Shutterstock
Best Portable Kayak Fish Finders
Garmin ECHOMAP UHD 73sv
Raymarine Element 7 HV
Lowrance Elite FS 9
Garmin Striker Vivid 7sv
Lowrance Hook Reveal 7
Humminbird Helix 5
Lowrance Hook Reveal 5
Garmin Striker 4
Venterior Rechargeable Fish Finder
HawkEye FishTrax 1C
Deeper Chirp 2
Lowrance Hook 2
Humminbird PIRANHAMAX 4 DI
LUCKY Portable Fish Finder
Raymarine Dragonfly 7 Pro
Kayak Fish Finder Buying Guide
Photo by Lutsenko_Oleksandr via Shutterstock
Before you peruse the fish finders below, it is best to take some time to consider what exactly you're looking for in this kayak fishing accessory. All anglers are a little different, so you can choose which of these factors hold the most weight for you in your decision-making process.
How Will You Mount It?
The obvious place to begin is to visualize what your fish finder will look like once it's mounted to your kayak. While you can get creative with a DIY mount, the easiest course of action is to find a fish finder that is compatible with the mounting system already on your kayak.
Some lightweight fishing kayaks feature gear tracks that allow compatible mounting hardware to slide in and lock into place. Others will have holes or hard points already secured to the deck of the kayak for mounting accessories.
Still others will require some sort of sticky or suction-cup mount that will adhere right to your plastic kayak. Finally, the most labor-intensive mounting option requires drilling into the body of your kayak, securing your fish finder, and then making sure it is resealed once again.
All of these are options and your choice depends on your preference. If you are okay with mounting your fish finder wherever your kayak's current mounting points or gear tracks are located, that will be an easy way to go.
However, if you are particular about your fish finder being set up in a location where there currently are no mounting points or gear tracks available, you may be in for a little more work to get your fish finder situated where you want it.
How Deep Will You Fish?
The depth of the waters you intend to fish will play a large role in whether you choose a fish finder with down imaging or side imaging. So let's talk a little bit more about these two imaging types and their pros and cons.
Units with down imaging tend to be better suited for deep water fishing. The transducers in down imaging fish finders emit and direct sonar waves downward to provide better imaging of what's swimming down in the depths.
On the other hand, fish finders that primarily rely on side imaging are ideal if you are fishing in shallower waters (aka blue-gill and bass fishing). These units direct sonar waves to the sides of your kayak to provide a wider field of view.
How Long Will You Stay Out?
Another consideration will be the length of time you typically stay out hunting for your catch. Battery life is limited in any electronic fishing accessory, so you'll need to be sure the fish finder you choose can stay powered on throughout your adventures.
You will find some units on our list that come with their own rechargeable batteries and others that rely on small batteries or require a connection to a deep cycle, 12-volt marine battery. To keep it as simple as possible, the longer you stay out, the more battery life you will need.
Units that rely on larger batteries will last longer, but you'll need to carry that battery on your kayak, which takes up space and can also weigh you down.
If you can find a unit with a rechargeable battery, you may save both space and weight by bringing a waterproof portable battery bank as a backup power source if the battery supply runs out.
How Far Do Your Adventures Take You?
Piggybacking on that last point, you should also consider how far you typically travel on your kayak fishing trips. For those that take multi-day trips or cover a lot of ground in a fishing kayak with a trolling motor, it is a good idea to consider a fish finder that also offers GPS capabilities.
This will allow you to navigate as well as scan the waters below your boat. Plus, it will save space on the deck of your kayak by combining two accessories in one unit rather than having to find space to mount a fish finder and a separate kayak GPS unit.
Thumbnail
Title
"Garmin ECHOMAP UHD 73sv with GT56UHD-TM Transducer, 7"" Keyed-Assist Touchscreen Chartplotter with U.S. LakeVü g3 and Added High-Def Scanning Sonar" (010-02519-01)
Raymarine Element 7 HV with HV-100 Transducer and Navionics+ US and Canada Charts, Black
Lowrance Elite FS 9 Fish Finder (No Transducer) with Preloaded C-MAP Contour+ Charts
Garmin Striker Vivid 7sv, Easy-to-Use 7-inch Color Fishfinder and Sonar Transducer, Vivid Scanning Sonar Color Palettes (010-02553-00)
Lowrance HOOK Reveal 7 TripleShot - 7-inch Fish Finder with TripleShot Transducer, Preloaded C-MAP US Inland Mapping
Thumbnail
Title
"Garmin ECHOMAP UHD 73sv with GT56UHD-TM Transducer, 7"" Keyed-Assist Touchscreen Chartplotter with U.S. LakeVü g3 and Added High-Def Scanning Sonar" (010-02519-01)
Thumbnail
Title
Raymarine Element 7 HV with HV-100 Transducer and Navionics+ US and Canada Charts, Black
Thumbnail
Title
Lowrance Elite FS 9 Fish Finder (No Transducer) with Preloaded C-MAP Contour+ Charts
Thumbnail
Title
Garmin Striker Vivid 7sv, Easy-to-Use 7-inch Color Fishfinder and Sonar Transducer, Vivid Scanning Sonar Color Palettes (010-02553-00)
Portable Kayak Fish Finder Reviews
Check Price on Amazon
Garmin is one of the most trusted names in both GPS units and fish finders these days, which is why this isn't the only Garmin model you'll find on our list. The ECHOMAP model, however, is built for lake fishing with Sidevü scanning and vivid sonar color palettes.
It comes with preloaded lake maps featuring more than 18,000 lakes with one-foot contours for exceptional detail. It also features a seven-inch touchscreen display with clear images and a bright display that you will be able to read in even the most glaring sunlight.
This Garmin fish finder also comes with a transducer that provides a 20 percent greater range than previous models. Finally, this model secures with a ball mount and the full dimensions measure 13" by 8" by 8".
Check Price on Amazon
Also featuring a beautiful seven-inch display, the Raymarine Element 7 HV fish finder provides a dedicated keypad for easier control. It's designed for those that don't love the sometimes-tricky nature of touchscreen displays when their hands are covered with fish juices.
It has built-in, three-dimensional sonar that provides accurate imagery of underwater shelves, ledges, and contour changes. The unit's 1.2-megahertz CHIRP technology gives you high-resolution images so you're not straining to try to make out what you're seeing on the lake bed.
While it is great for use on a fishing kayak, this fish finder can also be great for installing on a fishing boat. It offers continuous 3D rendering and a quad-core processor that instantaneously re-draws charts for better accuracy.
Check Price on Amazon
The Elite FS 9 Fish Finder from Lowrance offers a nine-inch, multi-touch display with high-resolution imagery. These images even respond to the presence of your lure, with ActiveTarget Live Sonar that shows how fish swim around structures or respond to your bait.
This unit supports active imaging with three-in-one sonar that supports CHIRP technology, SideScan, and DownScan with FishReveal. This means that it will work for both deep-water and shallow-water fishing.
The Lowrance Elite also comes with contour maps for more than 8,900 lakes throughout the United States. These maps feature one-foot contours to help you avoid running aground in unfamiliar territory.
Check Price on Amazon
This fish finder from Garmin features a seven-inch display with color imagery to help you distinguish between fish and other underwater structures. You will also be able to take advantage of built-in quick-draw contour mapping.
For those that seek offshore fishing locations or like to cover a lot of ground on multi-day fishing trips, this fish finder includes a high-sensitivity GPS. This GPS allows you to mark waypoints, create new routes, and view the speed of your kayak.
The Garmin Striker also features Wi-Fi connectivity that allows you to connect your smartphone to the fish finder. Using the connected app, you will be able to control the display, receive notifications, and transfer waypoints so that you can plan better fishing trips in the future.
Check Price on Amazon
The Lowrance Hook Reveal 7 fish finder gets its name from its FishReveal feature that makes it easier to find and identify fish below your kayak.
By combining the target separating capabilities of CHIRP Sonar technology and high-resolution down imaging, fish will almost seem like they are lighting up on your display.
This unit's Down Imaging capabilities make it a great choice for offshore kayak fishing, even if you haven't already gotten yourself a proper rod and reel for offshore kayak fishing. That being said, it also features inland maps for more than 4,000 US lakes,
The Hook Reveal 7 is also built with a Tripleshot Transducer and auto-tuning sonar. The benefits of those features include wide-angle, high-resolution imagery, side and down imaging capabilities, automatic sonar adjustments according to conditions, and more.
Check Price on Amazon
The Humminbird Helix 5 fish finder comes in its own portable carrying case so that you do not need to worry about it getting damaged while transporting it from your vehicle to your kayak. Because of the way most kayaks are transported on vehicles, permanently mounting your fish finder is not realistic.
You also don't want to throw it in a kayak storage hatch without adequate protection. When the Helix 5 is out of its case, it packs a punch with CHIRP digital sonar for clearly displaying individual fish and dual-beam technology that provides more detail and a larger coverage area.
The Helix 5 also comes with a selection of built-in base maps that give you a better understanding of underwater contours and terrain. Plus, SwitchFire technology gives you control of how you view your sonar returns.
Check Price on Amazon
The Lowrance Hook Reveal 5 fish finder also features the company's FishReveal technology and boasts down imaging to provide better clarity for deep-water fishing. Inland anglers will also have that access to contour maps on more than 4,000 inland lakes.
The built-in maps also provide custom GPS plotting with Genesis Live and the ability to create your own contour maps. The added detail in these maps allows you to get onto fish faster instead of wondering whether you're seeing fish or other underwater obstacles.
The Hook Reveal 5 also features a five-inch display that provides great clarity in all lighting conditions. Like the Hook Reveal 7, you will also be able to take advantage of auto-tuning sonar and the wide-angle visibility that comes with this unit's split-shot transducer.
Check Price on Amazon
The Garmin Striker 4 is equipped with ClearVü scanning sonar that gives you more clear imagery of what is in the water around your boat. The higher frequency of this sonar provides detailed images of fish and other underwater obstacles.
The keypad interface on this fish finder provides a more simple operation than more expensive touchscreen models. It offers an IPX7 waterproof rating and models are available with three-and-a-half, five, and seven-inch displays.
The Striker 4 works at a maximum water depth of 1,600 feet in freshwater and 750 feet in saltwater. It also includes a built-in flasher that makes it ideal for jigging or cold water kayak fishing (and ice fishing too!).
Check Price on Amazon
The Venterior portable and rechargeable fish finder is one of the more affordable models on our list. It features a simpler LCD display and can provide reasonable imagery at a maximum depth of 131 feet.
It provides a ton of useful information for kayak anglers, including water depth and temperature, fish size and depth, and contours of the bottom where you are fishing.
It also comes with a wireless sensor that attaches right to your fishing line instead of having to mount a transducer on your kayak.
This model eliminates the need to drill any holes or otherwise mount a transducer to your kayak. It works for trolling or still kayak fishing and provides useful information on lakes, rivers, ponds, and even coastal environments.
Check Price on Amazon
The Hawkeye fish finder is another small handheld portable model that provides accurate readings at a depth of up to 240 feet. The small color LCD screen offers a glare-free view and good readability in all lighting conditions.
The sonar sensor that comes with this fish finder can be deployed in a variety of manners. It can be trolled behind your kayak, mounted on the deck, or floated out in the water to help you save space on your kayak.
The FishTrax 1C fish finder also includes indicators that give you information on the depth of fish below you. HD images of the bottom landscape also prove useful for trolling kayaks and an audible fish alarm keeps you in the know if you get distracted by paddling or otherwise maneuvering your kayak.
Check Price on Amazon
The Deeper Chirp 2 is a little different from the rest of the fish finders on our list. It does not come with its own display but, instead, casts its data directly to your smartphone so that you do not need to worry about mounting anything to the deck of your kayak.
The transducer itself can be cast up to 394 feet from your kayak so that you can enjoy a wide field of view over areas you have been fishing or plan to fish shortly. It also provides accurate scanning at depths up to 330 feet, so it can be used inland or for coastal fishing.
The Deeper fish finder features a fast-charging battery with an average battery life of 15 hours. If used in power-saving mode, you may be able to extend that battery life to 20 hours and the internal battery recharges in just two hours when plugged into a wall outlet.
Check Price on Amazon
The Lowrance Hook 2 is another great option for kayakers because this specific fish finder comes with an all-weather pack that means you don't have to worry about the elements when you pack it away after your fishing trips.
When you are using it, however, it offers a high-resolution display with clear images provided by the built-in CHIRP sonar coverage. It is also built with side imaging and down imaging options to provide for both deep-water and shallow-water fishing environments.
The Hook 2 is a battery-powered model with options for five different screen sizes (all in inches): 4, 5, 7, 9, and 12. It also includes autotuning sonar and a broadband sounder.
Check Price on Amazon
This affordable fish finder from Humminbird offers a color, thin-film transistor (TFT) display with a 4.3-inch screen. The tilt and swivel-mount that it comes with make it super easy to adjust your viewing angle no matter where you mount it on your kayak.
It is equipped with down imaging for deep-water fishing and it also offers built-in dual-beam sonar. This sonar system allows you to customize the beam width for narrow, deep coverage, or shallower coverage over a wider area.
The PIRANHAMAX fish finder also makes it easy to differentiate between fish and underwater structures while providing clear contours of the bottom below you.
Check Price on Amazon
This is another highly-portable handheld fish finder that doesn't require a direct mount to the deck of your kayak. It comes with a 2.4-inch color display and provides accurate information on water depth and temperature, fish size and depth, and underwater contours.
The Lucky fish finder works at depths up to 328 feet and includes enough wiring for you to set the transducer up to 26 feet away from your kayak. It also offers a 45-degree beam angle with a 200kHz frequency in all directions.
Check Price on Amazon
The Raymarine Dragonfly 7 Pro fish finder is a combination unit with built-in GPs that will help you navigate uncharted waters. The bright, seven-inch display is easy to see in all conditions and CHIRP sonar provides crystal clear underwater imaging.
This fish finder is equipped with Raymarine's patented DownVision, as well as conventional sonar. This translates to better accuracy and clearer imaging for both deep-water, offshore fishing, and shallow-water, inland adventures.
It comes with multiple mounting options so you can customize your set up and the push-button interface removes some of the complications that come with touchscreen displays.
Final Thoughts
Photo by FedBul via Shutterstock
Whether you are buying one for yourself or a friend or family member, a portable fish finder is a great addition to any kayak angler's setup.
They will keep you from casting in vain and can help you identify underwater objects to avoid snags and other hassles of fishing life.
We hope you have enjoyed this collection of fish finders and at least one or two have sparked your curiosity.
As always, we wish all of our readers safe adventures and, in this case, the best of luck yelling "fish on!" next time to set your hook!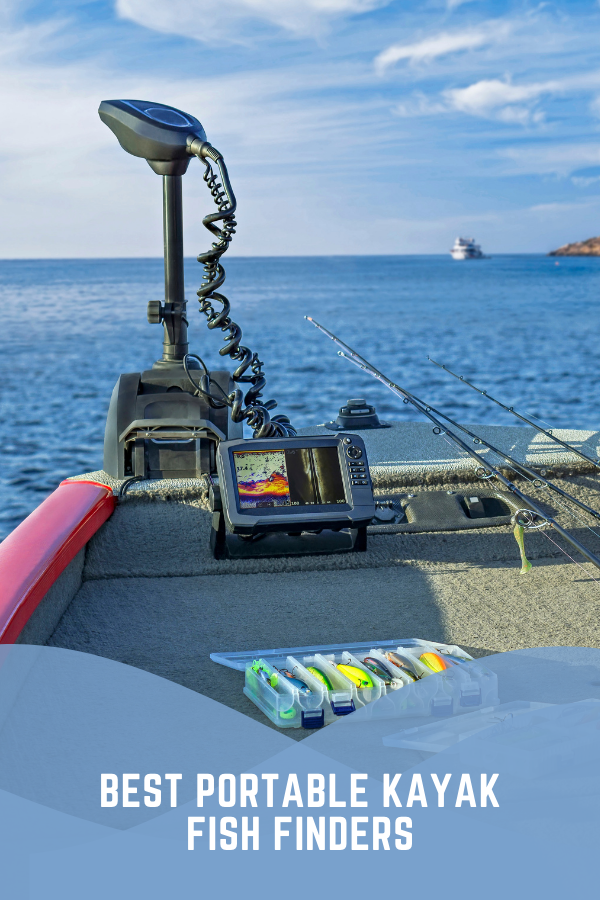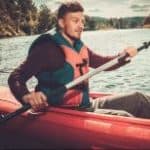 Author: Peter Salisbury
Pete is the Owner of KayakHelp.com. Born and raised in Cleveland, Ohio, he grew up kayaking, fishing, sailing, and partaking in outdoor adventures around the Great Lakes. When he's not out on the water, you can find him skiing in the mountains, reading his favorite books, and spending time with his family.